When it comes to eBikes, the major reason many people purchase one is for the assistance provided by the electric motor to help you pedal faster or without having to work so hard. However, there are other reasons to consider purchasing electronic bikes, such as continuously variable transmission, or CVT systems. You've probably heard of CVT systems before, and that's because CVT is used to providing automatic shifting in mopeds, motorcycles, and the majority of automatic, clutchless automobiles on the market. Now, as eBikes become more advanced, CVT systems are being incorporated into electric bikes for a smoother, quieter, and more optimized pedaling experience.
There are a ton of differences and things to know when it comes to CVT systems, especially when compared to the traditional external gear sets that many normal bikes and eBikes rely on. As such, we hope that our guide will be a helpful foundation for helping you understand why CVT systems are a fantastic feature that you should keep an eye out for when shopping for an eBike. However, to understand how a CVT system operates and the advantages it provides, you do have to have a base level of knowledge of traditional external gear sets on bikes.
Understanding how traditional gear and CVT systems work:
When it comes to a bicycle, your gear system is among the most important parts of allowing your bicycle to even function. There are several important parts to understand though, along with key terms that you may not have encountered before. As such, we've put common yet important bike terms in bold that, as you come to understand better, will help you get the bigger picture of how the gear set functions.
When discussing the overall get set as a whole, it is referred to as the drivetrain. The drivetrain is what allows you to shift gears while you're pedaling, allowing you adjust your cadence and pedal resistance so that you can climb hills easier, pedal faster, or just have a smooth and relaxing experience. Without a drivetrain, you would never be able to adjust your pedaling, making your bike very limited in what it can do in terms of optimizing your performance by terrain.
Technical breakdown of traditional biking gear systems:
The drivetrain is made up of three major components, which themselves have more individual components. They are as follows:
The Chainrings: The chain rings are located in the center of your bike, traditionally consisting of a larger, outer chainring and a smaller, inner chainring, though some popular setups have one or three chainrings as well. The spikes out on the outer edges of the chainrings are called teeth, with chainrings labeled by the number of teeth they have on the inner and outer ring. These chainrings are turned and controlled by the crankset, which is overall term describing how your pedals are attached to the chainrings.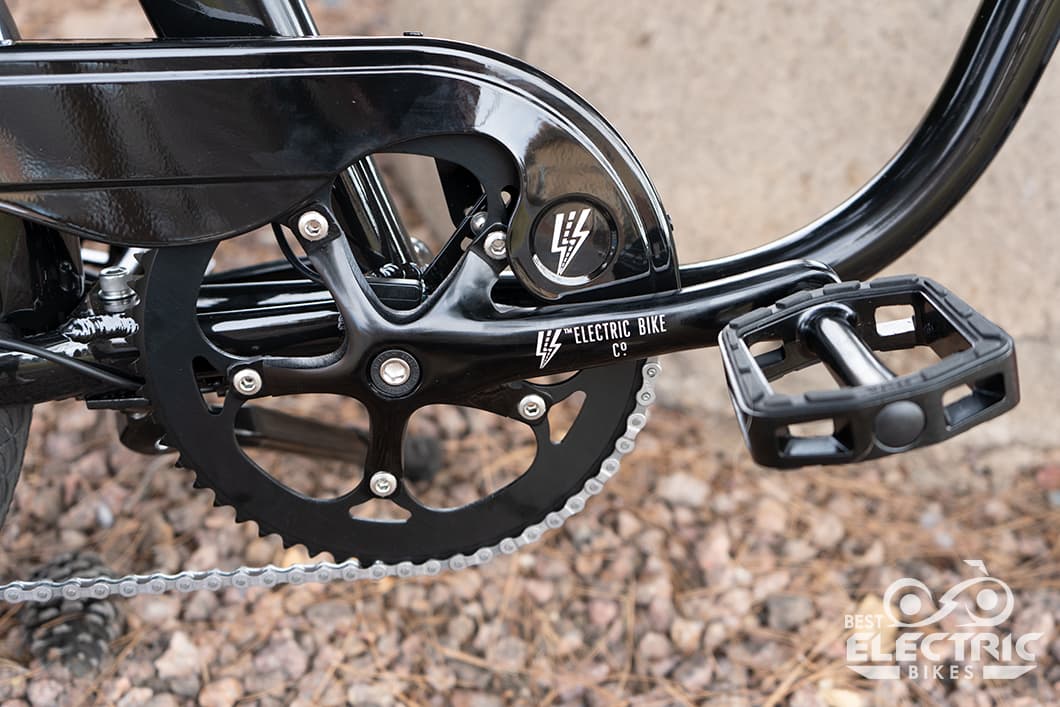 The Cassette: The cassette is the grouping of rear cogs that form the center hub of your rear bicycle wheel. The overall speed of your bicycle refers to the number of cogs that form the cassette. The greater the speed of your bicycle does not necessarily mean it will go faster, but rather refers to how many gear options you have, with the more cogs resulting in a higher speed.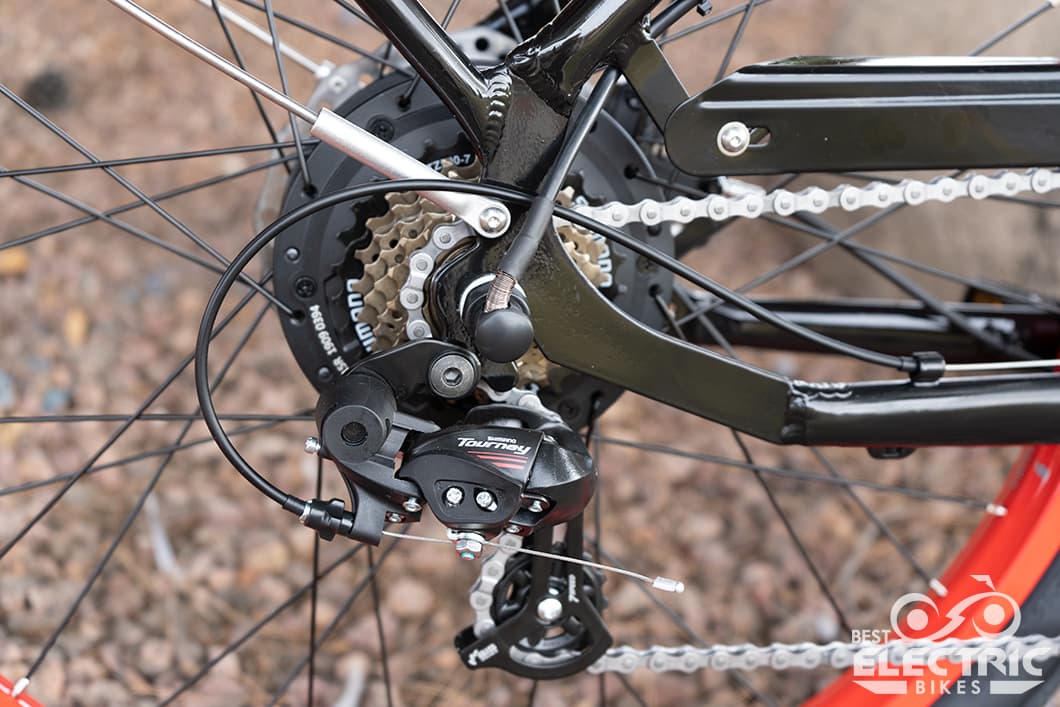 The Shifters: The shifters are the bars you push or pull on your bike handles in order to manipulate the derailleurs. Traditionally, the front derailleur is connected to the left shifter and will move the chain from the outer to inner chainring when pulled. Alternatively, the rear derailleur is connected to the right shifter, and will move the chain to the various cogs on the cassette. When the chain is moved from the outer chainring to the inner one, or when it is moved from one cog to another, the process is called indexing.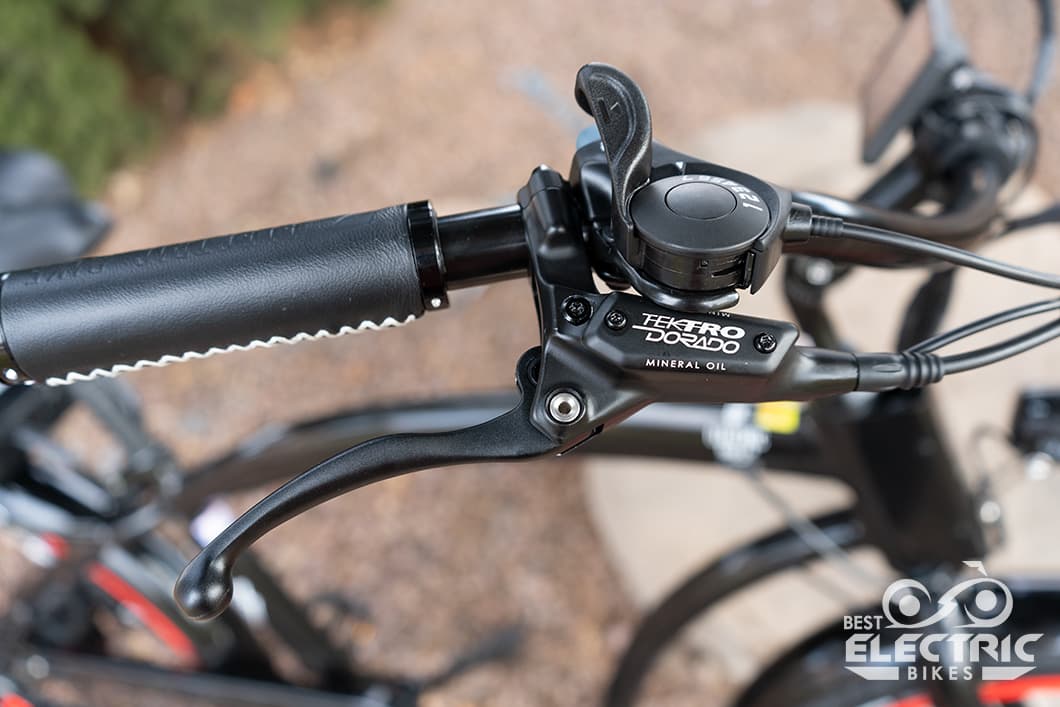 This is the setup of a traditional external gear set drive train, but how does it work and what is its purpose? When you are pedaling, your bike will operate under a specific gear ratio, which is calculated by the number of teeth on your chainwheel divided by the number of teeth on your cassette cog.
The current gear ratio determines how many total rotations your bicycle wheel will make whenever you complete one full rotation of your pedals. The larger your gear ratio, the more your rear wheel will spin, and so you'll travel farther with each full pedal rotation. However, the lower your gear ratio, the slower and more consistent your cadence will be, which is what you will want when you are trying to climb a hill. This is why finding the ideal gear ratio and learning to shift gears appropriately in any given terrain is a major part of learning to become an effective biker.
Technical breakdown of CVT systems:
Once you understand how a traditional external gear set/drivetrain works, you are ready to learn why CVT systems are a fantastic upgrade for eBikes! CVT systems act similarly to traditional drivetrains, though their major difference is that they do not have to index to switch gears. Instead of featuring dozens of gears that you have to move the chain to and from, a CVT system consists of a chain or belt that runs through planetary balls held by rings that form up the CVT transmission system. Shifting on a CVT system causes the rings to adjust, altering the positions and angles of the balls which will, in turn, alter the position of the chain much in the same way a traditional gear set functions.
With a CVT system though, you eliminate a number of parts and open up new performance features. There is no need for derailleurs as you no longer have to have a mechanism that picks up and moves a chain up and down a chainring or the cassette. Because rings and a pulley system is used instead of traditional chainrings and cogs, you are no longer measured by teeth either but instead by the ring size and angle. The result is that, instead of a limited speed or gear ratios on a traditional bike, you have significantly more options to the point that it's practically considered unlimited. CVT drivetrain systems allow you to truly finetune your gear performance, along with other major factors which we're now able to explain!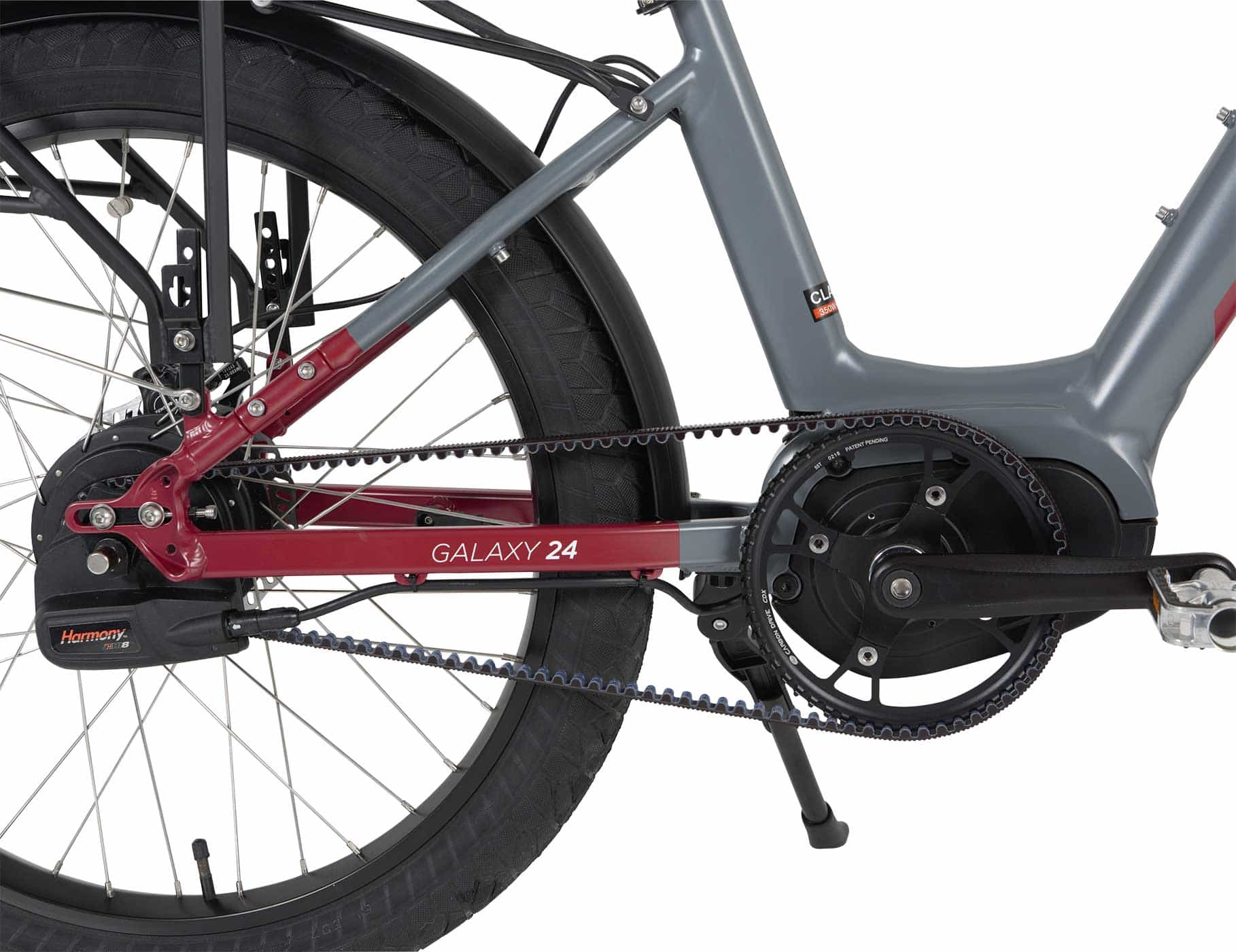 Major Benefits of a CVT system over a traditional gear set:
Virtually unlimited gear speed. Gear ratios are calculated by the teeth of the chainring in use divided by the teeth of the cog in use for traditional bikes. With a CVT system, gear ratio is instead calculated by the size, angle, and length of the belt or chain being used as manipulated by the CV planetary balls. The result is that you have virtually unlimited gear speed options to choose from, allowing you to truly fine tune your cycling performance.
Seamless, silent shifting. Indexing on a traditional bike is noisy, and also tends to result in jerky or a sudden shift in pedalling that has a tendency to disrupt your cadence. With a CVT drivetrain, there is no indexing, with shifting being a totally seamless experience as the chain moves along the ring it is positioned on. The result is that not only will your shifting be virtually silent, but it will make transitioning from one gear to another a more seamless and softer experience.
No more resetting your chain. One of the most common repairs bikers have to make is replacing or resetting their chain if it falls off due to derailleurs failing to index properly. Because there are no derailleurs or indexing, your chain can't fall off when you are trying to shift gears. No more having to stop and reset your chain just because you shifted suddenly with a CVT system!
You can shift gears at any time. Another flaw with traditional drive trains is that, for the derailleurs to properly index the chain, you have to be already peddling your bike. That means that, if you fall while climbing a hill or suddenly need to shift as you hit rocky terrain, you won't be able to make the adjustments until you're already going. With a CVT system, you can adjust the rings and chain without pedaling, allowing you to adjust to the proper gear even when stopped!
CVT systems are easier to use. For the most control on a traditional gear set, you typically have to operate two derailleurs and shifters to set up the proper gear ratio at any given moment. Traditional drive trains then are a bit tricky for new cyclists and young bikers to learn with, which isn't the case for CVT systems. CVT drivetrains traditionally just have one shifter you have to worry about, ensuring that you don't have to figure out ratios or trying to remember if you're on the right chainring. If you lower the gear, you will make it easier to peddle (especially on hills), while if you increase the gear you will make it harder to pedal but quicker on flats and easy terrain. It's that simple to operate a CVT system, and some CVT systems even have fully automatic shifting that you can read more about below!
With that in mind, there are some downsides to using a CVT system over a traditional external gear set. Keep this in mind when considering going with a CVT eBike over a traditional, classic one.
Major Negatives of a CVT system over a traditional gear set:
Major errors are harder to replace and fix. If you happen to suffer a major accident that damages your drivetrain, from the crankset to even the shifters, it's very difficult to fix on a CVT transmission system. Not only is it harder to find a local expert able to fix a CVT eBike transmission, but due to how small and complicated they are the whole system generally has to get replaced. While traditional gear sets are more prone to breaking, upgrading and repairing them when something does go wrong is a whole lot easier.
Your transmission is interconnected to the motor. Sometimes, it's not even that something went wrong with the CVT system, but rather the hub-drive or mid-drive motor. These two systems are intertwined, meaning that if there is a major malfunction in the motor system, your CVT system will no longer work effectively, if at all. As such, traditional gear set eBikes which are not intertwined with the motor will function just fine as a normal bike even if something goes wrong with the motor.
There may be extra setup and configuration you have to deal with. Many casual cyclists just want an eBike they can hop on and ride, which isn't something you can do with some CVT systems. Due to the developmental and precise fine tuning nature of CVT drivetrains, you may have to mess with an app or make sure your settings are correct before riding. CVT systems can also be a bit more difficult to configure and deal with when someone besides you is taking a turn on your eBike. CVT systems are definitely built for more performance focused cyclists in mind.
Your eBike will weigh more. Motor systems on eBikes already weigh it down more than traditional bicycles, and CVT systems will weigh down your eBike further. In total, your eBike is going to weigh anywhere between 5 to 10 lbs more than a bike that has a traditional external gear set system. We will note though that the added weight is distributed in both the crankset and the wheel hubs, so your actual performance will not differ noticeably, if at all, with the added weight to the eBike.
You are going to pay more. Due to how new and complicated CVT systems are in eBikes, along with the nature of the electronic parts in the CVT, you are going to pay more for your eBike. While we think that CVT systems are more than worth the asking price, it is something that may take an eBike out of your budget if you are looking for something that is less expensive.
These are the major performance differences between a new CVT transmission for eBikes and traditional drive trains. However, there are also two ways to operate a CVT transmission system. They consisting of the following operation modes:
Major Operation Modes for a CVT gear system:
For the majority of CVT eBike transmissions on the market, there are two ways to configure and operate the system. They are as follows:
Manual CVT Operation. Manual mode is the same as a traditional external drivetrain, but with the added benefits of using a CVT system. If you want to lower the gear ratio and make it easier to pedal, simply shift the handle away from you or pull the appropriate lever to decrease pedal tension. If you want to increase the gear ratio and make it harder to pedal but improve the overall speed of your bicycle, shift the handle towards you or pull the appropriate lever to increase tension. The manual CVT operation is great in that you don't have to try to deal with two different levers or remember which ring your chain was left on, making gear shifting a whole lot simpler.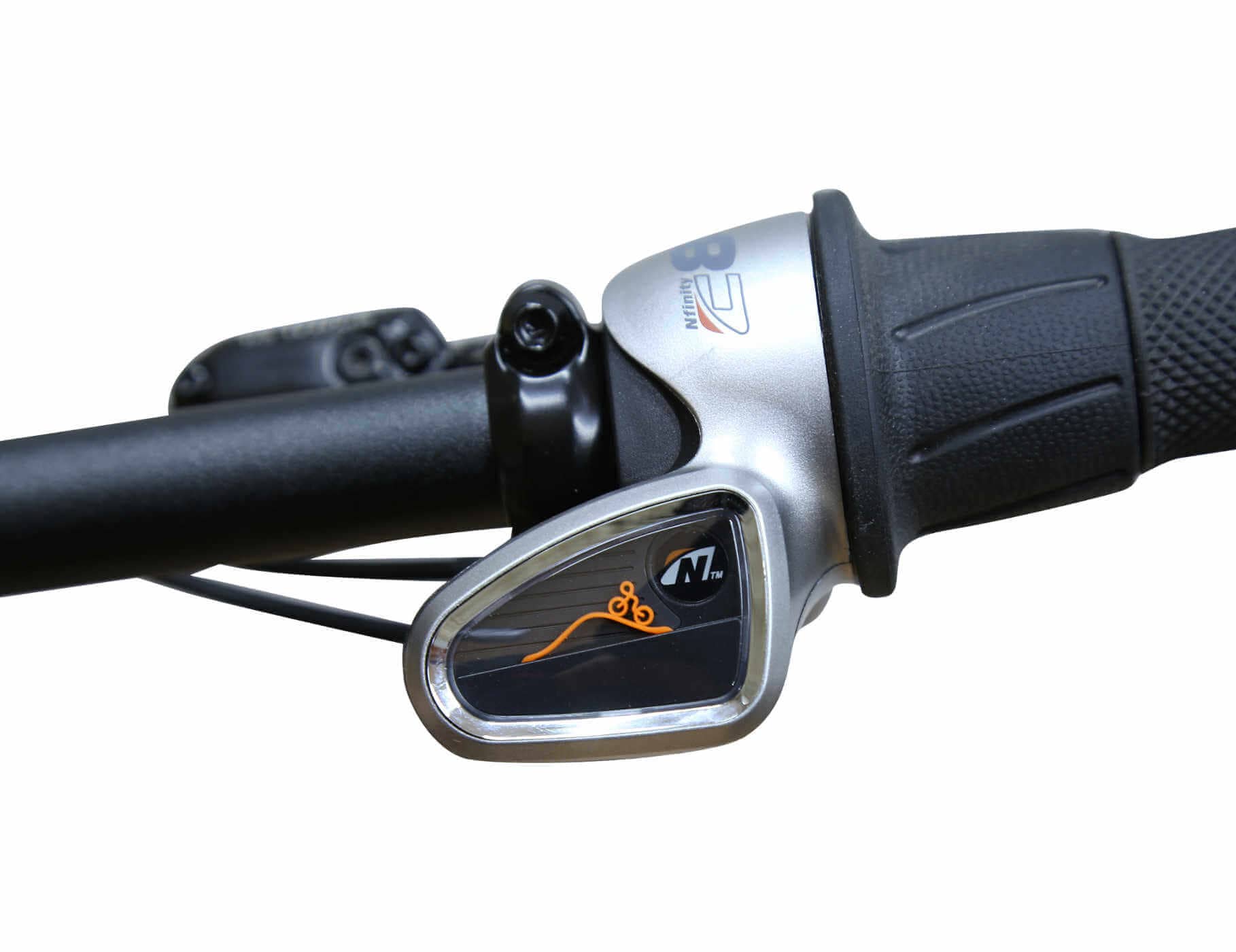 Full Automatic CVT Operation. There is an even easier and simpler way to operate your CVT gear system, and that is with a full automatic operation mode. Not every CVT transmission for eBikes has this function, but those that do offer a fantastic way to pedal without ever having to think about gear shifting. When the full automatic mode is engaged, you simply have to set the level of cadence you wish to maintain with your pedaling. Once you've locked in your cadence, the full automatic CVT will automatically gear shift for you to maintain that same cadence no matter what terrain and environment you pedal through, even as you go over hills. If you want to go faster or need to take it easier, you can use your shifting handle to adjust your overall cadence limit, with your eBike able to sense and make adjustments on the fly. This is a very new technology so it isn't quite perfect or bug free, but it's a great addition that's awesome for kids or those who want a truly fine-tuned performance that auto-adjusts for you!
Who should consider a CVT eBike?
Because of the many great benefits of a CVT system, we think almost anyone will benefit from and fall in love with a CVT incorporated eBike. However, to outline the specific benefits, consider a CVT eBike if you are one of the following:
A long distance cyclist who wants to focus on pedalling and optimize your gear shifting.
A mountain biker who wants to change gears quickly, even when you need to stop.
A younger bicyclist who hates having to fix their chain everytime it falls off.
Those who are interested in a casual, consistent cruising experience.
Someone who wants to truly optimize and finetune their gear performance, feeling limited by traditional gear setups.
A Note of Caution: 'Fully automatic' or hybrid CVT systems:
Due to the developmental nature of CVT systems, there are some eBike companies and manufacturers who may describe their transmissions systems as having 'CVT' like performance or capabilities. While there are some great internal gear systems that do have capabilities that are similar to CVT gear systems, they are not true CVT setups but rather hybrid systems. These hybrid systems typically offer an automatic CVT mode that switches over to a standard, traditional bicycle drivetrain with internal chainrings and a cassette.
At this time of writing, the only manufacturer of a true CVT eBike system is Enviolo, previously known as NuVinci. All other mainstream eBike transmission systems are either a traditional or hybrid gear system. If a distributor is selling you a CVT eBike system, be sure to confirm if they are using an Enviolo or NuVinci based transmission for a true CVT based electric bike.
Conclusion: The next innovation in cycling technology:
CVT gear systems are brand new, with the first commercially available eBike CVT setups having only hit the market in the past few years. As such, there aren't many eBikes you can ride just yet that feature a CVT system, which makes it particularly difficult to demo a unit for yourself. However, as CVT systems are refined and grow more popular, we expect them to be adopted by more and more eBikes. CVT drivetrains are definitely an exciting technology, and one we recommend keeping a close eye on as more eBikes adopt them.
As for our part, we hope this guide has been helpful to you in understanding the basics and fundamentals of CVT drivetrains. Because of the newness of this technology, we encourage you to check back on our guide again in the future for our up to date thoughts and tips when it comes to using CVT eBike technology. We also update our thoughts based upon the feedback others have for us, so if you get the chance to try out a CVT based eBike we would love to know how it felt for you.
With that in mind, thank you so much for reading, and we hope you have a blast on your next eBike ride!
Notes:
EVOLO/Best eBike CVT System breakdown
Video that explains the construction of a CVT eBike CVT system
NuVinci CVT system breakdown and discussion