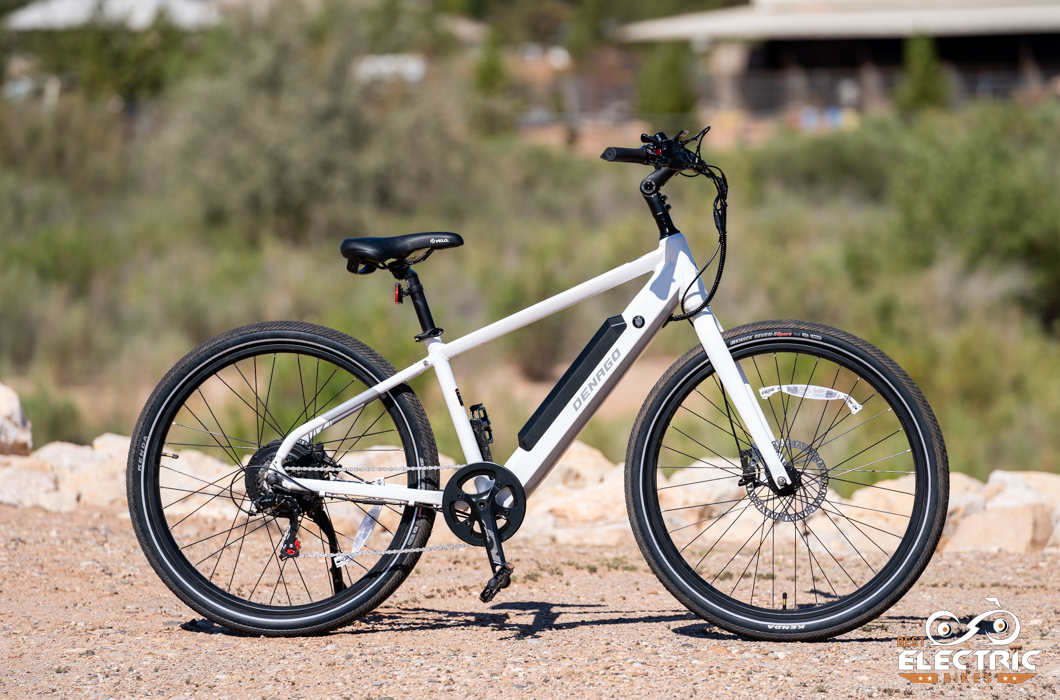 Denago City Model 1 Review: Intro
The e-bikes that dominate the commuter segment tend to be Class 1 and Class 2 e-bikes that come with lights, a rear rack and fenders. We refer to bikes like those as commute-ready. Just add a pannier or two and the rider is ready for their morning trip into work. There is much to be said for one-stop shopping. The Denago City Model 1 takes a different approach to what makes for a great commuter e-bike.
In our Denago City Model 1 review we will look at what makes this e-bike different from its competitors and consider why a company might adopt this philosophy.
What makes the Denago City Model 1 different is their decision to make it a Class 3 bike with max speed of 28 mph. Yet it still comes in at that very competitive sub-$2000 price range thanks to some strategic choices. Let's have a look.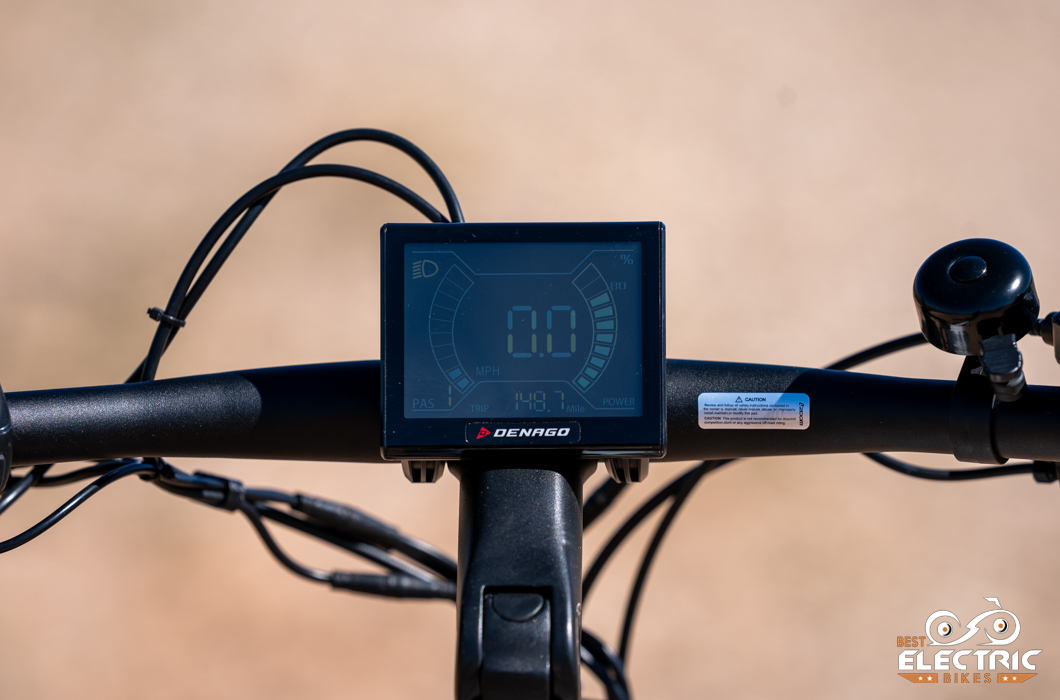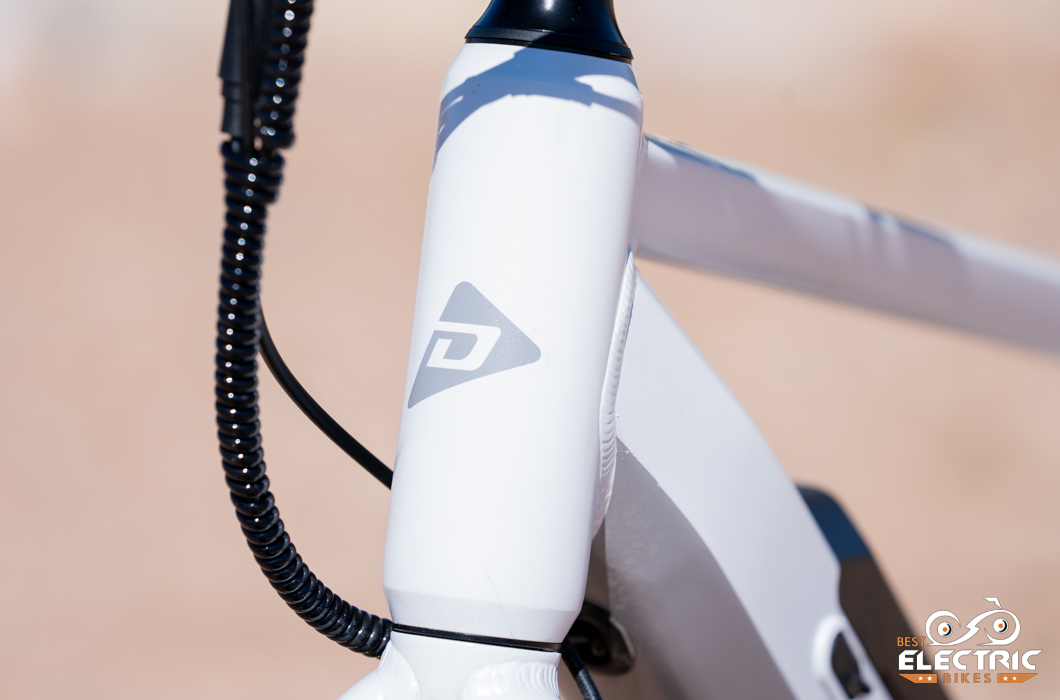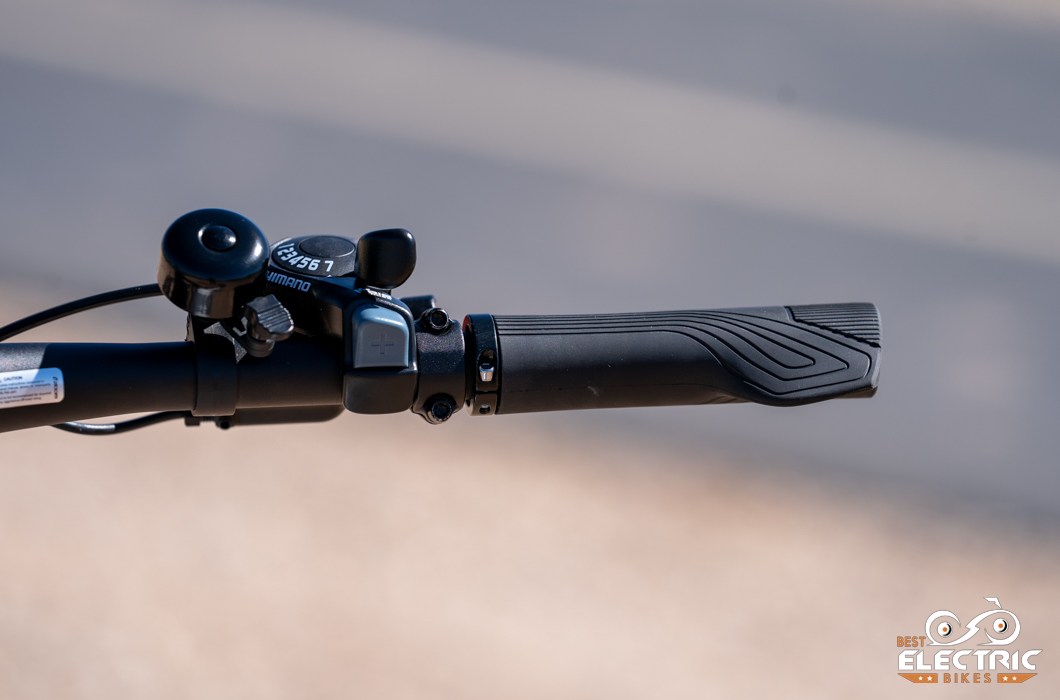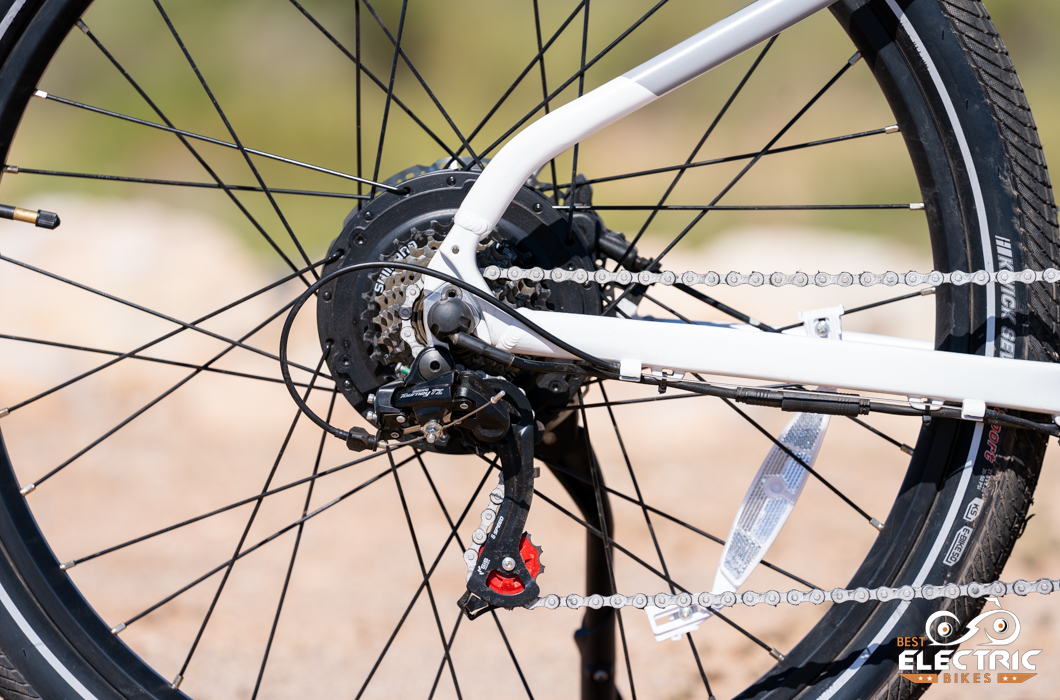 E-Bike Category: Commuter
Who the Denago City Model 1 Electric Bike Is For:
The Denago City Model 1 is ideal for anyone wanting a comfortable commuter with Class 3 power.
Denago City Model 1 Review Ratings:
***All ratings are relative to e-bikes of a similar style and price point***
| | |
| --- | --- |
| Speed/Acceleration | |
| Hill Climbing | |
| Battery Range | |
| Braking | |
| Construction Quality | |
| Handling | |
| Included Accessories | |
| Warranty & Customer Service | |
| Value | |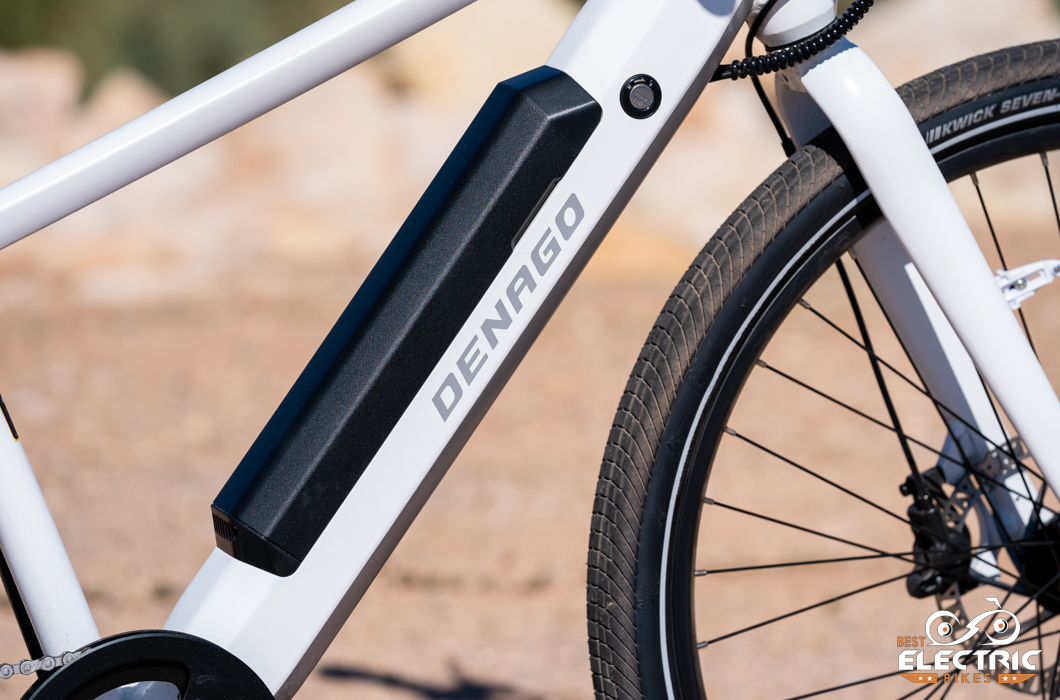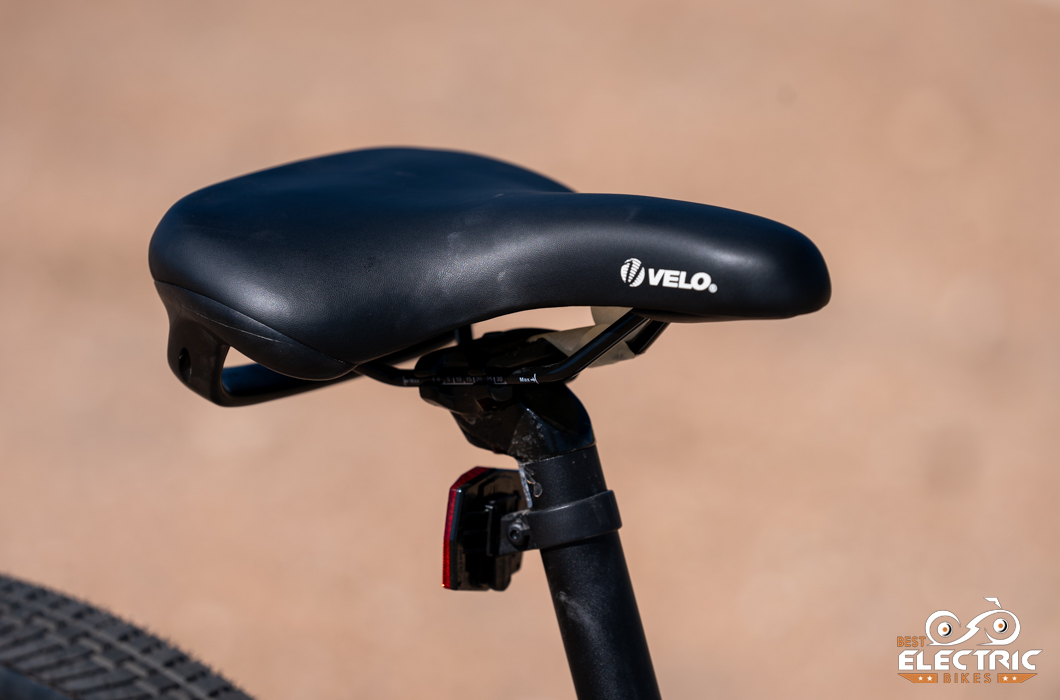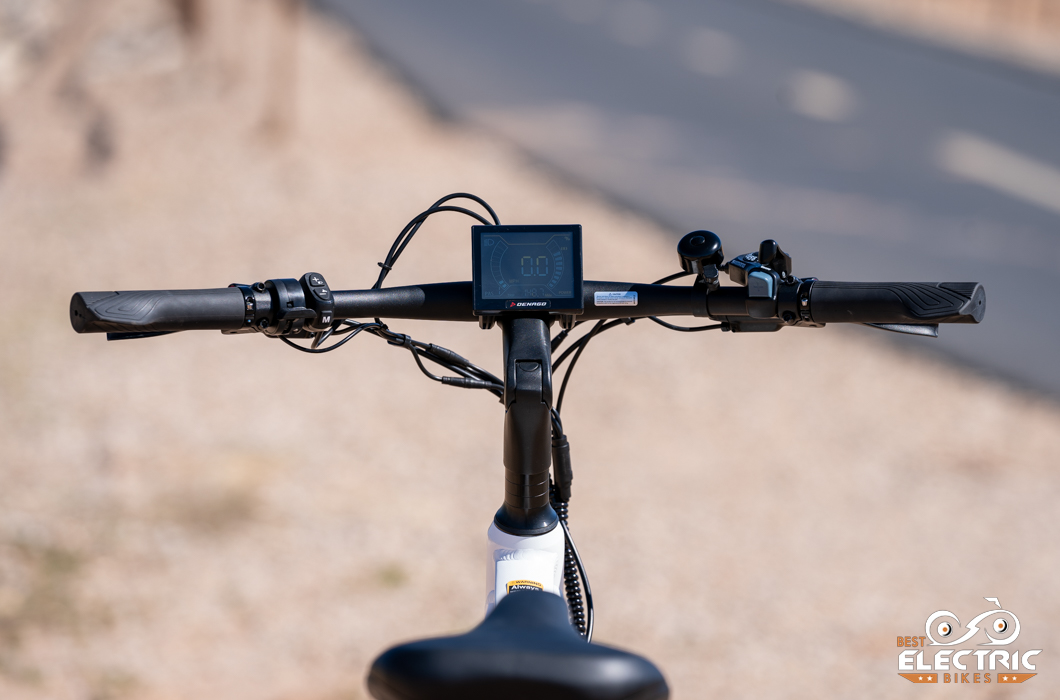 Denago City Model 1 Review: E-Bike Specs
Battery: 48V, 653Wh
Expected Range: up to 40 miles
Motor: 500W Shengyi Brushless hub motor
Pedal Assist: 0-5 level pedal assist
Display: B&W LCD
Headlight: N/A
Taillight: N/A
Frame: 6061 Aluminum
Fork: 6061 Aluminum
Fenders: N/A
Kickstand: Included
Handlebars: aluminum, 660mm wide
Grips: ergonomic, lock-on
Drivetrain: Shimano Tourney 7-speed
Brakes: Zoom hydraulic disc with 180mm rotors
Pedals: aluminum alloy
Saddle: Velo Plush Comfort with lifting handle
Tires: Kenda Kwick Seven.5, 27.5 x 2.2 in., puncture-resistant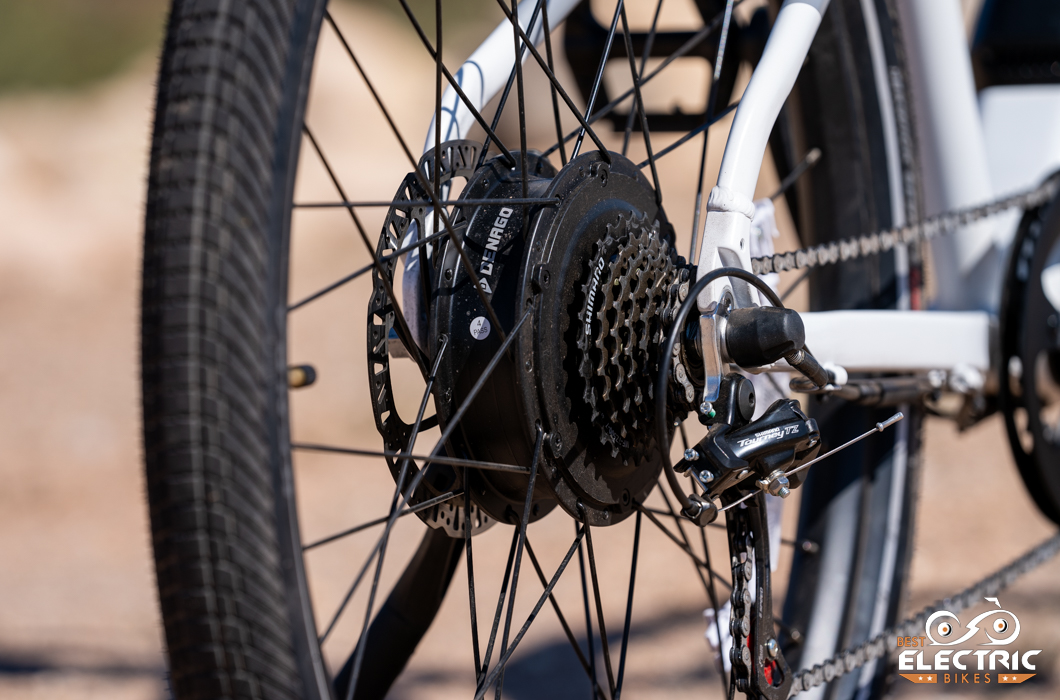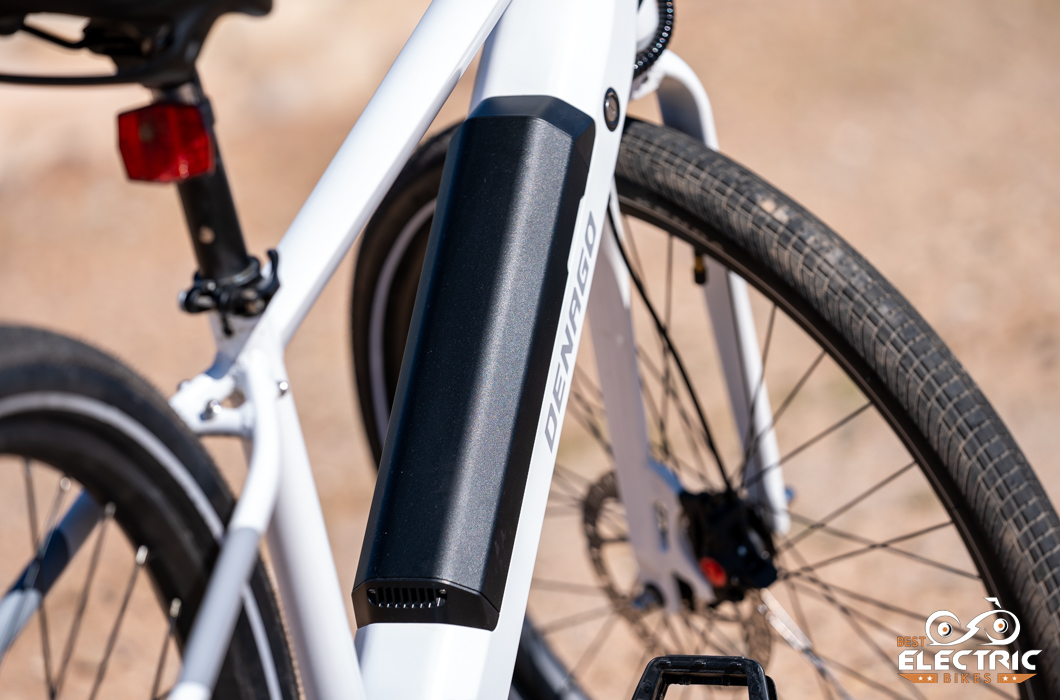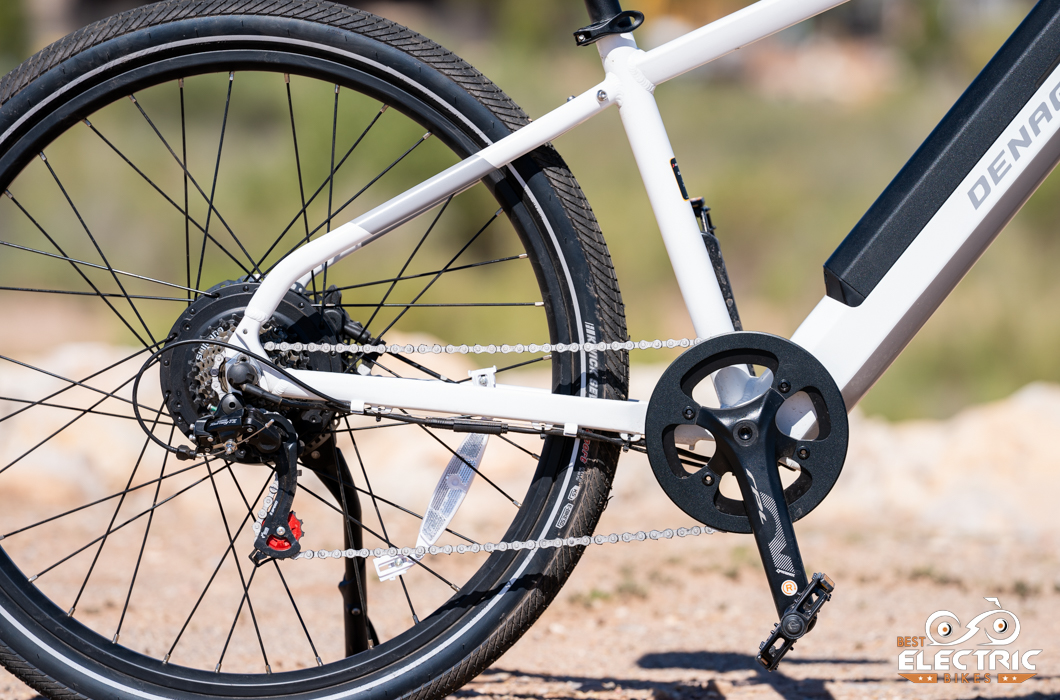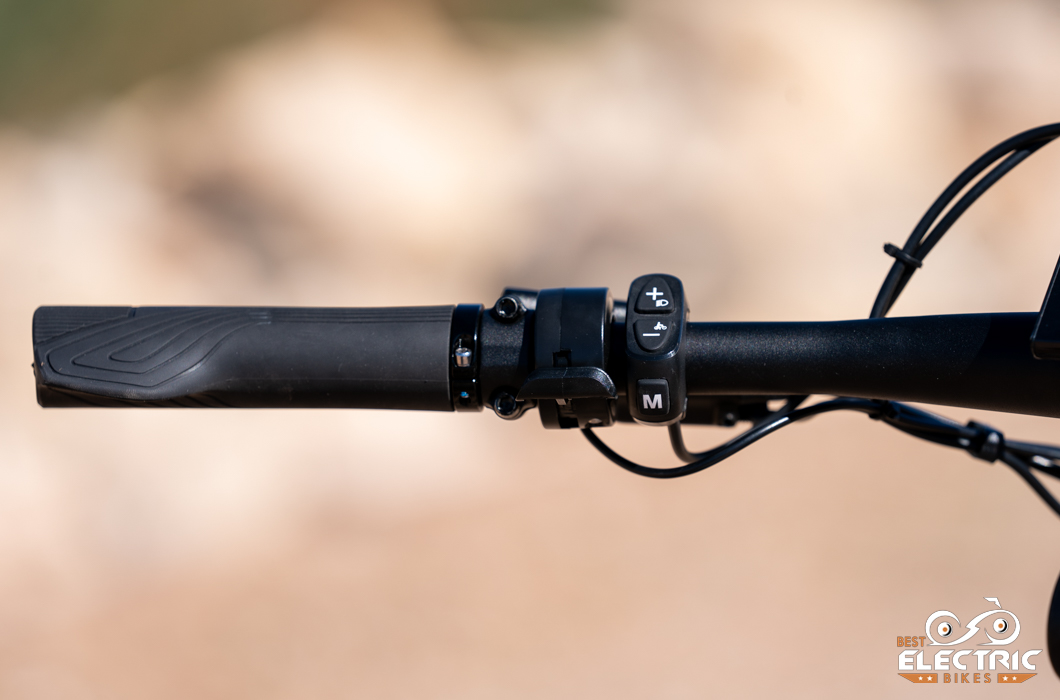 In-Depth Denago City Model 1 Review
Denago City Model 1 Review: Comfort, Handling, and Ride Qualities
A great commuter will offer a comfortable and reasonably upright riding position and will balance crisp handling in crowded streets and bike paths with calm cruising at speed. The Denago City Model 1 does exactly this, and more. Because it is a Class 3 e-bike with a motor powerful enough to deliver riders to 28 mph, it needs also to be calm at speed. If an e-bike feels nervous at speed people will slow down until they feel more comfortable. Part of what makes the Denago such a compelling bike from this new company is that it is solid at speed and carves easy corners.
The Denago City Model 1 comes in two versions: a traditional frame and a step-thru frame. This allows Denago to reach a great many more riders than they could with just one frame size. With its step-thru frame, the City Model 1 is easy to get going on and even easier to get off. Thanks to an adjustable stem the City Model 1 is more easily fit to a variety of riders than some one-size-fits-all bikes.
The trick with Class 3 e-bikes is balancing the handling considerations so that the bike is maneuverable at low speeds but stable once a rider's speed climbs north of 20 mph. It's not an easy thing to accomplish. Fortunately, the Denago City Model 1 handles well at higher speeds.
The Kenda Kwick Seven-5 tire is 2.2-in. wide, big enough to provide a cushy ride, but to get a nice ride quality from that (or any other big) tire, it's important not to inflate the tire to its maximum pressure, or even near it. Ideally, tire pressure is proportional to rider weight; pumping this tire up to more than 50 psi, though, will give a rather rough ride and make the bike feel a bit twitchy at higher speeds, like when going downhill.
Denago City Model 1 Review: Motor, Battery, and Drivetrain Performance
The star of the show with the Denago City Model 1 is its 500W brushless, geared hub motor. While Denago doesn't publish how much torque the motor produces, it performs effectively on hills, making it a terrific e-bike for riders in places like Seattle and San Francisco. It provides impressive, though not head-jerking acceleration and can hold a steady pace well north of 20 mph. And it is geared to deliver riders to the full 28 mph limit of a Class 3 e-bike.
With a 48V, 653Wh battery, riders will enjoy a fair amount of range in PAS 1 or 2, but because this is a Class 3 e-bike, riding in PAS 5 at 28 mph will definitely zap the e-bike's range in a way that riding at 20 mph does not.
To their credit, Denago took the unusual approach of doing real-world range testing with riders of different weights at different assist levels. With a 175-lb. rider pedaling in PAS 1, the City Model 1 covered 48 mi., while a 185-lb. rider pedaling in PAS 5 covered only 20 mi. This is a much more helpful approach to letting buyers know what they can expect and kudos to them for pursuing this.
The Shimano Tourney drivetrain works well and offers enough gearing range to climb hills and cruise at top speed, but the Tourney thumb shifter is possibly the least ergonomic shifter we've encountered this year; thumb shifters went out with shoulder pads in sport coats. Our dislike of the shifter aside, the shifting itself works effectively and provides a solid click with each shift.
Denago City Model 1 Review: Braking, Safety, Customer Service & Warranty
Because a Class 3 bike can provide assistance up to 28 mph, riders often settle into a cruising speed between 20 and 25 mph. At that speed, stopping quickly requires a reasonably powerful brake. We are pleased to report that the Zoom hydraulic disc brakes paired with 180mm rotors do a fine job of bringing the City Model 1 to a stop. To be a truly effective brake, it needs to both stop the bike promptly, but also provide easily controlled modulation. Brakes to more than stop; they also add a dimension of control by allowing a rider to scrub speed as the situation requires.
Class 3 e-bikes need to meet a high threshold where safety is concerned; 28 mph is fast enough that an e-bike's frame, fork, wheels and handlebar need to be stiff enough to give the rider the confidence necessary to ride at reasonably high speeds. Frame and fork stiffness and powerful brakes are integral to a rider's sense of safety and the City Model 1 covers those bases effectively.
Knowing that bike owners can experiences issues both large and small, Denago went the extra step of creating a support portal to speed resolution to rider issues. Having a dedicated site to helping their owners is just the sort of thinking that we like to see from consumer-direct brands; it clearly demonstrates their commitment to a great riding experience.
Despite the appearance that they do a solid job of supporting their owners, we could find no warranty information anywhere on their site or their two supporting sites. It's hard to imagine that they would offer less than a full year on all parts and labor, but we are unable to report on what it is they offer even after following the link at the end of the owner's manual that says it will go to warranty information. Hiding such information is cause for some concern.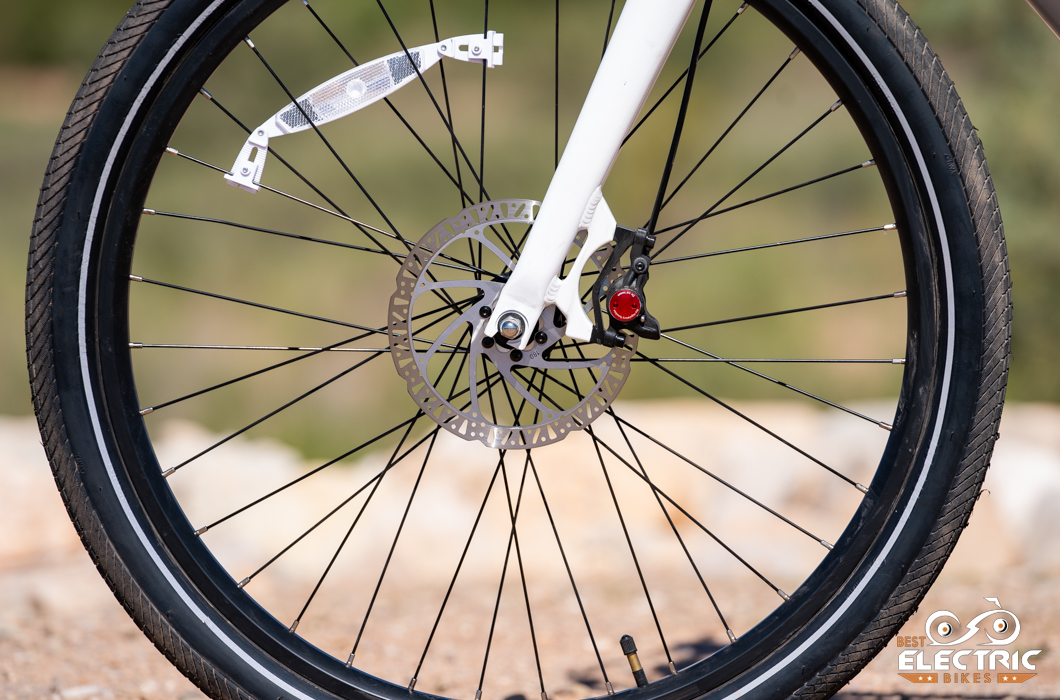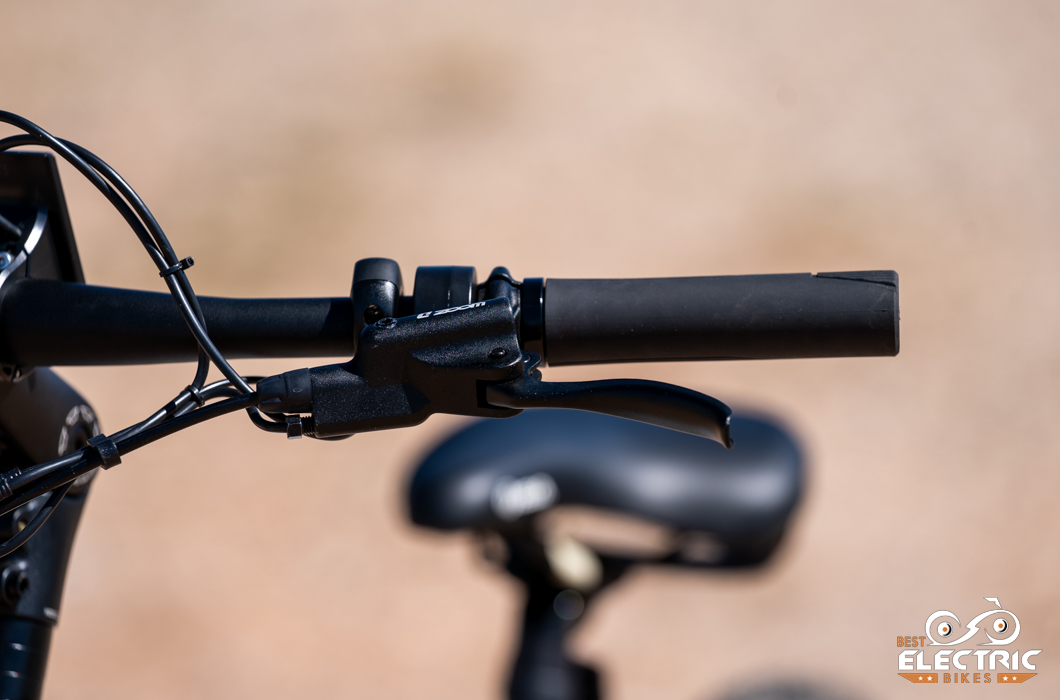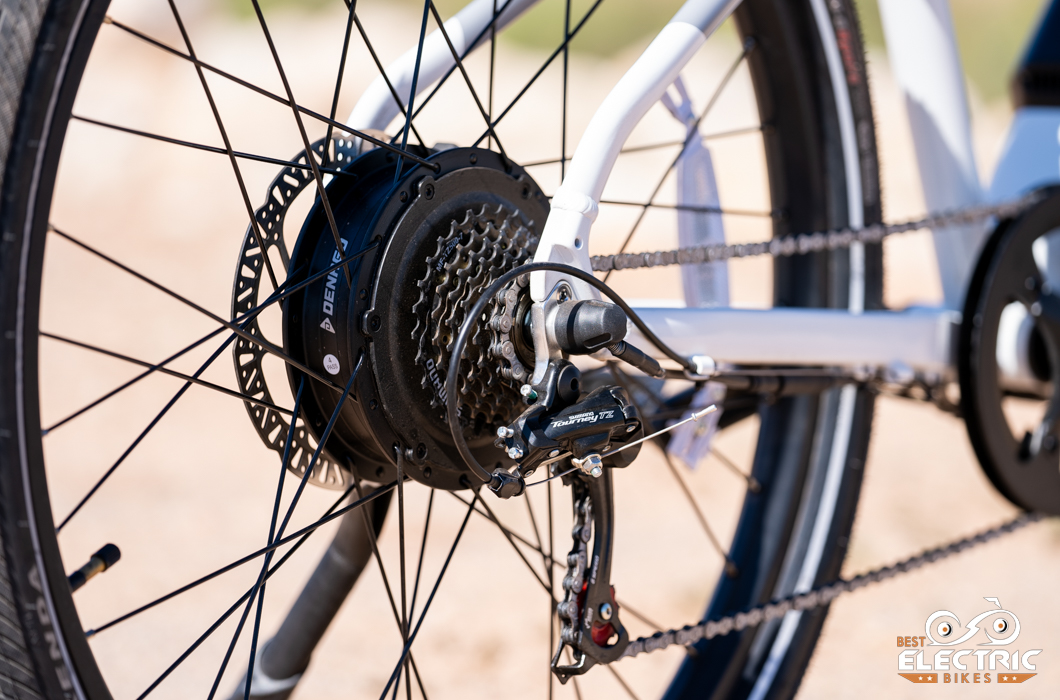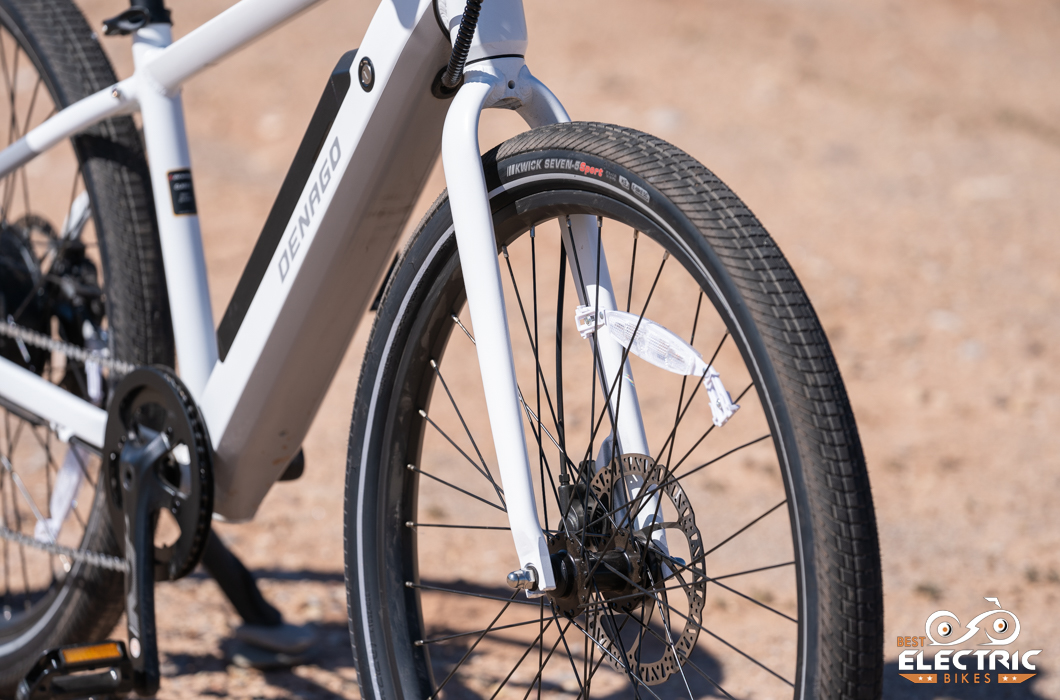 Denago City Model 1 Review: Recommendation/Final Verdict
A commuter bike with Class 3 performance, hydraulic disc brakes, a rear rack, fenders and lights would likely break the $2000 threshold that seems to be a real break-point for many consumers. We get it; $2000 is a fair chunk of money. So how does a bike company keep a Class 3 commuter affordable? By leaving off the items that can be added later.
Upgrading an e-bike's motor isn't easy. Buying a second battery or a bigger battery is also not especially easy. However, leaving fenders, a rack and lights off of a bike and making those accessories that a rider can choose to upgrade at a later date is a terrific solution to keeping an e-bike's price down. As a result, the Denago City Model 1 plays in that very competitive $1500-$2000 price range.
The Denago City Model 1 is an exceptionally well-designed bike and offers the kind of power to induce grins on anyone who climbs aboard. And while we haven't seen how much torque the motor produces, when our colleagues at Electric Bike Report reviewed the bike, they were very impressed with the e-bike's performance on hills. It has some real kick.
At just 53 lbs., the City Model 1 is lighter than we would expect for a bike with this much power, which adds to its zip. This is another effect that comes with leaving fenders, lights and a rack off of the bike.
As the first offering from this new company we are impressed with what they've built. It's a terrific e-bike for anyone with a longer commute, or is just impatient. That said, 28 mph is quick and isn't a pace everyone will enjoy.
We love the Denago's display. It's a simple, black-and-white LCD screen, but the screen is large and easy to ride. Speed, battery charge and PAS level are all easy to view in a glance.
As a Class 3 bike, this is a bike for going places—to work, to the store, to the other side of town. It's not the bike we would suggest if someone just wanted to go for a fun cruise, but anyone wanting to park their car and still have effective transportation will do well to consider the Denago City Model 1.
Thank you for reading through our review of the Denago City Model 1. Still have further questions? Wondering how it compares to a similar bike? Leave us a question in the comments below and the team at BestElectricBikes.com will answer!