Intro
Commuters dominate the e-bike market in the $1500 to $2000 range. The great majority of these come from manufacturers like Denago—direct-to-consumer and with few or no independent dealers—and a Class 2 rating; that is, they have a maximum speed of 20 mph and are equipped with a throttle. The Denago Commute Model 1 bucks this trend by producing a Class 3 commuter with a maximum speed that can keep it moving with traffic.
In our review of the Denago Commute Model 1 we will look how the motor, battery, drivetrain and other features come together to make this an effective commuter, especially for anyone who has to ride longer distances. And yes, we get that what constitutes a long bike ride is different for every rider.
This is a full-featured commuter that comes ready-to-go, thanks to Denago including a front light, rear rack and front and rear fenders. Thanks, in part, to its design and the way it bolts to the frame, the Denago Commute Model 1's rear rack can carry a load of up to 55 lbs.
There's more to commuting than making sure an e-bike has fenders, a light and a rack, though. The e-bike needs to handle well at speed and the brakes have to be powerful enough to bring a rider going 28 mph to a stop in a short distance, as well as allow good modulation for not just stopping, but controlling speed, especially when entering a turn.
Let's take a look at what makes this a commuter of a different feather.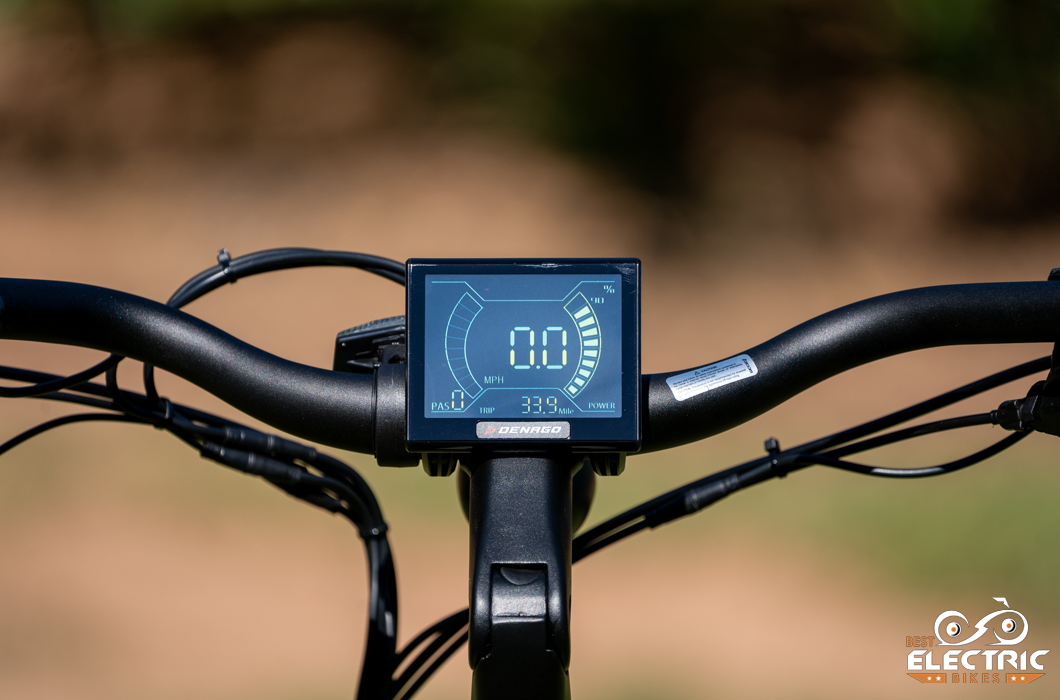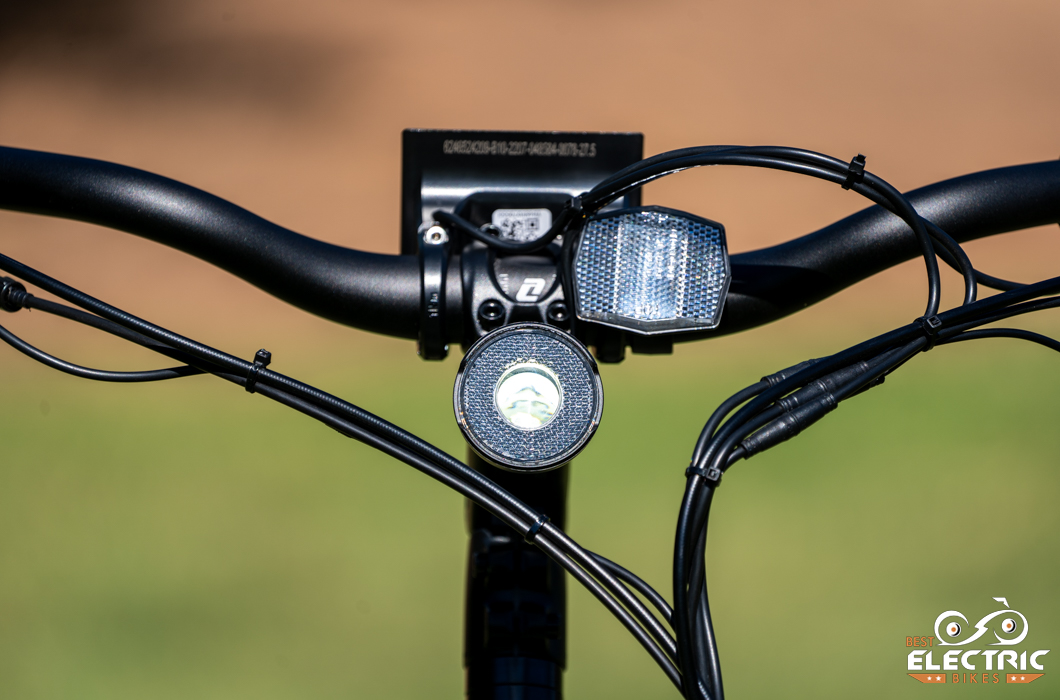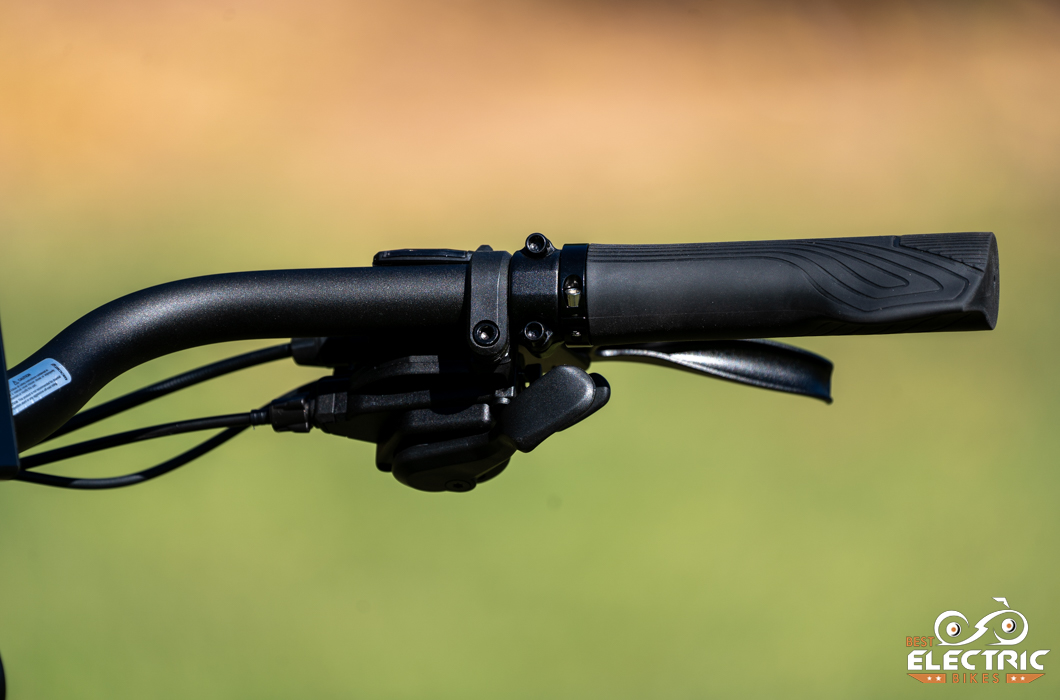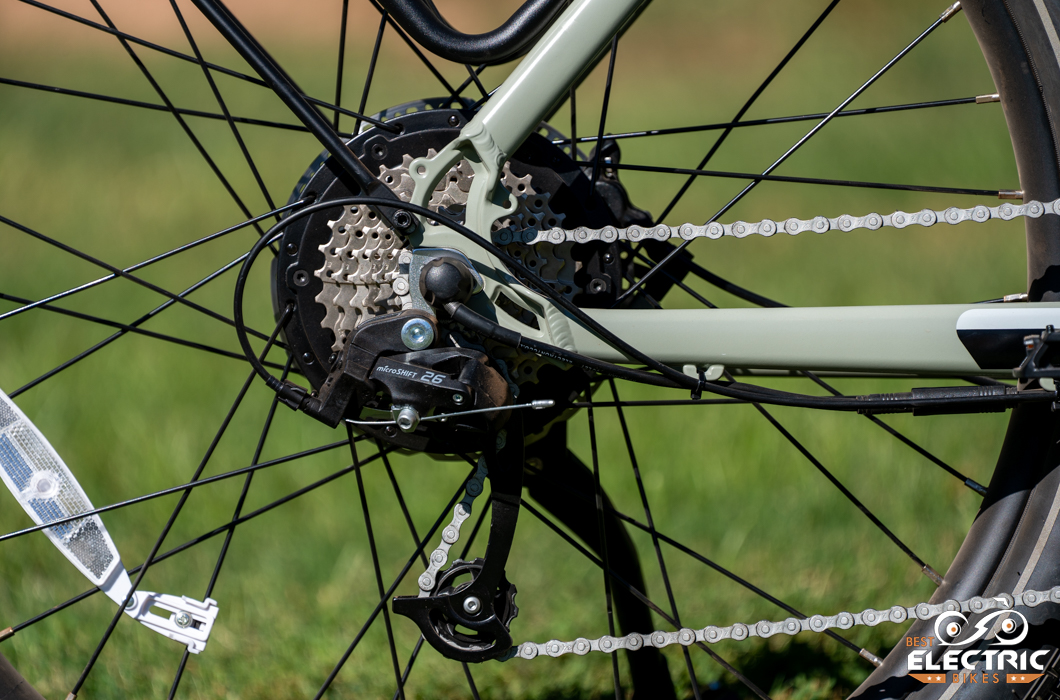 E-Bike Category: Commuter
Who the Denago Commute Model 1 Electric Bike Is for:
The Denago Commute Model 1 is great for anyone who wants to make quick work of their daily commute to work with a bike good in nearly any conditions.
Denago Commute Model 1 Step-Thru Review Ratings:
***All ratings are relative to e-bikes of a similar style and price point***
| | |
| --- | --- |
| Speed/Acceleration | |
| Hill Climbing | |
| Battery Range | |
| Braking | |
| Construction Quality | |
| Handling | |
| Included Accessories | |
| Warranty & Customer Service | |
| Value | |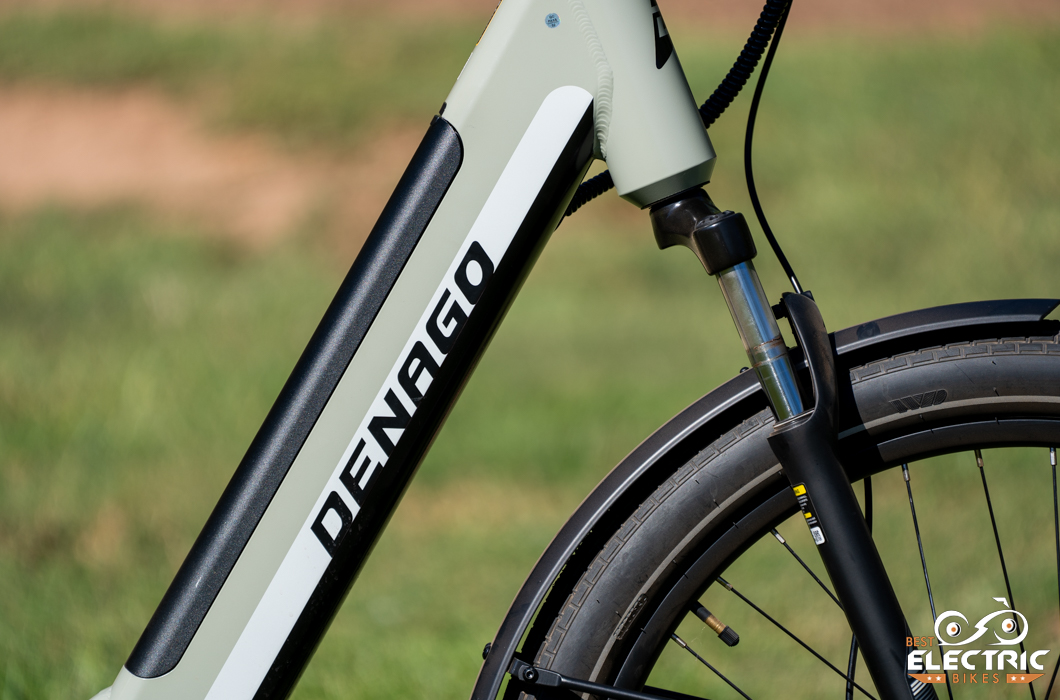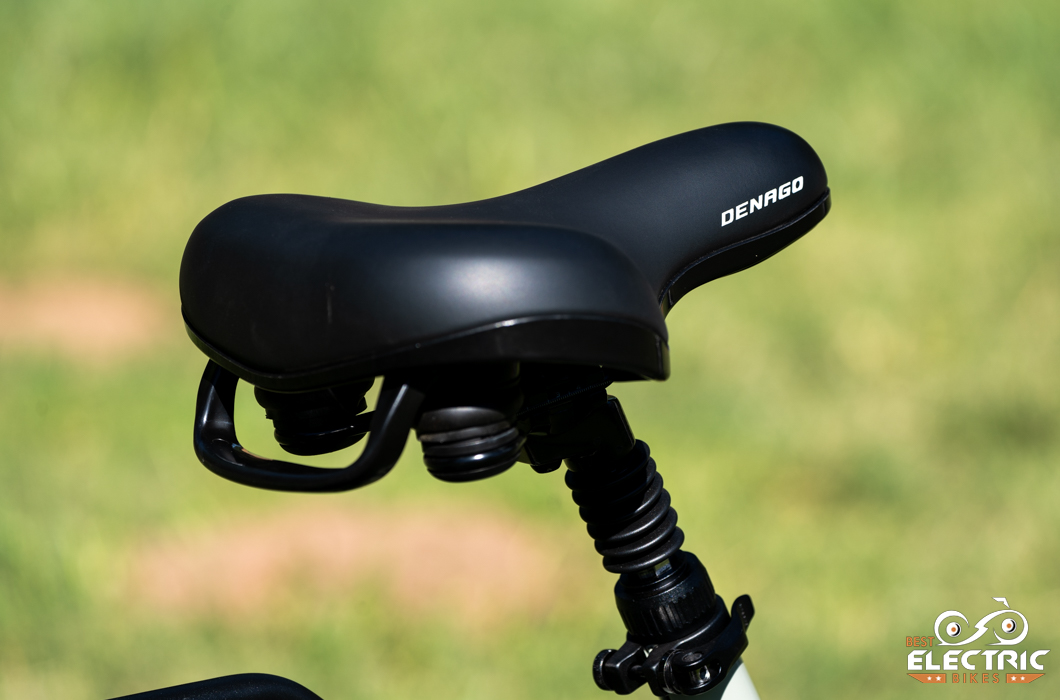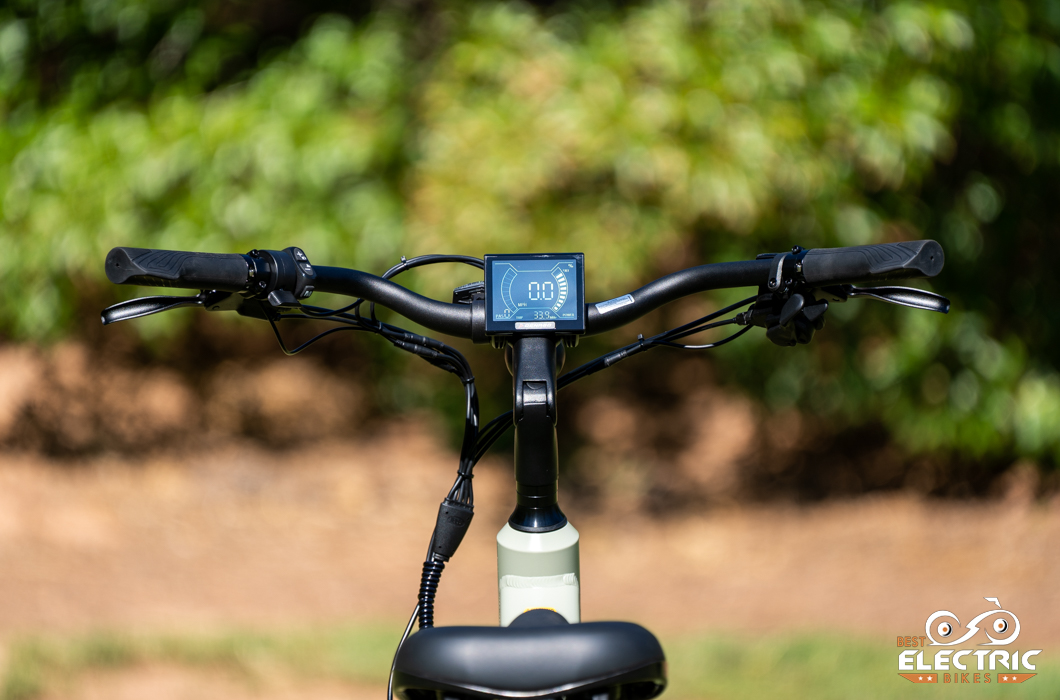 Denago Commute Model 1 E-Bike Specs
Battery: 48V, 653Wh
Expected Range: 45+ mi. claimed
Charger: 3A fast charger
Motor: 48V, 500W brushless, geared hub motor producing 50Nm of torque
Pedal Assist: 5 PAS levels
Throttle: Thumb button
Display: LCD with PIN lock security
Headlight: Included
Taillight: N/A
Frame: 6061 Aluminum
Fork: Coil spring suspension fork
Fenders: Included
Kickstand: Included
Handlebars: 6061 Aluminum
Grips: Rubber, lock-on
Drivetrain: Microshift 8-speed
Brakes: Zoom hydraulic disc brakes with 180mm rotors
Pedals: Alloy with reflectors
Saddle: Denago, comfort padded
Tires: 27.5 x 2.6-in. e-bike rated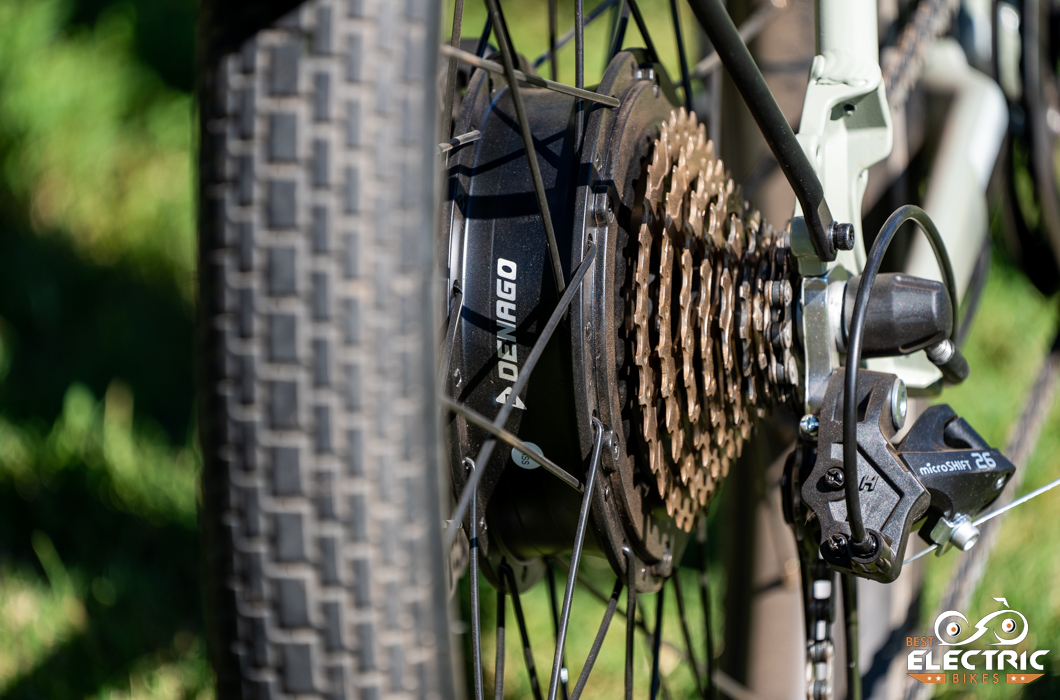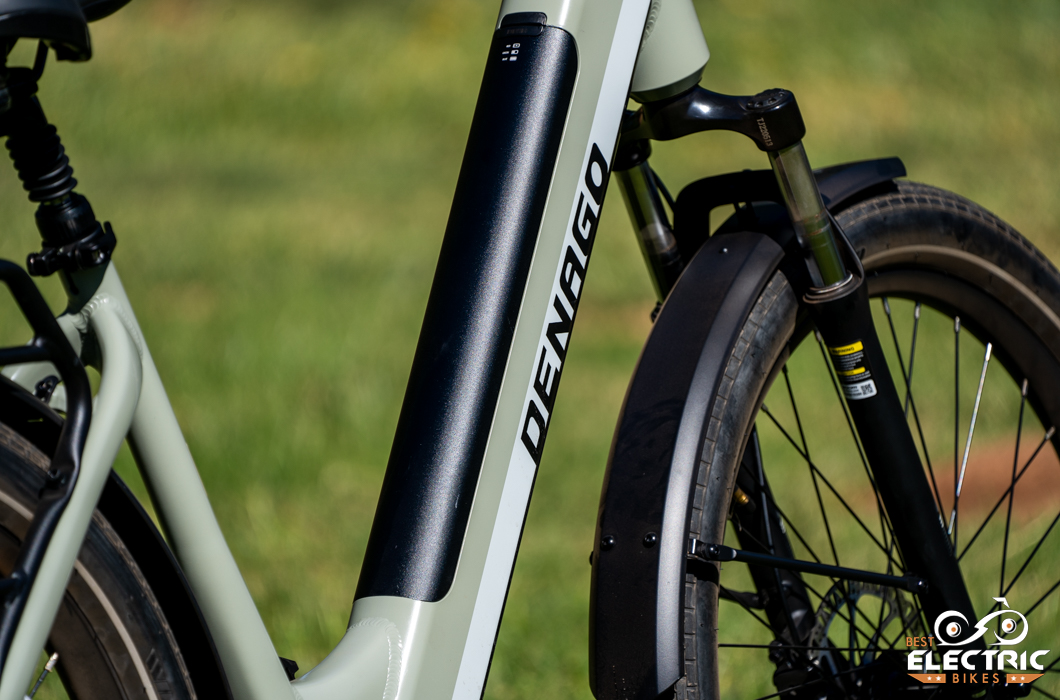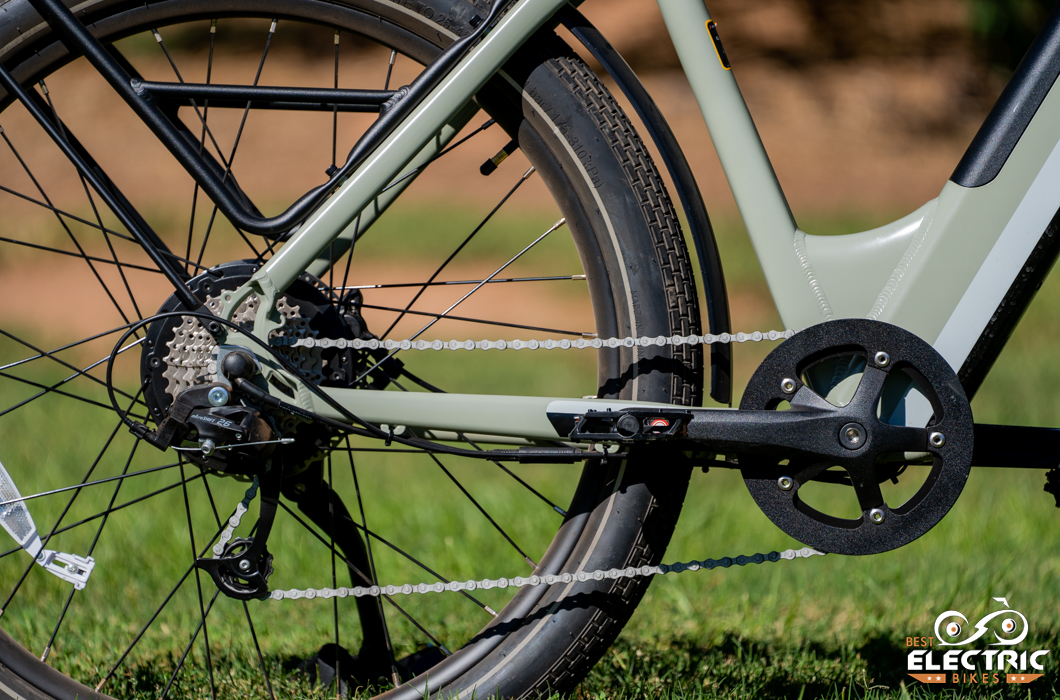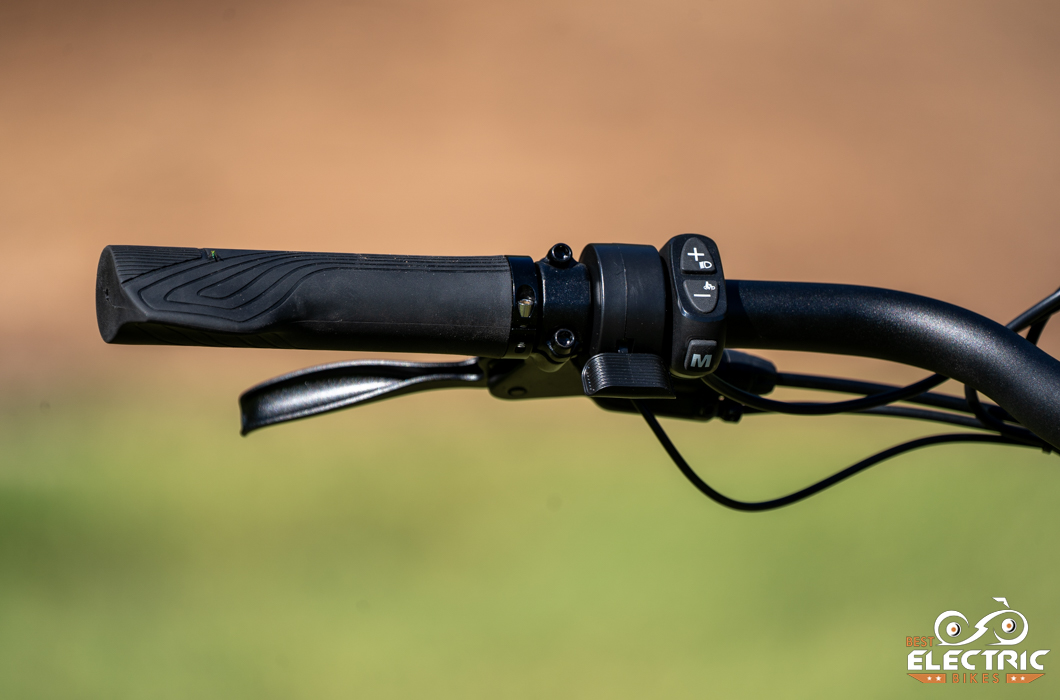 In-Depth Denago Commute Model 1 Review
Denago Commute Model 1 Review: Comfort, Handling, and Ride Qualities
Most reviews of commuters discuss the features that make them appropriate for anyone hoping to leave their car parked at home while they do their work commute by e-bike. What is often left out is any discussion of the actual ride experience beyond the max assist speed. That's a real disservice to many of these e-bikes because some have a surprisingly comfortable and fun ride.
Denago built the Commute Model 1 to be more comfortable than the average commuter without sacrificing a fun ride. So how did they do that? Well, they started with the tires. They spec'd 27.5 x 2.6-in. tires with a low-profile tread that will roll quickly on pavement. Bigger wheels roll more quickly and efficiently, which helps conserve battery life, but it also smooths the ride and the relatively wide tires allow for more cushion than some of the narrower commuter tires will permit.
Next, Denago added both a suspension fork and a suspension seatpost, cushioning the rider at hands and hind quarters. A padded saddle with elastomers for more cushioning further insulates the rider.
Most commuters feature a handlebar that is generally referred to as a "commuter" bar. This is a handlebar that features more back sweep than is found in a typical "flat" bar, but not as much as with the sweeping bar of a cruiser. The way it splits the difference means the rider gets to sit more upright than with an eMTB while still keeping enough weight on the front wheel to give the Denago Commute Model 1 confident and fun handling. Carving turns on this will bring back the same smile we all had as kids riding bikes.
Denago offers the Commute Model 1 in two different versions: they make a version with a traditional frame and another with a step-thru frame. They don't stop there, though. They also offer each of those frames in two sizes, S/M and L/XL. E-bikes in the $1500-$2000 price range almost never come in so many sizes. This will do more for rider comfort than most shoppers will understand unless they get on an e-bike that is either noticeably too large or too small. Riding the correct size e-bike also improves its handling because the rider is better balanced.
Denago Commute Model 1 Review: Motor, Battery, and Drivetrain Performance
Commuters, broadly speaking, come in three flavors and those are the various classes of e-bikes. With Class 1 commuters, they are legal anywhere someone can ride a bike. In some communities places like multi-use paths those class distinctions are enforced, so abiding by the rule can be important. Class 2 e-bikes include a throttle, which is terrific for anyone whose legs can sometimes finish work before the rider is quite home. Technically, they aren't legal quite everywhere, but most of the time no one is watching to see if riders have their thumb on a button. Class 3 commuters have a max speed of 28 mph, face the most restrictions, but are the e-bikes of choice for anyone with a longer commute. For some riders, 6 mi. is a long commute, but for others the commute isn't long unless it's more than 20 mi.
The real advantage to Class 3 commuters is that in many communities the stoplights are synchronized to allow someone traveling roughly 23-25 mph to hit green light after green light. At just shy of 20 mph, riders aren't moving quite quick enough to keep up with the timing of the lights and they end up being caught by lights, just like drivers going 40 mph who are moving too fast for the timing of the lights.
The Denago Commute Model 1 is a Class 3 e-bike, and perfect for anyone trying to keep up with the timing of the greens. Surprisingly, a rider moving at 25 mph can often keep up with a driver going 40 mph because of the timing of the lights.
Denago equips the Commute Model 1 with a 500W brushless hub motor that can turn 50Nm of torque. On paper this may seem like a fairly modest motor for an e-bike meant to hit Class 3 speeds, but power and torque aren't the only considerations here; an e-bike's overall weight matters as well and the Denago Commute Model 1 isn't all that heavy, considering it's a Class 3 e-bike. It tips the scales at 62 lbs., which is also really handy for anyone wanting to put their e-bike in the back of a vehicle or on a hitch rack; not all racks come with a ramp.
The 653Wh battery isn't huge by any means, but because the motor produces 500W on average, not 750, and because this e-bike isn't all that heavy, the Denago Commute Model 1 is projected to cover 45 or more miles on a single charge. Our colleagues at Electric Bike Report tested it and in PAS 5—which is what most people will be riding if they want to go faster than 20 mph—they covered 27 mi. before draining the battery and pedaled nearly 38 mi. in PAS 3.
The great majority of e-bikes around the $2000 price point are equipped with a 7-speed Shimano drivetrain. While it's a quality drivetrain, depending on a couple of factors like wheel size and chainring size, some e-bikes lack the high gear necessary to go Class 3 speeds; some e-bikes with 20-in. wheels even have trouble reaching 20 mph with that drivetrain. In order to make sure riders have enough muscle at both the high end and the low end, Denago went with an 8-speed Microshift drivetrain. Microshift doesn't have the reputation or name recognition of Shimano, but their parts work well and for a manufacturer looking to deliver quality at a good price, Microshift is a terrific alternative.
Denago Commute Model 1 Review: Braking, Safety, Customer Service & Warranty
Going 28 mph on an e-bike can feel like going 50 mph in a car. The perception of speed is different and because a bike can turn in a tighter radius than a car, everything feels like it happens even faster. For that reason, Class 3 e-bikes, in our opinion, really need hydraulic disc brakes. The Denago Commute Model 1 is equipped with Zoom hydraulic discs paired with 180mm rotors. This is a solid setup that will provide reliable performance in all conditions, including the wet.
With Class 3 e-bikes our first concern with safety is often how the e-bike handles. Things happen twice as fast at 28 mph as they do at 14 mph. For that reason, we like to see handling that balances low-speed maneuverability against calm and assured handling at 28 mph. The very best e-bikes have the ability to make 28 mph feel more like 20 mph. It may seem contradictory, but rider confidence tends to decrease as the perception of speed increases. It's a comfort thing. The Denago Commute Model 1, as we mentioned earlier, has great handling. It feels graceful in a turn.
Between the puncture-resistant tires, hydraulic disc brakes and front suspension that improves control in the event the rider hits a bump or a rough patch of road, the Denago Commute Model 1 doesn't raise any concerns for us with regard to rider safety.
The Denago Commute Model 1 is a new model for a pretty new company. We've yet to hear anything negative about the company's customer service and all of the reviews on their site are glowing.
Denago's warranty policy is two years on the frame and fork and one year on everything else. That's a bit better than many of the warranties offered by their competitors.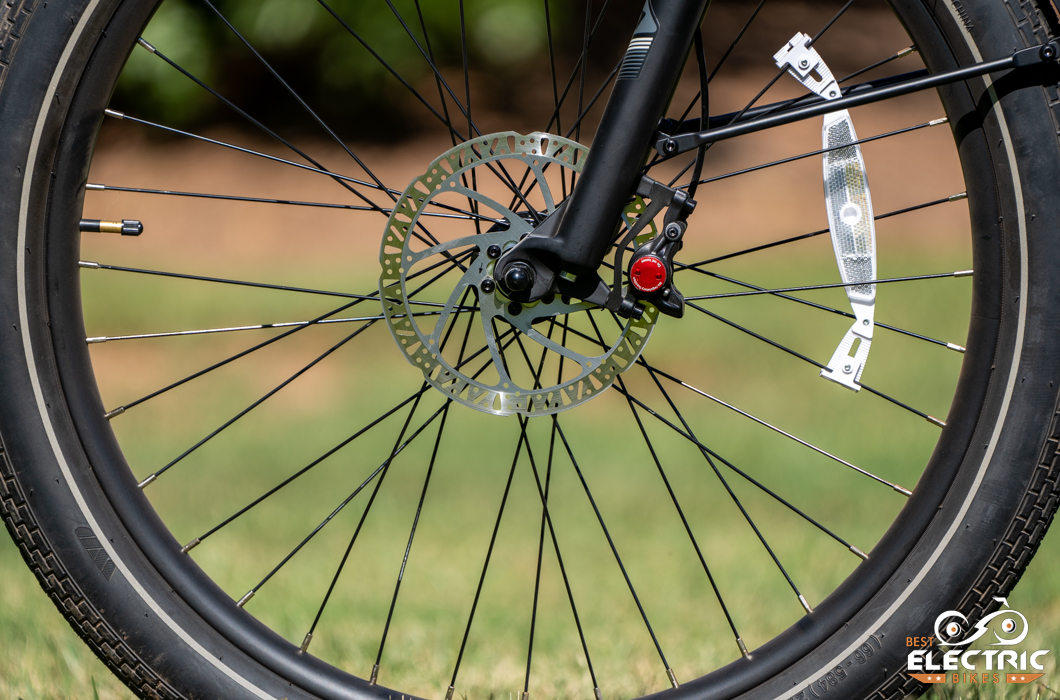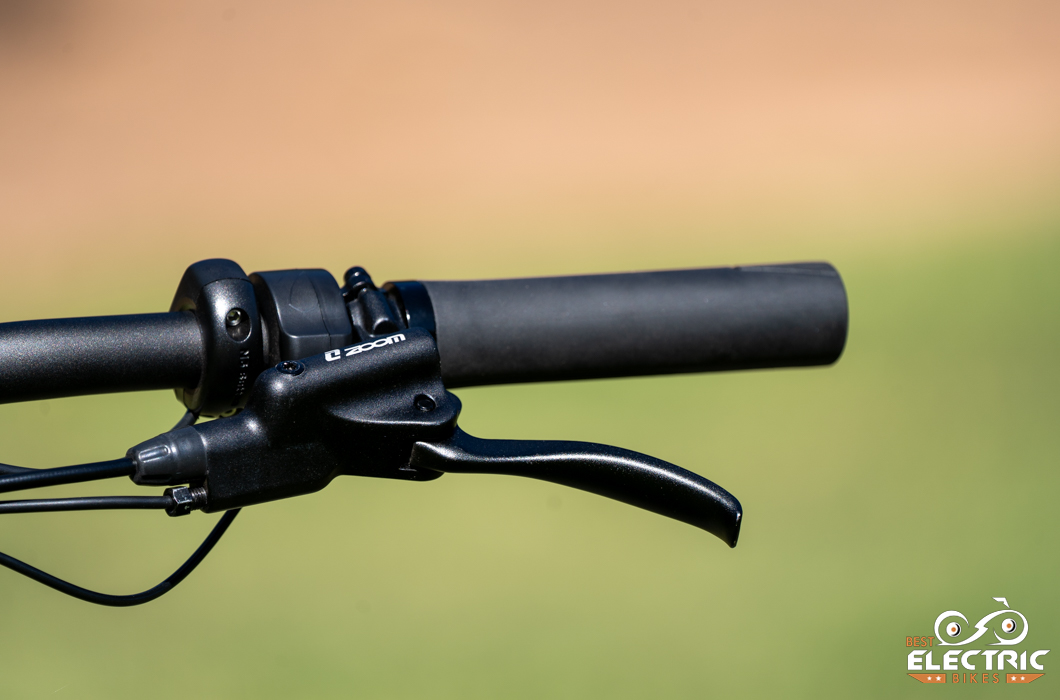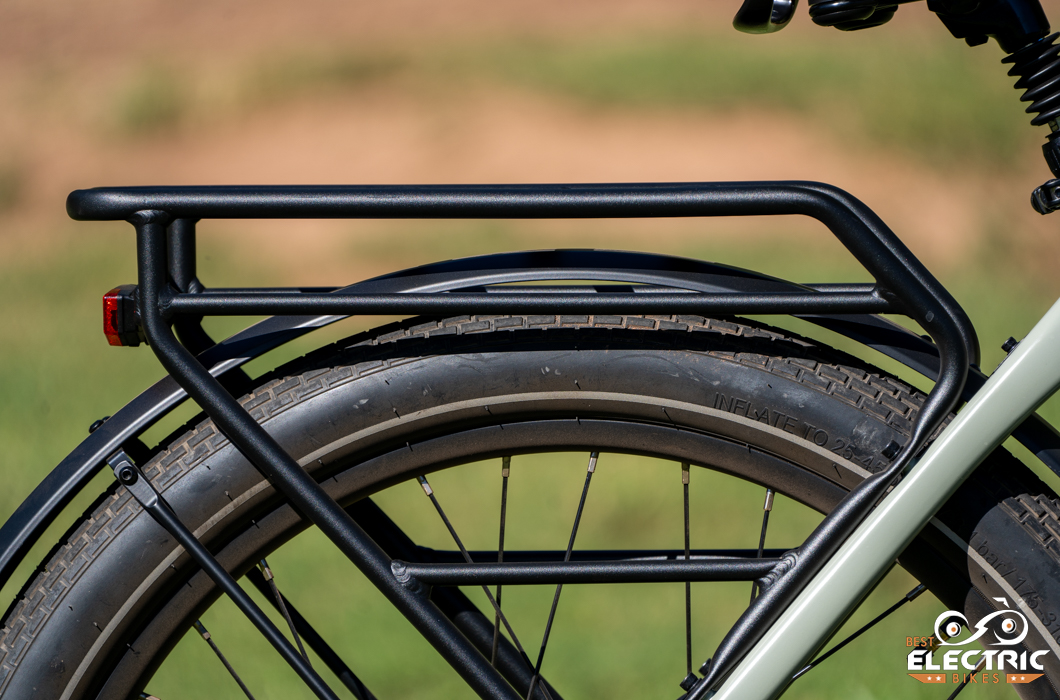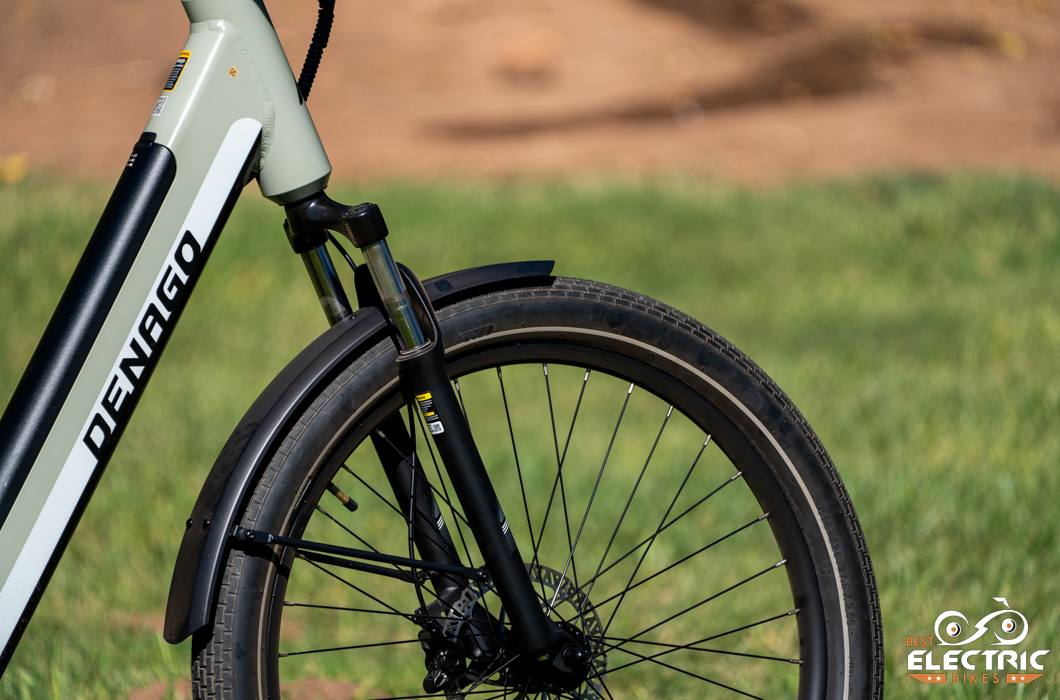 Denago Commute Model 1 Review: Recommendation/Final Verdict
Riders shopping for a Class 3 e-bike can be a bit different than other people looking to buy an e-bike. The ability to reach speeds north of 20 mph can be a line in the sand and any e-bike that doesn't meet that threshold may be rejected. We get it.
With the Denago Commute Model 1, when we weigh it against other Class 3 commuters, it stacks up exceedingly well. Many of its competitors feature mid-drive motors because they don't need as much wattage to assist a rider up to 28 mph. Mid-drive motors drive up the cost of an e-bike, usually, often doubling the price over similarly equipped e-bikes. Big hub motors can make an e-bike heavy and because those big motors draw so much power, they need big batteries, making the e-bike heavier still. Of the many things the Denago Commute Model 1 has going for it is that it weighs 64 lbs.; that's a very reasonable weight for a Class 3 e-bike.
Denago is a pretty new company in the e-bike world, but their staff are experienced in the design and production of e-bikes. If we had any reservations about the company as a result of their short track record, we would express it. On the contrary, their e-bikes are well-designed and made.
A Class 3 e-bike is rife with opportunities for a manufacturer to make mistakes in design. A drivetrain with either too narrow a range or too small a high gear will handicap an e-bike from climbing hills or reaching top speed—or both. Poor brakes will show up as unacceptably long stopping distances. Too small a battery will mean very little range in PAS 5; people who buy Class 3 e-bikes don't buy them to ride around at 14 mph; a Class 3 e-bike isn't necessary to do that. The point of a Class 3 e-bike is to achieve speeds north of 20 mph. Denago has avoided all of those pitfalls with the Commute Model 1 and created a versatile, quick and fun e-bike.
The real value to a Class 3 e-bike isn't the ability to go 28 mph. No one rides at top speed all the time. But what it does do is allow a rider to keep up with the flow of traffic better. In many cities, the lights on a road are timed so that someone going in the neighborhood of 23-25 mph can make light after light after light without stopping. That's where the real time savings occurs—riding at a speed that saves the rider from stopping for red lights. Our perception of distance is easily skewed, but we have a great ability to sense the passage of time. Making a commute shorter is all about cutting time.
With the Denago Commute Model 1, the buyer gets an e-bike that can make leaving the car at home a practical possibility. Going to work is unlikely to ever be more enjoyable.
Thank you for reading through our review of the Denago Commute Model 1 Step-Thru. Still have further questions? Wondering how it compares to a similar e-bike we've reviewed here at Best Electric Bikes? Let us know in the comments below!