Whether you have a brand new eBike or one you've been riding for a while, you're eventually going to be tempted to make some modifications to it for a better, more personalized riding experience. However, if you're a relatively new or inexperienced biker, you might not even be sure of what parts you can easily replace or improve upon. Looking at the official accessories and upgrades on a eBike manufacturer's website is a great place to start, but what do you do if they don't have any accessories or official upgrades available?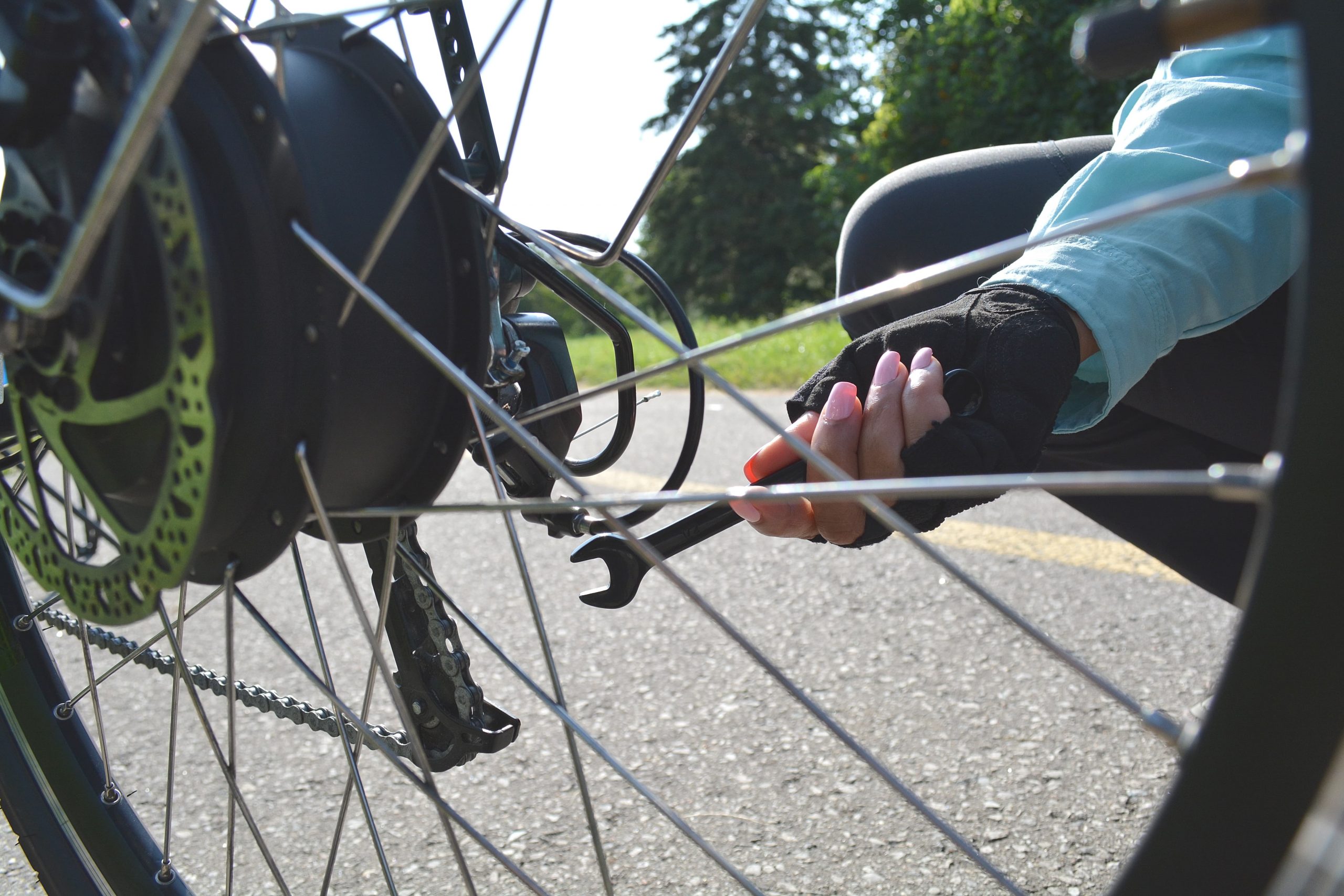 That's why Best Electric Bikes wanted to develop our own list of 7 ideas to help you modify your eBike. All of these upgrades should be very easy to perform, though if you are stuck they are all things your local bike shop will be able to help you with as well. Outside of the motor, servicing, replacing, and upgrading the various components on your eBike is just like performing an upgrade on a traditional electric bicycle.
Let us know what you think of our list by leaving a comment below or sending us an email, especially if you have your own modification idea you want to suggest to other bike enthusiasts.
Warning Note #1: Verify your Warranty Terms before Modifying:
Many eBike manufacturers welcome modifying their eBike to a certain degree, but they often have a certain limit that you can't cross unless you're fine with losing any warranty protection for the bike. Some eBikes just have a limit on touching the motor, while others may only allow you to swap the comfort components like the saddle, handle grips, or suspension support. Make sure you review your warranty terms before making any significant modifications, as you don't want to break your eBike and find out you lost your coverage due to the modifications you made.
Warning Note #2: We Advise Against Modifying the Speed Cap:
If you search for eBike mods, one of the most popular results you're going to find is how you can remove the speed cap on your eBike motor. While riding at higher speeds may sound fun, there are several reasons we strongly advise against modifying your motor for riding at higher speeds. They are as follows:
It's Often Illegal
The 20 to 28 MPH speed cap on your eBike is so you can operate them without needing a license to operate your electric bike. Not only do you need a license once you go faster than the speed limit, but eBikes are even banned or heavily regulated in certain states, leading to large fines and other legal issues if you modify your eBike to cross the speed limit.
It's Often Damaging
Your eBike has been specifically designed with a lower motor speed in mind. The faster your motor goes, the more likely that you will suffer major component damage since the motor, chain, drivetrain, and other components weren't built with sustained high speed motor riding in mind. If you modify the motor speed cap, be aware that you wear down your eBike significantly quicker compared to riding at the normal, intended speeds.
It's Often Dangerous
Manual pedaling past the speed cap is traditionally a smooth, stable, and consistent process that you ease yourself into so you can retain control of your handling at high speeds. Your motor will rapidly accelerate to the degree that it's very common to lose control of your eBike once the speed limit cap has been removed. Jerkiness, shooting out from your hands, or even the occasional crash or motor failure are all likely to lead to injury once you've gotten rid of the speed limit cap.
With these two warning notes in mind, we can get to the traditional, safe, and legal modifications that you can easily make to your eBike:
Idea #1: Upgrade Your Light Setup:
This isn't just an optional upgrade, but should be a mandatory step that every bicyclist should follow. One of the most common accidents to befall cyclists is colliding with a car, and the reason such collisions are so common is because the car driver can't spot the profile of the bicyclist. Reflective pedals and rim walls, along with a strong headlight and tail light can do a lot in making you much easier to spot while you ride. If your eBike doesn't have any lights on its base frame, you will definitely want to take the time to add some, even if you just plan on riding during the day.
Idea #2: Setting up a New Battery:
If you were one of the newest entrants into the eBike market, it is very likely that you wound up purchasing an eBike with a lead-acid battery. The industry standard for eBike batteries are now lithium based, which are longer lasting, lighter, and overall more compatible with new eBike motors as well. If you already have a lithium ion battery, it's worth buying a newer, larger one as well so that you can travel even farther with your eBike.
The one note we want to make is that, depending on your eBike battery, you may have to replace both the battery and the mount itself. Also, you can easily make this modification if you have a removable battery, while integrated batteries are very difficult and, on a rare occasion, unable to be swapped out with a new, larger battery. Lastly, some batteries just aren't compatible with certain eBikes, so make sure you're buying something that is compatible or have the ability to easily return your battery if you make the swap and find out it won't work.
Idea #3: Swap out the Tires:
Electric bikes traditionally come with tires that are designed specifically for their intended use, with city bikes often having thin tires while mountain bikes have wider tires. If you want to try riding somewhere new, why not swap out your tires from time to time for a unique riding experience. Throw wider tires onto your city biker for a smoother, comfortable ride or thinner tires on a mountain traveling bike if you want to have a great option for some cross-country riding. Whatever your setup, switch up your riding experience from time to time by just installing new tires on your eBike from time to time.
Idea #4: Cargo Racks and Cargo Bags:
When you're riding an eBike, you're often going to be traveling with equipment to make your riding experience even better. However, you often need a place to put your gear on, which is why you'll want to consider a cargo rack. Some eBikes come with cargo racks prebuilt into their frame, while many others have optional upgrades available from the manufacturer. Once you have a rack setup, there's all kinds of bags that you can bring with you to safely protect your cargo while you travel with an electric bike. Thanks to the ebike motor, hauling things is less of a daunting task anyway, so it makes an ideal upgrade!
Idea #5: Frame Upgrades, Like Suspension:
Upgrading and replacing your frame is very difficult with electric bikes due to one key reason: the internal electrical wiring. In order to make eBikes look nicer, and to also protect the key, critical components, much of the electrical wiring for the motor system is placed within the inner tubes of the eBike frame. As such, replacing even small sections of the frame can be a very difficult and tedious process, as you need to be able to make your upgrade without damaging any of the internal components and wiring.
However, there are a few frame upgrades you can make that are easier, and one of them is adding a suspension system. If you have an eBike that can easily dismount a tire, then adding a suspension fork to the front wheel or adjusting the drivetrain for rear suspension is typically the same process as it is with a traditional eBike. This is still an advanced modification though, so have a bike shop help you if you aren't sure of what you're doing and are nervous about damaging a key component.
Idea #6: Grips, Saddle, Stem, and Other Comfort Options:
Whereas the other components have largely been for safety or performance, our final idea consists of the key components that make your ride more comfortable. A larger gel saddle may reduce the strain you feel while riding long periods of time, with leather or other ergonomic grips doing the same for your hands. Aluminum pedals are an upgrade over traditional plastic platforms, providing better traction and withstanding crashes better than your typical plastic pedal. Lastly, there are suspension saddles and stems for those who want more support while they're riding trails, or just want something that will help when they hit an uneven patch of road.
Conclusion: Upgrade your eBike, your way!
There are plenty of options for modifying your eBike, ranging in small addons to significant overhauls that will radically change your eBike's performance. One of the great things about bikes is how relatively easy it is to swap out parts, allowing you to customize your eBike and finetune it according to your preferences. While there are plenty of great stock eBikes on the market, it just takes a few upgrades and mods before you wind up with the true eBike of your dreams! So, try out something new on your eBike, and make your next riding adventure and even better one!