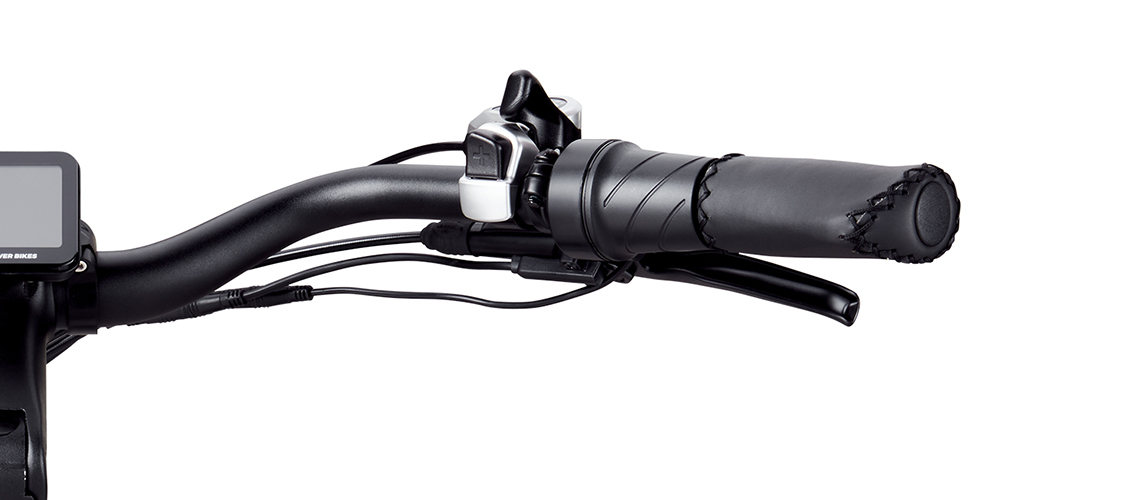 Are you wondering what the big deal is between e-bike pedal assist vs throttle? Before we go any further, let's just get one thing on the table, or in the saddle, as it were: the acceleration of an e-bike's pedal assist or throttle will make even Ebenezer Scrooge smile. It's as grin-inducing as a first kiss, as thrilling as a muscle car and as green as Kermit the frog. It's fun, full stop.
For anyone considering the purchase of an e-bike, choosing between an e-bike with a throttle vs. one pedal assist alone is one of the central-most questions the buyer must answer – besides diving into the nitty gritty of detailed e-bike reviews. Which answer a buyer chooses will draw a bright line between bikes, with some e-bikes—those with removable throttles—sitting in a gray area in between the two. The upshot for buyers is that after deciding how they want to use the e-bike and where they want to go, the next most important question to answer is to throttle or not to throttle.
When e-bikes were first brought into the U.S. they were flat-out illegal in some places, like New York. It's a crazy thought, but the law they ran afoul of was written before anyone had ever considered making such a machine. A group of bike industry veterans banded together and proposed drawing up three classifications that cities, park officials and others could then write codes to govern. What they came up with are our three classifications of e-bikes:
Class 1 bikes go up to 20 mph with pedal assistance
Class 2 bikes go up to 20 mph with pedal assistance OR a throttle
Class 3 bikes go up to 28 mph with pedal assistance or 20 mph with a throttle
Also, not all throttles are created equal. There are three kinds of throttles: push-button, push-lever and half-twist grip. Push-button throttles simply accelerate rider and bike to 20 mph for as long as the button is depressed and the battery has juice. Half-twist grip throttles (like a motorcycle, but without all the fumes) and lever throttles allow the rider to dial up only as much speed as they want. This difference can, for some folks, be a more important decision point than whether to get an e-bike with a throttle.
The factors that will guide any buyer's decision when considering e-bikes with pedal assistance and/or a throttle are likely to be:
What the local laws allow
Age and fitness
Environmental conditions (i.e., how crowded is my local bike path)
It's a good idea to look up what your local laws are, if only for reasons of absurdity. Eight different states including New York and Massachusetts require e-bike owners to be licensed and their bikes to be registered. Flaunting laws can wreck a weekend (spring break notwithstanding) and while we wonder if Officer Friendly really would write a ticket or impound an electric bike, we save our gambling for Vegas. People for Bikes, arguably cycling's most powerful advocacy group published two very helpful documents on local laws that you can find here.
For those buying e-mountain bikes, a good deal more research may be required. In California, e-MTBs are not yet legal, though they may be in a few in the near future, beginning with China Camp State Park in Marin County. Some rangers give tickets, and the tickets can cost as much as a night in a nice hotel. Oof.
In some places e-bikes are allowed on bike paths. In others, not. Again, check your local laws for certainty.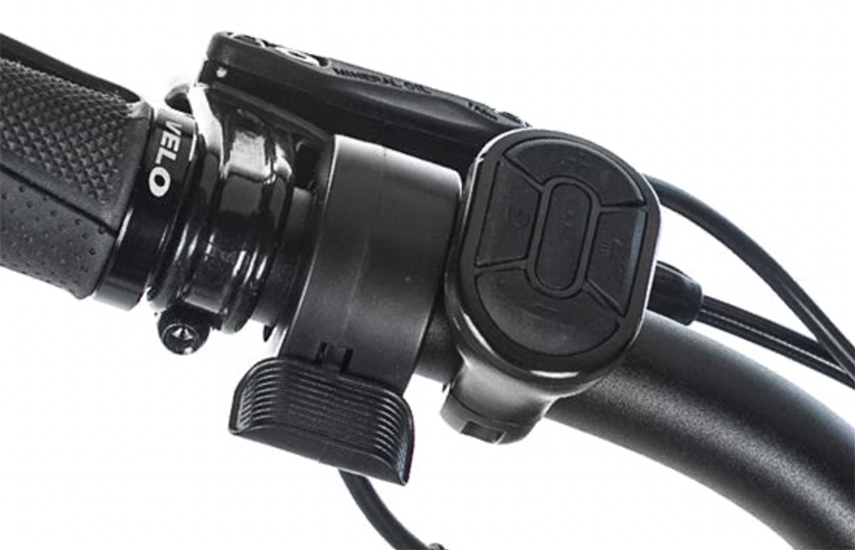 Electric Bikes With Throttles
When it comes to e-bikes, we can split the category into two neat groups (since all e-bikes include pedal assistance): Those with throttles and those without. Throttles come in three flavors: half-twist grip throttles similar to what can be found on a motorcycle, lever throttles that can be depressed to the desired pace and, finally, push-button throttles which simply propel the bike up to 20 mph when depressed. Some push button throttles will correspond with teh PAS level your bike is in, but it's not a feature utilized by all push-bottn bikes. Push-button throttles are uncommon, fortunately.
E-Bike Throttles: Pros
So why would someone purchase an electric bike that includes a throttle? There are a number of really solid reasons, in fact. Aging and inactivity take a toll on endurance, rather like a popsicle on a summer day. A throttle on an e-bike is an insurance policy, but without the onerous premium. With a throttle, a rider can head out for a ride and if their legs tire six miles into an eight-mile ride, guess what? There's no call of shame asking someone for a pickup, or worse, the death march home. A simple twist to or push of the throttle will allow any rider to make their way home. No muss, fuss or bus.
Anyone recovering from an injury can benefit in the same way. It's not uncommon for an occupational therapist to advocate for bike riding when recovering from a hip, leg, knee, ankle or foot injury. Riding an e-bike means pedaling for as long as is comfortable and then switching to throttle power when pain returns. Such freedom means being able to choose a ride based on a destination, not how short the ride needs to be. It's like ordering dessert without worrying about the calorie count.
The world is full of people with cardiac issues who have been instructed to exercise, but not exercise too hard. It's a Goldilocks dilemma for anyone riding a bike without a throttle. All it takes is one hill to violate the doc's order. A throttle simply eliminates all the moments in a ride that would otherwise be too difficult.
E-Bike Throttles: Cons
Bike paths are awesome because they offer the benefit of a smooth, paved surface without any worries about traffic. When a bike path is empty, 20 mph feels magic. Feeling the wind, the warmth of sunlight on skin, hearing the sounds of nature makes riding one fun, not exercise.
However, add in a dozen other cyclists, a few kids on skateboards, a couple of moms with baby joggers and one dog that can't decide where to go and 20 mph can be as terrifying as a Fast and Furious chase scene. This would be why a push-button throttle can cause as many problems as it solves.
Also, when so much fun can be had so easily, the throttle can become a kind of crutch and if a rider relies too much on the throttle, those fat-burning sessions intended to get us back in the skinny jeans won't produce the results we seek.
There's also a social consideration with a throttle-equipped e-bike. When passing other people on a bike path, what's important to remember is that the closer a rider is to another person, the slower the rider needs to pass, relatively speaking. That means if another rider is doing 12 mph, passing at 15 mph is considerate. If someone is jogging along at 8 mph, passing at 10 mph is the thing to do in order to keep everyone smiling. And if Fido is having a squat, a healthy berth is a good idea, just cuz.
The single most common complaint about e-bikes is that riders pass too close, too fast. This is why we prefer twist and lever throttles that allow a rider to dial in how much speed they want, the same as a car's accelerator pedal. With a push button, the bike accelerates to 20 mph and stays there until the button is released, and on a crowded bike path, that would be about as much fun as weaving through freeway traffic at 100 mph.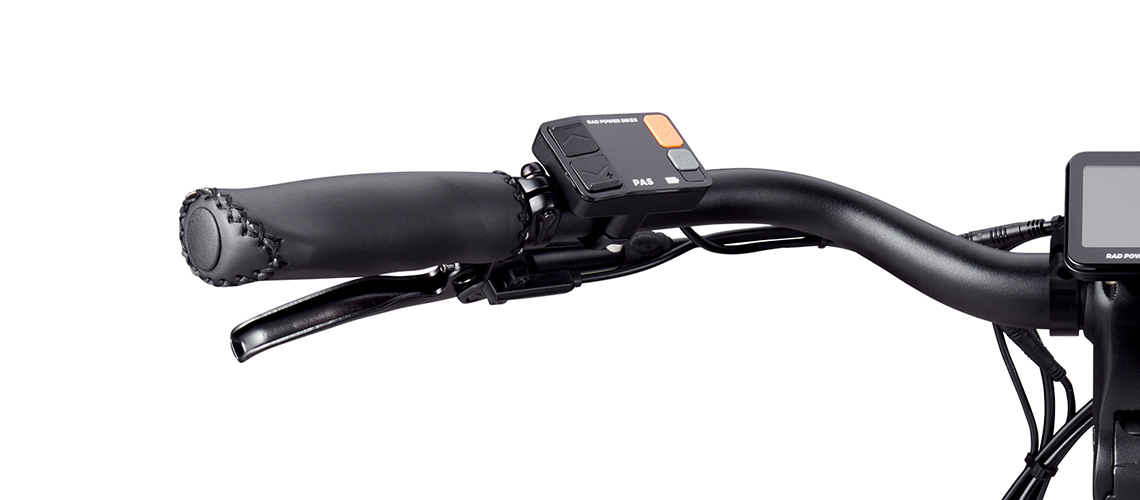 Electric Bikes With Pedal Assist Systems (PAS)
E-bikes that offer pedal-assist exclusively—Class 1 e-bikes—offer one obvious advantage over Class 2 and Class 3 e-bikes: anywhere that e-bikes are allowed, Class 1 e-bikes are permitted. PAS systems determine how to add power with two different technologies: torque sensors and cadence sensors.
Torque Sensor Pedal Assist
Torque sensors are preferred by most buyers because they dial in power as instantaneously as the rider begins pedaling. It's that seamless experience a torque sensor offers riders that makes an e-bike such a joy to ride. It makes any cyclist feel immediately stronger.
While all mid-drive motors—like those from Bosch, Brose, Yamaha and others—feature torque sensors, it's important to know that not all torque sensors are confined to mid-drive motors. There are some hub motors that employ a torque sensor and their experience is nearly indistinguishable from that of a mid-drive motor. If an e-bike with a hub motor seems a bit more expensive than it should, check to see if it has a torque sensor rather than a cadence sensor.
Cadence Sensor Pedal Assist
The simplest way to sync an e-bike motor to a rider's pedaling is with a cadence sensor. Cadence sensors have been used in bike computers since the 1980s, though the ones we find in e-bikes have evolved a great deal. Most feature 12 magnets (think of a clock face) so while a rider doesn't need to execute a full pedal revolution to spur the motor to engage, with many systems about a half a pedal stroke is required before the motor kicks in. That pause decreases the quality of the experience, but it also cuts cost. It's a bit like buying box wine; it's not great wine, but it won't cost much more than a case of soda.
It would be easy to think that all Class 1 bikes are the same, but they aren't. Most e-bikes with hub motors tend to experience a slight lag between when the rider first begins to pedal and when power comes on. There are exceptions though—some bikes use a torque sensor instead of a cadence sensor and that design is much more responsive; a torque sensor will drive up the price of the bike a bit, but we think the improved performance is worth the premium. Bikes with mid-drive motors, like Bosch's, tend to respond pretty instantaneously because they have torque sensors in the motor that respond to input immediately, unlike a cadence sensor, which detects movement of the crank arm.
E-Bike PAS: Pros
When strength is an issue for a rider, we advocate mid-drive motors because of the way they help a rider get up to a speed at which the e-bike is stable with just a single pedal stroke. When budget is a bigger consideration, we then recommend bikes with hub motors. Performance always results in an upcharge, huh?
E-Bike PAS: Cons
There is only one con to buying a Class 1 bike that only features pedal assist: No throttle. The solution is easy enough. For anyone who wants a Class 1 bike, but isn't positive they don't want a throttle, the answer is to buy a Class 2 bike with a removable throttle.
Can E-Bikes Have Throttle and Pedal Assist?
So can an e-bike have both pedal-assist and a throttle? Of course. To be a Class 2 e-bike, the ride must have both pedal assist and a throttle, and while occasionally shoppers will find a Class 3 e-bike without a throttle, many do.
While it's true that we prefer twist throttles that allow a rider to modulate their speed when not pedaling, we think throttles make a terrific insurance policy. Anything that increases a rider's comfort level and gives them the confidence to go out for longer rides than they might otherwise attempt is a net good, not unlike making sure the car is full of gas before driving across town.
We say, go for the longer ride. See more. Have more fun. And if the legs give out, a throttle, whether push-button or twist, ensures getting home is as easy as leaving it.