Welcome to our spec review of the Gazelle Medeo T9 electric bike! Gazelle is one of the most respected and well known bike manufacturers in the world, but as a result it can be difficult to get a hold of their ebikes like the new Medeo T9. While we can't provide a full performance review just yet, we did compare the Medeo T9 to past Gazelle bikes we've ridden, besides also comparing the components it shares with other eBikes we've ridden that have similar or the same specifications. As a result, we developed our Medeo T9 spec review, which is here to help you get a general impression of what to expect with the Gazelle Medeo T9 electric bike!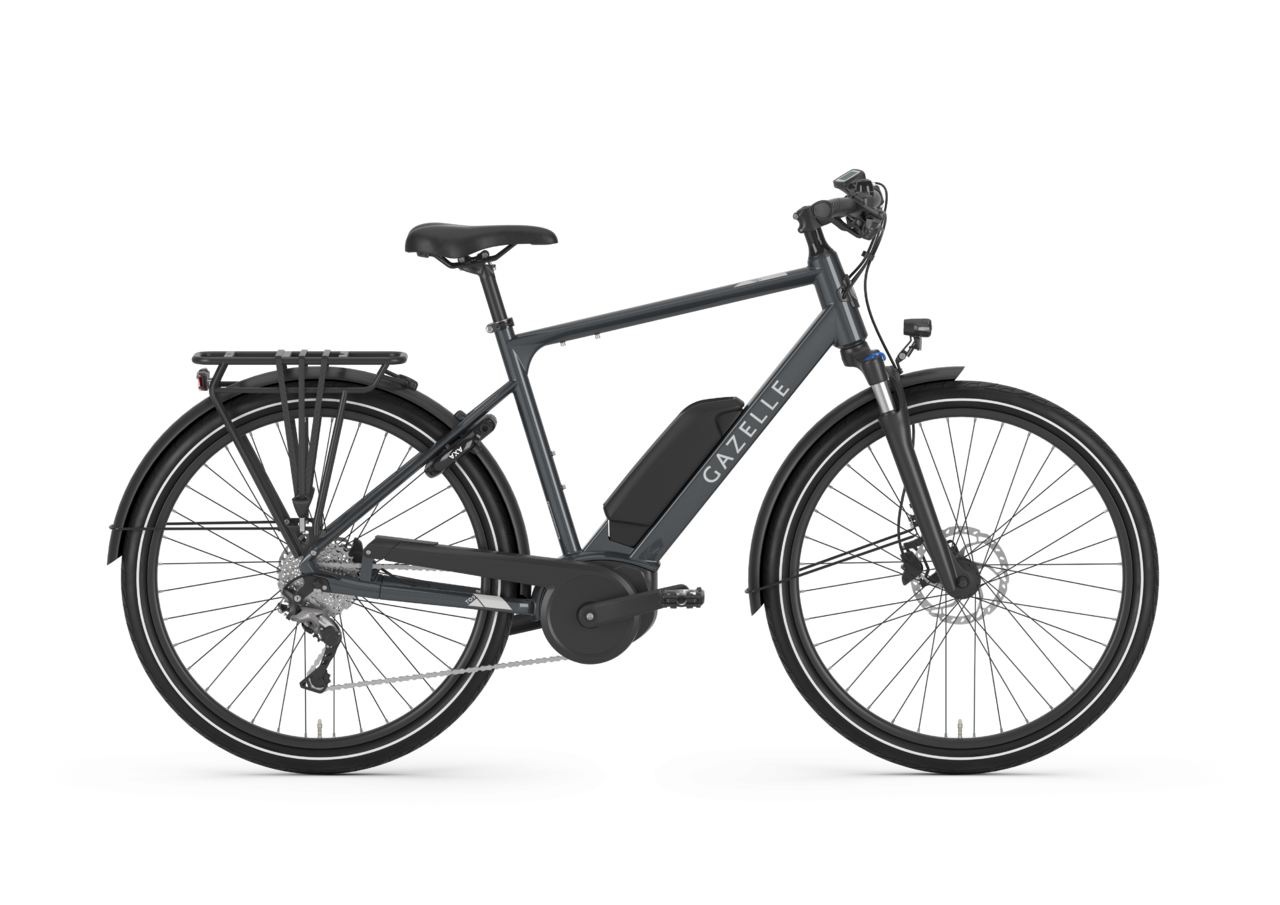 Gazelle is one of the oldest bicycle manufacturers in the world, having been in the business of making bikes since 1892 in the Netherlands. However, an old dog can learn a new trick, because with the Gazelle Medeo T9 you have a great eBike for those commuting around a city or urban environment. The Medeo T9 is one of the lightest eBikes we've looked at in one of our ebike spec reviews, with an average weight of just 48.1 lbs, while still being quite durable thanks to its aluminum alloy construction. The Bosch Active Line Plus 3.0 (50Nm) motor is strong enough to help you keep up with traffic or climb most hills you encounter, with the lightweight 400 Wh battery helping you travel up to 55 to 60 miles on a single charge. The Shimano Acera drivetrain, with plastic fenders and a chain guide, is very reliable and requires little maintenance throughout the year, the same compliment deserved for the Magura HS22 hydraulic rim brakes. The nine speed eBike is loaded with many other features as well, so read on for our full review of why you should check out the Gazelle Medeo T9 electric bike!
Bike Category: Class 1: Pedal motor assistance to 20 MPH.
Who It's For: Cyclists who want a premium city commuter eBike with good range and a great motor for a mid-level price point.
Bike Specs
FRAME: Aluminum Alloy
UI/REMOTE: Bosch Purion LCD
BATTERY: Lithium Ion 36 V / 11 Ah Battery
CHARGER: 2 Amp Charger
MOTOR: Bosch Active Line Plus 3.0 (50Nm)
CHAIN: Chain with Full Plastic Cover
SHIFT LEVERS: Shimano Acera Triggers on Right
CASSETTE: Shimano Altus CS-HG201-9 Cassette with 11-36 T
CHAINRINGS: 38 Tooth Chainring
DERAILLEUR: Shimano Deore Derailleur
RIMS: Mach1 ER-10, Double-walled aluminium
TIRES: Schwalbe Big Apple 28″ x 1.75″ (47-622)
SADDLE: DDK, sportive
STEM: Alloy, Adjustable Angle 0° to 70°, 90mm Length
HANDLEBARS: Aluminium, slightly curved model
GRIPS: Gazelle Branded, Rubberized Ergonomic, Black, Locking
BRAKES: Magura HS22 Hydraulic Rim Brakes
PEDALS: Gazelle Linea Alloy Platform with Rubber Tread
KICKSTAND: Drop-down rear stand
BELL: Gazelle Branded Flick Bell on Right
HEADLIGHT: Integrated AXA Blueline30-E Headlight
TAIL LIGHT: Integrated tail light with brake light
FENDERS: Gazelle Branded Plastic Fenders
Pros
Premium eBike available at a mid-tier price. Packed with many great features and components, and is a fantastic option for city bikers looking to commute to work.
Three distinct colors, with a minimal wiring look that disguises the fact this is an eBike. Gazelle is a world wide known bike manufacturer that has worked on bikes since 1892.
Aluminum alloy frame that has an average weight of just 48.1 lbs fully assembled. Available in three distinct frame sizes, including a high and low-step option.
Shimano Altus CS-HG201-9 cassette with plastic chain guard and fenders. Acera triggers provide great feedback for a very reliable eBike optimized drivetrain.
Bosch Active Line Plus 3.0 (50Nm) motor. 50 Nm of torque is good enough for a city bike, but especially shines since you have a 55+ average range with the Medeo T9.
Bosch Purion display. Compact, but backlit for use during the day or at night. Provides plenty of metrics to read over despite its small 1.75'' size.
Schwalbe Big Apple 28″ x 1.75″ (47-622) tires. Tall but thin, so you have a tire that is optimized for speed and maneuverability on paved roads. Puncture resistant too!
Magura HS22 Hydraulic Rim brakes. Provide plenty of stopping power, while lasting longer and being less likely to get damaged than traditional mechanical disc brakes.
Many upgrades/accessories included in the stock model. Fenders, headlight, tail light, kickstand, rear cargo rack, and more. Fantastic overall value!
Cons
Good range, but the 400 Wh battery is on the weaker side of batteries we've reviewed. It is lightweight though, and easy to replace with a larger battery if you want an upgrade.
The charger meets the base standard of the industry since 2 Amp chargers are common inclusions. Including a 4 amp charger, like other Gazelle eBikes, would be nicer.
The small size of the Bosch Purion is nice for some riders, but it might be too small for others. It's non-removable, and doesn't have as many features as the Bosch Intuvia.
Features
Aluminum Alloy Frame
6061 aluminum alloy is one of the most popular choices for eBike frames, and for good reason. This is a very durable frame material, with good rigidity and shock absorption that makes it well suited for cruisers and mountain bikes alike. The Quietkat Ranger has a full assembled weight of 75 lbs.
Lithium Ion 36 V / 11 Ah Battery
The tail mounted battery sits just beneath the cargo seat rack, making it very easy to access while keeping it out of harm's way if you take a tumble. Solid 55 to 60 mile range depending on rider conditions, with some reviewers able to travel even farther.
2 Amp Charger
A slower but effective charger that is lightweight, and at 1.2 lbs is something you can easily carry with you while you ride. Average recharging time from 0% to 100% is about 4 hours.
Bosch Active Line Plus 3.0 (50Nm)
Premium mid-drive motor that provides great motor assistance that closely emulates riding a more traditional, non-motorized bicycle. 50 Nm torque is great for riding in the city, and should be just enough to climb your typical street hill.
Bosch Purion LCD Display
1.75'' display that is backlit, so you can read and use your display during the day or at night. Provides a great number of metrics and power assist levels despite the small display size.
Shimano Altus CS-HG201-9 Cassette with Plastic Chainguard and Fenders
9 Speed drivetrain that requires very little to no servicing to maintain peak performance for several reasons. The Shimano based drivetrain is very reliable and commonly used for eBikes, while the plastic chain guard and fenders both provide additional drivetrain guidance and protection.
Schwalbe Big Apple 28″ x 1.75″ (47-622) Tires
Tall but thin tires that are optimized for city riding, helping you get to work fast while also retaining great maneuverability. Puncture protection and reflective taping both add to the value of these great tires.
Aluminum handlebars with SR Suntour CR7V Suspension, 40mm Travel
Slightly curved, swept back handlebars with ergonomic grips that makes riding on the Medeo T9 very comfortable, if a little wobbly. A telescopic spring front fork provides good suspension support that will make it easier to ride over cobblestone and other uneven surfaces.
Magura HS22 Hydraulic Rim Brakes
Hydraulic rim brakes that are very easy to pull, with tool-free adjustable levers to help you find the optimal position for applying brakes while you ride. The brakes themselves are more than enough to help you come to a quick and steady stop while you ride through the city.
Gazelle Linea Alloy Platform Pedals with Rubber Tread
Aluminum platform pedals provide solid traction support, and tend to be more durable than your typical plastic pedal. A rubber tread makes them a bit kinder to your riding shoes, with reflective sidewalls in the pedals further increasing your riding profile.
In-Depth Review
Frame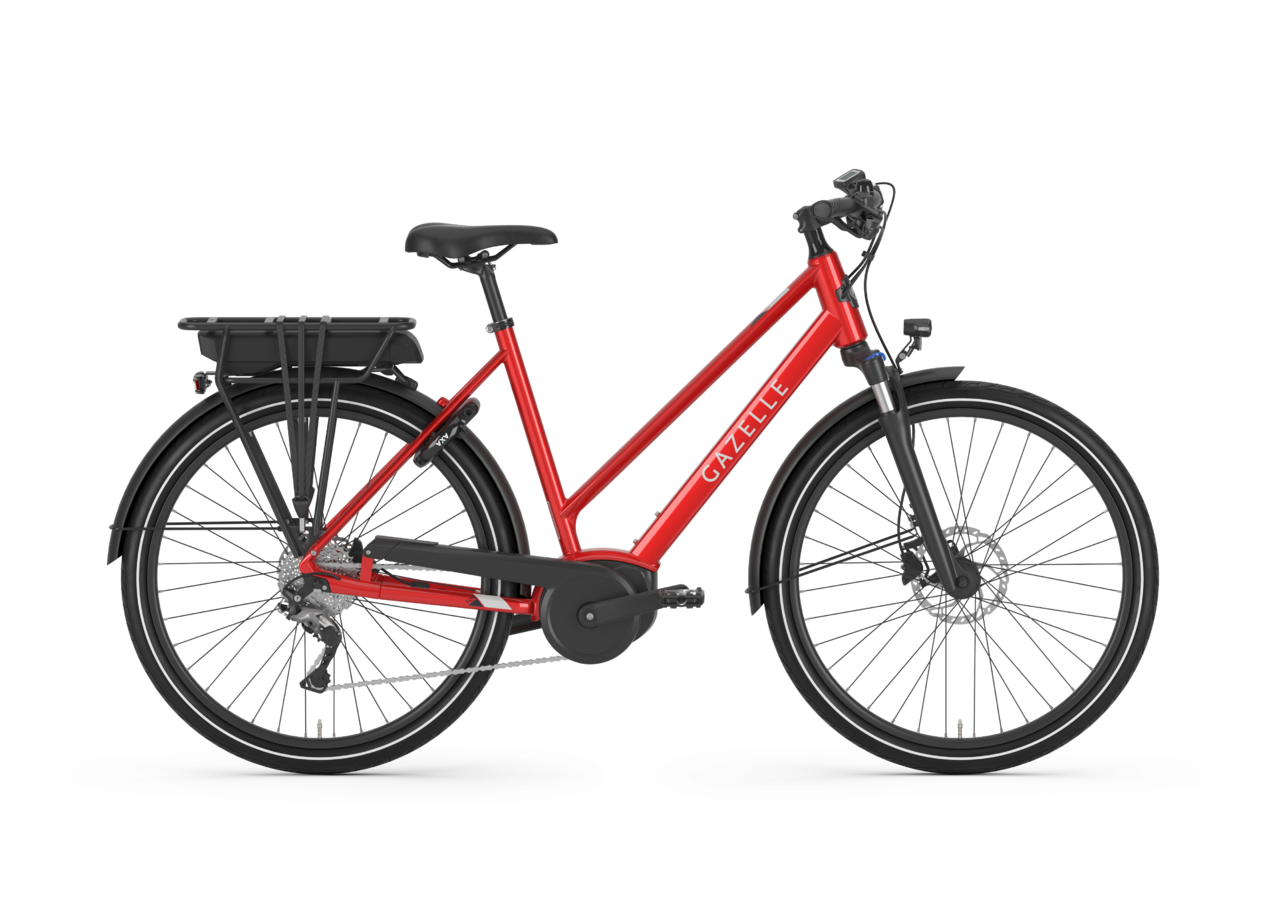 The Gazelle Medeo T9 is made primarily out of aluminum alloy, which is a common frame base within the eBike and traditional bicycle industry. Aluminum alloys balance being light enough to make riding practical, while durable enough that the frame won't shatter when you suffer the occasional crash. The Medeo T9 offers a great balance of both, and despite the battery pack and motor it manages to weigh an average of just 48.1 lbs. At under 50 lbs, this is easily one of the lighter eBikes we've had the chance to review, and a great pick for those turned off by heavier eBike frames they've ridden in the past.
The Gazelle Medeo T9 is available in three frame sizes, along with both a high-step and low-step option for a total of six different eBike models. The recommended size chart from Gazelle is as follows:
Gazelle Medeo T9 Recommended Size Chart:
Medeo T9 45: 4'10'' to 5'6''
Medeo T9 50: 5'6'' to 5'10''
Medeo T9 55: 5'10'' to 6'3''
Gazelle has partnered with a number of dealers around the world to keep demo models in stock for interested cyclists to try out before they purchase the Medeo T9. Visit their website and see if you can find a dealer near you in order to find the eBike frame best suited for your personal preferences.
Motor & Battery
The Gazelle Medeo T9 is a class 1 eBike with pedal motor assist up to 20 MPH.
Featured in the Medeo T9 is a Bosch Active Line Plus 3.0 mid-drive motor. We like mid-drive motors for several reasons, since not only do they last longer than hub-drive motors, they also provide a more natural pedaling experience that more closely resembles a traditional bicycle. The included motor caps out at 50 Nm torque, and while that is weaker in terms of the motors we've reviewed this is meant to be a dedicated city/urban cycle. With 50 Nm torque, you'll have more than enough power to keep up with traffic, and will be able to climb most hills without too much trouble if you set your motor to the right pedal assist level.
Having a weaker motor does mean that the battery isn't drained as quickly, which is good since Gazelle has opted to throw in a smaller 36 V / 11 Ah lithium battery with the Medeo T9. Having a smaller battery does decrease the weight of the eBike, and is a major reason why this premium level eBike is affordable at a mid-level price point. With the right riding settings, you can even ride between 55 to 60 miles on a single charge, which is quite respectable for a city bike.
More dedicated cyclists are going to want to upgrade to a larger battery though in order to take advantage of the Bosch Active Line Plus 3.0 mid-drive motor. Some other cyclists who swapped out the battery for a 750+ Wh battery have reported being able to go more than 100 miles without even needing to recharge due to the great Gazelle Medeo T9 setup. Even with the stock battery though, the 2 amp charger (which itself could use an upgrade) works well enough, and can recharge the battery in less than 4 hours most days. Since the battery is removable, you can charge it while mounted on your eBike or by taking the battery indoors with you so you can charge it while you work.
Display/Assist Modes
To compliment the Bosch motor, a Bosch Purion display is used to control your motor on the Medeo T9 electric bike. Mounted on the left handle, the display is very simple to use, with just a couple buttons to control your motor and track your metics on the 1.75'' display. While small, it means that it shouldn't affect your handlebars or turning, and will be less likely to distract you while you're riding unlike some other larger displays. There's also a surprising number of readouts and metrics that the display will keep track of, consisting of the following:
Bosch Purion Display Readouts/Metrics:
Current Speed
Assist Level (Four Modes + Walk Mode)
Battery Level (Five levels)
Odometer
Total Distance
Trip Distance
Estimated Range
Light Settings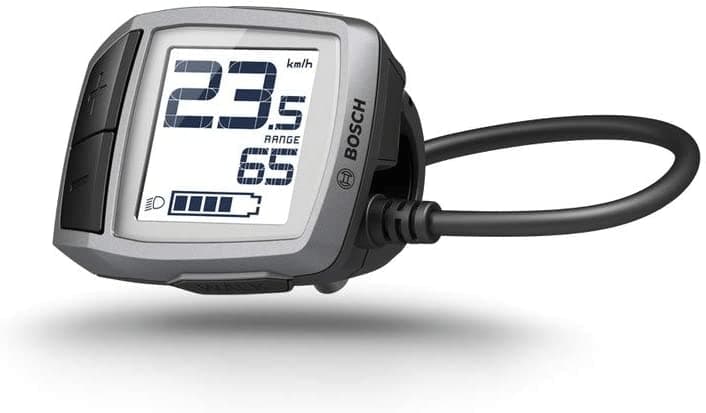 As a class 1 eBike, the Gazelle Medeo T9 will provide motor assistance up to 20 MPH before the motor has to shut off, the motor assistance capped so you can ride the Medeo T9 without additional licensing. There are four pedal assist modes to choose from, with the following power output relative to your own pedaling power:
Medeo T9 Pedal Power Assistance:
Eco (40%)
Tour (100%)
Sport (180%)
Turbo (270%)
Optimizing which pedal assist mode you need for any given riding trip is an important part of using your eBike. The less power assistance you receive, the greater range you'll have since the battery will be slower to drain, though it will take longer to hit the 20 MPH motor cap. The more power assistance you receive, the faster acceleration you'll have, ubt with additional power you'll drain the battery faster. We recommend the more advanced pedal assist modes for steep hills or getting to work quickly, while relying on the lower power draining modes for casual riding or trips where maximizing your range matters most.
Handling
On Streets- The Gazelle Medeo T9 is a eBike designed for city riding, and as long as you stick to urban streets you'll find it has excellent handling as you commute to work or take the time to explore. The tall 28'' will help you maintain a good speed that will make it easier to keep up with traffic, while the 1.75'' thin tires will make it significantly easier to turn when you do need to dodge a car, lamp post, or pedestrian. There is even a suspension fork with 40 mm of travel, so you don't feel as much shock when you hit the occasional cobblestone path.
Turn Radius- The benefit of having thin tires is that you can make especially sharp turns, or just have a eBike that's much easier to get through narrow passageways overall. Whether you're trying to navigate an alleyway or want to bring your eBike through the door so you can have it with you inside your office, you'll be able to do it easily with the Gazelle Medeo T9. Just try to stick to city riding as much as you can, because while it may have a tight turn radius it loses much of its performance once you start riding on non-paved roads.
Low Speed Handling- The Gazelle Medeo T9 is one of the lighter eBikes we've reviewed, so it also benefits from being one of the easier eBikes to use at low speeds. The Medeo T9 also has a walk mode that is specifically included to provide you motor assistance while off the eBike, and a eco mode that works well as a low speed mode while you're on it. You have plenty of options to choose from for great low speed handling with the Gazelle Medeo T9 electric bike.
Gears/DriveTrain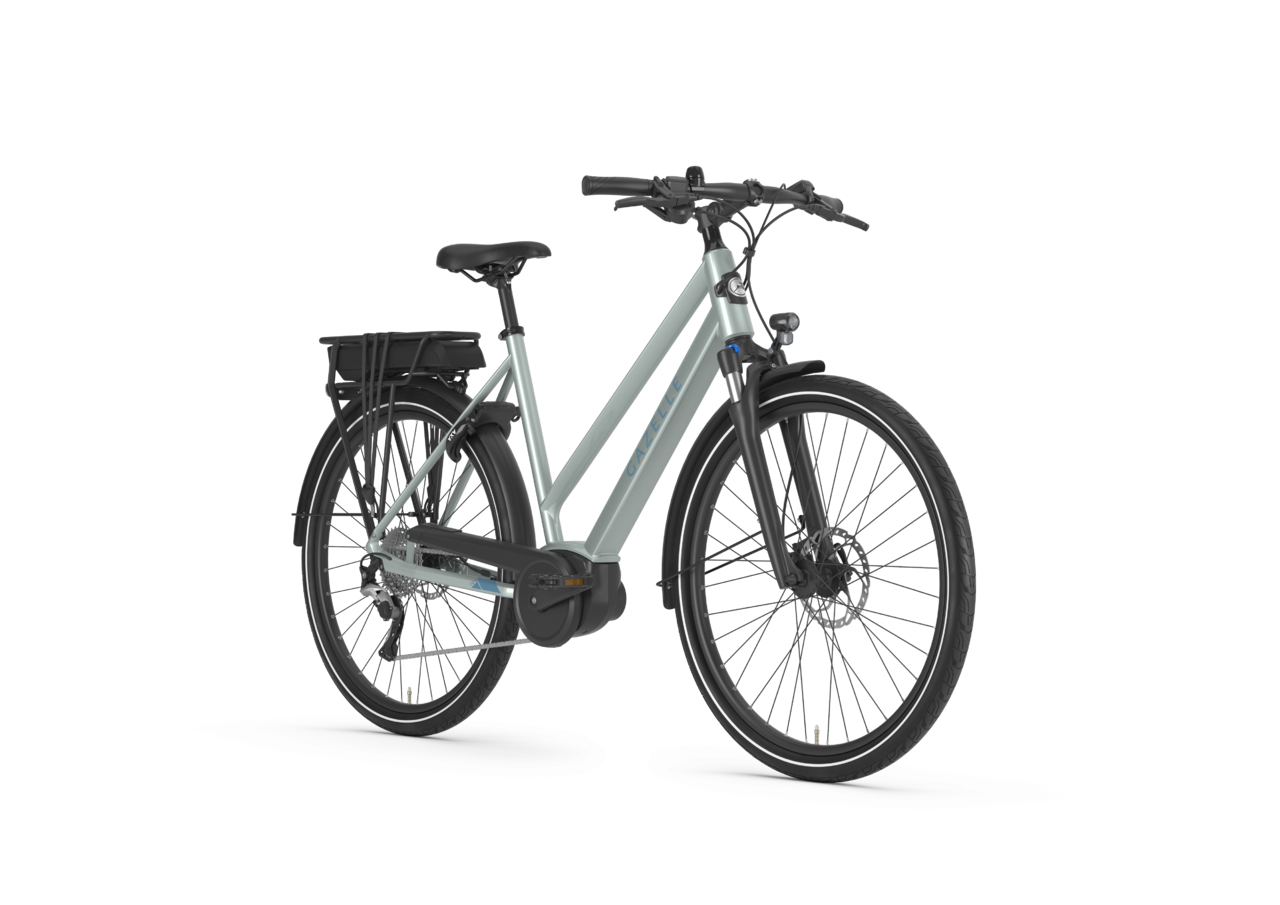 The drivetrain is made up of a Shimano Altus CS-HG201-9 11-36 cassette, with a chain that connects to the 38 tooth chainring. The Shimano Acera shifters will help you take advantage of this nine-speed eBike, which is substantial shifting that will give you precise control over your riding as you tackle city streets. The drivetrain is even more impressive when you see the plastic fenders, which helps keep the wheels and drivetrain clean of mud and other debris that would damage or lock it up. Furthermore, you also have a plastic chain guide, which helps the chain stay on the drivetrain proper when you do hit the occasional rough patch or need to shift gears quickly. In total, the drivetrain is very reliable, with Shimano one of the most popular eBike drivetrain manufacturers in the industry. You'll hardly ever need to service your drivetrain, which is important since the one major downside of mid-drive motors is that it does make it more difficult to service the overall drivetrain.
Brakes
If you're curious about the brakes, you'll be pleased to know about the Magura HS22 hydraulic rim braking system. Hydraulic rim brakes are more responsive than your traditional mechanical disc brakes, besides also lasting longer and being far less prone to getting damaged when you suffer a crash. Hydraulic rim brakes can struggle a bit with mountain trail climbing, but since this is a city riding bicycle you'll find it has more than enough stopping power to help you come to a quick and steady stop on a paved road. The brakes are complemented by large four finger levers, with tool-free adjustable reach to make them even easier to use on top of their highly responsive feedback. As a final note, the motor and brakes are interconnected, so the moment you apply the brakes the motor will immediately shut itself off in response. With an interconnected system, you'll come to a quicker stop since the brakes and motor aren't competing against each other, which will help them last longer because of it as well.
Suspension
City bikes don't typically have extensive suspension systems, but having some suspension support is nice so that if you hit gravel, potholes, or cobblestone you won't feel the shock and vibrations as much with your eBike. As such, we appreciate that the Medeo T9 features a SR Suntour CR7V spring suspension fork, with 40mm of travel and preload adjust. While it might not be great for mountain trail riding, it definitely makes every day trips to work a much smoother experience. The suspension fork also has a quick release skewer, making it easy to service the tires or swap them out with a total of 100mm hub spacing.
Pedals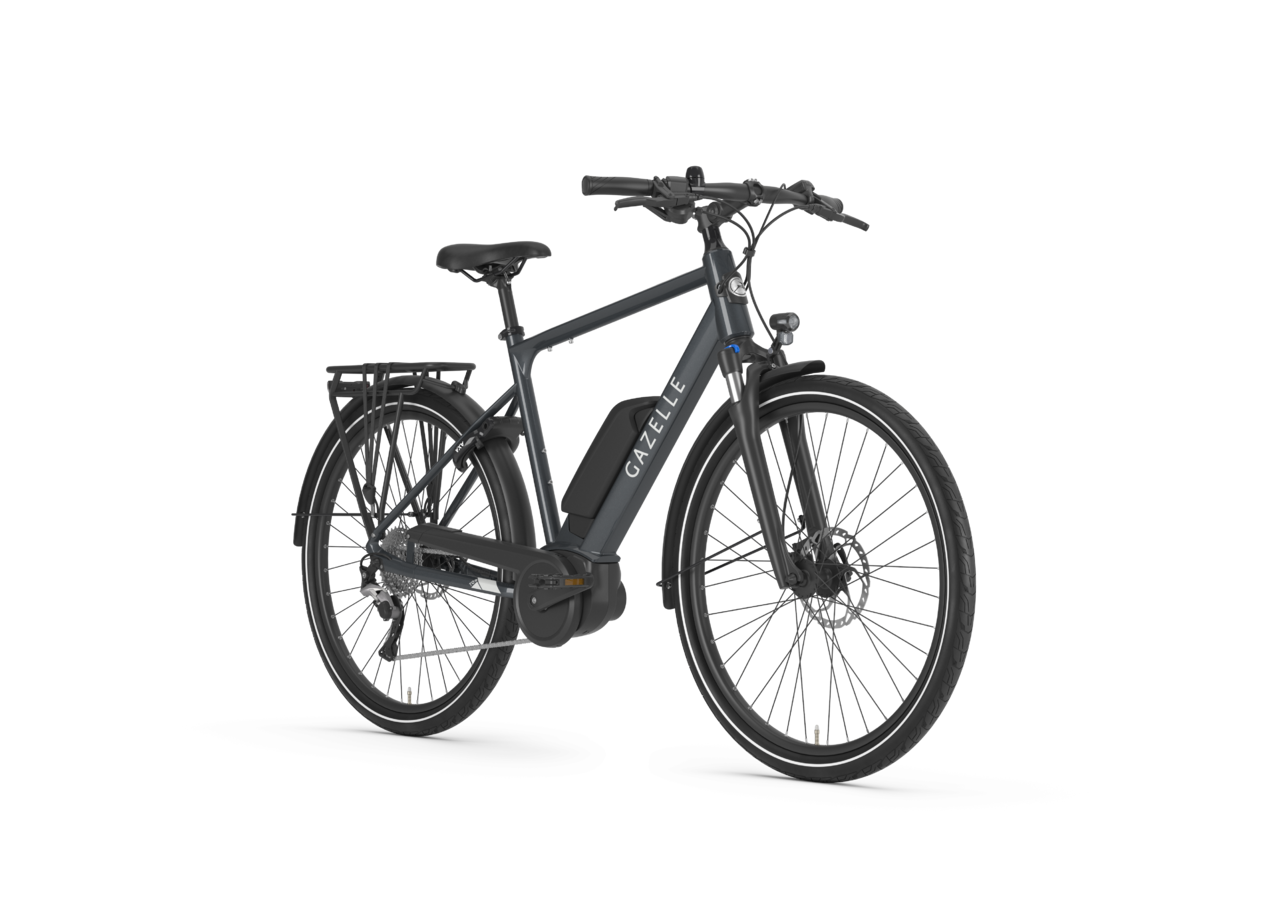 Having a strong, durable pedal that isn't rough on your shoes is an important balance to have in a city electric bike, and that's what you get with the Medeo T9 electric bike. The custom Gazelle Linea alloy platform pedals are more durable than the plastic pedals you typically find in standard eBikes, with greater traction support for riding and athletic shoes as well. Additionally, the pedals have a rubber tread, which ensures your shoes won't get worn out as quickly while you're riding either, besides just making the pedals a bit more comfortable. A great component, and pedals you'll want to keep using instead of immediately swapping out like many other eBikes!
Grips and Saddle
The Gazelle branded grips are cushy and snug to hold, with a rubberized ergonomic design that will help you maintain your grip even after you've been pedaling for several hours in a row. The grips lock onto the handlebars, which provides a tighter hold and makes it easier to replace them compared to your traditional rubber grips that are just glued onto the eBike. To complement the grips is the large, comfort Selle Royal saddle, built to be extra large so that lighter and heavier riders can enjoy riding the Medeo T9 for extended periods of time. Both the grips and saddle are great, and the seat post and handlebars are both adjustable to help you further find a configuration that makes every riding trip an even more enjoyable experience.
Wheels and Tires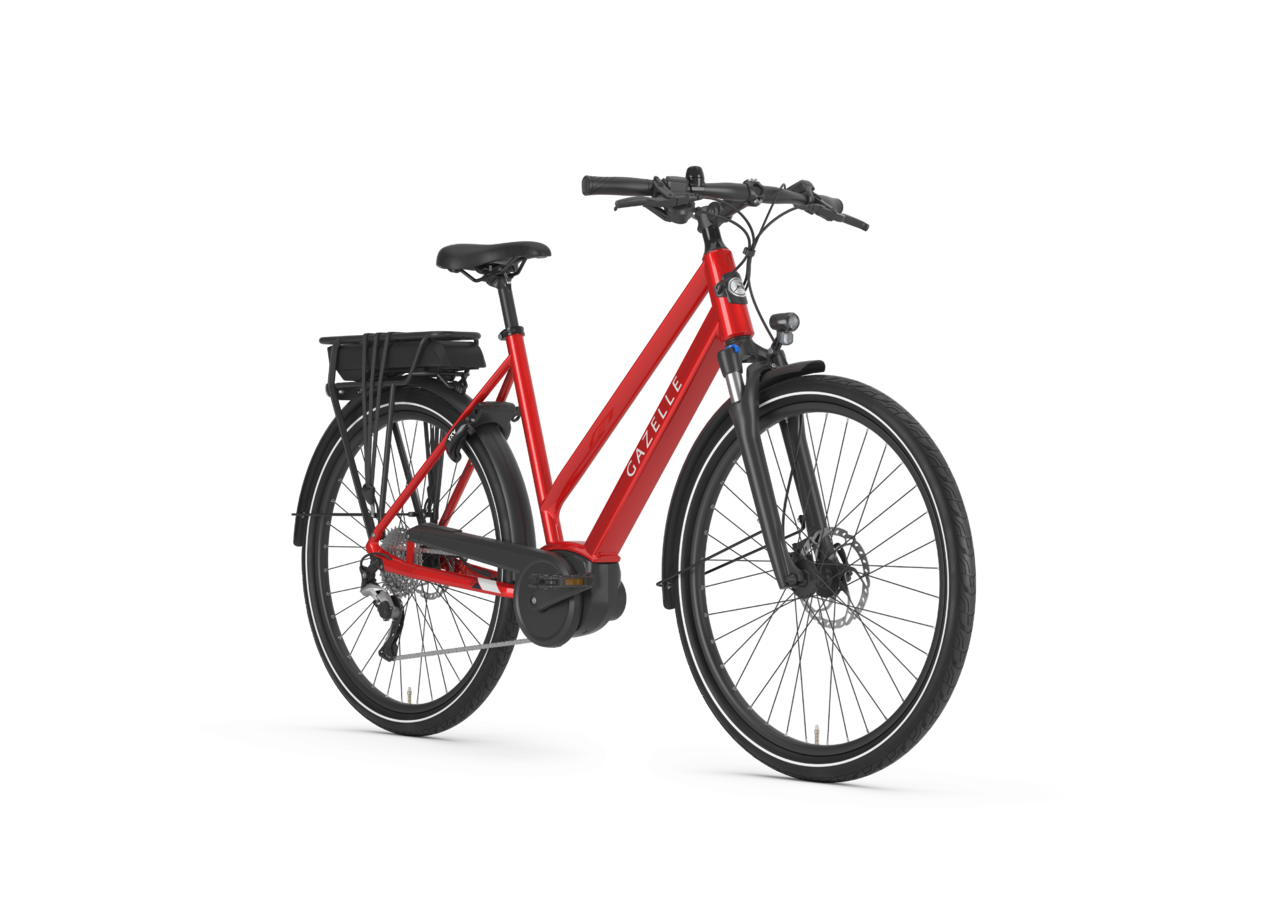 In regards to your tires, you can expect Schwalbe Big Apple tires, which measure 28'' tall by 1.75'' wide (47-622), with Gazelle RODI VR19 alloy double wall 36 hole rims. The 14 gauge spokes are made out of stainless steel, and you'll also find the tires have G-Guard 5 puncture protection and reflective sidewalls to boot. PSI inflation is recommended for 45 PSi to 70 PSI, with 70 PSI fantastic for paved road riding and 45 PSI a better option if you expect to hit the occasional stretch of cobblestone or gravel. The great tires rarely require servicing if you stick to urban environments, though the quick release fork does mean it's easy to dismount the tires and swap them out when you do suffer a flat.
Accessories/Upgrades
Beyond the great performance, the reason why we call the Gazelle Medeo T9 a premium eBike is because of how many accessories and addons are included despite the mid-level price. Fenders, a kickstand, a rear cargo rack, a headlight, a tail light, and a premium Gazelle bell are just a few of the great accessories included that are normally additional paid upgrades for many other eBikes. As a result, there aren't a ton of accessories or upgrades we feel we need to recommend, especially since you already have a great light configuration system that makes it much easier for other people to spot you while you're riding. With the rear cargo rack though, adding a bag to the back of your Medeo T9 is a good way to make it easier to bring your charger around, though if you have the money upgrading the battery too would be among our recommendations.
Recommendation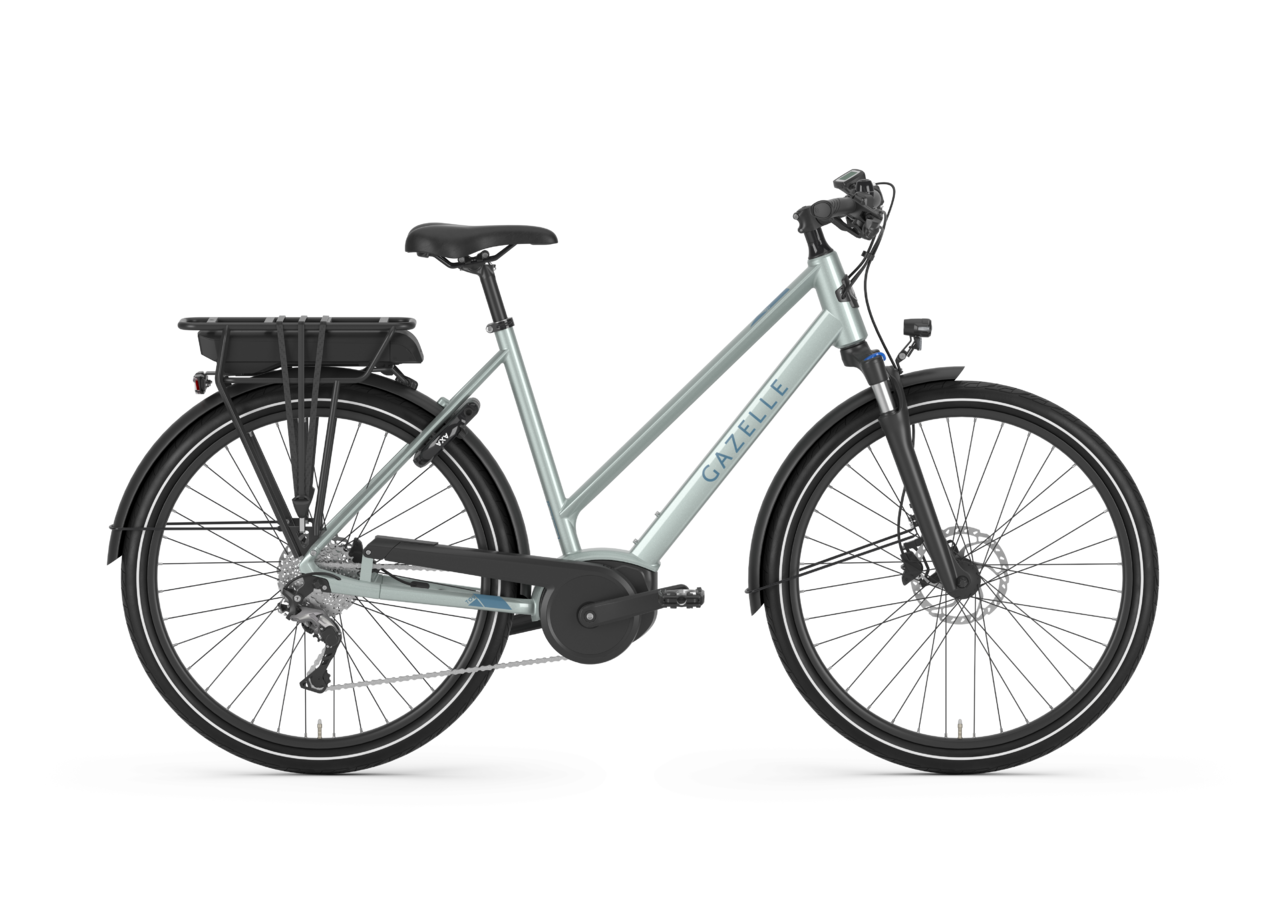 The Gazelle Medeo T9 electric bike is a fantastic eBike in value, performance, and design. You have three frame sizes, three colors, and both a high-step/low-step option available for the Medeo T9 electric bike. With a 48.9 lbs average weight, this is a significantly lighter eBike option, besides a very comfortable one with the ergonomic saddle and grips with an adjustable seat post and handlebars. The Medeo T9 features a strong Bosch Active Line Plus 3.0 50 Nm motor, and in conjunction with the 400 Wh lithium battery you can travel between 55 to 60 miles on a single charge. The drivetrain is just as reliable as the premium mid-drive motor, featuring a nine speed Shimano Acera/Altus drivetrain with additional support from plastic fenders and a chain guide. You have plenty of riding metrics and performance options thanks to the compact Bosch Purion display, with the motor/control system integrated into the Magura hydraulic disc brakes for rapid, steady stopping power. The rear cargo rack, kickstand, pedals, and Schwalbe Big Apple tires are all premium inclusions too, further increasing the value you get out of the Gazelle Medeo T9 electric bike. If you want to make your ride to work or your favorite store more enjoyable, then you will definitely want to check out the Gazelle Medeo T9 electric bike, with many demo units available from local dealers around the world!
Thank you for reading our spec review of the Gazelle Medeo T9! Be sure to leave a question or comment below if you would like us to do a full performance or video review of this and other Gazelle eBikes!