Welcome to our spec review of the 2021 Giant Explore E+ 2 electric bike! Due to how new this eBike is and the high demand for the popular Explore series, we haven't had the chance to try the eBike for ourselves. We can't provide a full performance review, but by comparing the Explore E+ to past versions of the eBike and comparing its specs and components with other models that have a similar design, we did write up a spec review of the eBike. As with any of our eBike spec reviews, we hope to give you a general idea of what you can expect when it comes to the performance, design, and feel of the Giant Explore E+ 2 electric bike.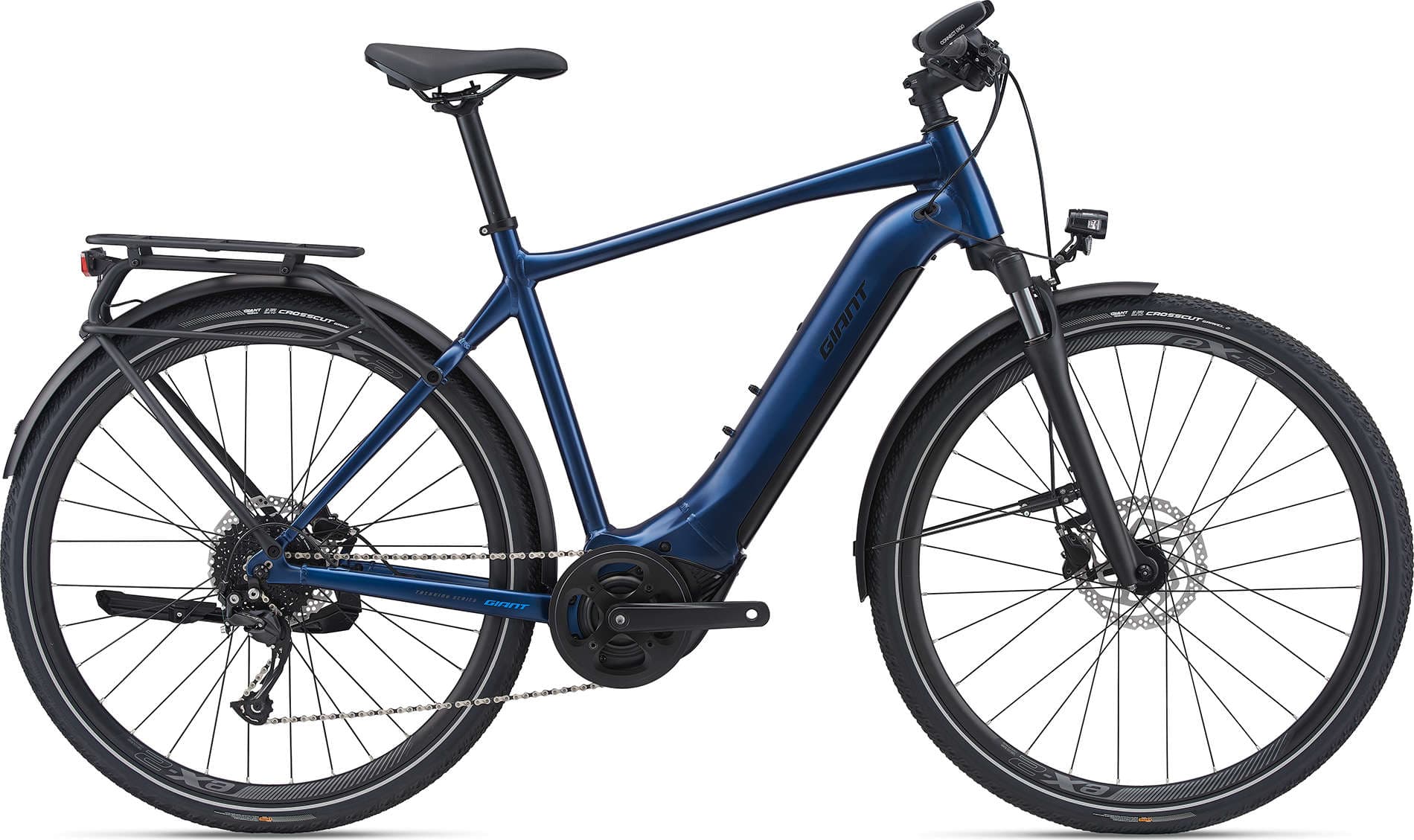 The Giant Explore E+ 2 2021 is the latest version of the ever popular Explore E+ series from Giant Bicycles, and is easily the best version yet! This is a Class 1 hybrid electric bike, optimized so you can use it to quickly commute to work, or take it on your favorite light to moderate mountain biking trail. This is a relatively lightweight eBike averaging about 49 lbs, built with a custom ALUXX SL aluminum frame. The motor isn't as powerful this year, featuring the SyncDrive Life with 60 Nm of torque, but coupled with the Giant EnergyPak Smart 500 battery you can travel around 65 miles on a full charge. The drivetrain is largely the same, with a Shimano CS-HG2000 cassette, but the brakes have been upgraded to Shimano BR-MT200 180mm front and rear hydraulic disc brakes. The other major component upgrade is the SR Suntour NEX E25 DS front suspension fork with 63mm of travel, allowing you to challenge even steeper mountain bikes previously inaccessible to Giant Explore E+ eBikes. If you are looking for a brand new hybrid eBike, designed to ride smoothly and quickly over flat concrete roads and loose mountain biking trails alike, then read on for our full review of the Giant Explore E+ 2 electric bike.
Bike Category: Class 1: Pedal assist to 20 mph
Who It's For: Bicyclists who want a true hybrid eBike, great for exploring the city or for tackling mountain trails.
Bike Specs
FRAME: ALUXX SL aluminum
UI/REMOTE: Giant RideControl Ergo 2
BATTERY: Giant EnergyPak Smart 500, 36V integrated
CHARGER: Giant EnergyPak Smart 6A chargerGiant
MOTOR: Giant SyncDrive Life 60 Nm
CHAIN: KMC e.9 Sport
SHIFT LEVERS: Shimano SL-M2000
CASSETTE: Shimano CS-HG200, 11-36T, 9-Speed
CHAINRINGS: 42 Tooth Chainring with Alloy Guard
DERAILLEUR: Shimano Alivio M3100
RIMS: Giant eX 2, Tubeless Ready, 700c aluminium
TIRES: Giant Crosscut Gravel 2, 700x45c (622×45)
SADDLE: Selle Royal Vivo Ergo Moderate
STEM: Giant Contact
HANDLEBARS: Giant Connect XC Riser 31.8x690mm
GRIPS: Giant, Ergonomic, Rubber, Locking, Black
BRAKES: Shimano BR-MT200, hydraulic disc, 180mm
PEDALS: Aluminum Platform
KICKSTAND: Integrated KS18 kickstand mount (Kickstand a separate purchase)
BELL: N/A
HEADLIGHT: Axa BlueLine 30Lux Steady E6 Front Axel
TAIL LIGHT: BlueLine Steady E6
FENDERS: Stainless Steel Front and Rear Fenders
Pros
True hybrid cross-country style eBike that is great to ride in the city and on mountain biking trails alike. Two frame styles and five/four sizes accommodate all types of riders.
Easy to use and read controller matches the largely integrated wiring. Most pedestrians won't even be able to guess that you're riding an eBike until they see you zooming by.
Custom ALUXX SL-Grade aluminum frame is durable enough to handle the trail, but lightweight as it averages about 49 lbs. Easier to handle than many other eBikes.
Class 1 eBike with a 20 MPH motor assistance speed cap. Optimal max range is estimated to be between 55 to 65 miles, depending on power settings and conditions.
New 63 mm travel SR Suntour NEX E25 DS front suspension fork. You can tackle even tougher mountain biking trails now and stay comfortable with the upgraded suspension.
Giant EnergyPak 6A charger. Charger is twice as powerful as last year's model. Easy to plug into the integrated battery, with the charging port moved to prevent tangling.
The reliable Shimano CS-HG200 drivetrain makes a return, and is now protected by front and rear fenders to prevent mud and debris damage.
Giant SyncDrive Life motor with 60 Nm of torque. Not as strong as last year's motor, but ensures you can pedal for longer along with having a quieter overall motor.
The Giant RideControl Ergo 2 is a small redesign of last year's Explore controller, but features an overhauled smart phone application. Finetune your motor wherever you go.
The Giant Crosscut Gravel 2 tires work great on city roads and loose mountain trails alike. Quick release allows you to dismount the tires and begin fixing them in seconds.
Upgraded Shimano BR-MT200 hydraulic disc 180mm brakes. The braking system helps you come to a stop quicker, and has greater compatibility with the other components.
Newly added front and rear BlueLine E6 lighting system. Makes it easier to spot riders during the day and at night, reducing the risk of collision.
Cons
The smaller 60 Nm power motor is not as tough as last year's 80 Nm motor. 60 Nm is still great for tackling hills, but very steep mountain paths might be too tough now.
The controller, while simple and easy to use, is very limited compared to other premium eBike controllers. However, the great smart app compatibility alleviates this somewhat.
The integrated battery means it's extremely difficult to steal the battery, but also means you have to bring the whole bike inside if you want to charge in doors.
The average travel range is between 45 to 55 miles, which is still limited compared to other premium eBikes we've reviewed. The E+ 2 is compatible with a range extender.
Features
ALUXX SL Aluminum Frame
Giant Bicycles relies on a custom ALUXX SL aluminum frame design that provides similar durability to other 6011 aluminum bikes while being 20% thinner. The Explore E+ 2 is available in two different frame styles, along with 4 different sizes and an average weight of about 49 lbs.
Giant EnergyPak 500
Unlike past versions of the Explore electric bike, the battery is now integrated directly into the eBike, which provides for a lighter eBike weight while having a larger battery. The eBike is also compatible with an EnergyPak Plus range extender for those hoping to travel even further on a single charge.
Giant EnergyPak 6A charger
This is one of the largest and fastest chargers we've seen included with an electric bike, and is twice as powerful as last year's Explore E+ eBike charger. Recharging from 0% to 100% will take 3 hours at most, but in some environments may take as little as 2 hours or even less.
Giant SyncDrive Life 60 Nm
The mid-gear drive closely emulates the traditional cycling experience, and at 60 Nm it can climb hills with ease without excessively burning out the battery. This Class 1 eBike provides pedal assist up to 20 MPH, and by making use of the manual pedals can go even faster without too much effort.
Giant RideControl Ergo 2
A very simple and easy to use controller that will let you track your battery life and power assist mode while riding. The major update comes in the new Giant Ergo 2 smart phone app, which provides dynamic control over your motor system.
Shimano CS-HG200, 11-36T/9 Speed Drivetrain with Fenders
The same trusty drivetrain used in past Giant Explore models, the 9 Speed Shimano 9 speed Shimano CS-HG200 cassette is joined by a 42 tooth forged alloy chainring, supporting a KMC e.9 Sport chain optimized for eBikes. The reliable drivetrain is now protected by fenders, further reducing the need for maintenance with the Shimano setup.
Giant Crosscut Gravel 2, 700x45c (622×45) Tires
The studded tubeless tires are designed for safe and steady riding over all sorts of terrain, from smooth roads and cobblestone streets to steep, loose dirt mountain trails. The quick release system makes a return as well, making it real easy to dismount the tire in case you need to swap out a flat or pack down your bike to fit it in the trunk of your car.
Giant Connect XC Riser with SR Suntour NEX E25 DS 63mm travel
The handlebar remains the same as last year's Explore E2 electric bike, but the suspension has been upgraded to the SR Suntour E25 fork with 63 mm of travel. While you will want to stay off extreme mountain bike trails, you can now tackle up to moderate mountain biking trails and have great shock absorption with this new fork.
Shimano BR-MT200 Hydraulic Disc Brakes, 180mm Front and Rear
To accommodate tackling tougher trails, the brakes have also been upgraded to Shimano BR-MT200 180mm hydraulic disc brakes. Whether you're traveling at high speeds with traffic or riding downhill, the large hydraulic disc brakes are strong enough to help you come to a quick and steady stop.
Wellgo Aluminum Large Platform Pedals
These pedals are extremely easy to install or remove, but once they're locked in they feel strong enough to support short and larger riders alike. Aluminum is our preferred pedal platform material, as plastic pedals tend to break easier and struggle with heavier rider weights.
In-Depth Review
Frame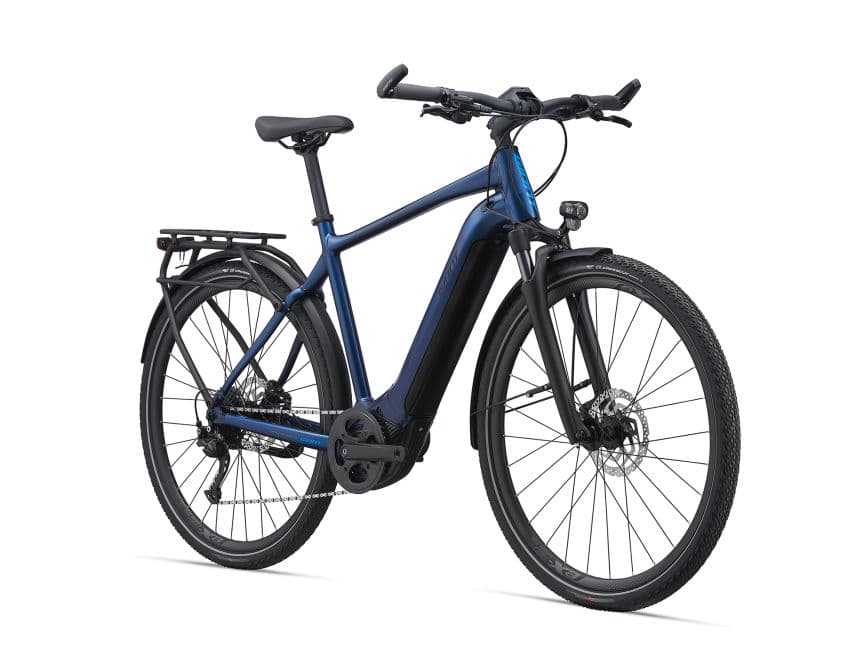 Electric bikes are typically much heavier than traditional bicycles, due to a mixture of the heavy eBike battery and electrical wiring used throughout the frame. While not the lightest eBike out there, the Giant Explore E+ 2 is lighter than many other eBikes we've reviewed, averaging about 49 lbs depending on your frame size. This is made possible by the custom ALUXX SL aluminum design, which utilizes the same 6011 aluminum alloy that other eBikes rely on but is 20% thinner for a lighter, easier to handle frame. As for the wiring, the vast majority of it is tucked into the frame itself, which not only makes it look nicer but also protects the critical electrical components when you suffer a crash.
Last previous Explore eBikes, the Giant Explore E+ 2 2021 is available in a larger GTS frame style, along with a STA frame style for shorter riders. The E+ 2 GTS is available in S, M, L, XL, and XXL, while the E+ 2 STA is available in S, M, L, and XL only. Your size and riding preference will determine which model is best for you, but for a broad overview we find that riders between 4'10'' and 6'' will find a eBike frame that feels great to ride on. Just make sure to adjust your seat post once you're on the bike, and you'll have a blast cycling with the Giant Explore E+ 2 electric bike.
Motor & Battery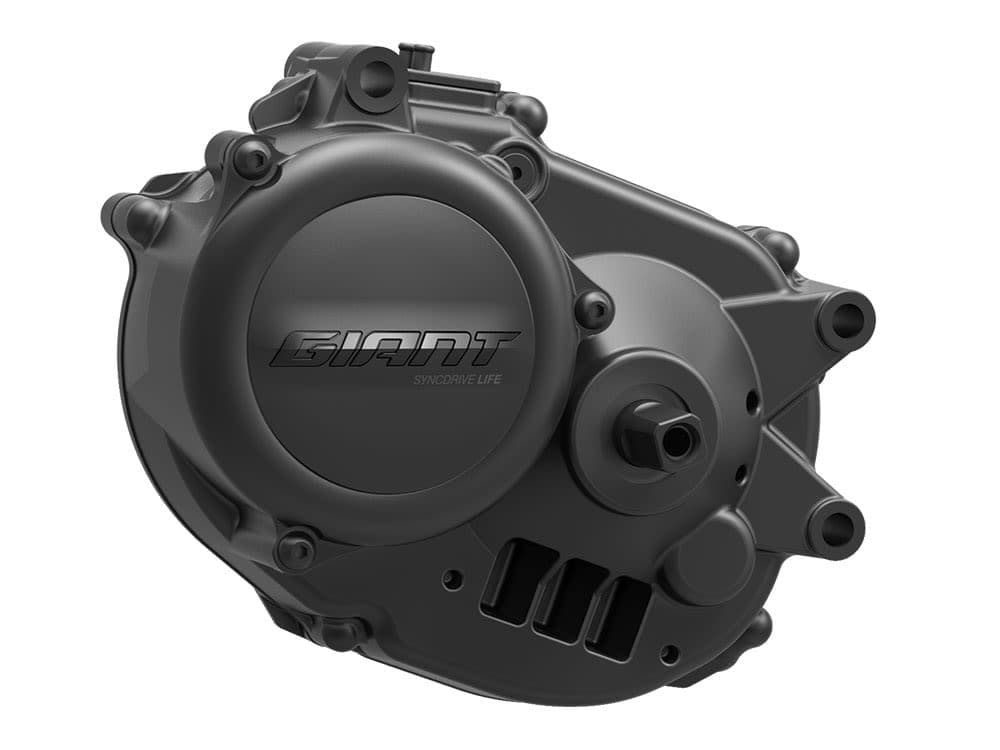 The Giant Explore E+ 2 is a class 1 eBike with both pedal assist up to 20 MPH.
The 2021 Giant Explore E+ 2 relies on the new Giant SyncDrive Life motor. Unlike the previous Explore E+, which had a 80 Nm motor, the new motor has a peak of 60 Nm. This has a trade off, because while it isn't as powerful or able to climb steep hills as well, the less powerful motor does ensure that the overall battery will last longer on a single charge. As such, you have a maximum range of about 65 miles with the new Explore E+ 2 electric bike, and an average range between 45 to 55 miles.
The battery has been upgraded as well, featuring the Giant EnergyPak Smart 500 lithium-ion battery. With an impressively powerful 6 Amp charger, you can go from 0% to 100% in 2 to 3 hours, and sometimes quicker if you charge the eBike in the right environment. The interesting change to this year's model is that, instead of having a removable battery, the battery is now integrated directly into the central tube of the frame. Having an integrated battery does allow it to last longer while weighing less, but the main disadvantage is that you can't just plob the battery on your desk when you want to recharge it. The battery charging port has been moved though, so unlike last year's Giant Explore electric bike you don't have to worry about your charging cable getting tangled up with the pedals once you plug it in.
Display/Assist Modes
Located on the left handle, the Explore E+ 2 now features the RideControl Ergo 2 controller. The controller itself is largely the same as last year's RideControl One, but has been revamped with new logos for the buttons so you can have an easier time knowing what each button does. It is still a very simple, minimalistic controller to use though, as it will display your battery and pedal assist with five LED lights each, besides now allowing you to control your headlight with the controller.
The new name comes from the enhanced smart phone app, which allows you to configure your motor settings while providing insight with a bunch of current ride and lifetime riding metrics. The Giant eBike smart phone app is great, but it does require you to make use of your phone, so you either need to have a mount or pull over to access your device. Giant Bicycles do sell mounts that you can put your phone in, which you can learn more about by visiting our accessory recommendation list at the end of our review.
As a Class 1 eBike, the Giant Explore will provide automatic motor assistance as you pedal your eBike, based upon your selected motor settings. There are five unique power modes to choose from, which consist of:
Walk: 40%
Eco: 80%
Normal: 180%
Sport: 300%
Power: 350%
Greater power settings will help you hit the 20 MPH Class 1 speed cap faster, besides providing you with additional power to surmount hills and other obstacles you may encounter. However, there is a reason for picking a lower power setting, as it requires less power from the battery and allows you to maximize your overall traveling distance. Whichever setting you choose though, the power will shut off at 20 MPH, the limit for a Class 1 eBike to ensure that you don't need a license to operate it. If you want to go faster, you are welcome to do so by pedaling manually, with the motor kicking in automatically as you drop below 20 MPH. It's also important to note that you can pedal the Explore E+ 2 even when your motor is turned off or your battery is dead, allowing you to ride it like any other traditional bicycle.
Handling
On Streets- This is a true hybrid eBike, so it's designed to ride well while navigating city streets. The front suspension fork is particularly helpful, as besides being useful for mountain biking it absorbs the shock that comes from riding over loose gravel, cobblestone, potholes, and other uneven roads. For the assistance they provide, we often prefer commuter eBikes with some form of suspension while traveling in the city, even if they are a bit slower because of it.
Turn Radius- Overall, turning is easy enough to do with the Giant Explore E+ 2. While it needs a bit of clearance if you want to perform a sharp turn down an alley, it's more than able to dodge other cyclists, motor vehicles, and fixtures you'll encounter while riding. The tires are also pretty easy to swap out as well, allowing you to go with a thinner tire if you do need something that tightens up the turn radius.
Low Speed Handling- The lighter electric bike is easy enough to handle at low speeds, but if you have the battery life there are two ways you can get motor assistance as well. You can make use of the walk mode if you prefer to be off the bike, or the Eco mode if you just want to use the motor while riding at a lower speed. As it's a mid-drive motor, you won't experience the jerky zip that often comes with first turning on these two power modes either.
Gears/DriveTrain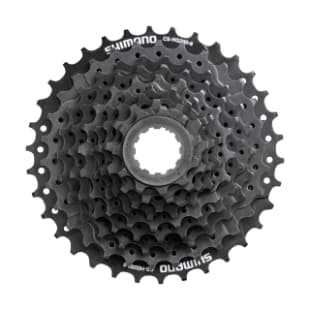 The drivetrain is mostly unchanged from last year's Giant Explore E+ electric bike, so expect a largely similar feel when riding. For those unfamiliar with the drivetrain, it is a 9 Speed Shimano CS-HG200 11-36 tooth cassette, supporting KMC e.9 Sport eBike optimized chain that rides a 42 tooth forged alloy crankset. The shifting levers are even the same, utilizing a SL-M2000 lever, but the derailleur has been upgraded to the Shimano Alivio M3100 system. The only other major change to the drivetrain system as a whole is that front and rear stainless steel fenders are now included with the stock model of the 2021 Giant Explore E+ 2 electric bike. Fenders are great because they help your drivetrain stay clean from rocks, mud, and other debris, further reducing the chance of suffering a chain drop or drivetrain damage. With an excellent Shimano system, one of the main manufacturers of eBike drivetrain systems, you'll hardly ever need to perform an emergency pit stop while riding the Explore E+ 2 electric bike.
Brakes
You'll read about the upgraded suspension system in the next section, but the 2021 version of the Giant Explore E+ has been designed to tackle even tougher mountain bike trails. So, to ensure you can come to a rapid stop wherever you're riding, the brakes have been upgraded to 180 mm front and rear Shimano BR-MT200 hydraulic disc brakes. The larger rear rotor provides a little bit extra support you'll need when riding down a difficult trail, and by going with Shimano brakes it also works better with the rest of the bike's key gear components. The hydraulic disc system is designed to work in tandem with the electric motor, so pressing on the lever will automatically shut off motor assistance to your pedals. Integrated motor and braking support allows you to not only come to a quicker stop, but also extends the life of the motor and brakes alike by ensuring they don't compete with one another.
Suspension
The last component to see a major upgrade for 2021, the Explore E+ 2 relies on a SR Suntour NEX E25 DS suspension fork with 63 mm of travel. Whereas the previous suspension fork was largely to help with uneven roads in the city, the SR Suntour fork provides solid shock absorption in and out of the city alike. You'll still feel it, but you'll have a more comfortable time riding the Explore E+ 2 electric bike as you hit cobblestone, cracked roads, loose gravel and dirt, and other uneven mountain bike trails. Overall, it's a great hybrid eBike setup, but you will want to consider one of Giant Bicycles dedicated e mountain bikes if you're going to push yourself on a truly challenging mountain bike trail.
Pedals
Pedals can be hit or miss, but the Explore E+ 2 is a hit with the aluminum platform pedals included with the eBike. The pedals are very easy to install or swap out if you already have premium pedals, but since they are aluminum they're a step up from the basic plastic pedals traditionally included with a mid-tier eBikes. These pedals are oversized as well, supporting small and large feet without any issue, and will work well with most common riding or athletic shoes.
Grips and Saddle
The grips are made out of textured rubber for a good and solid hold while riding, and are ergonomic in design so you can hold onto them for hours without irritating your hands. Instead of just gluing the grips onto the eBike, these grips are locked on for both a tighter hold and to make it easier to replace them once they're worn out. The saddle is a new design compared to last year's model, with the 2021 Explore E+ 2 featuring a Selle Royal Vivo Ergo Moderate saddle. It's large enough to support heavier riders looking to ride the eBike, and features an adjustable stem post to help riders with different heights find their ideal riding position. The saddle is also the same across the GTS and STA eBikes, and if you don't find the saddle to be ideal it's easy to replace with your favorite saddle for an even better riding experience.
Wheels and Tires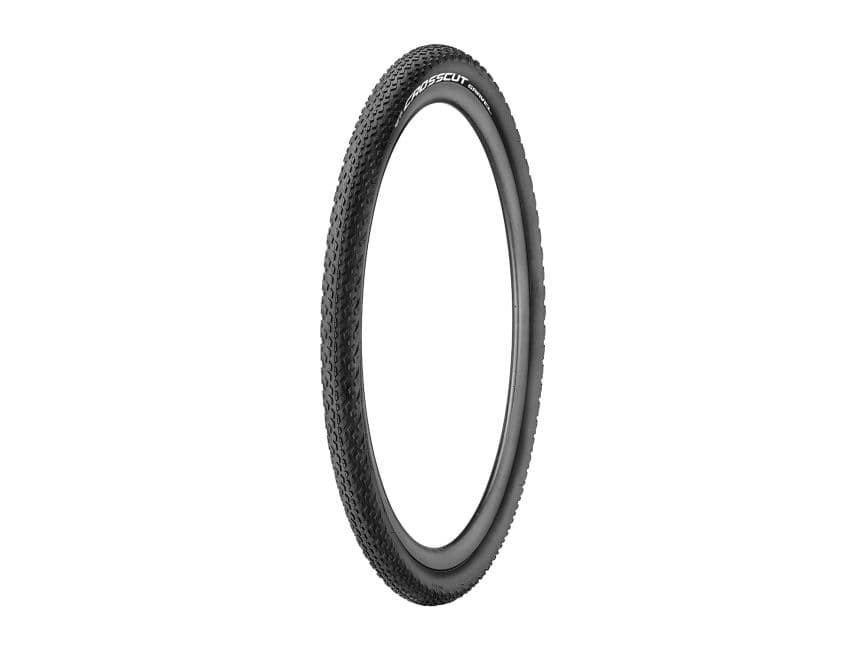 Another major component that has stayed the same year over year are the wheels included with the Explore E+ 2 electric bike. The tires are Giant CrossCut Gravel 2 700 x 45 tires that fit the 28'' wheel, with Giant eX 2 aluminum alloy 32/28 hole rims and 15 gauge stainless steel spokes. These tires are tubeless ready with PSI inflation that can be set to 50 to 70, and while they work well in the city they are specifically optimized to perform better on gravel and loose dirt. With the improved suspension fork for the 2021 model, the Explore E+ 2 electric bike is great almost anywhere you ride, whether traveling to work through the city or tackling up to moderate trails. The quick release mountain also means that you can service or replace the tires quickly, which is especially helpful if you want to quickly pack your bike in the trunk of your car.
Accessories/Upgrades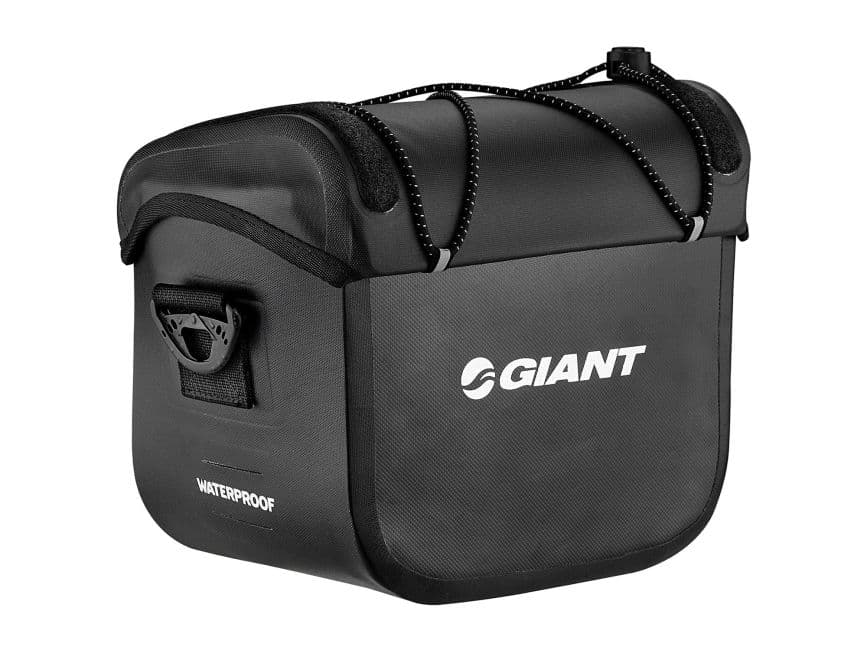 The Giant Explore E+ 2 is designed to be compatible with a number of accessories and add-ons, but with the new upgrades added to the bike you don't need many add-ons. Blueline E6 lights have been added to the front and tail of the bicycle, fenders are included with the stock model, and there's even a rear cargo rack that you can put a medium sized bag or container on. These are all fantastic additions that also cleared up some of our major issues with last year's bike, but given the quality of Giant's lineup you'll want to add even more. A few of our favorite accessories include the following:
H2PRO Frame Bags (Saddle, Handlebar, Trunk, etc.)
Giant Heart Rate Sensor
Surelock Force 1/Protector Chain Lock
Airway Lite Water Bottle Cage
Rack-It Metro E Rack
Recommendation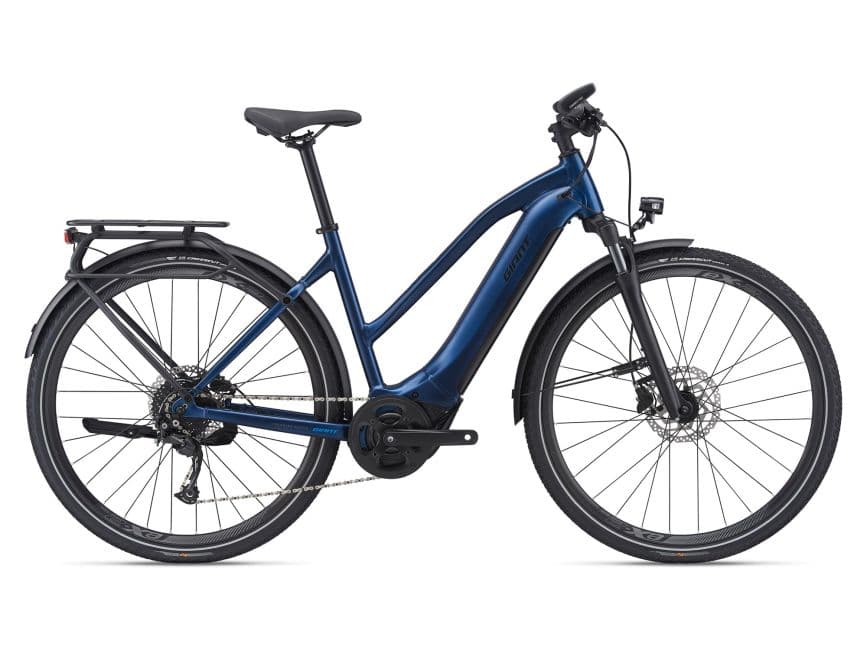 The Giant Explore E+ 4 electric bike is a fantastic hybrid bike option if you want a eBike that performs well almost anywhere you take it. The custom ALUXX SL aluminum frame is available in five/four different sizes and two different styles, allowing almost everyone to find a frame that accommodates their specific height and weight. The new SR Suntour NEX E25 DS 63mm travel and Shimano BR-MT200 180mm hydraulic disc brakes allows you to tackle up to moderate mountain biking trails, especially with the fenders helping protect the Shimano drivetrain. The Giant SyncDrive Life motor provides enough power to climb even steep hills, and paired with the larger Giant EnergyPak Smart 500 battery you'll travel even farther compared to last year's Explore E+ model. While the other components are largely the same, the ergonomic handlebar grips, Giant Crosscut Gravel tires, and comfortable saddle will help every ride feel great. Cross country, urban riding, and mountain biking enthusiasts will all benefit from this electric bike, so if you want something you can use for everything consider the 2021 Giant Explore E+ 2 electric bike!