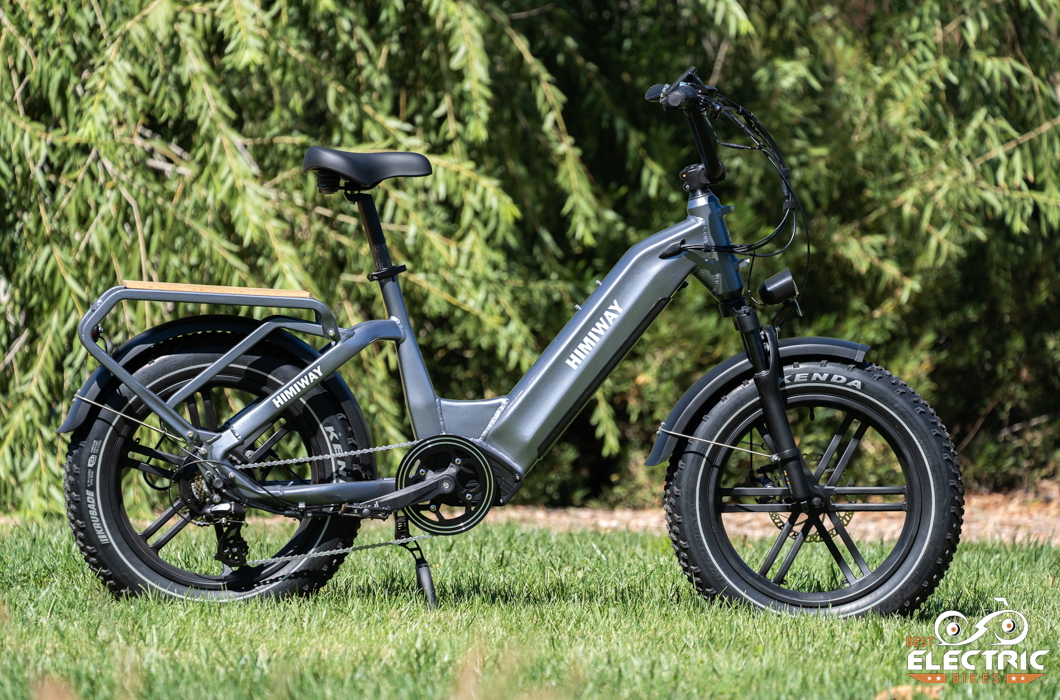 Intro
Buying an e-bike is a bit like buying a newfound freedom. It's a way to escape the car, an excuse to enjoy the outdoors and a chance to exercise that doesn't feel like, well, work. But e-bikes come in an incredible variety of styles and they all have different features that ultimate add up to a kind of philosophy about just what an e-bike ride should be. Himiway has elected to focus on the enjoyment end of the e-bike spectrum. All of their bikes emphasize comfort thanks to big tires and suspension. The saddles are pretty big, too.
In our Himiway Big Dog review we will look at how there so much about this e-bike that focuses on a rider's enjoyment someone might forget that it has pedals. With its convenient frame design, powerful motor, sizable battery, fat tires and suspension fork we look at the Big Dog and wonder, "Who wouldn't want to ride this e-bike?"
Modern life has made a great many of us less active than our doctors would like. Being prescribed exercise is like turning fun into homework. Often, the trick is to find the fun and let the activity follow. The Himiway Big Dog is an e-bike that combines a very comfortable ride with the ability to carry up to 400 lbs. while sitting upright—not bent over like a Tour de France racer. And for anyone who hasn't been all that active in the last few years, there's no need to worry about tired legs—a push-button throttle can take over if the legs need a break.
This is an e-bike for people who can't be guilted into exercising and don't want to be sweaty and uncomfortable. In short, it's an e-bike for people who would not otherwise ride a bike … at all.
Let's take a look at what makes the Himiway Big Dog so compelling.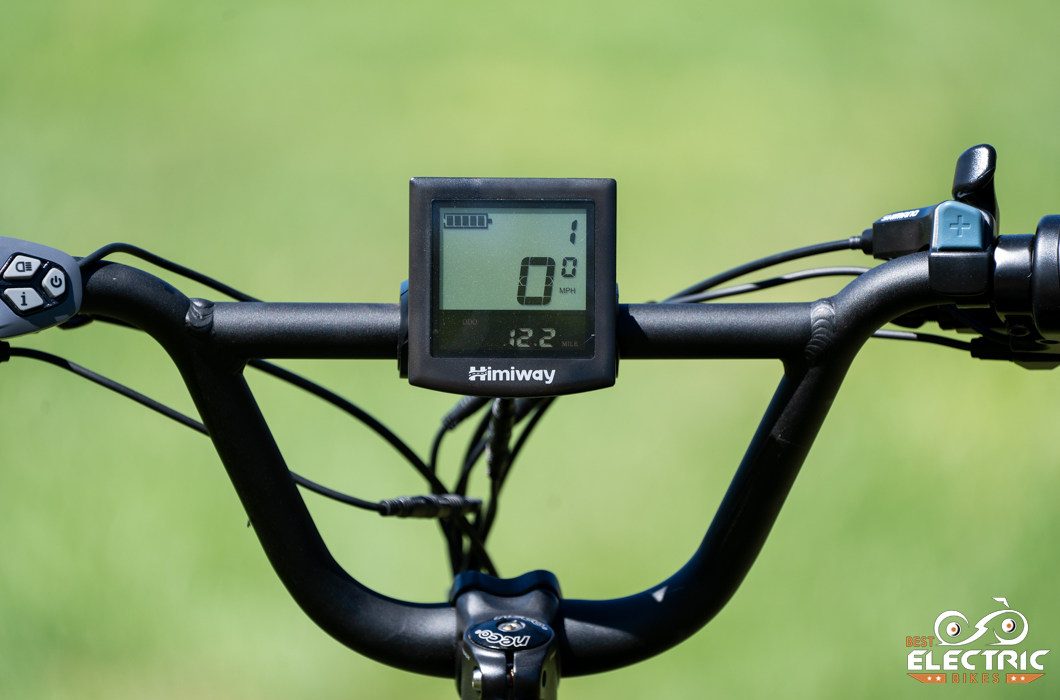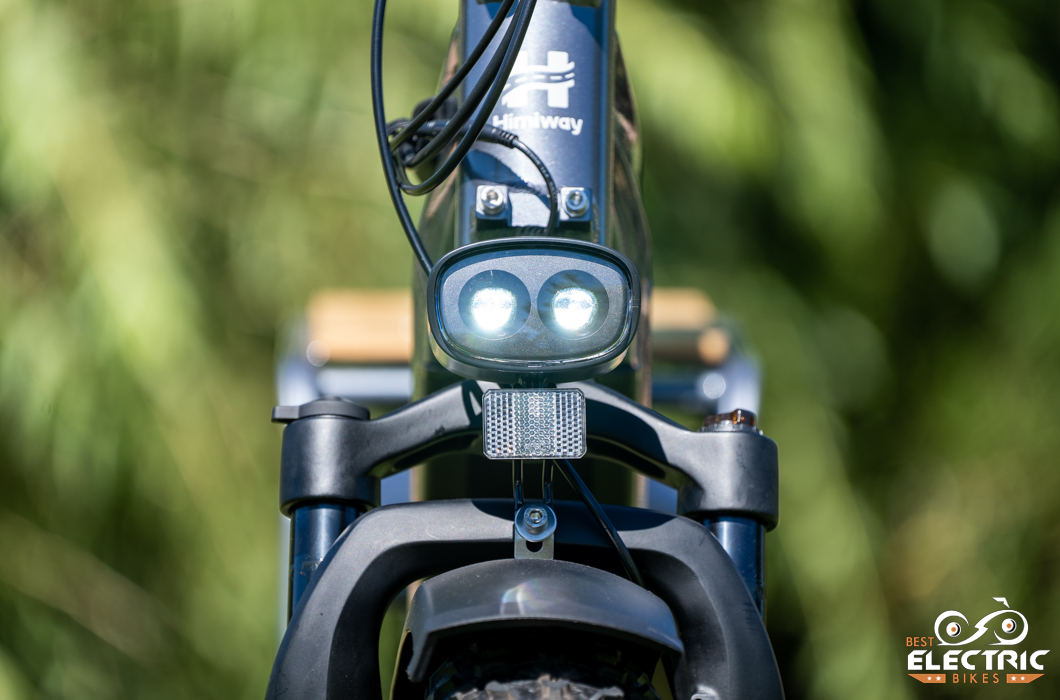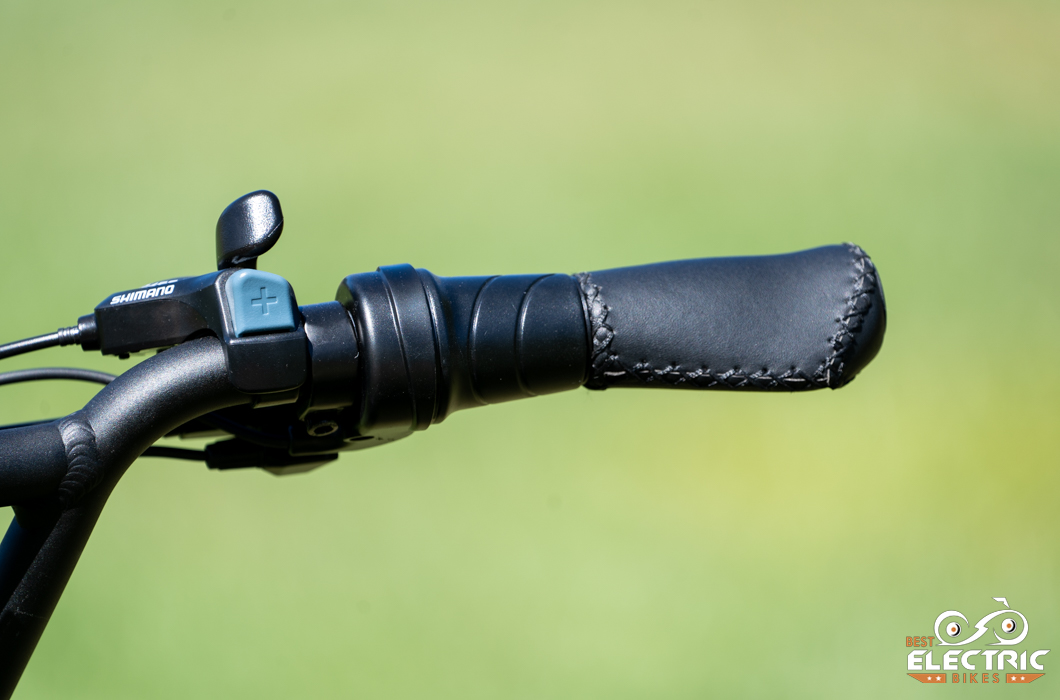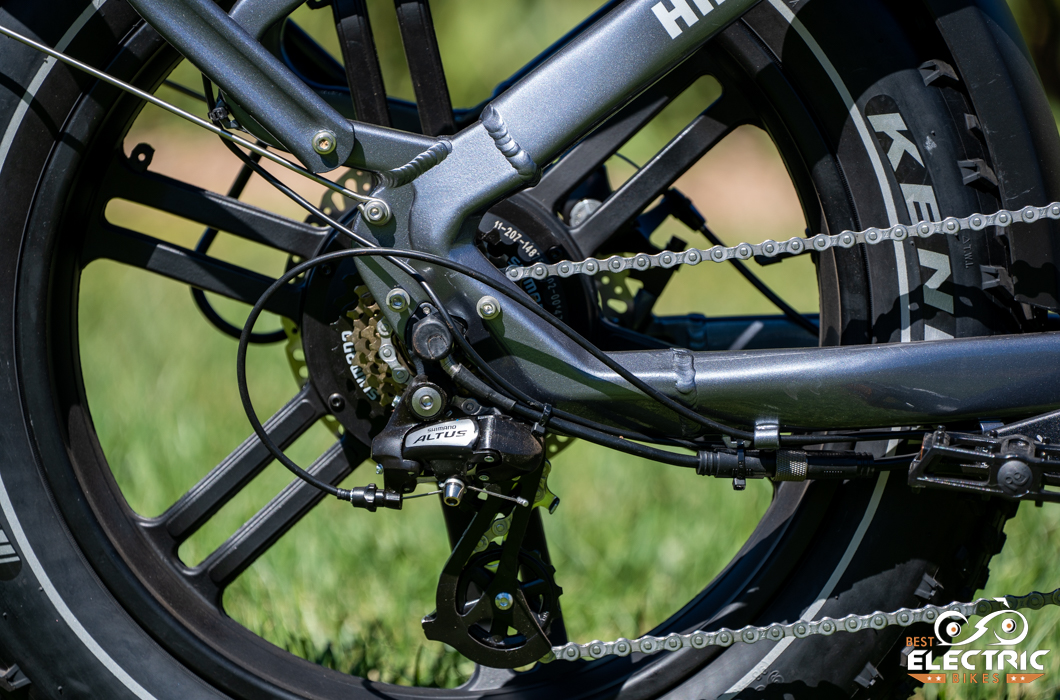 E-Bike Category: Cargo
Who the Himiway Big Dog Electric Bike Is for:
The Big Dog is ideal for anyone looking for a step-thru e-bike that can handle a lots of weight.
Himiway Big Dog Review Ratings:
***All ratings are relative to e-bikes of a similar style and price point***
| | |
| --- | --- |
| Speed/Acceleration | |
| Hill Climbing | |
| Battery Range | |
| Braking | |
| Construction Quality | |
| Handling | |
| Included Accessories | |
| Warranty & Customer Service | |
| Value | |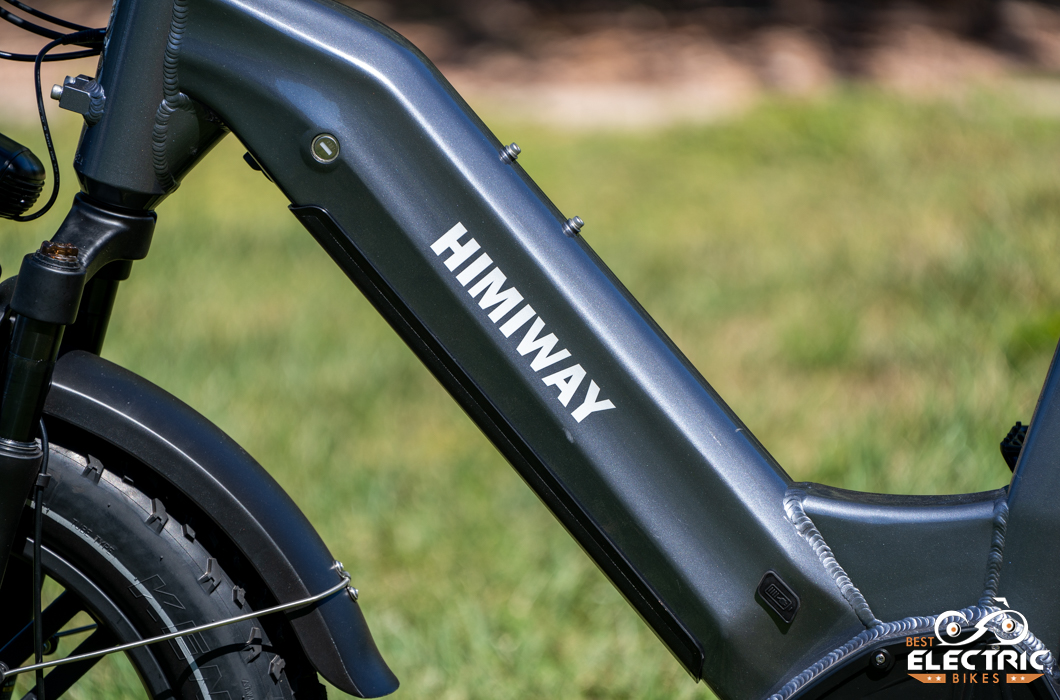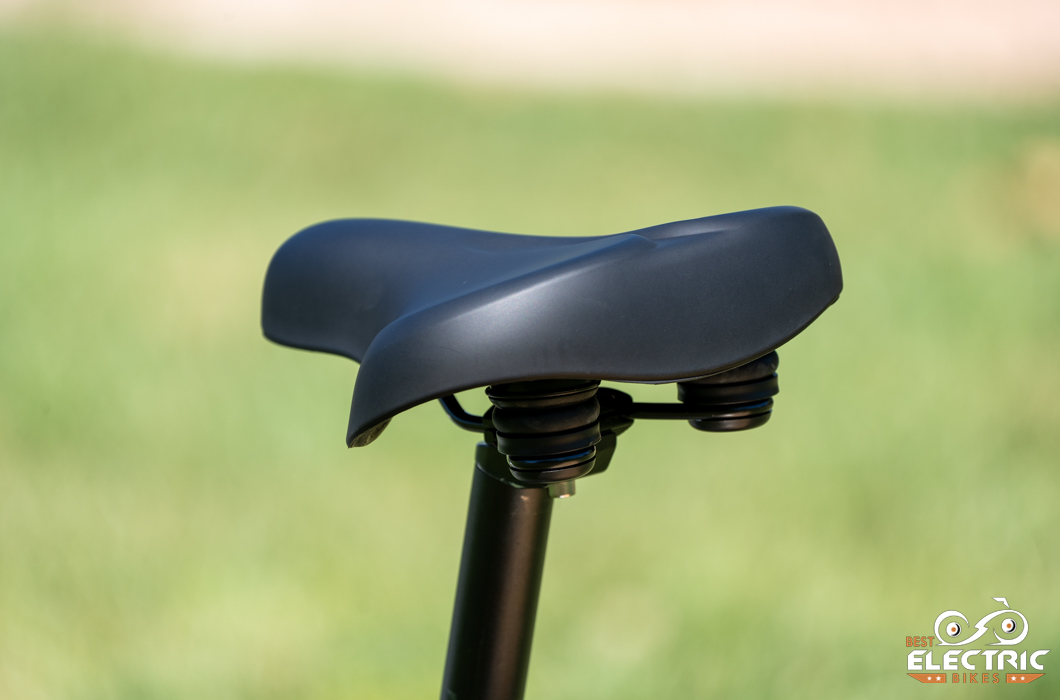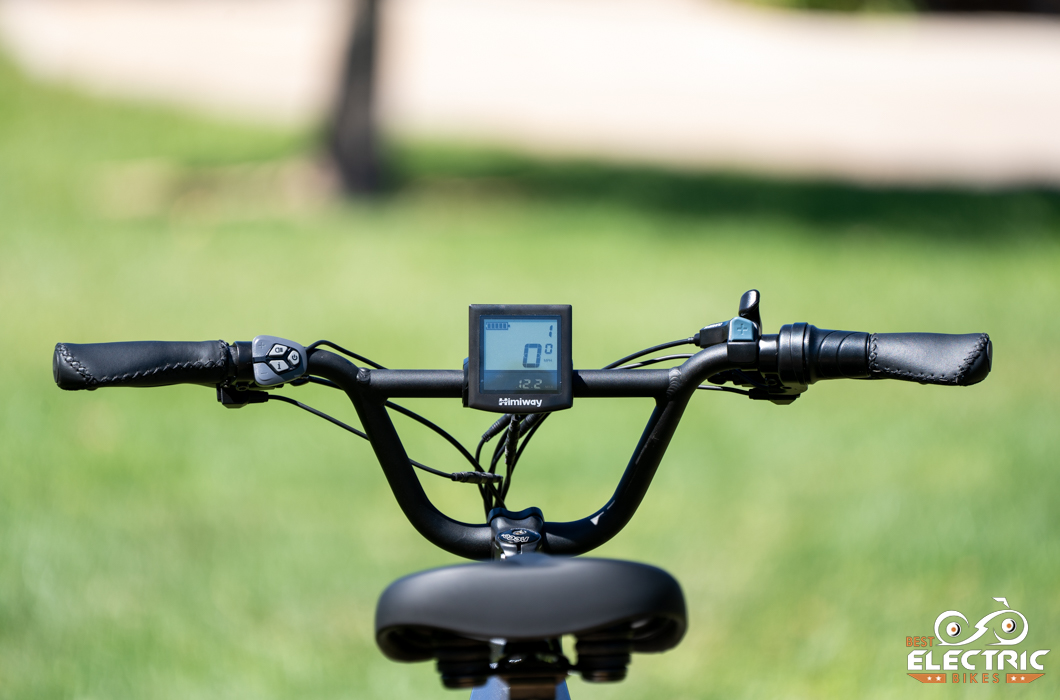 Himiway Big Dog E-Bike Specs
Battery: 48V, 960Wh
Expected Range: 60-80 mi. estimated
Charger: 3A smart charger
Motor: 750W brushless, geared hub motor producing 86Nm of torque
Pedal Assist: 5 PAS levels
Throttle: Half-twist grip throttle
Display: LCD
Headlight: LED
Taillight: Integrated
Frame: 6061 Aluminum
Fork: Coil spring suspension
Fenders: Included
Kickstand: Heavy-duty aluminum
Handlebars: Alloy
Grips: Faux leather
Drivetrain: 7-speed Shimano Altus
Brakes: Mechanical disc brakes with 180mm rotors
Pedals: Alloy with reflectors
Saddle: SR saddle
Tires: 20 x 4 in. Kenda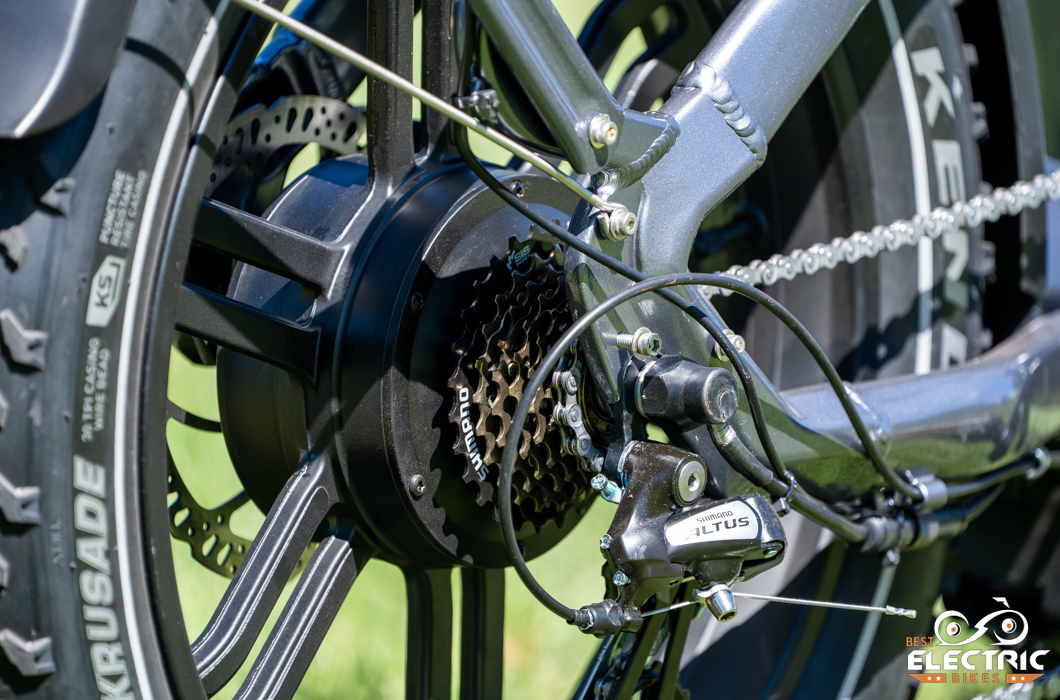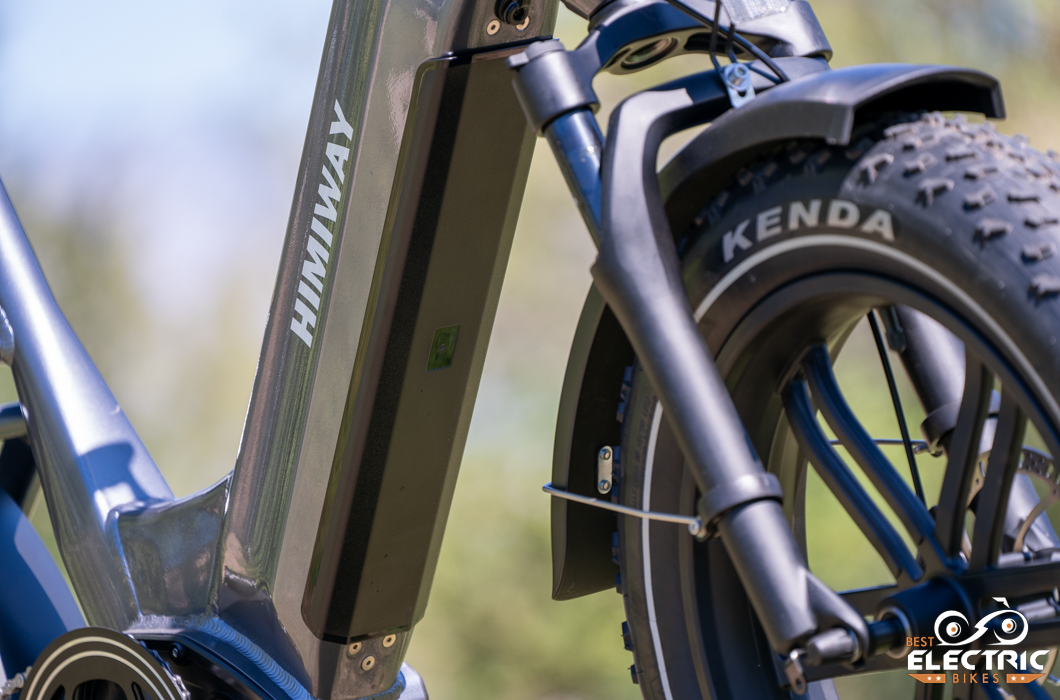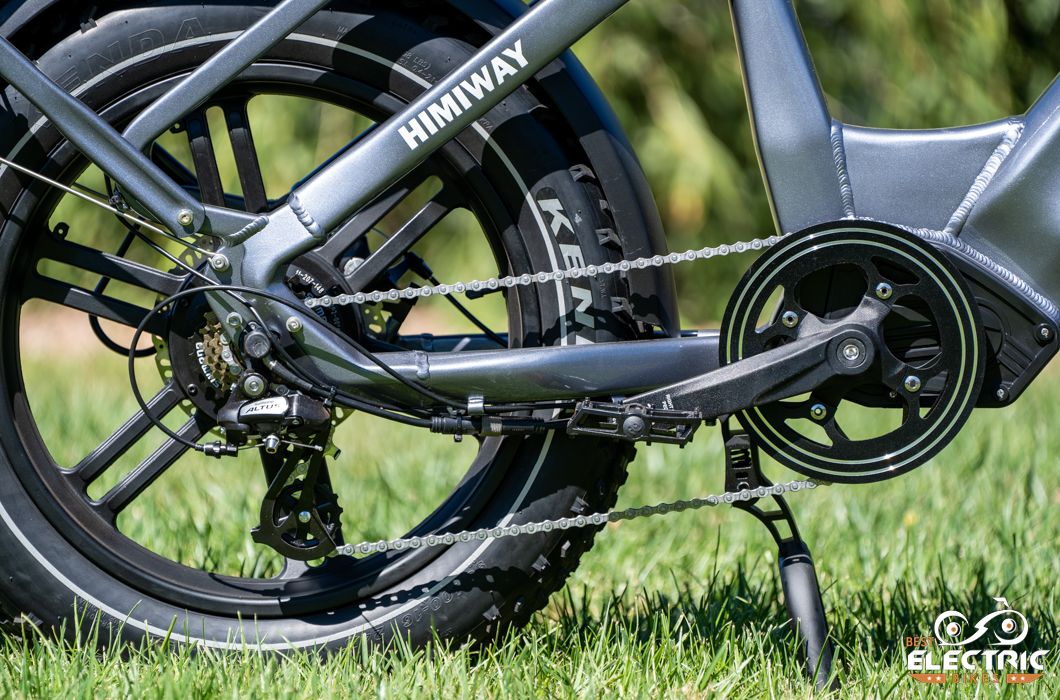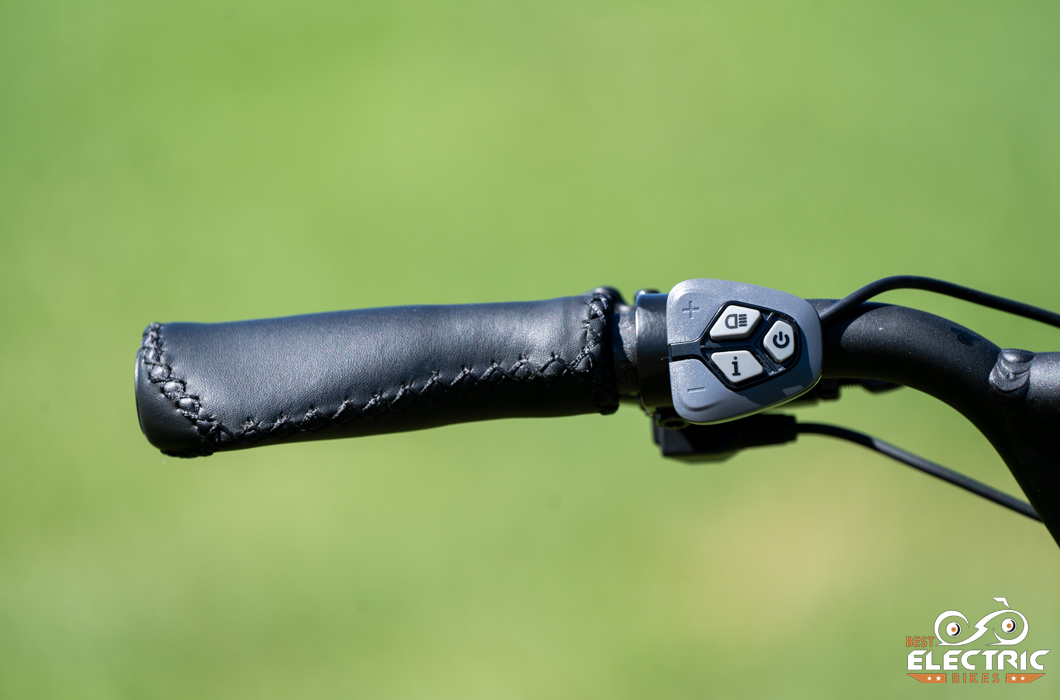 In-Depth Himiway Big Dog Review
Himiway Big Dog Review: Comfort, Handling, and Ride Qualities
It's possible that there is no e-bike maker that has prioritized rider comfort in the way that Himiway has. It's also possible that no other e-bike maker has prioritized payload capacity the way Himiway has. Every e-bike in Himiway's line is equipped with tires at least 4-in. wide and a suspension fork. It's a signature part of their lineup.
But comfort isn't just how cushy the ride is. It's also a matter of whether the e-bike is easy for the rider to manage.
All of Himiway's bikes can carry at least 330 lbs. In the case of the Himiway Big Dog, it can carry up to 400 lbs. That is truly significant and that feature is made all the more impressive by the fact that the Big Dog features a step-thru frame. It's not easy to make a frame that can carry 400 lbs. And not have a top tube. What that means is that for a person who is buying an e-bike after too much time not being active, the Himiway Big Dog is an e-bike that will be easy to mount. The person who tips the scales upward of 300 lbs. might not have an easy time swinging a leg over an e-bike with a traditional frame. With a 16.5-in. standover height, the Himiway Big Dog is easy to step through before rolling out.
Should a bigger person be considering the Big Dog, it's worth noting that the wheels it is spec'd with are 20-in. in diameter (smaller wheels are stronger) and they are made from cast aluminum, rather than using traditional spokes. Wheel strength won't be an issue.
An e-bike that prioritizes comfort isn't one that is meant to have lightning-fast reflexes. Comfortable in handling means a bike that leaves the rider feeling like they are soaring like an eagle, not dive bombing.
With its BMX-style riser handlebar, the Himiway Big Dog is meant to give riders an upright position that doesn't require leaning forward.
Thanks to its suspension and fat, knobby tires, the Big Dog can handle some off-road riding. It would be a terrific way to explore areas too big to see much of by hiking.
Himiway Big Dog Review: Motor, Battery, and Drivetrain Performance
The Himiway Big Dog is equipped with a 48V, 750W brushless, geared hub motor. That's powerful by any measure, but doesn't fully capture just what this motor can do. It produces 86Nm of torque, which means anyone concerned with the Big Dog's ability to get them over the hill won't need to worry. This is yet another selling point for a bigger person concerned about whether or not the Big Dog is all that.
Himiway also places an emphasis on sizable batteries. The Big Dog carries a 960Wh battery, which is very large by any standard. Himiway estimates that the Big Dog will cover 60 to 80 mi. depending on PAS level and riding conditions. Our colleagues at Electric Bike Report tested the Big Dog recently and found that it came up notably short on those estimates. In PAS 5 their test rider covered 36 mi., while in PAS 1 they managed 47 mi. These numbers are significantly off of their estimate, but if we forget about their projections for a moment and simply look at the real-world range of 36-47 mi., the Big Dog is respectable.
To return to handling for just a moment, we need to point out that an e-bike equipped with a 750W motor and a 960Wh battery will be heavy. Those are very heavy components and cause the Himiway Big Dog to tip the scales at 79 lbs. That could be a concern for a smaller rider or anyone with strength issues.
Himiway spec'd the Big Dog with a 7-speed Shimano Acera drivetrain. This is a drivetrain we see on many e-bikes in the price range and while it is short on frills (the gear range might be a bit narrow for anyone who would be riding lots of hills), it is as reliable a drivetrain as can be found in this price range.
Himiway Big Dog Review: Braking, Safety, Customer Service & Warranty
Relative to adult e-bikes, 20-in. wheels are considered small. Except in rare circumstances, it is as small a wheel as we see for an e-bike. Smaller wheels like these are easier to stop than larger wheels like 26- or 27.5-in. For that reason, e-bikes with 20-in. wheels are often built with mechanical disc brakes rather than hydraulic ones. In most circumstances, they offer enough stopping power when combined with 160mm rotors; 180s are even better.
With that said, any e-bike that is rated to carry as much as 400 lbs. merits hydraulic disc brakes, in our opinion. If the riding is typically flat, this isn't as much of an issue, but we do think the Big Dog would merit a slight uptick in price were hydraulic disc brakes used. Any bigger rider contemplating the Himiway Big Dog need not worry. A local bike shop can install larger rotors for more braking power, or replace the mechanical brakes with hydraulic ones, though at some cost.
Reading through the reviews on Himiway's site (which we caution people not to put too much faith in as most companies manipulate this to some degree), it appears that when riders have had issues, Himiway seems to be pretty responsive. It is obvious, however, that reviews for other bikes are displayed on the Big Dog's page.
Himiway offers a two-year warranty on their e-bikes, which is double what many of the direct-to-consumer companies offer.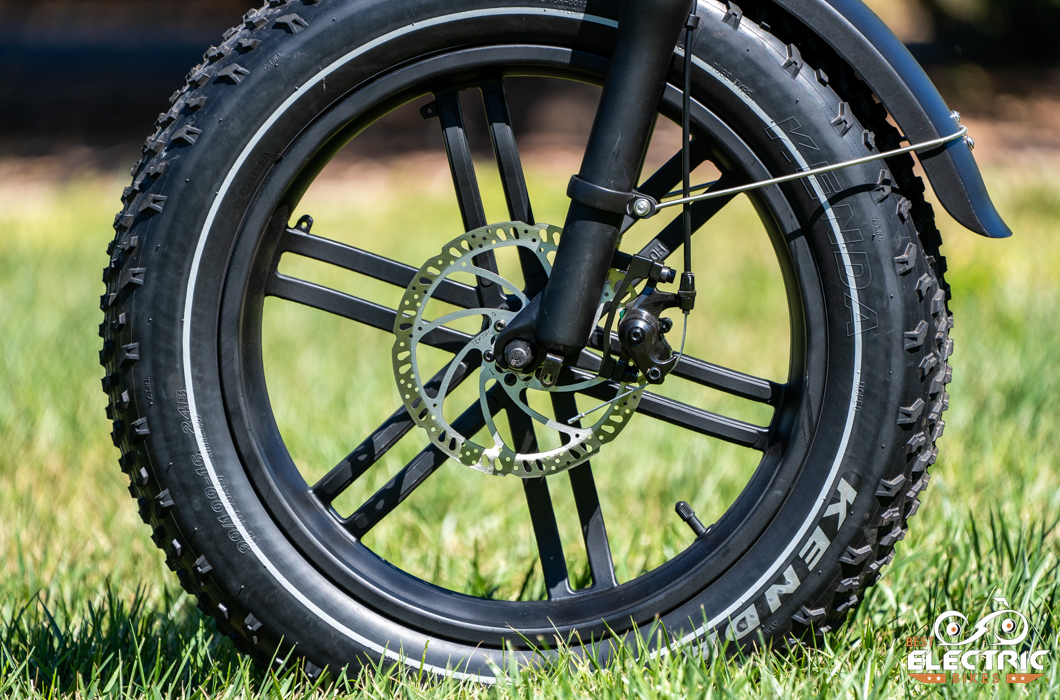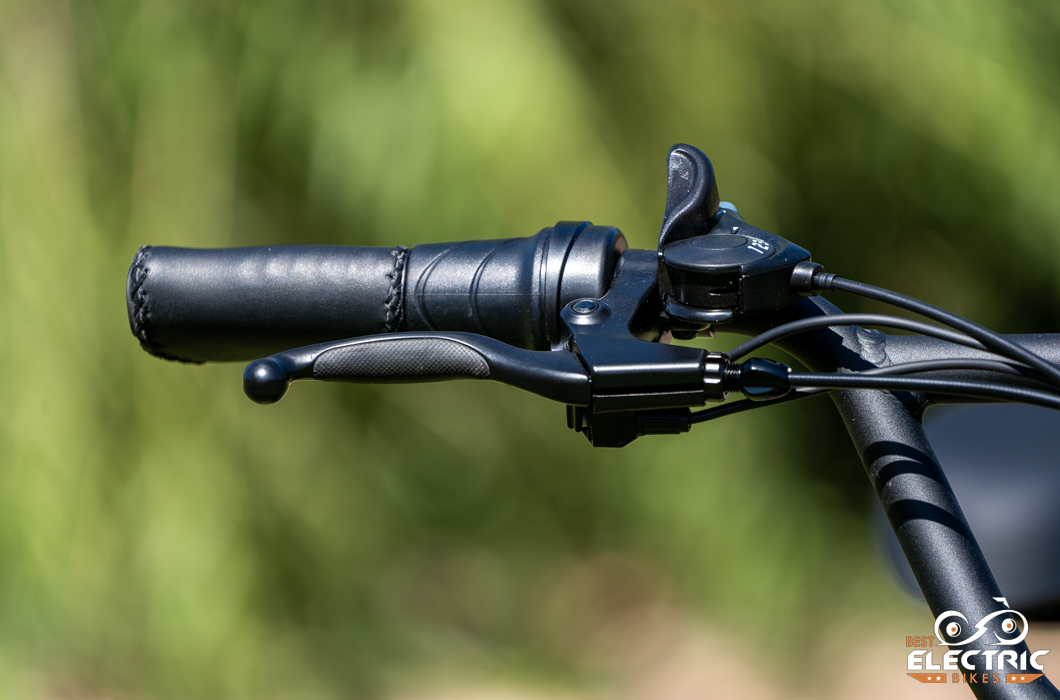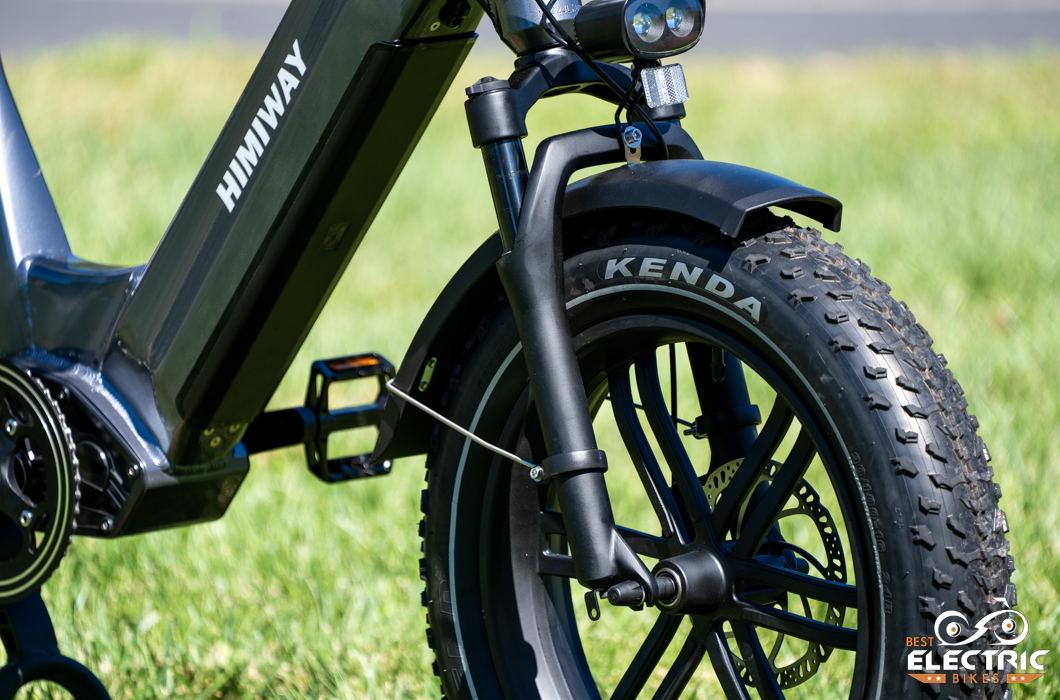 Himiway Big Dog Review: Recommendation/Final Verdict
Among our circles of friends and family, we here at Best Electric Bikes are known as the resident e-bike experts. They humor us for loving something they are glad they haven't done since high school. Which is to say, when it comes to finding an e-bike that makes riding enjoyable, the Himiway Big Dog is a win. With its comfortable position, powerful motor and big, fat tires, the Big Dog is big fun.
The $1500-$2000 price tier is full of terrific e-bikes. It is arguably the most competitive segment of the market because it allows manufacturers to find opportunities to make their e-bike special, rather than just finding new ways to cut cost in order to try to reach the $1000-$1500 price range. Himiway has done an impressive job of creating an e-bike for folks who may not have been all that interested in e-bikes. That's the thing about fun—it sells itself.
The Himiway Big Dog isn't the perfect e-bike. We would like to see them upgrade the mechanical disc brakes to hydraulic ones in order to better compliment the e-bike's payload capacity of 400 lbs. For riders under 200 lbs., the mechanical disc brakes should not pose any issue at all, however.
At 79 lbs., the Big Dog is, well, a Big Dog. This is a reasonable result of the overbuilt frame, the powerful motor and the sizable battery. Any time a product is made to be strong or powerful, or strong and powerful, it's going to weigh more. We want to acknowledge the weight without being critical of it. At nearly 80 lbs., this e-bike could be difficult for some smaller riders to manage, but it's certainly not a flaw. We recommend finding a hitch rack with a ramp for anyone who isn't a crossfit champion.
The Big Dog is one of our favorite e-bikes from Himiway, a maker we have come to admire for their approach to e-bikes. This is an affordable e-bike that will allow someone concerned about whether or not they'll have fun get into riding for a reasonable investment. We can't promise someone will have fun aboard the Himiway Big Dog, but they've done their best to stack the deck in fun's favor.
Thank you for reading through our review of the BRAND MODEL. Still have further questions? Wondering how it compares to a similar e-bike the team at Best Electric Bikes has reviewed? Let us know in the comments below!