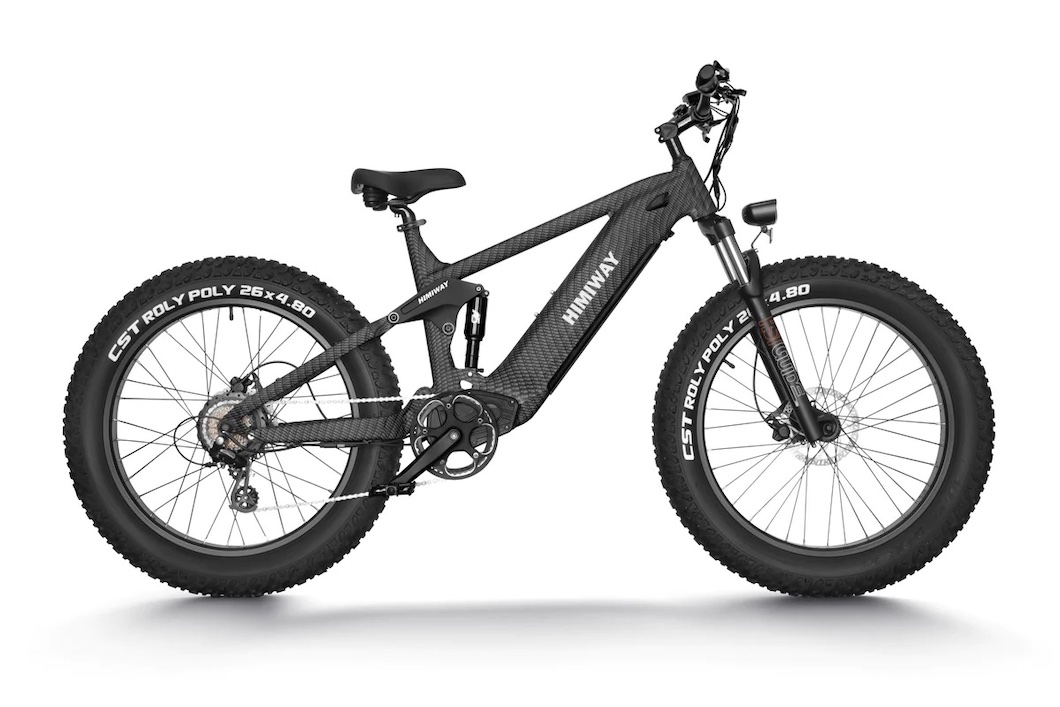 Overall Rating:4.2/5
Pros:
The Himiway Cobra Pro is one of the most affordable full-suspension all-terrain e-bikes on the market
Very cushy ride thanks to front and rear suspension as well as 4.8-in.-wide tires
750W brushless hub motor offers 86Nm of torque, giving riders impressive acceleration and hill climbing, as well as a 28 mph, Class 3 top speed
960Wh battery offers a range of 60-80 mi., more range than most riders could exhaust in a weekend
Cons:
The 7-speed drivetrain is meant for fairly tame terrain

Himiway Cobra Review: Intro
The Himiway Cobra we're reviewing is a departure from the typical electric bike we see from consumer direct companies. Rather than demonstrating a number of features making the bike great for commuting, errand-running and the like, the Himiway Cobra heads in the direction of off-road use and fun-having; this isn't the most practical e-bike we've encountered, unless we want to count fun as practical (we're cyclists, so we do tend to).
The Himiway Cobra looks like a terrific electric bike from a spec sheet perspective for anyone who wants a bike that will allow them to get out into nature and off the paved road. It's far more affordable than most full-suspension e-bikes, and for good reason—it's not aimed at the sort of cyclist who wants to bomb down a singletrack trail or go launching off a ramp.
This is also a terrific e-bike for anyone who has struggled with the sort of joint pain that can be exacerbated by hitting bumps. It would be difficult to find an electric bike offering a more comfortable ride; the combination of 4.8-in.-wide tires, a suspension fork and rear suspension make riding this e-bike a bit like being on a rolling couch.
Taking an e-bike offroad, even if the terrain is no more technical than a dirt road with a rut or two, requires more power and in particular more torque to offset the slower rolling on the soft surface and ascend hills without bogging down. This is an e-bike that isn't appropriate to all off-road uses, but for someone looking to go places that the average cruiser or commuter can't reach, the Himiway Cobra is full of new horizons.
E-Bike Category: All-Terrain E-Bike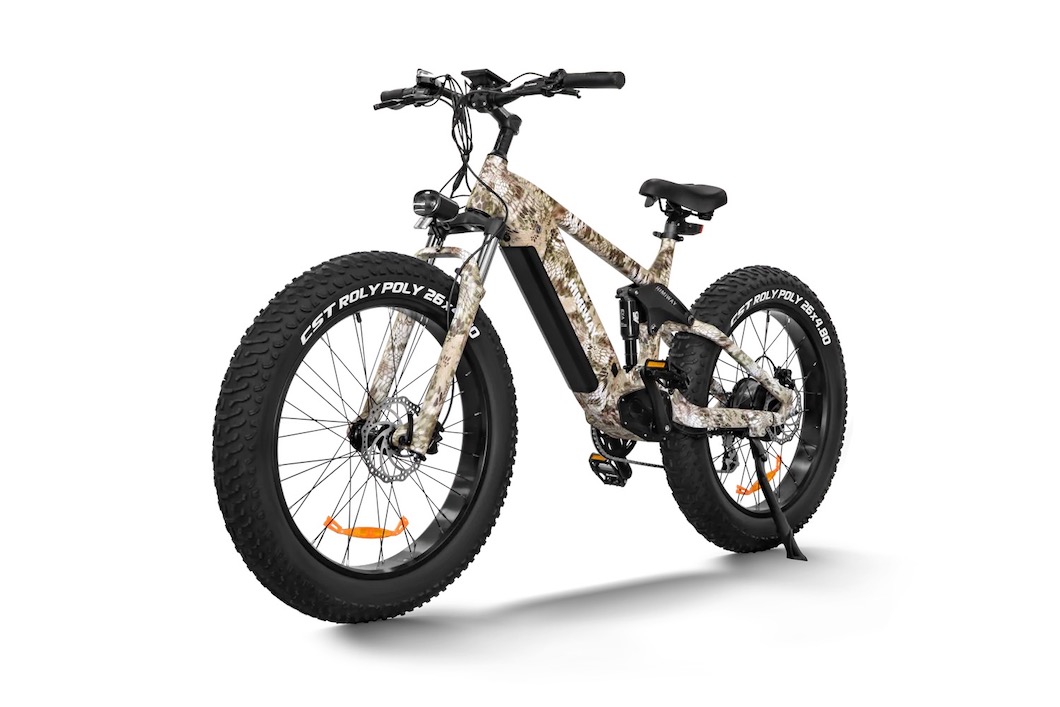 Who is the Himiway Cobra Electric Bike Is For: This is an off roader for people interested in riding fire roads, jeep tracks and motorcycle trails.
Himiway Cobra E-Bike Specs
Battery: 960 Wh
Expected Range: 60-80 mi. per charge (estimate)
Charger: US standard 3.0 A smart charger
Motor: 750W brushless geared hub motor, 86Nm torque
Pedal Assist: 0~5 level pedal assist
Throttle: Half twist grip throttle
Display: LCD display with USB charging
Headlight: 48V LED light
Taillight: 48V LED light
Frame: 6061 aluminum, unspecified travel
Fork: Suspension fork with adjustment and lockout, unspecified travel
Fenders: N/A
Kickstand: Heavy-duty aluminum
Handlebars: Aluminum MTB-style riser bar
Grips: Faux leather, ergonomic
Drivetrain: Shimano, seven speed, 14-28 freewheel
Brakes: Tektro hydraulic discs, 180mm rotors
Pedals: Alloy pedal with reflectors
Saddle: SR saddle
Tires: 26″ x 4.8″ CST fat tires
Ratings:
***All ratings are relative to e-bikes of a similar style and price point***
| | |
| --- | --- |
| Speed/Acceleration | 4.9/5 |
| Hill Climbing | 4.7/5 |
| Battery Range | 5/5 |
| Braking | 4/5 |
| Construction Quality | 4 |
| Handling | 4 |
| Included Accessories | 4 |
| Warranty & Customer Service | 3.5 |
| Value | 4.7 |
In-Depth Himiway Cobra Review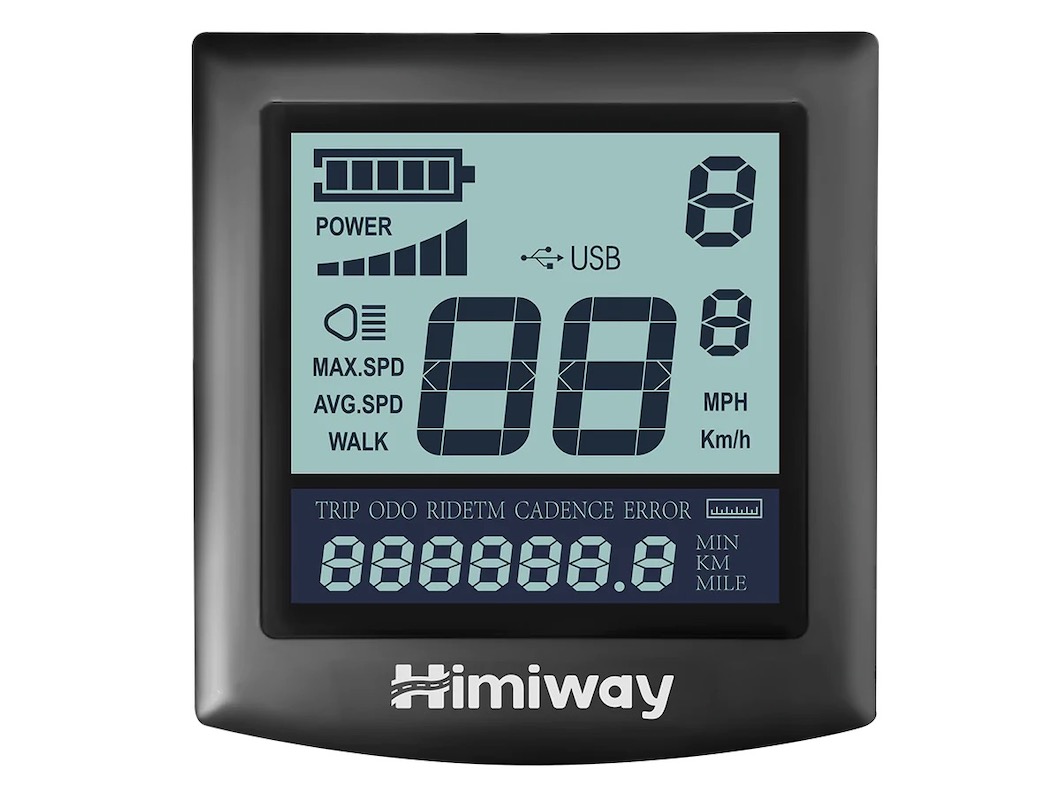 Himiway Cobra Review: Comfort, Handling, and Ride Qualities
There are a few things that notably jump off the spec sheet as we started this Himiway Cobra review; The Himiway Cobra is an electric bike with some distinct strengths as well as distinct weaknesses. One feature it does not lack for is comfort, though. Between the front and rear suspension and the presence of 4.8-in.-wide tires, plus a sizable saddle, this is one e-bike meant to provide a smooth ride.
Mountain biking is, traditionally, a fairly dynamic activity. Riders move their weight around on the bikes, shifting their balance and to do this, having a bike that fits is helpful; we would love to see Himiway offer the Cobra in multiple sizes, rather than just one. The Cobra has a long wheelbase, high standover, and tall minimum saddle height which make this bike awfully rangy for anyone shorter than 5-feet-9. Also, at 88 lbs., this is one of the heaviest e-bikes we have encountered. Lighter riders will feel all that weight in turns if not on hills and it may undermine some confidence in less experienced riders.
The handling on the Cobra takes its inspiration from performance-oriented eMTBs; it has a slack head tube angle to keep it calm at high speeds—28 mph off-road can be an adventure—and the suspension does a good job of keeping the wheels on the ground.
Twist throttles are easy to use and fairly prevalent, but with e-bikes meant for bumpy terrain setting a consistent pace with a twist throttle can be difficult. We'd prefer to see a lever for the thumb; this is especially true with the Himiway Cobra because it possesses such a powerful motor. It's so torquey that one good bump could cause the bike to lurch with acceleration.
Himiway Cobra Review: Motor, Battery, and Drivetrain Performance
We see plenty of 750W brushless hub motors, but rarely do we see them tuned to deliver 86Nm of torque, which is one of the highest figures we've seen. What it means is that the Himiway Cobra accelerates a bit like a top fuel dragster.
Even when manufacturers use off-the-shelf components in their controllers, they set the performance level for each PAS level. Compared to most e-bikes out there, the Himiway Cobra is exceptionally aggressive in its assistance. We're accustomed to seeing e-bikes where PAS 1 offers a rather modest assistance and may not be worth using. Well this Cobra strikes; PAS 1 will take a rider right up to 18 mph, sailing past a pace in line with jogging and cruising at the equivalent of a dead run. At PAS 5 the bike will fly at 28 mph, slowing only when the pedals stop turning.

While the Himiway Cobra has a hub motor, it is unusual in that it features a torque sensor so that the motor's response is immediate, rather than needing to take a breath first. It's a small touch that does much to improve the bike's performance.
We've seen some stout batteries but the 960Wh battery the Himiway Cobra is spec'd with offers more capacity than some double-battery setups we've seen. Himiway estimates a range of 60-80 mi., which, given how powerful PAS 1 is could mean riding for a month before needing to recharge the battery.
Electric all-terrain bikes meant for use on singletrack trails need a wide range of gears, and modern drivetrains will have a low gear with a ratio around 1.5:1 and a high gear of 1:3 or higher, spread over 11 or 12 gears. The Himiway Cobra sports a modest seven speeds and a gear range that lacks at both the high and the low end. It's not a bad drivetrain at all, but it does reinforce the evidence that this is an e-bike meant for dirt roads, not challenging trails.
Himiway Cobra Review: Braking, Safety, Customer Service & Warranty
Stopping an 88-lb. bike that is marketed as having a 400-lb. weight limit can't have mechanical disc brakes. Himiway went with the Tektro Aries hydraulic discs with 180mm rotors, a reliable setup that serves a great many e-bikes we see. However, given the weight rating and the bike's overall weight, we'd like to see either a four-piston design or 203mm rotors used.
When we consider the subject of safety, our first thought goes to maintaining control of the bike. There are a few choices that a bike's designers can make that will increase the likelihood that a rider will maintain control even in dicey circumstances. The Himiway Cobra is a greatest hits of many of those options. First, knobby tires like the 4.8-in.-wide CST Roly Poly will maintain traction on just about anything but an ice sheet. Front and rear suspension will help keep the wheels on the ground now matter how bumpy the ride gets. Also, the mountain bike-inspired geometry will give the Cobra good manners when turning.
We don't have any direct experience with Himiway's customer service, but the reviews on their site are consistently good and they seem responsive to warranty issues and ship out needed parts quickly. The warranty itself is solid, and while we'd like to see lifetime on the frame, all the parts and labor have a two-year warranty rather than the single year that is most common.
Himiway Cobra Review: Recommendation/Final Verdict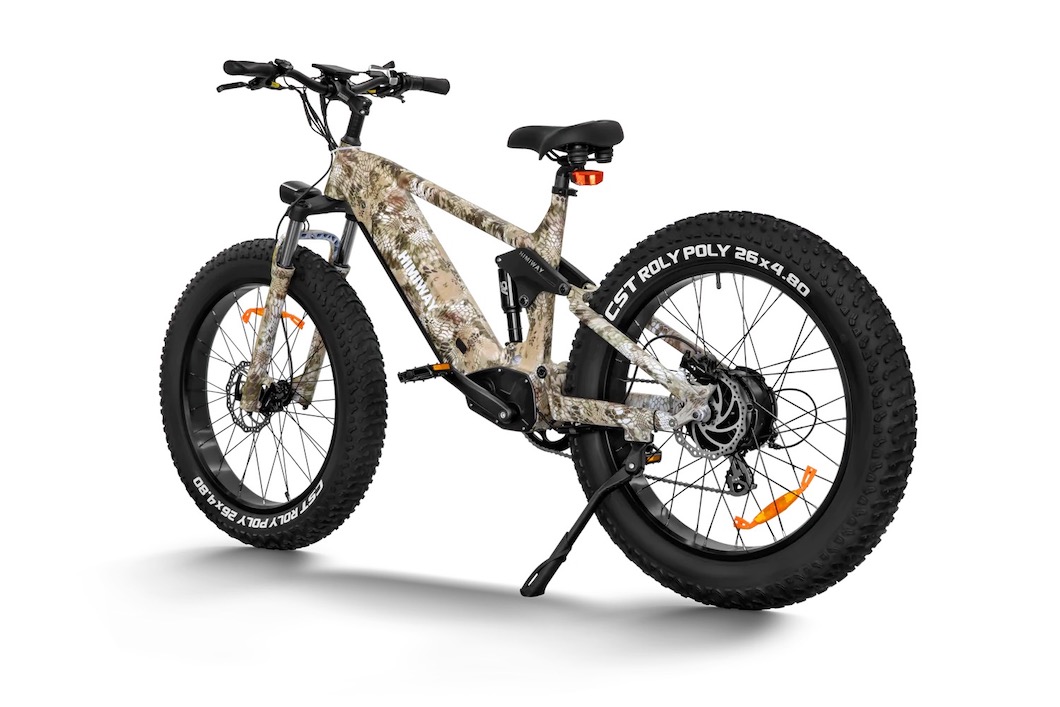 Here's what we can say at the conclusion of this Himiway Cobra review: the Himiway Cobra is a remarkable e-bike, the likes of which we never really expected to see. None of the big bike companies like Trek, Specialized or Giant produce a bike quite like the Cobra. E-bike companies tend to see bikes through the lenses through which they've always looked. An e-bike with modest, but full, suspension; fat tires and an inexpensive drivetrain meant for dirt roads but not hard-core trails may be an idea unique to Himiway and a few other companies.

It would be easy to criticize this e-bike for what it's not, but that's like knocking a Mini Cooper for not being a Corvette. It's important to look at this e-bike through the eyes of the people it's aimed at: riders who are either new to cycling or returning to after a long break (also known as adulthood). This is not aimed at people who are already serious mountain bikers but want something as affordable as possible. Rather, it is aimed at people who haven't ridden off road previously and want to do more than explore the streets and bike paths in their area. It's suited for all manner of offroad exploring through overlanding and firetrails, but not quite the eMTB courses.
For someone who has only ridden a bike on paved surfaces, riding a bike off road can be a surprise. It's a bumpy affair and some riders might not find it all that enjoyable. However, take an e-bike with full suspension, fat tires and a motor to send this thing rolling 28 mph, and it could convert people to dirt road exploring by the hundreds.
The torque sensor makes this hub-motor-driven e-bike perform like one costing significantly more. And because this motor provides such high torque, anyone wanting an e-bike with head-snapping acceleration as well as all-out top speed would do well to take a look at the Himiway Cobra. It may not fit a traditional definition of an off-road bike, but it's a good time waiting to be ridden.
Thank you for reading through our review of the Himiway Cobra. Still have further questions? Wondering how it compares to a similar bike? Leave us a question in the comments below and the team at BestElectricBikes.com will answer!
Reader Interactions