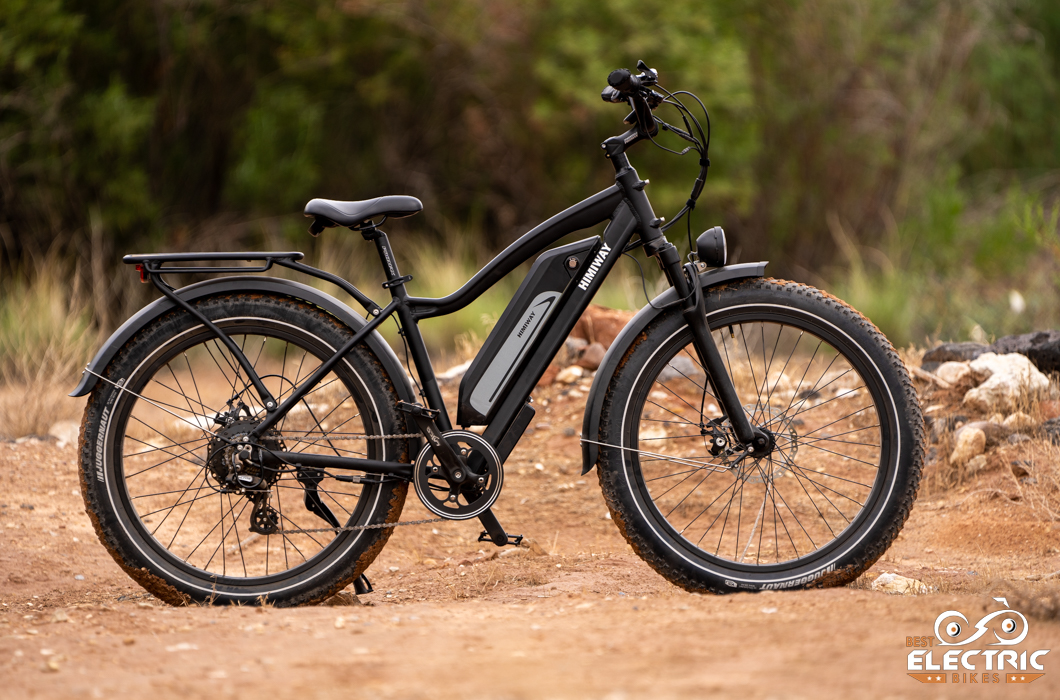 Himiway Cruiser Review: Intro
When it comes to value-laden e-bikes, there are a number of really fine bikes on the market currently. Competition in the sub-$2000-range is stiff as drywall. With its powerful motor, substantial battery, fat tires and included accessories, this Himiway Cruiser review show that this is a fat tire e-bike with the kind of versatility many bikes aspire to but never achieve.
At first glance, people might think this is a bike meant for little more than a good time. And while it is definitely a good time, it can make a great commuter, is perfect for running errands and can even take on dirt roads and unpaved bike paths. Himiway believes so thoroughly in the Cruiser's capabilities that they included fenders, lights and a rear rack.
What sets the Cruiser apart from its competition, indeed what the bike's defining features are its powerful motor and battery. Few bikes in this price range can go like this Class 3 bike and as fun as this bike is at speed, its real genius is when a rider tackles a hill.
In our review of the Himiway Cruiser we'll take a look at how such an inexpensive bike can deliver such impressive performance.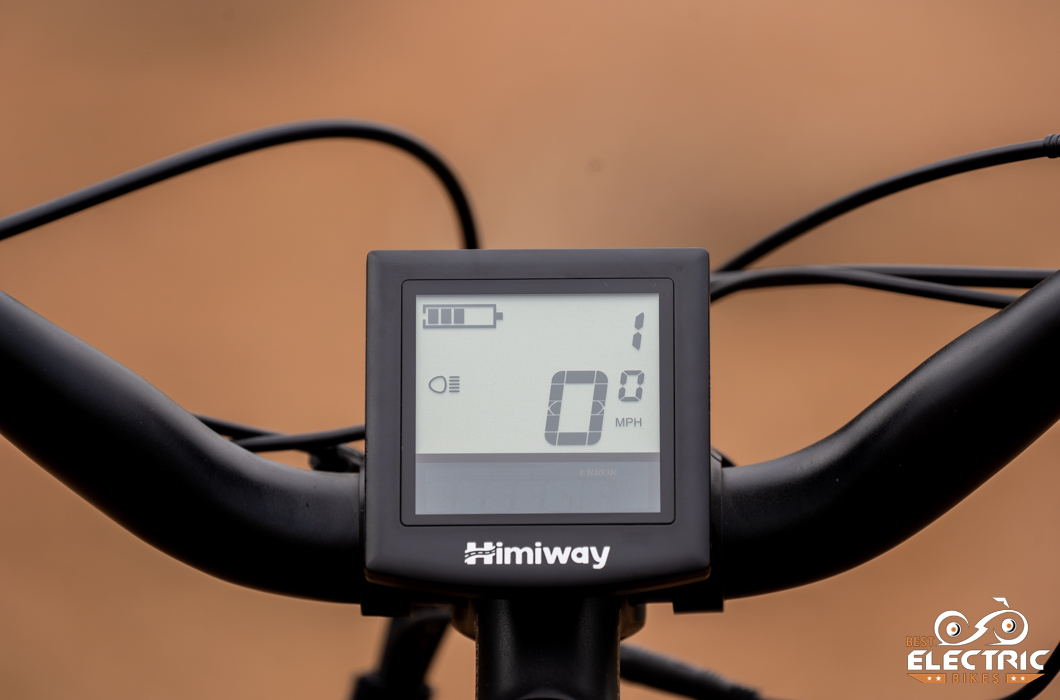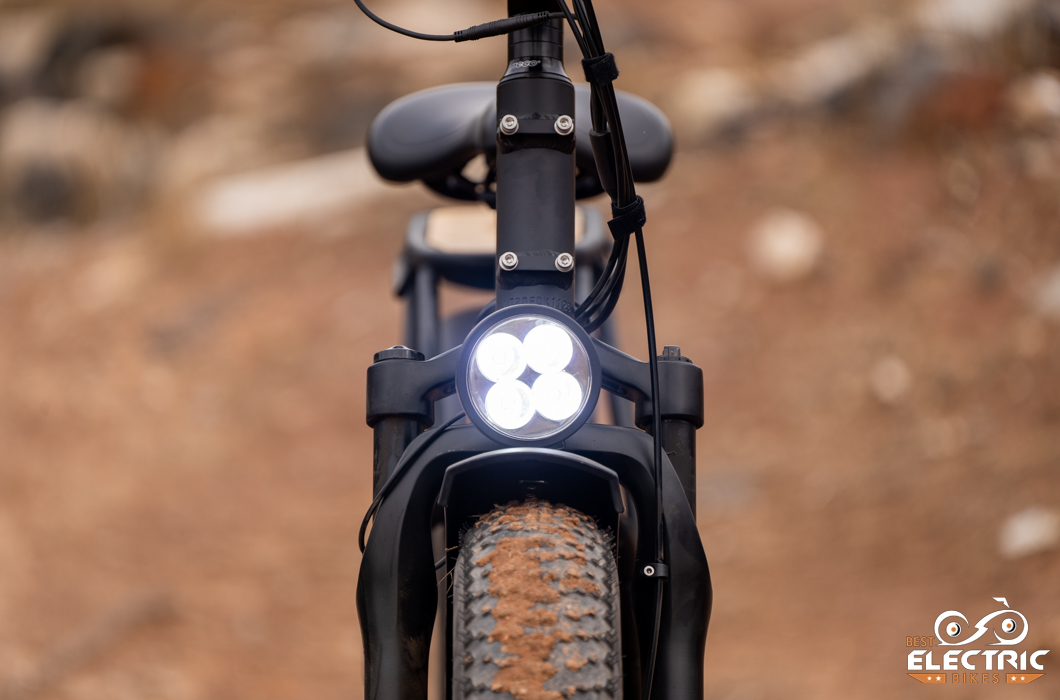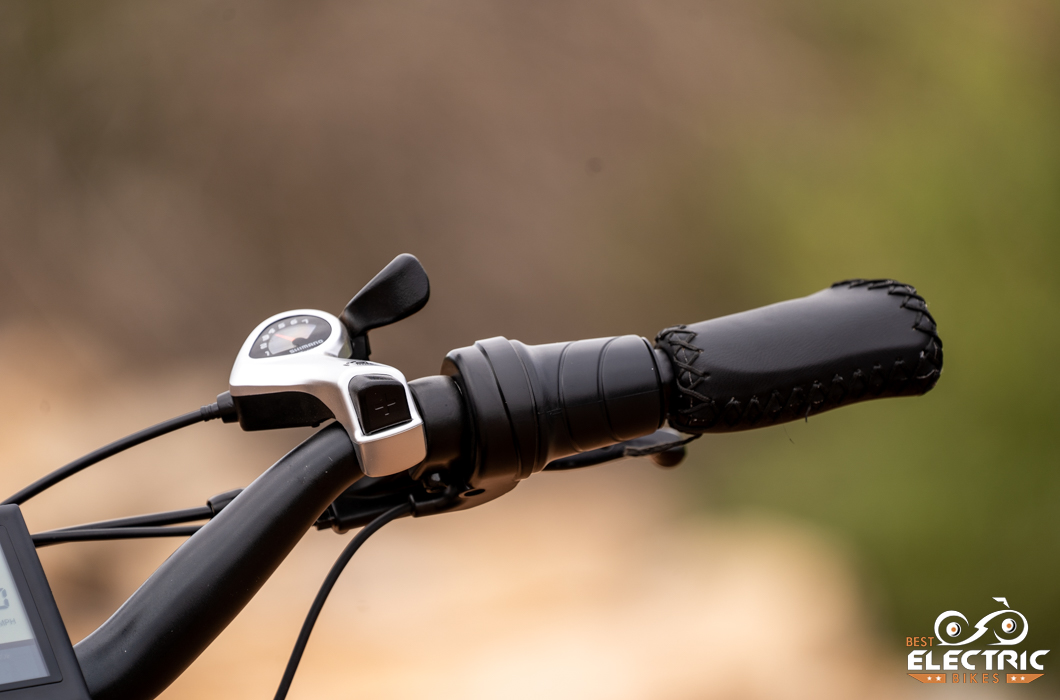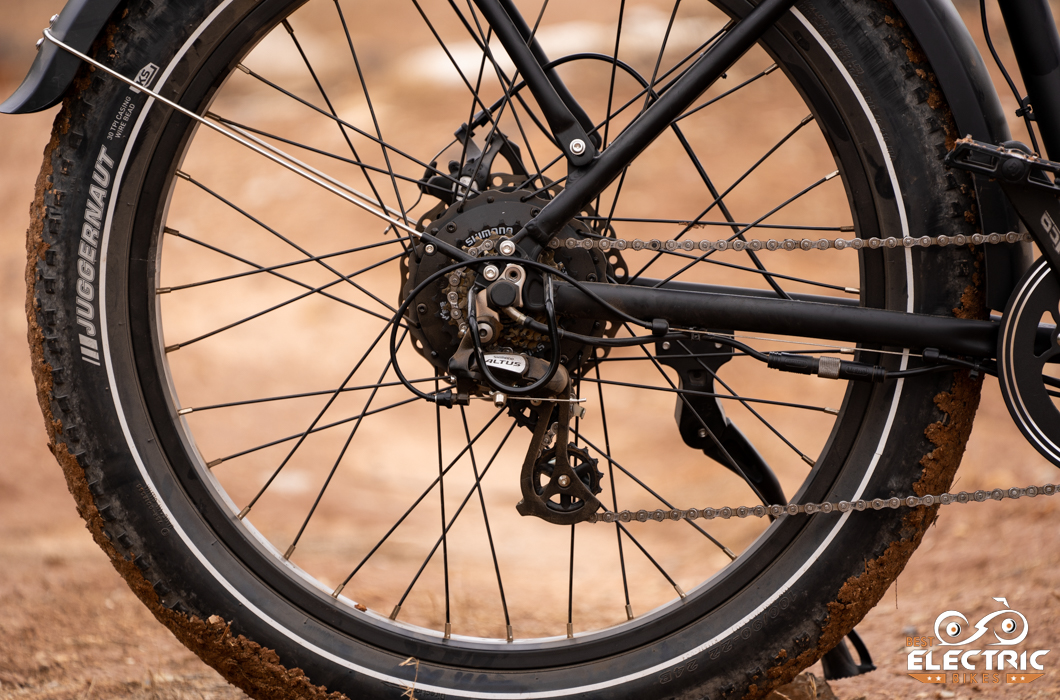 E-Bike Category: Fat Tire Electric Bike
Who the Himiway Cruiser Electric Bike Is For:
Someone who is price conscious but doesn't want to skimp on power.
Himiway Cruiser Electric Bike Ratings:
***All ratings are relative to e-bikes of a similar style and price point***
| | |
| --- | --- |
| Speed/Acceleration | |
| Hill Climbing | |
| Battery Range | |
| Braking | |
| Construction Quality | |
| Handling | |
| Included Accessories | |
| Warranty & Customer Service | |
| Value | |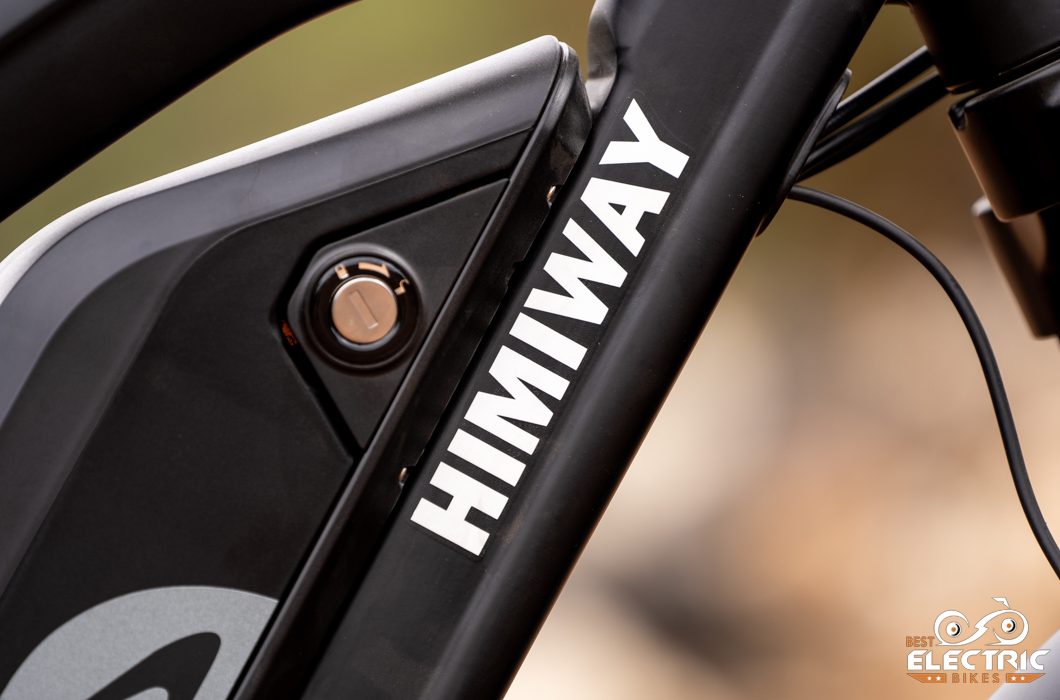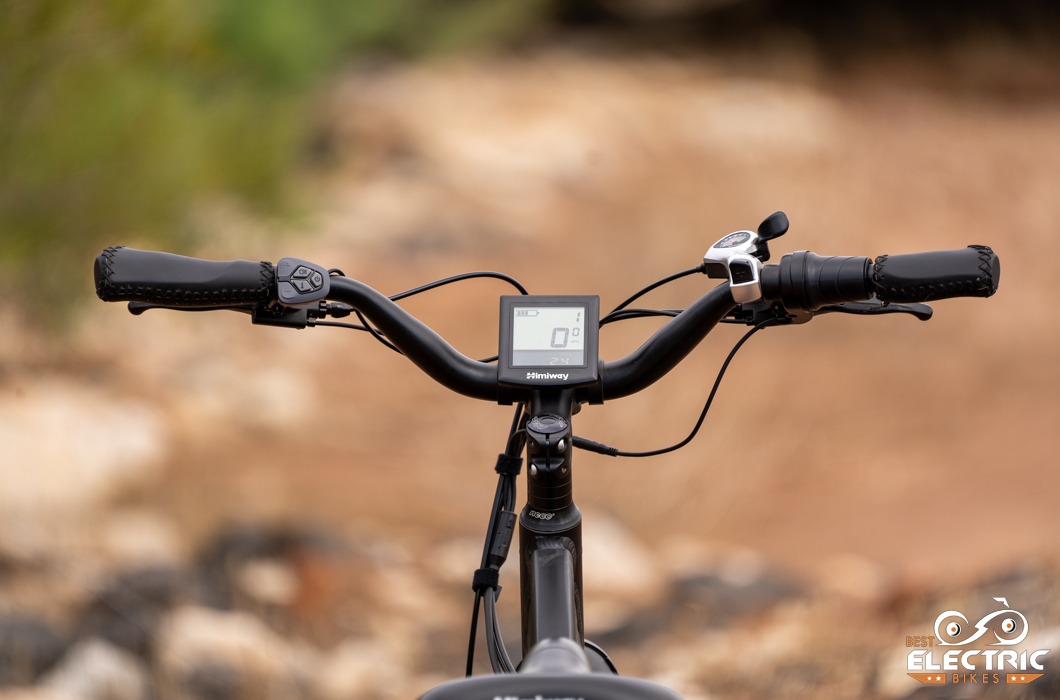 Himiway Cruiser E-Bike Specs
Battery: 48V, 17.5Ah Samsung lithium battery
Expected Range: 35-60 mi.
Charger:
Motor: 750W brushless geared hub motor, 80NM torque
Pedal Assist: Levels 1-5
Throttle: Half-twist throttle
Display: Backlit LCD
Headlight: Included
Taillight: Included
Frame: 6061 alloy
Fork: 100mm springl suspension
Fenders: Full coverage front and rear
Kickstand: Included
Handlebars: Hi-rise, 650mm
Grips: leather/rubber lock-on
Drivetrain: 7-speed Shimano 14-28
Brakes: Tektro Aries mechanical disc, 180mm rotors
Pedals: Alloy, folding
Saddle: Velo soft saddle
Tires: 26 x 4.0-in. Kenda Juggernaut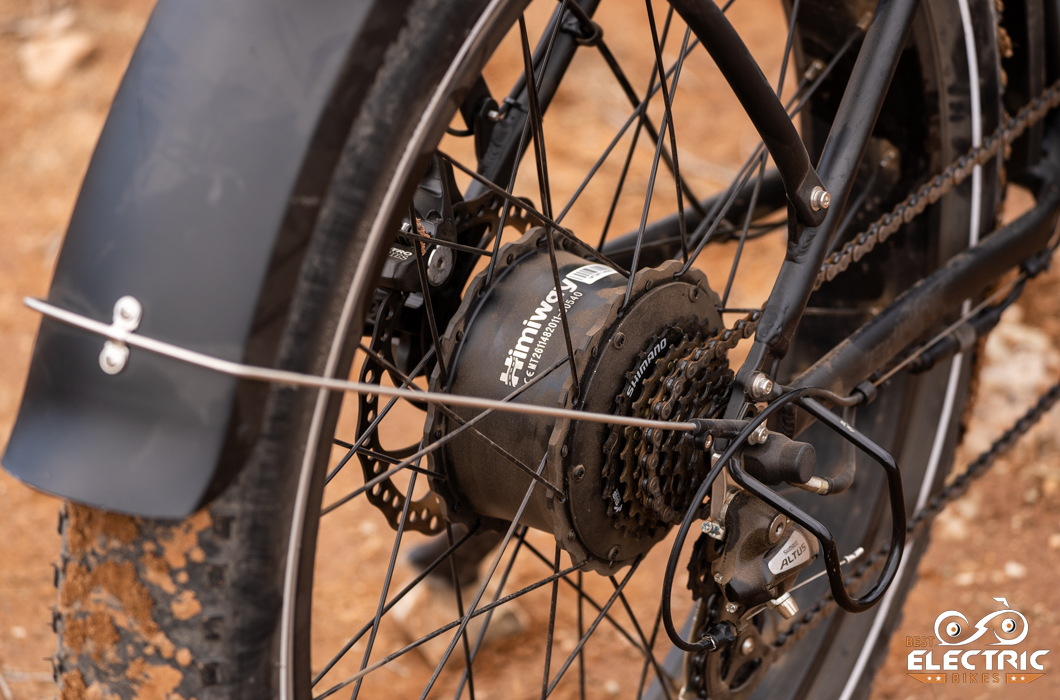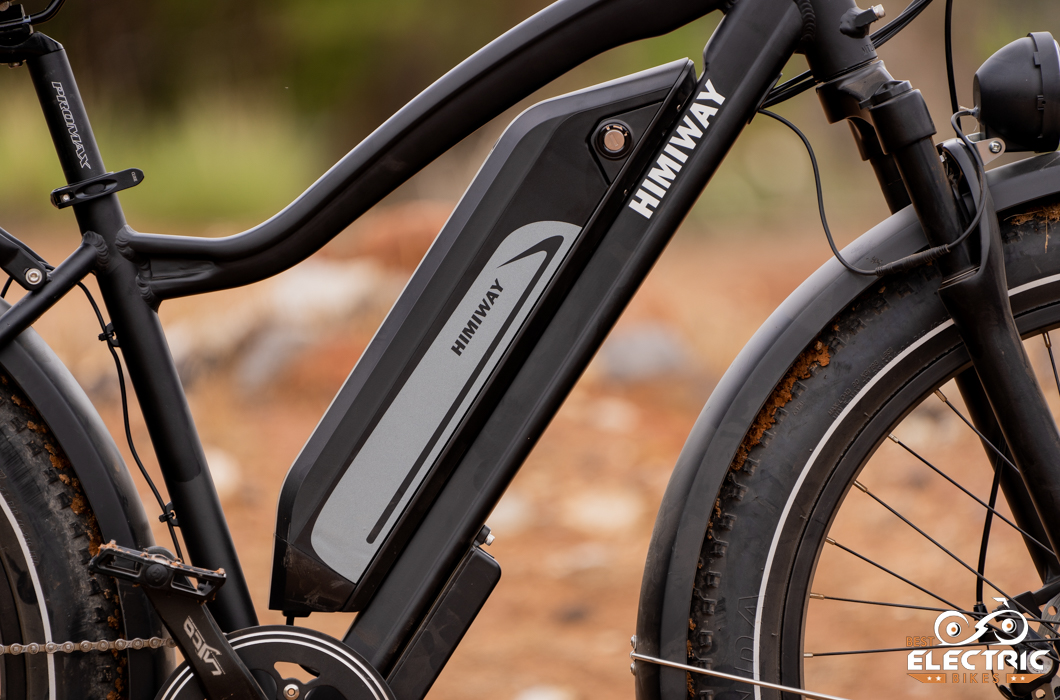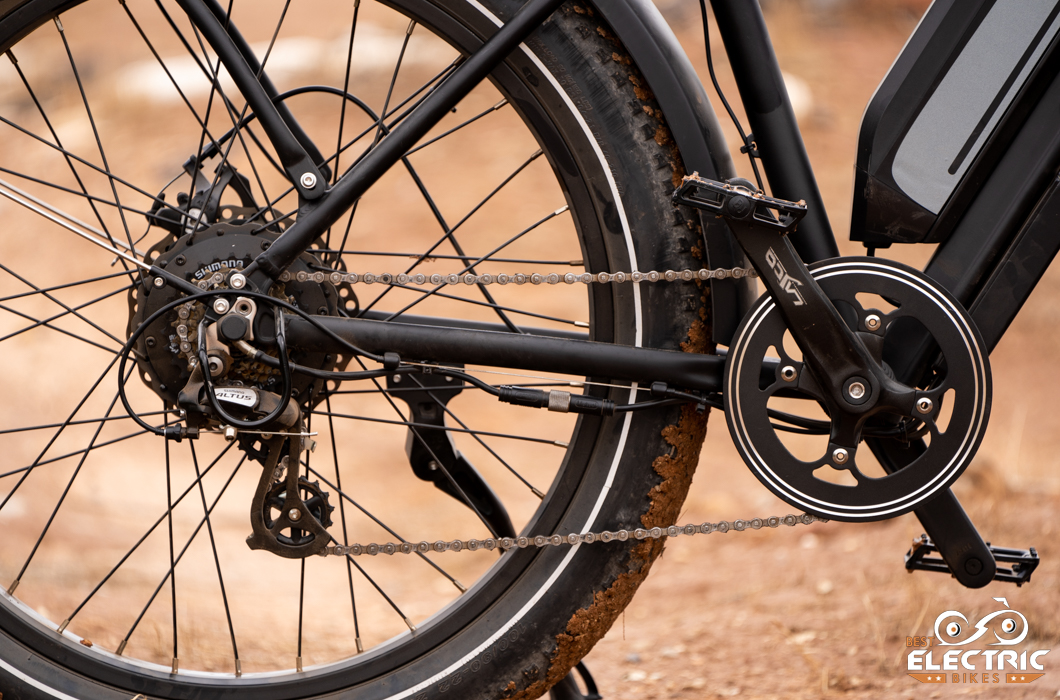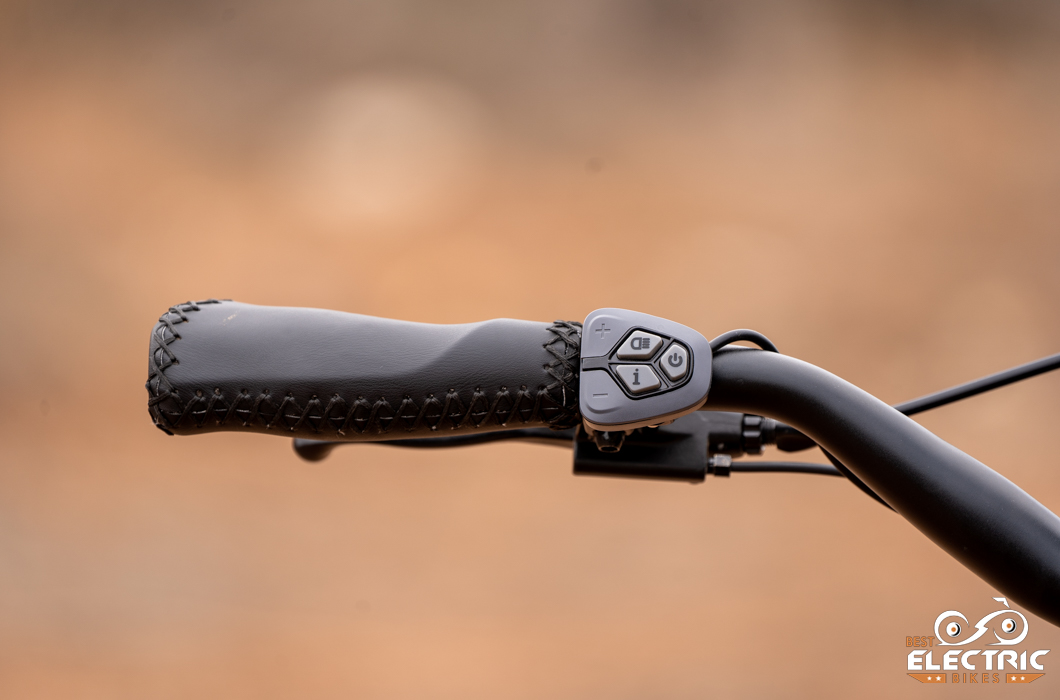 In-Depth Himiway Cruiser Review
Himiway Cruiser: Comfort, Handling, and Ride Qualities
For people who want to make sure they are comfortable on their bike, our two favorite recommendations are choosing a bike with really fat tires and an upright seated position. Fat bikes like the Cruiser with its 4-in-wide tires offer feather-bed-quality softness. They are forgiving over bumps and rough roads and make broken pavement seem new. The upright position the Cruiser features gets weight off the rider's shoulders and puts their hands in a position that feels natural, not like a reach.
With the amount of power this e-bike's motor produces (we will get to that in a second), it won't have any trouble reaching its Class 3 top speed of 28 mph. One thing we don't like to see is a Class 3 e-bike that is super nimble at slow speeds because that means it is likely to lack stability at higher speeds. Fortunately, the Himiway Cruiser feels planted and confidence-inspiring at speeds north of 20 mph. Part of that comes from the bike's weight. Yes, 72 lbs. is rather heavy for an e-bike, but that extra weight owes to the substantial battery and motor.
It's easy to underestimate the value of solid traction. The Kenda Juggernaut tires sport such great traction some folks might wonder if there's glue on the tires.
The Cruiser comes in two different frame designs, a traditional, step-over model and one with a step-thru frame. We recommend the traditional frame for everyone tall enough to fit on it because the traditional frame will be stiffer and handle better than the step-thru. The step-thru will fit riders 5-feet-1 and up. The traditional frame is likely to fit riders from 5-feet-5 up to 6-feet-2. Riders at the edges of these ranges will need to exercise some caution.
One quality of better bikes that is easily overlooked is how the best-handling bikes don't feel like they are going fast. They feel calm. The Himiway Cruiser gets this right.
Himiway Cruiser Review: Motor, Battery, and Drivetrain Performance
The Himiway Cruiser is unusual among e-bikes in the sub-$2000 range. With its 750W motor that produces an impressive 80Nm of torque, it would be difficult to find a more powerful e-bike. For anyone living in a hilly location—San Francisco and Seattle come to mind—this is one e-bike that won't struggle to get over steep city streets.
E-bikes with hub motors frequently struggle on hills. A 500W motor producing 50Nm of torque ridden by a 200-lb. rider will usually start up a hill with some verve, but will bog down due to its lack of power and torque. By increasing both the wattage and torque over most competing bikes by a full 50 percent, the Himiway Cruiser will arrive at the top of a steep hill going the same speed as when the rider started.
Similarly, Himiway spec'd a battery capable of holding quite a charge. At 17.5Ah, the Cruiser is estimated to get roughly 35 mi. on a single charge in PAS 5 and 60 mi. in PAS 1. That's like a Ferrari getting 35 mpg.
One of our only concerns on this e-bike is the 7-speed drivetrain. The Shimano shifter, derailleur, chain and freewheel are certainly quality parts, but with a bike that puts out this much power, we do wonder just how long this drivetrain will last before the chain and freewheel need to be replaced. This is one bike where we could see a big surge on a hill possibly resulting in a broken chain.
Himiway Cruiser Review: Braking, Safety, Customer Service & Warranty
We are impressed by how much value Himiway has packed into a $1599 price tag. That said, because the Cruiser can capably achieve its projected top speed of 28mph, we would prefer to see more powerful hydraulic disc brakes. The 180mm rotors are terrific, but hydraulic disc brakes are always more powerful than the mechanical ones, and a 72-lb. bike will benefit from powerful stoppers.
That's our only concern as to the bike's safety. Himiway has a strong reputation for producing quality bikes. The reviews from owners on their site show great enthusiasm for their bikes.
Himiway's warranty is a cut above, extending for two years—not one—and covers the bike on all materials and any manufacturing defects.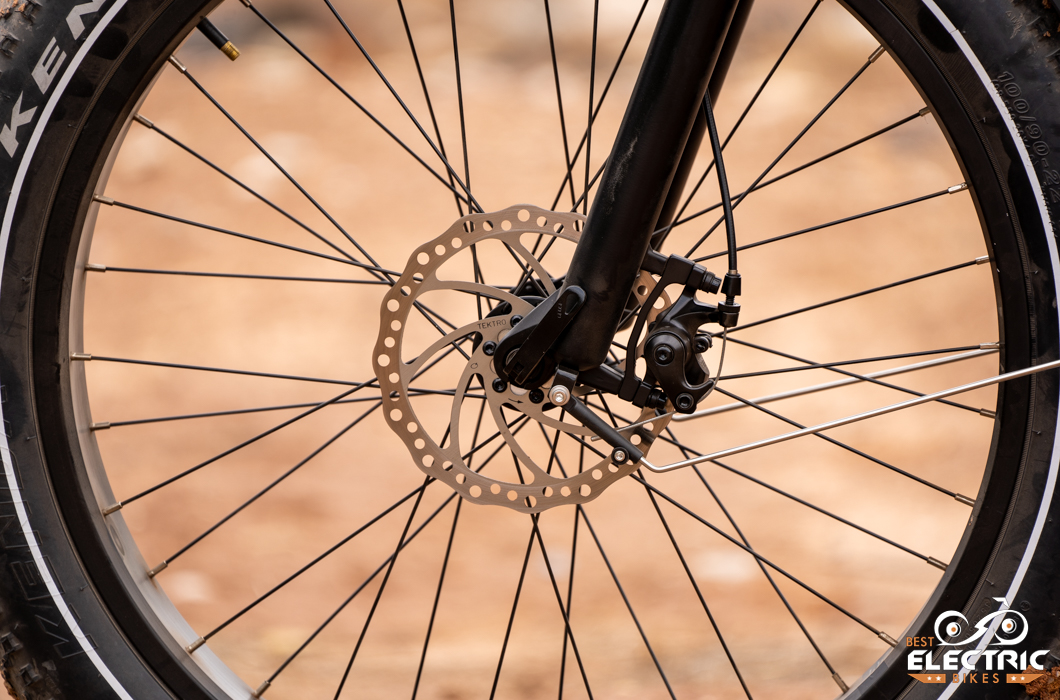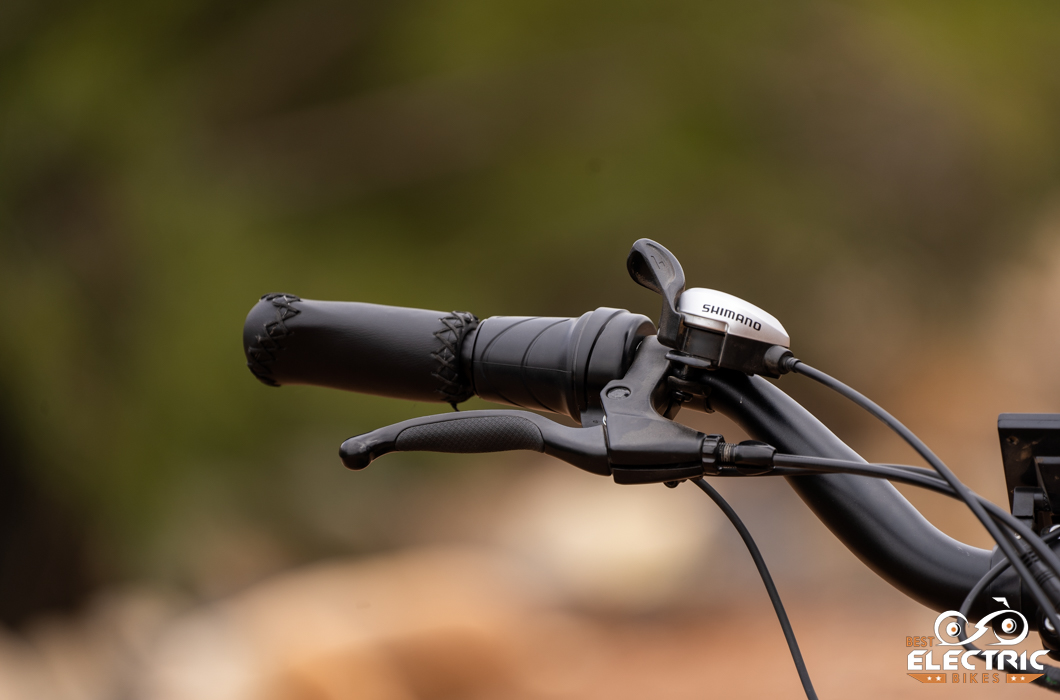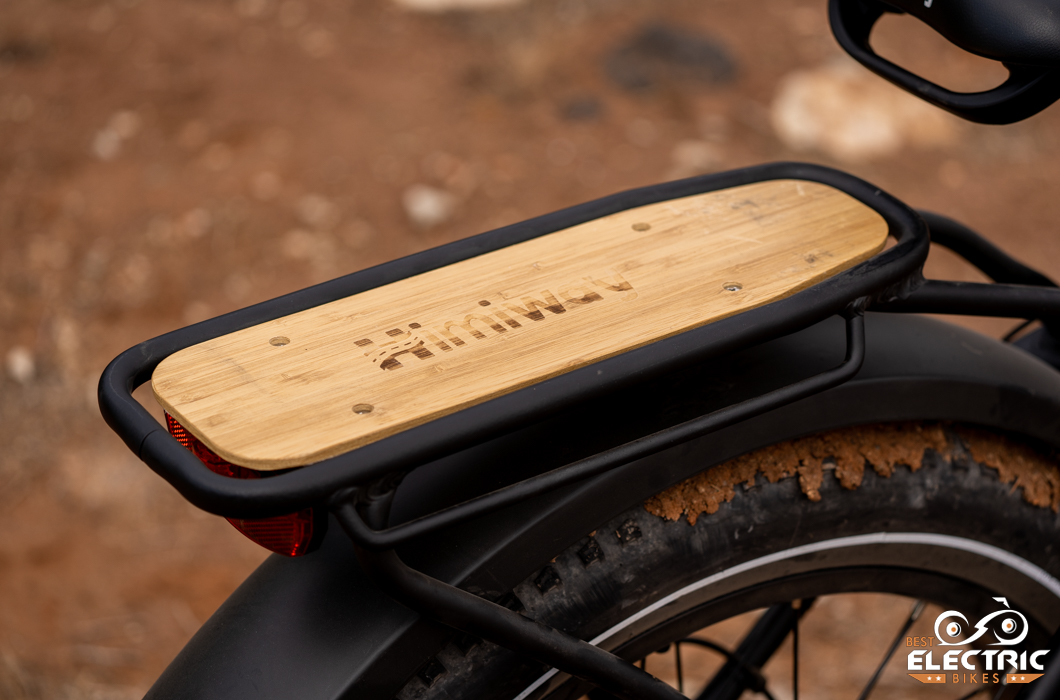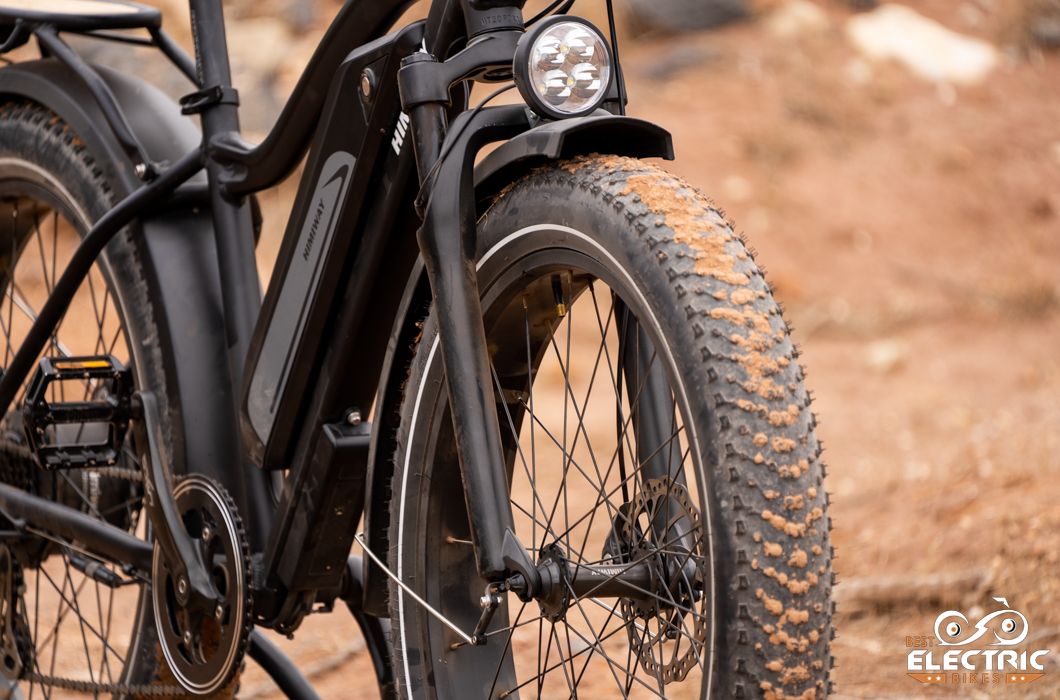 Himiway Cruiser Review: Recommendation/Final Verdict
The Himiway Cruiser is one of the more value-packed bikes we have encountered. Sure, there are less expensive bikes, and there are more feature-laden bikes, but the hallmark of value is the perception that the product performs to expectation without having been more expensive than necessary.
Yes, we would love to see upgrades in both the shifting and brakes, but the bike's components will perform well and this is an e-bike that anyone looking to do more than circle the block will find great satisfaction riding.
Thank you for reading through our review of the Himiway Cruiser. Still have further questions? Wondering how it compares to a similar bike? Leave us a question in the comments below and the team at BestElectricBikes.com will answer!