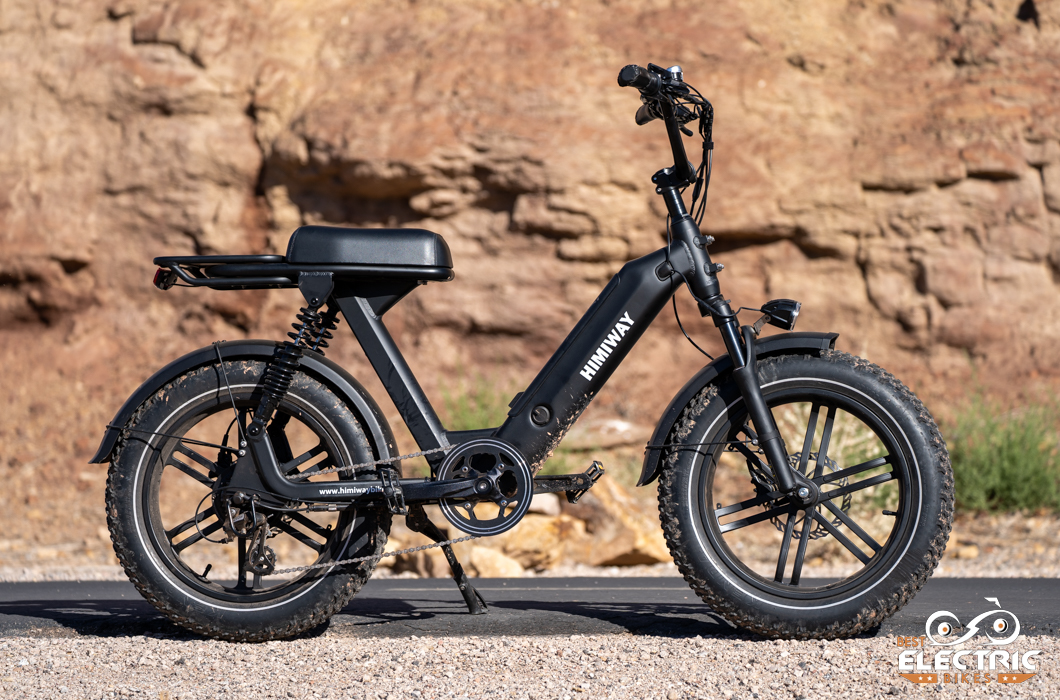 Himiway Escpae Pro Review: Intro
Himiway Electric Bikes has taken what stockbrokers would call a "long position" on fat tires. Every single e-bike in their lineup has tires at least 4-in. wide. It makes a certain kind of statement about what they value in an e-bike, which is to say, comfort and versatility. In our Himiway Escape Pro review we will look at who they aim to reach with this e-bike, it's strengths as well as a couple of weaknesses.
In their description of the Escape Pro, Himiway calls this e-bike moped-style. For anyone who ever had a chance to ride a moped, the image it evokes is of a two-wheeled machine that is way more fun under throttle than pedaled. And considering the way Himiway equipped the Escape Pro—with a bench seat, coil spring rear suspension and riser bar—it does more than just look the part.
Anyone riding especially rough paved roads as well as unpaved surfaces will appreciate the the presence of both front and rear suspension to give the rider as comfortable a ride as possible. And even with suspension, the Himiway Escape Pro can accommodate riders weighing up to 330 lbs. Let's jump into the details of this e-bike.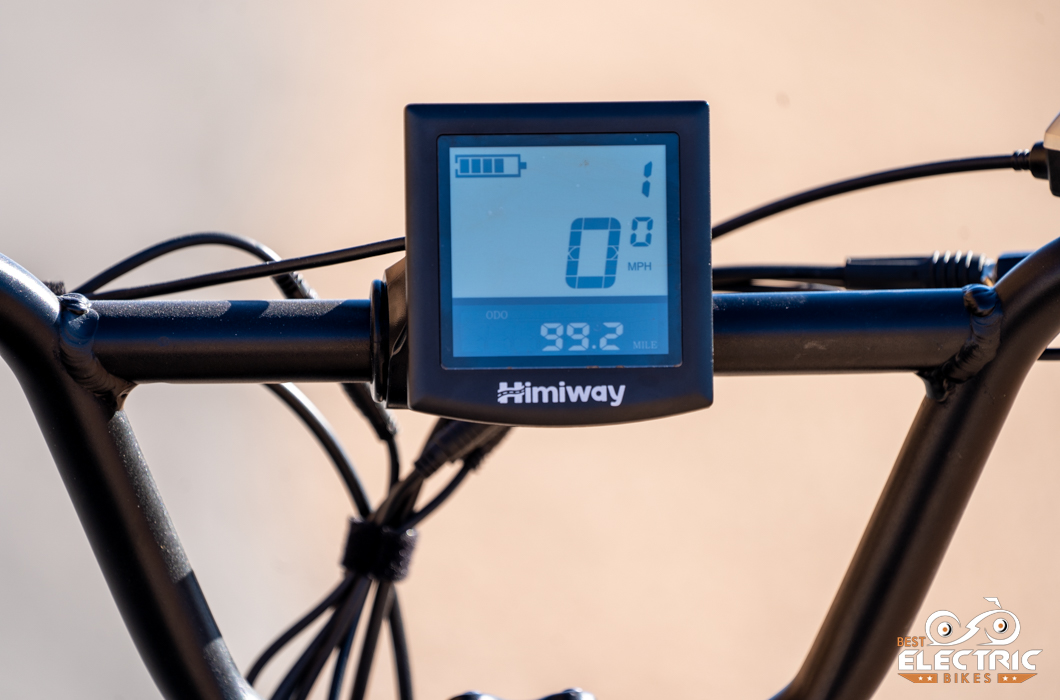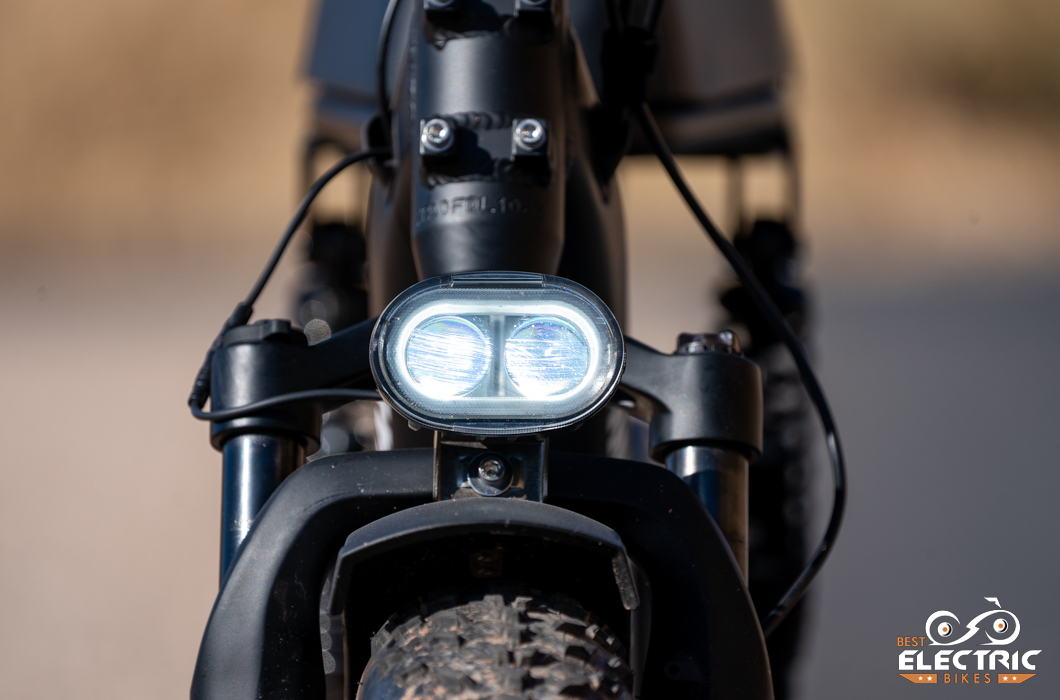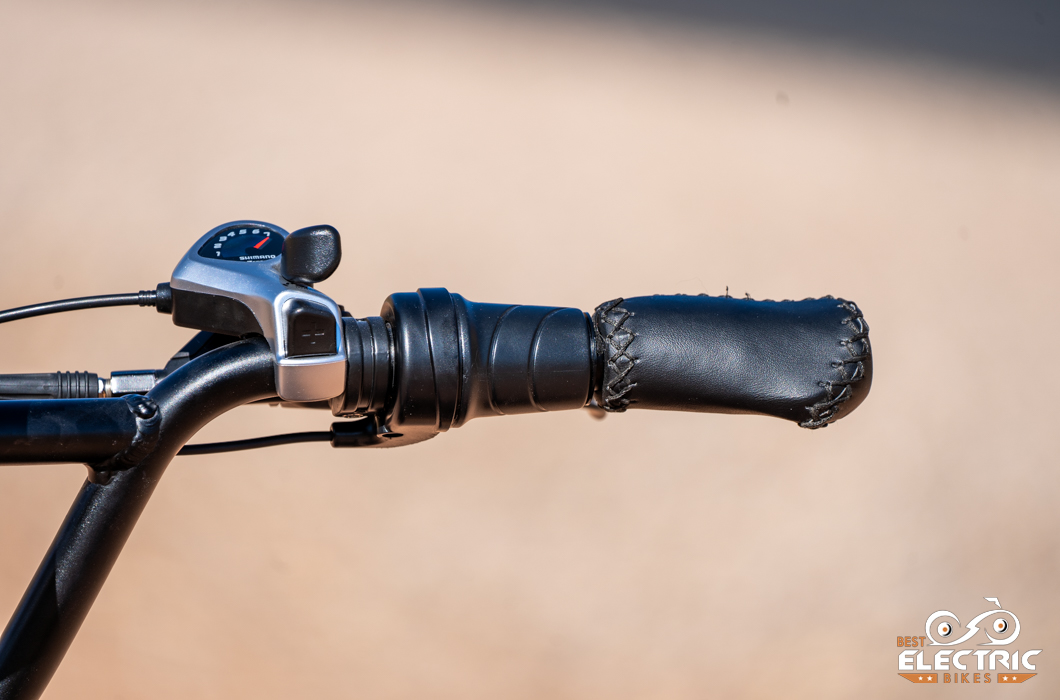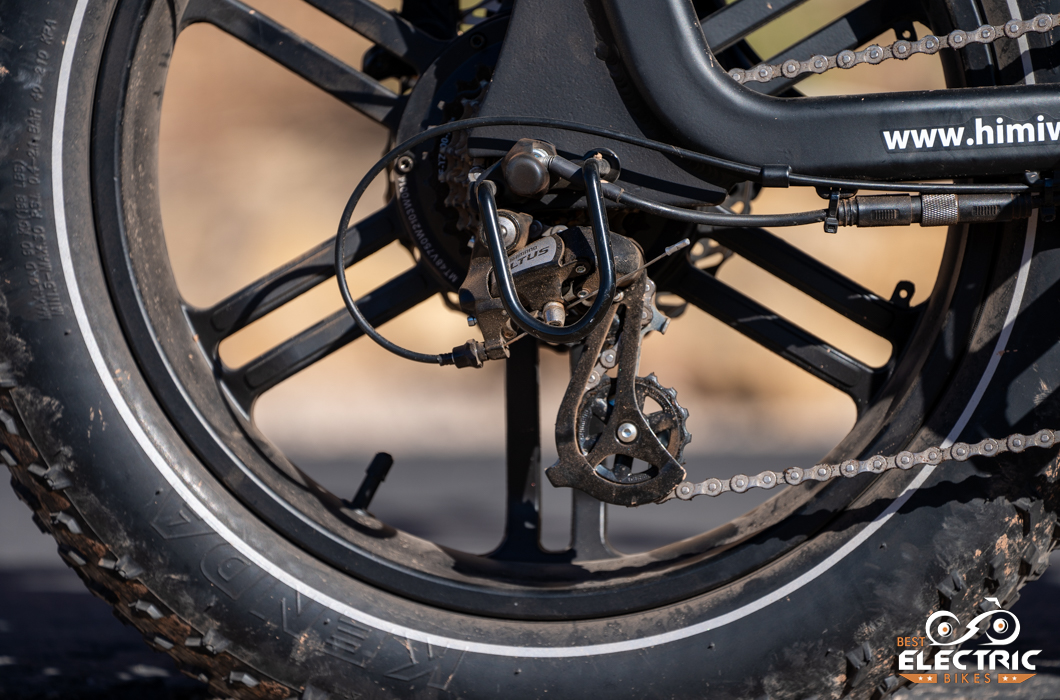 E-Bike Category: All terrain
Who the Himiway Escape Pro Electric Bike Is for:
This is terrific for anyone who wants a full-suspension all-terrain e-bike with a comfortable ride and the versatility to ride unpaved roads and paths.
Himiway Escape Pro Review Ratings:
***All ratings are relative to e-bikes of a similar style and price point***
| | |
| --- | --- |
| Speed/Acceleration | |
| Hill Climbing | |
| Battery Range | |
| Braking | |
| Construction Quality | |
| Handling | |
| Included Accessories | |
| Warranty & Customer Service | |
| Value | |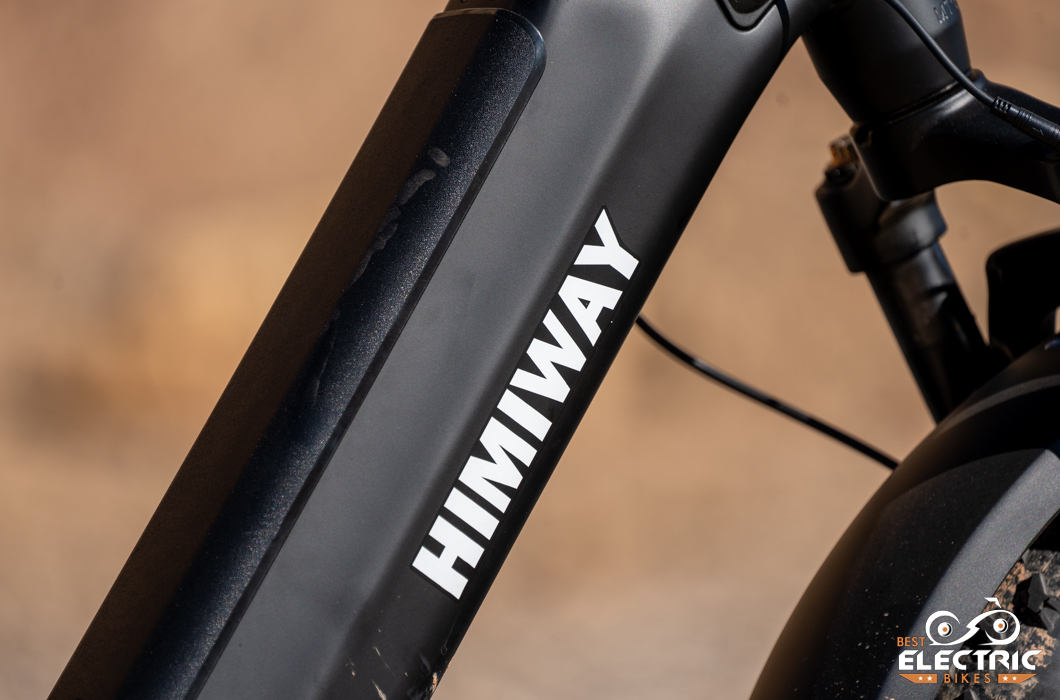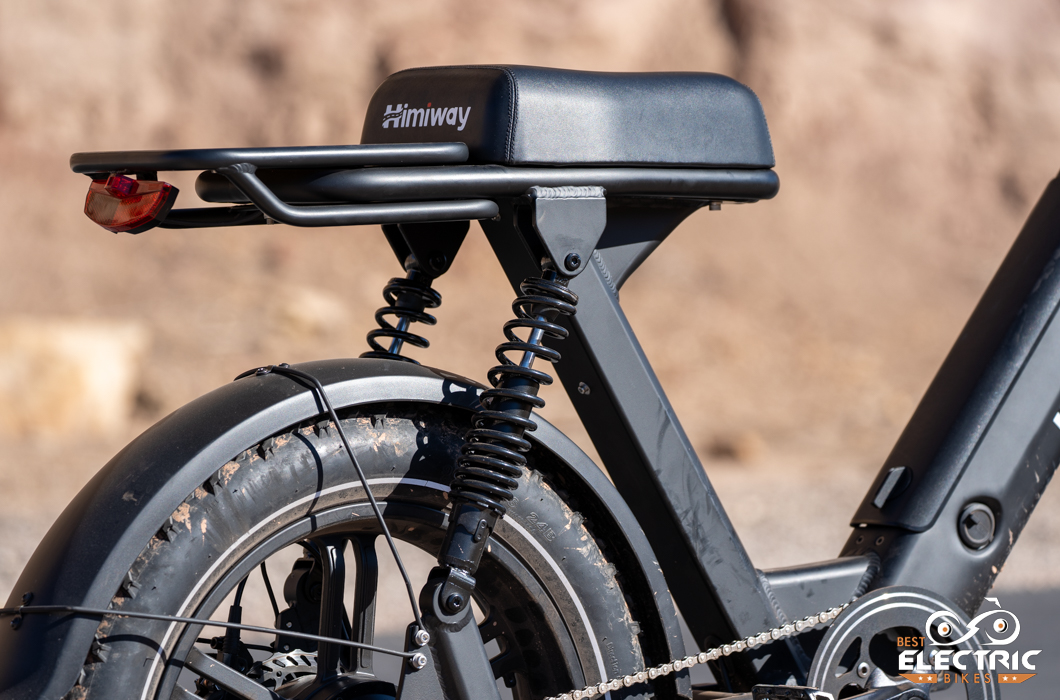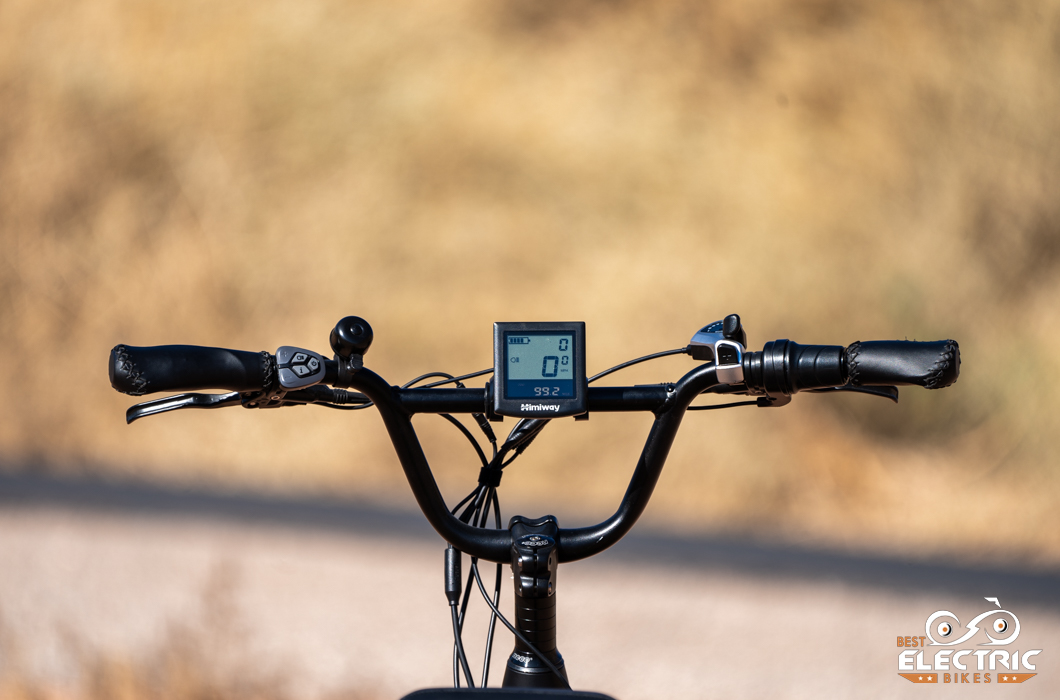 Himiway Escape Pro E-Bike Specs
Battery: 48V, 840Wh
Expected Range: 30-50 mi. claimed
Charger: 2A smart charger
Motor: 750W brushless hub motor, producing 80Nm of torque
Pedal Assist: 5 PAS levels
Throttle: Twist grip
Display: Black and white LCD
Headlight: 48V
Taillight: Included
Frame: 6061 Aircraft aluminum
Fork: Suspension with lockout
Fenders: Front and rear, included
Kickstand: Included
Handlebars: BMX-style riser, aluminum
Grips: Faux leather
Drivetrain: 7-speed Shimano Altus
Brakes: Mechanical disc brakes paired with 180mm rotors
Pedals: Alloy pedals with reflectors
Saddle: Padded motorcycle-style bench seat
Tires: Kenda 20 x 4-in. knobby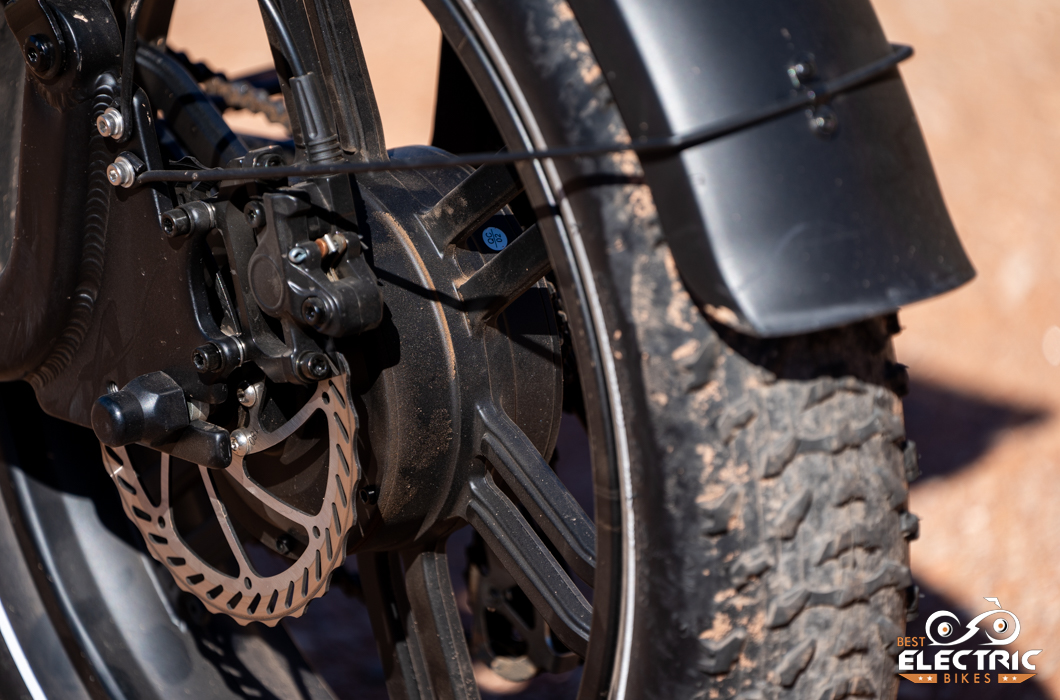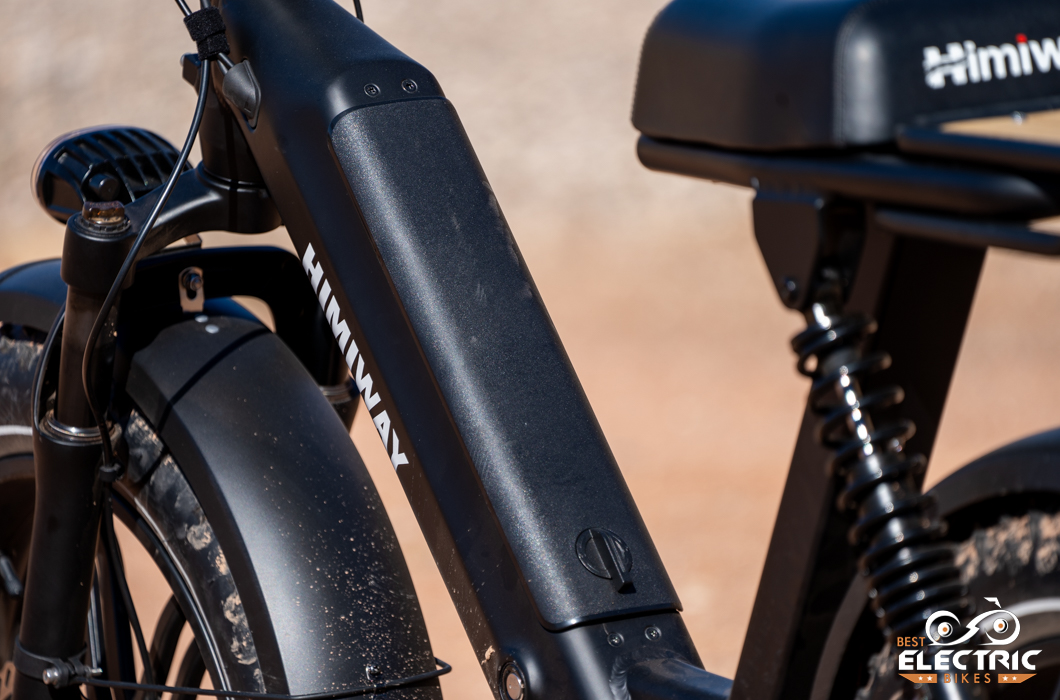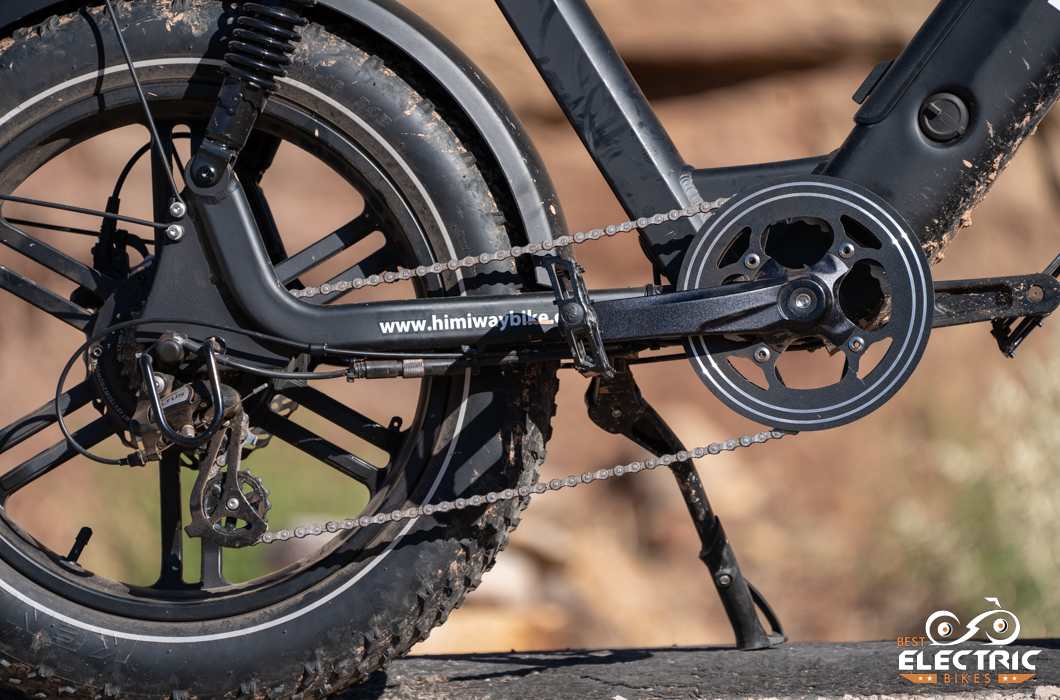 In-Depth Himiway Escape Pro Review
Himiway Escape Pro Review: Comfort, Handling, and Ride Qualities
The Himiway Escape Pro is billed as the modern equivalent to the moped, a comparison is apt as it is off. In terms of styling, with its coil-spring rear suspension, bench-style seat and inability to adjust saddle height, it looks very much like a moped. However, comparing the Himiway Escape Pro to a moped is about as fair as comparing a Prius to a Model T. No one enjoyed pedaling mopeds and riders generally only did that if they were out of gas because trying to pedal one was as enjoyable lugging a heavy suitcase with no wheels through a crowded airport.
Pedaling the Himiway Escape Pro is much, much easier.
Sitting down on the Himiway Escape Pro is comfortable enough thanks to the motorcycle-style bench seat. We anticipate that most riders will want to use this much like a moped, in part thanks to its twist throttle, but also because the seat height cannot be adjusted up or down.
What the bench-style seat does allow is for a taller rider to scoot back on the seat in order to increase their leg extension as they pedal. Too cramped a position limits not just a rider's comfort, but also how hard they can pedal—it's the difference between picking a box up off a table vs. picking one up off the floor.
The ride of the Himiway Escape Pro is easy and confident. And the view from the saddle, thanks to the BMX-style riser bar, isn't limited by leaning over. With its 4-in.-wide, knobby Kenda tires, the Escape Pro can roll off-road for that eponymous escape. Riders can take in dirt roads and unpaved paths, exploring places too far to hike to. The front and rear suspension will smooth out the ride, taking the edge off of bumps.
One great feature of the Himiway Escape Pro is the cast aluminum wheels. This e-bike has a maximum rider weight of 330 lbs. and for a bigger person who has maybe not been all that active the last few years and wants to work off a few pounds, the cast aluminum wheels will stand up to that load; they are definitely stronger than traditional spoked wheels.
Himiway Escape Pro Review: Motor, Battery, and Drivetrain Performance
Our hunch is that most people will ride this much like a moped; that is, using the twist throttle instead of pedaling much of the time. In order for it to be an effective e-bike in that use, it needs a powerful motor and Himiway did not skimp there. The Himiway Escape Pro is equipped with a powerful 750W brushless hub motor that produces a hill-taming 80Nm of torque. This is crucial, because anyone who wants to throttle their way up a hill, rather than pedaling, will need plenty of oomph from the motor to avoid needing to pedal.
The Himiway Escape Pro is an update of the Himiway Escape—hence the addition of "Pro" to the name. So what's the difference? Well, there are a few differences.
Previously, the Escape's battery was 672Wh which resulted in a rather modest range. They've since upgraded the battery to a whopping 840Wh, which they say results in a range of 30-50 mi.
Projections like these will always vary based on the riding conditions. How heavy the rider is, how hilly the terrain is and whether the e-bike is being ridden on paved or unpaved surfaces all come into play. And, of course, whether someone pedals—or not—will play a big role in just how far the Himiway Escape Pro can go on a single charge.
The 7-speed Shimano Altus drivetrain offers smooth shifting and a reasonable gear range, so long as the hills aren't too steep. Given the motor's power, that might not be an issue for many riders.
Himiway Escape Pro Review: Braking, Safety, Customer Service & Warranty
Any time we encounter an e-bike that is billed as being capable of off-road riding, we take a hard look at the brakes. Inevitably, riders will encounter situations that require more braking power than would be necessary on the road. We would be critical of Himiway's decision to equipe the Escape Pro with mechanical disc brakes were it not for the fact that this e-bike isn't meant to go all that fast. With a maximum speed of 15.5 mph, it won't generate all that much speed unless someone finds a big hill. At 15.5 mph, the mechanical disc brakes paired with 180mm rotors offer plenty of power to stop the Escape Pro and leave a rider feeling confident.
Without buying one of their bikes, it's hard for us to say much about their customer service. We would caution readers not to put too much faith in the reviews on their site, though.
Himiway offers a two-year warranty which is a step up from the typical one-year warranty. While the accessories they include with the Escape Pro—a rear rack, full fenders, multi-tool and ball cap—are exempted from the warranty, all of Himiway's other accessories are granted the two-year warranty, which is double what most accessories receive.
Himiway also offers a 15-day return policy should someone decide they don't like their e-bike. And while some companies start the clock the day the order is placed or the day the order is shipped, Himiway counts from the day of delivery.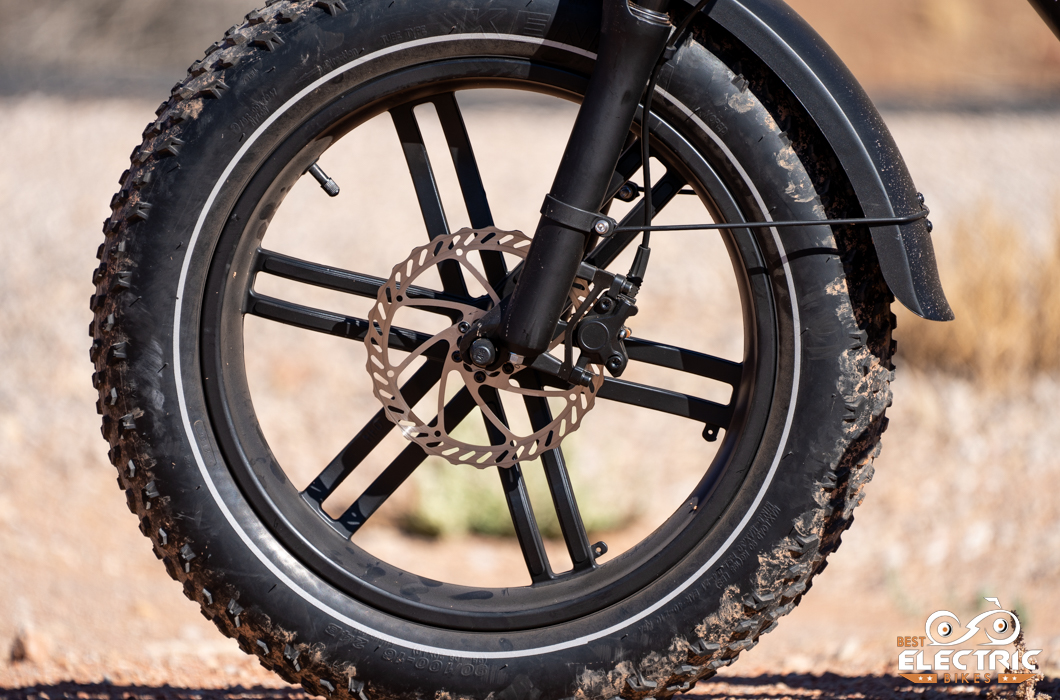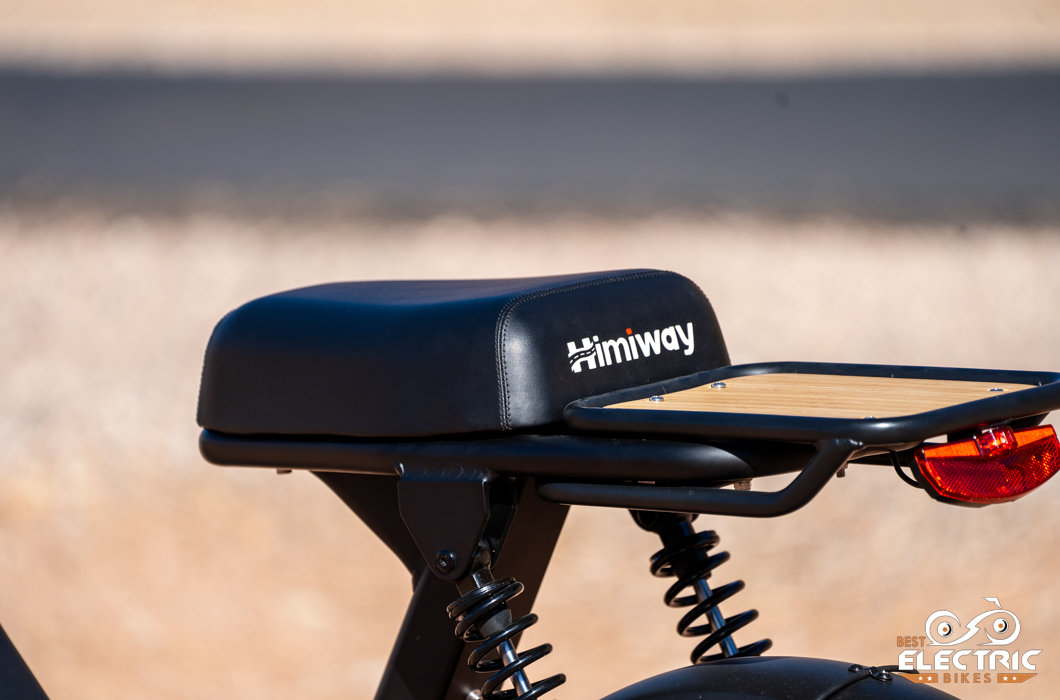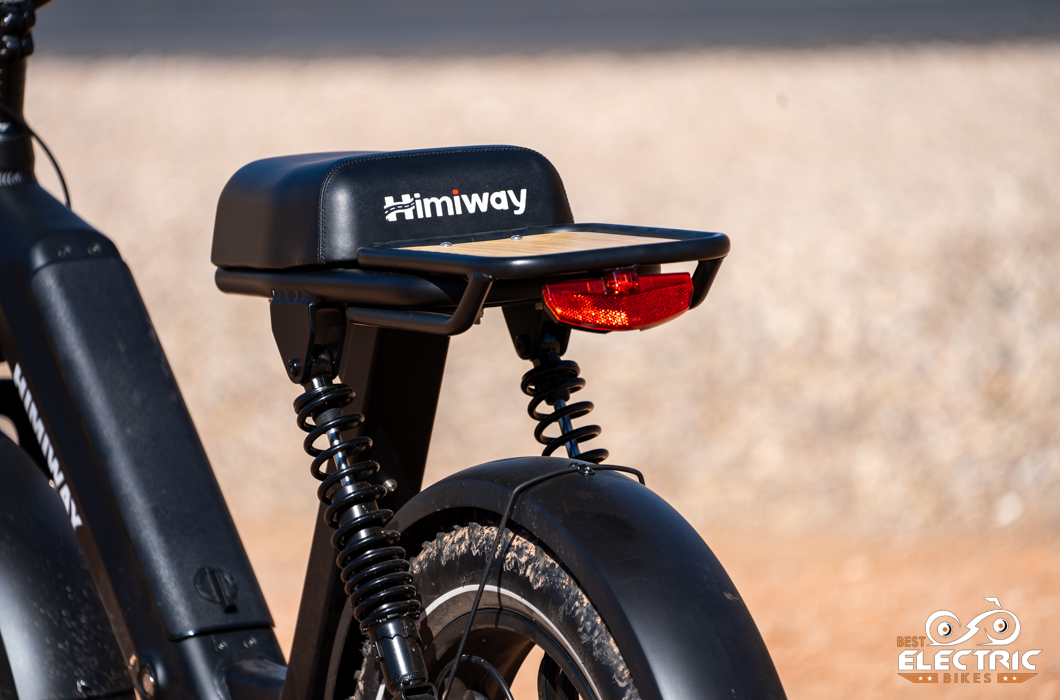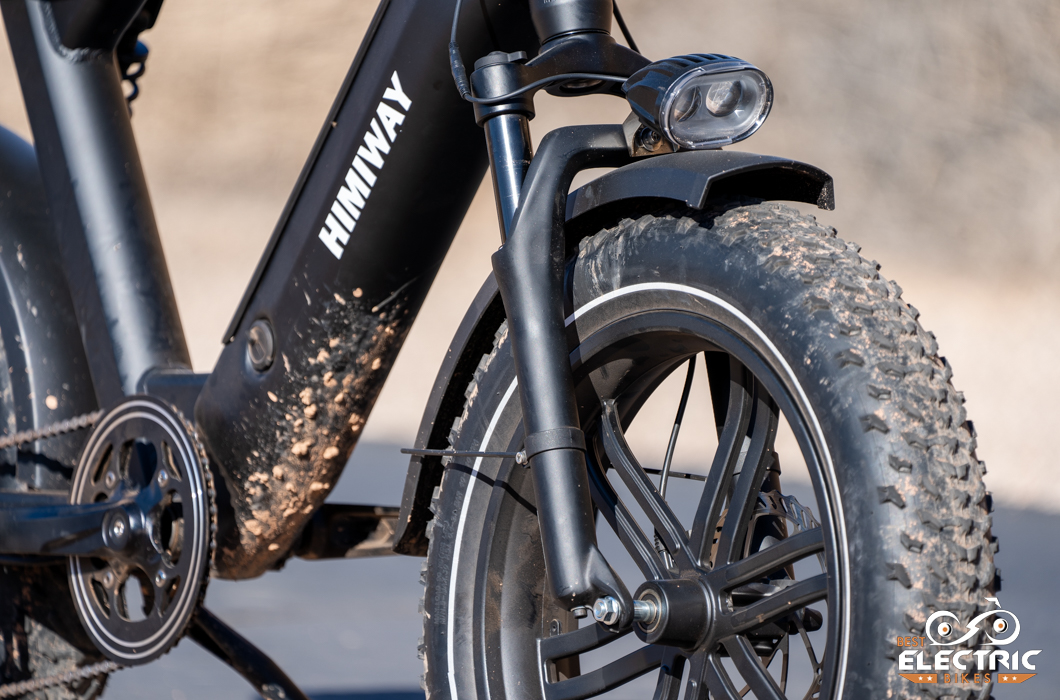 Himiway Escape Pro Review: Recommendation/Final Verdict
The Himiway Escape Pro is an example of just how diverse the e-bike world has become. It's a stylish machine with a very comfortable ride. Arguably its most attractive quality is the cushy ride it will give. The combination of fat tires, a suspension fork and rear coil-spring suspension will smooth even the roughest roads.
This is one e-bike we would highlight for people who don't plan to pedal much. The fixed seat height will make for efficient pedaling for a relatively narrow range of riders. Taller riders will have some ability to slide back on the bench seat to get enough leg extension, but smaller riders won't be able to lower the saddle any.
Any time we look at e-bikes for bigger riders—more heft than height—the Himiway Escape Pro is one e-bike that comes to mind thanks to its 330-lb. weight capacity. Reliability is often an issue for bigger riders and the aluminum frame and cast aluminum wheels give it the kind of strength necessary to serve anyone well.
Our biggest concern with this e-bike is also one of its best selling points. Weird how the world works, huh? We love the moped styling, but are concerned that some riders will be disappointed if they can't find a comfortable position to pedal from. We do suspect that many riders will ride this much as people rode gas-powered mopeds—all throttle, all the time. In that case, this is a pretty dynamite e-bike. It will definitely serve as an around-town commuter of a different feather.
Thank you for reading through our review of the Himiway Escape Pro. Still have further questions? Wondering how it compares to a similar e-bike we've reviewed? Let us know in the comments below!