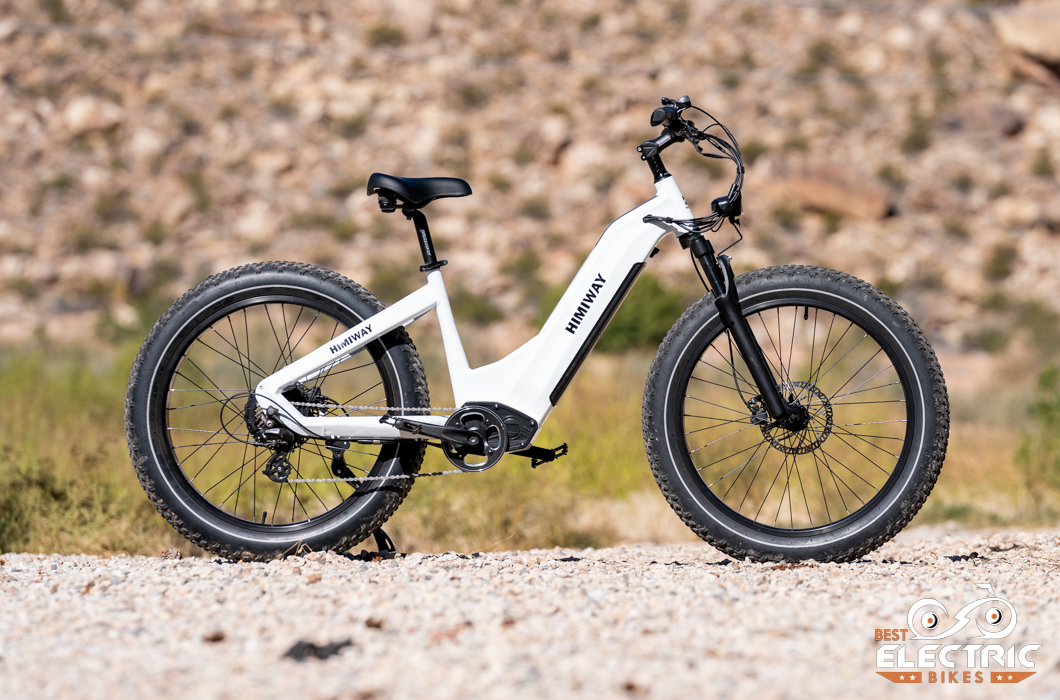 Himiway Zebra Review: Intro
Here's what you need to know about fat bikes like this Himiway Zebra we're reviewing: Fat bikes are awesome, because they have traction like a restaurant has food and comfort that La-Z-Boy envies. But they are also slower than a toddler putting on shoes. And e-bikes are fun, pretty much no matter what. So when manufacturers dreamt up fat e-bikes, well that was like Halloween for an eight year old. Where do we sign up? Enter the Himiway Zebra electric fat bike.
Should anyone wonder how good an idea a fat e-bike is, a quick scan of the number of sub-$2000 e-bikes that sport tires 3-in. wide—or wider—will show that most companies think it is an excellent idea, so much so that some offer multiple fat e-bikes. No bike company believes in this idea more than Himiway. Not only is the Zebra a fat e-bike, but every bike in their line sports wide tires.
At first glance, the Himiway Zebra looks a lot like another Himiway model we have reviewed here, the Cruiser. Both feature an aluminum frame, a suspension fork and a 750W brushless hub motor, as well as a number of other features such as a 7-speed drivetrain, rear rack, fenders and lights. So why does the Zebra go for $400 more than the Cruiser? On closer inspection there are upgrades to the motor, battery and brakes that make it a very exciting addition to the Himiway lineup.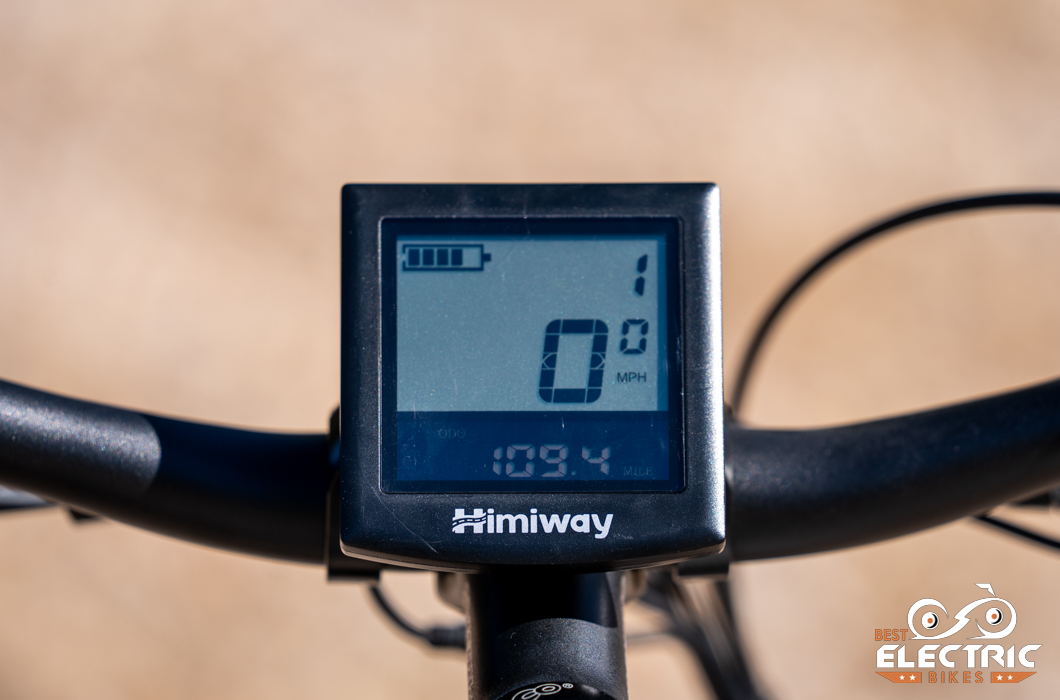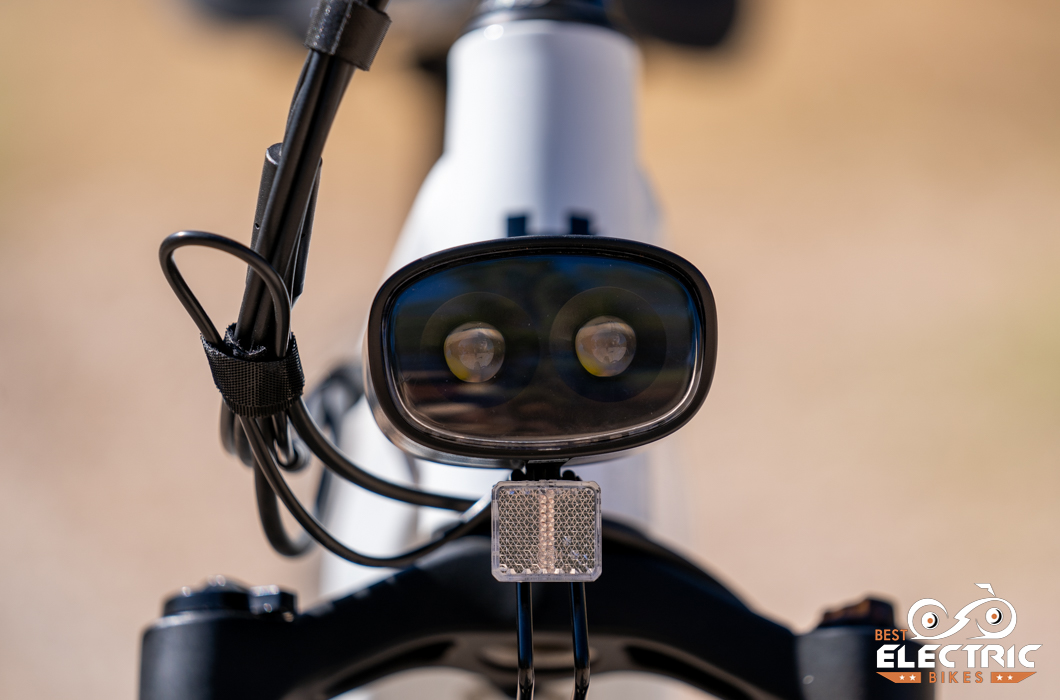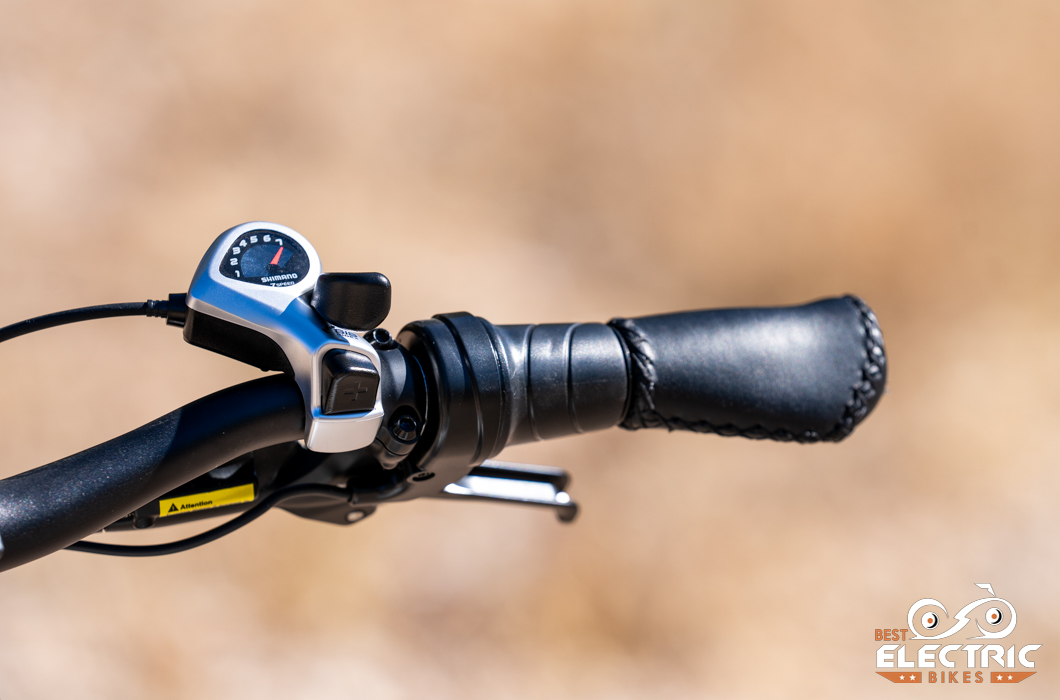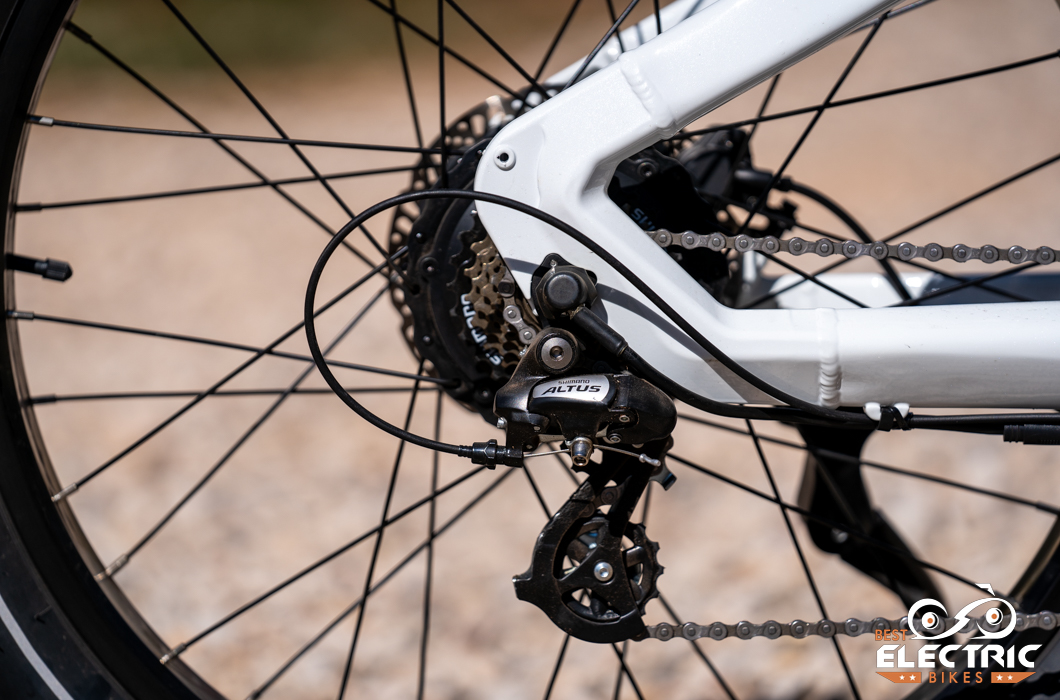 E-Bike Category: All-Terrain E-Bike
Who the Himiway Zebra Electric Bike Is For:
The Zebra is an ideal bike for anyone who wants to roll quickly on the road but wants to be able to expand their riding into dirt roads and gentle trails.
Himiway Zebra Review Ratings:
***All ratings are relative to e-bikes of a similar style and price point***
| | |
| --- | --- |
| Speed/Acceleration | |
| Hill Climbing | |
| Battery Range | |
| Braking | |
| Construction Quality | |
| Handling | |
| Included Accessories | |
| Warranty & Customer Service | |
| Value | |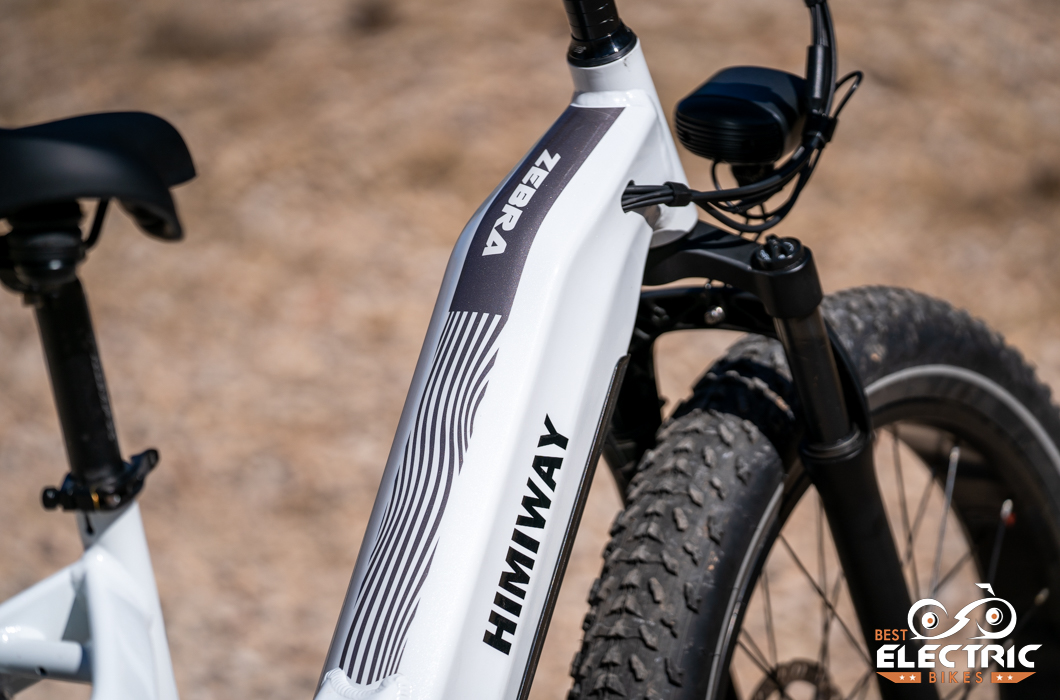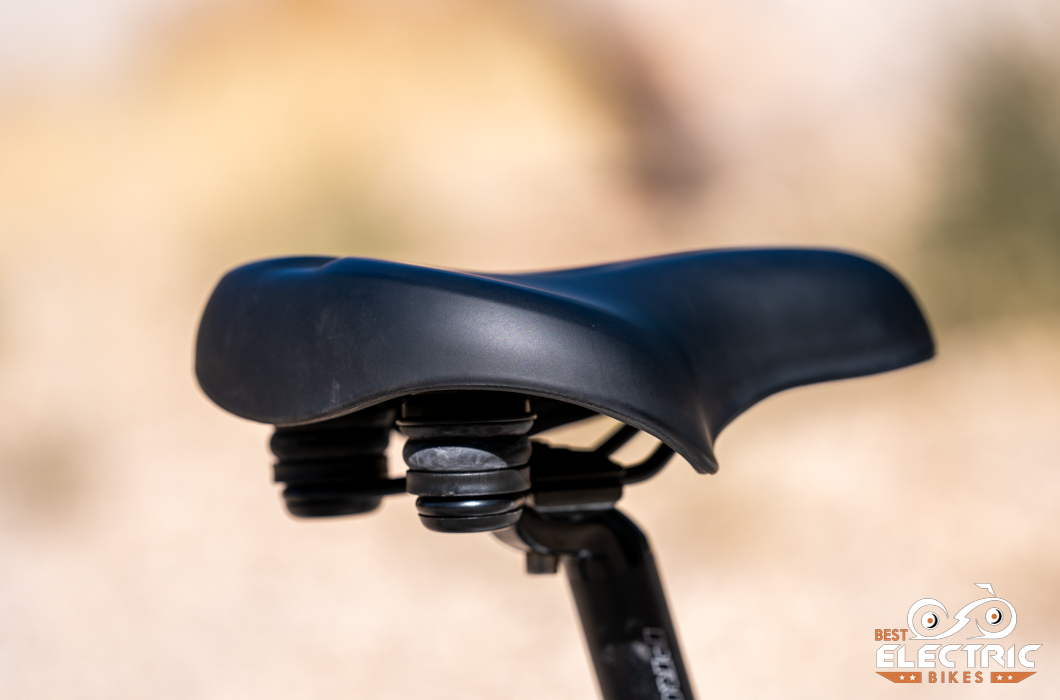 Himiway Zebra E-Bike Specs
Battery: 48V 20Ah Samsung/LG lithium battery
Expected Range: 60-80 miles
Motor: 750W brushless geared motor
Pedal Assist: 0-5 level pedal assist
Display: LCD display with USB charging
Headlight: 48V LED light
Taillight: Integrated Taillight
Frame: 6061 Aluminum
Fork: Alloy front suspension fork with lockout and adjustment
Fenders: included
Kickstand: heavy duty aluminum
Handlebars: alloy, riser
Grips: Faux leather, ergonomic
Drivetrain: Shimano Altus derailleur and Tourney shifters, 14-28 freewheel
Brakes: Hydraulic discs, 180mm rotors
Pedals: alloy
Saddle: SR saddle
Tires: Kenda Juggernaut 26 x 4 in.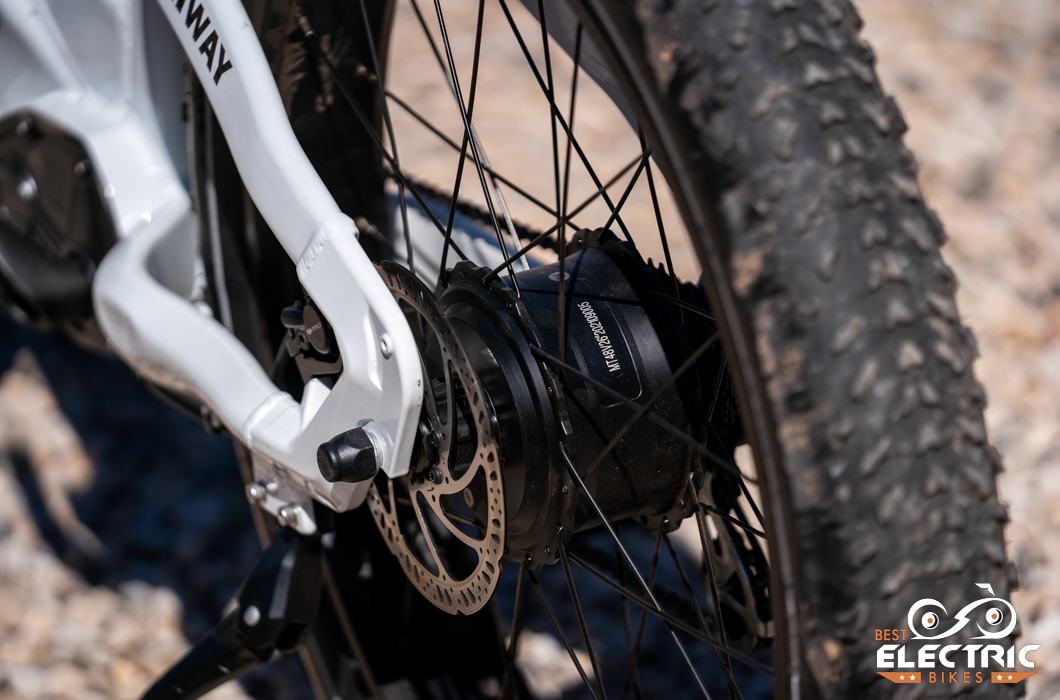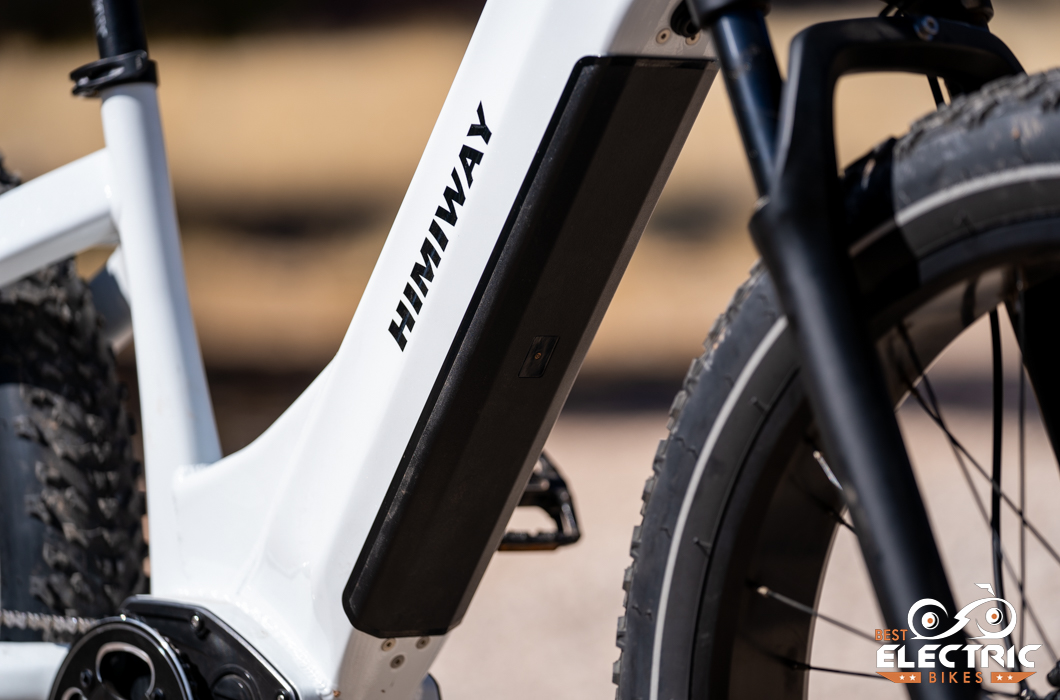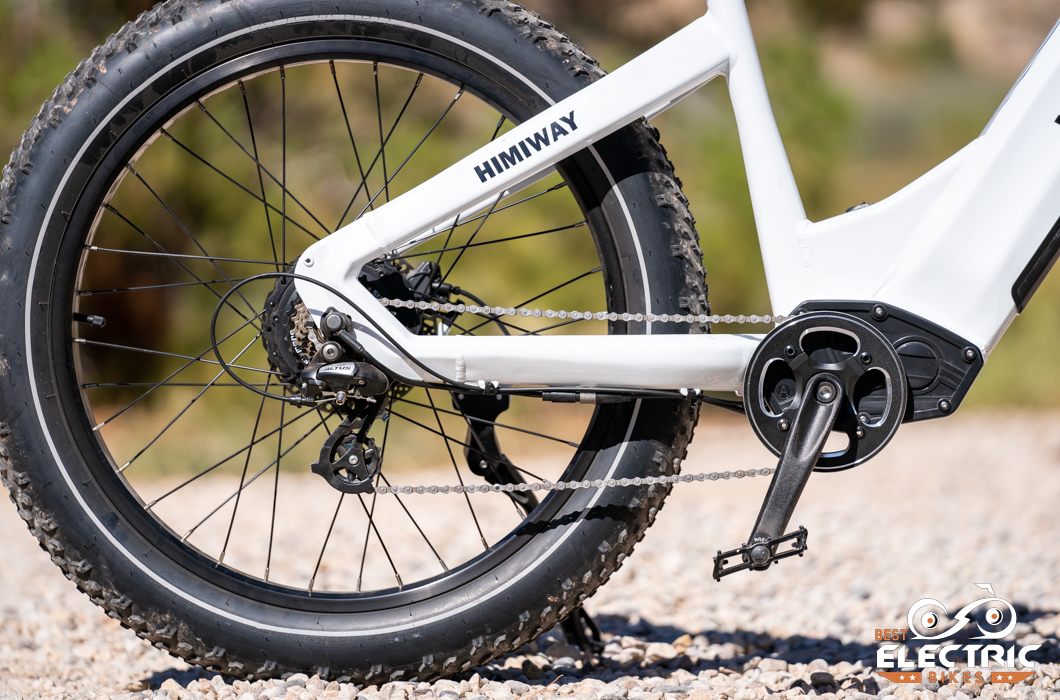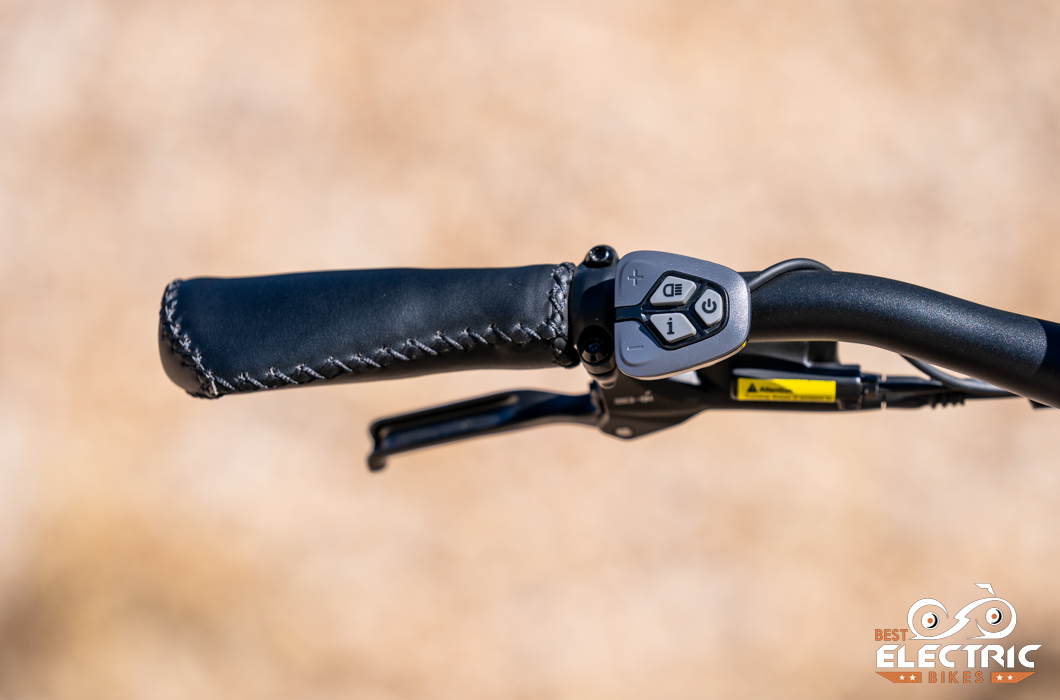 In-Depth Himiway Zebra Review
Himiway Zebra Review: Comfort, Handling, and Ride Qualities
When reviewing the Himiway Zebra we consider whether a bike can really be used in off-road situations, one of the aspects we look at is whether the bike will have adequate weight on the front wheel. On non-powered mountain bikes, if a rider is seated too upright, the lack of weight on the front wheel can result in it washing out in turns. Even though the Zebra offers riders a fairly upright position, that position isn't so upright as to cause problems; also, the overall weight of the bike and the Velcro-like fat tires give this bike some cornering ability that a lighter bike with skinnier tires would not possess.
The upshot to all this is that the Zebra is a capable bike on dirt roads and gentle trails but doesn't give up the more upright position that more casual riders tend to prefer.
We referenced the bike's weight and it's worth mentioning that the manufacturer's claimed weight is 79 lbs. That's a lot by any standard. It's heavy enough that there aren't many hitch racks that can carry it. Also, that bulk can make the e-bike a bit tougher to manage should a rider enter a turn too quickly or without leaning sufficiently, but as far as confidence on bumpy and loose surfaces, most riders will enjoy how stable the bike feels. It may feel a bit unwieldy at low speeds or when trying to park the bike.
Himiway Zebra Review: Motor, Battery, and Drivetrain Performance
While reviewing the Himiway Zebra it's clear that it distinguishes itself from the Cruiser most with its upgrades to the motor and battery. While both models benefit from a powerful 750W brushless, geared hub motor, the Zebra's motor produces 86Nm of torque, a 7.5-percent increase over the Cruiser's 80Nm. Now, that number may not sound like much, but when pedaling, that extra oomph in acceleration and on hills is noticeable. Put glue on its tires and the Zebra might be able to climb the Great Pyramid at Giza.
The Zebra also receives the backing of a noticeably more powerful battery than comes with the Cruiser—960Wh compared to 840Wh. The Cruiser's battery was no slouch, but with a 960Wh battery riders can potentially ride 60 mi. in PAS 5, or up to 80 mi. in PAS 1.
The Himiway Zebra's biggest failing is its drivetrain. Obviously, with a price of $1999, some strategic parts choices are going to be necessary—sub-$2000 bikes don't come with 12 or even 10-speed drivetrains—but the Zebra's 7-speed drivetrain, featuring Shimano Altus and Tourney components will limit where this bike can go and on steeper hills will rely more on its powerful motor than would be necessary with a wider-ranging drivetrain. The 36×28 low gear isn't low enough and the 36×14 high gear will leave riders' legs whirring like a blender to hit 28 mph.
Himtiway Zebra Review: Braking, Safety, Customer Service & Warranty
One of our knocks against the Himiway Cruiser was that mechanical disc brakes were spec'd on it. The Cruiser doesn't weigh much less than the Zebra, so while there is a $400 upcharge for the Zebra over the Cruiser, part of what a rider benefits from is the change to hydraulic disc brakes, which gives the Zebra a noticeably shorter stopping distance, not to mention a better sense of control at speed.
A rider's sense of safety begins with their sense of control. The Zebra handles well, if leisurely; it's not a bike for tight, technical singletrack trails. And controlling speed is easy thanks to its combination of powerful motor and brakes. Bikes with components that break don't stay on the market long; recalls get issued and corrections are made; still, it's nice to know that this bike can handle a load of 400 lbs. Very few e-bikes can take that much weight and whether someone needs that much capacity or not, knowing the Zebra can stand up to such use should give anyone's confidence a boost.
Himiway has a solid reputation among its users for taking care of warranty and other customer service issues. And in the limited time the Zebra has been out it has received 427 user reviews, all four or five stars. Like other bikes in the Himiway line, the Zebra is covered by a two-year warranty on all parts and labor.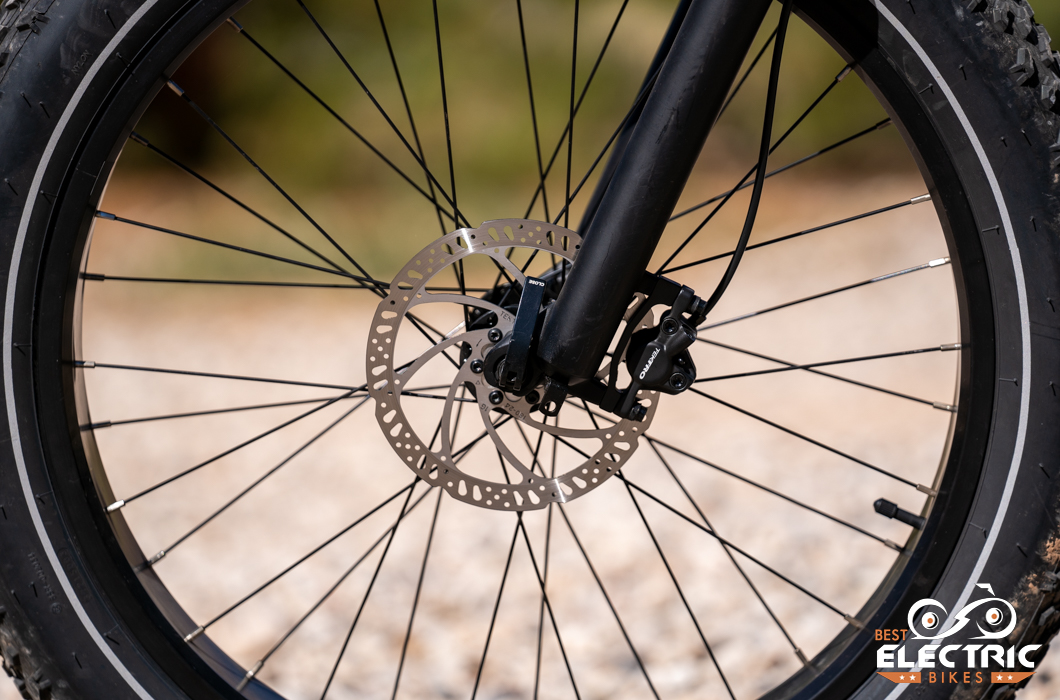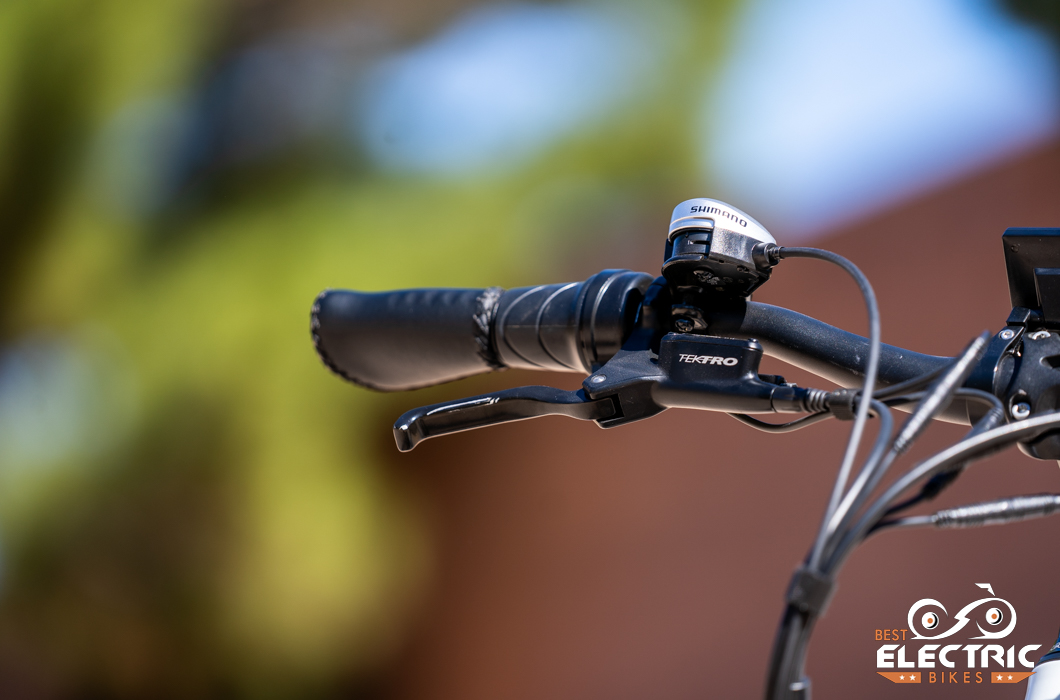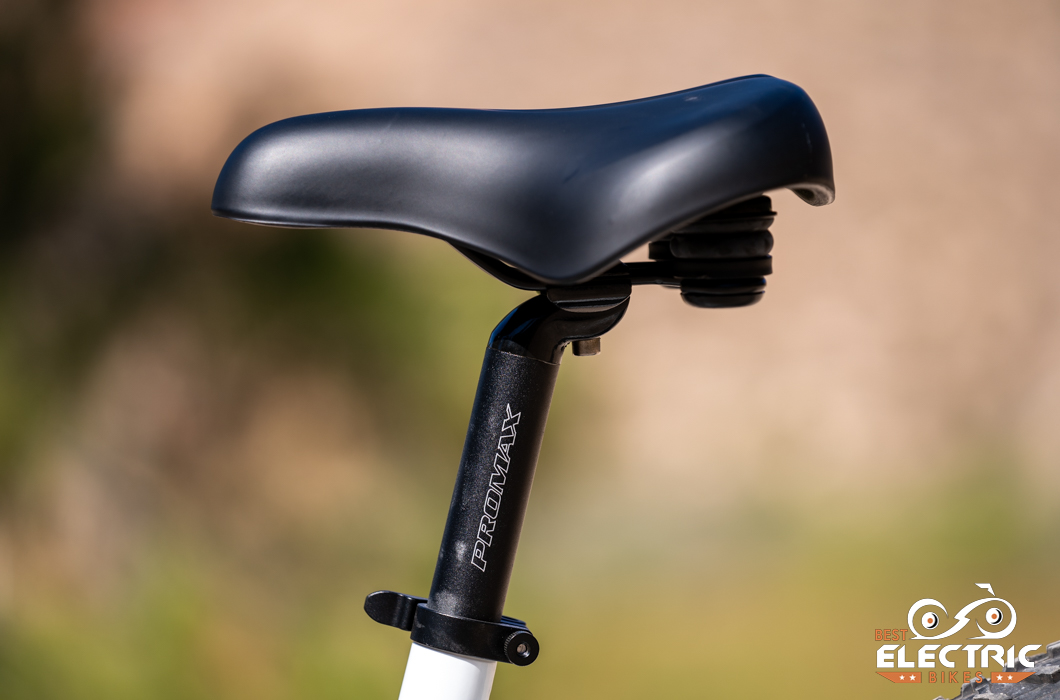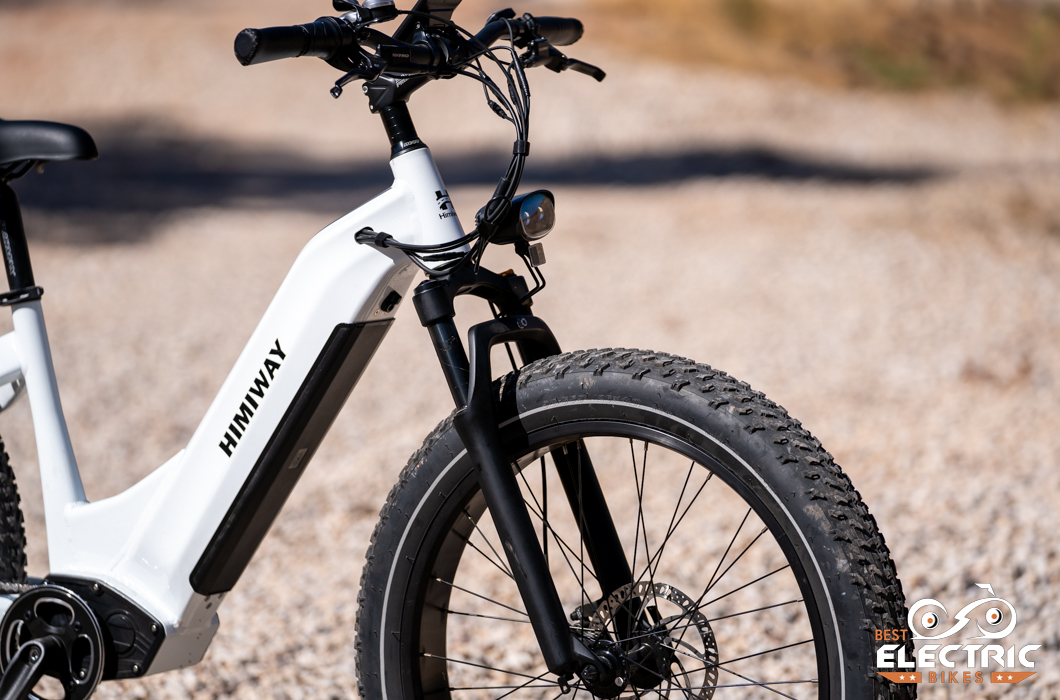 Himiway Zebra Review: Recommendation/Final Verdict
Overall, this Himiway Zebra review revealed that this is a well-designed bike. In addition to the features we've mentioned already, we like how fenders, a rear rack and lights are included as standard equipment, driving up the value of the purchase. The black and white LCD display is sharp, but the screen is small enough that with all the data it tries to show means that only one or two numbers may be readable for anyone requiring reading glasses. The half-twist throttle does give anyone an insurance policy should they bite off more than can be chewed in a long ride inspired by that massive battery.
As a brand, Himiway is known for producing e-bikes with fat tires and powerful motors. The fact that up until now only Himiway's Cobra and Cobra Pro came with hydraulic disc brakes has been a bit of an issue for us. Once an e-bike weighs more than 60 lbs., we like to see hydraulic disc brakes for the extra stopping power they provide.
Potential buyers should note that next to no information is given about the suspension fork—no info about whether it uses a spring or a valved air/oil design as well as no information about how much travel it offers. In an eMTB intended for use on technical trails the manufacturer will indicate a fair amount of information about the suspension; we take this as an indicator of why this bike is appropriate to some off-road use (hunters may find this bike to their liking), but isn't equipped for use on trails with varied terrain. And, again, the drivetrain lacks meat at both the high end and the low end, but this e-bike will go up a hill like a frightened cat.
Everyone has a limit to their budget and every design makes its trades. For $1999, the Himiway Zebra may be the company's best balance of bang to buck.
Thank you for reading through our review of the Himiway Zebra. Still have further questions? Wondering how it compares to a similar bike? Leave us a question in the comments below and the team at BestElectricBikes.com will answer!