eBikes typically weigh from 40 pounds up to 90 pounds depending on the size and type of bike. Bike weight is due to the materials used to construct the bike — and most often you want the lightest weight to maximize your power-to-weight ratio. However, certain cruising and passenger bikes are intentionally heavier so they can support weighted loads of cargo and people. eBikes also tend to be heavier than traditional bikes because the addition of a motor and battery can add 10 to 20 pounds to the overall bike weight.
Let's take a look at some of the factors that most affect ebike weight:
Battery and Motor Weight
The single biggest weight difference between traditional bikes and ebikes is the weight of a battery and motor. The motor provides power to make pedaling easier and the battery supplies energy to the motor.
eBike Motors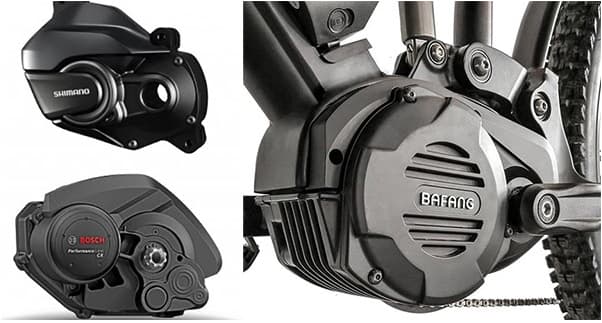 Motor manufacturers such as Bafang, Bosch, Shimano and Brose are constantly updating motor design and construction to minimize both size and weight. As technology advances, ebike motors are getting smaller and lighter.
There are different kinds of ebike motors: mid-drive motors (pictured above) and rear hub motors (pictured below). Mid-drive motors are tucked at the junction of the downtube and the seat tube in between the pedals so they are out of the way. This pulls the weight low and center for better bike management.
Mid Drive Motors
Mid drive motors have reduced significantly in size over the past few years. You can now find a mid-drive motor that weighs less than 6 pounds. On commuter or cruiser ebikes the motors tend to be larger and weigh closer to 8 – 10, or even up to 12 pounds.
While this may not seem like much, the weight from the motor does affect how ebikes feel and perform. When the weight is low and centered on a mid-drive, it makes the bike feel balanced while riding. Typically, mid-drive motors are more expensive for this reason.
Rear Hub Drive Motors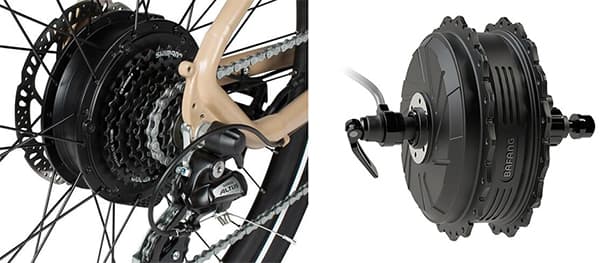 Rear hub motors are tucked inside the rear wheel. These are typically less expensive but heavier. Rear hub motors also pull the weight down and back, which can make the ebike feel tail heavy. They are a separate system from the pedals and chain though, so rear hub motors are easier on the drivetrain. They are also easier to maintain.
Batteries
eBike batteries tend to be large and noticeable. Batteries are usually attached to the downtube, integrated inside the downtube or placed under a rear rack. eBike batteries can weigh from 6 pounds up to 18 pounds. Some of the lighter European batteries weigh less than this and some of the more powerful trekking batteries designed for extended range will weigh more.
While batteries add a bit of weight to an ebike, they are the main power source for the motorized drivetrain. As innovations increase, batteries are also getting smaller and lighter, but they are still a sizable component on an ebike and will add weight to the frame.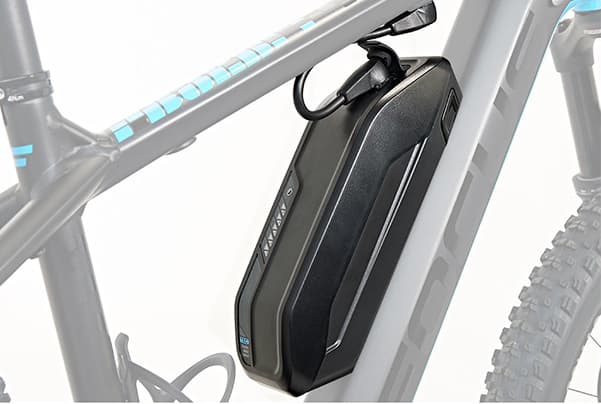 Example of an external battery that attaches to the downtube on an ebike

Example of an internal battery that slides inside the bike frame on an ebike
The frame
Bike frames are usually constructed from four different metals: steel, aluminum, titanium, or carbon fiber. Steel is the heaviest but cheapest. Aluminum is found on most mid-grade bikes since it is durable but also affordable. Titanium and carbon are high-end materials that are found on expensive but lightweight ebikes. Most bikes have various components that are a combination of the metals listed above or even plastic — but the main frame constitutes the external structure of the bike and contributes significantly to the overall weight. We will discuss components more at the end. Let's consider the different types of materials used in ebike frames: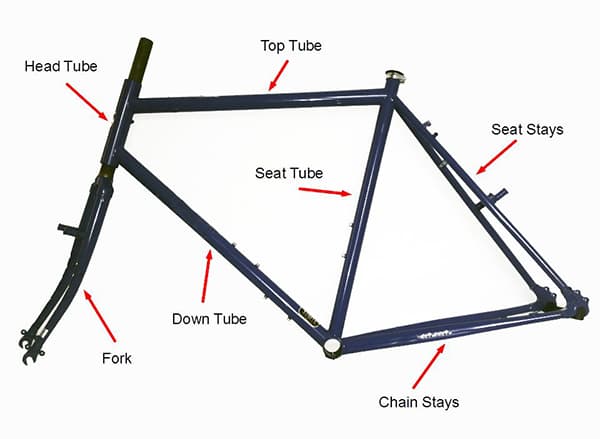 Steel
Steel is the most commonly used bike frame material because it is very strong, absorbs some of the shock while riding and is affordable. Steel is durable and is easily molded and repaired, however it can also be quite heavy and it can rust if the paint is dented or chipped. Most entry-level bikes will have a steel frame. Steel frames should not be discounted simply because they are cheaper — there are some benefits to steel — you just have to know that weight will be an issue on a bike with a steel frame.
Steel is also an excellent fork material. It is used often in the front fork (found in the diagram above) that holds the front wheel. Because steel is absorbent, it helps mitigate shock from road bumps and debris which can make your ride more comfortable. Weight and the issue of rust are the biggest concerns with a steel frame.
Aluminum
Aluminum is the most popular material used for bike frames. It is lighter than steel but nearly as strong; aluminum doesn't rust and modern construction techniques allow aluminum to be hydroformed so each frame is perfectly identical with precise geometry. Aluminum is not as shock-absorbent as steel however, so you will feel a bit more of road bumps and jolts while riding. Most bike frames are constructed of 6061 or 7005 aluminum alloy which use supplemental materials of magnesium, silicon and zinc in the frame for added strength.
Aluminum forks are a step up from steel since they are both stiff and light, and can be shaped aerodynamically. Most mid-level bikes have an aluminum alloy frame to maximize strength but reduce weight compared to steel.
Titanium
Titanium is a lightweight metal that provides a very sprightly ride. It is durable and one of the strongest but most expensive frame materials. Titanium combines the best characteristics of all the other frame materials. It rivals aluminum in weight, is as comfortable as steel and is very strong. However, titanium is hard to work with and requires special tools to mold into the frame which makes titanium frames very expensive to produce.
The two common types of titanium are 3Al/2.5V and 6Al/4V. This refers to the amount of aluminum (Al) and vanadium (V) alloys used in the titanium. 6Al/4V is more expensive, lighter, harder to machine and stronger. Titanium forks are rarely used because they are so difficult to mold. Most often you will find aluminum or carbon forks on high-end lightweight bikes.
Carbon Fiber
Unlike the metals listed above, carbon fiber is unique because it's not a pure metal. Carbon fiber is comprised of a fabric that is bonded with a resin glue that allows it to be shaped and molded. Carbon fiber frames (usually called "carbon" or even "graphite") are extremely light, strong, and durable. Carbon frames can be fine-tuned for specific ride qualities and carbon does not rust or corrode.
However, like titanium, carbon and resin are expensive. Carbon often has to be applied in sheets or layers on the frame which makes it costly to produce. You will more often find full carbon frames as opposed to full titanium frames so this is usually the material found on the most expensive, highest-grade ebikes. Carbon frames are substantially lighter which increases your weight to power ratio. Carbon forks are also often used on high-end bikes.
Components & Accessories
Components on an ebike are everything that isn't the frame or motor system. This includes brakes, gears, shifters, a derailleur, even grips and the saddle count as components. Accessories are bike extras that add functionality such as lights, fenders, a rear rack, and maybe a front basket. While these accessories all add weight, they also enhance your experience on the bike. You can find a lightweight ebike with a single gear system, minimal components, and no accessories, but you may miss some of the comfort features of an ebike.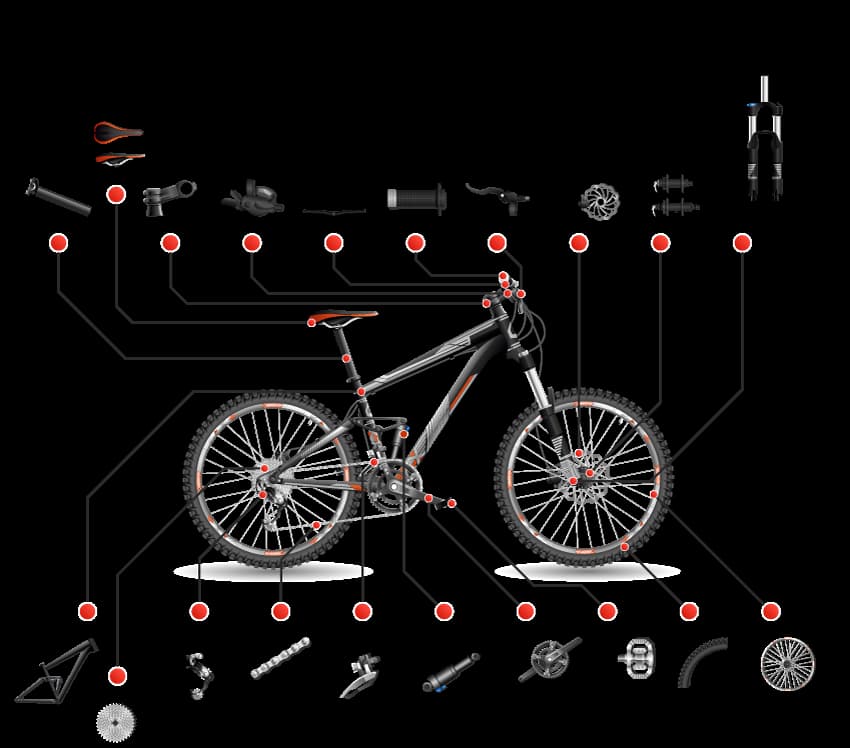 Like the frame, motor, and battery, lightweight components tend to cost more whereas entry-level components are cheaper but typically heavier.
When Bike Weight Matters
The ultimate answer as to when bike weight matters comes down to when you have to lift and move your bike and how you plan to ride it.
If you live on the first floor and can easily roll your bike in and out of a garage, the weight won't matter as much as it will to those who may have to haul their bike up three flights of stairs. If you plan to ride your bike around town, mostly for fun, then the weight isn't as much of an issue. If you need to lift your bike onto a bus or other transit, or lift it into your trunk or car — then the weight will matter much more.
Also, consider if you will be able to pedal your bike should it run out of battery. If the bike is extremely heavy, it may be difficult to pedal without battery power. Naturally, smaller riders should opt for a lighter bike when possible to maximize your weight to power ratio and make sure you can pedal the bike without power should you need to.
It can be a challenge to find the right balance between ebike weight, the right battery and motor, component quality and overall frame design — thankfully there are abundant options on the market to suit almost every rider and situation. We recommend considering your personal size and strength, how you plan to use your ebike, if you will need to lift it regularly, and whether you plan to load cargo on it to determine the best ebike for you.