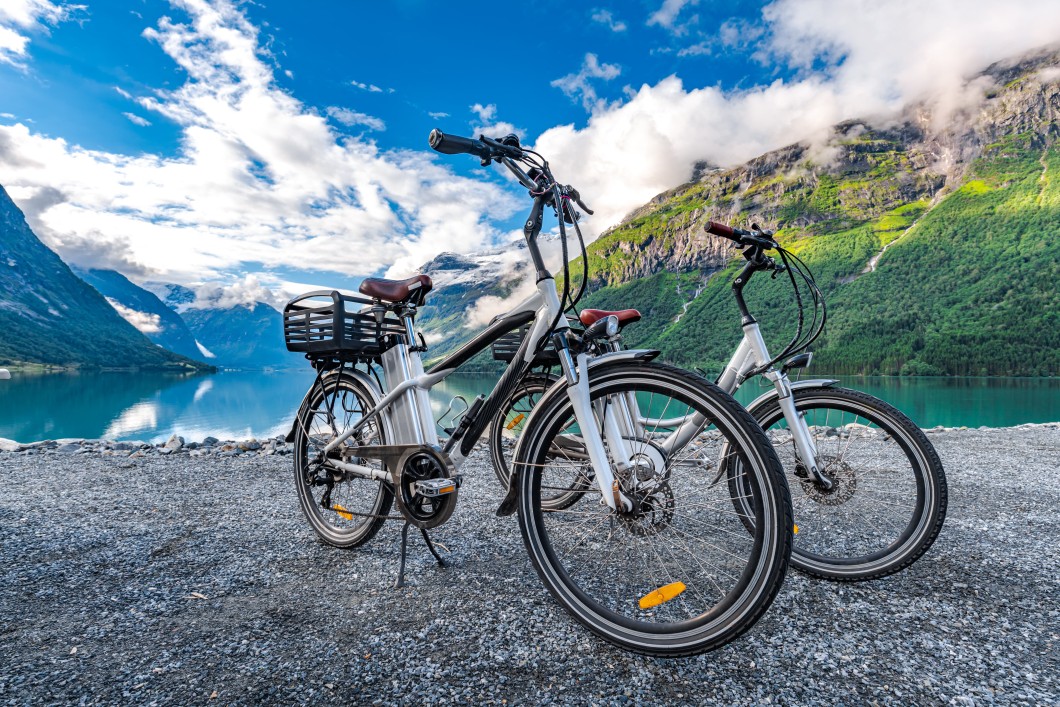 For some questions, the answers are easy. What day is Christmas? Who won the Superbowl? Will the Big Bad Wolf blow down a house made of straw? Other questions aren't as simple. Which is Led Zeppelin's best album? Where should I go on vacation this year? Tougher still: How long does an e-bike last?
An e-bike is a remarkable machine. It includes far more different kinds of materials than most household items. An e-bike contains aluminum, steel, multiple kinds of plastic, synthetic rubber, electrical components, a lithium-ion battery, vegan leather and foam padding.
Complicating matters is that not only do all these materials differ in how long they last in storage, they all wear at different rates depending on how often they are used, the way they are used and where they are used.
If that sounds like we won't give a straight answer, fret not. We will, but it's going to take a whole article. The parts of an e-bike can be organized in two main groups: consumable parts and durable parts. We will start with the consumables and then take a look at the more durable parts..
Look, the team here at Best Electric Bikes cares about longevity as much as you, so let's jump in.
Consumables
Consumables are parts that will wear out periodically and need to be replaced. These are expenses that can be expected to recur, though they won't all need to be replaced at the same rate.
Tires and tubes: 1 to 3 years
A good quality tire can be expected to last for 1000 miles, glass and potholes notwithstanding. That's 100 rides of 10 miles each. Factors that can affect this include:
Rider weight. Heavier riders will wear out tires more quickly than lighter riders will.
Riding surface. If the roads near home are nice quality asphalt, tires will last longer. The commuter in Boston might want to drop a quarter in a jar before each ride, though. Softer surfaces increase longevity.
Environment. Rain speeds wear of tires, as do hot roads.
Inflation. Tires that are run at low pressure will wear faster.
UV radiation. Synthetic rubbers will break down over time.
If an e-bike isn't being ridden much and is stored outside, something to watch for is dry rot. This is a cracking in the tread and sidewall caused by repeated exposure to UV radiation and cycles of warm and cold temperatures.
Grips: 1 to 3 years
Some grips seem to last forever while others seem to dissolve like the Wicked Witch of the West when splashed with water. Grips are inexpensive and come in enough different styles that there's no need to wait until they are falling apart before replacing them. Rest assured, an e-bike stored outside will see the grips break down and they will be one of the first things to go.
Lock-on grips are the way to go and they can be installed at home, usually with a 3mm Allen wrench.
Chain and Cassette/Freewheel: 1 to 3 years
An e-bike's drivetrain includes a number of parts. Only two of those wear out with any frequency, though. The chain and cassette can be expected to last for up to 2000 miles, depending on how the rider starts and their gear choices. Not only will the chain wear, but the set of cogs in the rear will wear (depending on the design of the rear wheel, the cluster of cogs may be either a cassette or a freewheel and the difference is based on whether the ratchet system is built into the cogs or into the hub).
The smaller the cog, the faster it will wear because there is less metal. This is why the chainring (the big cog up front) rarely needs to be replaced. Chains and cassettes will last longer if the rider shifts through the full range of gears as they start and as they ride up and down hills. Due to the terrific power found in many e-bikes, lots of riders shift into the e-bike's highest gear and then rely on the motor to accelerate them up to speed, rather than starting in a smaller gear and shifting progressively as speed climbs.
This is a bad practice. It causes the chain and cassette to wear prematurely.
Riders who own e-bikes with mid-drive motors will see their chain and cassette wear more quickly than riders who own e-bikes with hub motors. This is because hub motors add power after the drivetrain, meaning the motor adds no extra wear to the drivetrain. However, with mid-drive motors, riders are adding an extra 250W (or more during peaks) at the chain. Someone who shifts their mid-drive-equipped e-bike into its highest gear and forces the motor to handle all the acceleration may wear out a chain and cassette in a single summer.
Cassettes are much more expensive than chains. To reduce the cost of maintenance, riders can replace their chain more frequently. By always changing the chain every 500 miles, riders of e-bikes with mid-drive motors can stay ahead of wear to the cassette.
A bike shop should perform this work.
Brakes: 1 to 3 years
Generally speaking, brakes come in three flavors: hydraulic disc brakes, mechanical disc brakes and rim calipers. Brake pads for hydraulic and mechanical disc brakes come in two flavors: metallic and organic. Organic pads are quieter, grippier than metallic pads, but don't last as long. Riders can expect to get 1000 mi. out of the brake pads; more if they are lighter or live in a flat place, less if they are heavier or live in a place like San Francisco.
Regardless of pad type, hydraulic disc brakes offer the best performance, but will need the most maintenance. The brakes may need to be bled to remove air bubbles every few years. Should a brake lever pull all the way to the bar without engaging the brake, it needs to be taken a shop to be bled.
The pads on old-style rim brakes will last thousands of miles.
Riders who store their e-bike outside may need to replace the cable and housing on a mechanical disc brake set or a set of rim calipers every few years. This is another reason to protect an e-bike from the elements.
Derailleur cable and housing: 1 to 5 years
Derailleur cables are steel, so they can rust and once they rust they don't like to move, kinda like an old dog. Riders who store their e-bike in a garage or any other place that is even moderately climate-controlled are unlikely to run into an issue. Riders who need to store their e-bike outside may need to replace the cable and housing annually.
A bike shop should perform this work.
Battery: 3 to 5 years
Most battery makers claim their lithium-ion battery will last for 1000 cycles. What's a cycle? Charging the battery and then riding it until it needs to be charged again. For many riders, 1000 cycles is not the same thing as 1000 rides. If a rider goes for five rides per charge, that's 5000 rides over the life of the battery.
When a battery isn't in regular use, such as if a bike stays in storage during the winter, the battery should be charged before being stored indoors.
When a battery does reach the end of its life cycle, which is easy to tell because the e-bike's range will drop, replacements can usually be ordered from the e-bike manufacturer.
Saddle: 3 to 5 years
Saddles can and do wear out. The foam can compress until it loses its ability to rebound. The memory foams really can remember, but maybe not where the keys are. The tell-tale sign is that need to keep shifting to try to get comfortable. If scooting forward, backward, rolling this way, and that, doesn't result in "ah," then it's time for a new saddle.
Buying a saddle from a shop can be helpful for a couple of reasons. First, they can help make sure the saddle is positioned correctly; not all saddles have the same height, so changing a saddle can change the distance from the pedal to the saddle. Second, the saddle's tilt angle matters nearly as much as saddle height. Third, many shops offer saddle demo programs that will allow a rider to try a saddle for a few days before committing, and this is huge because there's no way to tell if a saddle will be comfortable until keister meets leather.
Components: 5 years to never
This umbrella includes the handlebar, stem, seatpost, shifter, rear derailleur, brakes (levers and calipers), crankset and wheels. We can include a suspension fork as well. These components rarely wear out. By the time they do, it's not uncommon for a rider to feel ready to replace the whole e-bike.
Frame: 10 years to never
There's a reason why many of the big legacy bike companies stand behind their e-bikes with a lifetime warranty on the frame and fork. They don't wear out very often, and if one wears out, that's a pretty clear indicator that it's new e-bike time.
Conclusion
Most e-bikes need very little maintenance other than pumping up the tires and lubricating the chain. Riders who are unsure whether a component is worn out or not can visit a bike shop and ask the service manager for their advice. Some shops can be a bit aggressive in suggesting service, so it's okay to ask the consequences of waiting a few months, or what work is must-do vs. optional.
Except for tires and tubes, if a part doesn't last a full year, that might be cause to ask about a warranty claim. Not every issue that turns up in the first year following a purchase will be deemed a warranty, but asking is reasonable.
Extended warranty plans can offer riders terrific peace of mind, but they don't often provide the level of value that riders hope for. Some can be difficult to navigate, further reducing their value.
The bottom line is straightforward: Storing an e-bike indoors or at least in an enclosed garage will make a big difference in how long some parts last. And in the event an e-bike needs a new chain or brake pads, that's cause for celebration, not chagrin. It's a sign the e-bike is being ridden plenty, and more riding means more fun.