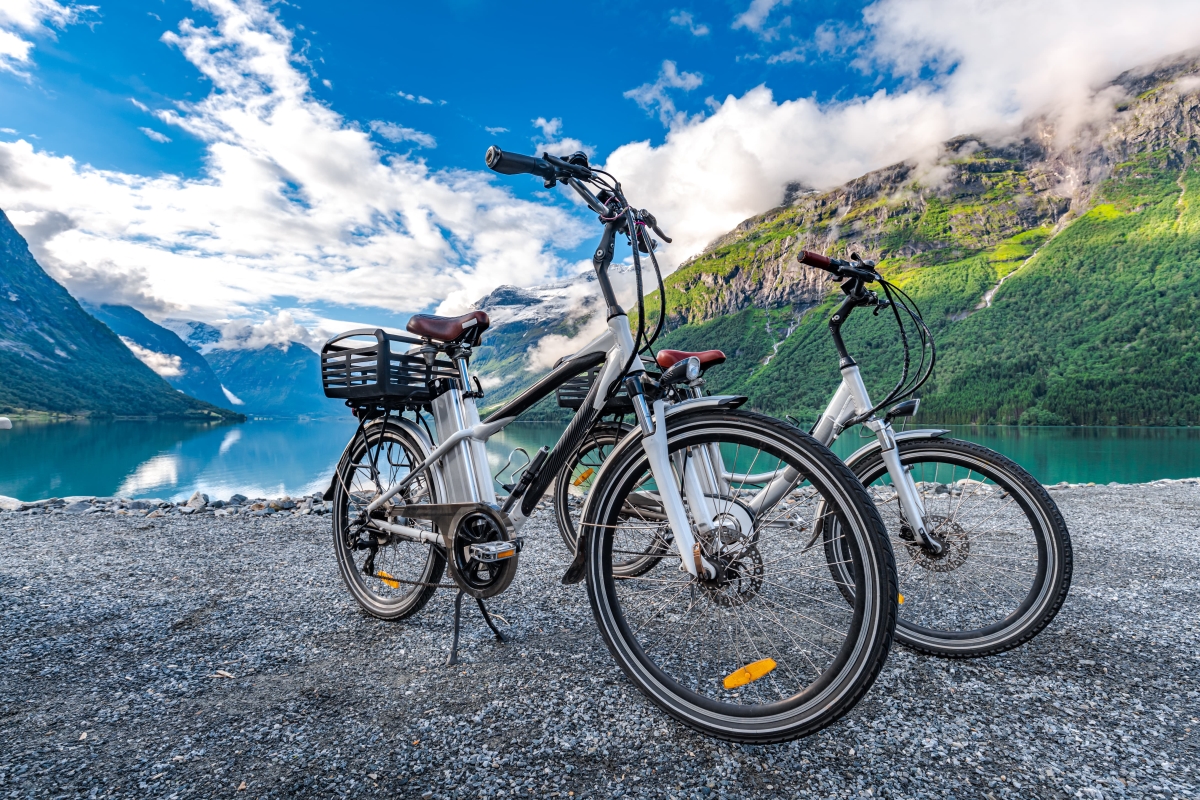 If you are shopping for your first electric bike, one of the first questions you probably have is how long it will last. Afterall, eBikes are an investment that often cost over $1,000 dollars, and in the $2,000 to $3,000 price range if you want a premium eBike model. So, determining how much value you're really getting out of your eBike is an important calculation to make.
If you want a short answer, it's this: your typical eBike will last three to five years without swapping out parts or maintenance. The great thing about eBikes is that, like traditional bikes, many of the key components can be swapped out and upgraded overtime, saving you money and reducing the waste that comes with using an eBike. If you take proper care of your eBike, and you make the proper upgrades now and again, you can use your eBike for over five years, and even up to ten years if you take really good care of it and know which parts you need to service.
So, to help you extend the overall life of your eBike, the rest of this article will detail the individual components and parts you can service, replace, or upgrade overtime to extend the life of your eBike while improving performance. You are also welcome to send us an email if you have any questions, though we would also recommend checking in with your local bike repair store to learn more about taking care of your eBike equipment!
Tires: 1 to 3 Years:
If you're an experienced biker, you can just skip this section; there are little to no fundamental differences between caring for your tires on a traditional bicycle when compared to an eBike. Typically, most tires have an optimal usage range between 1,000 to 3,000 miles, though many factors such as how fast you're traveling, the terrain you're riding on, PSI settings, and other conditions will impact this as well. As any experienced biker will tell you, seemingly random blowouts that appear to happen for no reason is a part of the cycling experience. How often you ride, where you ride, and how you ride are all going to determine how long you can ride before swapping out your tires. Fortunately, as long as the frame isn't damaged, you can always swap out the tires and throw new ones on without having to discard your eBike.
Chains: 1 to 4 Years:
Similar to our explanation for tires, swapping out the chain is a normal part of the biking experience, and many of the lessons you've learned for taking care of a chain on a normal bike will apply to an eBike. However, whereas most bicycle chains tend to last 2,000 to 3,000 miles on a traditional bike or hub-drive eBike, you will probably wind up having to swap out your chain every 1,000 miles or so on a mid-drive motor. Due to the location of the motor, mid-drive motors tend to wear down on chains significantly faster than traditional drivetrains and hub-drive motors, leading to a chain replacement more often. However, the benefit of a mid-drive motor is that they are often compatible with a belt drive, which can provide up to 5,000 miles of riding before needing to be swapped out. If you have a mid-drive motor eBike, we highly recommend investigating whether it is compatible with a belt drive, as a belt drive will extend the overall life of the eBike due to the reduced strain put onto the mid-drive motor.
Brakes: 2 to 5 Years:
Brakes are a bit more complicated, because the degree to which they need to be replaced will determine whether you need a new eBike or not. eBikes with good rim brakes will just need to be swapped out after every 3,000 miles, while eBikes with high quality disc brakes can travel up to 6,000 miles before needing to be replaced. Brakes are one of the most important components on a eBike, so we would get the brakes checked once at least every three to six months, but fully swapping out the braking system doesn't have to happen that often.
The issue that comes up is that many eBikes use an integrated motor braking system that connects one to the other. Integrated eBike motor systems allow the brakes to automatically cut off motor power the second the brakes are applied, ensuring they don't compete with one another so that you can come to a quicker stop. Integrated eBike motor systems also tend to extend the life of both the brakes and the motor, allowing you to use the eBike longer. The problem is that not only can the eBike brakes get worn out until they are no longer functional, but so can the integrated eBike motor braking system. If you have reached the point where the motors and braking systems no longer respond to one another, the cost of getting those components replaced will be so much that you're just better buying a new eBike system.
Batteries: 3 to 5 Years:
Some riders make the mistake of thinking that once the battery dies, they have to throw away the whole eBike. That often isn't true at all, as many eBikes come with interchangeable batteries that can be swapped out with a new, often better battery once the one that came with the eBike can no longer hold a charge. Like other batteries, eBike batteries lose a bit of charging capacity with every cycle, though other factors like charging your battery from empty to full, storing it in unsuitable climates, and mishandling batteries can all lead to a shorter lifespan as well. With proper care, your typical eBike battery can last between three to five years, though improper handling will lead you to have to swap out the battery sooner.
If you would like to learn more about preserving your eBike battery, we invite you to read our post on how to properly charge your electric bike battery. We also have a post on how to properly store your eBike battery, which will further extend the overall usage lifespan of your eBike battery.
Motor: 3 to 10 Years:
This is the major component, and the reason why you will often have to just upgrade your eBike. The eBike motor is built to last a long time, with their overall lifespan determined by how you ride your eBike and how much proper care you show your eBike motor system. There are also the two different eBike drive systems to worry about that will determine how long you can make use of the eBike model.
Geared hub motors suffer from greater friction decay, along with general wear and tear, faster than mid-drive motors. As a result, the typical eBike gear-hub motor will have to be replaced typically between 3,000 to 10,000 miles, depending on the quality of the motor and how hard you push your eBike. Fortunately, gear-hub motors are far less expensive than mid-drive motors, and they are easier to replace and install as well. However, price consideration and total frame maintenance also matter, so we would recommend purchasing a new eBike after you've replaced the gear hub motor three to five times.
Mid-drive, direct pedal motors are a bit more complicated. Drive-drive motors typically feature additional sensors, components, and unique designs when compared to gear-hub drive motors. Typically, their premium design causes them to last far longer than geared hub motors, but a major weakness is that mid-drive motors are more prone to overheating, and also tend to rust faster and glitch out more when wet. Finding ways to keep your mid-drive motor dry, and following any warnings from your controller will help you make use of the full lifespan of your mid-drive motor. Once they are dead though, they can be difficult, and occasionally impossible to replace without damaging the frame and other electronic components. We would recommend just purchasing a new eBike after you've gone through two to three mid-drive motors if it can be replaced once dead.
Frame: 3 to 10 Years:
The frame is the least complicated component to worry about when it comes to your eBike, requiring minimal maintenance as long as you make sure to avoid collisions and crashes when you can. However, the difference between traditional bicycle frames and eBike frames is that the latter is filled with critical electric wiring that limits the overall frame service and customization that you can do. If you significantly damage your frame, and your warranty coverage has expired, you are likely better off just purchasing a new eBike model than trying to repair your old frame. This is especially true if you have an eBike that is five years or older, as your frame structural integrity will decay with time. Your eBike will be better at handling crashes if it's a newer model than an older one, with older frames likely leading to more serious collisions and accidents due to failing frame integrity.
Conclusion: Maintain your eBike for a Longer Lifespan:
Cleaning, oiling, and performing regular maintenance on your eBike will greatly extend its lifespan, besides ensuring you have optimal performance every time you ride. By just taking a couple minutes a week to wipe down your frame, clear out any debris caught in the drivetrain, and ensuring that your eBike battery is being charged the right way, you'll likely extend your usage life by several years. As eBikes grow in their popularity, more and more eBike service technicians will likely move to your area, giving you a place to visit with your eBike if something does go awry. If you don't have any experts available locally, contacting the manufacturer or reaching out to online resources like us is a great way to answer any questions or troubleshoot any problems you may have. So, keep your eBike clean, and swap out key components when you need to, and you will be able to enjoy it's fantastic performance for many years to come!