eBike Safety Tips
Despite what some people may believe, riding an electric bike isn't any more dangerous than riding a traditional bicycle. While the potential damage and harm resulting from improper use are more significant on an eBike, your risk of suffering an accident is virtually the same.
Even so, very few accidents involving eBikes are unpreventable, and with a little proper care and caution, you can avoid the vast majority of accidents that befall eBike riders. As such, keep these safety tips in mind when riding your electric bicycle: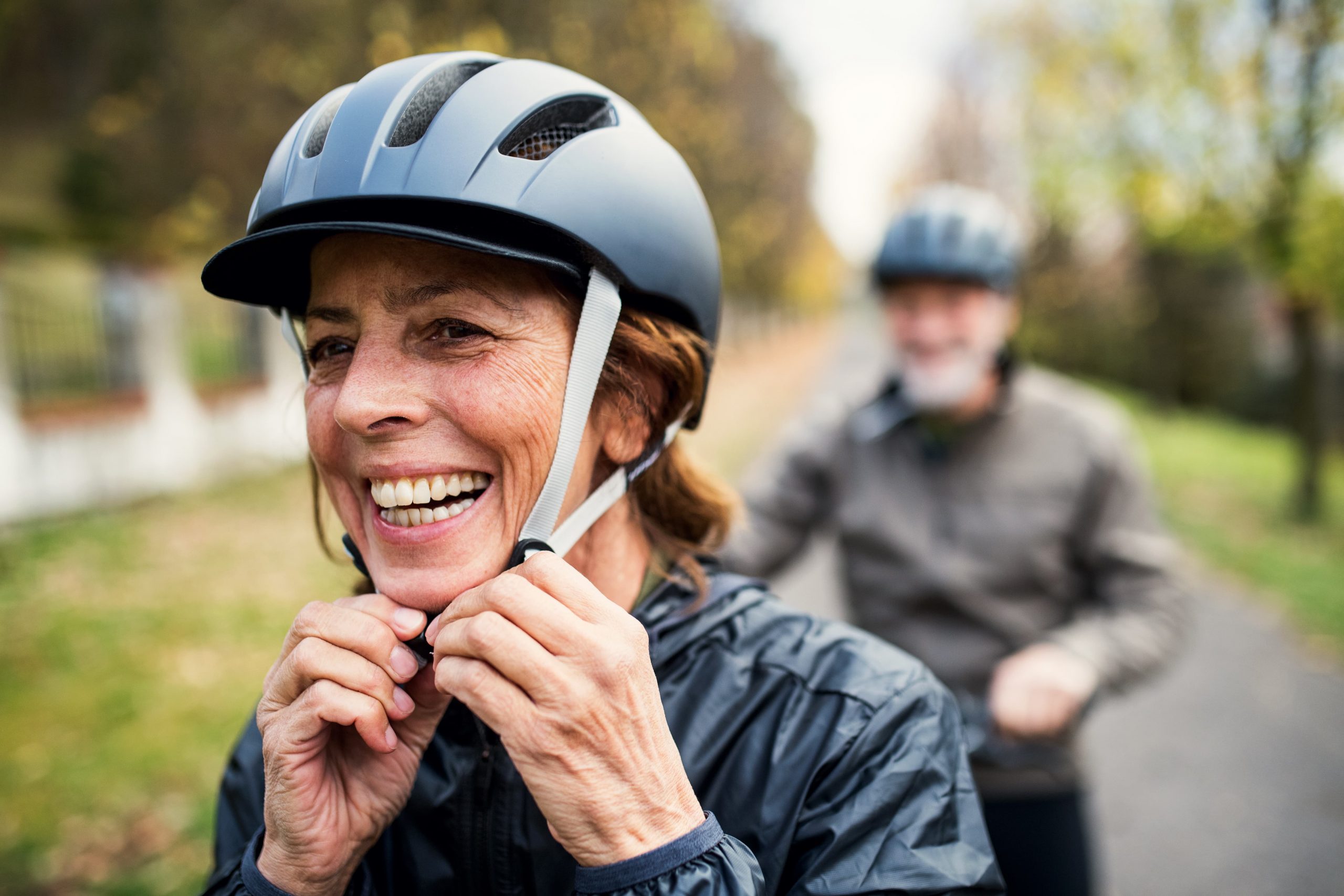 Tip #1: Always Wear a Helmet
This is the most important rule when it comes to riding a bike. Always wear a helmet! Whenever we hear about a serious accident that befalls cyclists, head injuries are the most traumatic and common. Wearing even a simple helmet can significantly reduce the risk of suffering an injury, especially when you have a major crash. If you're riding an eBike, never leave home without putting on a helmet first!
Tip #2: Ride With Traffic, Not Against It
Some cyclists make the mistake of thinking it's better to ride against traffic, which prevents the risk of a car sneaking up from behind and hitting your rear tire. In reality, because of the high speeds that you and oncoming traffic are traveling at, riding against traffic results in a higher frequency of accidents due to the less time you both have to spot each other.
While you might not like being able to spot the cars approaching from behind, you'll have much greater odds of avoiding a collision by riding with the flow of traffic rather than against it.
Tip #3: Always Be Defensive and Cautious
While many parts of the world assign right-of-way priority to cyclists over automobiles, the fact is that if you get in a crash, you are going to emerge a lot worse from a collision than the car will.
When you are riding a bike, it is much better to ride defensively than try to assert your way on the road. When you're about to make a turn or come to a stop sign, or if you and a car are approaching each other, assume that the drive might make a poor decision. While riding defensively means it will take you longer to get to your destination, you're still going to get there faster and in better condition, than you would be if you suffered a major crash.
Tip #4: Make Sure You Have Proper Lighting and Reflective Gear
When we review eBikes here at Best Electric Bikes, we always take careful notes on the lighting and reflective equipment mounted on the eBike. A headlight, a tail light, reflective tires, and reflective pedals contribute to increasing your rider profile.
The easier it is to spot a cyclist on the road, the less likely others will crash into them while they are riding their eBike. That is why we also highly recommend considering a safety vest, helmet light, or other reflective gear that you wear on your person as well. It might not make you look cool, but you'll appreciate it all the same if it helps you avoid suffering a significant crash.
Tip #5: Add Mirrors and a Bell to Your eBike
Mirrors are beneficial because they help you spot traffic coming from behind while riding with traffic flow. Many universal mirrors are easy to attach to your handlebars, and they're often pretty affordable as well, with multiple angles and configuration options. Additionally, if it doesn't come with the stock model, we highly recommend adding a bell to your bike too. Bells will make it easier to alert others to where you are on the road, especially those you might fail to spot with your attached mirrors.
Tip #6: Make Sure Your Gear Is In Good Condition
Even with proper riding etiquette, there isn't much you can do to prevent a collision or accident if your eBike fails you. A dirty or locked up drivetrain, a blown-out tire, unresponsive brakes, and other forms of equipment failure can all result in you suffering a major crash. Besides offering you a better riding experience and saving you money, making sure your gear stays functional is a vital way to stay safe while riding your eBike!
Tip #7: Follow Speed Limits and Traffic Laws
While we are concerned with the level of regulation surrounding eBike usage, the fact is that many of the rules regarding ebike use are in place to keep you and others safe. If you're riding on a road or trail with a speed limit, follow it!
While you may be an experienced rider, you can't predict everything that'll happen on a tricky or difficult trail, from animals jumping out or encountering other cyclists riding appropriately on your shared path. It might not be as fun, but you'll be grateful when you complete your ride without injury compared to the cyclist who disobeyed the law and wound up hurt.
Tip #8: Make Sure Your Battery is Properly Charged
Electric bikes offer many great advantages over traditional bicycles, but to use many of these features, you need electrical power. Once the battery is dead, your overall performance is minimal, and with some bikes, it is so cumbersome to ride without motor assistance that you'll likely wind up getting hurt because of it.
When it comes to riding an electric bike, our recommendation is always to plan to finish your ride before your battery is dead, giving yourself at least a 20% range cushion so that you will have enough power to make it to work or home.
Tip #9 Use Your Brakes Early
Electric bikes are heavier than traditional bicycles, so you need to apply your braking system earlier than your average motorless bike. Furthermore, road conditions greatly impact your brakes' stopping power, with brakes taking longer to slow you down when the ground is wet or filled with snow.
Many cyclists often fail to take the road condition into account and are surprised when it takes them longer to stop in dirt or on a bumpy gravel path compared to smoother, paved surfaces. Always plan on applying your brakes at least a couple of seconds early since that can be the difference between crashing into something or coming to a safe, controlled stop.
Tip #10: Be Considerate of Pedestrians, Animals, and Other Cyclists
Our last tip is one of the most essential tips on our list: always consider those you share the road with! Cyclists are rightly concerned about the cars they are riding with, but that causes them to forget that animals, other cyclists, and pedestrians can all cause major accidents.
Stick to the bike lane as much as you can, but if you must ride on the sidewalk or trail where other people are walking, show proper care and respect due to those around you.
Conclusion: Just a Few Changes Can Keep You Safe
None of these tips involve making radical changes to your overall riding experience, and you're probably practicing many of them already. Even so, incorporating a few of the safety tips above that you aren't practicing yet every time you ride will make your next trip an even safer experience.
As a general rule, be considerate to those around you, and always assume that people aren't as aware of you as they should be. Many cyclists skip these tips because it takes them longer to get where they want to go. But we think a few extra minutes to your riding trip far outweighs the risk that comes with suffering a major accident.
Thank you so much for reading our guide to improving eBike rider safety! If you have any questions or recommendations, be sure to leave a comment below. By doing so, you might even get featured in a future update to our post!