The main draw of using an eBike is the great motor assistance powered by the battery, but like all batteries there's a limit on how long you can use it before it runs empty. While many eBikes come with smart chargers that can refill your battery power from empty in just a few hours, having to stop every dozen or so miles to recharge isn't ideal for certain riders. Whether you have a multi-day mountain biking adventure, a cross country journey, or just a long commute to work, you want to maximize the total range you can get out of your battery before you have to recharge. As such, here are a few tips, ideas, and suggestions from Best Electric Bikes to help you travel farther with your eBike: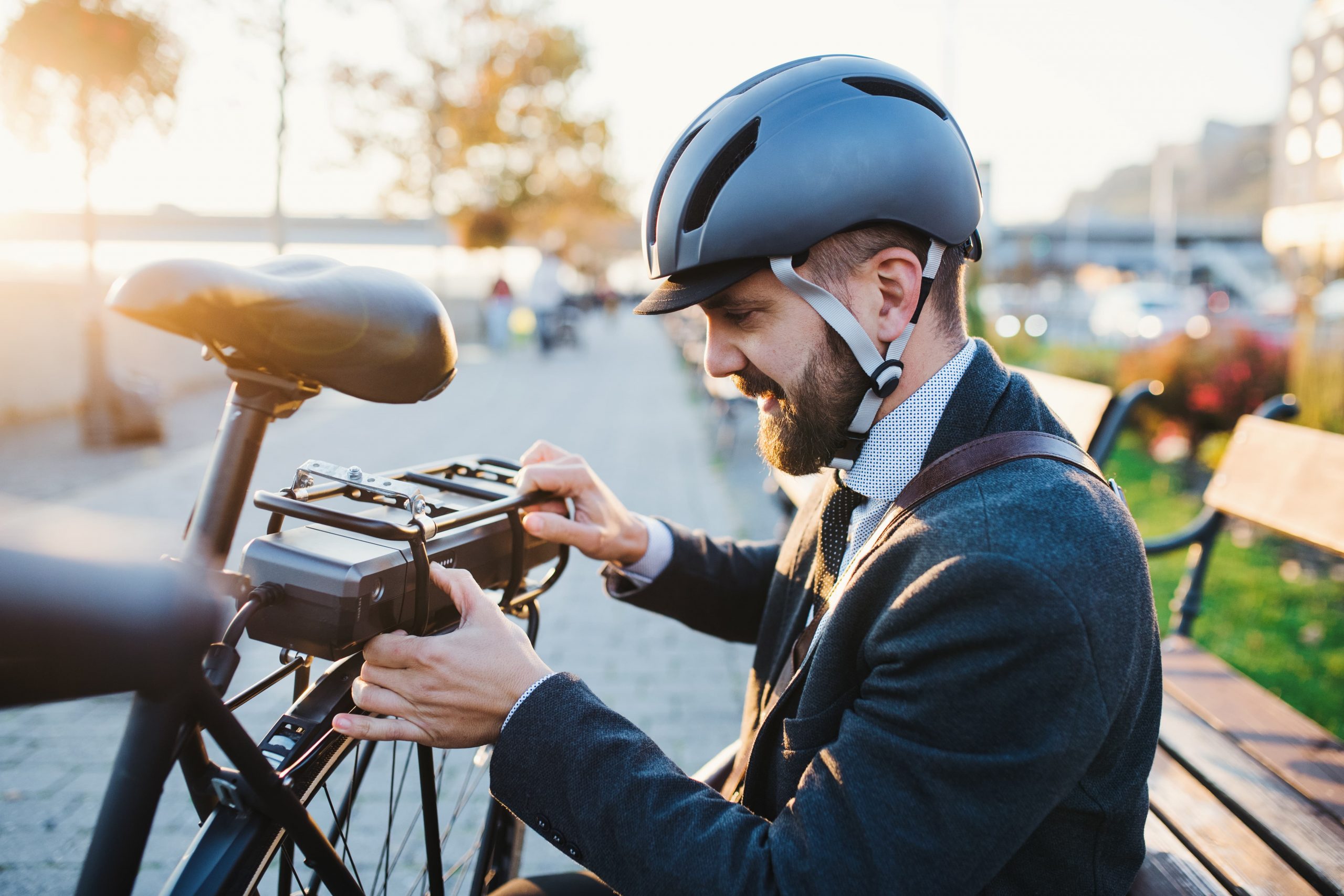 Tip #1: Use a Lower Pedal Assist Mode:
Many eBikes have multiple speed settings, allowing you to choose how much power assistance is provided by the motor while you pedal. Higher pedal assist modes will provide a stronger push, making it easier to climb up steep hills and accelerate faster to reach the 20/28 MPH limit. However, the main drawback of using the higher pedal assist settings is that it will drain your battery quicker, and is often why you only travel half the range suggested by your eBike manufacturer's website.
If you want to travel farther with your eBike, select the Eco mode, or the lowest pedal assist level on your electric bike remote display. While you might take longer to get to the motor speed cap on your eBike, the total energy consumption is much smaller when compared to the higher pedal assist levels. If you have a tough hill to climb you can change your pedal assist to a higher setting for a couple minutes, but if you want to prioritize range make sure you stick to the lowest pedal assist setting.
Tip #2: Avoid Using the Throttle as Much:
If you have a class 2 eBike, then along with your pedal activated motor assistance system you can also activate the motor with your throttle. However, whereas you can change the level of power assistance when pedaling with your remote display, the majority of class 2 eBikes do not provide the same level of control over your throttle. As a result, activating the throttle is often the equivalent of pedaling at the highest pedal assist level, resulting in massive energy drains for your battery. The throttle is helpful if you have a rough patch or want to quickly get back up to 20 MPH, but avoid using it as much as you can if you hope to maximize your riding range with your electric bike.
Tip #3: Make Sure You Set the Right PSI:
Many tires have a range of recommended PSI, with lower PSI better suited for loose terrain such as dirt trails, loose sand, or gravel. However, fully inflated tires are highly recommended for urban riding because they have less rolling resistance, allowing them to accelerate faster and requiring less energy to maintain speed. While the exact energy savings that comes from cycling with higher PSI inflated tires varies with conditions, some groups like EBikeSchool.com can typically extend your range by at least 3% to 5% per ride. If you have a 50 mile range on your eBike, then just having fuller tires can help you travel and extra 2 to 3 miles per ride!
The exception to this rule is if you are going mountain biking. While you will have less rolling resistance from higher PSI tires, the loss of traction and stability that comes from riding on a loose dirt trail will negate and overwhelm the gains that you might have otherwise. A motor will cause a high PSI tire to excessively spin, leading to not only an unnecessary expenditure of energy but likely a crash or two as you struggle to maintain control over your eBike. If you want to maximize your range and have an ideal time riding, whether it be in the city or while mountain biking, make sure you set your tires to the suggested PSI rating.
Tip #4: Learn To Coast Effectively:
One of the differences that sets beginner riders and expert riders apart is how they approach coasting. Coasting is the art of making the most of air resistance while you ride, and typically consists of two techniques. You can ride behind other bikers and vehicles while lowering your own riding position to minimize the air resistance you encounter while you ride, while raising your position and getting out in front of others to slow down and come to a quicker, smoother stop.
Coasting has multiple benefits when used correctly. You won't be forced to use as much braking power, extending the life of your braking system while also making every stop a smoother one. Additionally, drafting behind others minimizes the total energy needed to accelerate, allowing you to not only extend the range of your motor but minimize how much pedaling you need to do in order to accelerate as well. Most eBike range tests are done in factory settings, but with proper coasting techniques you can travel even farther than the optimal ranges suggested by the manufacturer!
Tip #5: Maintain Your eBike:
Sometimes, having a less than optimal range isn't the result of poor riding on part of the cyclist, but rather poor maintenance of your eBike. While tires are an obvious component that is regularly checked by dedicated cyclists, many bikers fail to show the same level of care to the rest of their eBike. Whether it be the brakes, the chain, the shifter, or even the stem post, there are a number of components that, when they aren't properly cared for, will reduce the overall range you can travel with your eBike.
So take the time to perform the proper cleaning, checkups, and other maintenance required to keep your eBike in tip top shape. Adjust your brakes for your own personal riding style, and oil the chain at least once a month if you ride your bicycle regularly. Make sure your shifters aren't damaged and are free of debris, and add some fenders or other guards for your tires and drivetrain to extend their functional lifespan. While it may not be the most exciting suggestion in the world, just a few adjustments and clean components can make a massive difference in how far you travel with your electric bike.
Tip #6: Invest in a Larger or Secondary Battery:
While all of the above tips are helpful in making the most of your current battery, the best solution for some might just be to invest in a larger battery. Even with optimal conditions and riding techniques, you'll rarely travel more than 5% above the max range suggested by the eBike manufacturer. Furthermore, while it typically takes several years to do so, eBike batteries do degrade with every charging cycle, with many batteries being reduced to about 70% or 80% of their maximum capacity after a thousand full charging cycles.
While it can be an expensive upgrade, swapping out your battery for a larger battery can extend your range significantly without having to buy a brand new eBike. If you have an easy to remove battery, then buying a second eBike battery is also a fun idea, since you can effectively double your range before needing to recharge or have a battery ready to replace the old one. However, make sure you are buying an eBike battery that is compatible with your specific electric bike model before purchasing! Just because it's the same brand or battery style does not guarantee that it will work with your eBike motor, and having too large or small of a battery can cause damage to the motor or other electronic systems in your eBike.
Conclusion: Enjoy Your Motor, and Your Bicycle:
Electric bikes are a great way to get into cycling, especially for older, recovering, or other athletes who find a traditional bicycle too challenging or taxing to train with regularly. However, while the motor system is great, it is primarily there to act as a supplement to the regular cycling experience, rather than replacing it entirely. According to studies done by the Transportation Research Interdisciplinary Perspectives and Bicyling.com, cyclists riding on eBikes will often travel twice as far than a traditional bicyclist for their average cycling journey. From great health benefits to providing a inexpensive way to explore the world, bicycles are a popular form of transportation around the world, and eBikes are just a way to maximize the benefits and enjoyment that comes with cycling. So, be sure to check out our reviews or leave a comment below if you would like some help to pick your next eBike today!