Welcome to our review of the iGO Electric Core Extreme 3.0 electric bike! Founded in 2006, iGO Electric is a Canada based eBike manufacturer with bikes that are particularly popular in North America. Due to their popularity, the Extreme 3.0 has been sold out and unavailable for us to ride, making it impossible for us to do our full performance review just yet. By riding other iGO Electric bikes, along with comparing the specs the Core Extreme 3.0 has with other eBikes we've reviewed, we did manaye to develop our spec review of this eBike. While we can't give our thoughts on the exact performance, we hope our spec review will help you have a general understanding of the feel, range, and specs of the Core Extreme 3.0.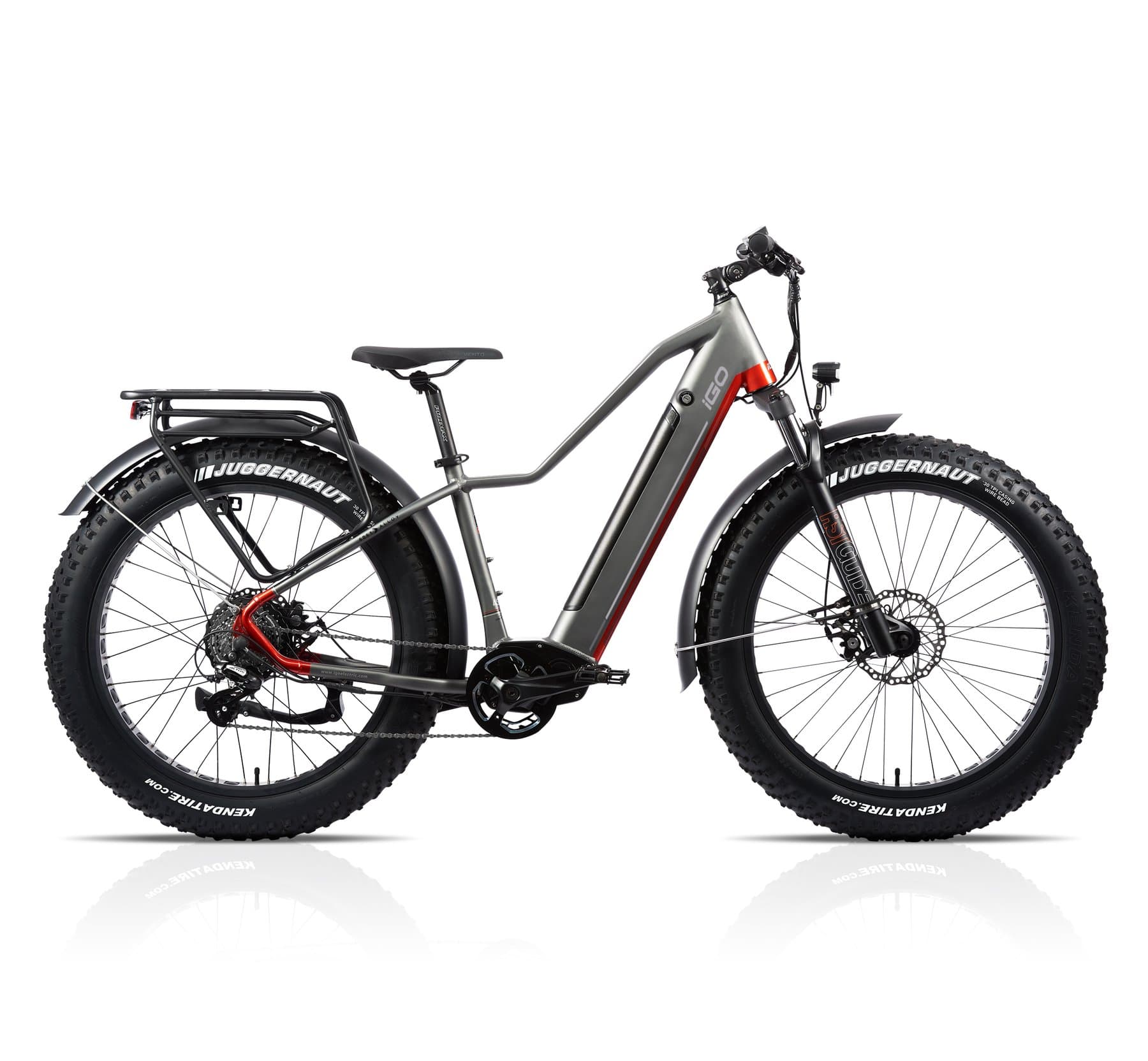 The iGO Electric Core Extreme 3.0 may have an entry-level price, but the features, components, and overall performance keeps up with some mid-level and premium eBikes. The 6061 aluminum construction provides for a very sturdy eBike able to be used in the city or on mountain trails, especially with the very powerful Bafang 80Nm rear hub motor. You can travel up to 50 miles on a single charge, and with the 8-speed Shimano drivetrain along with 9-pedal motor assist modes have dynamic control over your riding experience as well. Comfort and safety matter too, which is why the included Tektro Aries 180 mm rotor mechanical disc brakes, headlight, tail light, aluminum pedals, and RST coil suspension are all great inclusions too. If you're shopping for a hybrid city/mountain bike on a budget, then read our full spec review of why the iGo Electric Core Extreme 3.0 should be one of your first considerations!
Bike Category: Class 2: Pedal and throttle activated motor assist up to 20 MPH.
Who It's For: Cyclists who want an entry-level, affordable all-around eBike that is a good option for road, trail, and mountain biking alike.
Bike Specs
FRAME: 6061 Aluminum
UI/REMOTE: 2.25'' LCD Backlit Display
BATTERY: Samsung 624 Wh Battery
CHARGER: 2 Amp Charger
MOTOR: Bafang 500W/80Nm Rear Hub Motor
CHAIN: KMC Z8
SHIFT LEVERS: Shimano rapidfire 8-speed shifter
CASSETTE: Shimano 8-speed 11-34
CHAINRINGS: Zephyr 38T Narrow Wide
DERAILLEUR: Shimano Altus
RIMS: iGO Dual Wall Alloy with cutouts
TIRES: 26" x 4.5" Kenda Juggernaut Sport fat tires
SADDLE: Selle Royal Viento
STEM: Adjustable threadless with 0 to 60 degree rise
HANDLEBARS: Riser Handlebar
GRIPS: Flat rubber locking
BRAKES: Tektro Aries mechanical disc brakes, 180 mm rotors
PEDALS: Wellgo aluminum alloy platforms
KICKSTAND: Rear mounted removable kickstand
BELL: Integrated bell
HEADLIGHT: Integrated LED light
TAIL LIGHT: Integrated LED light
FENDERS: Aluminum alloy fenders
Pros
Sturdy, powerful, and very affordable hybrid, all-around style eBike. Makes every city ride, mountain challenge, or simple trail experience an enjoyable one.
Highly adjustable seat post, handlebars, and other components that make it a good one size fits all eBike frame. Strong enough for trail riding, but comfortable for cruising.
6061 aluminum frame is built tough, so you can take the occasional fall without worrying about your electrical components getting damaged. Most of the wiring is integrated well.
Semi-integrated Samsung 624 Wh design protects the battery but allows you to remove it for long term storage without too much effort. Solid 50 mile range on a full charge.
Simple, but easy to use 2 amp charger that matches the charger included with many other entry-level and mid-tier eBikes. Full recharging time from 0% is 5 to 6 hours.
Shimano 8-speed 11-34 Cassette with Zephyr 38T Chainring drivetrain. Both the fenders and chain guard are built with aluminum for stellar drivetrain protection and guidance.
Bafang 500W / 80Nm Rear Hub Motor. More than enough strength to help you tackle city hills and rough mountain biking trails. Throttle and pedal activated.
2.25'' LCD backlit display. Provides a good number of readouts, but really stands out with a total of 9 different pedal assist levels, plus a walk mode.
26" x 4.5" Kenda Juggernaut Sport fat tires. Knobs have extra spacing for better traction on loose terrain, while the rims have cut outs for better compatibility with the motor.
180 mm rotor Tektro Aries mechanical disc brakes. Provides solid stopping power and feedback when you pull the lever. Integrated with the motor for automatic shut off too.
Cons
At 73.9 lbs, this is not an easy eBike to handle if you want to load it up in a car by yourself. The weight is partially understandable given all of the great accessories.
There are a good number of adjustability options, but we would prefer multiple sizes to choose from rather than just trying to adjust only one from one style of eBike frame.
The range is 50 miles in optimal conditions, but most riders are going to drain it in just 30 miles. Powerful motor, but it drains the included battery very quickly.
We would prefer to see a larger charger included to better fit the battery. While you won't need a full recharge often, 5 to 6 hours is longer than expected for the recharge time.
Features
6061 Aluminum Frame
Very sturdy eBike that provides smooth riding over cement and snow alike. The 6061 aluminum alloy build is built tough, but with the suspension and other electronic components it is on the heavy side. Total assembly weight is 73.9 lbs.
Samsung 624 Wh Battery
Semi-integrated battery that can be removed, but is generally designed to be left in the center tube in order to maximize weight distribution across the eBike. On a full charge, expect to travel around 50 miles when using the proper eBike power assist settings.
2 Amp Charger
A basic industry standard charger, which can be a bit underwhelming given the size of the battery. To fully recharge from 0% to 100%, expect to take between 5 to 6 hours in order to top off the iGO electric core Extreme 3.0.
Bafang 500W/80Nm Rear Hub Motor
A very powerful motor that does drain the battery quickly, but provides a very strong push to help you cross flat roads and steep hills alike. As a class 2 eBike, you can rely on pedal assist or the throttle to activate the Bafang eBike motor.
2.25'' LCD Backlit Display
Adjustable LED display that balances providing a good number of readouts without making the LED remote overwhelming or too large for the eBike. There are 9 different assist levels on the Core Extreme 3.0, making this one of the most dynamic eBikes one the market in terms of motor control.
Shimano 8-speed 11-34 Cassette with Zephyr 38T Chainring Drivetrain
Trusty 8 speed drivetrain that provides good gear selection for when you want to tackle a challenging hill. The inclusion of aluminum alloy fenders and a chain guard both help the drivetrain stay free from debris, while also minimizing the risk of suffering a chain drop while you ride.
26" x 4.5" Kenda Juggernaut Sport Fat Tires
Very large, knobby tires specifically designed to dig into snow, sand, loose dirt, and other difficult terrain for greater stability and traction support. The cutout rims also help the motor turn the tires more quickly, helping you accelerate even faster on the Core Extreme 3.0 eBike.
Riser Handlebar with 100 mm travel RST Suspension
While it is a one size eBike, the highly adjustable handlebars, grips, and saddle all help tall and short riders alike enjoy the Core Extreme 3.0 electric bike. The RST suspension has both lockout and preload adjustment, which helps you further adjust the eBike according to your own weight and any cargo you might have with you.
Tektro Aries 180 mm mechanical disc brakes
Large 180 mm rotors ensure that you can come to a quick and steady stop no matter where you're riding, even as you come down a steep hill. Mechanical disc brakes tend to wear through quicker than hydraulic disc brakes, but they are easier to adjust and provide better feedback support for more dynamic braking control.
Wellgo aluminum alloy platforms
Large, oversized aluminum platform pedals that provide good traction support with all types of shoes. You'll want to stick with riding shoes, but if you have hiking boots or other shoes for backcountry exploration they'll work great with the aluminum platform pedals as well.
In-Depth Review
Frame
6061 aluminum continues to be a popular choice among many manufacturers, as it provides solid durability without costing or weighing too much that it would make equipment impractical. That is why, outside of being a favorite base for car, boat, and even plane manufacturers, 6061 aluminum is also used to construct many eBike frames. The Electric Core Extreme 3.0 is more than able to withstand the occasional crash due to its aluminum build, though it is a rather heavy eBike at 73.9 lbs. While this is a heavier weight than we typically find with entry-level eBikes, keep in mind that this weight is a result of not just the frame, but the battery, motor, fenders, chain guards, and other key components as well. Unlike other eBikes, that start out lightweight but quickly get weighed down as you add key features and components, you won't be adding much to weigh down the Extreme 3.0 even further.
Another aspect we're a bit mixed on is the 'one size fits all' design of the Extreme 3.0. With an adjustable saddle, stem, handlebars, and suspension support you can optimize the eBike in multiple ways to accommodate your height and weight. While having a multitude of options is good, it isn't as good as simply having several different frame sizes to choose from. If you're between 5'2'' and 6'2'', you'll be able to make a few changes to have the best personalized riding experience with this all-around/hybrid style electric bike. Those on the very tall or short side of things may need to consider a different eBike, or reach out to iGO electric for additional support.
Motor & Battery
The iGo Electric Core Extreme 3.0 is a class 2 eBike, with pedal and throttle activated motor assistance up to 20 MPH.
The Extreme 3.0 has a rear hub Bafang 500W/80Nm, which is a very powerful motor you don't see often in an eBike at this price point. With 80 Nm of torque, you have the pushing power to help you climb not only your typical steep hill in the city, but to cross over rock and other terrain as you ride up a challenging mountain trail. As a rear hub motor, initially turning on the motor and pedaling will be a bit jerky, and the motor won't last as long as a mid-drive motor. However, the rear hub motor does help the Extreme 3.0 stay affordable, making it one of our favorite hybrid eBikes out there for those who want to stick to an entry-level option.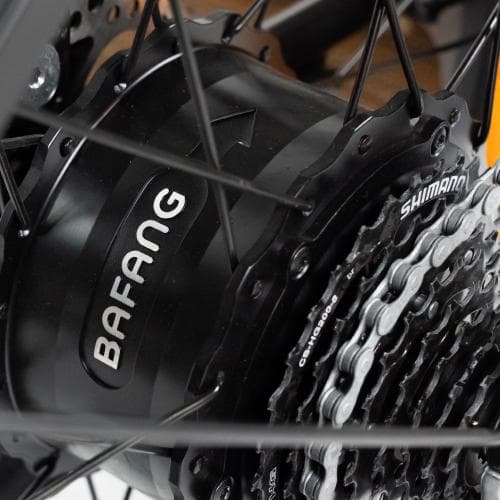 The motor power is great, but it has a drawback of draining the battery quickly, with an optimal range of just 50 miles. Realistically, most riders are going to travel between 30 to 35 miles before finding that their battery is empty. The Samsung 624 Wh battery is a good size though for this price point, with a semi-integrated design that provides better protection for the battery when you crash while also balancing out the weight distribution for a more natural riding feel. We like the battery overall, but while we would like a larger battery for greater range, the one component that we'd upgrade first is the included charger. Going to 0% to 100% with the included 2 Amp charger can take 5 to 6 hours, making this one of the slowest eBike setups to recharge that we've reviewed. With a faster, larger charger, you could stop by your favorite restaurant to store and top off your battery while you're inside. At 5 to 6 hours, you almost need to spend your entire workday with the eBike on the charger before it is good to go.
Display/Assist Modes
Mounted on the left handlebar next to the grip, the 2.25 backlit LCD display provides a great balance of being very simple to use, with just a couple buttons, while making it easy to track your riding metrics. Since it is a backlit screen, you can use it during the day or at night, and with a USB type A charging port you can recharge your phone or plug in other electronic devices while you ride as well. This is definitely a display that is more advanced than what you see in many other eBike remote displays at this price point.
The full readout metric list provided by the included LCD display is as follows:
iGO Electric Core Extreme 3.0 LCD Display Readout Metrics and Options:
Current Speed
Average Speed
Max speed
Assist Level (0-9)
Walk Mode
Trip Distance
Trip Time
Odometer
Battery Charge Level (5 Levels)
Light Settings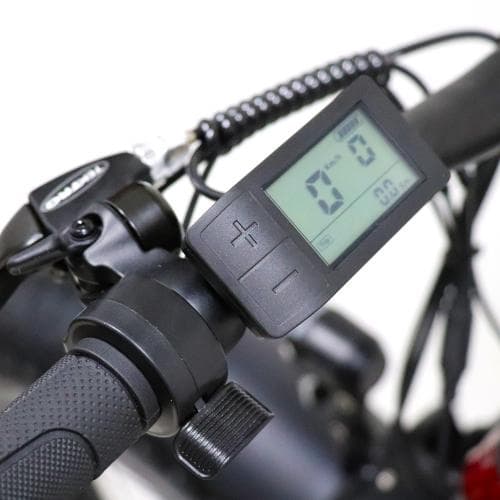 The iGO Electric Core Extreme 3.0's motor can be activated via the throttle or pedal assist system, allowing you to accelerate to 20 MPH before the motor shuts itself off. While the motor is technically able to go even faster, it is capped so you can ride Extreme 3.0 almost anywhere in the world without needing additional licensing. If you're unfamiliar with eBikes, you'll be glad to know that you can continue to use the eBike even after the battery is drained or when you turn the motor off entirely. So, make use of the motor when you can, whether it be to help you build up speed or to maintain it and ensure you continue to go at least 20 MPH.
Unlike many other eBikes, even premium eBikes, you also have 9 different assist levels to choose from with the Extreme 3.0 eBike. Lower assist levels will help you travel farther by maximizing battery life but take longer to hit 20 MPH, while higher assist levels maximize power and accelerate quicker, but do so by draining the battery more quickly. As an important note, the assist levels only regulate your battery power when using the pedal activated motor assist system. The throttle system, while great, is completely unaffected by the power assist level settings, and will provide the same strong push at 1 or 9 alike. Be careful, and don't make the mistake of assuming you'll get a small push from the throttle by setting the eBike to a lower power assist level.
Handling
On Streets- As a hybrid style electric bike meant to be ridden almost anywhere, there are several great features that make it a good eBike in and out of the city. The suspension fork and fat tires provide better shock absorption when you hit cobblestone and potholes, while also providing greater traction support over gravel and loose dirt. The rims also have cut outs that decrease their overall weight, allowing the motor to operate more efficiently while also improving your overall speed despite the fat tire size. If you want an eBike that is as fun to ride in town or on your favorite backcountry trail, the Core Extreme 3.0 is a great eBike option to consider.
Turn Radius- The major downside to having such tall and wide tires is that this is not an eBike that has a very tight turn radius. Dodging traffic or crossing a switchback is easy enough, but it does have trouble going through tight doors and alleyways, or trying to snake your way through the middle of a forest. If you need to make a very tight turn, dismounting off your eBike and slowly walking your bike around would be our recommendation.
Low Speed Handling- This is a 73.9 lbs eBike when fully assembled, so it can be difficult to walk or handle at low speeds without any sort of motor support. If you still have some juice left in the battery though, you do have a couple of ways to improve the low speed handling. Pedal assist levels 1 to 3 all provide a very small push while riding, which can make navigating easier without having to greatly increase your riding speed. Alternatively, a walk mode is included, which is specifically designed to help push your eBike while dismounted. If you still have battery life, you typically won't have a problem handling the Extreme 3.0 electric bike at low speeds.
Gears/DriveTrain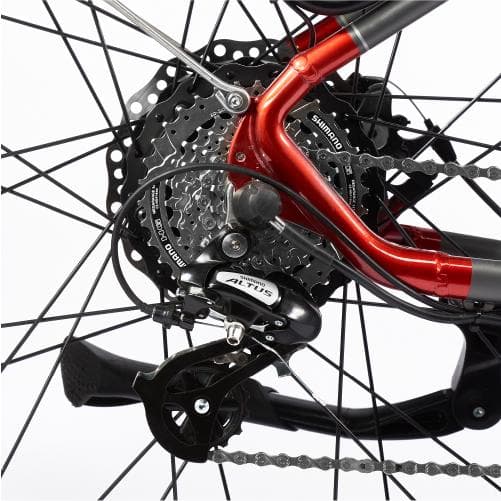 In regards to the drivetrain, the Core Extreme 3.0 features a Shimano 8-speed 11-34 T cassette connected to the Zephyr 38T chainring via a KMC Z8 chain. While true mountain eBikes typically have a few more gear options, a 8-speed eBike is enough for those sticking to more moderate trails, the traditional riding setting for an eBike with this kind of build. Shimano makes some of the most reliable drivetrains in the industry, but iGO Electric has added a couple more components and features to further reduce the maintenance required. There are aluminum fenders included with the stock model of the eBike, along with an aluminum chain guard that further protects the drivetrain while guiding the chain to reduce the risk of a chain drop. Coupled with the iGo Electric's Narrow Wide setup, you'll hardly need to do much to take care of your drivetrain, allowing you to travel through town or on trails alike with great, reliable performance.
Brakes
Another great component, especially for an entry level eBike, is the Tektro Aries mechanical disc brake setup. The Extreme 3.0 electric bike has 180 mm rotor brakes, incorporated into the front and rear wheel alike, which provide fantastic stopping power so you can come to a quick yet steady rest even when riding downhill. They aren't as high quality as hydraulic disc brakes, but mechanical disc brakes do have the advantage of being easier to service and finetune, allowing you to adjust your braking power while also generally being quiet to use as well. If you like the strong feedback that comes from pulling on the brakes hard, then you will quite enjoy the Tektro Aries mechanical disc brakes.
Suspension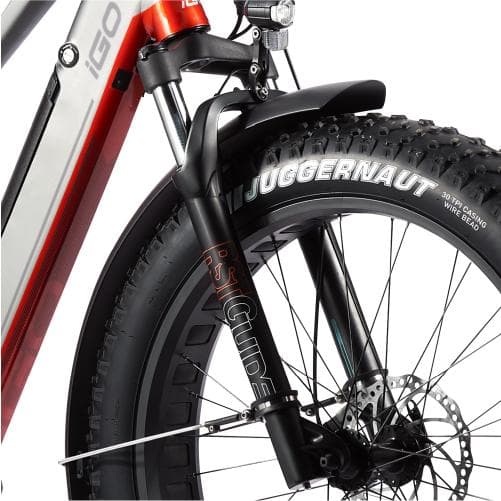 The Core Extreme 3.0 has a promise on their product page that you can ride it over all types of terrain, and that promise holds true when you consider the suspension support. The Extreme 3.0 is built with a RST coil suspension fork, with both preload and lockout control so you can have smooth and efficient riding over bumpy, loose, rigid, or flat terrain alike. The suspension support also has the added benefit of making your riding style a bit more adjustable, which is especially helpful for taller or shorter riders who need a bit more accommodation for a more comfortable ride. Between the weight and suspension support, along with the powerful motor, you are able to tackle moderate to even some harder, very challenging hills if you're an experienced mountain biker. Just be aware that the tires don't offer much in terms of puncture support, and that the battery does drain very quickly when riding over very steep paths and hills.
Pedals
Many traditional eBikes, especially entry-level eBikes, prefer to rely on plastic platform pedals. Plastic pedals are fine for the typical city riding experience, but outside of having worse grip support they also tend to break more easily than aluminum pedals when you crash on a trail. So, we're glad that even though it has a lower, entry-level oriented price, the iGo Electric Core Extreme 3.0 does come with aluminum platform pedals. Besides the advantages listed above, the pedals also have side reflectors, improving overall rider visibility, along with platforms built with more general shoes in mind. While using real riding shoes is preferable, those who want to go out on a off-road trail while wearing their hiking boots will still find good grip support with the Extreme 3.0 electric bike.
Grips and Saddle
Once again, while it may have an entry-level price tag, there are a number of premium level components and features included with the Extreme 3.0 electric bike. The rubber grips are cushy enough to hold onto while you ride, and lock onto the handlebars instead of using glue. With lock on grips, not only do you have a tighter and more natural hold to the handlebars, but once they get worn out they're far easier to replace than having to cut off and replace glue grips. Going to the handlebars, the riser aluminum alloy handlebars have a 690 mm length, with tilting adjustment options so you can have a comfortable position riding up a trail or cruising through the city alike. The same can be said for the Selle Royal Viento saddle, which also sits on a highly adjustable stem. While we would prefer to see multiple sizing options from iGO Electric bikes, there are certainly a ton of sizing and adjustment options to appreciate in their model as it is now.
Wheels and Tires
Having good tires is almost as important as the frame itself when it comes to trail riding, and for the most part the 26'' by 4.5'' Kenda Juggernaut Sport tires meet the bar. The tires are mounted on tough aluminum alloy, double wall 36 hole rims, with 13 gauge stainless steel spokes on the front tire and 12 gauge spokes on the back. Something special about the rims is that they have specific cut outs, which was done to improve motor efficiency and reduce overall weight. Furthermore, the knobs themselves are extra large and also spaced further apart, which improves traction support when you're riding in snow, sand, loose dirt, and other uneven terrain. The tires have a recommended PSI rating that ranges from 5 PSI to 30 PSI, with the smaller PSI better suited for trail riding while the larger PSI is great for typical city cruising. Whether you're going to work or going out on a trail with friends, these tires will make each trip great, with quick release swapping if you do suffer the occasional flat. The one change or upgrade we would suggest is adding some reflective tape to the sidewalls, as the tires look great but can be a bit hard to spot while riding on a road or at night.
Accessories/Upgrades
The iGO Electric Core Extreme 3.0 is already priced very affordably for an eBike, but given the long list of upgrades and accessories included that price is even more amazing. In the base model, you have aluminum fenders, a rear cargo rack, a headlight, a tail light, an integrated bell, and aluminum pedals already included. There is no major component or upgrade that we think is a must have, outside of some reflective taping for the wheels to reduce the risk of suffering a side collision. Since you have a rear cargo rack already installed, be sure to bring along a pannier bag or backpack with you while you ride if you want to have some food, water, or some other personal item on hand.
Recommendation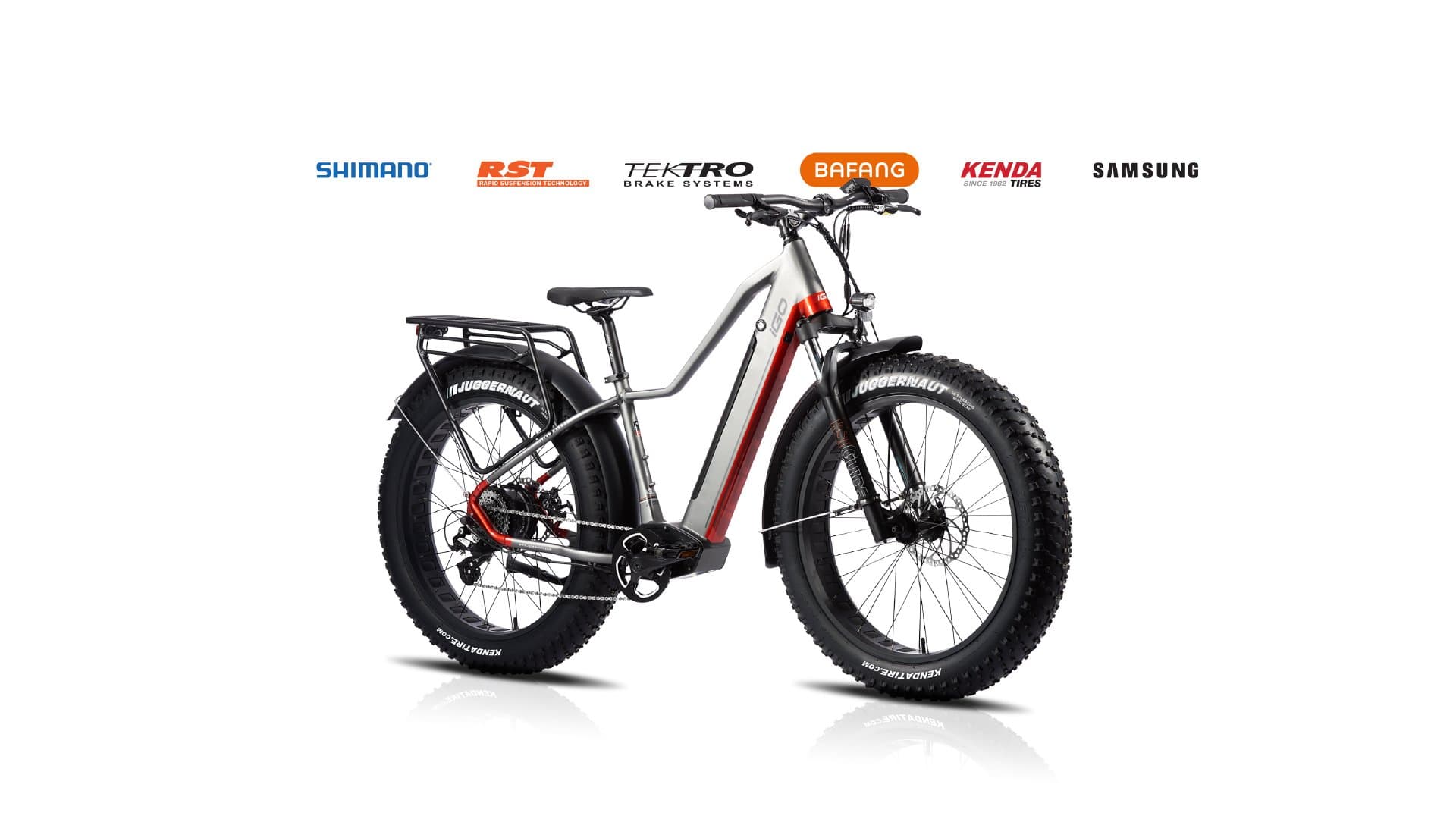 As electric bikes become more popular with every passing year, many newcomers are wondering what is a good eBike to start off with if they aren't sure what to get. The iGO Electric Core Extreme 3.0 would be one of our recommendations, for several great reasons. While it is heavy at 73.9 lbs, the eBike is built with a tough aluminum frame and is packed with almost every feature you could want on an eBike. The Bafang 80Nm motor, Kenda Juggernaut tires, and 180mm rotor Tektro Aries brakes are all built for all-around riding, allowing you to enjoy navigating city streets or climbing your favorite mountain bike trail. The saddle, stem post, and handlebars are all highly adjustable so that while there is only one size option available, it is a good 'one size fits all' design that almost everyone in the whole family can share and enjoy. Consider that a headlight, tail light, aluminum pedals, dynamic 9 level pedal assist system and 8-speed Shimano drivetrain are all included as well, and the Extreme 3.0 stands out as a truly fantastic value. If you are on the fence and want a more affordable option to help you get a great taste of what eBiking has to offer, then we recommend starting your electric bike adventure with the iGO Electric Core Extreme 3.0!
Thank you for reading our spec review of the iGO Electric Core Extreme 3.0 electric bike! If you would like to see a full performance review or video review of this eBike from our team, then be sure to leave a comment below.