Whether you're brand new to cycling or are an experienced cyclist, a common question for bike riders is what kind of suspension support they need for their bicycle. With eBikes, the question is even more common, for while expert cyclists might know how suspension works with a normal, non-motorized bicycle, they don't know what difference it makes once you throw a motor on. Fortunately, suspension for an electric bike is very similar to suspension for a non-motorized bicycle, but with a few key differences you will want to be aware of. Here are the key things you need to know when it comes to suspension for eBikes: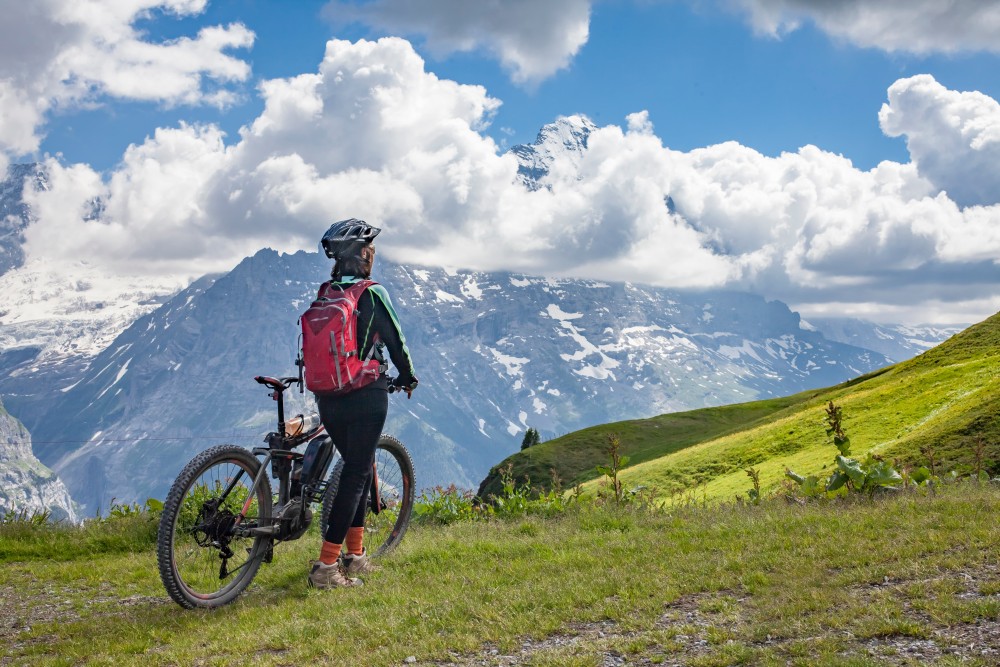 Why Do I Need Suspension on My eBike:
Bicycles help you travel over many different terrains, but as an experienced biker will tell you not all terrain is equal. Flat roads may offer a smooth riding experience, but gravel, loose dirt, hills, cobblestone, and other bumpy terrain will all cause tension, vibrations, and shock in your bicycle. The occasional rough patch might be tolerable with a standard bicycle, but long term riding over uneven terrain will not only make riders sick, but can lead to bruising and other injuries due to the amount of shaking and shock that comes from riding a bike.
Suspension systems are specifically incorporated into bicycles to make riding over uneven terrain not only safer, but easier to navigate with the improved traction provided by the suspension system. Bikes help suspend riders (hence the name), acting as a insulation system against the shock and vibrations that come from riding over difficult terrain. There are a large variety of suspension systems available on the market, and range from a single component to several components together to the whole bike frame having suspension support. However, suspension systems do impact how you ride your bicycle, and have unique pros and cons you'll want to consider before adding suspension components to your bike frame.
Pros of Bike Suspension on a eBike:
Greater Comfort. The suspension system acts as a major shock absorber that reduces the overall strain you feel while riding over bumpy and uneven terrain. Suspension is effectively mandatory if you want to ride over a mountain trail without getting sick, besides those who want to ride more than a few minutes without wearing their arms out.
Greater Control. Suspension systems often improve the traction of a bike as well, helping both tires stay on the ground and more level with each other when you ride. The level of control is affected by the type of suspension you get, with major gains if its wheel suspension and minor gains if its a seat post or saddle suspension system.
Greater Lifespan: While suspension systems do require periodic maintenance, suspension systems do cause most eBike frames to have a longer overall lifespan as well. By absorbing much of the shock that comes with riding over difficult terrain, your eBike won't get worn down nearly as quickly as it would with a non-suspension system. This is especially true for mountain bikers, where a traditional eBike with no suspension will get worn out and break down even after a couple months.
Cons of Bike Suspension on a eBike:
More Expensive: The most obvious con that comes with using a suspension system is that it's going to increase how much you pay for your eBike. Even something as simple as a suspension stem and saddle can cost over $50 to $100 dollars, with full suspension systems costing up to $1,000 dollars or more. While suspension systems do improve performance and comfort, this is not an inexpensive upgrade you can make.
More Weight: Electric bikes already have the problem of being heavier than traditional bikes due to their electronic components, and suspension systems are going to make your frame even heavier. The heavy weight of the frame is part of the design, with heavier bikes typically offering better shock absorption, but if you go for a full suspension eBike you may wind up with something that weighs more than 80 lbs, with some premium bikes even weighing more than 100 lbs.
More Maintenance: Suspension systems require oil changes, seal replacements, and more maintenance that will have you going to the bike shop more often than a traditional bike. If you don't maintain your suspension system properly, not only will your suspension not do anything, it might end up subtracting from the overall performance of your bicycle.
Are Suspension Systems Different on eBikes:
Now that you know the major benefits and disadvantages of a suspension system, you might be wondering how suspension systems differ on eBikes compared to traditional bicycles. For the most part, suspension on a traditional bicycle and eBike are going to be the same, and in some ways suspension actually benefits more from being included on an eBike. Electric bikes are naturally heavier due to their motor, battery, and other electronic components, so with their thicker and larger frames eBikes tend to already offer greater natural suspension that makes it easier on any suspension upgrades also included on the eBike.
Some dedicated, full suspension eBikes also have dynamic suspension control. Electric bike motors are controlled with a display remote, and on some eMountain bikes the display will have features that will let you adjust your suspension without having to resort to manual tools. As eMountain bikes and full suspension eBikes grow more popular by the year, we're excited to see other innovations that will allow the motor to benefit and take advantage of the included suspension support.
What Suspension Do I Need For My eBike?
The level of suspension you need for your eBike is going to depend on what kind of riding you intend to do.
If you are a dedicated city rider who doesn't have many unpaved roads to cross or hills to climb, you require little to no suspension. Many city eBikes come with either a small suspension fork or suspension saddle, which is often enough for the typical urban cyclist. It might feel a bit rough when you hit the occasional pothole or have to cross over cobblestone or gravel, but otherwise you probably don't need to upgrade your eBike with any additional support.
If you live in a more rural area or do have a tricky hill or dirt road to cross as part of your daily commute, a hybrid eBike or moderate suspension support will be beneficial. A hardtail eBike (an eBike with serious front suspension) or hybrid eBike is designated for all-around use, and are meant to be ridden over smooth trails and paved asphalt alike. If you find yourself sticking to the city but feel uncomfortable, or you want to go on the occasional mountain bike trail with your friends, front or moderate suspension support is what you'll want in your eBike.
If you want to get some serious trail riding or mountain biking in, or you suffer from back or joint issues, then you will want to buy or upgrade your eBike with full suspension support. Dedicated mountain bikes have full suspension support, though you can find a therapeutic or shock absorbent hybrid and even city bike with full suspension support as well from time to time. Full suspension eBikes can be ridden on flat and smooth surfaces as well, and they'll feel great to ride if you don't mind that you'll be noticeably slower than your typical non-suspension based eBike.
Should I Upgrade My Suspension, or Buy a Full Suspension Frame Outright?
The last major question we want to address that is common for cyclists is whether it's better to upgrade your existing bike with suspension, or if you should just buy a new full suspension eBike altogether.
Each option has its own pros and cons, just like suspension systems themselves. Upgrading your eBike with new suspension components is going to be less expensive than buying a new bike outright, but it can lead to performance issues and won't provide the same support as a dedicated full suspension frame. However, if you are mostly sticking to city riding, just upgrading a few components with suspension is the better offer since you won't lose out on the speed and handling, with upgraded city bikes much better for urban riding than dedicated full suspension bikes.
Buying a full suspension eBike, on the other hand, is the better option if you are looking to go on some serious trail riding. While you can swap out the wheels and other components for greater suspension support on a city or hybrid bike, it just won't provide the same comfort, stability, or traction on a tough trail or downhill descent as a full suspension eBike. Dedicated mountain biking enthusiasts, or those with severe joint pain, will definitely just want to buy a dedicated full suspension bike rather than try to upgrade their current bike piecemeal.
Conclusion: It Depends!
Serious cyclists often have two different bikes depending on the situation. If you're able to afford it, the best answer to this question is to have a dedicated city bike with small to moderate suspension upgrades, and a dedicated mountain bike built from the ground up for trail riding. As eBikes become more popular, a number of solid, secondary bike options are becoming more affordable by the year. Keep an eye out for a sale or for when a company is clearing out inventory, and you'll wind up with a good secondary bike that will help you ride comfortably without having to completely overhaul your preexisting bike with suspension support.