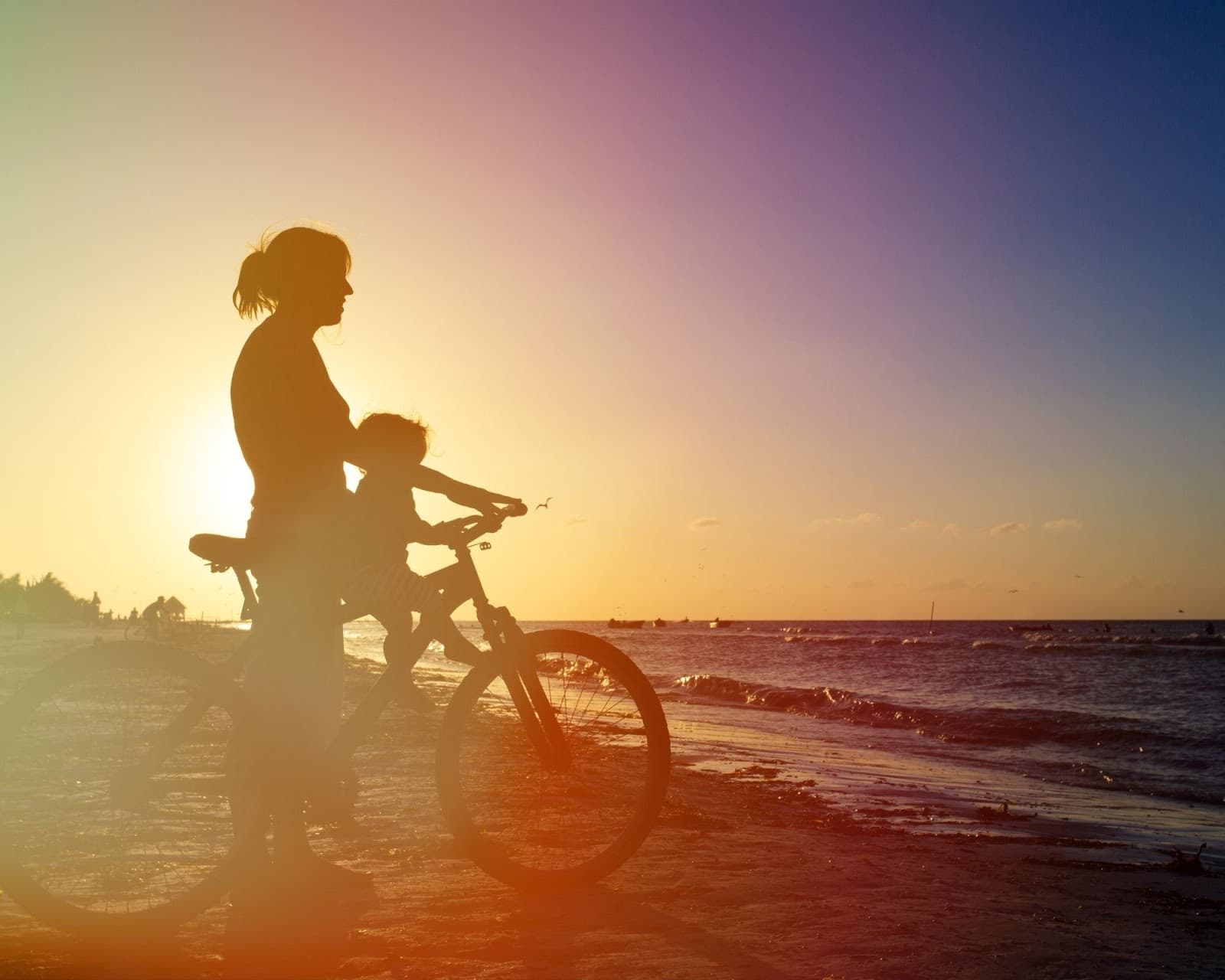 You're attached to your little bundle of joy at the hip. But hauling a baby around makes everything a chore. Diaper bags, bottles, extra clothing, and baby seats make maneuvering around a challenge.
But you're not ready to dump your electric bike for a minivan on every trip. Not only does your e-bike save money while commuting, but it's also a great way to get fresh air, sunshine, and exercise. That's good for you and your baby. But how young is too young? Let's dig in.
Can You Ride an E-bike With A Baby?
While there are child seats available for the back or front of your e-bike, those are for children 9 – 12 months and up. The idea is that at this age, a child's neck is strong enough to support its head with a helmet on it as you bounce and swerve down the road.
But what about children under nine months? If the child seat isn't an option, how can you take a smaller one with you? A tow carrier is an option for babies and toddlers. But is it safe, and what does the law say about it?
Safety and The Law Regarding E-Bikes and Babies
Many states require a bicycle helmet on children under the age of 16. This includes children sharing a bike with a parent. However, as of this writing, nobody manufactures helmets for children under nine months old. Also, doctors don't even think helmets are safe for this age group.
Babies have a soft spot on their heads where the skull has not closed. This makes babies very vulnerable to injuries from being bumped, jostled, or shaken. For example, being bumped around in a baby carrier (even in a well-padded baby trailer) could cause traumatic brain injury.
So while there is no explicit nationwide ban on transporting babies on a bike or e-bike, it's not safe. And in many states, it's not lawful until they can wear a helmet.
From a safety and legal standpoint, the bottom line is that you must wait till your baby is 9 to 12 months old before riding with them. So for sunshine and fresh air, get out and walk or jog with your baby!
And in an attempt to be crystal clear on this matter: each situation is different. 9-12 months might be ready, it also might not be. Err on the side of caution, and wait a little longer if you're feeling unsure about taking your baby out for a ride.
How You Can Ride Safely With Your Baby and Toddler
Your older infant (9-12 months) and toddlers (1-4 years old) can safely ride with you on your e-bike. It's not enough to hop on and take off, though. Here are some tips to keep your baby safe and happy!
Be sure the trailer is padded to absorb impacts and provide cushioning. Use those straps as well.
One flexibility of bringing an older child on a ride is where they can sit. You have the trailer option, but also front or rear upright mounted child seats.
Staying off busy roads with little or no shoulder will keep you and your little one safe. Instead, try to find areas with bike paths or broad shoulders to increase safety.
Have your child wear a helmet. Knee and elbow pads are excellent, too, if there's a chance you might take a spill.
Try to stay on road level. Using sidewalks can be dangerous for a variety of reasons.
Avoid bumps or steep terrain. A bike towing a trailer can't handle tight turns, ultra-steep hills, or hitting rough areas. Also, avoid loose gravel or other sites that make it hard to stop quickly.
A sturdy kick-stand will allow you to get your child into the seat properly before mounting the bike yourself.
Always ride with the flow of traffic. Of course, this is important when riding alone as well, but more so when you've got precious cargo aboard.
Always check your brakes and other components before zipping off. And make sure you have all safety equipment: reflectors, lights, bell, horn, etc.
No headphones, stay alert, enjoy the ride!
Once your baby is old enough–and with proper precautions–electric bike riding is a safe, fun, and healthy way to spend time bonding with and enjoying your child. Give us a shout if you have any questions about how you can safely ride with your little darling.