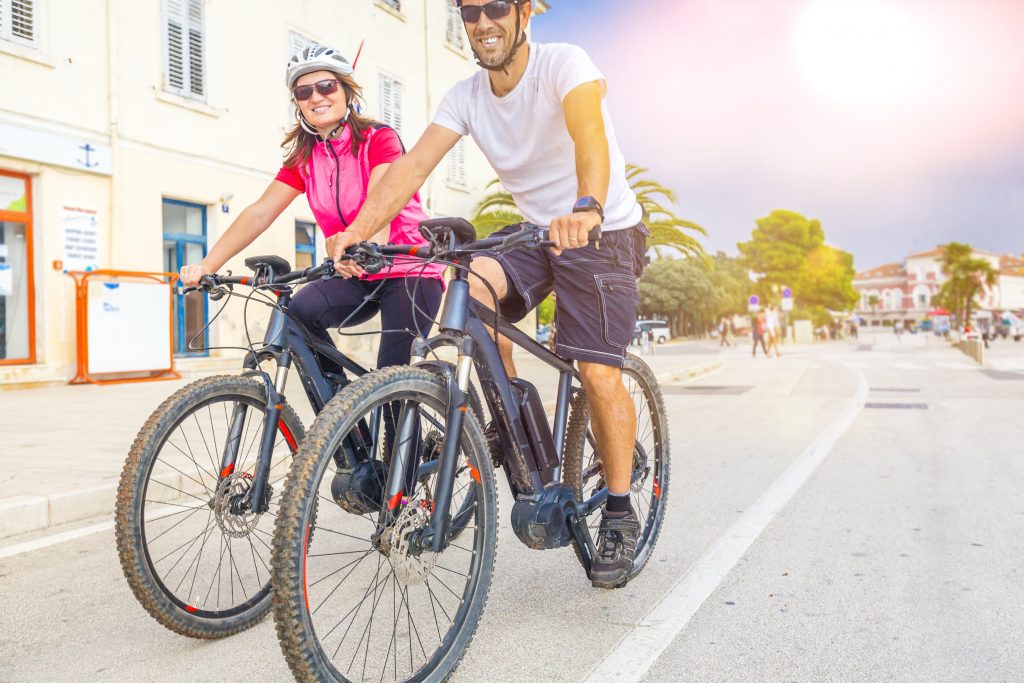 With eBikes growing more and more popular by the year, you've probably wondered if you need a license to ride an eBike. The answer to that question is no, you don't! While they are expensive, most eBikes can be purchased at any age as long as you have the money, with the rules and regulations to purchase and ride an eBike almost exactly like a traditional eBike. You will want to consult your local authorities as specific laws will vary by city, state, territory, and country, but for the most part you will not need any additional licensing to operate an eBike.
However, it's important to know why you don't need a license to ride an eBike, and also how that could change in the future. When it comes to eBike usage and regulations, here are a few of the most important aspects to remember:
The Three eBike Class System:
How eBikes are regulated and categorized varies by country, but multiple national and worldwide biking organizations have pushed for the three class eBike system now used by many groups and governments throughout the world. If you are interested in learning the history of the three eBike classification system or just want to understand the classes in greater detail, we invite you to read our in-depth guide detailing the class system at this link.
To summarize the three eBike classes and categories, they are as follows:
Class 1 eBikes: Pedal activated motor power assistance up to 20 MPH.
Class 2 eBikes: Throttle activated motor power assistance up to 20 MPH.
Class 3 eBikes: Pedal activated motor power assistance up to 28 MPH. May or may not also include a throttle power assist option as well up to 20 MPH.
All other aspects of eBikes are the same across the three aspects. The 20 MPH and 28 MPH speed limits were selected as that is the fastest you can go with a motor before requiring a license. These speed limits can be exceeded on eBikes, but only through manual pedaling, with motor power assistance cutting off at 20 MPH or 28 MPH depending on your class of eBike.
Now, there are technically eBikes that provide additional power assistance past the 28 MPH speed cap, but they are not considered a traditional eBike and are typically not found on the general retail market. These often custom eBikes are not considered as traditional eBikes, and will require the same licensing to operate as is required for a motorcycle if ridden on the road. However, as these are generally only found online or in certain dedicated bike stores, 99% of the eBikes you encounter will fall under one of these three classes.
Where Can I Ride my eBike?
The other major question we often get is that if I don't need a license to ride an eBike, can I ride it anywhere I can ride a normal bicycle?
The answer to that question will depend mostly on where you live, so be sure to consult your local authorities lest you go somewhere you aren't supposed to and wind up with a ticket. As our team is primarily made up of American bicycle riders, we can discuss the general eBike rules and regulations when it comes to riding in the United States of America.
While eBikes are legally classified as a distinct motor vehicle different from bicycles, the current regulations at this time of publication is that unless otherwise stated, you can ride a eBike anywhere you can ride a traditional bicycle. All of the rules, regulations, and expectations associated with riding a traditional, non-motorized bicycle are the same for electric bikes.
However, local authorities do have the right to designate trails for traditional bikes only, for eBikes only, or for certain classes of eBikes only. Furthermore, while the rules are generally the same, local authorities can set a larger penalty for breaking a rule while riding an eBike than the fine would be for breaking the rule with a traditional bicycle. Any rules or regulations related to eBikes do not have to be posted specifically at a trail head either, so we once again invite you to consult your local authorities and read up online if you have any questions about eBike usage in your area.
Proper Etiquette with Your eBike:
While you may not need a license to operate an eBike, showing proper etiquette and obeying the common rules of biking will go a long ways in ensuring that eBikes can be freely used by everyone without additional licensing. Because eBikes are a relatively new means of transportation, and you may not be experienced at riding them just yet, here are a few suggestions we have to ensure that riding will be a pleasant experience for you and those around you:
Avoid using your motor on wet, muddy, or otherwise soft and vulnerable trails. The motor power can tear up the trail, causing it to dry out into an unnatural formation that other cyclists will be unable to enjoy.
Additionally, be considerate in how you use your motor power settings depending on where you ride your eBike. Using turbo mode settings to keep up with traffic in the city is fine, but using turbo mode settings on a calm, back mountain trail will probably be excessive. Certain trails even have certain requirements on what power settings are allowed with your eBike motor, so cut back on the power if you're going on a trail ride unless you hit some very steep sections.
Do not activate your motor when riding past animals. The noise produced by the motor can startle large animals, and also disturb the natural living environment of smaller local animals as well. Failure to turn off your motor while riding by animals is one of the few areas where there are specific fines associated with eBike usage.
Stay on existing trails, and do not try to cut down switchbacks with your motor. This is both out of consideration and out of safety, and many riders overestimate the level of control they have with their eBike. Due to the higher speeds and heavier frames, crashing with an eBike will often result in more serious injuries than with a traditional bike.
Be especially respectful to all non-motorized trail riders. Multiple agencies that govern US land either encourage or require that you carry a whistle or bell to alert non-motorized bicycle riders when you approach them from behind. Furthermore, you are expected to yield the right of way to all non-motorized bicycle riders, no matter which direction you are approaching each other from.
Please remember to obey all local laws and regulations. Unless there is a specific discrepancy that puts the law in conflict with federal rules and regulations, you are expected to know and obey state laws that govern bicycle riding and eBike riding alike. If you require assistance understanding the laws, try to reach out to your local authorities, along with local biking clubs and associations.
Conclusion: Know the Law, and Have Fun!
The local laws and regulations may vary from area to area, but it often takes just a few minutes to learn what they are. Obeying the law is important, as the more obedient eBikers are to the law, the less likely stricter regulations will be passed down the line regulating who can ride an eBike. If you are old enough to ride a bike and follow proper safety rules, you are considered old enough and able to operate an eBike in many parts of the world. So, be careful, be considerate, and remember to have fun since you likely meet all of the requirements for you to get out there and start eBiking!