Welcome to our spec review of the iZip Brio eBike! Due to the high demand and newness of the iZip Brio, we haven't had the chance to try out the new eBike for ourselves just yet. However, by comparing the new model to older iZip model eBikes, and by examining the components and parts it shares with other eBikes, we did manage to develop this spec review of the iZip Brio. With our spec review, we hope to give you a general idea of what to expect when it comes to the overall feel and performance of the iZip Brio electric bike!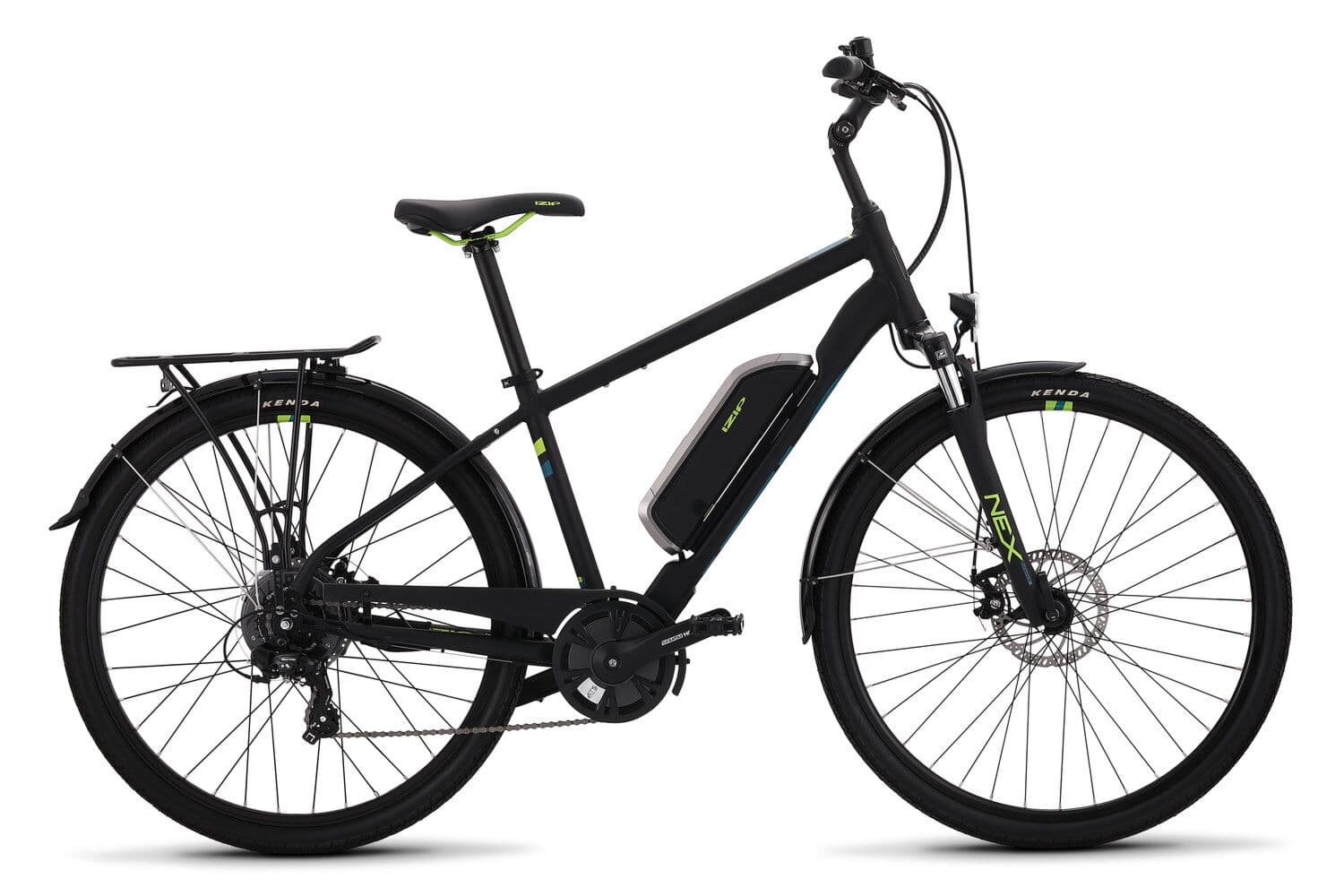 Electric bikes are becoming more and more popular by the year, but as more advanced models come out it can be hard to find a simple, inexpensive eBike you just need for getting to work. That is why we would recommend the iZip Brio, an entry-level eBike that might not have a ton of advanced features, but offers great performance that will make every ride on the iZip Brio a blast. The iZip Brio is available in both a step over and step-thru style, and with two additional sizes for each frame style, shorter and taller riders alike can enjoy this very durable electric bike. The 60 Nm motor is strong enough to help you climb most city hills, and with a long-lasting SR lithium 410 Wh battery you can travel up to 50 to 60 miles on a single charge as well. A 7 speed Shimano drivetrain with additional steel fenders and plastic chain guide is well protected and highly reliable, coupled with powerful Tektro 180 mm rotor mechanical disc brakes to help you come to a smooth stop wherever you ride. So, if you would like to try out an eBike for yourself and want a very affordable way to do it, the iZip Brio is a great option with a lot of value for daily commuters or those who want a new way to explore their home city.
Bike Category: Class 1: Pedal assist to 20 MPH
Who It's For: Affordable city eBike designed for comfortable commuting and exploration around the city.
Bike Specs
FRAME: Lightweight Hydroformed 7005 Alloy
UI/REMOTE: SR Suntour Multi-Function LED Display
BATTERY: SR Suntour Li-Ion 410Wh Downtube Mounted
CHARGER: SR Suntour 2 Amp, 36 Volt
MOTOR: SR Suntour E25 Rear Hub Brushless Motor, 400W / 60 Nm
CHAIN: KMC Z7
SHIFT LEVERS: Shimano Altus Rapid Fire Triggers on Right
CASSETTE: Shimano HG-200 12-28 Tooth
CHAINRINGS: 42 Tooth Steel Chainring with Plastic Guide
DERAILLEUR: Shimano Tourney, 7 Speed
RIMS: 700c Alloy Double Wall, Anodized Black, 36 Hole
TIRES: Kenda K-1172, Blackwall, 700x45c
SADDLE: IZIP Custom Ergo Performance
STEM: Alloy Quill, Adjustable Angle, 90mm, 25.4mm Clamp Diameter
HANDLEBARS: IZIP Ergo Comfort Alloy Bars
GRIPS: IZIP Ergo Comfort Control
BRAKES: Tektro Mechanical Disc, 180mm Rotors
PEDALS: Resin Body Urban, Black
KICKSTAND: Adjustable Kickstand
BELL: Alloy Bell
HEADLIGHT: LED Light
TAIL LIGHT: LED Light
FENDERS: Steel Fenders
Pros
A great city electric bike, whether for commuting to work everyday or just taking the time to explore town while getting a great workout in. Available in two sizes and two styles.
7005 aluminum alloy frame. Weighs just 56 lbs, so while heavy it does come in on the lighter side of eBikes we've had the chance to review in the commuter class.
Class 1 eBike with a 20 MPH pedal activated motor assistance speed cap. On a full charge, you can typically travel 50 to 60 miles before your motor runs out.
Quality drive system. The Shimano drivetrain is designed to enhance your riding cadence, consisting of a Shimano 7 speed HG-200 12-28 Tooth Cassette with a 42 T Steel Chainring.
SR Suntour E25 Rear Hub Brushless Motor, 400W / 60 Nm motor provides plenty of power to keep up with traffic and climb the occasional steep hill in the city.
Easy to use SR Suntour Multi-Function LED Display. Monitor your speed, power assist, and battery level without getting distracted by any other metrics while you ride.
Kenda K-1172, Blackwall, 700x45c Tires are a bit wider than your typical city tire, but they provide great stability while still having good acceleration on paved roads.
Very powerful 180 mm front and rear Tektro mechanical disc brakes. They're easy to adjust and maintain too, and don't squeak much either even when you stop quickly.
Front and rear LED lights improve the rider's profile. With a rear cargo rack, steel fenders, adjustable kickstand and a bell, the bike is already loaded with extras.
Cons
Good overall bike, but with some basic, entry level parts you may want to swap out. The plastic pedals won't withstand a big crash, and are especially worth upgrading.
The fixed display is among the most basic on the market. Not a problem if you don't care about your personal riding stats, and it does help cut the price down as well.
Torque based system isn't as accurate as a throttle or cadence detecting pedal system. Causes you to often waste power, and can lead to some jerkiness while starting off.
Front mounted LED light is strong, but by mounting it on the fork it tends to bounce and provide unsteady lighting when riding over a bumpy road.
Features
7005 Aluminum Frame
7005 aluminum is one of the common aluminum alloys used for eBikes, as it provides for a largely lightweight construction with great durability. The 7005 aluminum frame is available in four different sizes, with two step over variants and two step through models as well.
SR Suntour Li-Ion 410Wh Downtube Mounted
The long lasting battery is very easy to mount or remove, and can be charged while on the bike or indoors with the packed in charger. On a full charge, you can expect to travel between 50 to 60 miles with the iZip Brio electric bike.
SR Suntour 2 Amp, 36 Volt
A lightweight and easy to use charger, offering average performance when it comes to recharging power for an eBike. Estimated time to fully charge from 0% to 100% is between 5 to 6 hours.
SR Suntour E25 Rear Hub Brushless Motor, 400W / 60 Nm
A rear hub motor that provides great power for navigating the city, with enough torque to help you climb the occasional hill as well without rapidly draining the battery. As a class 1 eBike, you can travel up to 20 MPH with pedal activated motor assistance.
SR Suntour Multi-Function LED Display
Very basic display, but one that sits comfortably on your handlebars and will make sure you focus on the road while you're riding. Reports your MPH and battery level, and is used to control your lights and level of power assistance.
Shimano 7 speed HG-200 12-28 Tooth Cassette with 42 T Steel Chainring
Solid Shimano drivetrain that doesn't offer many options, but is great and consistent if you want a reliable machine for traveling through the city. Tight chainring and plastic guide really help the chain steady itself when you hit bumpy and unfinished roads.
Kenda K-1172, Blackwall, 700x45c Tires
Wider tires built especially for city riding in mind, providing ample speed along with great stability so that you don't have to stick just to perfect roads while you're out exploring. 50 to 80 PSI inflation, with higher inflation especially better when you are traveling over concrete.
iZip Ergo Comfort Bars with SR Suntour NEX-E25 Suspension Fork, 63mm Travel
Adjustable low rise handlebars that, in conjunction with the two frame sizes, will help shorter and taller riders alike feel great while using the iZip Brio electric bike. 63 mm travel SR Suntour suspension fork further provides great stability and shock absorption, especially for a city commuter eBike.
Tektro Mechanical Disc, 180mm Front and Rear Rotors
The 180mm rotor mechanical disc brakes are more than sufficient to help even fast moving riders come to a quick and steady stop in the city. Highly adjustable and very easy to maintain, though the 2 finger Tektro levers do require a stronger pull in order to make full use of the brakes.
Black Resin Body Urban Platform Pedals
Plastic platform pedals that provide some solid traction support that should be enough for your typical city rider. More dedicated riders will probably want to swap these out for grippier, more durable aluminum pedals for a better daily riding experience.
In-Depth Review
Frame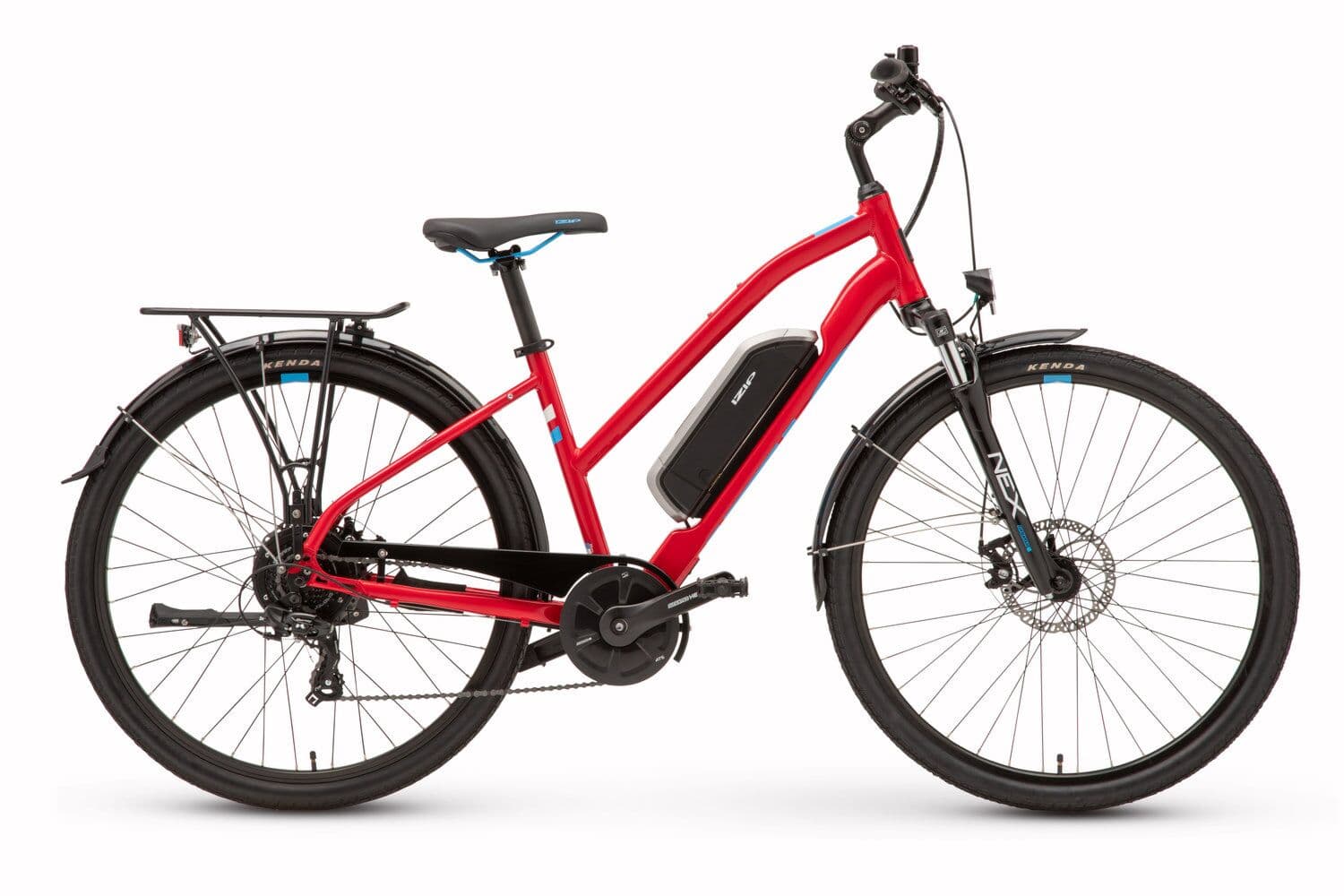 Many eBike frames rely on a 6061 aluminum alloy construction, but the iZip Brio utilizes a 7005 aluminum alloy variant instead. 7005 is a bit heavier than 6061, but it typically provides an even more solid and durable frame because of it. At 56 lbs, the iZip Brio is a somewhat heavy eBike to handle, though it is actually far lighter than many of the other eBikes that we've had the chance to review. The iZip Brio is available in two colors, consisting of the base black model and a custom crimson red variant specifically for the Brio Step Thru edition.
There are a total of four different iZip Brio eBikes you can choose from, as the eBike is available both a step over and step through bike, each of which has two different sizes to choose from. The step thru is recommended for riders between 5'3'' to 5'9'', while the step over is recommended for riders between 5'6'' and 6'. Due to the adjustable parts, we do think that riders who are a couple inches taller or shorter can still feel just as comfortable using the iZip Brio, with the step thru better for shorter riders and the step over better for taller riders. If you fall outside of the recommended size chart though, we would suggest trying a demo of the eBike before you make your purchase to get a better sense of how it rides.
All sizes and styles of the iZip Brio share the same components for the rest of the review, unless otherwise noted.
Motor & Battery
The iZip Brio is a class 1 eBike with pedal activated motor assistance up to 20 MPH.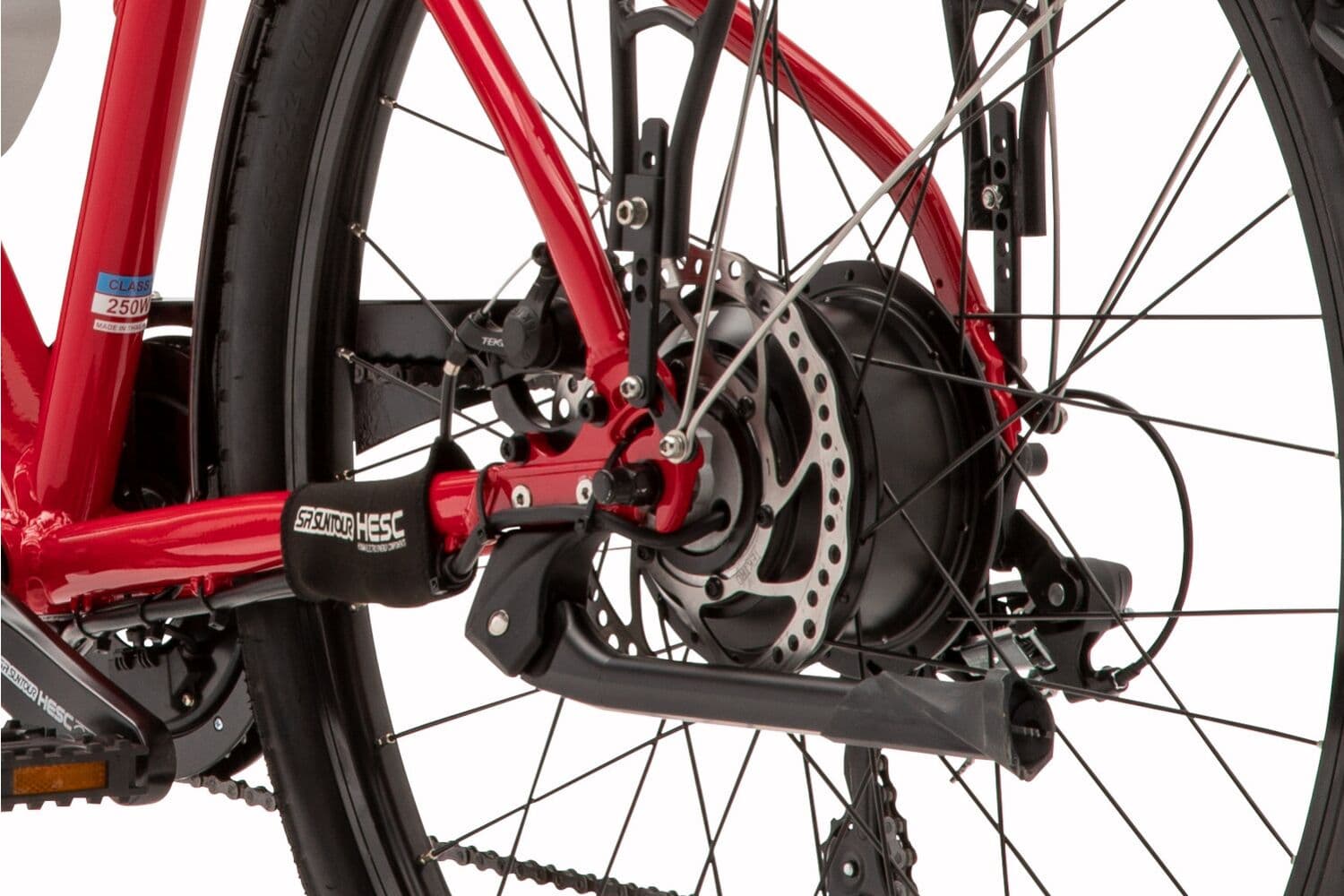 This eBike features a rear hub SR Suntour E25 brushless motor, with a max 400W output and 60 Nm max torque. 60 Nm torque is more than enough to travel over roads and climb the occasional hill, without draining the eBike battery so quickly that you're limited in your total riding distance. On a full charge, you can expect to travel between 50 to 60 miles, thanks to the mid tube mounted SR Suntour Li-Ion 410Wh battery. Overall, it's a great and reliable motor, but it doesn't have any advanced cadence measuring features or a throttle like some other eBikes. As a result, when you often start riding, you'll feel a strong jerk or push as you begin to pedal and cause the motor to activate. If you aren't in the correct speed mode, you may often wind up pedaling too hard to activate the motor as you cruise over easy streets, or may struggle trying to get the motor to work if you go up a hill. This is an entry level eBike though, so if you are hoping to save money and don't mind having too many fancy features, the iZip Brio is still a great eBike option to consider.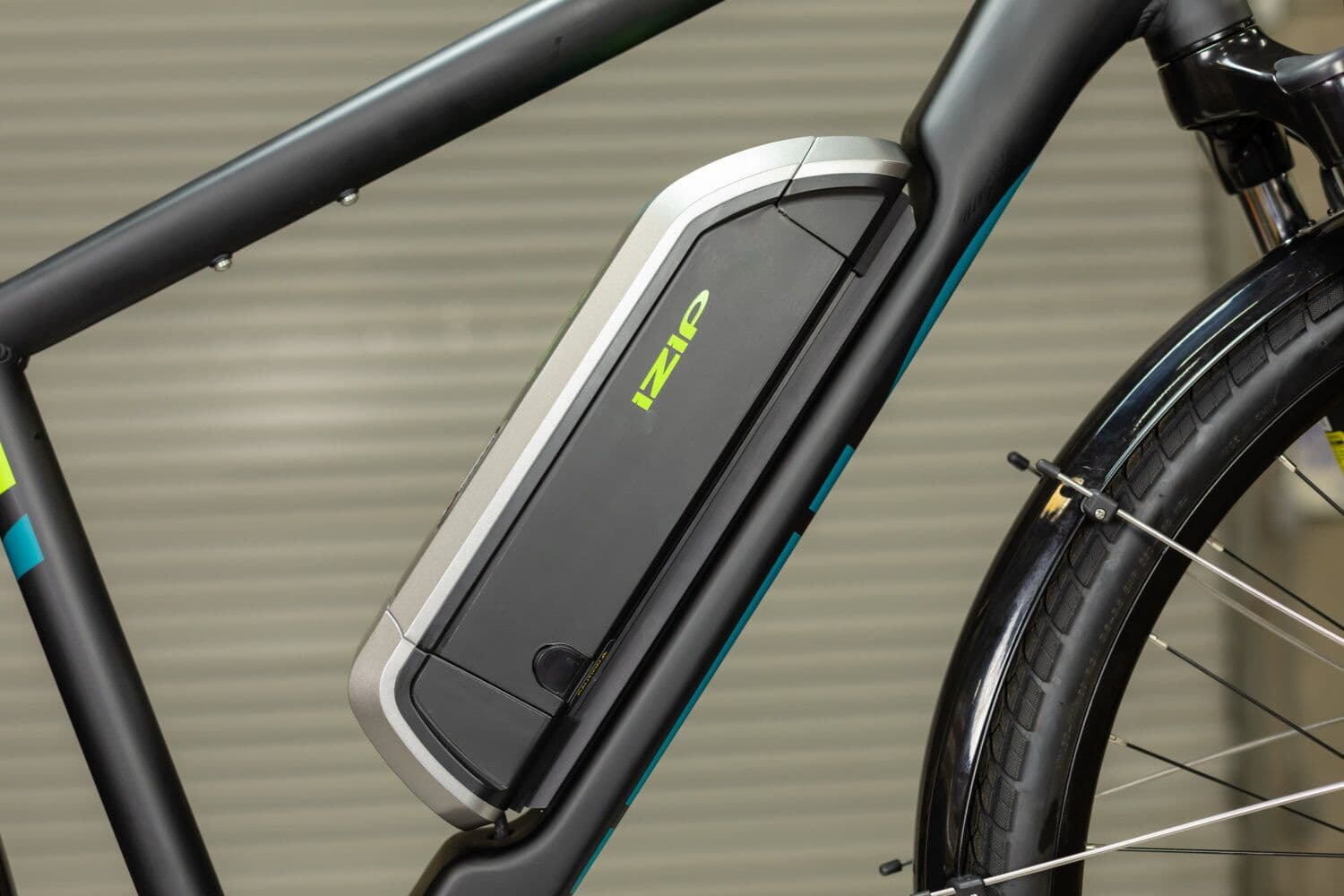 As mentioned above, you will find the SR Suntour battery mounted on the center tube, which provides you with great battery power without disrupting the overall weight of your eBike. Having a removable battery also means that you can charge it while directly mounted on the eBike, or take the battery inside with you so you can charge it at your desk. A 2 Amp SR Suntour charger is included with the iZip Brio electric bike, which is the typical charger you can expect at this price point. Recharging the battery from empty to full will take between 5 to 6 hours, though because you'll rarely drain the battery completely it will often only take 3 to 4 hours at most. If you do though, it's easy enough to plop your battery on your desk and recharge it at work, ensuring that you'll make use of the great motor once you're ready to head home for the day.
Display/Assist Modes
The SR Suntour Multi-Function LED Display is one of the simplest displays we've seen on a eBike, which is a good or a bad thing depending on your preference. Mounted on the left handle grip, the LED display will report your current MPH and your battery level, and will also help you change your power assistance level and configure your headlight and tail light. If you don't mind having an odometer and similar metrics found on other eBike displays, then this display will be enough for you. If you do prefer an eBike that does tell you about every aspect of your riding trip, be aware that the included display cannot be replaced, so you may have to consider another eBike option.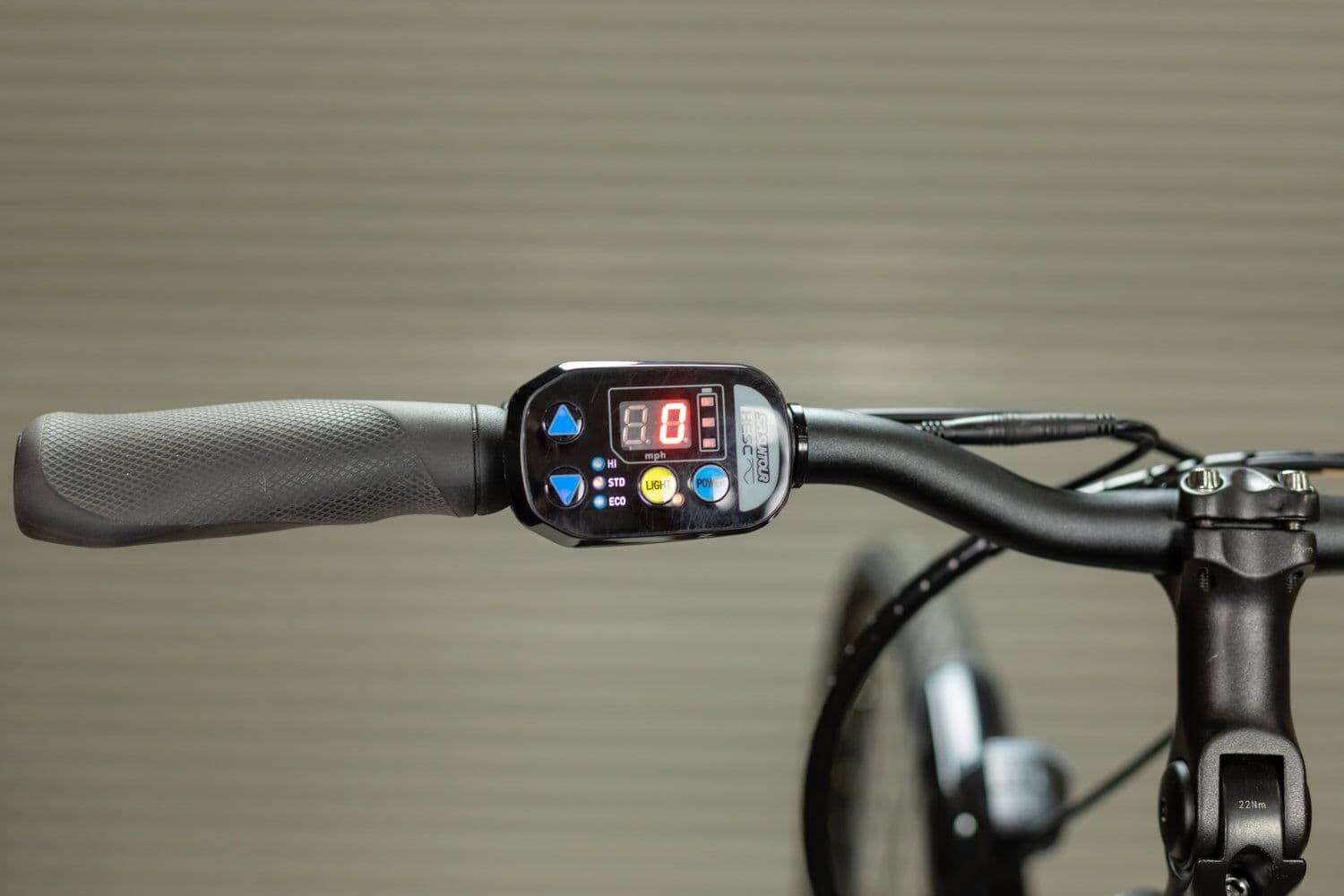 This is a Class 1 eBike, so as you pedal the motor will activate and provide you speed assistance up to 20 MPH. While the 20 MPH speed limit may seem low, especially given the strength of the motor, the speed cap is put in place so you can ride the iZip Brio without needing a license to operate it. Once you hit the 20 MPH speed limit, you can actually continue to pedal to cross the threshold, though the motor itself won't kick in until you fall below the 20 MPH cap. We also want to note that you don't have to use the motor either, and that you can ride the iZip Brio like a normal eBike even if the battery is empty or not in use.
There are three levels of automatic pedal assistance provided by the iZip Brio display and motor setup. They are as follows:
iZip Brio Motor Assistance Levels:
Eco Mode: Lower power mode that is suitable for casual riding or for getting in a great workout. Takes longer to get to 20 MPH, but it maximizes your range as well.
Standard (STD) Mode: A balanced motor assistance mode, and the only you'll be using for your typical daily commute. You'll get to 20 MPH quicker without sacrificing much in terms of overall range.
HI Power Mode: The highest power mode on the iZip Brio, this mode will help you get to 20 MPH much faster than the other two power modes. Great for hill climbing or for those who need to get somewhere fast, but be aware this mode drains the battery quickest.
Swapping the power mode is simple, since you just need to press the up or down arrow depending on your wanted power settings for any given riding situation. By being aware of your riding situation and choosing the appropriate motor level assistance, you'll maximize how far you travel with the reliable SR Suntour motor.
Handling
On Streets- The iZip Brio is made especially for city riding in mind, and it does so well if you stick to mostly paved roads and what you would typically expect in an urban environment. The wider tires provide added stability, and the 63 mm suspension fork is especially helpful for shock absorption and comfortable riding when you hit the occasional rough road patch.
Turn Radius- While the tires are a bit wider than what you may typically find in city tires, the iZip Brio still has a tight turn radius that makes it easy to navigate all around the city. Whether you need to make a sharp turn in order to make it through a alleyway or narrow doorway, or you're just trying to keep up with traffic without having to cross into the motorway itself, you don't need much experience to successfully handle the iZip Brio.
Low Speed Handling- Because it's only a 56 lbs eBike, this bike isn't too hard to handle if you need to walk around with it. Alternatively, the eco mode works great, so if you just want to ride the iZip Brio at low speeds without pushing yourself we would recommend just making use of the motor for help.
Gears/DriveTrain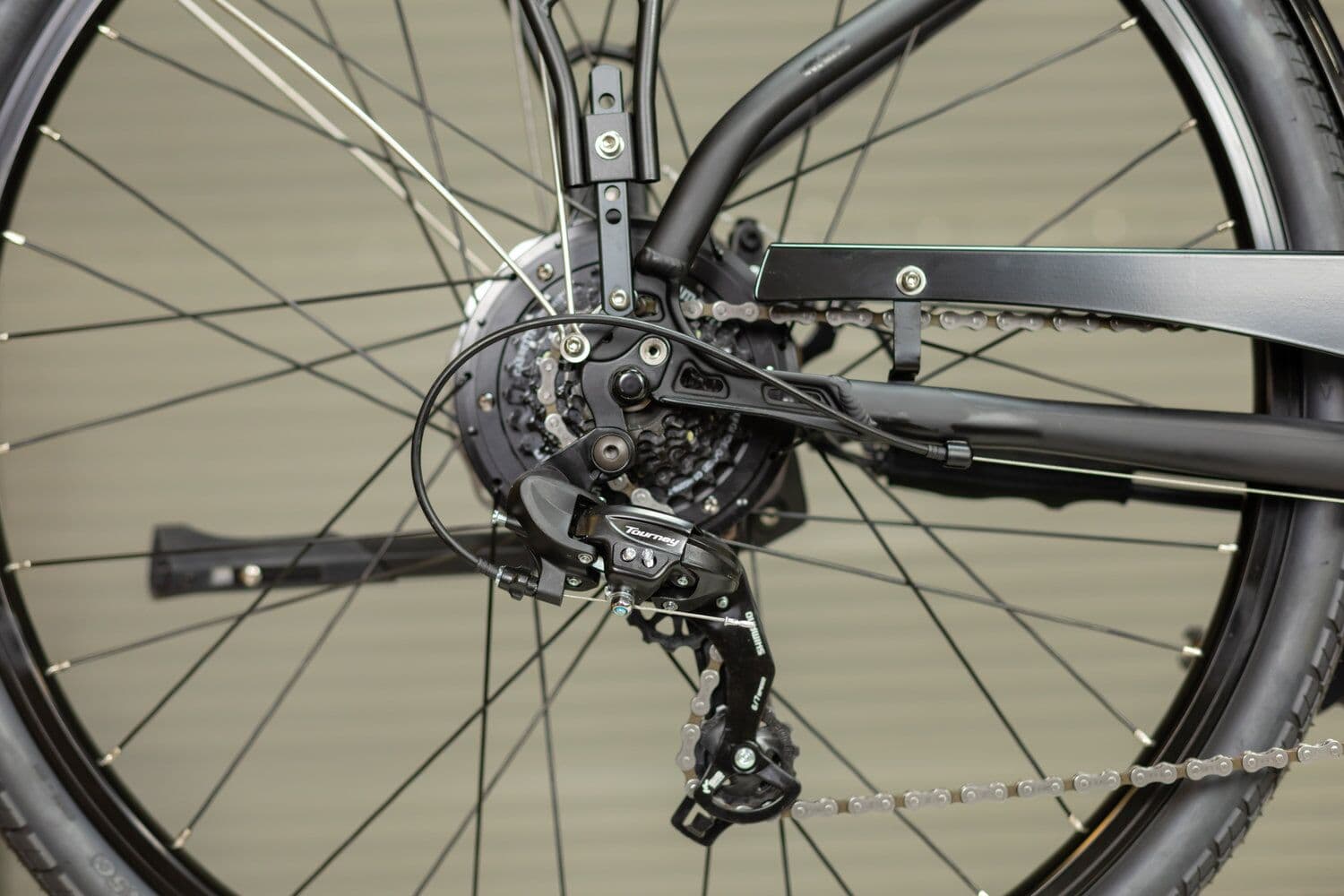 Whereas many of the other components on the iZip Brio electric bike utilizes Suntour components, the drivetrain itself has been made by Shimano, one of the most popular eBike component manufacturers. The drivetrain is made up of a 7 speed HG-200 12-28 T cassette, with a 42 T Steel Chainring that connects via a KMC Z7 optimized bike chain. The lower speed drivetrain may not offer much in terms of overall performance customization and finetuning, but it is a very reliable drivetrain, especially with the Shimano Altus Rapid Fire shifter and Shimano Tourney derailleur. A plastic guide is even thrown in that helps the chain stay in place when you hit the occasional rough patch, with steel fenders included to minimize the damage and lockups caused to the drivetrain by mud and debris. If you stick to city riding, you will hardly need to do much to maintain and repair the drivetrain, though fixing things when they do break is quite easy on the iZip Brio electric bike.
Brakes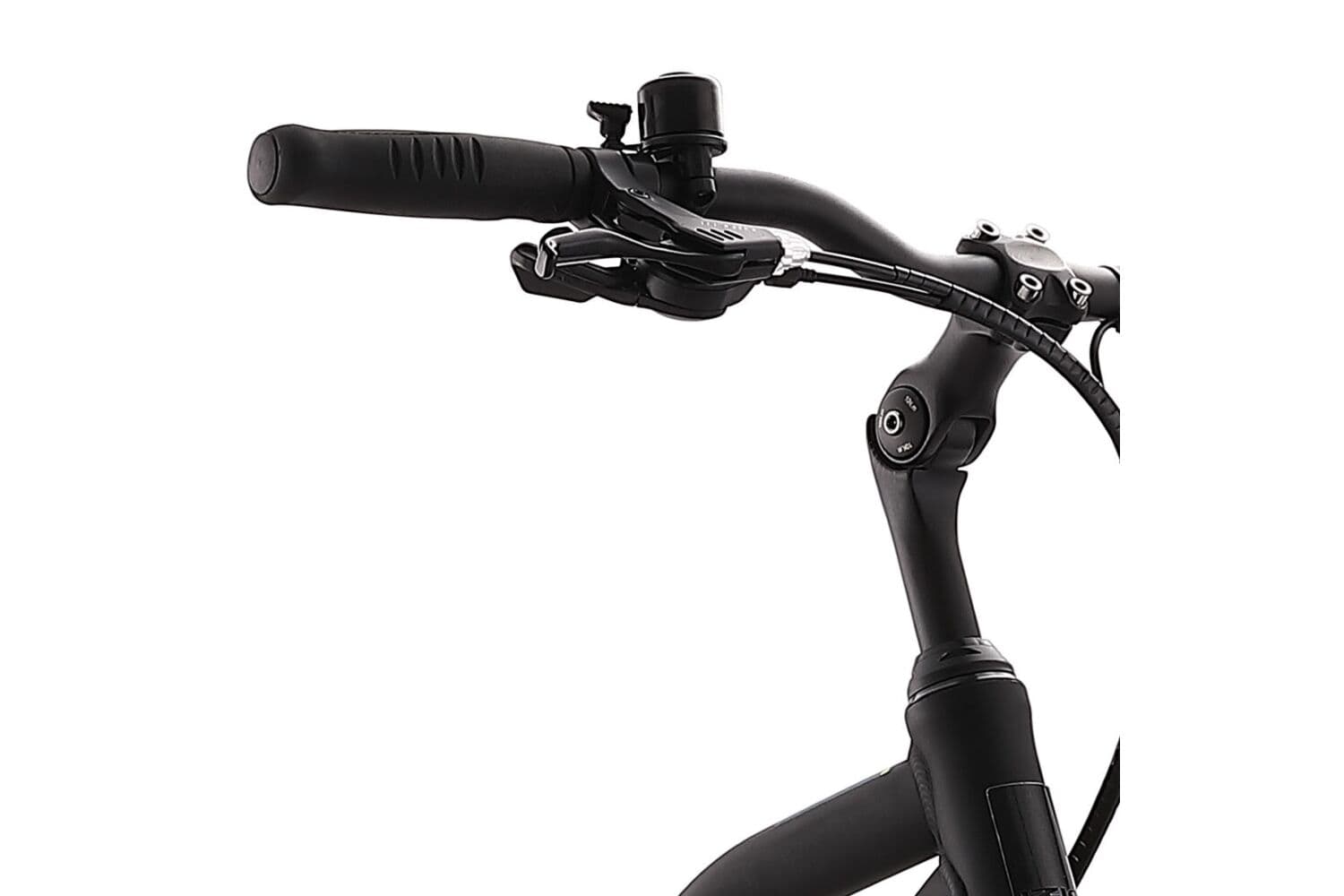 You don't need as advanced brakes on a city bike as you do for a mountain bike, but we're impressed nonetheless when brakes capable of supporting the latter are included on the former. The iZip Brio makes use of Tektro mechanical disc brakes, with 180 mm front and rear rotors so that you can come to a quick and steady stop on flat and hilly terrain alike. The brakes are connected to the motor system, so as soon as you pull on the brakes the motor will shut itself off automatically so they aren't competing with one another. By having an integrated motor and braking system, you'll come to a stop quicker while also extending the life of both systems before they need to be replaced. The brakes are top quality overall, and are even rather silent to use, but the one note you will want to be aware of is that the two finger Tektro levers have been noted as hard to pull by some riders. While this provides great feedback that confirms your brakes are working, it will take a couple rides to fully adjust to using the iZip Brio braking system.
Suspension
City bikes don't require a lot of suspension, but having some does mean your bike will ride more easily over cobblestone, loose gravel, potholes, and other uneven surfaces common in urban environments. The iZip Brio has a SR Suntour NEX-E25 Suspension Fork, with 63 mm of travel along with preload adjustment. While it might not be suitable for true mountain biking, this is good enough suspension that it would be able to ride over the occasional light trail without much issue, though you'll have to be careful that your drivetrain doesn't jam up while riding.
Pedals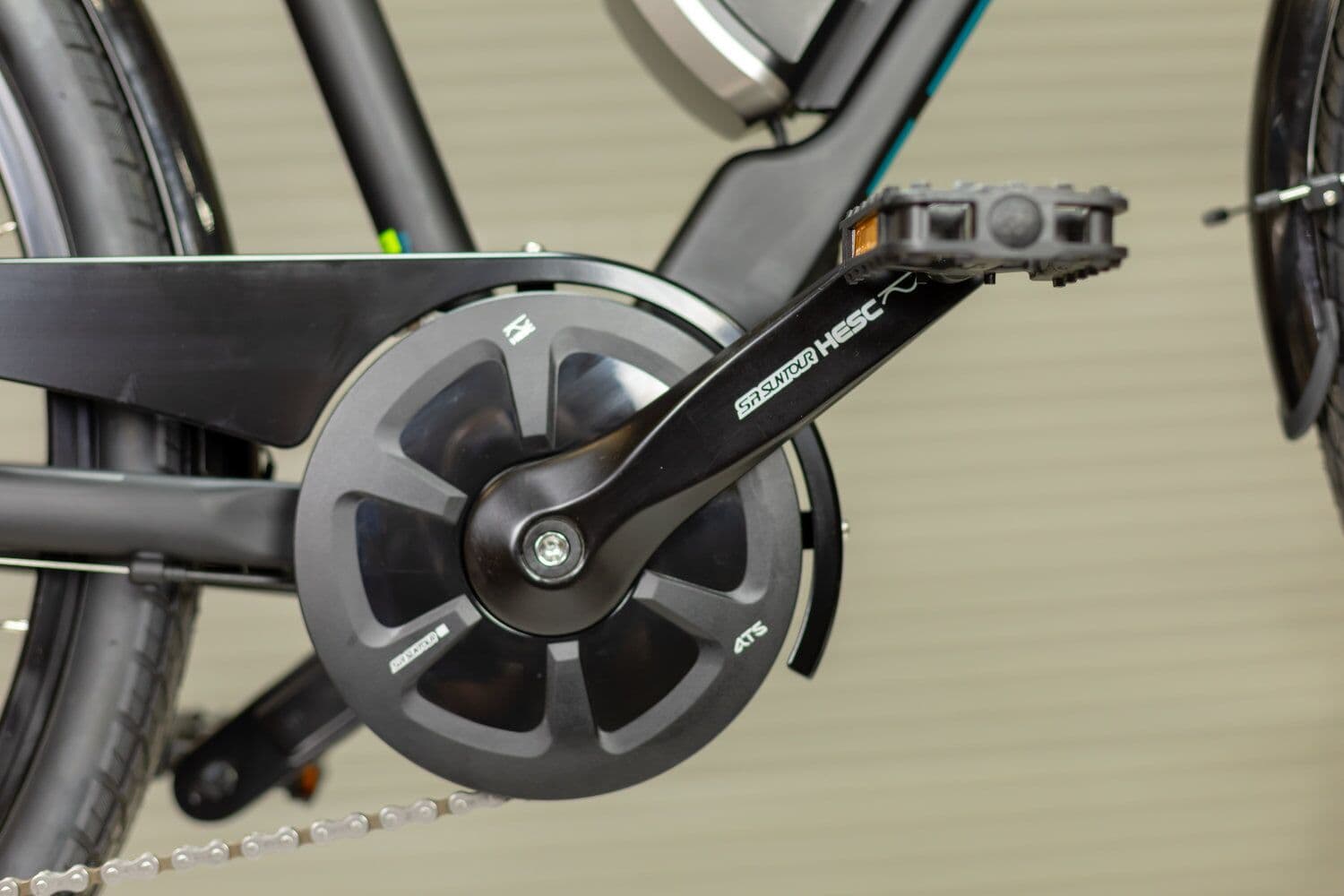 The one major component that we would recommend quickly upgrading and swapping out are the black resin body urban plastic pedal platforms included with the iZip Brio. They are good enough for casual riders, since they do provide some traction support to ensure you have a tight grip if you're riding with good athletic shoes. The pedals also have reflectors, making it safer to ride the iZip Brio since you'll be a lot easier to spot while traveling. However, plastic pedals struggle with heavier riders, and they also tend to break much easier when you have a big crash. As such, we would highly recommend swapping out the pedals for aluminum pedal platforms instead, since they're more durable and tend to feel better to pedal with as well.
Grips and Saddle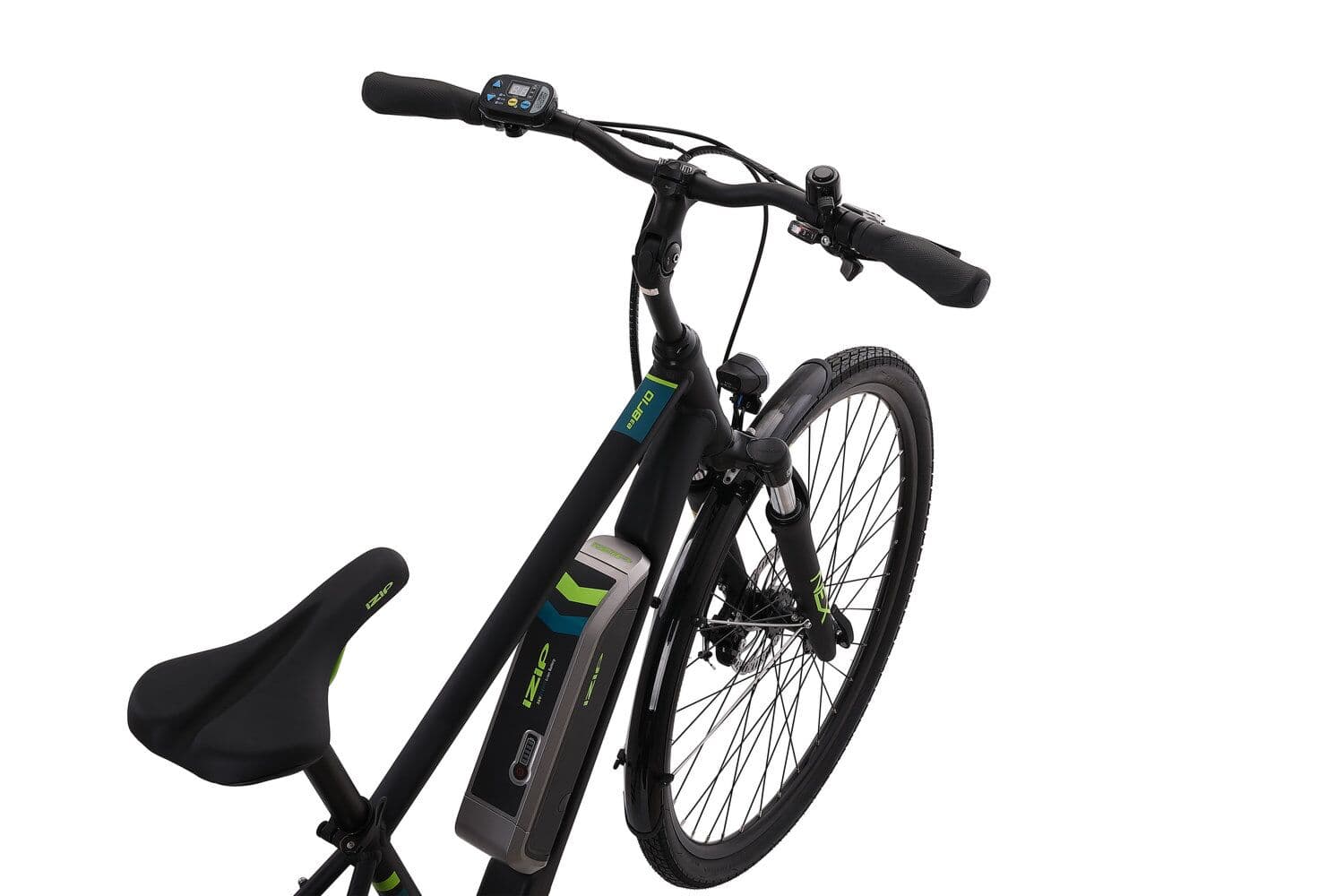 The iZip Ergo comfort control bike grips are ergonomic, so you can ride for hours without your hands chafing or clamming up even as you sweat from an intense ride. The rubber is cushy and nice to hold, but it's non-locking so it can be a bit of a pain to replace them once they eventually get worn out. Fortunately, the iZip custom ergo performance saddle is a bit more comfortable overall, and is very easy to swap out if you don't like how it feels. Both the seatpost and handlebars have some adjustability options, so you don't have to fit exactly within the recommended height chart in order to have an accommodating setup while riding the iZip Brio electric bike.
Wheels and Tires
The Kenda K-1172 700x45c/ 28''x1.75'' tires are a bit wider than what you typically find in a city tire, and while a bit slower and harder to handle you do have a more stable eBike overall for it. The tires have a recommended inflation rating for 50 PSI to 80 PSI, with the higher PSI best suited for smooth, pristine roads and the lower PSI great if you plan on riding on more bumpy and uneven terrain. The spokes are 14 gauge in the front and 13 gauge in the rear, with double wall aluminum alloy 36 hole rims. Stick to riding in urban environments and you'll hardly ever get a flat, though these tires do have some quick release settings that will make it easier to service them or swap them out when you do suffer the very rare occasional flat.
Accessories/Upgrades
Despite the lower entry-level price for the iZip Brio, it comes with a number of great accessories already that minimizes how many upgrades you'll need to get, if any at all. Steel fenders, a rear cargo rack, a LED headlight and tail light, an adjustable kickstand and even a bell are all included with the iZip Brio. In terms of highly recommended upgrades, we do think you'll greatly benefit from swapping out the plastic platform pedals to aluminum based platform pedals.
Recommendation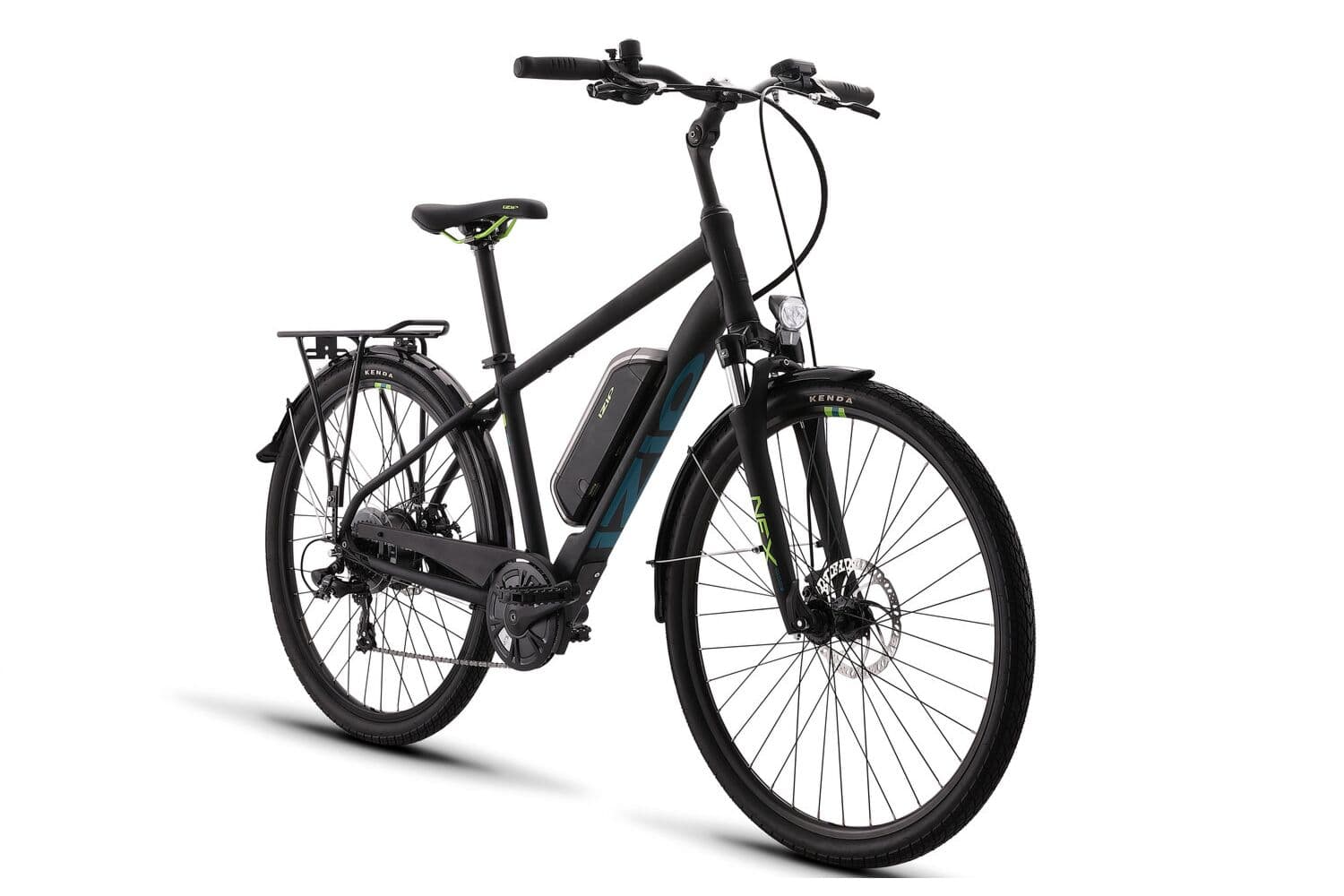 The iZip Brio is a great electric bike for urban riders, whether you want to travel to work with it or just want to check out your favorite store or restaurant without taking your car. The lightweight hydroformed 7005 alloy frame is a bit heavier than your typical 6061 aluminum frame, but it's more durable because of it and still only weighs 56 lbs fully assembled. The motor display is one of the simplest to use displays out there, providing good control over the 60 Nm SR Suntour E25 performance rear hub motor. With a 410 Wh SR Suntour battery, you can travel 50 to 60 miles on a single charge, and by taking the lightweight 2 Amp charger with you can fully recharge the removable battery while you work at your office. The Tektro 180 mm rotor brakes are more than enough for coming to a steady stop in the city, and the Shimano drivetrain is very reliable, with solid protection due to the steel fenders and plastic chain. Riding the iZip Brio is quite comfortable too, thanks to the rubber ergonomic grips and adjustable handlebars and saddle. The iZip Brio is a fantastic value due to the number of accessories and add-ons included with it at it's already low, entry-level price. If you want an electric bike that will help you get to work faster while still providing a great workout if you want, definitely consider going out with the iZip Brio electric city commuter bike!
Would you like to see us do an in-depth review and video review of the iZip Brio? Let us know in the comments below!