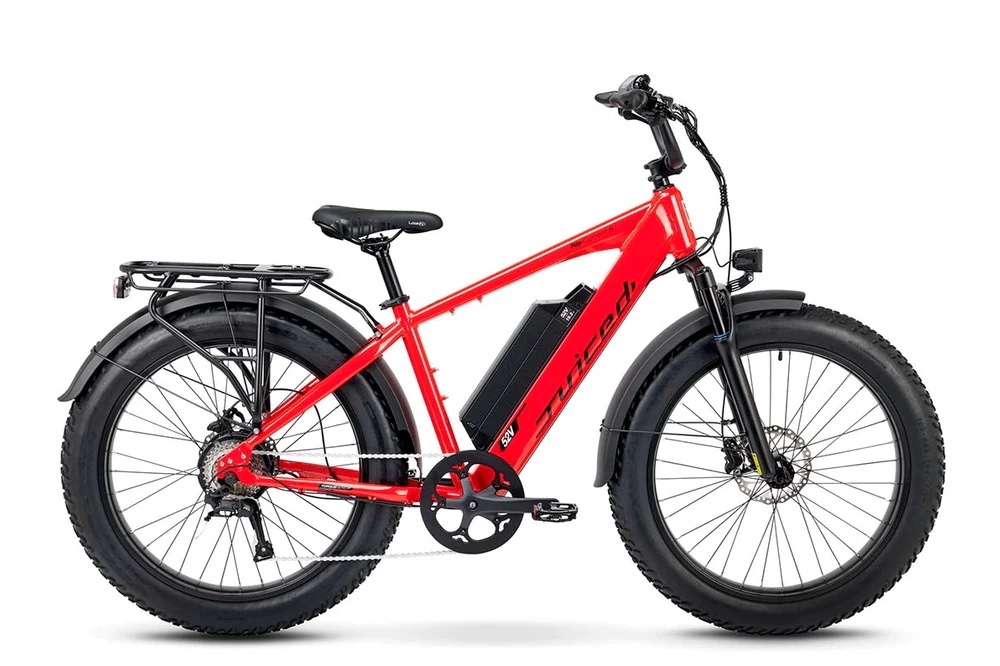 Intro
Commuter e-bikes are the mouse traps of the e-bike world. Everyone who makes them tries to outdo the other manufacturers with a collection of features to make theirs better than those from the competition. The Juiced CrossCurrent X enters the fray with a reasonable claim to be better than most. The challenge in making a good commuter is that because we know how long it takes to get to work by car, if the commute time grows unreasonably, we will be less likely to pull the e-bike in the morning for our trip to work.
In our Juiced CrossCurrent X review we will take a look at how its 750W Bafang hub motor and huge 998Wh battery make this a commuter for riders who want to keep their commute as short and speedy as possible. This is an intelligently designed commuter e-bike specifically aimed at riders who want to try to keep up with traffic on their daily commute in the race from light to light.
As commuters go, the Juiced CrossCurrent X is a cut above most commuters, and not exclusively due to the powerful motor and high-capacity battery. It's equipped with hydraulic disc brakes and a 9-speed Shimano drivetrain, making it a terrific e-bike for people who must negotiate hills on their way to work and home again.
Another notable difference between the Juiced CrossCurrent X and most other commuters is the presence of a torque sensor. This means immediate acceleration and a much more hand-in-glove experience.
The Juiced CrossCurrent X comes with a full-featured accessory package including fenders, lights, rear rack and kickstand. Let's dig into just what makes this e-bike so special.
E-Bike Category: Commuter
Who the Juiced CrossCurrent X Electric Bike Is for:
This is ideal for commuters who want to knock out their commute at top speed, keeping pace with traffic.
Juiced CrossCurrent X Electric Bike Review Ratings:
***All ratings are relative to e-bikes of a similar style and price point***
| | |
| --- | --- |
| Speed/Acceleration | |
| Hill Climbing | |
| Battery Range | |
| Braking | |
| Construction Quality | |
| Handling | |
| Included Accessories | |
| Warranty | |
| Value | |
Juiced CrossCurrent X E-Bike Specs
Battery: 52V, 998Wh lithium-ion
Expected Range: 80+ mi.
Charger: 2A
Motor: 750W brushless, geared hub motor, 80Nm torque
Pedal Assist: 5 PAS levels
Throttle: Thumb button
Display: LCD
Headlight: 1050 lumen
Taillight: Star Union red LED
Frame: 6061 aircraft aluminum
Fork: Suspension fork
Fenders: Included
Kickstand: Included
Handlebars: Alloy
Grips: Ergonomic, lock-on
Drivetrain: 9-speed Shimano Altus
Brakes: Tektro hydraulic disc brakes, 180mm rotors
Pedals: Alloy, with reflectors
Saddle: Selle Royal Lookin gel
Tires: 700C x 45mm Schwalbe Marathon Plus
In-Depth Juiced CrossCurrent X Review
Juiced CrossCurrent X Review: Comfort, Handling, and Ride Qualities
The Juiced CrossCurrent X presents riders a better opportunity to find comfort than most direct-to-consumer e-bikes on the market. Why? They offer the e-bike in two frame designs—both traditional diamond frame and a step-thru version—and make the traditional frame in three sizes. The distance from the saddle to the handlebar is an important part of rider comfort and while the different sizes accommodate different leg lengths, the top tube length on all four e-bikes is the same, which means that riders of either less stature or great stature may still encounter issues with their comfort.
With its long-ish top tube (23 in.), this is an e-bike that is going to ask most riders to lean forward a fair amount, in a somewhat more aggressive position than we would see with a cruiser, where riders sit fairly upright.
The handling on the Juiced CrossCurrent X is just what a commuter should give a rider. With its 700C wheels and relaxed geometry, this is an e-bike that will offer plenty of stability when it reaches top speed, while still offering good maneuverability at lower speeds. Because this is a Class 3 e-bike stability at speed is especially important.
The 700C x 45mm tires with low-profile tread will roll quickly, and bigger wheels hold momentum better, so while initially acceleration will be a hair slower, once up to speed, the rider will feel less effort required to stay at speed. The tires are wide enough to offer a comfortable ride, and assisting in that regard, the suspension fork will further take the edge off bumps, potholes and pavement seams.
Juiced CrossCurrent X Review: Motor, Battery, and Drivetrain Performance
The 750W Bafang brushless, geared hub motor produces a muscular 80Nm of torque, which will give the Juiced CrossCurrent X the power necessary to reach a top assist speed of 28 mph, as well as climb even the steepest hills.
The Juiced CrossCurrent X governs the action of the motor with a torque sensor. This makes the motor's response immediate, eliminating the lag that comes with a cadence sensor. It does mean that the rider will have to work a bit harder to hit top speed as torque sensors multiply the rider's effort rather than accelerate to a specific speed.
Range anxiety has driven manufacturers to market e-bikes with ever-larger batteries. The Juiced CrossCurrent X is equipped with one of the largest batteries we've seen in a commuter e-bike: 998Wh. The motor and battery feature a 52V rather than 48V design, which speaks to their belief that riders will want to cruise at higher speeds, which makes a higher voltage system a real advantage.
Juiced estimates that most riders could cover 80 mi. or more on a single charge. In reality, most of us aren't looking to ride 80 mi.; rather, we want to ride at PAS 5 without fear of draining the battery before returning home.
What's significant about the 998Wh battery in the CrossCurrent X is that is shows how the manufacturer is aware of how much more electricity the motor draws when a rider is going 28 mph rather than 20 mph; those extra 8 mph results in a more than 100 percent increase in electricity use; it's a big ask for a motor, which is yet another reason why the decision to use a 750W motor was a smart one. This is an e-bike that is truly designed to commute at 28 mph.
The choice of a 9-speed Shimano Altus drivetrain was another smart decision. While this motor has the power necessary to get up a hill with no help from the rider, downshifting into a small gear reduces wear on the motor and results in a lower draw on the battery's charge. And with 9 cogs to choose from, each step between gears is manageable.
Juiced CrossCurrent X Review: Braking, Safety & Warranty
At 28 mph things happen quickly. A rider going top speed needs powerful brakes in order to have sufficient control over the e-bike for quick stops and scrubbing speed before entering a turn. The Juiced CrossCurrent X is equipped with Tektro hydraulic disc brakes paired with 180mm rotors for reliable performance.
E-bikes that let riders sit more upright are popular because they let the rider look around at their surroundings more easily. The more upright position is also popular because it's easier on the neck. That said, for more performance-oriented e-bikes like the Juiced CrossCurrent X, the more forward-leaning position riders adopt for this e-bike actually increases rider safety by shifting more of the rider's weight to the front wheel, which improves traction and handling in turns.
The warranty is a single year, which is the way the market seems to be trending with the direct-to-consumer e-bikes. We'd prefer to see a longer warranty, but a one-year warranty has become the norm.
Juiced CrossCurrent X Review: Recommendation/Final Verdict
Were we to divide commuters into two camps, the first would be the lower-wattage e-bikes with a cadence sensor and a comfortable, upright seated position. These are great for shorter commutes where riders don't want to suffer and arrive at work sweaty. The second group would be the higher-wattage e-bikes with 750W hub motors that can reach Class 3 cruising speeds and a torque sensor that gives the rider a more spirited experience. They accelerate the moment the rider pushes down on a pedal and changes in pace don't require pushing any buttons; how hard the rider pedals is the biggest determiner for how fast the e-bike goes. The Juiced CrossCurrent X falls into this latter camp.
This is an e-bike for the person who isn't afraid to work hard enough to perspire. It's also an e-bike for someone who enjoys diving into turns and feeling the pull of gravity as they swoop around a corner.
We see a number of commuters that show a number of great features, but then will spec a few more affordable components, like mechanical disc brakes or a 7-speed drivetrain, in order to hit a particular price point. The philosophy behind the Juiced CrossCurrent X is different in that they built an e-bike with a powerful motor, a ginormous battery, hydraulic disc brakes and a 9-speed drivetrain—premium features all. The rider who wants to commute by e-bike as often as possible, and maybe in lousy weather, will benefit from these upgraded components. The Juiced CrossCurrent X will last longer and perform reliably in the long run. This is a refreshingly different take on what a commuter can be.
Thank you for reading through our review of the Juiced CrossCurrent X. Still have further questions? Wondering how it compares to a similar e-bike we've reviewed? Let us know in the comments below!