Welcome to our spec review of the Juiced Scorpion electric bike/moped hybrid! Our review team hasn't ridden the Scorpion just yet, but we've ridden other eBikes from Juiced Bikes. We have also taken careful notes of the Juiced Scorpion's critical components and compared how the latest model
compares with different eBike/moped hybrids
.
We managed to develop our full spec review of the Juiced Scorpion, where we hope to provide some general impressions of the features, feel, and performance.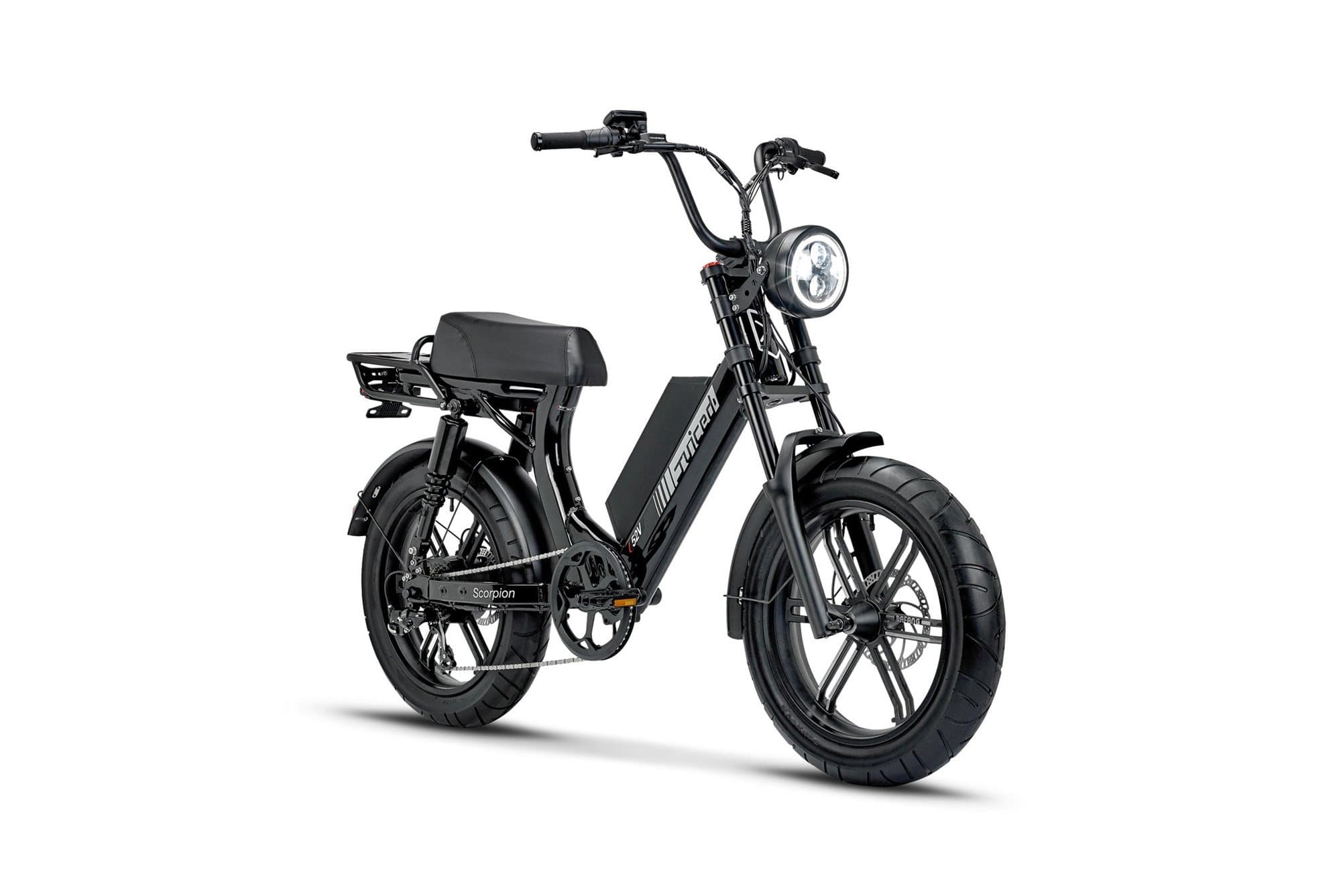 Electric bike and moped-style hybrid vehicles are becoming increasingly popular, but they often cost several thousand dollars, even for a basic model. The Juiced Scorpion is a very affordable option, offering great class 3 eBike performance while staying at a low, entry-level price.
The Juiced Scorpion weighs a hefty 102 pounds fully assembled, but it can simultaneously support two adult cyclists. You can travel over 45 miles on a single charge with the powerful Bafang motor and lithium 676 Wh battery, with reliable gear control due to the freewheel drivetrain.
The Tektro hydraulic disc brakes are premium-level components: as are the grips, saddle, pedals, fenders, headlight, tail light, suspension, and several other accessories. If you want an eBike, you can ride like a moped but don't have much money to spend; read our spec review why we recommend the Juiced Scorpion electric moped bike!
Bike-Category: Class 3 electric bike. Pedal activated motor assistance up to 28 MPH.
Who It's For: Cyclists who want an eBike/moped hybrid for a low, entry-level price. It is best suited for those who prefer high-speed riding, as it glitches out a bit at low cycling speeds.
Bike Specs
FRAME: 6061 Aluminum Alloy
UI/REMOTE: Advanced LCD Display
BATTERY: Lithium-Ion Battery, 676 Wh
CHARGER: 2 Amp Charger
MOTOR: Bafang Rear Geared Hub Motor, 750 W / 80 Nm
CHAIN: KMC Z7 RB
SHIFT LEVERS: Twist Shifter
CASSETTE: Shimano 14-28T Freewheel Cassette
CHAINRINGS: 52T Prowheel Chainring
DERAILLEUR: Shimano 7-Speed Derailleur
RIMS: Aluminum Alloy Double Walled
TIRES: Innova HV-5189 Custom Tires, 20'' x 4.25'''
SADDLE: Comfortable Oversized Saddle
STEM: 28.6 mm Stem
HANDLEBARS: Ergonomic Aluminum Alloy Handlebar
GRIPS: Rubberized Ergonomic Locking Grips
BRAKES: Tektro Hydraulic Disc Brakes, 180 / 160 mm Rotors
PEDALS: Wellgo Full Alloy Platform
KICKSTAND: Rear-Mounted Adjustable Kickstand
BELL: N/A
HEADLIGHT: Motorcycle Style LED Headlamp 2000 Lumens
TAIL LIGHT: LED with Brake Light
FENDERS: Full Aluminum Alloy Fenders
Pros
Entry-level eBike/moped combination. Travel up to 28 MPH with the pedal-assist system, or use the throttle to go 20 MPH. Able to support two adult riders at the same time.
The 6061 aluminum alloy frame is sturdy and durable, able to support over 275 lbs of rider weight along with an extra 50 lbs of cargo. Moped style design does weigh over 102 lbs.
Lithium-Ion Battery, with a 676 Wh capacity. Able to travel over 45 miles on a single charge, which should be more than enough to get to work. Easy to remove too.
2 amp charger. The primary charger you find with many entry-level eBikes at this price point. A compatible 4 amp charger is available as a premium upgrade.
Bafang Rear Geared Hub Motor, 750 W / 80 Nm torque output. More than enough motor power to help you climb challenging urban hills. Class 3 eBike, with a 28 MPH motor limit.
Shimano 14-28T freewheel cassette with 52T prowheel chainring. You can pedal forward or backward to operate the Juiced Scorpion. Premium bash guard included.
LCD advanced matrix display. Very simple to read and with a large number of riding metrics to inform your riding performance. It can be used during the day or at night.
Innova HV-5189 Custom Tires, 20'' x 4.25''' wheels. Short and wide, providing extra stability and weight support. Excellent puncture protection to reduce the risk of getting a flat.
Tektro hydraulic disc brakes, with 180 / 160 mm sized rotors. Extra stopping power in the front, with a smaller rotor in the back for decreased tail bike weight.
Other premium accessories are included with the stock model—an extremely powerful motorcycle headlight, along with a tail light, kickstand, and several other upgrades.
Cons
Only available in one size at the moment. Comfortable for shorter riders, but riders 6' tall and above may feel uneasy on the Juiced Scorpion eBike.
Doesn't handle well at low speeds. The cadence pedal sensors occasionally glitch out, and the chain is less likely to slip at high speeds than at low rates.
Extremely lengthy recharge time if you don't upgrade the charger. Getting a 4 amp charger is a must if you don't want to wait for 6 to 7 hours to recharge your eBike.
Features
6061 Aluminum Alloy Frame
Hybrid moped/eBike frame made out of popular, sturdy, durable 6061 aluminum alloy. Due to moped-style construction, the Juiced Scorpion does weigh over 102 pounds assembled.
Lithium-Ion Battery, 676 Wh
Down-tube mounted battery that is easy to charge on or off the electric bike. Can travel over 45 miles on a single charge with optimal riding settings. Bring a spare battery with you to further extend your riding range.
2 Amp Charger
Simple, basic charger included with most entry-level and mid-tier level eBikes. Lightweight and easy to take with you, but requires 6 to 7 hours to recharge from 0% to 100% fully. 4 amp charger upgrade is highly recommended.
Bafang Rear Geared Hub Motor, 750 W / 80 Nm
Powerful rear geared hub motor that will help you quickly accelerate to 28 MPH. 80 Nm of torque is excellent for helping you climb hills or keep up with traffic in the city. The motor can feel a little jerky when you first turn it on.
LCD Advanced Matrix Display
Monochrome matrix LED display, with six pedal assist levels, walk mode, and a precise 9 bar battery meter. Simple and easy to use, whether you're riding during the day or at night.
Shimano 14-28T Freewheel Cassette with 52T Prowheel Chainring
Freewheel drivetrain, so you can pedal backward or forwards to propel the Juiced Scorpion. 7-Speed eBike provides solid gear changing for effortless pedal cadence while riding in the city. Great double-sided bash guard also included.
Innova HV-5189 Custom Tires, 20'' x 4.25'''
Short, extra-wide tires that provide excellent stability and weight support, helping you and a second adult rider enjoy the Juiced Scorpion at the same time. Additional air cushion and puncture protection make it extremely rare to suffer a flat tire.
Aluminum Alloy Handlebars with Hydraulic Lockout Triple Clamp Fork
High rise, extra-wide handlebars designed to help you cruise the city in comfort. Triple clamp, hydraulic lockout suspension fork, and additional rear steel spring suspension help you maintain a very smooth ride while you travel.
Tektro Hydraulic Disc Brakes, 180 / 160 mm Rotors
Tektro hydraulic disc brakes, with 180 mm front rotors and 160 mm rear rotors. Long-lasting, highly durable, with two different sizes to balance performance and weight distribution. Provides a quick, steady, and noiseless stop when used.
Wellgo Full Alloy Platform Pedals
Aluminum alloy platform pedals. Higher quality than the typical plastic platform pedals you usually find at this price point, with outstanding durability and weight support. Highly reflective panels are also included for increased rider visibility.
In-Depth Review
Frame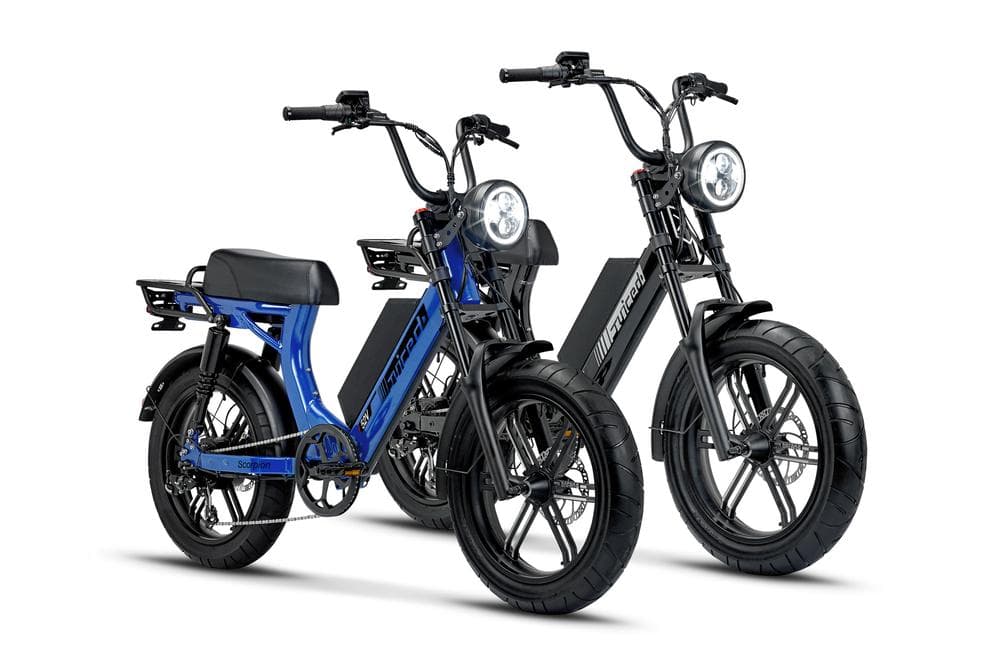 The Juiced Scorpion is a hybrid eBike/moped with a high-quality heat-treated 6061 aluminum frame. If you've read our other reviews, you already know that many eBike frames use 6061 aluminum because it is durable, lightweight, and affordable.
The Juiced Scorpion weighs more than an average ebike at 102 lbs fully assembled. While that weighs more than an average eBike, it's still much lighter than a genuine, dedicated moped. Furthermore, we appreciate the added weight since it allows the Juiced Scorpion to support up to two adult riders at the same time, along with 50 lbs of additional rear cargo weight. Visit the Juiced Bikes website, where you can see the two great color options available for the Juiced Scorpion eBike.
The one area where we like to see the frame improve is the sizing. The Scorpion is currently available only in one size, which is a bit of a let down for taller adults. While the moped-style frame does mean it's more comfortable to ride than your typical eBike, several reviewers have noted that the eBike isn't suitable if you're 6' and taller. If you are a taller cyclist, we recommend checking out the HyperScorpion eBike–or another model entirely–since there aren't many parts you can customize on the Juiced Scorpion.
Motor & Battery
The Juiced Scorpion is a class 3 eBike, with pedal activated motor assistance up to 28 MPH. This is also a rare class 3 eBike that includes a class 2 throttle, though it will only provide motor assistance up to 20 MPH.
The Juiced Scorpion has a potent Bafang rear geared hub motor, with a 750 W / 80 Nm torque motor output. Besides providing great acceleration (even with two people riding), the Juiced Scorpion will also help you traverse almost any hill you encounter in an urban environment.
Some cyclists have noted that the cadence pedal sensors can glitch out due to the massive motor power and cause the motor to over accelerate at low speeds. While this makes low-speed handling more demanding, high-speed handling is fantastic, so as long as you're operating the Scorpion normally, you'll rarely have problems.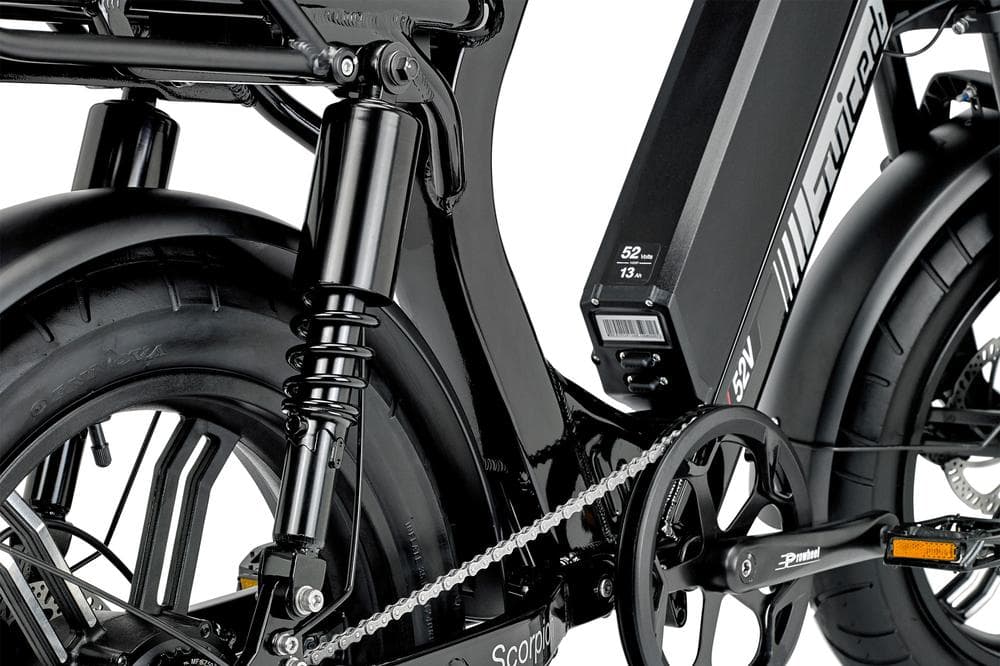 We're a bit mixed on the battery and charger setup. A solid 676 Wh lithium-ion battery included with the Juiced Scorpion will help you travel over 45 miles on a single charge with optimal riding settings.
Less impressive is the 2 amp charger because while it is easy to take with you, recharging from 0% to 100% requires 6 to 7 long hours. That recharging time is too long for many cyclists, so we're glad that Juiced Bikes offers an upgraded 4 amp charger, cutting down the full recharge time to about 3 to 4 hours.
Fortunately, whichever charger you use, the battery is fully removable so that it can be charged indoors or while mounted on the Scorpion eBike.
Display/Assist Modes
The matrix LCD display located on the right handlebar is another good inclusion, helping you quickly change your motor settings and keep track of your riding metrics. You have a total of six pedal-assist levels to choose from, which is much higher than average for an entry-level eBike. There is a 9-bar battery meter for more accurate battery readings.
The display is bright enough that you can use it during the day or night without straining your eyes, and with just a couple of buttons, you can often change your settings without looking down. A full list of riding readouts, metrics, and settings included with the LCD display can be found below:
Juiced Scorpion LCD Display Readouts, Metrics, and Settings:
Current Speed
Watts
Voltage
Amps
Watt-Hours
Amp Hours Temperature
Battery Level (Nine Bars)
Pedal Assist Level (Six Levels + Walk Mode)
Odometer
Light Settings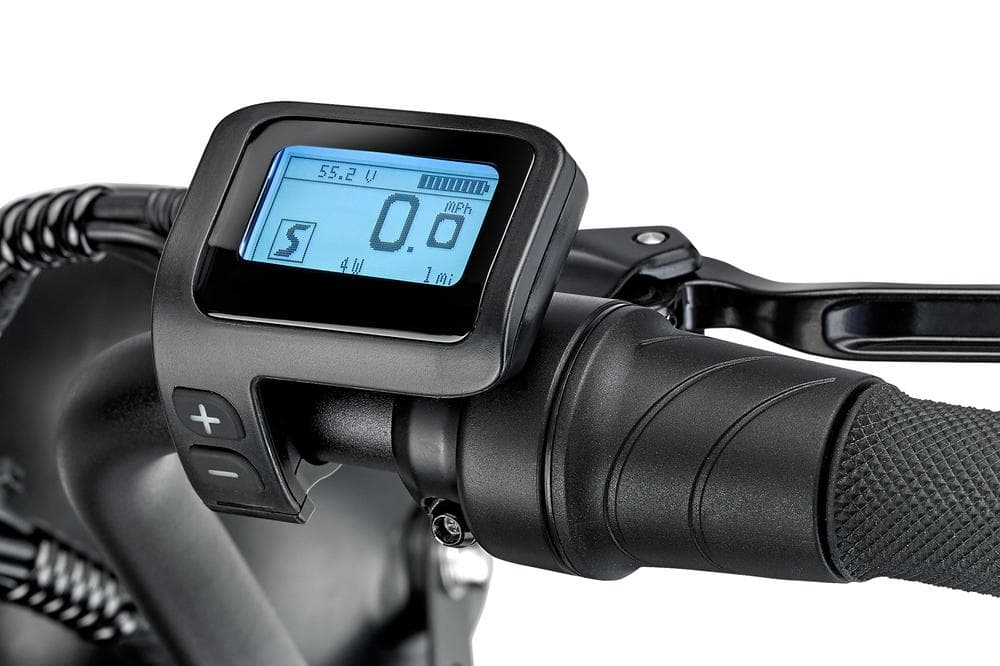 If you're unfamiliar with how pedal-assist settings work, they let you fine-tune your motor performance while you ride. Higher pedal-assist settings drain the battery more quickly but provide greater motor power and acceleration.
Lower pedal-assist settings drain the battery more slowly but considerably extend your travel range, but at the expense of less motor power. Pressing the + or – button will change your motor output, even while you're pedaling, so feel free to change your pedal assist level at any time while you ride. However, be aware that the throttle system is independent of your motor control and will always provide maximum power no matter what you set your pedal assist level.
Handling
On Streets- The Juiced Scorpion is designed for riding on city streets, and for the most part, it handles well when used as an eBike or as a moped-style vehicle. The motor provides excellent acceleration and power, helping you build your speed quickly to keep up with heavy traffic. The short, wide tires have great traction and stability support, helping you stay comfortable as you ride over bumpy, uneven surfaces. Lastly, the excellent braking system will allow you to come to a smooth, quick stop, even when you're using the motor at max power. If you've been looking for an eBike/moped hybrid, the Juiced Scorpion is a great combination to consider.
Turn Radius- Due to the heavy bike weight and thick tires, the Juiced Scorpion doesn't have a great turn radius. It can round a corner without too much trouble, but it will have a difficult time if you want to get it through a tight doorway or narrow alley passage. Furthermore, if you lean too hard into a turn, it's relatively easy to tip it over if you aren't riding on a smooth, grippy surface. Just remember this is a moped/eBike hybrid rather than a traditional eBike, and you should do fine on the Juiced Scorpion.
Low-Speed Handling- As noted above, one of the critical areas of weakness with the Juiced Scorpion is that the eBike does not handle well at low speeds. The 102-pound weight is a significant reason for its poor low-speed handling. But glitches with the cadence sensor at low rates also cause you to accelerate faster than you may want. This is a robust moped/eBike hybrid, so if you are looking for something more leisurely, you'll want to consider another eBike entirely. Otherwise, we recommend dismounting from the Juiced Scorpion and putting it in walk mode if you prefer low-speed handling, as it will push your bike along without relying on the pedal system.
Gears/DriveTrain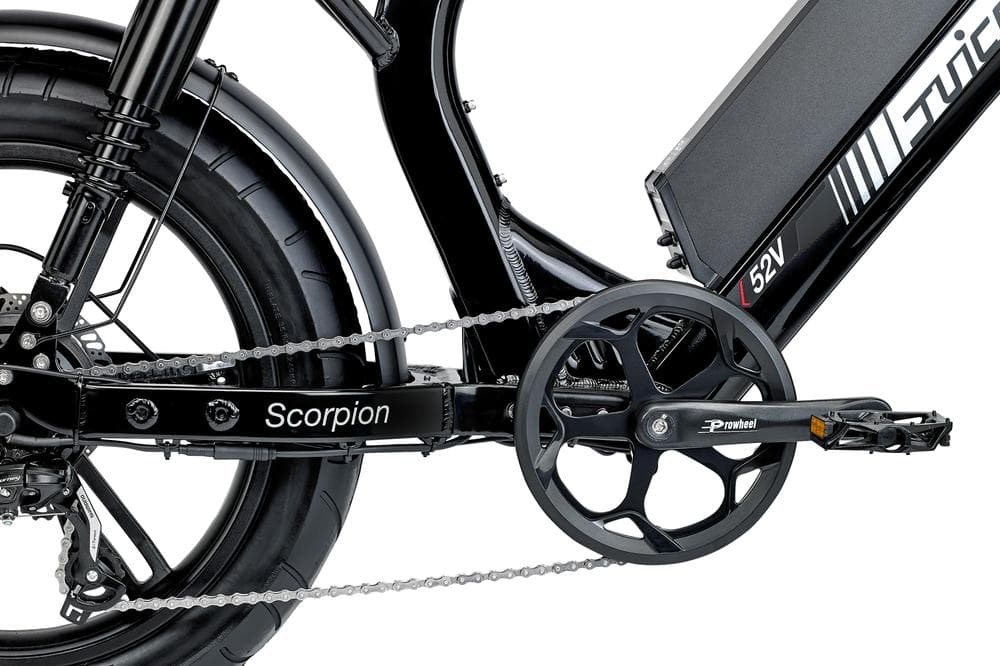 The Juiced Scorpion drivetrain setup impressed us. You have a Shimano 14-28T freewheel cassette with a 52T pro wheel chainring, connected with the aid of a KMC Z7 RB chain.
As a 7-Speed bike, you have a fair amount of gear options to choose from compared to other entry-level eBikes, helping you maintain an effortless cadence while you ride through the city.
The drivetrain struggles at low speeds due to the cadence glitches, with some reviewers noting that the only time they suffered a chain drop was when riding under 5 MPH. It performs excellent at higher speeds, with the drivetrain tight and well protected due to a combination of aluminum alloy fenders and a double-sided bash guard.
These components not only help you keep your drivetrain clean and free of debris but have the added benefit of guiding the chain to reduce the risk of a drop. While the low-speed issues are bothersome, you'll rarely ride the Scorpion at such low speeds, which is why we still recommend the Juiced Scorpion eBike!
Brakes
Due to the added weight of the eBike/moped hybrid frame, you need strong brakes to help you come to a quick and safe stop. So, we're glad that Juiced Bikes chose Tektro hydraulic disc brakes, with 180 mm sized front rotors and 160 mm sized rear rotors. Typically, front brakes are under higher pressure than rear brakes. So Juiced put larger rotors up front where the extra stopping power is needed and smaller rotors in the back to decrease the tail bike weight.
Hydraulic brakes last longer, provide greater stopping power, and are more durable than most mechanical disc brake setup. Overall, the Scorpion has a very reliable braking system in place, helping you come to a quick and steady stop even when riding downhill at high speeds.
Suspension
Primarily designed for riding in the city, the Juice Scorpion still has generous suspension support that will make riding over uneven or bumpy terrain more comfortable. The front fork is a triple clamp system with hydraulic lockout and bolt-on dropout. The 28.6 mm steer tube provides even better natural suspension up front.
The frame's rear has some additional suspension support and a steel spring suspension system with an additional 34 mm of travel. Combined with the heavy bike frame, and you'll hardly notice the shock that comes with riding over very bumpy terrain and other uneven, difficult to travel over surfaces.
Pedals
Let's discuss the pedal system you can look forward to on the Juiced Scorpion eBike. Instead of simple plastic pedals, you would typically find on many other entry-level eBikes; you'll find high-quality aluminum platform pedals mounted on the Juiced Scorpion. Aluminum pedals are sturdier than most plastic pedal platforms and provide greater traction support for an easier time maintaining a grip with your shoes.
Additionally, extra-large reflector panels on the pedals make it much easier for those driving behind or ahead of you to spot your bike while riding. Safety matters, and with the pedal system, Juiced Bikes meets the standard with their Scorpion eBike.
Grips and Saddle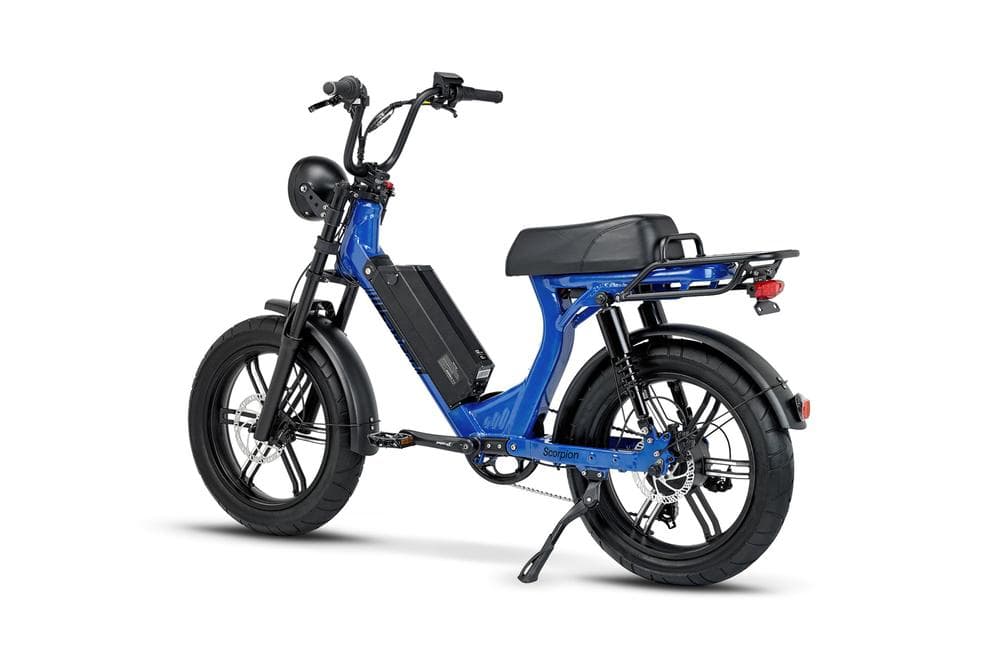 The Juiced Scorpion is only available in one size and frame style. But it does have a wide range of comfort options that make it a more enjoyable eBike to ride. The ergonomic grips are cushy to hold, helping you ride for several hours without tiring out your hands.
The high rise handlebars reduce the overall strain you'll feel while riding at high speeds and are extra wide so that heavier cyclists can find a good posture while riding. The Juiced Scorpion saddle is built with a long, comfortable, oversized saddle that can fit two people–making it a fantastic option if you are riding solo.
You should avoid the eBike if you are 6' and taller, but shorter adults will thoroughly enjoy riding on the Juiced Scorpion.
Wheels and Tires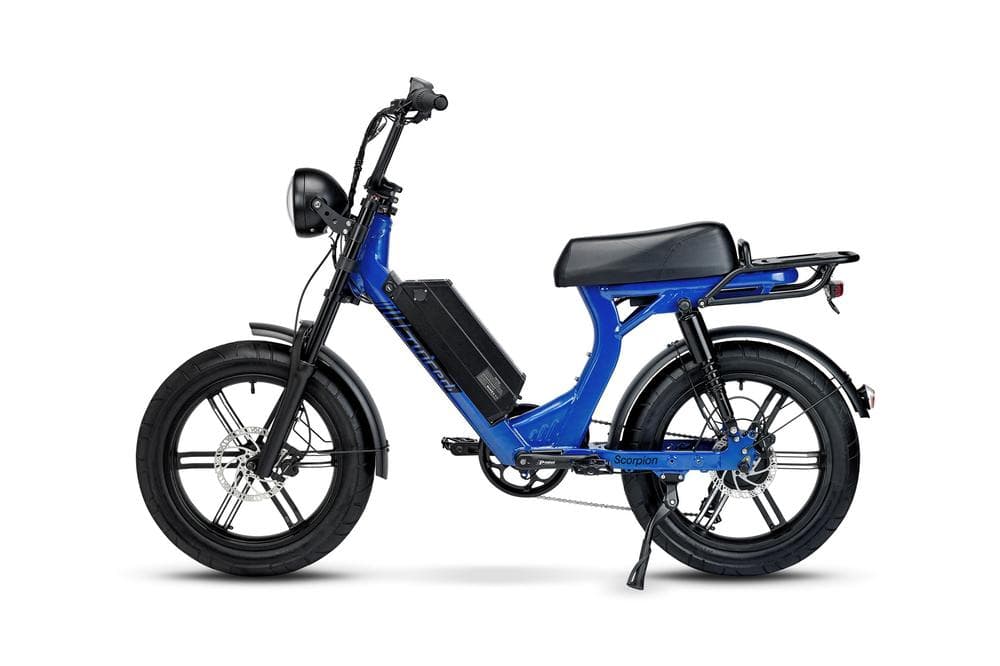 If you want a bike with sturdy, stable wheels optimized for high-speed riding, you will enjoy the wheel setup on the Juiced Scorpion eBike. The bike comes with Innova HV-5189 Custom 20'' x 4.25''' tires, mounted on aluminum alloy double-wall rims.
The tires have extra air cushioning, along with ARMOR puncture protection to further reduce the risk of a flat or blowout while riding at high speeds or when you hit the occasional rock. The tires themselves can be set to as low as 5 PSI, which is ideal for riding over sand or other loose terrains, or 35 PSI if you want to maximize your acceleration on paved surfaces. Combined with the suspension system and heavy bike frame, you'll have a smooth, steady experience as you explore around town on the Juiced Scorpion electric bike.
Accessories/Upgrades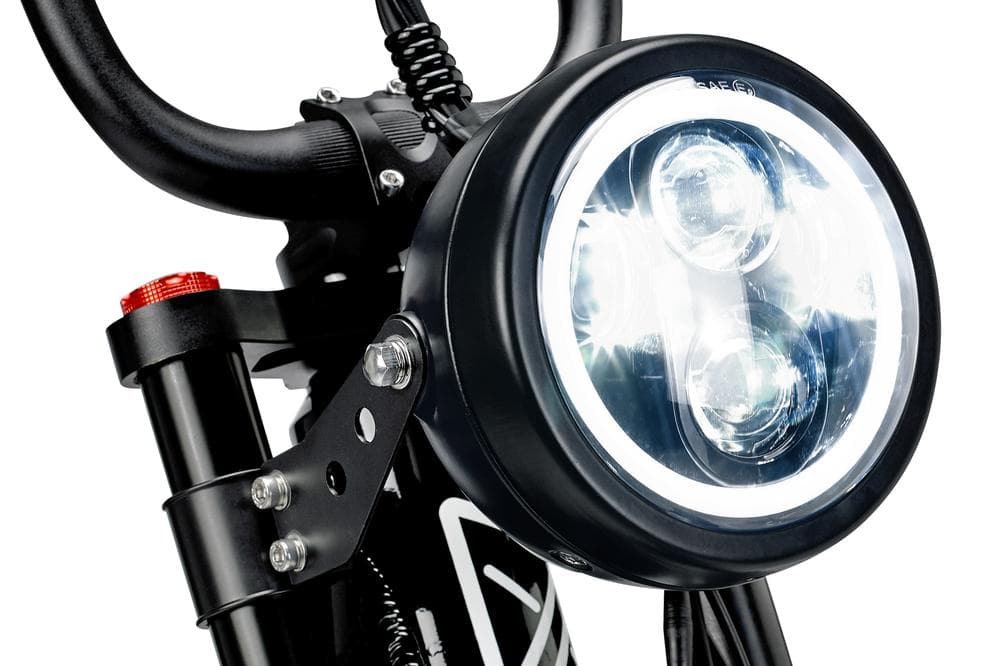 The Juiced Scorpion is an entry-level priced eBike. Despite its affordable price, the bike comes with many premium accessories and add-ons that increase the overall value.
The bike's highlight is the motorcycle rated headlight, with a powerful 2,000 lumens beam that makes it significantly easier to see the road ahead at night. The headlight also makes it much easier for other cyclists to spot you, as does the tail light system.
You get a full fender coverage, a kickstand, a rear cargo rack, and more outside of lights. Overall, we're impressed with just how much comes with the Juiced Scorpion, though there are a few other accessories we recommend if you want an even better riding experience:
Juiced Turbo 4-Amp Charger
Juiced Scorpion Passenger Kit Upgrade
Juiced Tall Seat Set
Juiced Phone Mount with Charger
Recommendation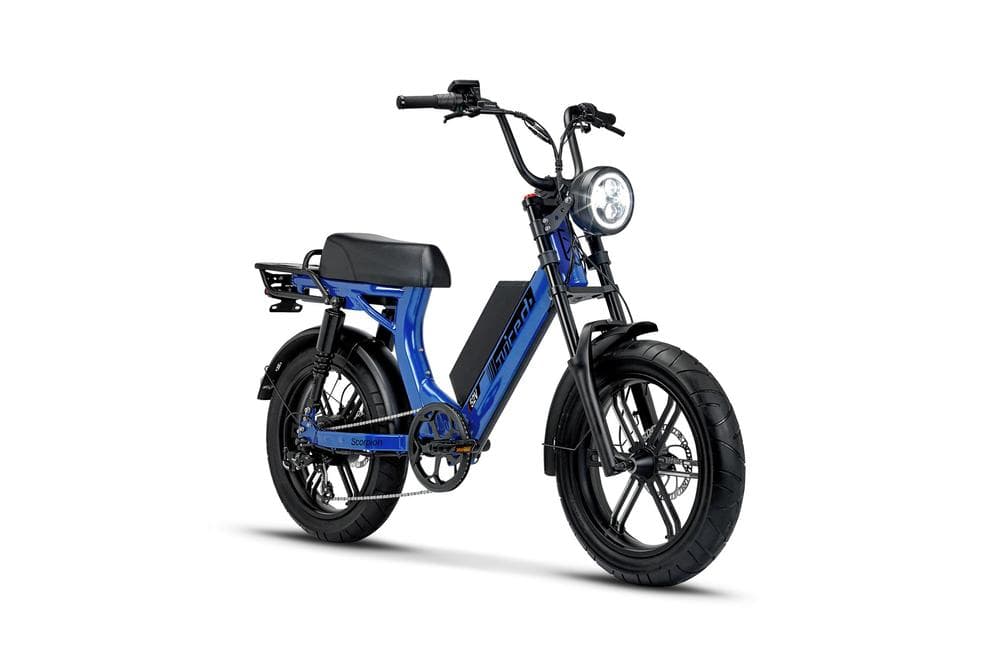 The Juiced Scorpion is an affordable option for those looking for a high-powered eBike/moped hybrid. The frame is heavy, but it has enough support for up to two adult riders along with 50 lbs of rear cargo support.
The high powered 80 Nm Bafang motor will help you explore almost anywhere in the city, with a 676 Wh lithium battery so you can go more than 45 miles on a single charge. The 7-Speed freewheel drivetrain is very consistent as long as you ride at high speeds, and the brakes will help you come to a safe stop when you need to slow down.
Many other premium accessories are included with the stock model, from the tires to the handlebar grips, the advanced LCD, to the powerful headlight. It may have a low price, but if you want a quality electric moped-style bike, the Juiced Scorpion offers some killer value on the market right now for those shopping on a budget.
Thank you for reading our spec review of the Juiced Scorpion electric bike. If you would like to see our team do a full performance or video review, we invite you to leave a comment below along with any questions you may have!