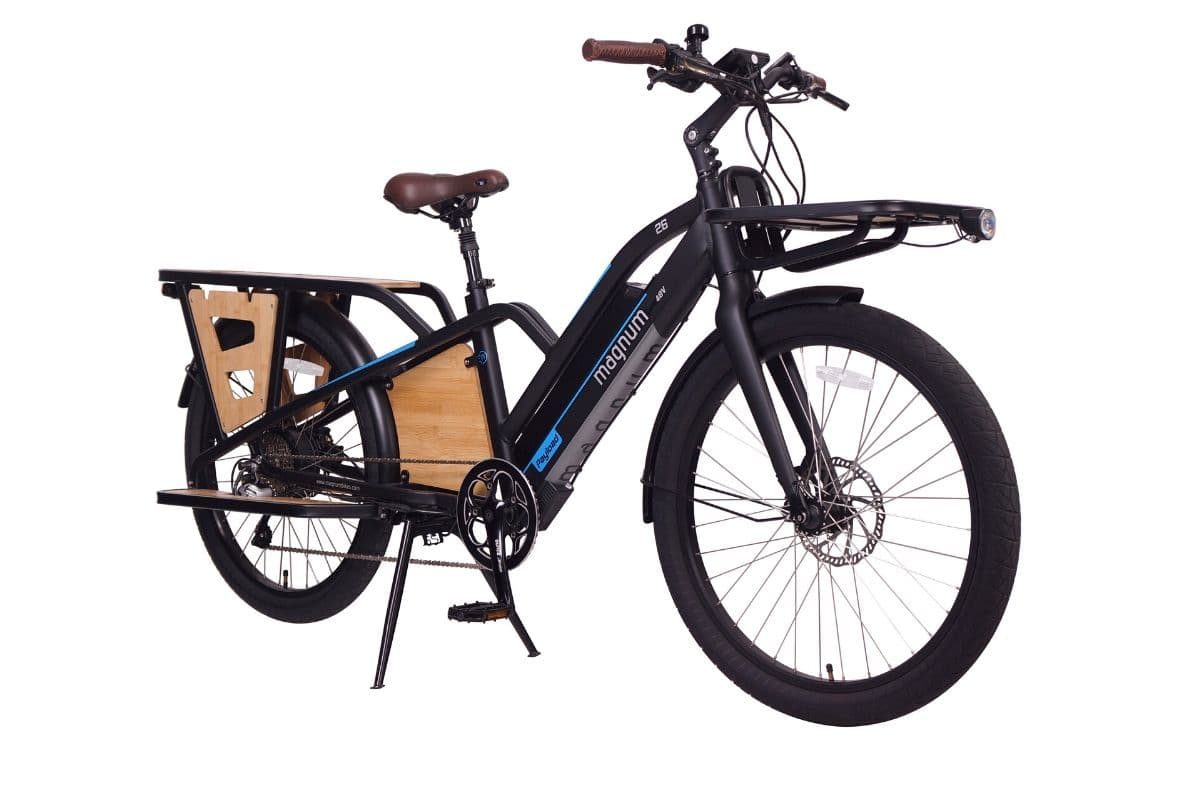 In this spec review we'll be evaluating some of the key components and features of the 2020 Magnum Payload
The 2020 Magnum Payload is a mid-tier eBike option for those shopping for a cargo bike with a powerful motor and respectable maximum range. This is a fairly unique bike as it's a Class II and III hybrid, with throttle assist up to 20 MPH and pedal assist up to 25 MPH. Powered by a rear hub 500 W/90 Nm torque motor, this cargo bike is built for surmounting steep street hills and keeping up with stop and go traffic alike, a suitable option for both smaller towns and larger cities. The eBike is quite heavy at 80.5 lbs, but with its weight and seat post suspension system it's very stable and comfortable to ride, especially with the adjustable stem and handlebars. In terms of stand out features, we love the front and rear cargo racks already integrated into the design, and the fenders/aluminum drive train guard system to keep your key components clean and free from debris. So, if you want to pick up a cargo bike that will take you to work or your favorite store, you'll want to read on for our full spec review of the 2020 Magnum Payload!
Bike Category: Class 2/3: Throttle assist to 20 MPH. Pedal assist to 25 MPH.
Who It's For: Riders looking for an affordable cargo bike for commuting around the city with a powerful motor.
Bike Specs
FRAME: 6061 Aluminum Alloy
UI/REMOTE: Das-Kit C7 Display
BATTERY: Samsung 48v / 13ah / 624wh or 48V / 18Ah / 864Wh
CHARGER: 2 Amp Charger
MOTOR: Geared rear hub motor, 500W / 90 Nm
CHAIN: Prowheel Ounce Forged Alloy, 170mm Length
SHIFT LEVERS: Shimano RevoShift Half-Grip Twist Shifter on Right
CASSETTE: 11-32 Tooth Nickel Plated Cassette
CHAINRINGS: 48 Tooth Chainring with Alloy Guard
DERAILLEUR: 8 Speed 1×8 Shimano Acera Derailleur
RIMS: Aluminum Alloy, Double Walled, 36 Hole
TIRES: CST PRO Cyclops, 26″ x 1.75″ (61-559)
SADDLE: Selle Royal Brown
STEM: Promax, Adjustable, 25.4mm Clamp
HANDLEBARS: Mid-Rise, 650mm Length
GRIPS: Selle Royal
BRAKES: Tektro Hydraulic Disc Brakes 180mm Front/60mm Rear
PEDALS: Wellgo
KICKSTAND: Center-Mount Double Leg Steel Kickstand
BELL: Flick Bell
HEADLIGHT: N/A
TAIL LIGHT: N/A
FENDERS: Aluminum Alloy Fenders (70mm Width)
Pros
Solid, sturdy eBike that is great for cruising around your neighborhood and city alike. Lots of cargo compatibility built into the frame, and very stable due to heavier build.
Hybrid Class II and III eBike, featuring 20 MPH throttle and up to 25 MPH pedal assist. Great 55 to 75 mile optimal range, depending on the type of battery you go with.
500 W / 90 Nm Motor. Provides a powerful push that will make it real easy to climb up hills or keep up with traffic.
8 Speed drivetrain with 48 tooth chainring and 11-32 cassette. High quality Shimano Acera derailleurs make gear shifting quick and reliable. Aluminum fenders provide great drivetrain protection.
6 power assist levels, and a walk mode. A 12 magnet cadence sensor provides accurate pedal assistance. Great motor power assist versatility overall.
Very comfortable eBike to ride with adjustable stem, Royalgel comfort saddle, ergonomic faux leather grips, and other comfort features. Well suited for most adult heights.
Backlit, oversized LCD display makes it easy to keep track of seven different metrics while riding on the MAanum Payload.
40mm of travel suspension provides extra stability and reduces strain and shaking when riding over patchy roads, cobblestone, and the occasional dirt offroad patch.
Cons
No integrated lights, and limited reflective taping. Not an easy bike to spot on its own when riding. You'll want to wear reflective equipment, especially when riding at night.
Small charger means that overall recharging time from 0% to 100% can take up to 7 hours. Removable battery does make it easy to charge indoors though.
80.5 lbs total weight. It likely doesn't make sharp turns easily, and would be a pain to carry around. Not a good option if you need to take it up stairs or store in a compact area.
Non-removable display, which can be affected by snow or rain with long term exposure. Make sure you buy a cover for the Magnum Payload when storing it longer than a few days outdoors.
Features
6061 Aluminum Alloy
While the eBike is quite heavy at 80 lbs, the larger, well-built eBike has a high weight capacity and is very stable to ride, even at higher speeds. 6061 is a high quality aluminum alloy used in everything from bike frames to aircraft construction.
Samsung 624/912 Wh Battery
The choice of two center mounted batteries, both of which provide long lasting performance. The 624 Wh battery has an estimated range of up to 55 miles, while the 912 Wh battery has an estimated range of up to 75 miles.
2.0 Amp Charger
Small, portable charger that's very lightweight, so you'll hardly notice packing it when you ride. Small charger is a bit slow, but it will be able to refill your battery over the course of a work day.
500 W, 90Nm Rear Hub Motor
Powerful rear hub motor that will help you keep up with traffic, climb hills, or casually cruise around the city alike. The motor will assist you up to 20 MPH with the throttle, and up to 25 MPH with the pedal assistance system.
Das-Kit C7 Display
Backlit monochrome LCD display. As per its name, it will help you keep track of seven different metrics while you're pedalling. Large enough that it's very easy to read while pedaling, even at higher speeds.
Prowheel Ounce 170mm, 48 Tooth Chainring Shimano 8-Speed, 11-32 Cassette
This is a powerful and responsive drivetrain, with easy shifting thanks to the high quality Shimano Acera Derailleurs. Wide aluminum alloy fenders keeps the drive train clean and free of debris, with minimal maintenance required compared to steel fenders.
CST PRO Cyclops Tires, 26″ x 1.75″
Built in puncture protection minimizes the risk of getting a flat, with a 35 to 65 PSI that makes the tires both comfortable and efficient for pedaling on paved roads. Tires are built to last, and will still work great even after you've traveled a ton of miles with them.
Ergonomic Faux Leather Grips with a Gel Padded Selle Royal Saddle
The faux leather grips are high quality and comfortable to grab onto, even for extended and high speed cycling trips. The comfort saddle will support most bikers, and has some adjustability in the stem and handlebars to help fit most traditional cyclist heights.
Tektro Hydraulic Disc Brakes with 180mm Rotors
Hydraulic disc brakes, especially with a 180mm size, are fantastic and provide a lot of powerful yet steady stopping power. Integrated with motor inhibitors, you'll come to a smooth but rapid stop even if you have your motor running.
Aluminum Wellgo Pedals
The entirely aluminum pedals are strong and sturdy, able to support larger riders and being more comfortable for smaller bikers as well. Aluminum is a step up above traditional plastic pedals included with many eBikes.
In-Depth Review
Frame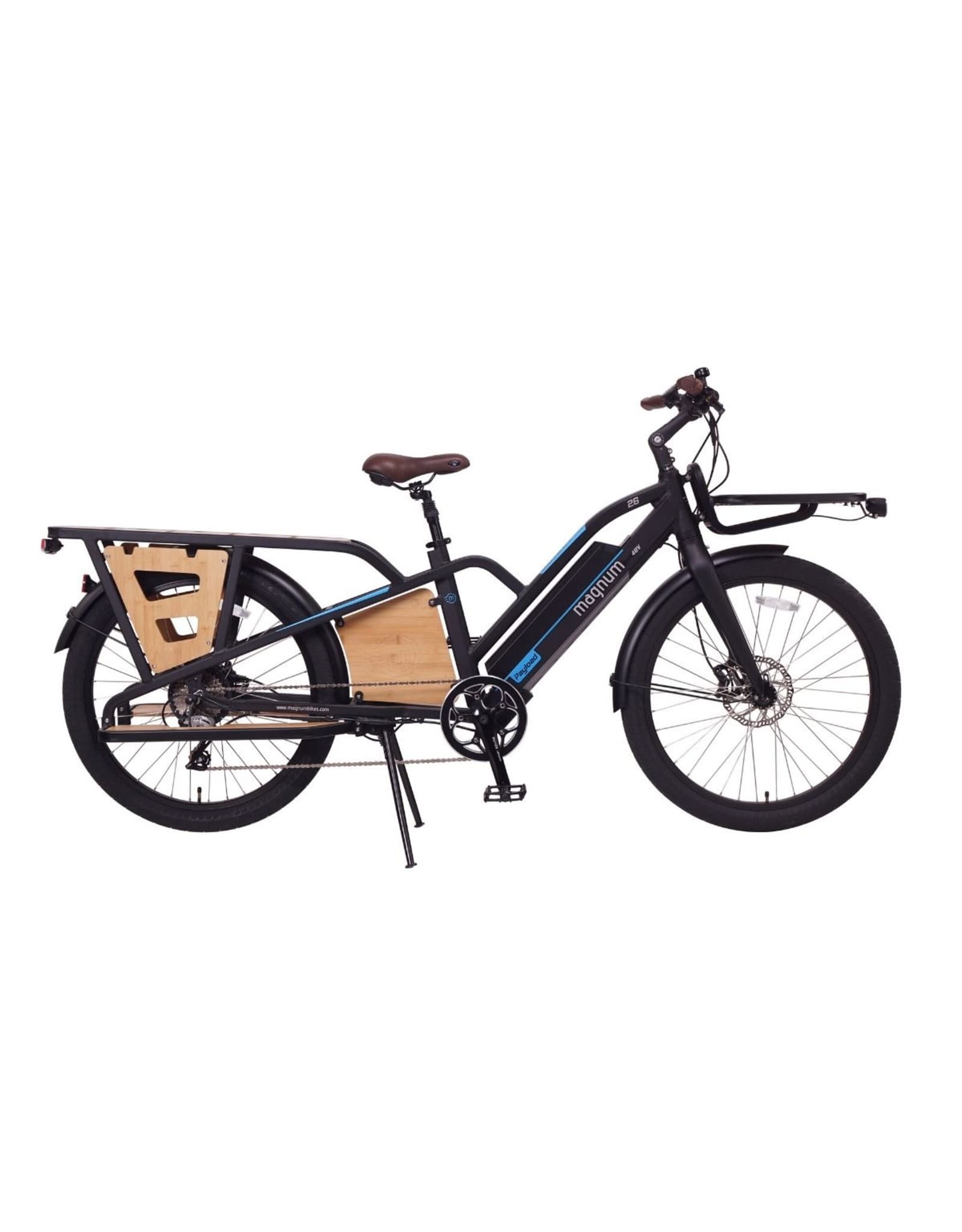 The Magnum Payload is built with a heavy duty, 6061 Aluminum Alloy frame, the same alloy of aluminum used to manufacture many airplane components. While the result is that the Payload is quite heavy at 80.5 lbs, it does provide a high weight capacity at 300 lbs. Furthermore, this is an eBike that is built to help you bring cargo along for the ride, with integrated front and rear cargo platforms ready to hold your backpack, briefcase, and other important gear. This is a one size only eBike, but with several adjustment options it is designed to accommodate most adult riders. The seat adjusts from 29.5'' to 33'' inches from the bottom pedal, so most adults between 4'10'' and 6'4'' should find the Magnum Payload very accommodating. If you're extra tall or short, be sure to contact Magnum Bikes for help in finding a eBike solution more accommodating of your weight and height.
Motor & Battery
The 2020 Magnum Payload is a class 2 and 3 eBike hybrid. There is both throttle motor assist, up to 20 MPH, and pedal motor assist, up to 25 MPH.
This eBike features a strong 500 W/90 Nm rear hub motor, which has the power you need to tackle almost any road you may encounter in the city. The overall maximum range of the payload electric bike will be determined by your battery size; there is a 13 Ah battery with an optimal range of 55 miles, and a 18 Ah battery with an optimal range of 75 miles. This is a somewhat unique eBike in that there are actually two different speed caps, the reason why it is a hybrid class eBike. By using the throttle, you will receive assistance up to 20 MPH, while by relying on the pedal assist you will receive motor assistance up to 25 MPH. You can pedal even faster than the speed cap, but you won't receive any motor assistance once you exceed 25 MPH. This eBike is also completely usable even without turning on the motor or battery, though due to its heavy weight it will be a bit harder to pedal and slower when compared to a more traditional biking experience.
A lightweight 2 Amp charger is included, weighing just 1.5 lbs. This lightweight charger is very easy to carry with you, but its small size does mean that it takes quite a while to recharge. Charging up from 50% is about 3 hours, and charging from 0% to full will take nearly 7 hours. However, the battery is easy to remove from the eBike frame, so you can choose to either recharge your eBike out on the streets or by taking your battery in with you while you work. Even if you run your battery dry, it should fully recharge by the time you're ready to clock out for the day. If you are concerned about range, you can also buy a secondary battery to swap out in order to extend the use of your eBike motor.
Display/Assist Modes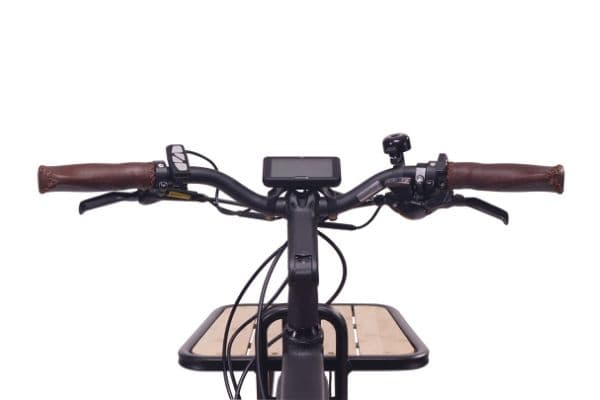 The Magnum Payload has an easy to read, simple to use backlit LCD display that sits in the center of the two handlebars. Some of the metrics and features that are reported by the Magnum Payload include the following:
VanMoof App Features:
Power Assist Level (6 options)
Battery Level (6 Bars)
Speedometer
Odometer
Trip Distance
Riding Time
Power Output/Battery Voltage
The larger display size makes it real easy to read and follow along with your riding metrics while you're riding. The one complaint we do have is that the display isn't removable, so if you're aren't happy with it or want a more interactive display there's nothing you can really do. Some Payload bike users have also noted that their display was damaged or glitched out when left outside in the snow or rain without any protection for a few days. If you need to leave the Magnum Payload outside for more than a week, we highly recommend purchasing a eBike cover, or a cover at least for the display if you can't rely on a full bike cover.
Handling
On Streets- The Magnum Payload is designed for urban riding, and though heavy it has a powerful motor that will make it easy to keep up with traffic and climb any hill. If you are looking for a cargo bike that you can use to get to work or take with you on a shopping trip, the Magnum Payload is a great option.
Turn Radius- The large bike weight and build does mean that it's a bit tricky to make a very sharp turn with the Magnum Payload. This won't be a problem when navigating the road, but can make maneuvering around back alleys and small garages difficult.
Low Speed Handling- The Magnum Payload does have a walk assist mode that will provide power even when you're off the bike. The walk mode will make it easy to direct the electric bike where you need it to go, although you can also just set it on a low power mode and ride the bike yourself as an alternative low speed option.
Gears/DriveTrain
The 2020 Magnum Payload drive train consists of a Prowheel Ounce Forged Alloy 170mm chainset with a 48 tooth chainring, with a Shimano 8 speed, 11-32 tooth cassette. The drive train features a great aluminum alloy guard, which helps it stay clean and free of debris that would otherwise jam up the chain when you're riding through mud and loose gravel. Unlike steel guards, the aluminum alloy drive train guard also doesn't rust or decay as quickly, minimizing the amount of maintenance that you need to put in to preserve the performance of the drivetrain. Shifting is reliable thanks to the high quality Shimano Acera Derailleur, controlled by a Shimano RevoShift twist shifter on the right handle. The twist shifter is a bit more intuitive and easier to use than a trigger shifter, making the Magnum Payload a beginner friendly option for new riders.
Brakes
The Magnum Payload comes with fantastic 180mm front rotor brakes, along with 160 mm rear rotor brakes. USing the Tektro hydraulic disc brake system, this is considered to be one of the top braking systems out there, with the large disc brakes allowing you to come to a smooth but rapid stop. The brakes are also interconnected with the motor system to cut off the motor when the brake lever is pulled, even if you are in the middle of pedaling or are holding down the throttle handle. By doing so, you will not only come to a quicker stop, but the overall longevity of the brakes and motor alike will both be extended. With large, responsive three finger levers that make it both easy and comfortable to apply the brakes, we're quite delighted by the braking system that Magnum chose to go with for their Payload electric bike.
As always, brakes are among the most important components for your electric bike. We highly recommend giving them a good pull and verifying that they work before setting off, a simple press all you need to make sure they're working properly.
Suspension
The Magnum Payload features a 40mm Travel Promax Suspension seat post. This is typically an accessory upgrade for most other eBikes, so to have it included out of the box is a great accessory to have. The center seat post suspension will provide a noticeable amount of additional stabilization, providing for a smoother riding experience even when you hit the occasional pot hole or cobblestone road section. In order to avoid conflicting with the additional cargo support, there is no front or rear suspension, although that is normal for a city commuter cargo bike like this. The lack of total suspension support means you won't be using this eBike for tackling mountain bike trails or going off-roading with it, but it does help tackle the less pristine streets while you're riding around the city.
Pedals
Plastic pedals are typically expected for low to mid-tier eBikes, so it's a cut above many other eBike options with the aluminum style pedals. The Wellgo VB087 aluminum alloy are built to accommodate most typical athletic and riding shoes, along with small and large sized feet as well. We quite like the dark design of the pedals, but we are let down by the minimal reflective features incorporated into them. One of our few major complaints about the Magnum PAyload is the lack of overall bike visibility, so adding some reflective tape to compliment the orange reflective lights would make the Magnum Payload an even safer eBike option.
Grips and Saddle
The Selle Royalgel comfort saddle is built to support large and small riders alike, especially due to the adjustable angle stem. The minimum seat height is 29.5'', while the maximum seat height is 33'', with the standover height about 24.5''. The base saddle should be quite comfortable for most riders, although you can swap it out with your favorite saddle if you have a premium one already.
The handlebars are also adjustable, with a height range of 42'' to 45''. The handlebar width is about 25'' from handle to handle, with each handlebar protected by faux leather grips. These ergonomic grips are quite comfortable to hold onto, so you can ride for hours without hurting your hands. However, there are a lot of wires that extend from the handlebars, and while most run info the center tube right below the battery they are easy to get tangled in if you reach out and try to grab an object from the front cargo rack. We definitely recommend reach around instead of through the handles if you need to grab a water bottle or something else important while you're riding.
Wheels and Tires
The aluminum alloy, double walled rims feature a 32mm outer width and 36 hole, with stainless steel 13 gauge spokes that connect to the CST Pro Cyclops 26'' by 1.75'' wheels. Inflatable to between 35 and 65 PSI, these wheels are high quality, and built with puncture protection to protect against flats while riding. You will want to let a little bit of air out and keep it around 35 PSI when riding over looser terrain, while you'll want to go with 65 PSI if you're sticking to solid, paved roads. Overall, these are comfortable tires that are also built for long road trips and hauling cargo, allowing you to travel many, many miles before needing to worry about swapping them out.
Accessories/Upgrades
The Magnum Payload is a great cargo eBike option due to the fenders, front cargo rack and rear cargo rack that are already built and integrated into the eBike. There isn't much, outside of the battery, that you will want to consider upgrading if you purchase the Magnum Payload electric bike. However, a few accessories and upgrades worth considering for the Magnum Payload include:
18 Ah battery
Foldylock Compact Bike Lock
Smart Bluetooth Livall Bicycle Helmet
While we typically focus on eBike accessories and upgrades, we would also suggest checking out the "Ride This Out" Apparel lineup. The reason why is that 100% of apparel proceeds are donated to No Kid Hungry, a charity organized to help fight poverty and childhood hunger in America. Through No Kid Hungry, millions of kids are able to get meals beyond what's provided by government programs and schools, whose ability to help poverty stricken kids have been limited due to recent world events. So, get a great shirt or hoodie and fight hunger in America at the same time by purchasing something from Magnum's "Ride This Out" lineup.
Recommendation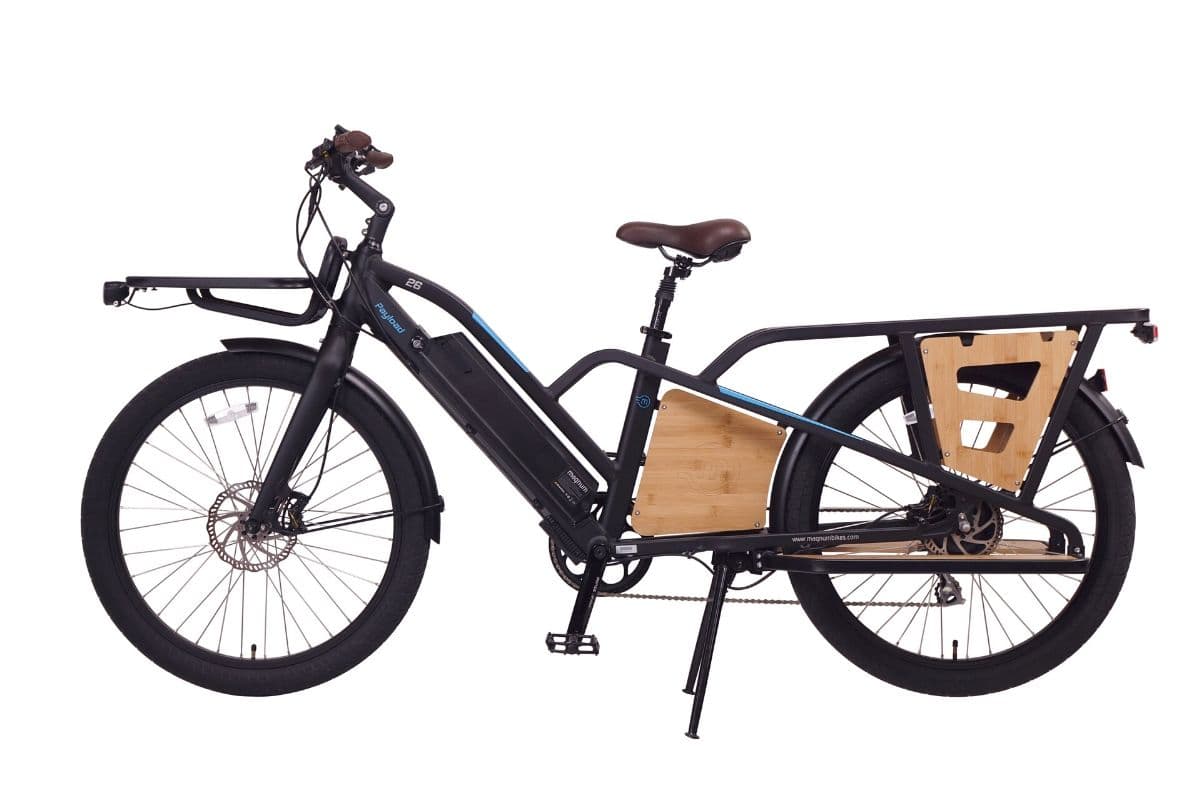 The Magnum Payload cargo bike is a strong, quick, and stable eBike that is great for city commuting. The 20/25 MPH speed cap and two motor assist power options give you a couple of great ways of activating the motor, letting you choose your riding style as you navigate traffic and city streets. The 80.5 lbs frame is heavy, but it's built tough and will make each trip to the office a smooth one, with a suspension seat stem that further reduces the strain and shaking that comes with hitting less than smooth streets. An adjustable stem and handlebars, along with comfy leather handle grips and a Royalgel saddle, make this a very comfortable riding option for short and tall bicyclists alike. With a maximum range of 55 to 75 miles, you can travel a long distance on the great CST Pro Cyclops tires before needing to recharge, though the smaller charge does mean it takes a while to top your battery off. We also aren't thrilled with the lack of integrated lights and reflective tape, so you'll want to wear some gear that will increase your rider's profile if you use the Magnum Payload. Even so, if you're looking for a high weight capacity, stable eBike that's prebuilt with transporting gear in mind, you'll want to check out the 2020 Magnum Payload.
If you would like to have us do a video review for the Magnum Payload, please let us know down in the comments below!