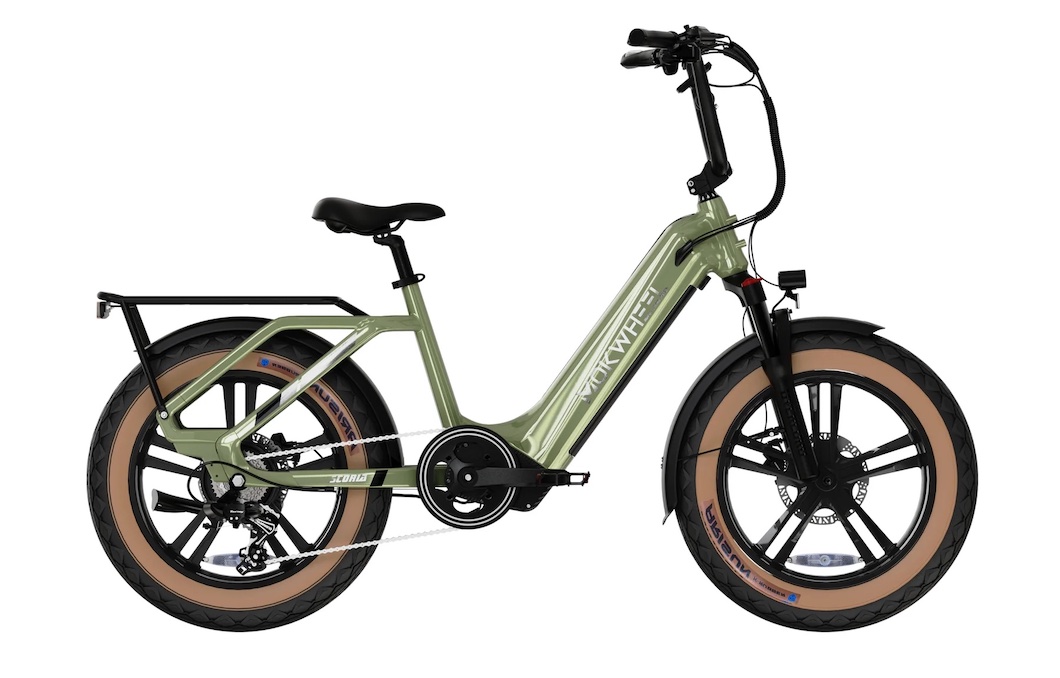 Intro
An e-bike is a great way to get stuff done. As errand-runners, they can be handy for their nimble handling, making them easy to get into and out of shopping centers and strip malls. They are easy to park and lock, and with a good rack or basket, they can carry everything from several sacks of groceries to a bag of potting soil. Restaurants often use them for meal delivery. Handy doesn't begin to describe them. The Mokwheel Scoria is a utility e-bike with a twist, or two.
In our Mokwheel Scoria review we will look at the overall utility of this design and how its step-thru frame makes it friendly to a wide range of riders. It has a powerful, 750W hub motor that gives it impressive acceleration and will climb steep hills with ease. Thanks to a torque sensor, the Mokwheel Scoria enjoys more instantaneous acceleration as well as a more responsive motor.
Helping the Mokwheel Scoria serve as a capable utility e-bike is its motorcycle-style, dual-leg kickstand that will hold the e-bike upright (rather than leaning), making it easier to load with items.
Thanks to a high-rise bar and a step-thru frame, the Mokwheel Scoria can fit a wider-range of riders than most one-size e-bikes. Let's take a look at what makes this e-bike an exciting addition to the Mokwheel lineup.
E-Bike Category: Utility
Who the Mokwheel Scoria Electric Bike Is for:
Anyone looking for an easy-to-manage e-bike with a step-thru frame with great acceleration.
Mokwheel Scoria Electric Bike Review Ratings:
***All ratings are relative to e-bikes of a similar style and price point***
| | |
| --- | --- |
| Speed/Acceleration | |
| Hill Climbing | |
| Battery Range | |
| Braking | |
| Construction Quality | |
| Handling | |
| Included Accessories | |
| Warranty | |
| Value | |
Mokwheel Scoria E-Bike Specs
Battery: 940Wh Lithium-ion
Expected Range: 60-80 mi. estimated
Charger: 3A
Motor: 750W brushless, geared hub motor, 90Nm torque
Pedal Assist: 5 PAS levels
Throttle: Thumb button
Display: Color LED
Headlight: Included
Taillight: Included
Frame: 6061 Aircraft aluminum
Fork: 110mm-travel suspension fork
Fenders: Included
Kickstand: Motorcycle-style dual-leg
Handlebars: High-rise alloy, 680mm wide
Grips: Ergonomic, faux leather, lock-on
Drivetrain: 7-speed Shimano, trigger shifter
Brakes: Tektro hydraulic disc brakes
Pedals: Alloy, with reflectors
Saddle: Customized comfort leather seat
Tires: Chaoyang 20 x 4 in.
In-Depth Mokwheel Scoria Review
Mokwheel Scoria Review: Comfort, Handling, and Ride Qualities
With its high-rise handlebar and step-thru frame design, the Mokwheel Scoria is well-suited to anyone concerned about the ease of getting on and off an e-bike as well as handling the e-bike on the road.
Mokwheel Scoria Review: Motor, Battery, and Drivetrain Performance
The Mokwheel Scoria is built with a 750W brushless, geared hub motor that produces a stiff 90Nm of torque. It's worth mentioning that while we see similar motors on other e-bikes, most of them are fat-tire e-bikes that feature 26-in. wheels. The Scoria features 20-in. wheels, however, and smaller wheels accelerate more quickly. The upshot here is that Mokwheel has created a very quick-to-accelerate e-bike. It's also a determined climber that won't get bogged down on a steep hill.
One notable difference between the Mokwheel Scoria and many similar e-bikes is Mokwheel's decision to go with a torque sensor rather than a cadence sensor. A torque sensor isn't inherently better than a cadence sensor, but it is different and most riders tend to prefer one over the other, though no one really knows until they try it.
With a torque sensor, a rider receives the benefit of the motor the moment they start pedaling. And the controller instructs the motor to respond in proportion to the rider's effort. That means that the harder the effort the rider makes, the more power the motor puts out and the moment the rider reduces their effort, say as they approach a turn, the motor reduces its output by the same proportion. With a cadence sensor, how hard the motor works is determined by the PAS selector and the cadence sensor simply tells the controller whether the rider is pedaling or not, which is why there is always a lag between when the rider starts or stops pedaling and the motor turning on or off.
Mokwheel estimates the 940Wh, fully internal battery will afford riders 60-80 mi. per charge. That's a sizable margin of error but it's understandable as everything from a rider's weight to the surface they are riding on and just how hilly the terrain is all play into the range a battery can afford. A light rider pedaling in PAS 1 on flat, smooth roads could possibly exceed 80 mi.
The drivetrain on the Scoria is a 7-speed Shimano system that receives a slight upgrade as compared to other similar e-bikes. It is spec'd with a trigger shifter that is easier to use than the thumb shifter we usually see.
Mokwheel Scoria Review: Braking, Safety & Warranty
Any time an e-bike maker markets an e-bike's off-road abilities or its ability to carry heavy loads we want to see hydraulic disc brakes due to their superior stopping power. Mechanical disc brakes can offer similar braking power, but the hand force necessary can be greater than what some riders are willing to make. Hydraulic discs are also smoother in operation.
Smaller wheels not only accelerate faster, but they also offer brakes a greater mechanical advantage. It would have been understandable for Mokwheel to select 160mm rotors, but they went with 180mm ones, which means the Scoria won't have any trouble stopping.
Mokwheel's warranty is better than what we see from most consumer-direct brands. They offer a two-year warranty with no notable exclusions. It's the sort of warranty that will help build a customer's confidence that they stand behind their products.
Mokwheel Scoria Review: Recommendation/Final Verdict
Utility e-bikes are a terrific way to get out of the car and get stuff done. We know that the best way to reduce our carbon footprint and help the environment is to park the car and get around by other means. Not only does the Mokwheel Scoria come with a rear rack, it features mounts for a front rack as well as an optional, longer rear rack. The motorcycle-style, dual-leg kickstand makes loading this e-bike easier as it keeps it stable.
An important part of being able to carry more than just the rider on an e-bike is having a motor with sufficient power to handle the extra weight. The Mokhweel Scoria's 750W brushless, geared hub motor produces a very muscular 90Nm of torque, which means it won't struggle to get up to speed when loaded down with groceries.
With its 940Wh battery, the Mokwheel Scoria boasts an estimated range of up to 80 mi. on a single charge. One reason they chose a battery so large is that when loaded with more than just a rider, that extra weight draws down the battery, reducing range. A utility bike runs short on utility if it doesn't have the range to make it home from shopping.
In addition to coming with the premium kickstand and rear rack, Mokwheel equips the Scoria with full fenders as well as front and rear lights.
Other touches we like include the hydraulic disc brakes and 180mm rotors on 20-in. wheels. That will result in terrific braking power as smaller wheels are easier to stop. The decision to go with the trigger shifter on the Shimano drivetrain rather than the more common thumb shifter is terrific as well. It's easier to use because it allows the rider to keep their thumb wrapped around the bar.
Thank you for reading through our review of the Mokwheel Scoria. Still have further questions? Wondering how it compares to a similar e-bike we've reviewed? Let us know in the comments below!