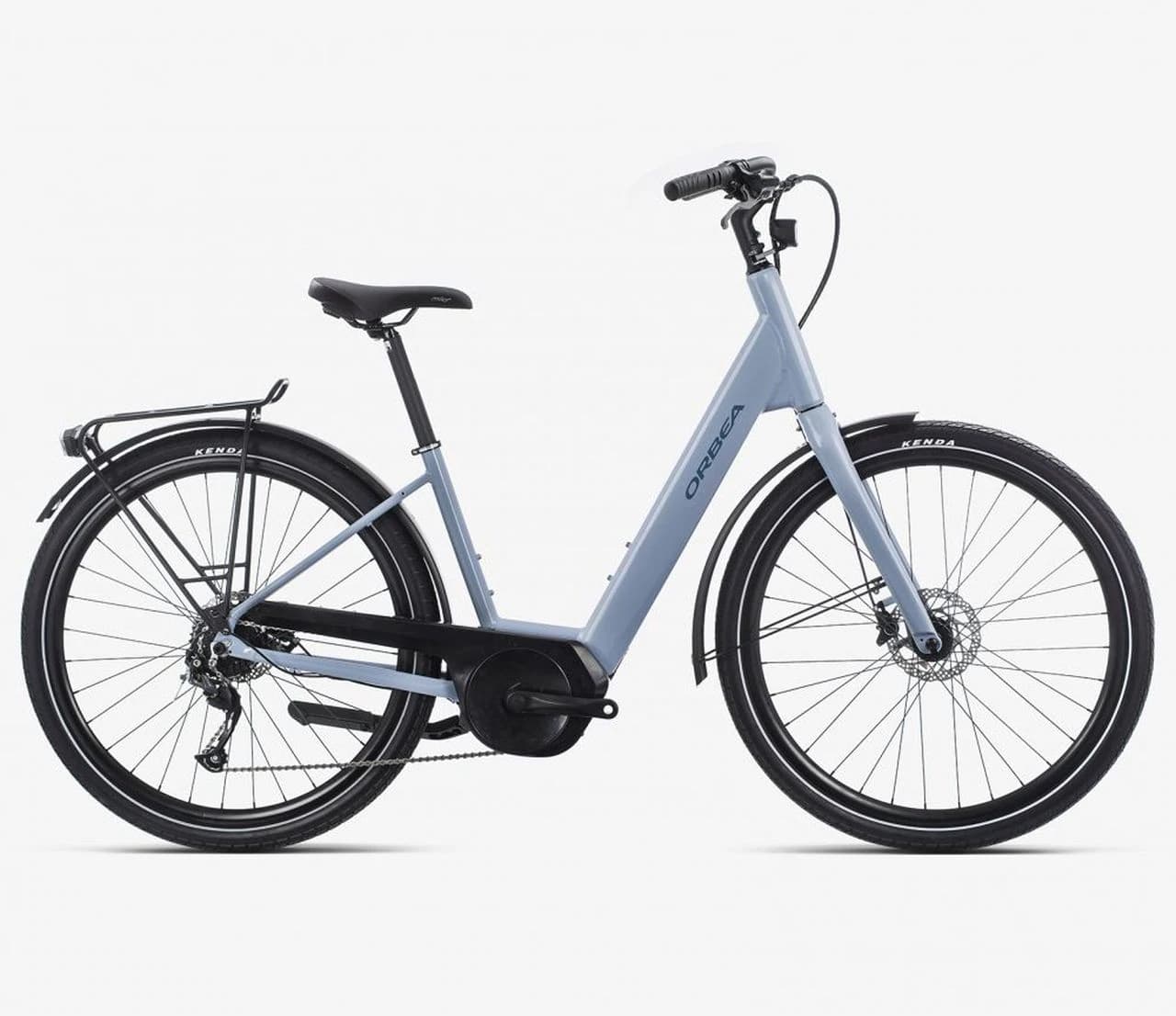 The Orbea Optima E40 is a lightweight and versatile ebike designed with comfort in mind. Whether it's commuting to work, a trip to the grocery store or a leisurely Sunday afternoon ride, the Optima E40 has you covered. Did we mention it's lightweight? As much as 20 pounds lighter than the competition in some cases. That means you can actually lift it onto your transport rack. As long as your typical ride range is around 30 miles or less, riding the Optima E40 will be a real treat. It's not your typical comfort bike with a motor.
Price as tested: $2499
Bike Category: Comfort / Leisure
Features like the swept-back handlebars, ergonomic grips and a step-thru frame design make the Optima E40 comfortable and easy to ride. The Ebikemotion X35 electric motor makes going up hills very tolerable. Especially if you are toting a bag or two of groceries home from the store. If comfort is important to you, Optima E40 will deliver an enjoyable experience.
Who It's For: The Leisure Cyclist
Whether you enjoy riding on bike paths, commuting or running errands, the Optima E40 has the features that will make your experience more enjoyable. The riding position is more upright and geared towards individuals that make comfort their highest priority. The low step-thru frame design is a big plus for those with a more limited range of motion. It makes getting on and off the bike much easier. At the end of the day, the Optima E40 makes riding more enjoyable for the leisure cyclist.
Bike Specs
FRAME Hydroformed Aluminum with Ebikemotion internal battery
Fork Aluminum with 400mm post mount
Headset 1-1/8″ Semi-Integrated
Handlebar Orbea City Riser Alu 640mm
Stem Orbea TDS-D617
Shifters Shimano Altus SL-M2000
Brakes Shimano MT200 Hydraulic Disc
Crankset Prowheel PRA105 42t
Cassette SunRace CSM989, 9-Speed, 11-36t
Rear Derailleur Shimano Altus M2000
Chain Shimano HG53 9-Speed
Wheels Airline Corsa
Tires Kenda 1172 700x50c
Pedals VP-856 Black
Seatpost Alloy 31.6x400mm Offset 0
Saddle Selle Royal Milo Plus DR
Fenders / Mudguard SKS EDGE Alloy C56R
Front Light Joss Spanninga Kendo Steps
Rear Light Joss Spanninga Lineo XDS Dinamo
Chainguard Sunon A017
Kickstand Ursus Power single adjust central
Motor Ebikemotion X35, 250 watt
Battery Ebikemotion 36V/6.9A
Charger Ebikemotion X35
Remote Ebikemotion iWoc
Front Hub Safety Lock
Pros
Comfortable, simple controls and easy to operate
Lightweight compared to other bikes in its category
The Shimano hydraulic disc brakes are superior to mechanical disc brakes
An additional battery can be added for greater range
The step-through frame makes it easier to get on and off the bike
Shorter cranks may help those with a limited range of motion.
Cons
Short battery range compared to other comfort ebikes (30 miles or less)
We felt that the stock seat was uncomfortable
The stem is not very adjustable in terms of rise
Features
The Frame
The Optima E40 features a lightweight aluminum frame. Our test model weighed in at 44.25 pounds. The step through design is ideal for a wide variety of different riders, making it easier to get on and off the bike.
Specialized U1-500Wh Battery
Fully integrated into the downtube, the lithium-ion battery is both powerful and inconspicuous with 500Watt hours and 25-60 miles of range.
Ebikemotion X35 System
The X35 ebike system is lightweight and powerful. In fact, the entire electrical system and motor weighs in at under 8 pounds. This makes the E40 more like a regular bike to ride.
Accessories
The E40 comes with useful accessories including running lights, fenders, a rear rack and a bell. The comfort-oriented accessories include ergonomic grips as well as a special handlebar and stem. It all adds up to a very versatile yet comfortable bike.
Hydraulic disc brakes
The Shimano hydraulic disc brakes have excellent stopping power and are far superior to mechanical disc brakes, which are typically offered on bikes in this category. You don't have to be a racer to appreciate the benefits of hydraulic disc brakes.
10 Speed Shimano Drivetrain
Shimano Deore shifters with RapidFire function make it so you can quickly and easily move through gears. The 10 speed drivetrain features 11-42t sprockets in the rear and a 48T chainring with nice guard for protection.
Nimbus Sport Reflect Tires, 650b x 2.3″, 60 TPI (front and rear)
The 650b Nimbus tires have street-tread and reflective stripes on the sidewall for visibility. Schrader valves can be refilled at any air station.
30-degree Backswept Handlebars, 26mm rise, 680mm width, 31.8mm
Sweptback handlebars with 20 degree stem post facilitate an upright position. Leather-wrapped ergonomic grips are both stylish and comfortable
Shimano BR-MT200 Hydraulic Disc Brakes, 180mm front; 160mm rear
The Shimano brakes counterbalance the Como's power with good stoppage when needed.
Specialized Commuter Pedals w/ grip tape & reflectors
Flat pedals with reflectors work with any shoe (or sandal). They aren't super grippy, but offer a wide surface for any size foot or shoe.
In-Depth Review
Comfort and Utility
The Optima E40 is lightweight and comfortable. Weighing in at only 44.25 pounds, this is an ebike that you can actually lift over the curb. The ergonomic handlebar grips, high rise stem and swooping handlebars help to alleviate hand and wrist pressure while keeping your posture upright. However, it would be nice if the stem offered more adjustability in terms of the rise.
The Optima E40 does have a unique comfort feature: shorter 152mm cranks. They end up being a bit easier to pedal in a circle, especially for the cyclist that has a limited range of motion. This makes the E40 ideal for someone who is just getting into cycling as well.
The E40 was also designed with utility in mind. It features integrated front and rear running lights: which turn on at the push of a button, a rear rack, and a chain guard. This makes the E40 ideal for everyday use. A trip to the store in the dark is no problem. A ride in the rain becomes easier. The Optima E40 is up for anything.
The Electrical System
Comfort style ebikes come in a few different classifications. The Optima E40 is a class 1 ebike, meaning that it is pedal assist up to 20 mph. The E40 does not have a throttle.
The controls on the E40 are simple and easy to use. Press the center button on the handlebar remote control to turn the system on. The first color flash gives you a general indication of battery life. Then use the arrow buttons on the remote control to choose your level of assist. Up provides more assist and down provides less assist. The colored light on the control module indicates the current level of assist. There are four different modes or levels of assist:
White, no assist – You can save power and ride it just like a regular bike.
Green, low assist – Gives you a small boost, but easy on battery life.Orange, medium assist – More helpful on the hills.
Red, high assist – Very helpful on hills, but uses the most battery life.
The Optima features the Ebikemotion X35 ebike system, manufactured by MAHLE. The Ebikemotion system provides an experience that feels more like riding a regular bicycle because the drivetrain isn't too heavy and overpowering.
Here are a few key advantages to the Ebikemotion system:
Hidden – most of the X35 system is hidden inside the bike frame. The biggest giveaway is an oversized rear drive hub.
Lightweight – the entire ebike system and motor weighs under 8 pounds.
Modular – Add an additional battery that fits inside a water bottle cage to double your mileage range.
Connectivity – Connect to the ebike system and get metrics with a handy app. Features Bluetooth connectivity on 2019 models and Bluetooth and ANT+ for 2020 models.
The Ebikemotion system is driven by a relatively quiet 250 watt rear hub motor. When the motor is on, you will hear a bit of a whirring noise. However, it's not loud enough to attract attention or prevent you from having a good conversation. MAHLE explains that the motor is also designed to reduce drivetrain friction when it is off.
The bottom line is, the Optima E40 rides very much like a regular bike, even when the motor is not providing assistance. The Ebikemotion system creates an experience that feels very much like riding a regular bike versus riding a really heavy ebike.
Battery
The battery is a 36V, 6.9A Panasonic, located inside the frame downtube. We were able to go about 25 miles on various levels of assist before needing a recharge. Recharge time typically takes 3-4 hours. If you want to go further in between charges, Orbea does offer an additional battery pack unit for $650.
Handling
The E40 makes riding around town, bike paths and leisure riding very enjoyable. The frame geometry places you in an upright position, which provides good posture, comfort and great visibility. The E40 feels relatively nimble and connected to the road. In short, it handles well. You will have the confidence to zip down a hill with traffic if you wish. And going uphill is pleasurable as long as the assist is on. The bike also feels great with the rear rack loaded. Perhaps this is due to its overall lighter weight.
The Build
The Optima E40 features a lightweight aluminum frame and fork with a low step-thru design. The step-thru design makes it very easy to get on and off the bike, and it's ideal if you have a more limited range of motion.
The Shimano 9 speed drivetrain provides sufficient gearing for riding around town. However, we did feel like we needed the assist when the grade got above 7%. The Shimano MT200 hydraulic disc brakes have superior stopping power compared to the mechanical disc brakes we often see on comfort style ebikes.
The Prowheel PRA105 cranks are much shorter (152 mm in length) than most cranks, but they provide a more pleasant pedaling experience, especially for those with a more limited range of motion.
The Airline Corsa wheels and Kenda 1172 tires are ideal for smooth surfaces, both on road and off. They round out a solid comfort bike build at a reasonable price point.
Recommendation/Final Verdict
The Orbea Optima E40 is not your typical comfort bike with a motor. Orbea has done their homework and addressed some important points that will ultimately keep you comfortable and improve the overall ride experience. The Ebikemotion X35 system integrates flawlessly with the E40, creating the perfect balance between power and weight. It would be nice to have more adjustability as far as the stem rise goes, but the stock setup isn't too bad.
The bottom line is, if you're looking for a high quality comfort ebike experience with minimal weight, go ride the Optima E40.You will not be disappointed.