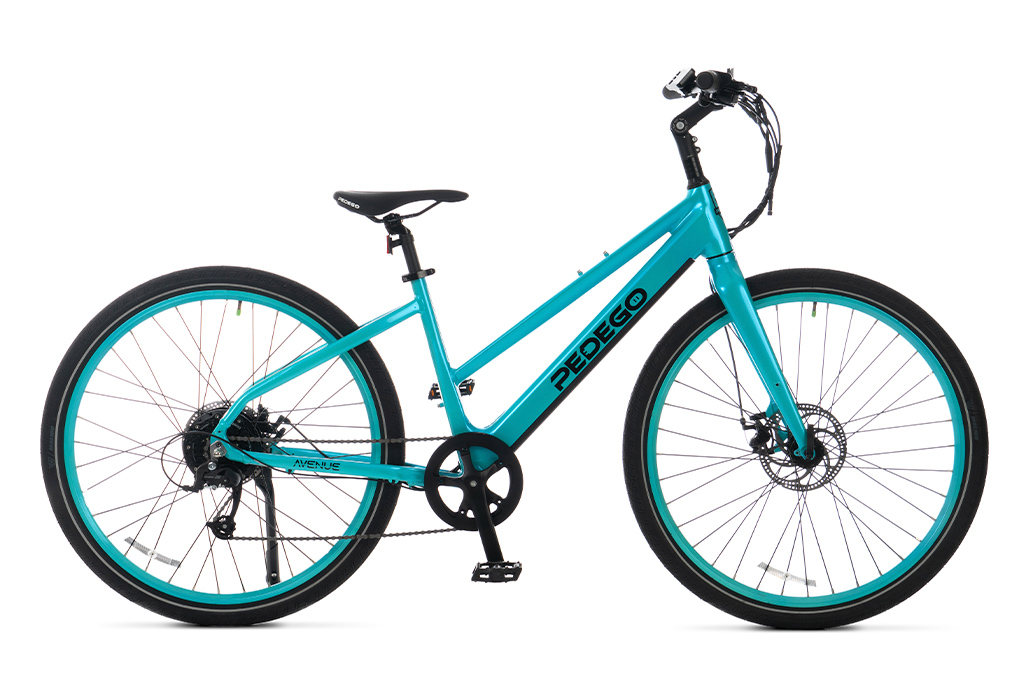 Intro
How does an e-bike company create a sense of value? It can be a tough concept to consider. For most e-bike companies, their answer is to try to maximize the number of features and accessories they include in their e-bike. If they include lights, fenders and a rack, it must be a great value, right?
Pedego Electric Bikes has gone in a different direction. In our review of the Pedego Avenue we will look at how they invested in quality in a way that can be hard to see when looking at a website or even when looking at one of their bikes sitting on a dealer's showroom floor. There are, however, ways to see just how they invested in their e-bikes and how their owners benefit. More on that in a second.
Producing an e-bike that weighs just a tick over 50 lbs. while maintaining affordability is not easy. Lighter parts are more expensive; there's a rule somewhere. To get to 51 lbs. (with the 499Wh battery), they had to invest in high-quality materials to make both the hub and the battery smaller than the Best Electric Bikes' team sees with some of their competitors.
Stories of batteries that died after weeks of riding or even upon opening the carton aren't hard to find. And nothing is more frustrating to an e-bike owner than an e-bike that won't, uh, e. And the way to avoid that is by going for higher quality components. An e-bike's weight is one way to infer quality (though a heavy e-bike can be heavy for perfectly good reasons), but there is an even better way to establish a reputation for quality.
Pedego offers a five-year, "no-excuses" warranty, plus lifetime on the frame and fork. This warranty isn't just exceptional for the e-bike world, it is virtually unheard of in the bike industry as a whole. If a rider has an issue with a battery, it is replaced free of charge for the first three years and in years four and five they pro-rate the replacement. Prior to the rise of the direct-to-consumer e-bike brands, the bike industry standard was lifetime on the frame and fork and one year on all parts and labor.
A warranty is rarely a selling point, understandably, but given the expense of an e-bike and the fact that many of their competitors charge hundreds of dollars to extend their warranty a second or third year, Pedego's warranty makes the case that this is a better e-bike than we often see at the $2000 price point.
Let's get on with our review of the Pedego Avenue and see what makes this e-bike special.
E-Bike Category: Commuter
Who the Pedego Electric Bikes Avenue Electric Bike Is for:
The Pedego Avenue is well-suited to anyone planning to commute to work on paved roads and harbors no off-road ambitions. It's great for anyone looking to get exercise or run local errands as well.
Pedego Avenue Review Ratings:
***All ratings are relative to e-bikes of a similar style and price point***
| | |
| --- | --- |
| Speed/Acceleration | |
| Hill Climbing | |
| Battery Range | |
| Braking | |
| Construction Quality | |
| Handling | |
| Included Accessories | |
| Warranty & Customer Service | |
| Value | |
Pedego Electric Bikes Avenue E-Bike Specs
Battery: 48V, 499Wh or 672Wh
Expected Range: Up to 42 mi. with the 499Wh battery and up to 56 mi. with the 762Wh battery, estimated
Charger: 48V 2A
Motor: 48V, 500W brushless, geared hub motor producing 45Nm of torque
Pedal Assist: 5 PAS levels
Throttle: Half-twist grip
Display: Backlit LCD
Headlight: N/A
Taillight: N/A
Frame: 6061 aluminum with fully integrated battery
Fork: 6061 aluminum
Fenders: N/A
Kickstand: Alloy, adjustable length
Handlebars: Alloy, 720mm wide
Grips: Ribbed rubber grips
Drivetrain: Microshift 7-speed shifter and derailleur with Shimano 12-32 cassette
Brakes: Bengal mechanical disc brakes with 180mm rotors
Pedals: Composite, with reflectors
Saddle: Sports style with single-density foam
Tires: 700C x 2.0 or 2.15-in. Puncture resistant
In-Depth Pedego Electric Bikes Avenue Review
Pedego Electric Bikes Avenue Review: Comfort, Handling, and Ride Qualities
E-bikes with 20-in. wheels have become quite popular. They make sense for folding e-bikes, but we are seeing them more and more frequently outside of that application. The Pedego Avenue went in the opposite direction with 28-in. (700C is the size the bike industry uses) wheels. So it's fair to ask why.
We like that Pedego offers the Avenue in both a traditional frame and a step-thru version. We appreciate any effort that an e-bike maker goes to offering bikes to fit a wide range of riders. While the seat tube is longer on the traditional frame than on the step-thru frame, the reach from the saddle to the handlebar is the same for both frames. That means that riders 5 feet 6 inches or shorter, and in particular, women, who tend to have shorter torsos than men, may find that reach to be a bit much. Helping to mitigate this some is the fact that the stem can be adjusted in an arc, which can make a difference for some riders.
There are a few reasons to go with bigger wheels. First, they roll more efficiently. They take a bit more energy to get up to speed, but once there, they roll very well because the larger the wheel, the lower the rolling resistance. Also, bigger wheels offer a smoother ride on rough surfaces. Another reason to like 700C wheels is that the wheels offer a more cushioned ride thanks to those longer spokes. Also, it's really easy to find replacement tires and tubes for 700C wheels; buyers have lots of choices.
The Pedego Avenue is equipped with one of two different tires, either 2-in. wide or 2.15-in. wide—supply-chain issues are still a thing. As wheels grow in diameter, the width they need to be in order to offer a comfortable ride shrinks to some degree. These tires will be more comfortable to riders than if they were only 20 in. in diameter.
The Pedego Avenue balances low-speed maneuverability while maintaining a calm nature at speed. E-bikes like this (bigger wheels) often feel a bit more graceful as they reach the upper limits of the assist speed.
This is a very straightforward e-bike designed by people with deep experience in the bike industry. One of the unusual, but thoughtful options Pedego offers with the Avenue is the ability to upgrade to "Mag" wheels. These are cast aluminum wheels and can handle more weight than a traditional spoked wheel; they are the perfect option for someone concerned about their weight and the strength of the e-bike. While the version with spoked wheels has a maximum weight capacity of 250 lbs., equipped with the mag wheels the weight rating goes up to 400 lbs.
Pedego Electric Bikes Avenue Review: Motor, Battery, and Drivetrain Performance
The Pedego Avenue is built with Pedego's proprietary 500W brushless, geared hub motor that produces 45Nm of torque. This isn't a super-powerful motor, but taken in the context of an e-bike that weighs just 51 lbs. (499Wh battery) or 54 lbs. (672Wh battery), this motor isn't saddle with an extra 20 or 30 lbs. of bike to accelerate.
Bigger riders may find that it struggles some on hills, but overall, this is a very capable motor that is lower in weight than many similar e-bikes.
Buyers have the choice of ordering the Avenue with either a 499Wh battery or a larger capacity 672Wh battery. When our colleagues at Electric Bike Report tested the Pedego Avenue with the 499Wh battery, they got a maximum range of 56 mi., which is very respectable.
The drivetrain features a blend of Shimano and Microshift components. These are compatible and Microshift makes reliable parts that tend to be more affordable than Shimano's, which helps keep the Avenue near the $2000 price point. The 7-speed drivetrain features a 12-32 cassette, which provides both more high gear and more low gear than we see with many comparable e-bikes.
Pedego Electric Bikes Avenue Review: Braking, Safety & Warranty
The Pedego Avenue is spec'd with Bengal mechanical disc brakes paired with 180mm rotors. This is an adequate setup for a Class 2 commuter, but considering that this e-bike is priced near the $2000 price point, it's a step down from what we typically see at this price point. Normally, we would expect to see hydraulic disc brakes from Shimano or Tektro. The real question is just whether these brakes provide sufficient braking power to stop the e-bike in a reasonable distance and enough control to modulate speed in turns. And the answer to that question is yes, they do offer plenty of power.
The first ingredient of safety with any e-bike is reliability. The Pedego Avenue is a very well-built commuter made with high-quality parts. The option to buy the Mag wheels is a terrific option because it eliminates what will often be the part of the bike where problems first show up for bigger riders.
This is a no-frills e-bike and doesn't include front or rear lights. We consider good lighting to be important not just in low-light situations, but any time someone is riding on the road—or even a bike path—lights aren't a bad idea.
Any time an e-bike owner can visit a bring-and-mortar store to deal with any issue they have with their e-bike, rather than emailing a customer service rep, that tends to be a win. Among the e-bike brands, Pedego has one of the largest and most experienced dealer networks around with more than 200 so far, and new dealerships are opening all the time.
Pedego's warranty is longer than most, with the Avenue covered for five years on all parts and labor as well as a lifetime warranty on the frame. It's one of the best warranties in the entire bike industry.
Pedego Electric Bikes Avenue Review: Recommendation/Final Verdict
The Pedego Avenue is a relatively straightforward commuter. On Pedego's site, they offer a number of racks, baskets and other accessories, like a pet carrier. It's a good thing because unlike most of their competitors in this price range, Pedego doesn't include any of the standard accessories—no fenders, no lights and no rear rack. For someone on a tight budget who needs those things, that could prove to be too much extra expense. Worth noting is that they include a tool kit that likely has every tool a rider needs to assemble their e-bike, should they not purchase it from one of Pedego's dealers.
So if Pedego doesn't include many accessories, it is fair to ask why someone should pay closer to $2000 for an e-bike that some manufacturers charge hundreds less for. The simple answer is that extra cost goes into what is arguably the best warranty going for e-bikes, as well as the opportunity to visit a dealer and have them work on the e-bike. Pedego wouldn't offer such a great warranty if they didn't have such a good reliability record and reliability definitely counts for something.
We would prefer to see hydraulic disc brakes for their feel and power, but we have to acknowledge that mechanical disc brakes are easier to work on, which will result in lower labor costs should someone need to take their e-bike to a Pedego dealer for service.
Among our favorite features on the Pedego Avenue are its options for a 672Wh battery and the mag wheels. The larger battery tacks on $250 while the mag wheels add $400. For bigger people, the upgrade to the mag wheels is a very smart option. Again, reliability.
We also like that the Pedego Avenue comes in two different frame designs, but again, we wish the reach from the saddle to the bar was shorter on the step-thru frame. Another aspect of the Pedego Avenue we like and think is easy to overlook is the fact that it weighs just a tick more than 50 lbs. A 75-lb. E-bike can be too much for some people to handle, especially anyone who might have balance or strength issues, so an e-bike closer to 50 lbs. will definitely add to a rider's confidence. Also, the way the battery integrates into the down tube makes the Avenue look more like a traditional bike than most. It certainly doesn't advertise that it is an e-bike, and for some folks, not advertising that it is an e-bike can be an important part of the look.
The display is integrated with the PAS selector and we would prefer to see the display mounted near the stem where it is easier to glance at.
Thank you for reading through our review of the Pedego Avenue. Still have further questions? Wondering how it compares to a similar e-bike we've reviewed? Let us know in the comments below!

Reader Interactions