Welcome to our spec review of the Priority Current commuter electric bike! The Priority Current was sold out immediately upon release, which is why our team hasn't had the chance to ride the eBike just yet.
However, due to high customer interest, we wanted to do a Priority Current review of some kind to help your buying decision, and whether this is the eBike for you. That's why we formulated this spec review.
While we can't describe the Priority Current's exact feel, we hope to provide you with some general impressions and expectations of the features and performance. Based on our experience with other Priority eBikes and comparing the components the Current shares with other electric bikes gives us a good idea of the general feel of the bike.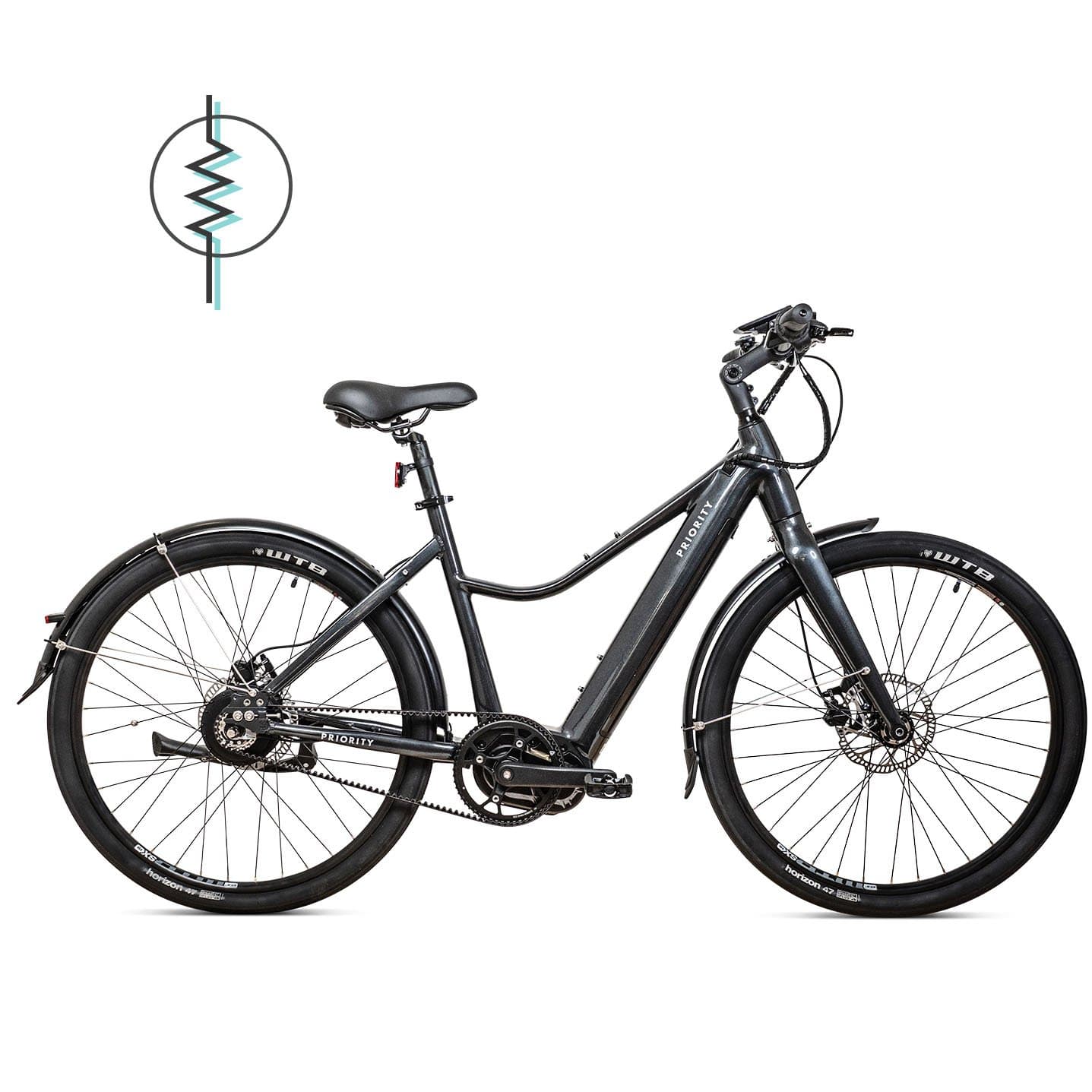 *To see current pricing on the Priority Current click here
Many cyclists use eBikes to get to work swiftly or as an excellent way to burn calories before they go shopping, out to eat, or something else fun. Whatever you're doing, the Priority Current is one of the best commuter and city cruising eBikes we've had the chance to review for a few reasons.
The 6061 aluminum frame is average, but with three frame sizes, it allows all types of cyclists to enjoy the bike's incredible performance. A great 500 W / 140 Nm motor and one of the most powerful motors we've ever reviewed. It's the key draw for this class 3 eBike. You will be able to reach 28 MPH in just a couple of seconds.
The 500 Wh battery has a 60-mile range, but you'll feel like you're traveling even more due to the short 4 amp recharge time, which can go from 0% to 100% in just 2 to 3 hours.
The Priority Current is one of the few eBikes currently available with a CVT belt system, providing nearly limitless gear shifting along with a quieter, smoother, and more stable drivetrain experience.
Even when riding at high speeds, you'll come to a smooth stop quickly with the inclusion of dual-piston Tektro hydraulic disc brakes. Factor in the kickstand, headlight, tail light, ergonomic grips, cushy saddle, and other premium components, and you have a powerful yet comfortable eBike that will blow past your friends and traffic.
If you want to learn about one of the fastest but quietest commuter eBikes on the market, read our spec review of the Priority Current eBike!
Bike-Category: Class 3 eBike. Pedal activated motor assistance up to 28 MPH.
Who It's For: Cyclists who want a fast city commuter bike to help outpace traffic with ease. Especially well suited for those who have tough hill climbs as part of their daily commute.
Bike Specs
FRAME: 6061 Aluminum Alloy
UI/REMOTE: LCD Digital Display
BATTERY: Removable Integrated 500 Wh Battery
CHARGER: 4 Amp Charger
MOTOR: Mid-Drive Torque Sensor Motor, 500 W / 140 Nm
CHAIN: Gates Carbon Drive CDX Belt
SHIFT LEVERS: Shimano SIS Index Right Thumb Shifter
CASSETTE: E-bike Specific Shimano Inter-5 Internal Hub
CHAINRINGS: N/A (CVT System)
DERAILLEUR: N/A (CVT System)
RIMS: Double Walled Aluminum Alloy Rims
TIRES: WTB 650 Horizon Tires, 26'' x 1.85''
SADDLE: Gel Padded Comfort Saddle
STEM: Height Adjustable
HANDLEBARS: Adjustable Flat Handlebars
GRIPS: Ergonomic Support Grips
BRAKES: Tektro Hydraulic Disc Brakes, 180 mm Rotor
PEDALS: Aluminum Platform Pedals
KICKSTAND: Rear Mounted Kickstand
BELL: N/A
HEADLIGHT: Integrated Headlight
TAIL LIGHT: Integrated Tail Light
FENDERS: Composite Fenders
Pros
A performance-oriented electric bike not easily matched by many other premium eBikes available now. Available in three frame sizes to accommodate all types of cyclists.
Balanced 6061 aluminum construction. Full assembly weight averages 53 lbs, which is a typical weight you find with many other eBikes similar to the Priority Current.
Removable Integrated 500 Wh Battery. Slots into the central downtube, protecting it from crashes and maximizing energy efficiency. Easy to pop out for charging off the bike.
Lightening quick Premium 4 amp charger helps you get back on the road fast. Full recharge time for the Priority Current is just 2 to 3 hours.
Mid-drive torque sensor motor, 500 W / 140 Nm output. One of the most powerful motors we've ever had the chance to review on an eBike.
E-bike Specific Shimano Inter-5 Internal Hub CVT drivetrain. Belt based system that is longer-lasting, quieter, and more efficient than chain-based systems.
LCD digital display. Very large and easy to read and can be used during the day or at night. Five pedal assist modes to choose from, along with a walk mode.
WTB 650 Horizon 26'' x 1.85'' tires. Retain inertia well once you've built up speed, with excellent overall handling and maneuverability due to the thin tire design.
Tektro hydraulic disc brakes with 180 mm sized rotors. Come to a quick and steady stop when you need to, even when you're riding at over 30+ MPH.
Suitable safety accessories included with the stock model. Reflective tires and pedals, along with an integrated headlight and taillight. The bike doesn't need many upgrades.
Cons
The LCD display seems underwhelming compared to the premium displays on other eBikes. A fixed display also means that it is difficult to replace and upgrade.
High-quality torque sensors, but they're a little glitchy as well. Initial set off can be very jerky, with the motor sometimes oscillating in power while you ride before it evens out.
Not great suspension support. If you ride over cobblestone or gravel roads, be prepared for a noticeably bumpy ride.
Features
6061 Aluminum Alloy Frame
The durable eBike frame comes in three different sizes and two colors, accommodating all types of cyclists with a more personalized bike option. The total assembly weight is around 53 pounds across all three frame sizes.
Removable Integrated 500 Wh Battery
While called an 'integrated battery,' it's relatively easy to pop out the battery to be charged on or off the eBike. The estimated range with optimal riding settings is over 60 miles on a single charge.
4 Amp Charger
The potent premium charger cuts the recharge time down significantly compared to basic 2 amp chargers. The estimated recharge time from 0% to 100% is just 2 to 3 hours.
Mid-Drive Torque Sensor Motor, 500 W / 140 Nm
One of, if not the most powerful mid-drive motor we've ever had the chance to review. If there's a paved road, you can tackle any challenge with the Priority Current. Extremely quiet motor system due to the belt CVT drivetrain.
LCD Digital Display
Extensive but mostly simple LCD digital display. It helps you keep track of your key riding metrics and choose between five pedal assist levels along with a walk mode. The USB port is used to charge your smartphone while you ride.
E-bike Specific Shimano Inter-5 Internal Hub CVT Drivetrain
CVT belt based drivetrain that has several advantages over traditional chain based drivetrains. Quieter, longer-lasting, with smoother and virtually unlimited gear shifting. Nearly impossible to suffer a belt drop while you ride.
WTB 650 Horizon 26'' x 1.85'' Tires
Tall and thin tires that emphasize maneuverability with great overall riding speed and good ground traction. Well designed for the class 3 eBike, and are meant to ride long distances at over 28 MPH.
Adjustable Flat Handlebars with Aluminum Alloy Fork
Tilting handlebars will help you pick between a more passive or aggressive riding style. The aluminum alloy fork is rigid and strong, providing some shock absorption when you hit rougher road sections.
Tektro Hydraulic Disc Brakes, 180 mm Rotor
High-quality dual-piston hydraulic disc brakes with 180 mm sized rotors. Come to a quick and steady stop, even when riding at high speeds. Hydraulic disc brakes last longer and are also more durable than standard mechanical disc brakes.
Aluminum Platform Pedals
Very sturdy aluminum platform pedals with greater durability, weight support, and traction support than your typical plastic pedal platform. Side reflector panels are included for greater cyclist visibility.
In-Depth Review
Frame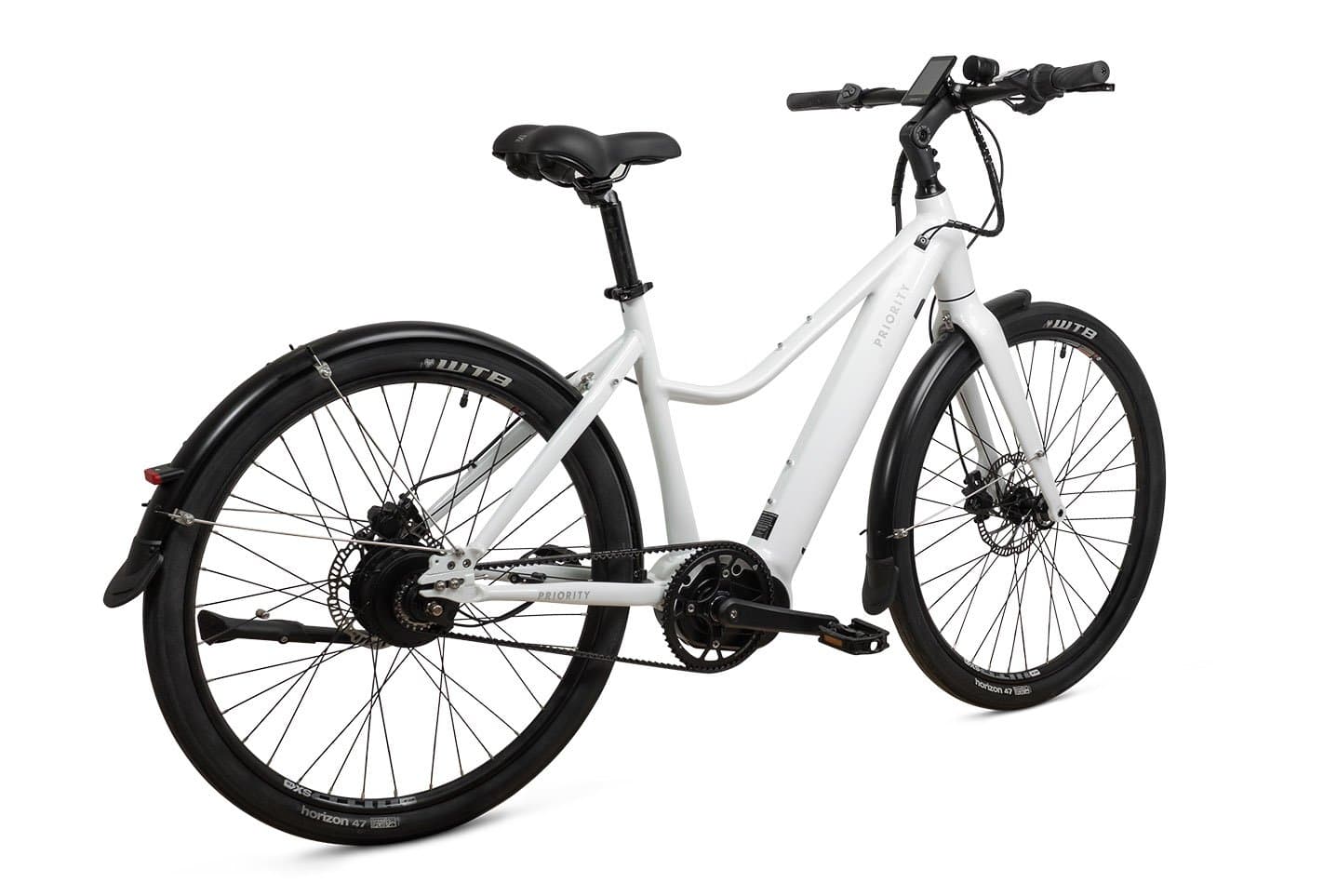 Built with 6061 aluminum, the Priority Current has the same aluminum alloy used for many other eBike frames and for constructing components in cars, boats, and even aircraft. This aluminum alloy is so popular because it's lightweight, durable, and affordable to use in frame construction.
The Priority Current weighs about 53 lbs fully assembled, a typical weight expected from an eBike. While the weight isn't noteworthy, we appreciate that the Priority Current is available in three sizes. Whether you're short or tall, you should find a frame size that will help you have a more comfortable riding experience.
You can also choose between a great white or charcoal shade, the two color options complement the good-looking Priority Current design.
Motor & Battery
The Priority Current is a class 3 eBike, with pedal activated motor assistance up to 28 MPH.
Our favorite feature on the Priority Current is easily the mid-drive motor. The mid-drive engine has a 500 W / 140 Nm output, a level of power that makes it one of–if not the single most– powerful motor we've reviewed here at Best Electric Bikes.
Suffice it to say; there won't be a single paved hill you can't climb with this eBike. And reaching 28 MPH in just a couple of seconds with the high pedal-assist levels is a snap.
The torque-sensor-based motor provides for a steadier overall riding experience and a more energy-efficient motor system while you ride. This is, easily, one of the best eBike motor systems on the market right now.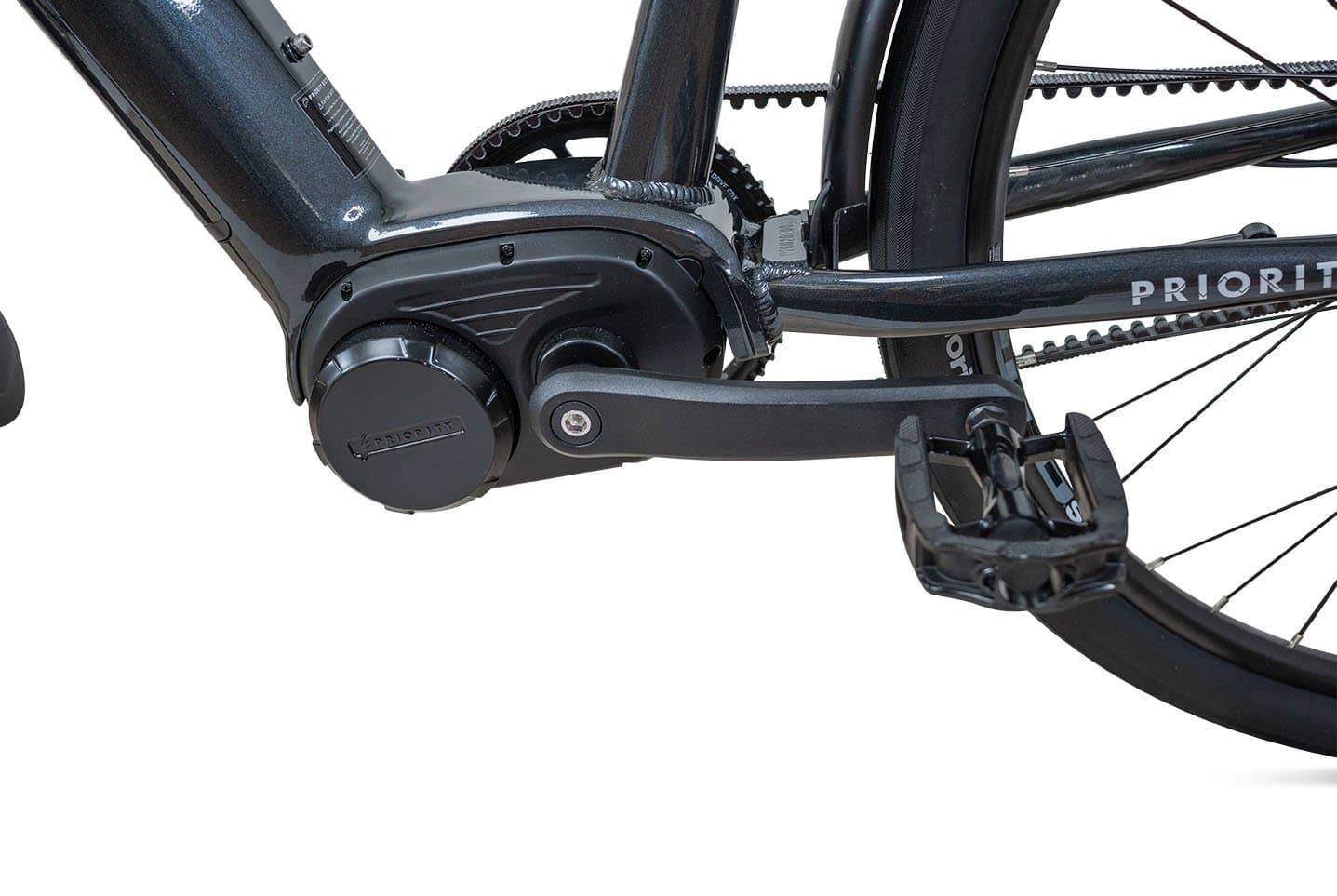 While the battery and charger situation isn't super impressive, it's still a great system overall that you'll appreciate while riding. The Priority Current is equipped with a 500 Wh battery. While Priority describes it as an 'integrated battery' system, it isn't like other eBikes that have a non-removable integrated battery. It takes just a couple of seconds to pop the battery out, which provides great protection and energy efficiency when in use– but you can charge the battery on or off the bike.
Expect to travel over 60 miles on a single charge with low pedal assist settings, and when it comes time to recharge, it's just 2 to 3 hours to go from 0% to 100%. The powerful 4 amp charger is why recharging is so quick, and another premium inclusion with the stellar Priority Current eBike package.
We usually don't talk about the pedal sensor system, but we want to highlight that the Priority Current does incorporate a very high-quality torque sensor pedal system. Torque sensors typically provide a smoother overall riding experience, besides providing more accurate motor power depending on your riding situation. For our part, we think torque pedal sensors are fantastic and would prefer to see them included over cadence pedal assist sensor systems going forward.
However, torque sensors aren't as popular as cadence sensors just yet due to their price and some minor glitches. Occasionally, while riding, the motor will suddenly provide too much or too little power before evening out. While it isn't a dramatic change, just know that the pedal system's occasional jerky feel is an issue that Priority and other eBike manufacturers are working hard to resolve.
Display/Assist Modes
The one feature we're a bit mixed on is the display set up for the Priority Current. The included display is fine, and we appreciate the large size, making it very easy to glance down to keep track of your riding metrics. The display also has a USB port, so you can plug in your smartphone or watch and keep your device charged while you ride.
But, we feel the display is somewhat lacking. It doesn't have quite as many extensive readouts as other premium ebikes. Because the display is fixed to the eBike, it's a challenging and time-consuming process to swap the controller out for something more advanced. If you don't mind having a more basic display, the Priority Current will be a close to perfect eBike for you.
Otherwise, you'll need to take your bike to a shop if you want help replacing the LCD display with something more advanced. Either way, these are the readouts, settings, and key riding metrics you can expect with the Priority Current eBike:
Priority Current LCD Display Readouts, Metrics, and Settings:
Current Speed
Pedal Assist Level (Five Levels + Walk Mode)
Battery Level (Five Bars)
Current Trip
Odometer
Light Settings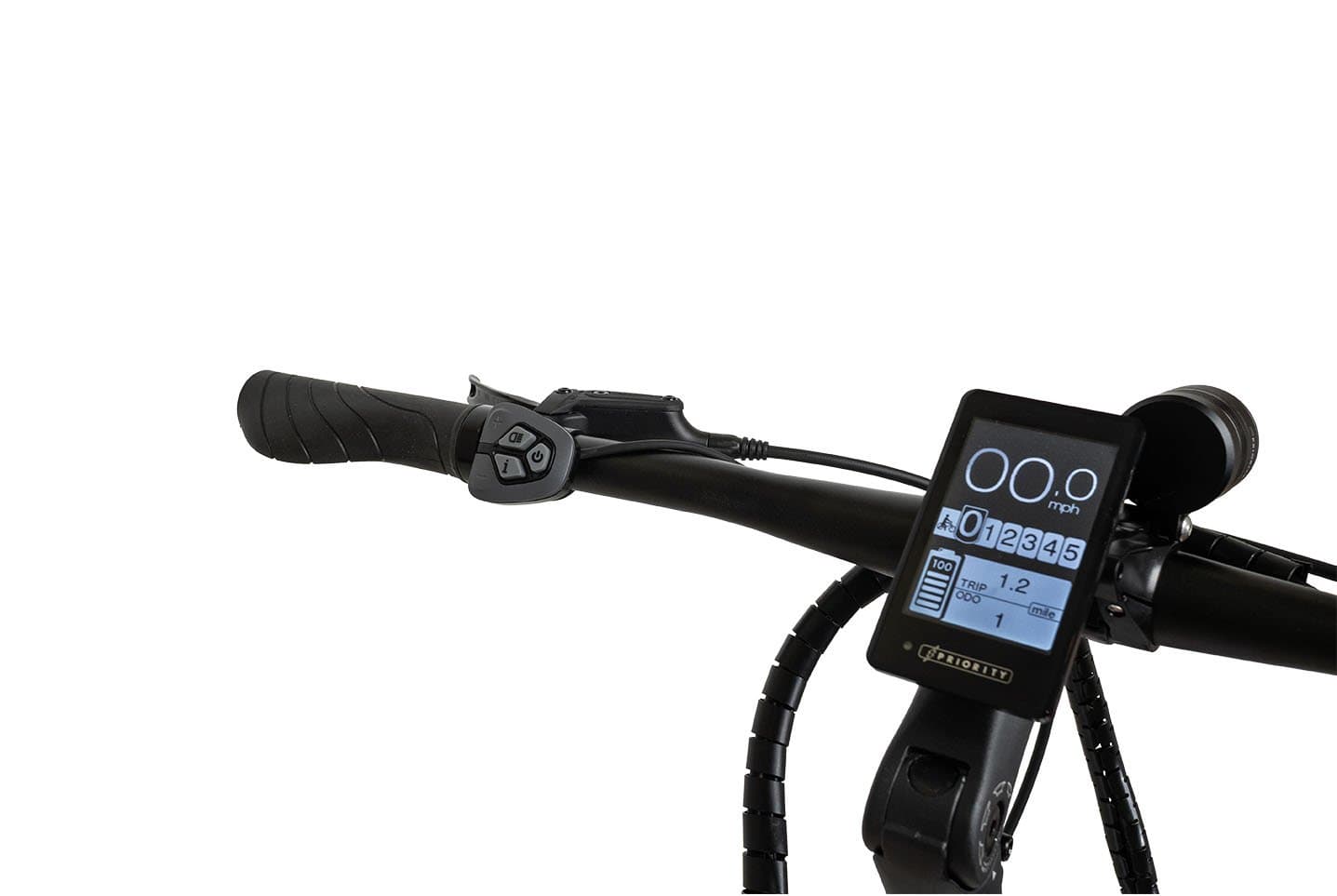 While it may have a torque sensor, the pedal assist modes work much like a standard cadence sensor eBike. Set the pedal assist mode for a low level if you want to prioritize your overall range. In contrast, set the pedal-assist mode to a higher level if you prioritize the acceleration and total motor power.
Swapping pedal assist modes is easy, and can be done by using the small motor controller next to the left handlebar grip. Try out each pedal-assist mode when you get the Priority Current, so you know which pedal assist mode to switch to for any given riding situation.
Handling
On Streets- The Priority Current is a premium city commuter bike with excellent overall handling if you stick to paved urban streets. The bike is fast and equally easy to control at low and high speeds, with excellent stability (if you picked a bike frame size that matches your height). With a great braking system, you'll come to a quick and easy stop when you need to. The premium tires are designed to reduce the risk of blowouts as you travel at high speeds or slow down. If you want one of the best, most comfortable riding experiences you can get right now in the city, check out the Priority Current eBike.
Turn Radius- With 1.85'' tires, you have a very tight turn radius on the Priority Current eBike. Whether you need to get your bike through a narrow doorway or tight alleyway, or need to make a sudden sharp turn without hitting the side of a car, it's easy with the Priority Current electric bike. The frame is a bit heavier than regular premium city commuters, so it's less likely to tip over and send you falling to the ground if you take a turn too tight. Just remember that this is a class 3 eBike and that you're going to have a much easier time turning at slower speeds instead of the 28 MPH motor speed cap.
Low-Speed Handling- 53 lbs is about the average weight for a city commuter eBike, so if you've handled other bikes at low speeds before, you mainly know what to expect with the Priority Current. There are a couple of ways to make low-speed handling even more comfortable with this eBike. The first is to set the motor to a low pedal-assist mode setting. Alternatively, you can also dismount from the eBike and turn on walk mode, which will push the Current even without turning the pedals. Both are great options, and while walk mode and low pedal assist modes do drain the battery, they are both highly efficient and will not significantly impact the overall range of your current riding trip.
Gears/DriveTrain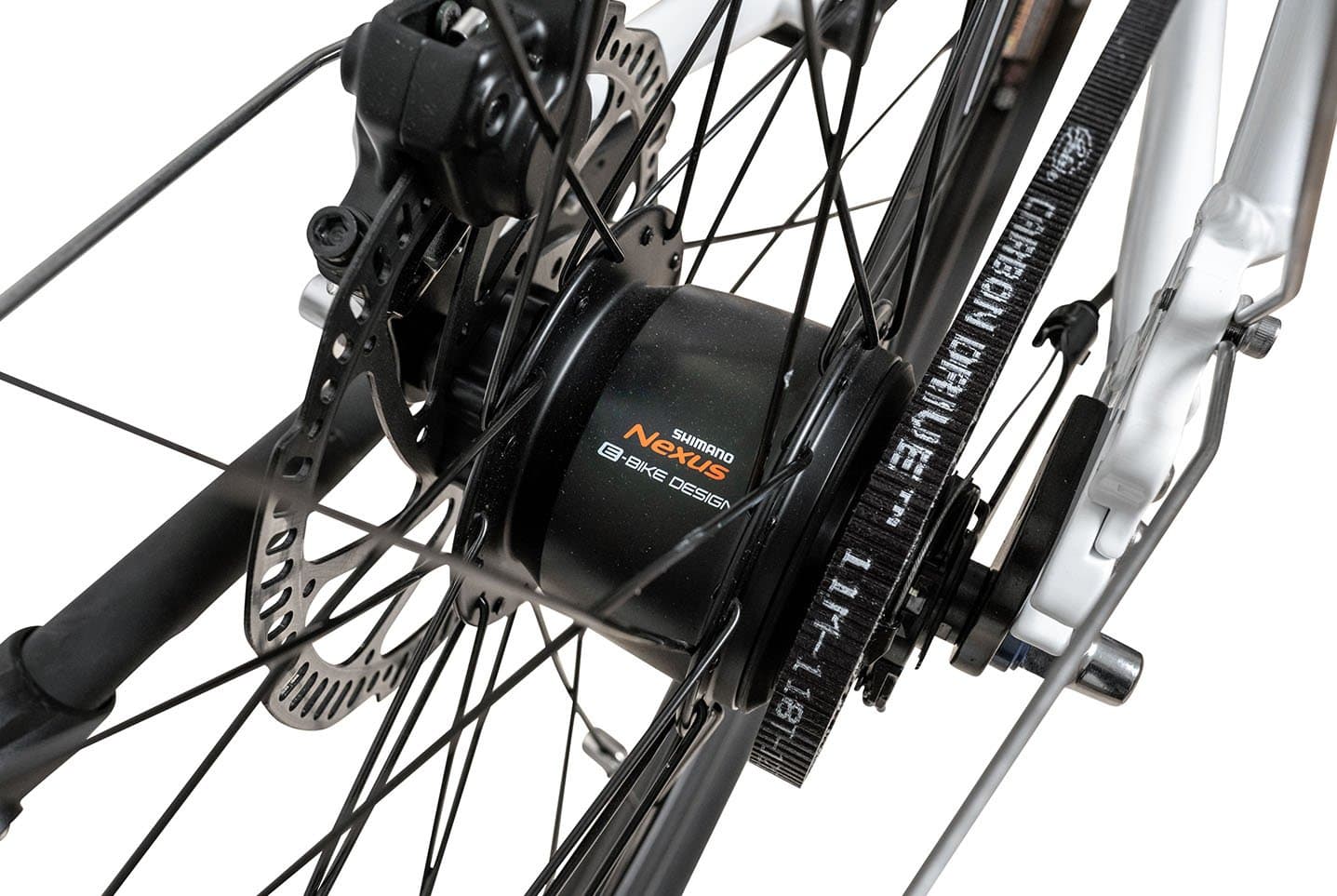 While the motor is the best feature on the Priority Current, a close second would be the E-bike Specific Shimano Inter-5 Internal Hub CVT drivetrain. Continuous variable transmission systems, often shortened to CVT systems, are a recent addition to eBikes that more companies are adopting due to their advantages over simple chain based drivetrains.
CVT belts don't get worn out as quickly by the motor as chains do, are quieter than chains, and provide virtually unlimited gear shifting compared to the limited gearing of a chain drivetrain. With the inclusion of composite fenders, it's improbable that the drivetrain will ever suffer a belt drop, so you can ride to your heart's content without having to perform much maintenance on the Priority Current eBike.
Brakes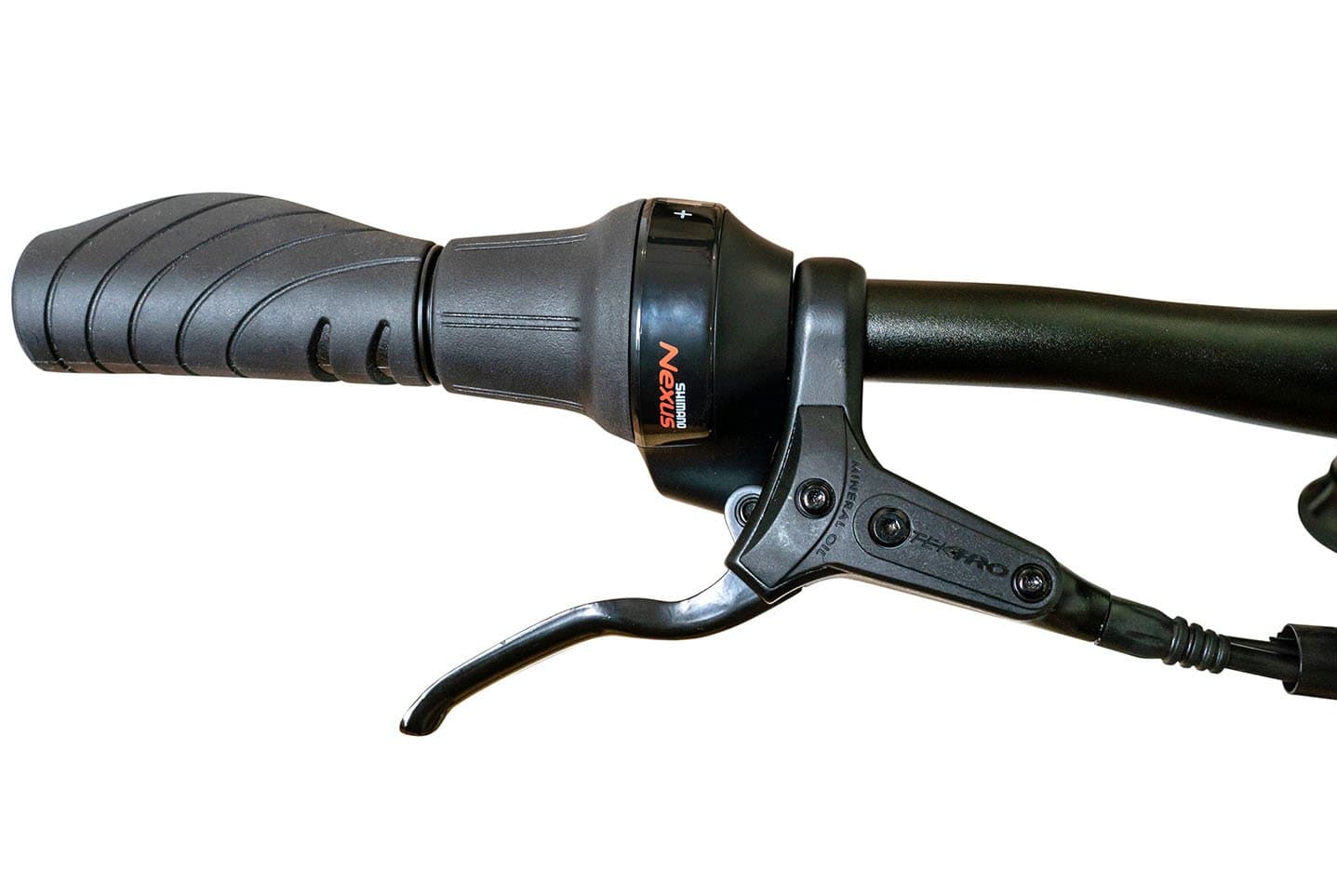 Riding at high speeds means you need a more robust braking system to help you come to a stop, which is what you will get with the dual-piston Tektro hydraulic disc brakes with 180 mm rotors. Hydraulic disc brakes are sturdier, longer-lasting, and provide more stopping power than your average mechanical disc brake setup, which is why hydraulic brakes are included more often with premium eBikes than mechanical disc brakes setup. Further, you have large 180 mm rotors– a size commonly used for mountain bikes–but work even better when used on a city commuter eBike. When riding the Priority Current, you can feel confident that you'll come to a complete rest even when traveling over 30+ MPH.
Suspension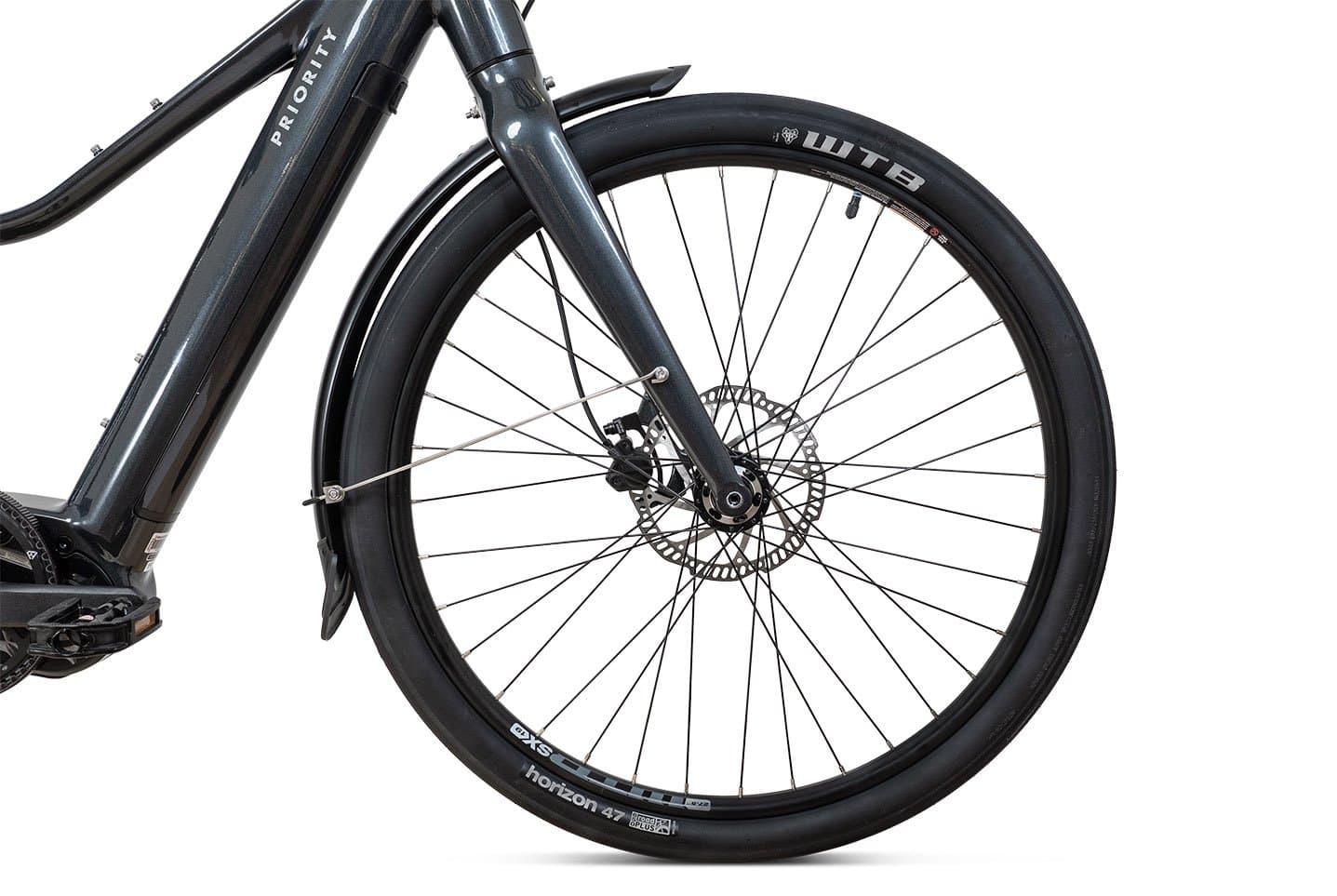 City commuters don't often have suspension systems, given the extra weight, and generally aren't used to their fullest extent unless you hit a cobblestone or gravel pathway. So, we understand why the Priority Current doesn't have more fleshed out suspension support. The natural bike weight and rigid fork act as your base shock absorbers.
Even so, be prepared for a bit of a bumpy ride when you hit less than smooth roads, and avoid trail riding as much as you can with the Priority Current electric bike.
Pedals
Pedals aren't a critical component to consider, but it is nice that aluminum platform pedals are included with the Priority Current eBike. Aluminum platform pedals are sturdier than plastic pedals and provide better traction support due to their superior pedal texture. With the Priority Current, we also like how large the embedded reflector panels are, making it easier for other cyclists and cars to spot you when they approach from behind or ahead.
You can throw on your favorite set of pedals if you have them. Still, the stock pedals on the Priority Current are sufficient for most cyclists interested in purchasing this electric bike.
Grips and Saddle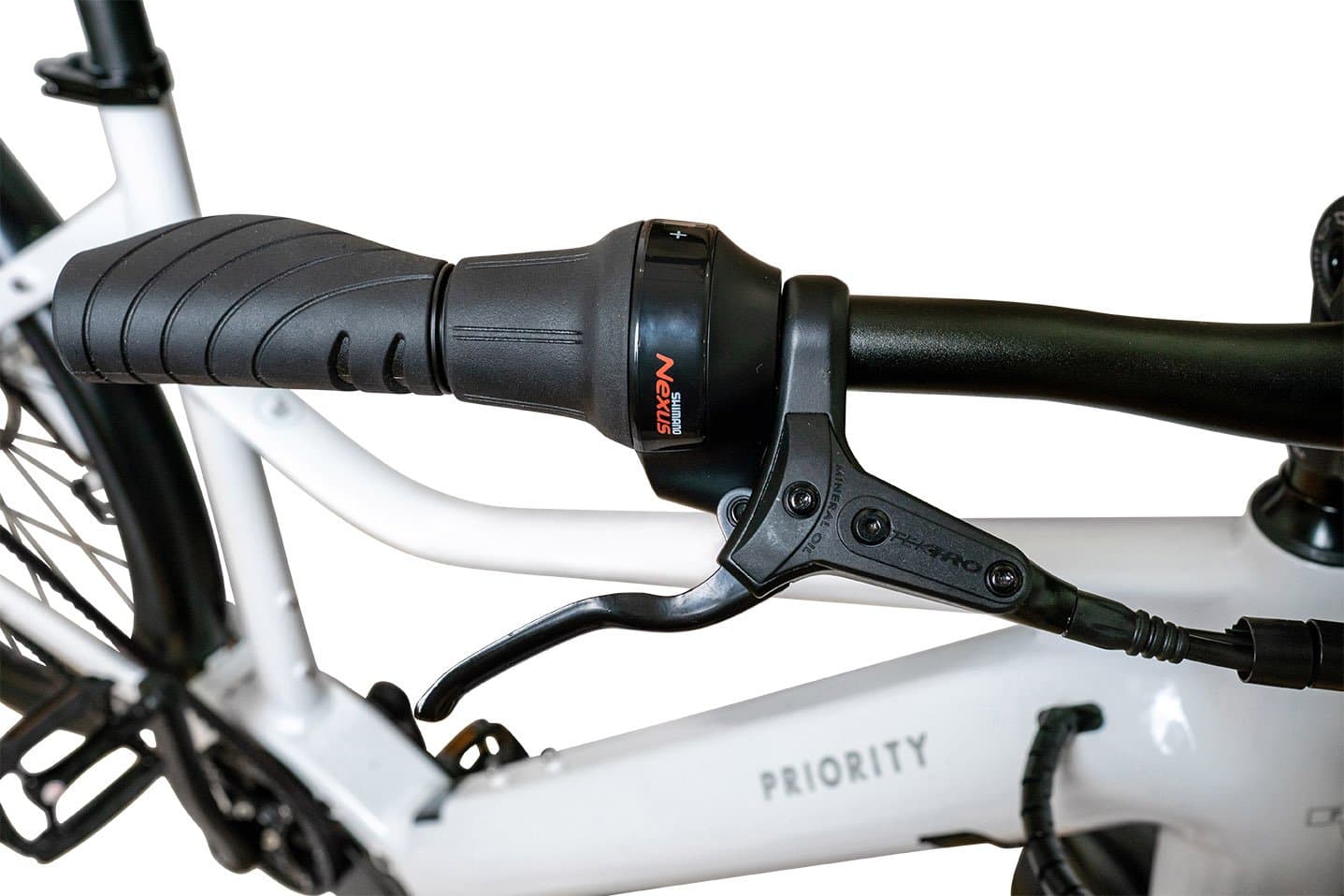 Priority likes to advertise the Current model eBike as being equally powerful and comfortable, and it's hard to disagree with them. The flat handlebars have an adjustable angle, so you can choose between a relaxed or aggressive riding stance when you head for work or cruise around town.
The well designed ergonomic grips are comfortable even without gloves. You'll ride for hours without irritating your hands or wearing out your arms.
You can also look forward to the gel padded comfort saddle, which provides a nice, cushy seat for most cyclists who ride this bike. We noticed that the saddle wasn't quite large enough for tall, heavy cyclists interested in the large frame—riders above 6'2'' and taller are better off if they swap out for an XL saddle. Otherwise, you're likely going to have a very comfortable and relaxing riding experience when you go out on the Priority Current eBike.
Wheels and Tires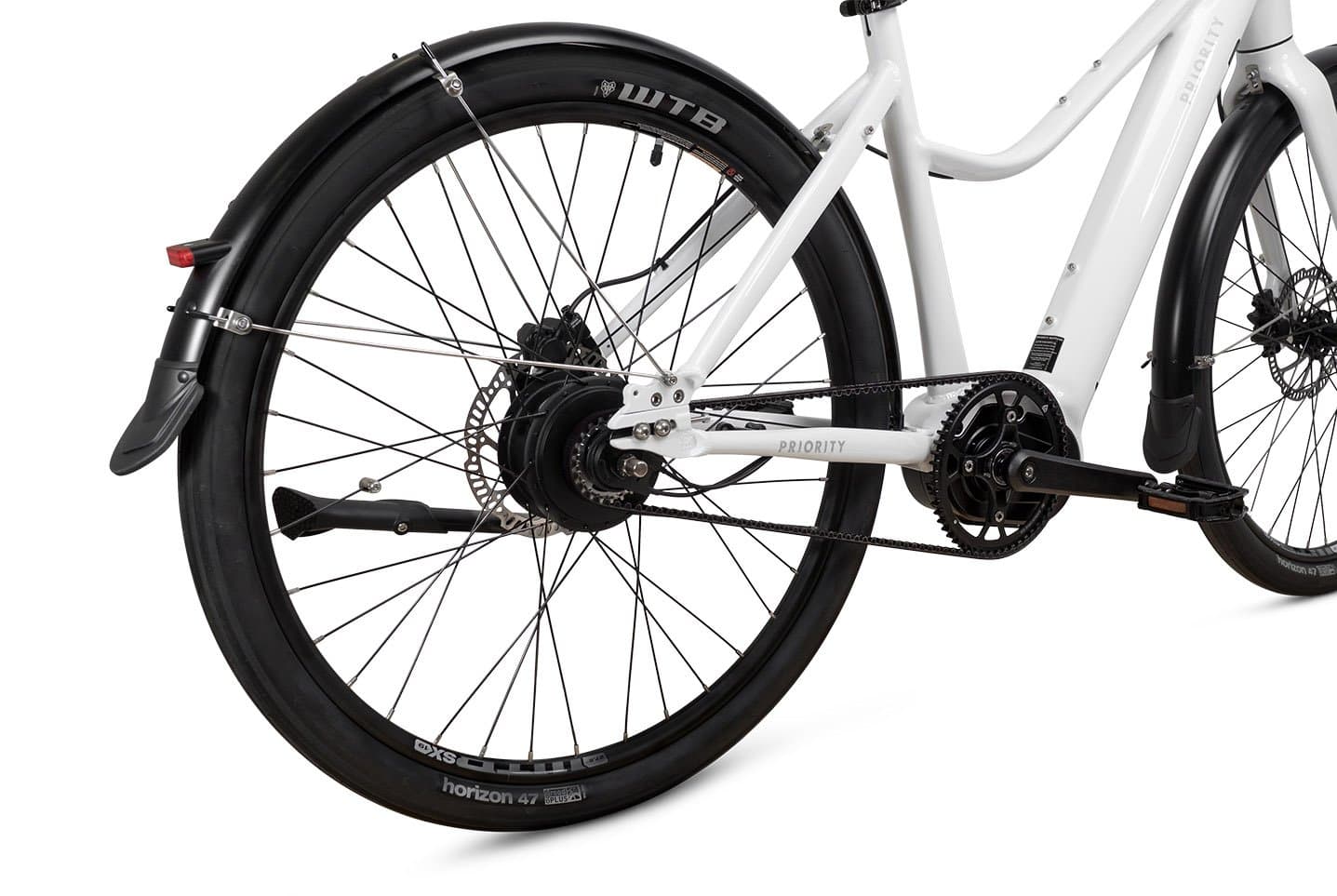 It may be near the end of our review, but the wheels are just as important as many other components on the Priority Current eBike. Custom WTB 650 Horizon 26'' x 1.85'' tires mounted on traditional double-walled aluminum alloy rims are how you'll get around, with a recommended inflation range of 25 to 45 PSI.
Lower PSI is better if you expect to ride over rougher roads or near the beach, while higher PSI will provide better traction and acceleration on smooth roads. SG2 nylon puncture protection is also incorporated, which improves the tires' durability and significantly improves air retention by preventing sidewall air seepage. Keep to riding on city streets, and the tires will serve you well as you ride the Priority Current electric bike.
Accessories/Upgrades
The Priority Current is a premium eBike, not only in its performance but due to the number of great accessories that come with the stock model. You can look forward to an integrated headlight and taillight system, a kickstand, full fender coverage, along with many other great accessories.
If you just get the stock model, you effectively have everything you need for a safe and exciting riding experience as you commute to work or tour the city. Even so, there are other accessories available for the Priority Current that we recommend for an even better riding experience, including the following:
Priority Hudson Bags
Priority High Power Horn or Ding Dong Bell
Priority, Kryptonite, and Viking Lock Systems
Priority Phone Holder
Priority Pedal Straps
Priority Rear Rack
Recommendation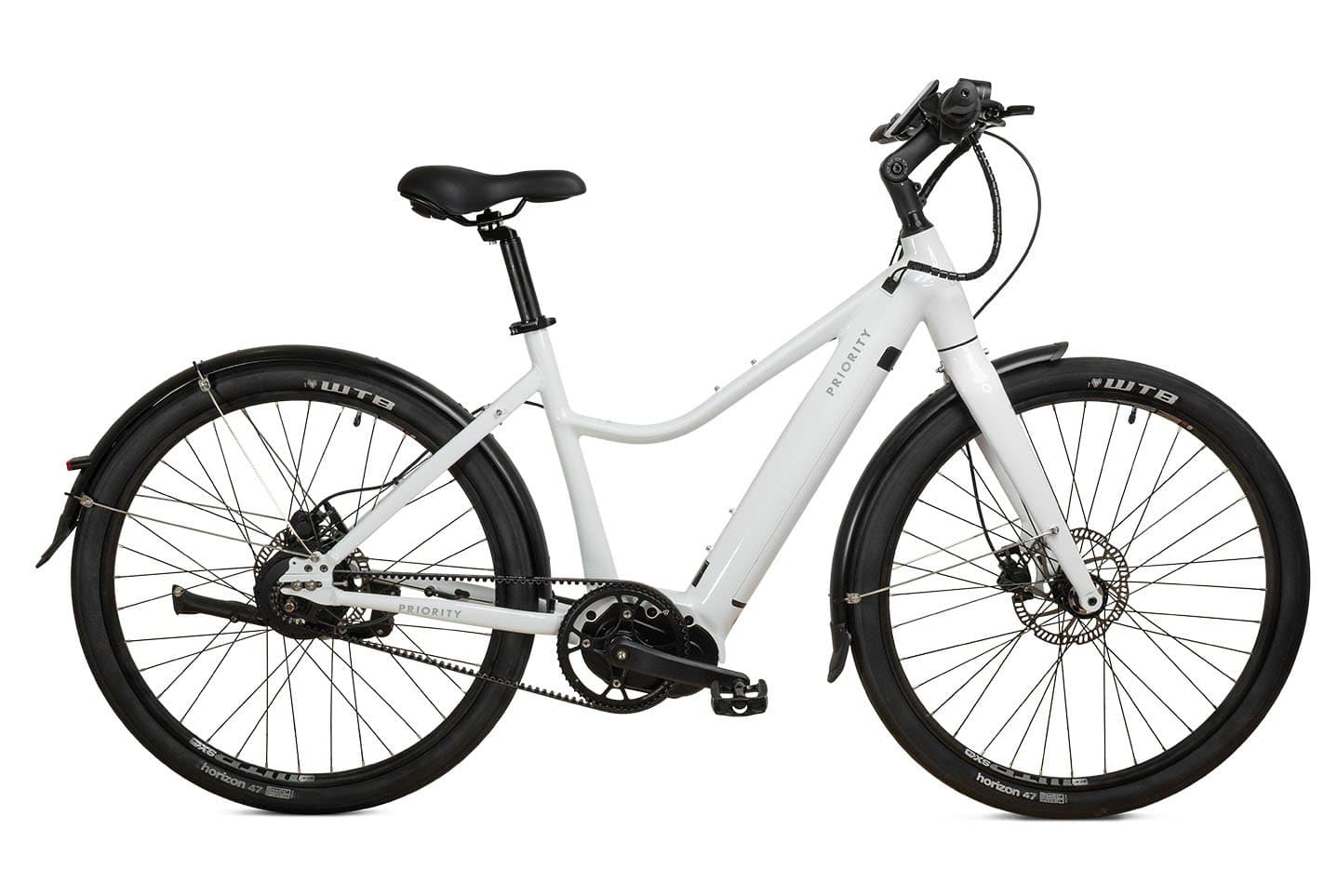 *For up-to-date pricing on the Priority Current click here
If you can't already tell, we'll repeat it: the Priority Current is among the best electric bike models on the market.
The 6061 aluminum frame has a substantial 53-pound average assembly weight. But with a small, medium, and large size model, short and tall cyclists alike can feel comfortable on the eBike.
The mid-drive torque sensor system provides a smooth and relaxing riding feel, and with a powerful 140 Nm output, you will zip up any paved hill just as quickly as it is to ride on a flat surface. The 60-mile range is commendable, and the 4 amp charger cuts the full recharge time down to just 2 to 3 hours, helping you get back on the road long before you finish work.
The Current offers smooth and nearly unlimited gear shifting with a drivetrain that requires very little maintenance thanks to the CVT belt drive system, a stark improvement over the traditional chain drivetrain you get with many other eBikes. Quickly slowing down is just as vital as great acceleration, and with dual-piston Tektro hydraulic brakes and 180 mm rotors, you'll come to a smooth stop no matter what speed you're traveling.
Comfort mostly matches performance, and while a bit more suspension would help, we do like the included ergonomic grips, adjustable handlebar, and gel saddle. Furthermore, you have many other great accessories, including full fender coverage, a kickstand, an integrated headlight, an integrated tail light, and more.
If you want to get to work lightning fast with an eBike that'll keep you burning calories while being easy on your joints, we highly recommend looking closely at the Priority Current electric bike!
Thank you for reading our spec review of the Priority Current city commuter eBike! If you would like to learn more about the Current with a full performance or video review, please let our review team know by leaving a comment below.