Welcome to our spec review of the Propella V4.0 7-speed electric bike. Due to high demand for the V4.0 7-speed model, we haven't had the chance to ride the eBike ourselves just yet. However, we've ridden other Propella eBikes in the past, and we made sure to note the components and specs that the V4.0 7-speed eBike shares with other
electric bikes
.
By doing so, we hope to give you impressions about the design, performance, and overall feel in our spec review of the Propella V4.0 7-speed electric bike!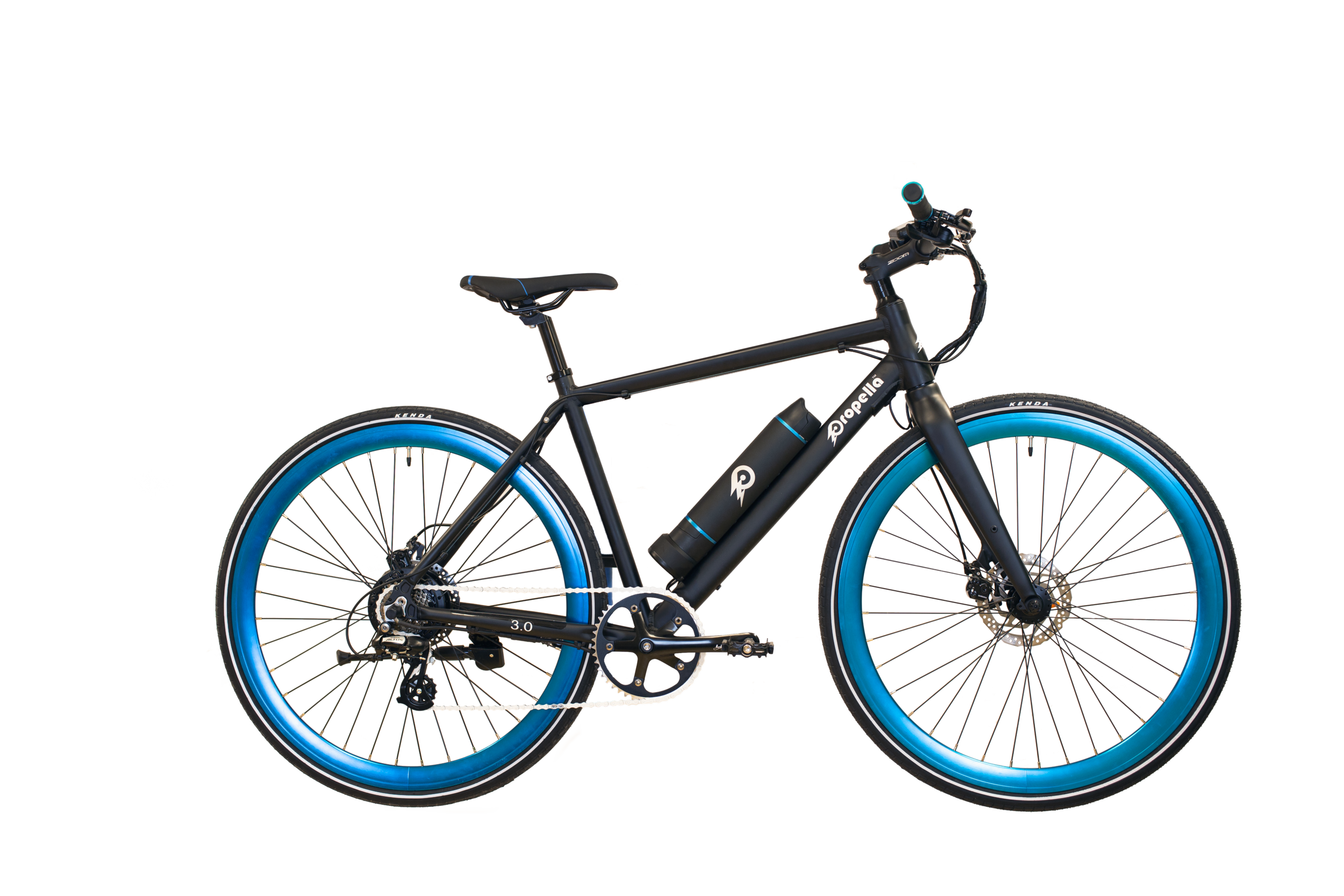 *For current pricing on the Propella V4.0 7-Speed click here
Finding an affordable eBike that's great for new cyclists without compromising on performance can be challenging. This is why we're glad when we find bikes like the Propella V4.0 7-speed eBike. The low price point will attract many cyclists, but so will the low 37 lbs full assembly weight, making this among the lightest eBikes we've had the opportunity to review.
Taking advantage of the lightweight build, you can enjoy using the small Samsung 250 Wh lithium battery, which will help you travel up to 40 miles before needing to be recharged. The Bafang rear hub 35 Nm torque motor is good for helping you keep up with traffic, while the Shimano mechanical disc brakes will help you come to a quick and steady stop when needed.
There is a Propella V4.0 single speed option, but you'll definitely want to go with the 7-speed version instead due to the higher quality and dependable Shimano MF-TZ500-7 drivetrain.
This is also one of the few entry-level eBikes we've reviewed with aluminum pedals and a kickstand as part of the stock model. If you're brand new to the world of eBikes and want a good sample of what they have to offer, read our spec review of why you should try out the Propella V4.0 7-speed electric bike.
Bike-Category: Class 1: Pedal activated motor assist up to 20 MPH.
Who It's For: Cyclists who want a premium lightweight eBike that is fantastic for commuting to work or running day to day errands.
Bike Specs
FRAME: 6061 Aluminum Alloy
UI/REMOTE: Custom Propella LCD Display
BATTERY: Samsung 250 Wh Li-Ion Battery
CHARGER: 2 Amp Charger
MOTOR: Bafang Rear Gear Hub Motor, 400 W / 35 Nm
CHAIN: KMC
SHIFT LEVERS: Shimano Altus
CASSETTE: Shimano MF-TZ500-7 14-28 T Cassette
CHAINRINGS: Lasco 46 T Alloy Chainring
DERAILLEUR: Shimano Altus 7-Speed
RIMS: Aluminum Alloy Double Walled 36 Hole Rims
TIRES: CST Xpedium Puncture Resistant Tires, 29'' x 1.5''
SADDLE: Vader Active Gel Saddle
STEM: Aluminum Alloy, 90mm Length
HANDLEBARS: Aluminum Alloy, Low Rise, 630 mm Length
GRIPS: Rubber, Locking
BRAKES: Shimano TX-805 Mechanical Disc Brakes 160 mm Rotors
PEDALS: Aluminum Alloy Platform Pedals
KICKSTAND: Rear Mounted Kickstand
BELL: N/A
HEADLIGHT: N/A
TAIL LIGHT: N/A
FENDERS: N/A
Pros
Very affordable entry-level eBike that is fun to ride around the city with. Unique color design, helping it stand out from the typical eBike you come across.
Very lightweight 6061 aluminum alloy frame design. Total assembled weight is just 37 lbs, making this one of the lightest eBikes we've had the chance to review.
Removable Samsung Lithium 250 Wh battery. Mounted on the down tube for easy charging access or removal if you want to charge your battery indoors.
2 amp smart charger. Lightweight and easy to take with you, weighing under 2 lbs. Due to the small battery size, recharging takes just 2 to 3 hours with the included charger.
Shimano MF-TZ500-7 14-28 T cassette with a Lasco 46 T chainring drivetrain. A good number of gear options for a city commuter eBike. Easy to maintain, as well.
Bafang 400 W / 35 N Rear Gear Hub Motor. It helps you accelerate to 20 MPH quickly on paved, flat roads. Slower battery drain to extend the total riding range.
Propella custom LED display. Provides a few different key riding readouts to track your metrics with. 5 pedal assist options, which is rare to see on an entry-level bike.
CST Xpedium Puncture Resistant Tires, 29'' x 1.5''. Great tire size will make it very easy to keep up with stop and go traffic as you commute and tour around the city.
Shimano TX-805 Mechanical Disc Brakes with 160 mm Rotors. Quiet brakes with strong lever feedback so you know your brakes are working. Low system weight as well.
Cons
Not a very comfortable bike to ride long distances. Suitable for commuting to work, but not for touring the country.
Underpowered motor struggles when trying to climb up steep hills. Better to dismount and walk if you find yourself slowing down or falling off your eBike.
Similarly, the braking system can be overwhelmed if you try to stop while going down a very steep hill. Apply your brakes early, and don't go too fast when downhill riding.
Minimal accessories and add-ons are included with the eBike. The kickstand is excellent, but you need to add some lights to make it truly safe. Fenders would help too.
Features
6061 Aluminum Alloy
Impressive lightweight aluminum alloy eBike frame. While only available in one size and color, its 37 lbs are matched by few eBikes on the market. Customizable saddle height, so riders between 5'2'' and 6'4'' can enjoy the Propella V4.0.
Samsung 250 Wh Li-Ion Battery
Mounted on the downtube, the Samsung lithium battery is easy to reach and plug into or dismount if you want to charge your battery indoors. The estimated max range with optimal riding settings is about 40 miles on a full charge.
2 Amp Charger
A small, lightweight charger that you can easily take with you on your ride, so you can top off your battery while you work, eat, or shop. The estimated total recharge time is between 2 to 3 hours.
Bafang Rear Gear Hub Motor, 400 W / 35 Nm
A basic motor that provides a dependable performance. The 35 Nm torque provides substantial acceleration and motor power on flat roads, but it will struggle if you try to climb a steep hill.
Custom Propella LCD Display
Grayscale backlit LCD display, providing a few essential readouts to help you track your riding metrics. Features five levels of pedal assist and a walk mode, which is more dynamic control than on many entry-level and even mid-tier eBikes.
Shimano MF-TZ500-7 14-28 T Cassette with a Lasco 46 T Alloy Chainring
The main feature that sets this version apart from the single-speed Propella V4.0 eBike. The 7-speed eBike gives you more extensive gearing options, helping you have more precise control over your pedaling cadence as you make your way around the city.
CST Xpedium Puncture Resistant Tires, 29'' x 1.5.''
Tall, ultra-thin road tires meant to be ridden at high speeds on urban roads. With excellent puncture resistance, you won't have to worry about your tires blowing out and causing you to wreck even when riding at 30+ MPH.
Aluminum Alloy 630 mm wide handlebars with Aluminum Alloy Fork
Fairly wide handlebars, so taller and heavier riders will enjoy the low rise handlebars just as much as smaller riders. Rigid aluminum alloy fork provides some shock absorption to make riding over the occasional cobblestone or gravel road patch nicer.
Shimano TX-805 Mechanical Disc Brakes with 160 mm Rotors
Quiet, easy to maintain mechanical disc brakes that provide more than sufficient stopping power when you're riding in the city. The brakes can be overwhelmed when going downhill too quickly, so be careful when riding on steep paths.
Aluminum Alloy Platform Pedals
High-quality aluminum alloy platform pedals that you don't typically see on a bike at this price point. More durable than plastic platform pedals, and they provide generous traction support as well.
In-Depth Review
Frame
Like many other eBikes, the Propella V4.0 is made with 6061 aluminum alloy construction. The reason 6061 aluminum alloy is so popular is due to its combination of being lightweight yet durable. Which is why many cars, boats, and even planes rely on it.
We especially appreciate the V4.0 because even with a heavy motor, battery, and other electronic components, the eBike has a full assembly weight of just 37 lbs. We don't find many eBikes that weigh under 40 lbs, so if you've been looking for something very lightweight, the Propella V4.0 stands out in that regard, especially given its affordable price.
We aren't as thrilled that the Propella V4.0 7-speed model is only available in one size at the moment. Due to the frame style and the adjustable components, cyclists between 5'2'' and 6'4'' will be able to ride the V4.0 and feel well situated on the electric bike.
If you're shorter than 5'2'', we recommend considering a different eBike brand. Tthere aren't better-suited options from Propella. We hope to see additional frame sizes from Propella in the future, so that younger and shorter cyclists can enjoy the V4.0 electric bike as well.
Motor & Battery
The Propella V4.0 7-Speed is a class one eBike, providing pedal activated motor assistance up to 20 MPH.
As an entry-level eBike, one of the areas where the Propella V4.0 cut down on overall costs was going with a Bafang rear gear hub motor, with 400 W / 35 Nm of torque. If you're riding on mostly flat roads, the 35 Nm torque engine is good enough to help you accelerate quickly to keep up with traffic or help you get to work without building up a sweat.
However, the motor's weakness becomes apparent while climbing steep hills. If you hear the motor sputtering or your eBike feels wobbly, dismount and walk your bike up the rest of the hill or risk damaging the motor. While we'd like to see a more potent engine, we recognize doing so would require the price of the eBike to go upl.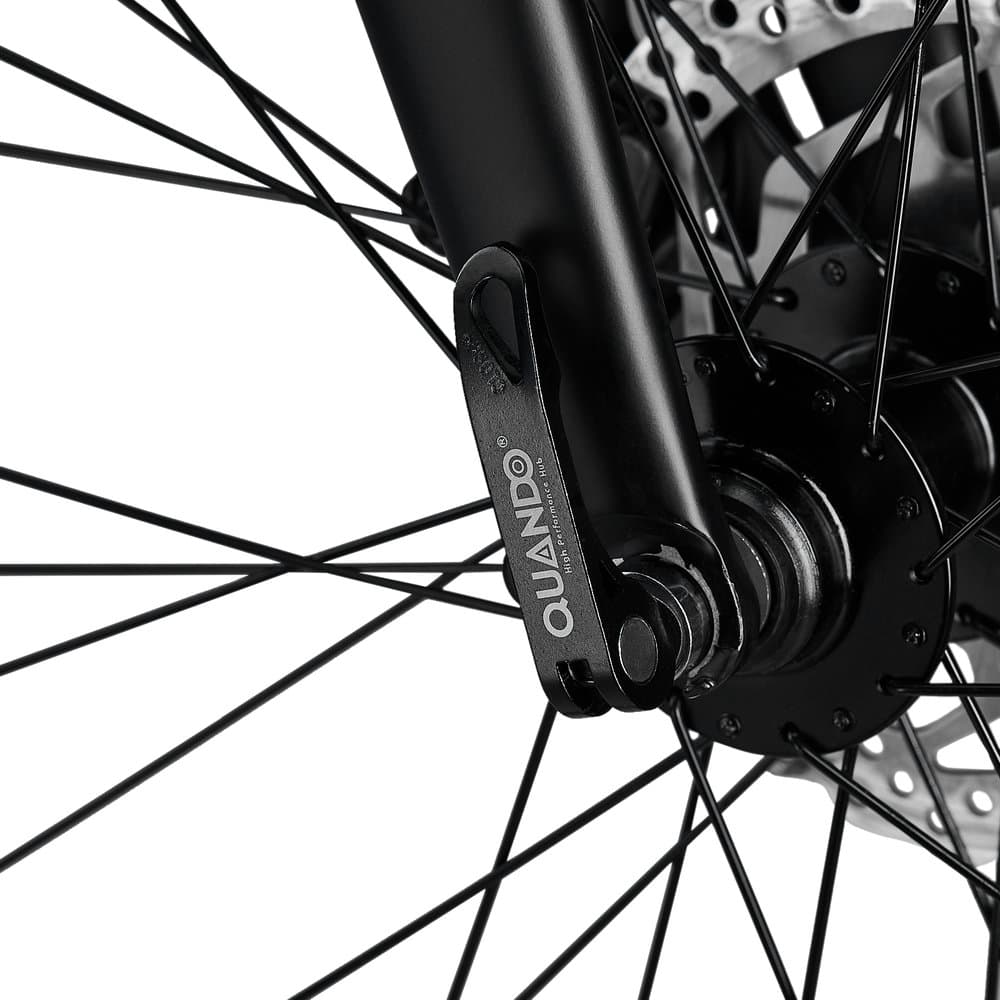 We have similar thoughts when it comes to the battery and charger setup. A small Samsung lithium 250 Wh battery is mounted on the downtube, making it easy to take inside for charging it indoors. Once you've mounted it, you can expect a max range of 40 miles with a full charge (though regular rides will be about 30 to 35 miles before the battery drains completely).
This isn't as large of a range as we'd like, but we recognize that not many cyclists interested in an entry-level eBike usually go that far on a single ride either. Furthermore, despite being just a 2 amp charger, you can completely recharge the battery in only 2 to 3 hours. Plan to charge while you work, shop, or dine at a restaurant. And you'll be able to top off your battery and have the energy you need to make it back home.
Display/Assist Modes
The Propella V4.0 has a simple LCD display mounted in the center of its handlebars that controls your motor. Outside of changing your pedal assist settings, it provides a few vital riding metrics, the list of which you can find below. While it might not be the most advanced LCD display on the market, it is nice to have an actual display instead of just a simple LED panel or switch that many other entry-level eBikes rely on.
Additionally, we're impressed that there are five pedal assist level options to choose from– along with a walk mode– since many entry-level and even mid-tier eBikes just offer three pedal assist settings.
Propella V4.0 7-Speed Display Readouts, Settings, and Riding Metrics:
Pedal Assist Level (5 Levels to choose from)
Battery Level
Speed
Odometer
Time
Because this is a class 1 eBike, the motor will assist the Propella V4.0 until you hit the 20 MPH speed cap, at which point the engine will turn off. The speed limit is in place for the motor, so you can ride almost anywhere without needing additional licensing, and you can still go faster by just pedaling manually. If you are unfamiliar with pedal assist levels, higher levels will provide more motor power, while lower levels will offer greater motor range. Be sure to try out each pedal assist level and swap them as the terrain changes for optimal bike performance!
Handling
On Streets- As a dedicated city commuter eBike, the Propella V4.0 7-speed is going to perform best when you stick to paved roads and streets. The tall thin tires are made for quick acceleration. And with a sound breaking system, you won't have any trouble following stop and go traffic flow. Whether you need to weave around stop signs or maintain a steady course to get to work, you'll enjoy how the Propella V4.0 handles on paved roads.
Turn Radius- With just 1.8'' tires, you have an extremely tight turn radius that makes it easy to navigate the Propella V4.0. Going through doorways, making your way through narrow alleyways, or just trying to turn your eBike on a crowded corner is all easy with the V4.0 7-speed eBike. Just be careful if you're a larger rider and you need to make a sharp turn, as the eBike can be overly responsive and wind up causing a crash if you aren't careful.
Low-Speed Handling- Lighter eBikes are typically easier to handle at lower speeds, and the same is true for the 37 lbs Propella V4.0 7-speed eBike. If you want even easier handling, turn on the walk mode or change your pedal assist mode to the first assist level. Walk mode will provide small pushing power while dismounted off the eBike. The low pedal assist mode will give a tiny boost to your pedaling so you can focus on your handling. Both of these settings do require battery power, though, so make sure the motor is on, and you have some life left if you want to make use of them.
Gears/DriveTrain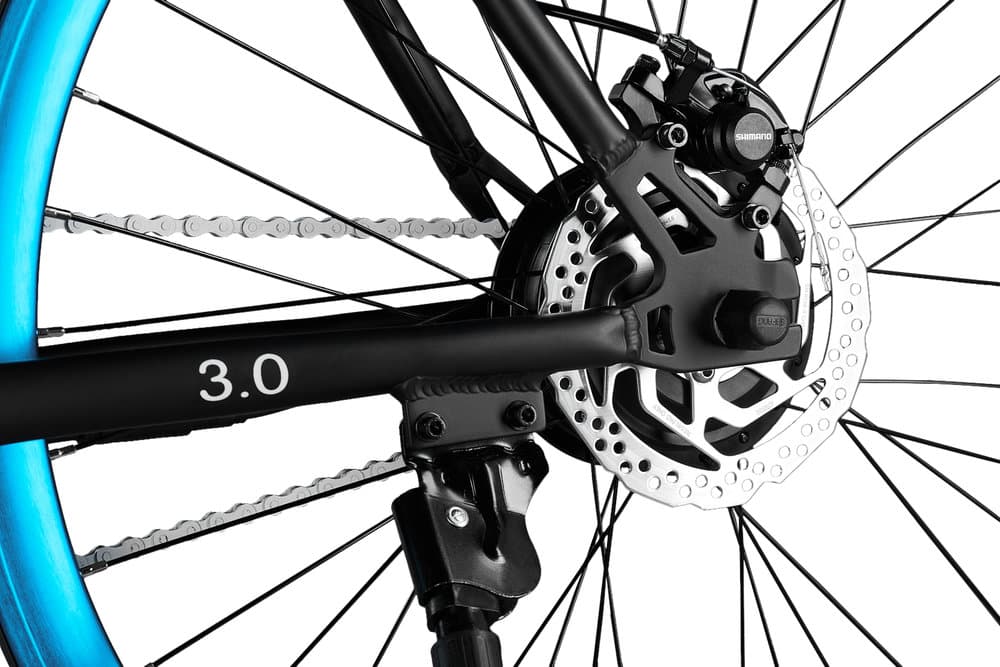 There are a few differences between the Propella single-speed and 7-speed eBike, but the primary area that sets the two apart is the drivetrain setup. This version of the Propella V4.0 has a Shimano MF-TZ500-7 14-28 T cassette with a Lasco 46 T alloy chainring connected with a custom KMC eBike optimized chain.
Having multiple gear options over the basic single speed version of the V4.0 makes riding over small hills easier while helping you change pedaling cadence while riding with city traffic. There isn't much in terms of drivetrain protection, though, and while there are mounts, there aren't any fenders included with the base version of the Propella V4.0. The drivetrain will get dirty on wet or muddy days since the chain included with the V4.0 is bright white, making it very easy to get dirty. Clean the rocks, sticks, and other debris that gets caught in the drivetrain occasionally , and you'll find the Shimano drivetrain performs well, even when shifting at high speeds.
Brakes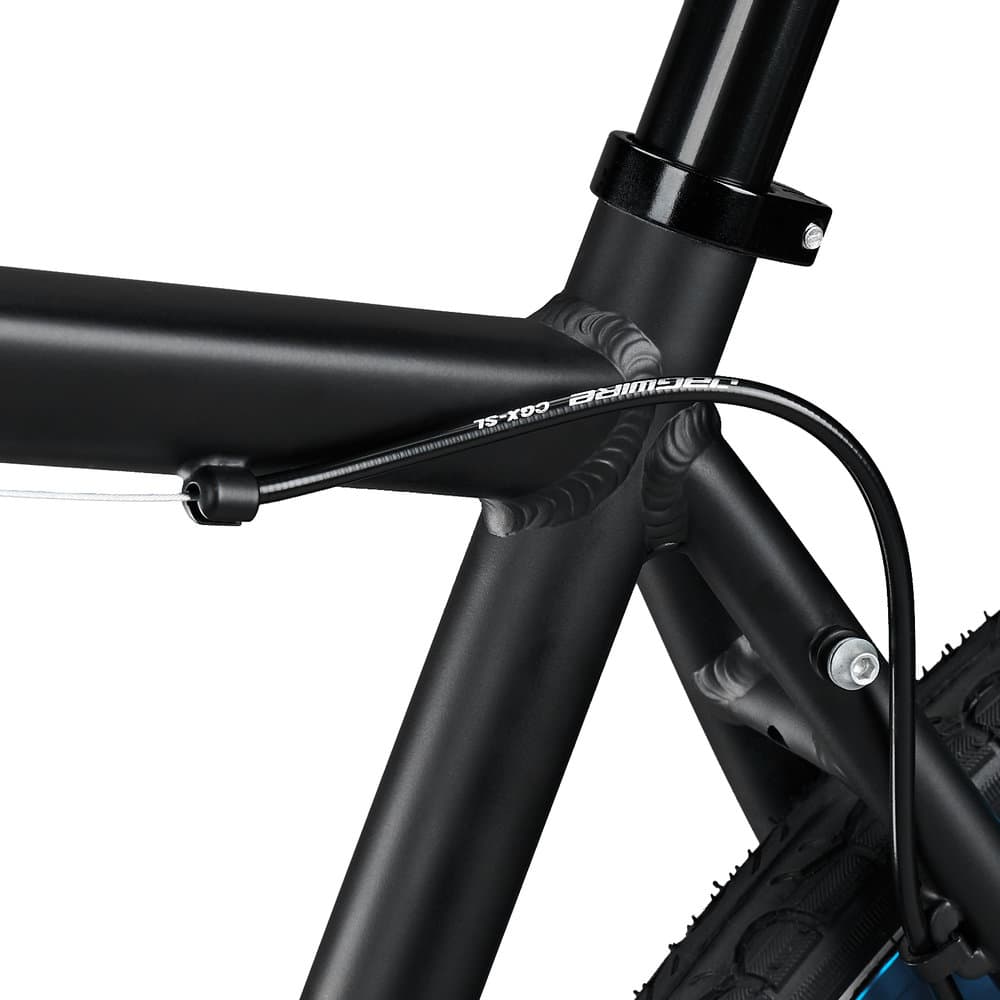 Another component that might be a mixed bag, (depending on your riding preferences) are the Shimano TX-805 mechanical disc brakes with 160 mm rotors. The brakes are strong enough that they'll help you come to a quick and steady stop on flat roads, even at high speeds. But, they are a bit underpowered when it comes to braking riding downhill. If you're careful to keep your pace from climbing too high or are slow in applying your brakes, you'll be able to descend most hills without a problem. However, applying the brakes quickly while speeding downhill can lead to overheating and even permanent brake damage. Just remember that this is an entry-level eBike meant for flat road riding, and you'll find the brakes serving you well enough for your day to day commute.
Suspension
Suspension forks are often expensive and heavy, so we aren't surprised that the Propella V4.0 7-speed eBike has just a basic aluminum alloy rigid fork. The fork does provide some shock absorption if you ride over gravel or cobblestone but it's still going to feel bumpy, even if you take it slow.
Adding a suspension seatpost can help, but due to the frame is design there really isn't much you can do for truly comfortable riding over less than stellar roads. The V4.0 7-Speed is an affordable eBike option for dedicated city commuting, but if you live in a rural area or near rough broken or beat up roads, you may want to consider a different eBike model entirely.
Pedals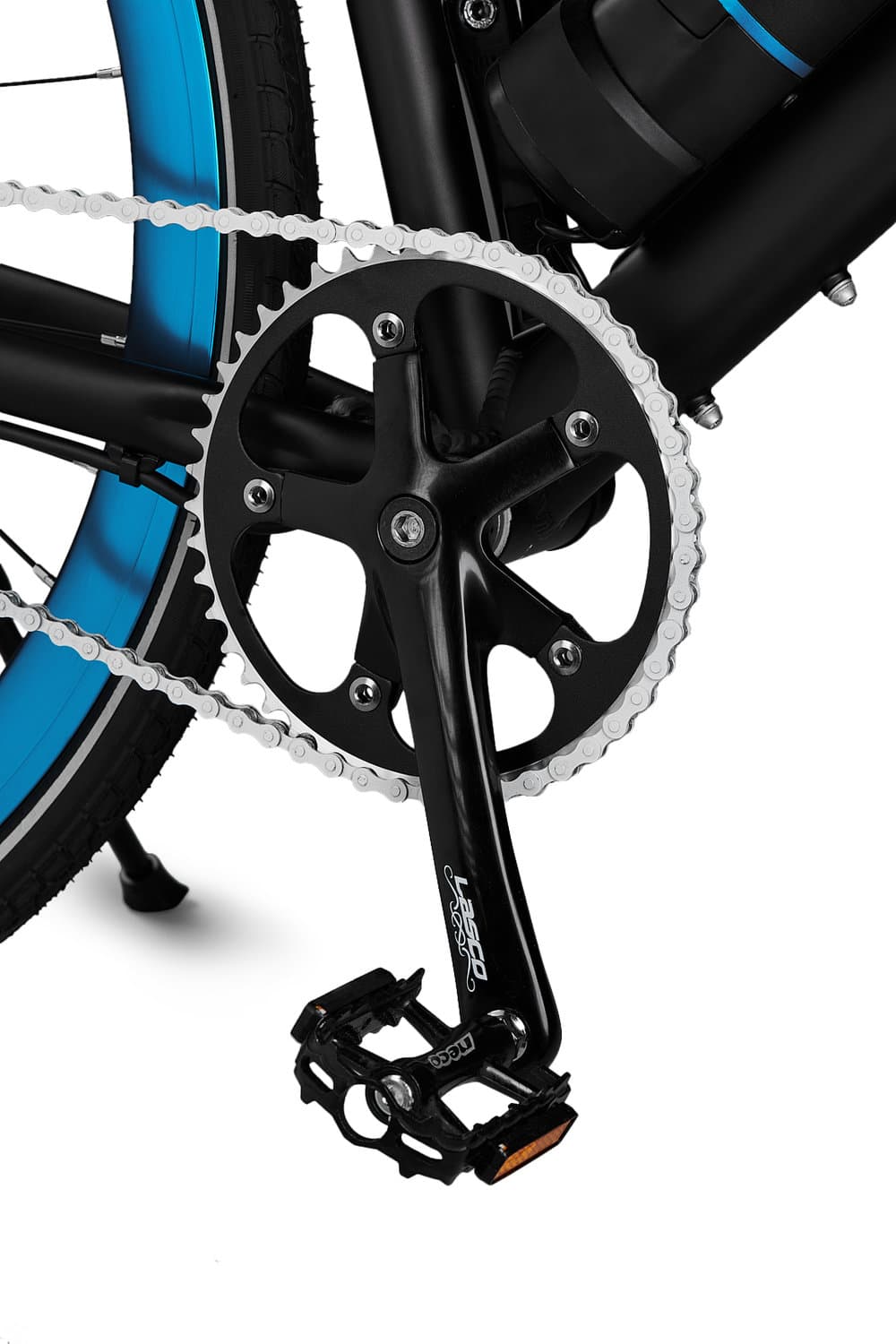 You typically find plastic pedal platforms on most entry-level eBike models, so we're somewhat surprised to find that high quality aluminum platform pedals included instead. The main advantage of aluminum platform pedals over plastic pedals are that aluminum pedals are more durable and provide more significant traction support for mostl riding shoes.
Another aspect that we appreciate is that these pedals have large reflector panels in them. With the reflector panels. The reflectors make it a bit easier to be spotted while riding the Propella V4.0 7-speed eBike, which helps reduce the risk of suffering a major collision.
Grips and Saddle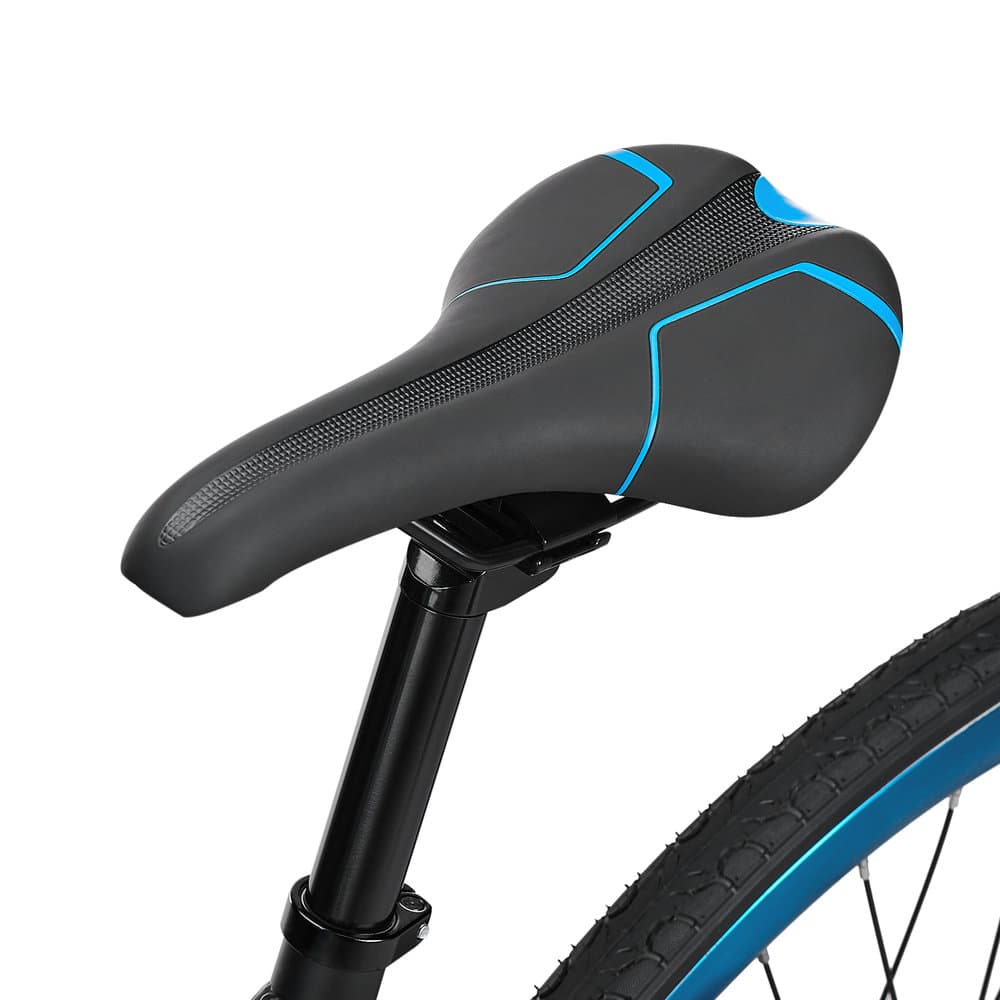 The Propella V4.0 is an eBike with several features that look great and are mostly comfortable to ride with.
The flat rubber grips lock onto the handlebars, providing a tighter hold and making them easier to replace than glued on grips. However, the rubber grips aren't quite as cushy to hold as ergonomic grips. So, you're going to tire out quicker from riding on the Propella V4.0 compared to more advanced eBikes.
The handlebars fare a bit better. The 630 mm width ensures that 6-foot and taller riders can just as easily hold onto the handlebars like their shorter friends.
The saddle is a Vader active gel seat with a fantastic blue and black design. The saddle can be a bit too small for very large riders, so it would be worth swapping out if it doesn't feel like a plush saddle to sit in.
Wheels and Tires
The last major performance component for review is the CST Xpedium Puncture Resistant 29'' x 1.5'' mounted on double-wall aluminum alloy 36 hole rims, with 13 gauge stainless steel spokes. While puncture protection might not seem necessary on a city commuter bike that rides mainly on flat paved roads, puncture protection dramatically reduces the risk of a blowout when riding at high speeds.
29'' tall tires provide excellent acceleration. The 1.85'' width ensures you have quick maneuverability and a tight turn radius for superior overall handling. These are great tires in almost every regard, but we recommend adding some reflective sidewall tape to improve the rider profile while riding the Propella V4.0 7-speed eBike.
Accessories/Upgrades
The Propella V4.0 7-speed eBike is one of the most affordable eBikes we've seen on the market–and one that offers good performance at a very low price.
However, there are several upgrades we would recommend adding–upgrades that we'd like to see in the stock model even if it raises the price. There is no headlight, tail light, or bell included in the stock model of the V4.0, all of which are essential components when it comes to overall rider safety.
Fortunately, there are official options available from Propella that can be added to the V4.0 7-speed eBike (along with a few other accessories we highly recommend):
Propella Rechargeable Headlight
Propella Rechargeable Tail Light
Propella Kinekt Suspension Seatpost
Propella Kinekt Saddle Bag
Propella Axiom Rear Rack
Propella SKS Fenders
Recommendation

*For current pricing on the Propella V4.0 7-Speed click here
Though it needs several safety features added to it, you'll want to check out the Propella V4.0 7-speed electric bike if you need a lightweight, commuter friendly, bike at a fantastic price.
Outside of being one of the least expensive eBikes on the market, the V4.0 is also among the lightest, weighing just 37 lbs when fully assembled.
The 250 Wh Samsung battery has more than enough range to get you to work. And with a quick 2 to 3 hour recharging time your battery is topped off long before you have to go home for the day.
The Bafang rear-mounted motor has the power it needs to keep up with stop and go traffic. And when it comes time to slow down and stop, you can trust the Shimano TX-805 mechanical disc brakes.
Multiple gear options while riding in the city gives more precise riding control, and with the Shimano MF-TZ500-7 drivetrain, you'll have a drivetrain that works day after day of riding.
While they vary in quality, the CST Xpedium puncture-resistant tires, the Vader active gel saddle, rubber grips, and other components also range from good to great as well.
If you're new to eBikes and with a small budget and need a city commuter bike, then the Propella V4.0 7-speed eBike is a great first taste of what you can expect from the world of electric bikes!
Thank you for reading our review of the Propella V4.0 7-speed electric bike! If you would like to learn more about this eBike, or see a performance or video review from our team, be sure to leave a comment below and let us answer any questions you may still have.