Welcome to our review of the Quietkat Ranger eBike! The Quietkat Ranger doesn't launch until next year, so we were unable to try it out for ourselves at this time of writing. However, we have tried out other Quietkat eBikes, and have paid special attention to the number of features and components it shares with eBikes currently available on the market. By making these comparisons, we were able to develop our spec review of the Quietkat Ranger electric bike! With this spec review, we hope to give you some general impressions of what you can expect when riding the Quietkat Ranger.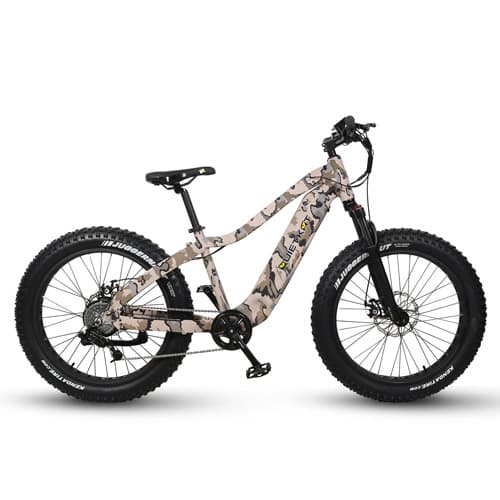 *To see current pricing on the Quietkat Ranger click here
The Quietkat Ranger is a dedicated electric bike built for mountain biking, able to tackle tough, steep, and rocky terrain thanks to its large tires and great Mozo Coil suspension fork. The 6061 aluminum frame makes the Quietkat Ranger electric bike quite heavy at 79 lbs, but it makes it very durable as well and isn't significantly heavier than several other eMountain bikes that we've reviewed. You have several different component parts and options to choose from, including two frame sizes, a 750 Watt or 1,000 Watt motor, or even a seven-speed/single-speed drivetrain. This great level of customization is coupled with a comfortable saddle, aluminum pedals, and strong 180 mm rotor Tektro mechanical disc brakes. The base suspension is enough for most trail riders on its own, but Quietkat also lets you upgrade to a suspension or dropper seatpost system for a truly ultimate electric mountain bike. If you've wanted to give eBiking a shot but are a mountain biker at heart, read on for our review of how you'll have even more fun with the Quietkat Ranger electric bike!
Bike Category: Class 2: Throttle and pedal motor assistance to 20 MPH.
Who It's For: A quiet, durable, and sturdy mountain eBike for those interested in a throttle/pedal motor to help them challenge new trails, or to use for hunting.
Bike Specs
FRAME: 6061 aluminum
UI/REMOTE: Digital LCD Display
BATTERY: Lithium 11.6Ah / 48V Battery
CHARGER: 54.6V, 2 Amp Charger
MOTOR: 750W / 1,000W Rear Hub Drive Motor
CHAIN: Stainless Steel Chain
SHIFT LEVERS: Three Finger Shift Levers
CASSETTE: Sram 7-Speed Chain Drive or Single Speed Chain Drive
CHAINRINGS: Dependent on Model
DERAILLEUR: Dependent on Model
RIMS: Stainless Steel
TIRES: Kenda Juggernaut 26" x 4.5"
SADDLE: Ergonomic Gel Seat
STEM: Standard stem stock, suspension and dropper upgradable
HANDLEBARS: Wide
GRIPS: Durable ergonomic rubber
BRAKES: Tektro Mechanical Disc Brakes, 180 MM front and rear toros
PEDALS: Aluminum platform pedals
KICKSTAND: N/A
BELL: N/A
HEADLIGHT: N/A
TAIL LIGHT: N/A
FENDERS: N/A
Pros
Solid mountain eBike, with good suspension support and a powerful motor able to tackle tough, challenging trails. Lives up to its name as a quiet eBike too.
Available in two frame sizes. The 17'' frame for shorter riders, and a larger 19'' frame for taller adults. Good options to help most adults feel great on the Quietkat Ranger.
6061 aluminum frame for great durability that will withstand the occasional crash while also supporting an impressive weight load of up to 325 lbs.
Two drivetrain options to choose from. Solid gear shifting control with the 7 speed SRAM drivetrain, or just pick the single speed option if you prefer a general mountain bike.
750 W and 1,000 W motor options are both powerful enough to help you surmount steep hills with ease. Custom designed to be a quiet motor if you want to use it for hunting.
Good sized LCD display that sits in the center of the handlebars. Track your speed, distance traveled, battery life, and other metrics while you ride.
Kenda Juggernaut 26" x 4.5" tires. Well built for mountain trail riding, and provide almost as much shock absorption as the included suspension system.
Mozo Coil suspension fork greatly improves shock absorption as you're riding over unsteady trails and terrain. Upgrade the seatpost to hardly notice bumps as you ride.
Tektro 180 mm rotor mechanical disc brakes. More than enough stopping power to come to a smooth, steady stop even when riding downhill.
Cons
75 lbs eBike fully assembled. Mountain bikes are heavier, but be prepared for the extra weight that comes due to the large motor, battery, and other electronic components.
Minimal illumination features included on the Quietkat Ranger electric bike. It is designed with hunting in mind, but optional illumination would make it much safer.
Maximum ride range on a single charge is just 40 miles. Very powerful motor system, but it drains the battery life quickly due to how strong the motors are.
Features
6061 Aluminum Frame
6061 aluminum alloy is one of the most popular choices for eBike frames, and for good reason. This is a very durable frame material, with good rigidity and shock absorption that makes it well suited for cruisers and mountain bikes alike. The Quietkat Ranger has a full assembled weight of 75 lbs.
Lithium 11.6Ah / 48V Battery
Integrated central tube battery that protects it from damage even when you take a serious fall with this mountain bike. On a full charge, you'll be able to travel approximately 40 miles depending on riding conditions.
54.6V, 2 Amp Charger
2 Amp chargers are the base level of charger included with many eBikes, so it is a standard inclusion with the Quietkat Ranger electric bike. Estimated charging from 0% to 100% will take between 5 to 6 hours.
750W to 1,000 W Rear Gear Hub Motor
An extremely powerful rear gear hub motor specifically designed with trail climbing and mountain biking in mind. You can activate the motor either via the pedal assist system or by using the throttle.
Rad Power Bikes LED Control Panel
Digital LCD Display that sits on the center handlebars of the Quietkat Ranger. Will display your speed, distance traveled, and battery life while you ride, and offers great visibility during the day and at night.
Sram 7-Speed Chain Drive or Single Speed Chain Drive
The Quietkat Ranger is rather unique for an electric bike since it has two radically different drivetrain options to choose from. You can go with the Sram 7-speed chain drive if you want to control your gear shifting, or stick with the single speed chain drive if you prefer a more automatic responsive drivetrain system.
Kenda Juggernaut 26" x 4.5"
They might not be the fastest or sharpest turning tires, but the larger Kenda Juggernaut are definitely built with mountain climbing in mind. You will have fantastic grip wherever you travel, be it over concrete and asphalt to loose dirt, snow, gravel, or other terrain as you explore trails and mountains.
Wide handlebars with a Mozo Coil Suspension Fork
The ergonomic handlebars and saddle are comfortable enough, but since it's a mountain bike you'll care more about the Mozo coil Suspension Fork. The stock model can tackle challenging mountain biking trails with great shock absorption, and you can upgrade the seatpost with a suspension or dropper post as well.
Tektro 180 mm Mechanical Disc Brakes
Large, powerful braking system that is well suited for mountain climbing. On other eBikes, Tektro 180 mm mechanical disc brakes will lead to a quick and steady stop even when you're traveling downhill at 30 miles per hour. Quiet braking system too, and a great match given the eBikes name!
Aluminum Platform Pedals
Good, well built pedals that can withstand the occasional crash while you're riding down a trail. Both frame sizes of the Quietkat Ranger have a recommended weight load capacity of 325 lbs.
In-Depth Review
Frame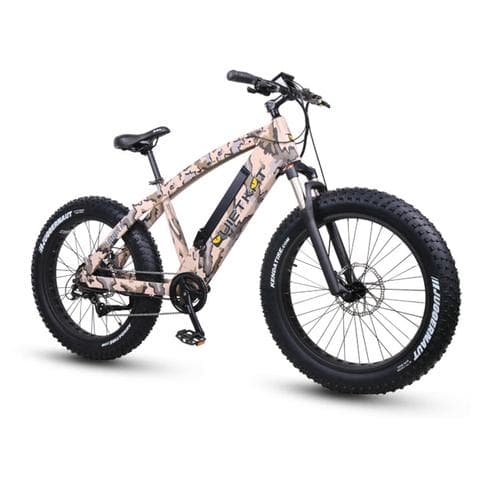 Mountain bike frames need to be built tough, because you're eventually going to have a tumble that's going to be a lot harder than just falling on concrete. Quietkat has opted to build the Ranger with 6061 aluminum alloy, which is not only used by many other eBikes but is the same aluminum base used for key automobile and aircraft structural components. The Quietkat Ranger is very durable because of it, but you will want to be aware that while 6061 aluminum is meant to be lightweight, the Ranger still weighs 75 to 79 lbs, depending on the model you choose. Mountain bikes are typically heavier due to their added components and durability, but just be aware that the Quietkat Ranger is going to be even heavier than your traditional, non-motorized bicycles you've ridden in the past.
The Quietkat Ranger is available in two eBike sizes. There is a shorter 17'' frame that is their S/M model, and a 19'' model that is their M/L variant. Riders who are 5'6'' and shorter will prefer the 17'' frame, while 5'7'' and taller adults should stick with the 19'' model. Having just two frame sizes to choose from offers greater customization than what you'll find even in many premium eBikes, and is another reason why we recommend checking out the Quietkat Ranger electric mountain bike.
Motor & Battery
The Quietkat Ranger is a class 2 eBike, providing motor assistance up to 20 MPH by use of either the throttle or pedals.
The frame isn't the only thing you can customize, as you can choose between a 750 Watt or 1,000 Watt motor for the Quietkat Ranger. Even the smaller 750 Watt motor offers a ton of pushing power that will help you get to 20 MPH in seconds, and will ensure you can tackle serious mountain biking hills without much of a struggle. However, the battery is a bit underwhelming, because as it is now the 11.6 Ah battery will help you travel just 40 miles on a single charge. Quietkat does have a battery upgrade you can buy that has been confirmed to be compatible for the Quietkat Ranger, but it's an expensive upgrade that only serious, long trail mountain bikers will want to consider given the price.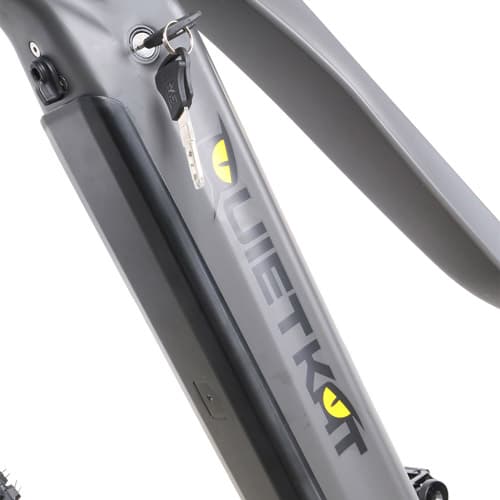 The lithium 11.6 Ah / 48 V battery is integrated into the center tube, though it can be taken out without too much trouble. Normally, this direct integration design would be a major negative for us, but we think it's appropriate for the Quietkat Ranger because having an integrated battery greatly reduces the chance of damage when you crash compared to an external, removable battery. Furthermore, this is a mountain bike, so it's not like you'll be needing to take the battery inside to charge it on your desk while you work that often. The component we have more issues with is the basic 2 Amp charger included with the Quietkat Ranger. The charger is simple and easy to use, but it does take between 5 to 6 hours to fully recharge the battery. Given that this is a more premium oriented eBike, we would like to see a more advanced charger included with the Quietkat Ranger eBike in the future.
Display/Assist Modes
Another great component on the Quietkat Ranger is the LCD display, mounted in the center of the handlebars. The LCD display is easy to read during the day and at night, and will help you monitor your speed, distance travelled, battery life, and other key metrics while you ride on the Quietkat Ranger. The LCD display is a fantastic size, since it balances being easy to read even with just a quick glance down, but not so large that it overwhelms and clogs up the handlebar setup.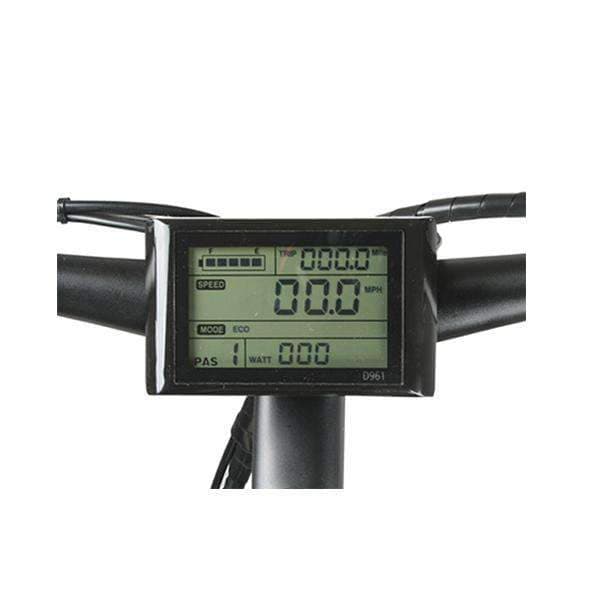 The display serves another function, and that's to control the motor system. The Quietkat Ranger is a class 2 eBike, so you have a throttle you can use to activate the motor. You also have a pedal activated motor system, which will help you maintain your cadence while helping you travel faster no matter the terrain you're riding over. There are multiple pedal assist speed modes you can select, which prioritizes different performance options. Lower pedal assist modes help you travel farther, but take longer to hit the 20 MPH motor speed cap. Higher pedal assist modes will help you accelerate faster and provide a stronger push up hills, but drain the battery quicker. Consider your situation and pick the mode that maximizes range while also helping you maintain a consistent speed in order to truly optimize your performance on the Quietkat Ranger.
Handling
On Streets- The Quietkat Ranger is a mountain bike, but you can still have fun riding it on paved roads and streets as well. Its wide tires provide plenty of stability and shock absorption, so along with the suspension you'll hardly feel the bumpiness that comes with riding over gravel or cobblestone. The Quietkat's larger tires also help it feel quite speedy as well, even if it doesn't keep up with true city commuters and racing eBikes.
Turn Radius- This is a mountain bike, so you have to be aware that it wasn't really designed with very sharp turning in mind. Some sharp handling is required, and if you take your time you will be able to make many tight turns without too much trouble if you know what you're doing. However, the large size of the Quietkat Ranger means it is not a good pick if you are looking for something that you need to squeeze through a narrow doorway. Stick to the mountains and open trails with the Quietkat Ranger, rather than narrow alleyways and roads.
Low Speed Handling- Because of how heavy the Quietkat Ranger is, it can be a bit troublesome trying to navigate with it at low speeds. If you're riding it though, just set the motor assist to level 1, and you'll get a small boost in power that makes low speed handling significantly easier overall. Just make sure you don't use the throttle at low speeds, as it has a base setting that causes it to shoot out and provide a powerful push that can cause the Quietkat Ranger to shoot out from you.
Gears/DriveTrain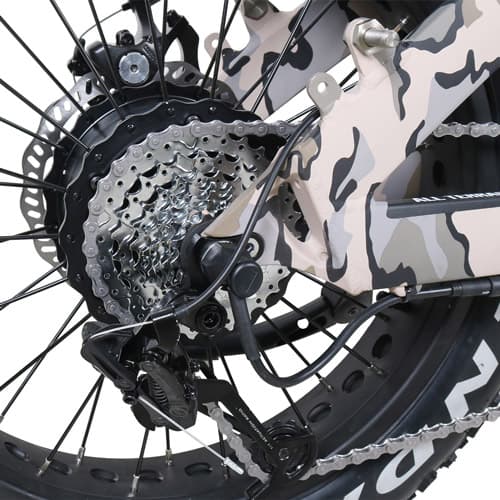 Unlike many other electric bikes, the Quietkat Ranger actually has two drivetrains you can choose from depending on your riding preferences. If you want some degree of control over your gear shifting, the main setup for the Quietkat Ranger is a SRAM 7-Speed drivetrain, which is sufficient for taking on your typical, even tough mountain biking trail. If you are a bit more of a casual cyclist, or just don't need dynamic gear shifting control, you can choose the single speed chain drive setup instead. The single speed setup might not offer dynamic shifting control, but it has the added benefit of requiring less chain shifting and components so that you will very rarely have to deal with the stainless steel chain dropping off of your drivetrain. It's fantastic that Quietkat has taken the time two develop two different drivetrain options for their Ranger model, and both are great for mountain bike enthusiasts, no matter how challenging the trail they want to ride is.
Brakes
You need powerful brakes to come to a full stop when you're traveling over 30 MPH on a mountain trail, and you can do it with the Quietkat Ranger thanks to the Tektro 180 mm rotor mechanical disc brakes. These are some of the best mechanical disc brakes out there, and while hydraulic brakes are a bit more responsive mechanical disc brakes have the added benefit of being very quiet when applied. To extend the life of the brakes and motor, and provide better performance overall, the braking system has been interconnected to the motor system. When you apply the brakes, the motor will automatically shut itself off, ensuring that they don't compete against each other so you can come to a quicker and smoother stop.
Suspension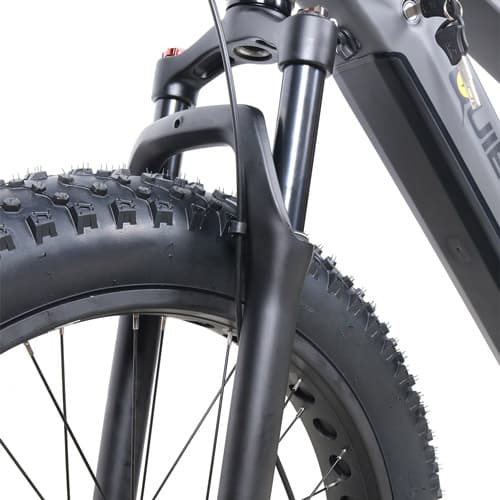 On a mountain bike, the suspension is one of the most important components to be aware of, with the Quietkat Ranger featuring a highly responsive Mozo Coil suspension fork. The hydraulic coil spring suspension not only makes every ride smoother, but it reduces the strain on your arms as well to help you ride longer even as you push onward along a tough and challenging trail. On its own, the Mozo Coil suspension fork is sufficient for many mountain bikers, but Quietkat has made it very easy to upgrade the suspension for the saddle and seatpost as well. You can stick with the standard seatpost, or you can choose between moderate suspension support or a high quality remote drop seatpost. There's plenty of options with the Quietkat Ranger, though be aware that this is a premium option that will increase the overall cost of your Quietkat Ranger order.
Pedals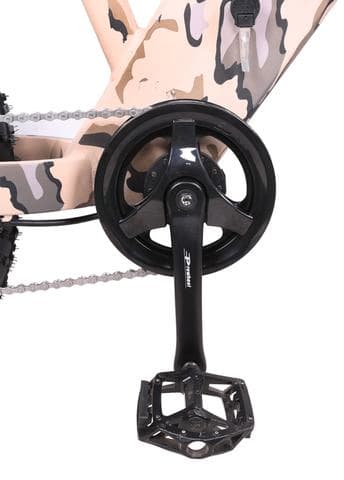 In terms of pedals, you have large aluminum platforms with the Quietkat Ranger electric bike. Aluminum pedals are going to withstand a crash much better than your typical plastic pedal, and while they are a bit more expensive they are much better suited for mountain biking due to their durability. The one thing we wish that the pedals had was a better reflective system. This is a mountain bike designed with hunting in mind, so we understand and acknowledge that being hard to spot the rider is part of the design. However, it also makes it far more likely that others will crash into you while riding the Quietkat Ranger, especially when it's dark out. Including larger and better reflectors would be a small way to increase your rider profile, and hopefully do it without disrupting your ability to hunt with the Quietkat Ranger.
Grips and Saddle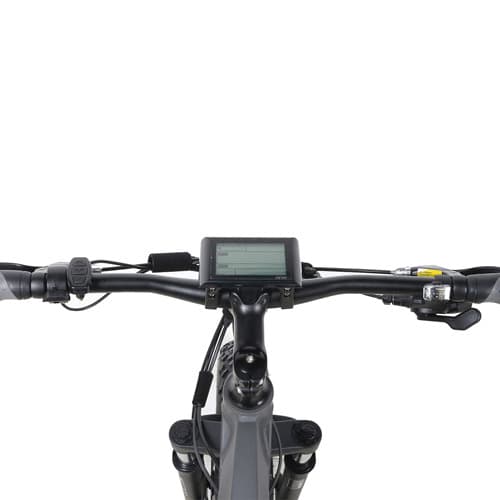 The Quietkat Ranger has durable, ergonomic grips that will provide you with a tight, snug hold even as you ride over particularly bumpy, rough terrain. The grips lock onto the handlebars as well, so when they get worn out it doesn't take much time to replace them compared to other grips. As for the saddle, it is built with extra large riders in mind, so whether you go with the 17'' or 19'' model sitting on the Quietkat Ranger should at least be a cushy, comfortable experience. As mentioned previously, the seatpost can also be upgraded for additional suspension support, so consider it if you want maximum shock absorption while riding the Quietkat Ranger.
Wheels and Tires
It's a very appropriate name given their size, the Quietkat Ranger supporting Kenda Juggernaut 26" x 4.5" tires. The extra bulky tires are made for trail riding, and provide much of the shock absorption that matches the suspension support of the Mozo Coil fork. Something to note about the Quietkat Ranger is that, unlike other eBikes with multiple frame sizes, the tires themselves do not change whether you go with the smaller 17'' frame or larger 19'' frame. The 19'' frame is great with the Kenda Juggernaut tires, but they can be a bit overwhelming the first few times you ride while using the 17'' frame if you are somewhat shorter. They are great tires though, so if you are a bit uncomfortable using them the first couple times you ride we highly recommend sticking with them since they require minimal maintenance and will last a long time even when making frequent trips to rocky mountain terrain.
Accessories/Upgrades
Because of how many parts and upgrades you can make with the stock model, there aren't a lot of accessories we even feel the need to recommend in order to make the Quietkat Ranger a better eBike. However, the one upgrade we would suggest thinking over is adding some lights to your Quietkat Ranger. If you are using it as a dedicated hunting bike, and need it as invisible as possible, you might not necessarily want to take this bit of advice. For everyone else though, having an easy to see rider profile greatly reduces the chances of suffering a collision while riding. If you want to stay safe, we highly recommend a headlight and tail light for the Quietkat electric mountain bike, even if you plan on riding trails where you don't encounter many other riders.
Recommendation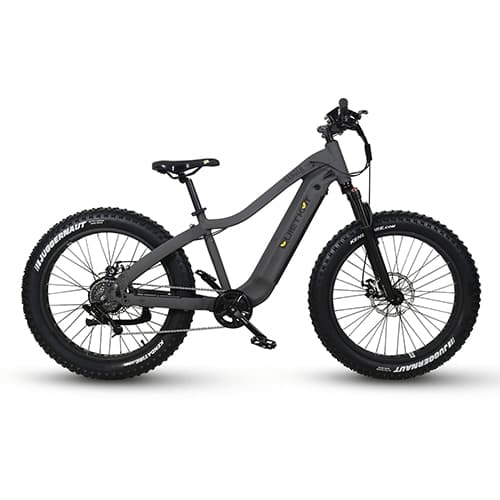 *For up-to-date pricing on the QuietKat Ranger click here
Mountain biking is hard enough on its own, so make it more fun by going out on an electric bike like the Quietkat Ranger! The 6061 aluminum frame is available in two sizes, so short and tall riders alike can enjoy challenging their favorite trail with the Mozo Coil suspension fork and Kenda Juggernaut tires. While the 40 mile range is somewhat limited, what it lacks in distance it makes up for in power with the 750 Watt and 1,000 Watt motors you can couple with the 11.6 Ah battery. There's not many eBikes that offer the level of customization you have with the Quietkat Ranger, since it also lets you choose between a seven speed or single speed drivetrain so that experienced and casual cyclists can both enjoy this mountain bike. If you want even more suspension support, you can swap out the standard seatpost for a suspension or remote dropper post too when you complete your order! Able to support up to 325 lbs, the quietkat Ranger electric bike is a fantastic option for those who want to get involved in electric mountain biking.
Thank you so much for reading! If you would like a full performance review or video review of the Quietkat Ranger, be sure to let us know by leaving a comment below!