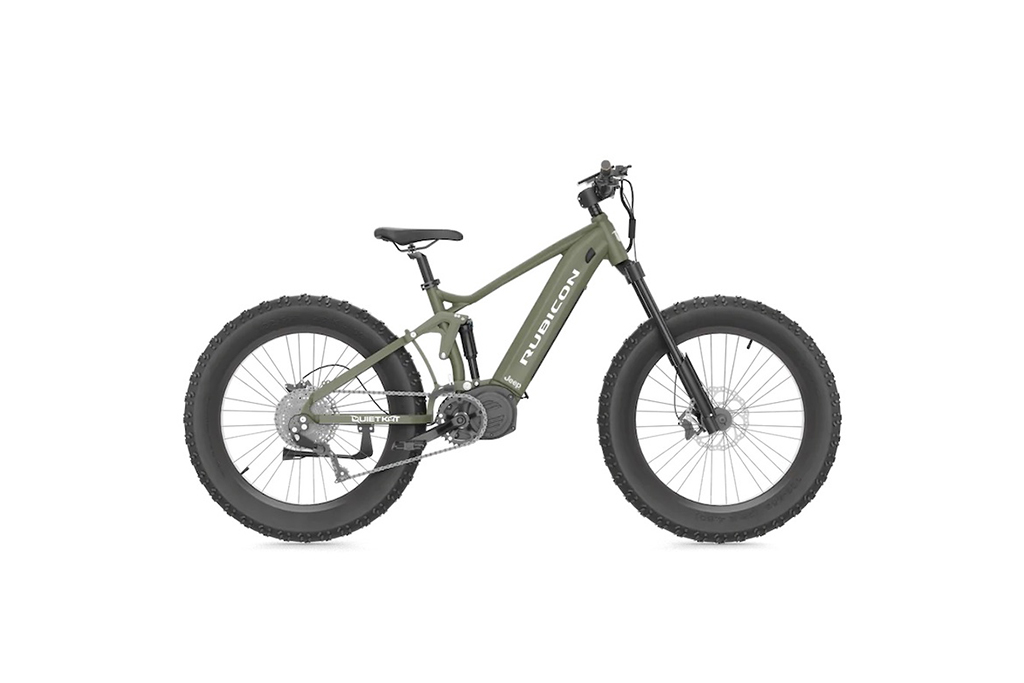 Intro
Lots of e-bikes claim they are made for off-road use. In truth, to function capably off-road, an e-bike needs more than just knobby tires. Suspension, a powerful motor and a sizable battery are all necessary. Suspension is important less for comfort than for control. A powerful motor is necessary in order to conquer steep hills and a big battery is critical because off-road riding demands more of the motor, which draws down the battery faster. To get into the backwoods, and then back again, a big battery is called for. The QuietKat Rubicon is an answer to all those needs and on that is guided by QuietKat's partnership with Jeep. In our QuietKat Rubicon review we will examine just what sets this all-terrain e-bike apart from others in this category and why it can command a fairly high four-figure price.
So just what is the QuietKat Rubicon? This is a limited-edition (shoppers are limited to ordering just two of them) all-terrain e-bike that is produced through a partnership with the Jeep brand. Meant to evoke the go-anywhere ethos of Jeep, the Rubicon is a feature-rich e-bike that is impressive even on paper.
More specifically, the QuietKat Rubicon is built around a 1000W mid-drive motor that produces 160Nm of torque—a category-killer of a motor. It is powered by a 1008Wh battery, which is enough to allow some riders more than 60 mi. of range. This is a full-suspension e-bike with a 140mm-travel inverted-design (more on that in a bit) suspension fork and a hydroformed aluminum frame with 150mm of travel. Each of these specs is unusual among all-terrain e-bikes.
The impressive specs don't end there. This is a well-considered e-bike meant for riders who plan to do more than ride the local bike path. Let's dig into the many distinguishing features on the QuietKat Rubicon.
E-Bike Category: All-terrain
Who the QuietKat Rubicon Electric Bike Is for:
This is an e-bike built specifically for the rider who wants to explore wild places and ride far from where the pavement ends.
QuietKat Rubicon Review Ratings:
***All ratings are relative to e-bikes of a similar style and price point***
| | |
| --- | --- |
| Speed/Acceleration | |
| Hill Climbing | |
| Battery Range | |
| Braking | |
| Construction Quality | |
| Handling | |
| Included Accessories | |
| Warranty & Customer Service | |
| Value | |
QuietKat Rubicon E-Bike Specs
Battery: 1008Wh battery for amazing range, even when riding off-road
Expected Range: 32-63 mi.
Charger: 2A
Motor: 1000W mid-drive motor, producing 160Nm of torque
Pedal Assist: 3 PAS levels plus walk mode
Throttle: Thumb button
Display: Customizable LED
Headlight: N/A
Taillight: N/A
Frame: Hydroformed aluminum
Fork: 140mm-travel suspension fork
Fenders: N/A
Kickstand: Included
Handlebars: Alloy
Grips: Rubber, lock-on
Drivetrain: SRAM 9-speed
Brakes: Tektro 4-piston hydraulic disc brakes with 180mm rotors
Pedals: Alloy, with reflectors
Saddle: Firm EVA foam
Tires: 26 x 4.8 in.
In-Depth QuietKat Rubicon Review
QuietKat Rubicon Review: Comfort, Handling, and Ride Qualities
Let's begin our talk of comfort with the QuietKat Rubicon by looking at its suspension. Suspension is often sold as a way to make riders more comfortable, which is a bit cart-before-the-horse. Fundamentally, suspension on bicycles (whether e- or not) is a matter of making the bike easier to control. More suspension means better control on wilder terrain. The terrific thing is that better control also comes with better comfort. Two flying things, one rock.
The QuietKat Rubicon is built with both front and rear suspension, which is pretty important if an e-bike is truly meant to take the rider into the backcountry, far from paved roads. The QuietKat Rubicon's front suspension features an inverted fork design, which means the wiper seals are always pushing the dirt down, away from the fork's internals, rather than like most fork designs which push the dirt up. It has 140mm of travel—nearly 6 in.—which is a substantial amount of travel. This much travel means the QuietKat Rubicon can handle rocky terrain.
In the rear, the QuietKat Rubicon has 150mm of travel, fully 6 in. Where travel in the fork does lots for a rider's control, but not as much for their comfort, rear suspension helps lots in control, but nearly as much on the rider comfort front. This much suspension in the rear means being able to stay seated and pedal while rolling over rocky surfaces.
QuietKat includes reasonably detailed information on the Rubicon's geometry. What the chart tells us is that this is an e-bike that will be stable at speed while remaining maneuverable on twisting trails. It also tells us that the rider will be in a comfortable position for efficient pedaling.
We often talk about fit issues with e-bikes, particularly the ones that come in just one size. The QuietKat Rubicon comes in three sizes, which is a significant benefit to riders looking to explore the backcountry. The small is intended for riders under 5 feet 6 inches; the medium is for riders from 5 feet 6 inches to 6 feet and the large is for riders taller than 6 feet. Unfortunately, the difference in the sizes isn't what we might hope to see. The difference between the medium and the large sizes is measurable in millimeters; they don't list the dimensions for the small size.
With eMTBs we generally see increases of roughly 5cm in seat tube length and 3cm in top tube length; the medium and large sizes of the QuietKat Rubicon have a more modest reach than we typically see. Again, no idea about the small size.
To put this in perspective, fit isn't a big deal if someone is riding for a half hour or less, unless the e-bike is significantly too large for the rider and then control can become an issue. The longer someone rides, the more fit translates to comfort. Ride for two hours on an e-bike that is too big and the rider's shoulders and/or back are likely to start hurting.
This is an e-bike that will do some things that the typical eMTB can't do, though. That's next.
QuietKat Rubicon Review: Motor, Battery, and Drivetrain Performance
Imagine buying a Jeep with a Hemi engine and a gas tank full of jet fuel. That's what a 1000W motor means for the QuietKat Rubicon. Even that sort of undersells how powerful this e-bike is. We typically tell people a 250W mid-drive motor will offer about as much power as a 750W hub motor. Insert the power before the drivetrain and the gears multiply the motor's effort just as it multiplies the rider's effort.
Now, let's consider that the QuietKat Rubicon has a 1000W mid-drive motor. What is the hub-motor equivalent to that, maybe 3000W. This is the most powerful e-bike that we can recall reviewing here at Best Electric Bikes. With such a powerful mid-drive motor it almost doesn't matter that the motor produces 160Nm of torque, which is also higher than we see with other motors. This is a motor so powerful that we could see pedaling up a steep fire road at better than 20 mph. We can imagine needing to brake in turns … while pedaling uphill.
This is a motor so powerful that it needs to come with a warning label, or pads. Or both. This is a we're-not-kidding-even-a-little-bit motor.
And what of that battery, the 1008Wh behemoth located in the down tube? We're not going claim that someone could ride from Denver to Vail, but they could probably climb to the top of Pike's Peak and have enough power left to scream back down.
Compared to the drivetrains we see on most all-terrain e-bikes, the SRAM 9-speed drivetrain is a big step up. More gears means that the steps between the gears can stay the same while adding both more high end and low end. We see many e-bikes lacking at both ends, which means they bog down on hills and don't have a big enough high gear to pedal at 20 mph without legs spinning like a pinwheel.
Compared to current eMTBs, though, this is still a more modest drivetrain that we currently see being spec'd on similarly priced models. It's also fair to observe that with such a powerful motor it doesn't really need those lowest ratio gears.
QuietKat Rubicon Review: Braking, Safety & Warranty
An e-bike this powerful needs brakes that are just as robust. We're pleased to note that the QuietKat Rubicon is equipped with 4-piston hydraulic disc brakes. Most disc brakes have 2-pistons—one for each side. With 4-piston brakes, each side gets two pistons, resulting in substantially greater power. Practically, this means that a rider can wait later and brake harder and still have all the control necessary to negotiate the turn (or stop). Such a choice seems the only reasonable response to equipping an e-bike with such a powerful motor.
In most of our reviews, when we discuss safety, we are looking at how well the e-bike brakes and how easy it will be to control based on its size and weight. With the QuietKat Rubicon our concerns are a bit different. This is one e-bike that will stop on a dime and leave 5 cents change. So that's not an issue.
Our one real concern for a rider's safety with this e-bike is its power. This is a top-fuel dragster with 4×4 tires. This is a bike best-suited to a rider who knows when to back off. This is maybe not our first choice for the hold-my-beer type.
Remarkably, the QuietKat Rubicon weighs only 75 lbs, which is entirely respectable for a full-suspension e-bike. We wouldn't have been surprised if this e-bike had tipped the scales at more than 80 or even 90 lbs. At 75 lbs., riders ordering the small size stand a much better chance of being able to ride and control this e-bike with confidence.
QuietKat offers a one-year, 1000-mi. warranty. This is potentially less warranty than buyers would get with many other e-bikes. It's a one-year warranty unless someone rides more than 20 mi. per week. Ride 30 mi. every weekend and the warranty will only last eight months. That's disappointing, but riders have the ability to purchase an extended warranty. It is rather pricey, but someone riding every weekend could enjoy a terrific value from it.
We always take some time to look at user reviews for the e-bikes we review. It often gives us some insight into the reliability of a given e-bike and how responsive the company is to owner issues. We have to read between the lines as we do this because services like TrustPilot allow a degree of review curation. We're always a little suspicious of brands that have nothing but five-star reviews. With the QuietKat Rubicon, due to the limited-edition nature of this e-bike, the site has only two reviews, but both are positive. Worth noting is how one owner called out how much more powerful this e-bike is than he expected.
QuietKat Rubicon Review: Recommendation/Final Verdict
The QuietKat Rubicon is an unusual e-bike. Considering its 1000W mid-drive motor, had this e-bike lacked suspension we would have some reservations about its use off-road.
Any buyer of this e-bike would do well to visit a bike shop after assembling it (or pay them to assemble it) in order to get the suspension set up. For suspension to work properly, the air pressure in the fork and shock must be set relative to the rider's weight, and that means stepping on a scale dressed to ride. Shop staff will have the kind of pump necessary to set the air pressure. If the air pressure is too low, the suspension can be damaged by bottoming it out repeatedly or through hard hits and if it is set too high the rider's eyeballs will jiggle like jello.
Here at Best Electric Bikes we draw a distinction between what we call all-terrain e-bikes and eMTBs. The QuietKat Rubicon sits in a funny gray area between the two. This is an e-bike that is significantly more capable than most all-terrain e-bikes we encounter thanks to both front and rear suspension, more suspension travel, a more capable drivetrain and better brakes. That said, this e-bike is still a bit different than a proper eMTB. This is a distinction based on the rider's need and it's important to note that the distinction we are drawing here is by no means a knock against the QuietKat Rubicon.
True eMTBs today will have either the same amount of travel in the rear as in the front, or less. They also have a very-wide-range drivetrain of 11 or 12 gears, as well as mid-drive motors that are rarely more than 250W. This last distinction has to do with trail access. We will return to this later.
Legally, most trails around the country don't permit e-bikes, at all. Of the ones that do, most only permit Class 1 e-bikes; eMTBs are Class 1 (max speed of 20 mph and no throttle) in order to be ridden legally on those trails. Class 3 e-bikes like the QuietKat Rubicon can be ridden on all the dirt roads, but very few trails. It's fair to wonder how often people are ticketed, but at least in most state parks in California, park rangers know what they look like and they do hand out tickets, tickets that cost hundreds of dollars. We're not going to tell anyone where to ride or not ride, but we do have a responsibility to keep our readers informed. Getting a ticket stinks.
An owner of the QuietKat Rubicon will likely have the most powerful e-bike in any situation where other people are riding e-bikes. It will accelerate more quickly and go faster overall in all the situations except possibly technical descents.
With the QuietKat Rubicon, manners—etiquette—are a concern in a way they aren't with other e-bikes. Just as it's polite to give pedestrians some room when passing in a car, the rider going 25 mph uphill on this beast would do well to either slow before passing people or give others a very wide berth.
At more than $7 grand before any accessories or extended warranty, this e-bike is a substantial investment and is the sort of e-bike that we would recommend to riders who are already experienced with e-bikes. This is not the e-bike we would suggest for someone's first e-bike. No reasonable person gives a 16 year old a Ferrari.
Perhaps the best way to frame an understanding of the QuietKat Rubicon is to observe that this Rubicon can go places the four-wheeled Rubicon cannot. It out-jeeps a Jeep.
Thank you for reading through our review of the QuietKat Rubicon. Still have further questions? Wondering how it compares to a similar e-bike we've reviewed? Let us know in the comments below!

Reader Interactions