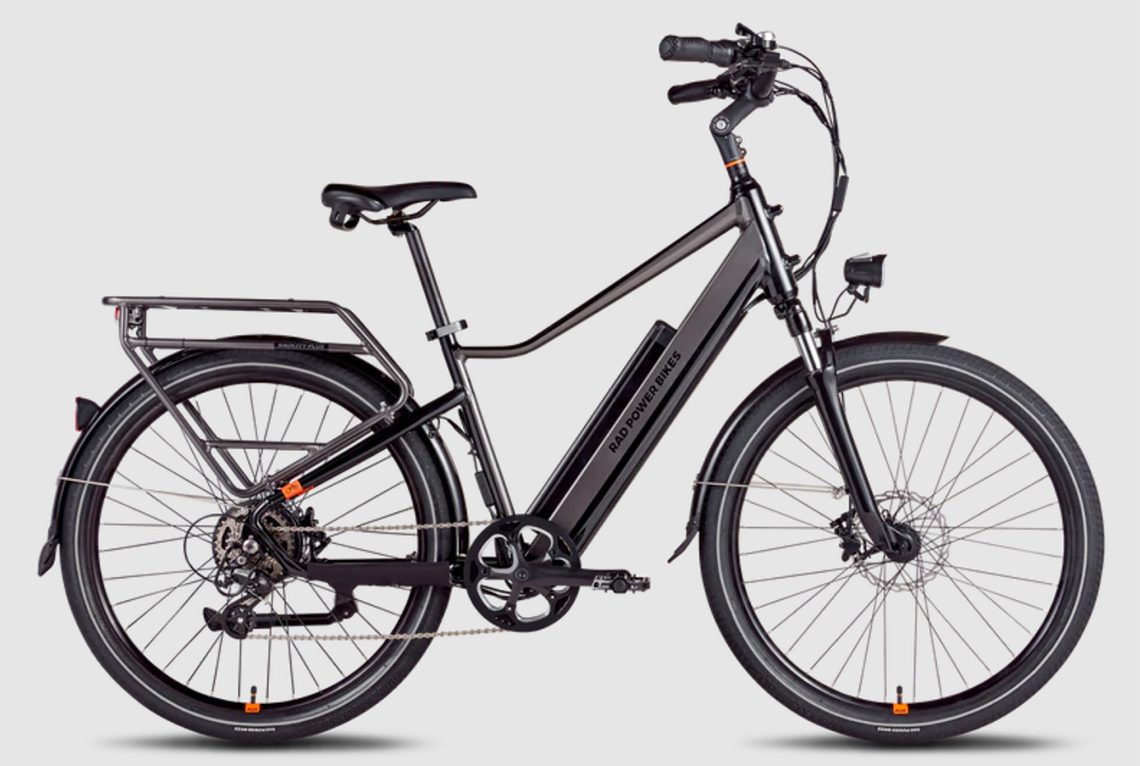 Overall Rating: 4.8/5
Pros:
A ready-to-go commuter; all it lacks is a helmet and bags
Step-thru design has very low standover height (21 in.)
750W brushless hub motor offers terrific pickup and solid hill climbing
Range of 28-50 mi. is terrific for commuters planning to ride in PAS 5.
Hydraulic disc brakes with 180mm rotors work well and stop the rider in a hurry
Exceptionally strong and secure rack – capable for bags or a toddler seat
Cons:
7-speed drivetrain could have greater range for a little more help on the steepest hills
An integrated lock with an option for a cable in one of the only ways to make this e-bike more complete

Intro
Something you should know before reading our Rad Power Rad City 5 Plus review: the commuter e-bike might be the most hotly contested category in all of e-bikes. To be competitive an e-bike needs to offer enough power to ride capably at at least 20 mph, carry a load either in a basket or in bags clipped to the rear rack, which needs to be included along with a kickstand, fenders and lights. A commuter missing any of those things isn't complete in our view. Similarly, a commuter that tries to bill itself as multipurpose will sacrifice performance as a commuter in order to gain flexibility. It's kinda like asking a pickup to corner like a Ferrari.
The Rad Power Bikes RadCity 5 Plus is one of our favorite commuter e-bikes because it focuses on doing one thing: serving as a commuter. The best commuters come ready-to-go; that is, they come equipped with a rack to carry a change of clothes and a laptop, fenders to stay dry no matter how large the puddle, lights to commute safely any time of the day or night, short-travel suspension designed to take the edge off the bumps, 27.5-in. or 700C wheels for efficient rolling and tires with a relatively smooth tread to roll quickly on city streets.
And after reviewing the RadCity 5 Plus we now know that it delivers on all of that and more.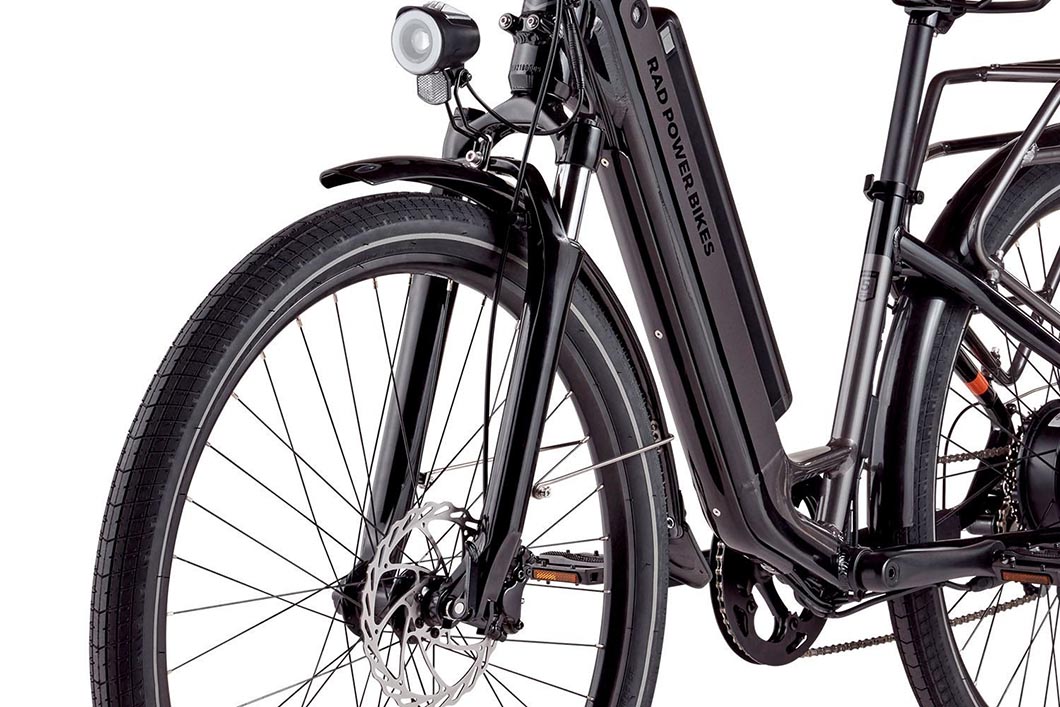 E-Bike Category: Commuter
Who the Rad Power Bikes RadCity 5 Plus Electric Bike Is For: Commuters who want a bike that's ready-to-go
The RadCity 5 Plus is a purpose-built commuter for someone who wants to eliminate all the excuses for not riding to work. It's perfect for the person new to commuting who might not know how powerful a bike they need or what accessories are really necessities.
Rad Power Bikes RadCity 5 Plus E-Bike Specs
Battery: 48V, 14Ah (672Wh)
Expected Range: 28-50 mi.
Charger: 48V, 2 Amp Rad Power Bikes smart charger, operates on 100V-240V AC power outlets
Motor: 750W brushless geared hub motor, 5:1 planetary gear reduction.
Stated wattage is the manufacturer's rated power capacity. Actual power-to-ground wattage is under 750W to ensure ebike regulatory compliance and may vary depending on riding conditions.
Pedal Assist: Intelligent 5 level pedal assist with 12 magnet cadence sensor
Throttle: Half twist throttle
Display: Backlit LCD with charge indicator, speedometer, odometer, trip odometer, pedal assist level, clock, and more
Headlight: Standard Rad Power Bikes LED headlight
Taillight: Integrated taillight with brake light
Frame: 6061 Aluminum
Fork: Spring fork, 50 mm travel, with lockout and preload adjustment
Fenders: Included, black plastic front and rear, full coverage
Kickstand: Heavy-duty aluminum with wide plastic foot
Handlebars: Custom formed aluminum
Grips: Durable imitation leather ergonomic grips
Drivetrain: 7-speed Shimano Altus
Brakes: Hydraulic disc brakes with auto-cutoff switch and 180mm rotors
Pedals: Forged aluminum platform with reflectors, standard 9/16″ x 20 TPI threading
Saddle: Rad Power Bikes with lifting handle
Tires: Rad Power Bikes, custom 27.5″ x 2.0″, e-bike rated with puncture-resistant liner
Ratings:
***All ratings are relative to e-bikes of a similar style and price point***
| | |
| --- | --- |
| Speed/Acceleration | 4.2/5 |
| Hill Climbing | 4/5 |
| Battery Range | 4.9/5 |
| Braking | 5/5 |
| Construction Quality | 4.7/5 |
| Handling | 4.7/5 |
| Included Accessories | 4.7/5 |
| Warranty & Customer Service | 4.4/5 |
| Value | 4.9/5 |
In-Depth Rad Power Bikes RadCity 5 Plus Review
Rad Power Bikes RadCity 5 Plus Review: Comfort, Handling, and Ride Qualities
If Herman Miller were to design an electric commuter bike, he might come up with something like the RadCity 5 Plus. For all but the tallest riders it offers a remarkably comfortable and upright position that can be fine-tuned thanks to an adjustable stem. The 27.5 x 2-in. tires feature a very low-profile tread and as a result, roll quickly. With the 50mm-travel RST suspension fork, rough roads don't seem so rough.
The geometry of the RadCity 5 Plus shows just how deep Rad Power Bikes' knowledge of commuters runs. The bike benefits from relaxed handling that balances low-speed maneuverability against high-speed stability. The bike doesn't draw attention to its handling and in that sense of natural response we find one of our big lessons about a bike's geometry: the best bike is the one that doesn't make a show of how good its handling is.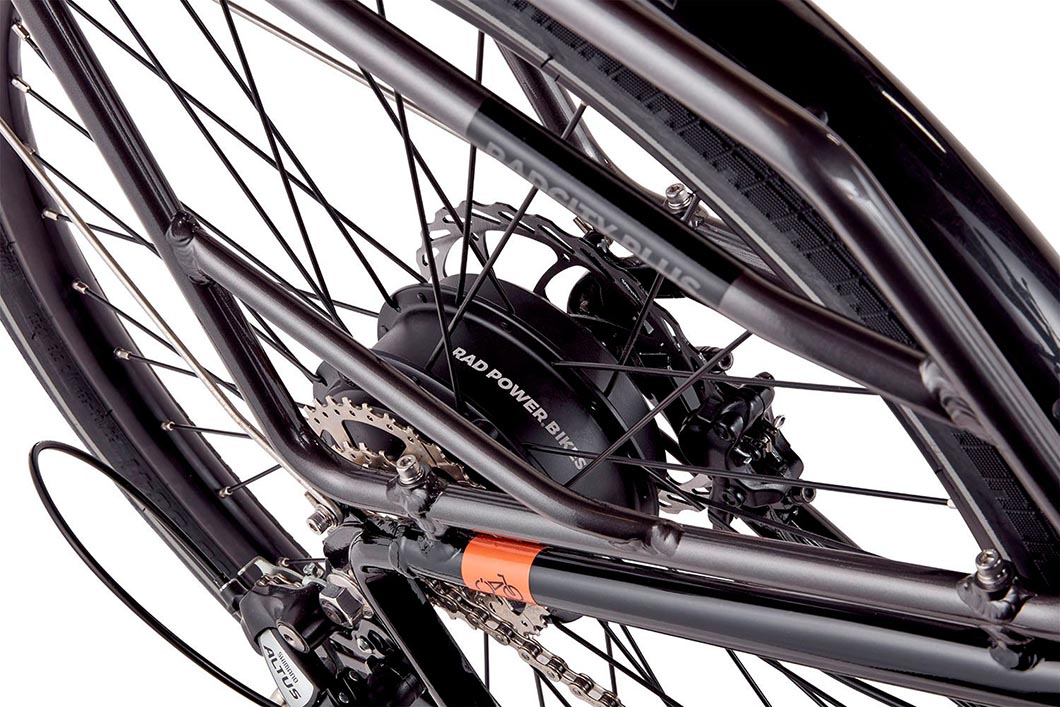 Rad Power Bikes RadCity 5 Plus Review: Motor, Battery, and Drivetrain Performance
The RadCity 5 Plus is built around Rad Power's 750W brushless hub motor, which offers terrific performance as a Class 2 e-bike with a 20 mph top speed. Rather than use a push-button throttle, Rad Power spec'd a twist throttle that allows the riders to vary pace according to conditions; trying to modulate speed with an on-off throttle on a busy bike path is awkward at best.
The battery offers a solid 672Wh, translating to a range of 31-51 mi. in testing performed by Electricbikereport.com, exceeding Rad Power's own estimate of 28-50 mi. This will of course vary from rider to rider, but that's a solid benchmark.
We like that Rad Power went with a quality 7-speed Shimano Altus drivetrain – it's steady and reliable and helps keep costs low. Although in an ideal world, the drivetrain would feature a bit more low-end gearing, and one more cog. For bikes in this price range, no one can match Shimano for smooth shifting though.

Rad Power Bikes RadCity 5 Plus Review: Braking, Safety, Customer Service & Warranty
The $1500-$2000 price point is a competitive one in e-bikes. At the low end of that price range we find bikes that seem pretty good except for some value-laden omissions, like mechanical disc brakes instead of hydraulic ones or no fenders, rack and lights. Closer to $2000 we find bikes with no misses feature-wise.
Also, the difference in performance can be significant, especially to anyone whose riding includes hills. One of the best ways to help a rider feel safe on an e-bike is by equipping it with hydraulic disc brakes, as the RadCity 5 Plus does. The NUTT disc brakes, equipped with 180mm rotors are one of the best cost-conscious stoppers we have encountered.
Part of feeling safe on a bike comes from feeling confident about how the bike is handling. We like the RadCity 5 Plus in part because at top speed the bike doesn't feel like it's going fast; a sense of speed will make many riders slow down.
Rad Power Bikes typically scores high marks in the customer service arena. While no bike company has been immune to supply chain interruptions that can affect bicycle and part availability, Rad Power Bikes has gained a reputation for responding to consumer needs. However, the warranty is, in our opinion, a little thin at just one year for all parts and labor.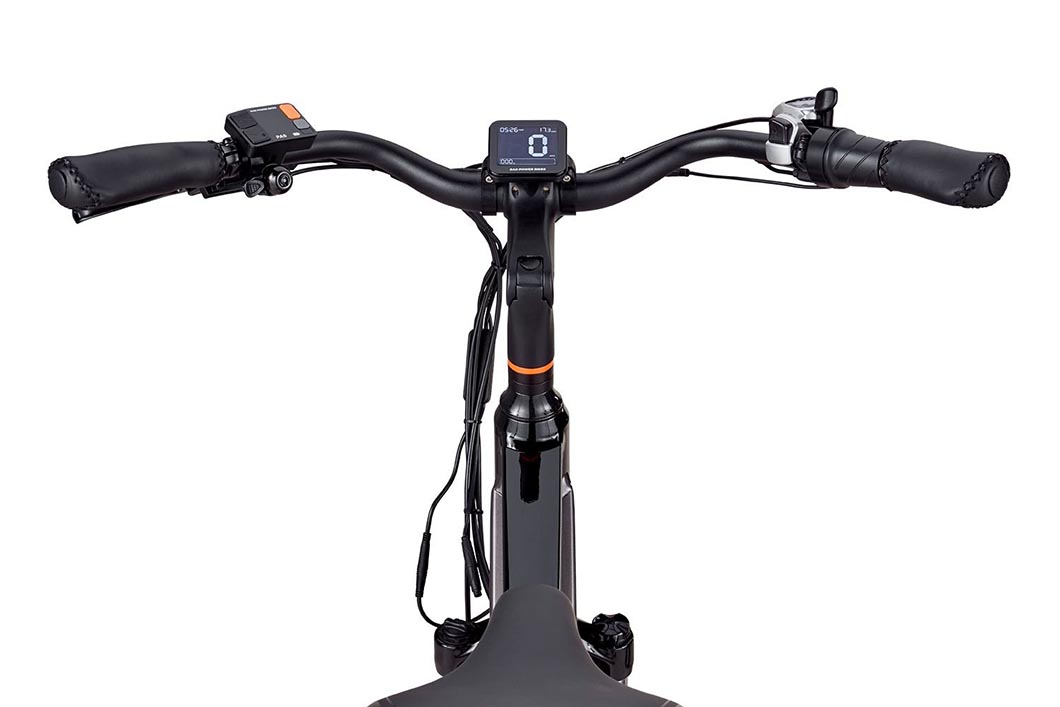 Rad Power Bikes RadCity 5 Plus Review: Recommendation/Final Verdict
We get it: For anyone thinking of commuting to work by bike, making the transition can be a challenge. No one wants to switch up their routine only to realize that they are now at their desk later than they used to be, or they are at their desk on time, but look like they need a shower.
Also, for most of us, there is a long-term trifecta of goals: burn some calories and get more fit, help save the planet and save money. But Ima be honest: Saving money is probably the one most critical to feeling like commuting is paying off, and dropping $10k on a bike is a purchase that will take forever to amortize in gas savings. But $2000? Depending on gas prices (looking at you, California) and parking charges (hey, San Francisco!), the RadCity 5 Plus could pay for itself in two years. So, the savings are obvs.

But what about making commuting a routine? No matter how awesome commuting is on paper, to be effective a commuter needs a simple routine so that getting out the door is no more complicated than walking out to the car. To do that, the e-bike must be set up with everything a rider will need in any riding conditions encountered, which especially includes darkness and rain. The Rad Power Bikes RadCity 5 Plus is everything a commuter needs, save the bags, a lock and a helmet. And for the record, we recommend two panniers, one for a laptop and assorted work items and the other for a change (or two) of clothes. With two panniers the load can be balanced, which makes the bike handle better.
So should you consider getting the RadCity 5 Plus? Let's be blunt: it just made our short list of the year's best electric bikes, so we'd say definitely! People like to talk about turn-key solutions and one-stop shopping. The RadCity 5 Plus is just such a solution for anyone who wants to make the trek to work in a way that will improve their health, be good to the planet and save those greenbacks
Thank you for reading through our review of the Rad Power Bikes' RadCity 5 Plus. Still have further questions? Wondering how it compares to a similar bike? Let us know in the comments below!.
Reader Interactions