Welcome to our spec review of the Rad Power RadMini folding electric bike! We haven't been able to try out the latest model of the RadMini just yet, but we've tried out past versions of the
folding eBike
.
We've also been taking careful notes of the features and components that it shares with other eBikes, including what's changed with this year's model. With our extensive notes, our team developed a spec review of the RadMini electric bike. We hope to give you a general idea of what to expect if you were to ride the Rad Power RadMini, discussing aspects such as the overall design, feel, and performance.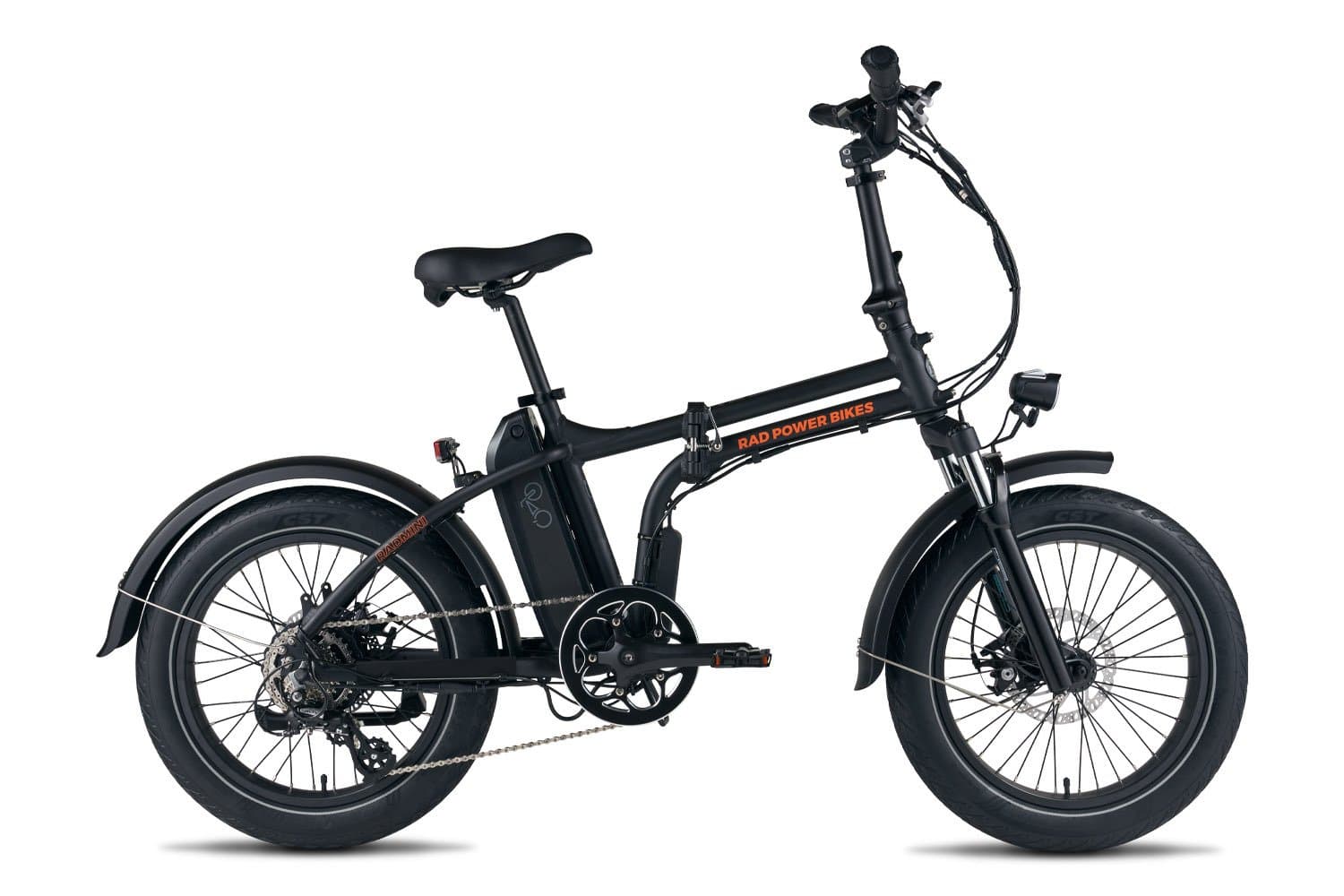 *To see current pricing on the Rad Power Bikes RadMini click here
Folding eBikes are becoming more popular every year, providing you with outstanding performance in a bike you can toss in the trunk of your car or store in the closet. The Rad Power RadMini is one of the best folding eBikes we've reviewed, and that's not taking into consideration its entry-level price.
The RadMini is heavy at 68.3 pounds, but it's one of the few folding eBikes we've reviewed that can be legitimately used for riding on mountain bike trails without compromising performance.
The mighty Bafang 80 Nm motor is one of the best engines we've found on an entry-level priced eBike, with a reliable Samsung 672 Wh battery that'll help you travel over 45 miles on a single charge.
The 7-Speed Shimano drivetrain has been designed with multiple protective components, ensuring that you can shift gears even while riding on a rugged mountain trail. Coming to a stop is just as important, which is why the Tektro Aries 180 mm rotor mechanical disc brakes are a great inclusion as well.
Speaking of great inclusions, you also get a headlight, tail light, kickstand, integrated bell, and several other great accessories and upgrades–all included with the very affordable entry-level price. If you want a tough folding eBike you can ride in the city or on your favorite mountain bike path, keep reading for our spec review of the Rad Power RadMini folding electric bike!
Bike-Category: Class 2: Pedal and throttle activated motor assist up to 20 MPH.
Who It's For: Cyclists who want a heavy-duty folding eBike that rides through town or tackles mountain bike trails. Especially recommended for those new to eBikes and are shopping on a tighter budget.
Bike Specs
FRAME: 6061 Aluminum Alloy
UI/REMOTE: Fixed Backlit LCD Display
BATTERY: Samsung Lithium NMC Battery, 672 Wh
CHARGER: 2 Amp Charger
MOTOR: Brushless Bafang Rear Geared Hub Motor, 750 W / 80 Nm
CHAIN: Z7 eBike Chain
SHIFT LEVERS: Shimano SL-TX50-7R thumb shifter, 7-speed
CASSETTE: Shimano 7-speed Freewheel, 11-34T
CHAINRINGS: 48T Dual-Sided Bashguard Chainring
DERAILLEUR: 7-Speed Shimano Altus
RIMS: Double wall, 36H
TIRES: CST Big Boat 20" x 3" Tires, Puncture-Resistant Liner
SADDLE: Plush with Lifting Handle
STEM: High-rise Folding Stem with 3″ Vertical Adjustment
HANDLEBARS: Custom Formed Aluminum, 25″ wide, 2.5″ rise
GRIPS: Durable Imitation Leather Ergo
BRAKES: Tektro Aries Mechanical Disc Brakes, 180 mm Rotors
PEDALS: Forged Aluminum Folding Platform
KICKSTAND: Heavy-duty Aluminum with Wide Plastic Foot
BELL: Integrated Bell
HEADLIGHT: Standard Rad Power Bikes LED Headlight
TAIL LIGHT: Integrated Tail Light with Brake Light
FENDERS: Full Coverage Front and Rear
Pros
A sturdy folding electric bike that can ride through the city or on a tough mountain bike trail. Very compact when folded so that you can toss it in the trunk of your car with ease.
6061 aluminum frame that is able to withstand the rigors of a harsh trail ride. The RadMini eBike is available as both a stand-over and step-thru model.
Samsung Lithium NMC Battery, 672 Wh capacity. Able to travel over 45 miles on a single charge, which should be enough for your typical trail or to get you to work.
2 amp charger. Very small and lightweight, making it just as easy to store as the folding RadMini. Full recharging time from 0% to 100% takes six to seven hours, though.
Brushless Bafang rear geared hub motor, 750 W / 80 Nm of torque. A surprisingly powerful motor to find on an entry-level folding eBike.
Shimano 7-speed freewheel 11-34T cassette with 48T chainring drivetrain. Double-sided bashguard helps guide the chain, preventing chain drops, and protects the drivetrain too.
Fixed Backlit LCD display. Includes a great number of readouts despite its small 2.75'' size. There is also a USB Type-A port, allowing you to charge your phone while you ride.
CST Big Boat 20" x 3" Tires with puncture-resistant liner. Designed with all-terrain riding in mind, be it in the city or on a rocky, steep trail. Very reflective as well!
Full accessory lineup even though it's an entry-level priced eBike. Headlight, tail light, fenders, kickstand, and an integrated bell are all included. Doesn't need many upgrades.
Cons
Average assembly weight of 68.3 lbs. When folded, compact frame, but you might need someone to help you load it in your car due to the heavy mountain bike frame weight.
Very underpowered charger given the size of the battery. You have to plan your rides ahead of time due to the over 6 hour full recharge time.
Folds well, but since many of the tires are externally mounted, they occasionally disconnect as you fold and unfold the RadMini. Check your connections!
Features
6061 Aluminum Alloy Frame
Sturdy folding eBike with a stand-over and step-thru option, accommodating tall and short cyclists alike. Great durability, but very heavy, fully assembled. The average full assembly weight is 68.3 lbs.
Samsung Lithium NMC Battery, 672 Wh
Easy to access battery that's located just beneath your saddle. Well protected and very hard to damage if you do get in a crash. Able to travel over 45 miles on a single charge.
2 Amp Charger
The standard charger is typically included with many entry-level and mid-tier priced electric bikes. Full recharging time from 0% to 100% in six to seven hours. The battery does not have to be removed to fold the eBike.
Brushless Bafang Rear Geared Hub Motor, 750 W / 80 Nm
A surprisingly powerful eBike motor to be included with an entry-level folding eBike. With 80 Nm of torque, you'll have more than enough power to tackle any trail or hill you want. Faster energy drain due to the extra motor power.
Fixed Backlit LCD Display
Easy to read, and just as easy to use backlit LCD display. About 2.75'' large, which is the right size for glancing without taking your eyes off the road. A large number of readouts included despite the small display size.
Shimano 7-speed Freewheel 11-34T Cassette with 48T Chainring Drivetrain
7-Speed eBike, helping you change your pedaling cadence as you tackle steep trails and flat roads alike. Dual-sided bashguard guides the chain while also protecting the drivetrain against debris as you ride on challenging mountain bike trails.
CST Big Boat 20" x 3" Tires with Puncture-Resistant Liner
Versatile, all-terrain tires built for quick acceleration in the city but with better traction and grip when you're riding on a mountain trail. Puncture resistant lining will guard against blowouts and flats, helping you ride however you want.
Custom Formed Aluminum with 60 mm travel RST Suspension Fork
Telescoping handlebars that you can raise or lower to the proper level, helping you match your riding style in the city or on the trail. Good suspension fork included that'll help you in your trail riding; an excellent inclusion for an entry-level folding eBike.
Tektro Aries Mechanical Disc Brakes with 180 mm Rotors
Strong, sturdy mechanical disc brakes with 180 mm rotors that are specifically designed for trail riding. Strong braking feedback, with easy adjustment to help you have a smoother riding experience as you mountain bike.
Forged Aluminum Folding Platform Pedal
Sturdy aluminum platform pedals will provide great traction support to maintain your grip even on tough mountain trails. The pedals fold as well, further helping you shrink down the overall size of the RadMini eBike..
In-Depth Review
Frame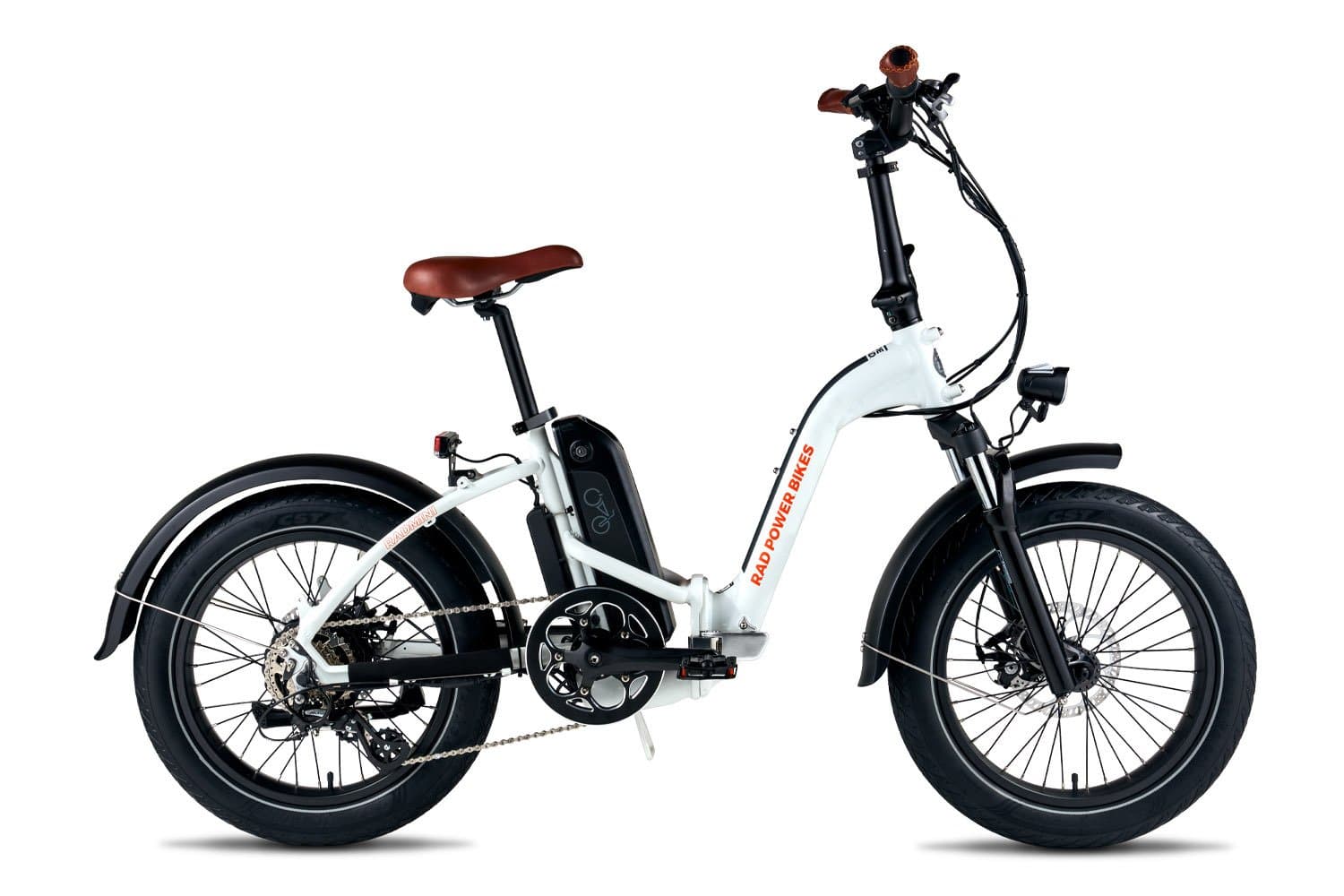 The RadMini is built with 6061 aluminum, an alloy commonly used in car, boat, and even aircraft construction. 6061 aluminum alloy is lighter than other metal bases while still being durable enough that your bike won't fall apart if you get in a crash.
The RadMini has a great build in terms of frame strength and is available as both a stand-over and step-thru model to better accommodate tall and short cyclists. This is a folding bike as well, so if you want to drive out to ride your favorite trail, you can just fold it up and toss it in the trunk of your car.
Like many other mountain bikes though, the frame is heavy due to all of the additional components, with the average full assembly weight being about 68.3 lbs. It's great to have a folding all-around/mountain bike style eBike at an entry-level price, but don't be surprised if you find yourself asking for help to load the bike into your car due to the weight.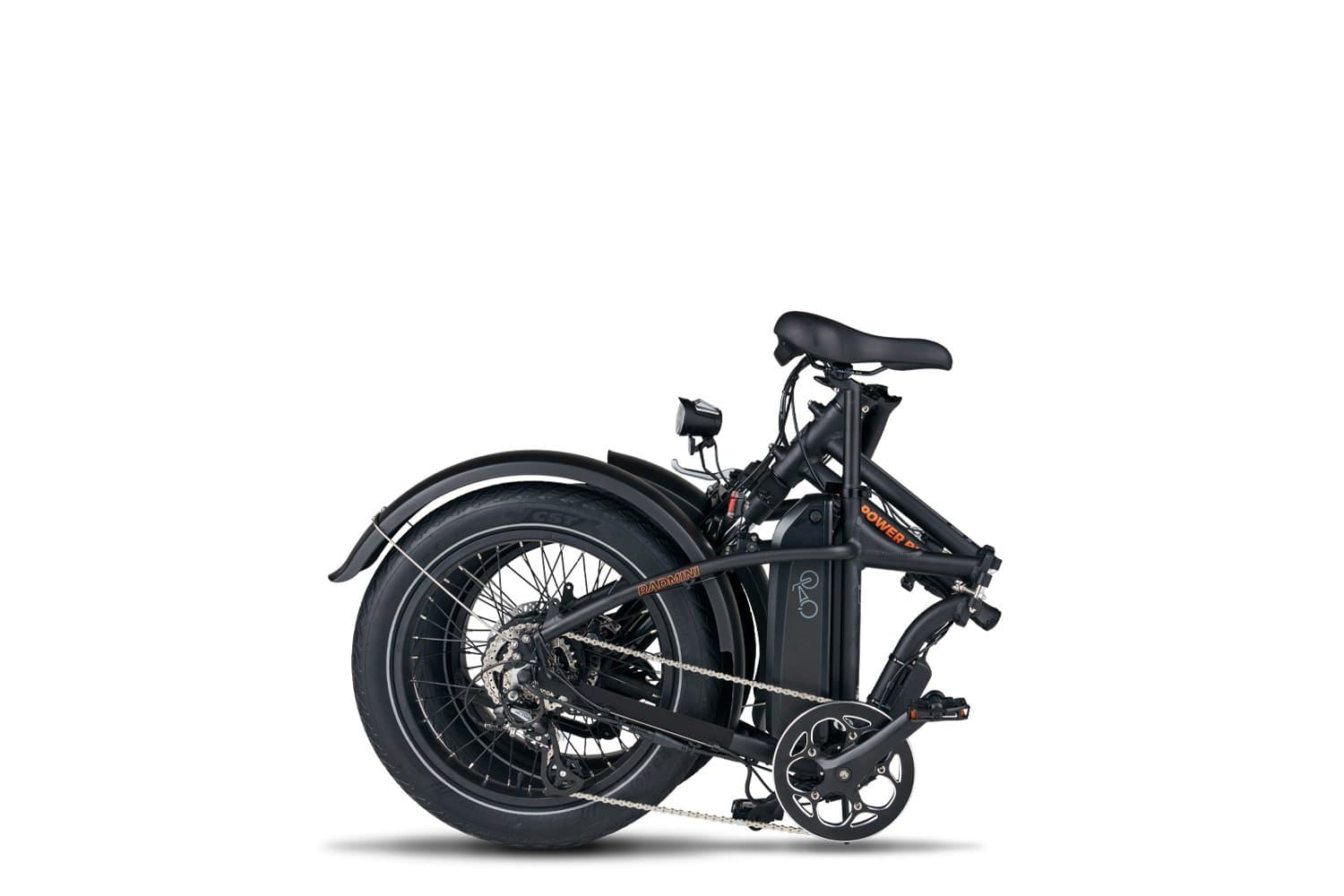 Motor & Battery
The Rad Power RadMini is a class two eBike, with both pedal and throttle activated motor assist system that will help you accelerate up to 20 MPH.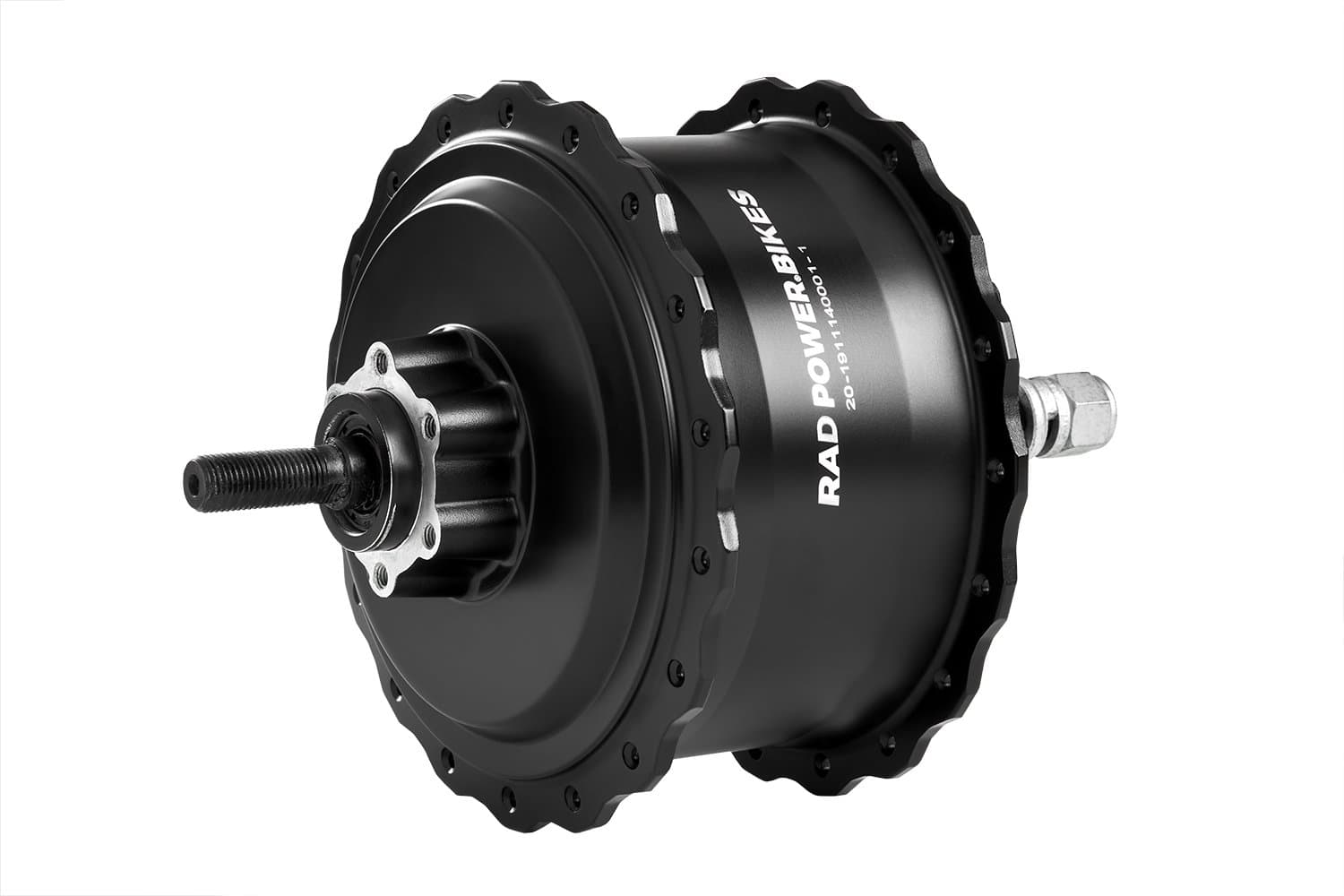 The RadMini eBike is equipped with a brushless Bafang rear geared hub motor, with an output of 750 W and 80 Nm of torque. This is a potent motor and one you don't often see on a folding eBike, let alone an entry-level priced eBike. With 80 Nm of torque, you have more than enough motor power to climb any hill in the city and tackle moderate and even some challenging mountain bike trails. You're not going to find many eBike models that have a better motor at this price point.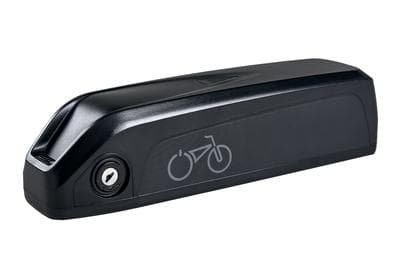 The battery and charger setup is a bit more underwhelming by comparison. The Samsung Lithium NMC battery does have a 672 Wh capacity, which will help you travel over 45 miles on a single charge with the right motor settings. The battery sits beneath the saddle, so besides being well protected, you don't have to reach far to plug in your charger. You can also remove the battery and charge it indoors.
You'll often need to charge it indoors because the one major downside to the motor setup is that the battery comes with a basic 2 amp charger. While the charger is easy to travel with, recharging from 0% to 100% takes between six to seven long hours, making it one of the slowest battery charging setups we've reviewed. If you can find a compatible charger, we highly recommend replacing the included 2 amp charger with a 4 amp charger to cut that recharging time by almost half.
Display/Assist Modes
Displays are always a little tricky to review since most cyclists will want different things in their LCD display. For our part, we think the majority of cyclists interested in the RadMini will like the option that Rad Power Bikes went with.
This bike has a 2.75'' backlit LCD display, with a substantial number of readouts and metrics that will help you monitor your cycling performance. The display is just the right size, so you can quickly glance down to understand what's on the screen without being so large and overwhelming that it disrupts the feel of your handlebars. There's even a USB Type-A port you can plug your phone into to keep it charged while you ride. The included readouts for the compact RadMini LCD display are as follows:
Rad Power RadMini Display Readouts, Metrics, and Settings:
Current Speed
Average Speed
Max Speed
Pedal Assist Level (Five Levels + Walk Mode)
Battery Level (Five Bars)
Trip Distance
Odometer
Motor Power Watt Output
Light Settings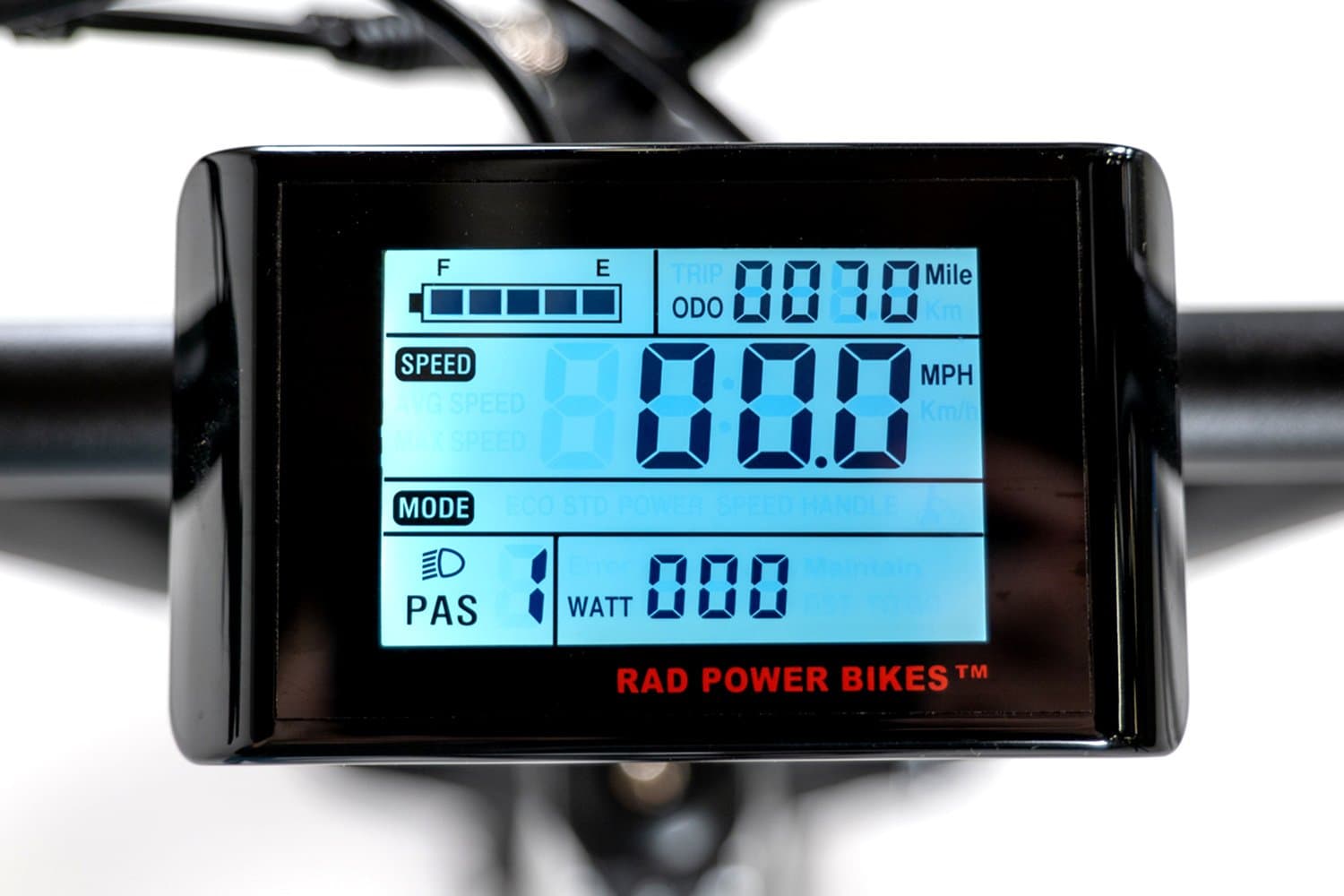 With five pedal assist levels, you can choose to prioritize different performance factors with the eBike motor. Higher pedal-assist levels provide greater motor power and faster acceleration but drain the battery quicker as a result.
Lower pedal-assist levels cut back on motor power and acceleration, but your overall riding range will be significantly extended. Switching the pedal assist level is easy, so try them all out as you familiarize yourself with the Rad Power RadMini folding eBike. As a word of caution, be aware that the throttle is unaffected by the pedal assist level and will always provide max power when you use it.
Handling
On Streets- The RadMini eBike is designed for all-terrain riding, and for the most part, it handles just as well on city streets as it does when mountain riding. The acceleration is slower due to the thick and short tires, along with the heavy frame, but if you use the motor system, you'll still be able to ride with traffic. The suspension support and other frame features significantly help with bumpy terrain, so you'll hardly feel a difference as you hit cobblestone, gravel, and damaged road sections. The brakes help you come to a quick stop as well, so while the range is a bit limited, it's fun to cruise or commute around the city with the RadMini folding eBike.
Turn Radius- Mountain bikes generally don't have a very sharp turn radius, and that's mostly true for the hybrid style RadMini eBike. You can cut a corner or make your way around a switchback without much effort, but fitting it through tight doorways or down narrow alleyways isn't going to be easy. Take your time, though, and you'll find a way to travel around any corner or tough passageway with the RadMini eBike.
Low-Speed Handling- Since it's just shy of 70 pounds, the RadMini is not a comfortable bike to handle at low speeds without motor power. With motor power though, you have two different options to choose from to make low-speed handling significantly easier. First, you can set your motor to Eco mode, which will provide a small push to your pedaling to help with overall handling without forcing you to ride much faster. Second, you can dismount from your eBike and put it into walk mode, allowing you to walk with the RadMini without having to pedal at all. Both settings are great options but don't make the mistake of using the throttle at low speeds. The throttle is always set for max power, so it may cause your eBike to shoot out from you if you aren't careful.
Gears/DriveTrain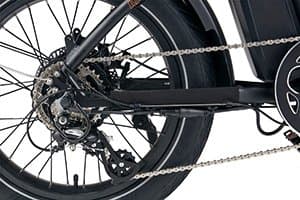 The drivetrain is well suited for trail riding and consists of a Shimano 7-speed freewheel 11-34T Cassette with a 48T chainring connected with a Z7 eBike optimized chain. Along with the dependable Shimano gear shifting, you also have a dual-sided bashguard along with full PVC fender coverage and additional stainless steel hardware protection.
Taken all together, the bashguard is especially helpful for guiding the chain to prevent chain drops, while all of the other components keep your drivetrain clean and protected from rocks, mud, sticks, and other debris that flies up when you ride.
Other premium eBikes are going to give you more extensive gearing options, but as a 7-Speed eBike, you'll have good options to help you have a fun, controlled riding experience. As it is, the drivetrain is well suited for moderate and even some difficult trail riding, but be careful if you want to challenge an extreme mountain bike trail meant for expert riders with dedicated eMountain bikes only.
Brakes
The next major component worth discussing is the Tektro Aries mechanical disc brakes with 180 mm rotors. While hydraulic disc brakes are more advanced, mechanical disc brakes are preferred for many mountain bikes since they're easier to repair and configure when you need to stop on a trail.
As to the brakes themselves, the 180 mm rotors have excellent stopping power, helping you come to a quick yet steady stop even when riding on steep downhill trails. Tektro Aries is a very popular braking system, so it's relatively easy to find a local bike repair shop for service when they get worn out.
They might struggle on extreme trail rides, but if you pay attention to the brake feedback and service them when they start getting worn out, they'll help you come to a safe stop wherever you ride.
Suspension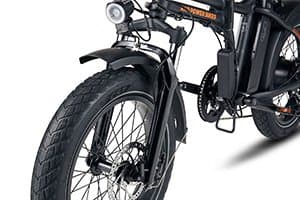 One of the reasons we are a bit nervous about calling the RadMini a proper, dedicated eMountain bike is the suspension setup. A great Rad Power Bikes RST suspension fork is included, with 60 mm of travel along with preload adjustment and lockout.
You're going to have a tough time trying to find another folding eBike that has the same level of suspension, making the RadMini well suited for riding over bumpy cobblestone roads or challenging trails alike. Even though it's a great suspension fork, the frame and fork just aren't enough for comfortable riding on a challenging mountain bike trail.
More experienced cyclists might be able to do it, but if you're a casual biker, be careful when considering what trails you take the Rad Power Bikes RadMini out.
Pedals
While they might not seem like the most crucial part of an eBike, a good set of pedals will provide a much better biking experience than just an "okay" set. We're happy to report that the RadMini doesn't just have good pedals, but great ones!
The aluminum platform pedals are very sturdy and provide more generous traction support than the typical plastic platform pedals you usually get with an entry-level eBike. Furthermore, these pedals will fold, allowing you to shrink the size of your eBike further or store it without worrying about your pedals snapping off the frame.
With reflector panels, it's also easier for others to spot your eBike, reducing the risk of suffering a collision due to your visible riding profile. While many entry-level eBikes have pedals you will quickly swap out– the Radmin electric bike comes with pedals you'll want to use for years to come!
Grips and Saddle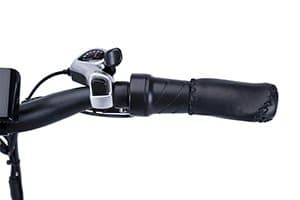 The RadMini is meant to be ridden in and out of the city, so a few different components make commuting to work a nicer experience. The handlebars are custom-formed aluminum, with a telescoping stem that will raise or lower depending on how you want to ride your bike.
The durable, imitation leather ergonomic grips are not only great looking but are pleasant and snug to hold, helping you ride for hours without irritating your hands, even if you ride gloveless.
The seat is a Velo plush saddle with a lifting handle, making it easier to adjust your saddle depending on whether you're commuting around town or intending to ride a trail. The saddle is big, but not so big that smaller riders are going to chafe against it.
Wheels and Tires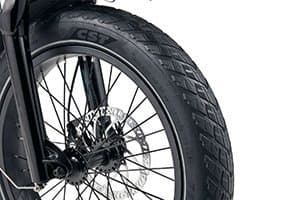 Because the Rad Power RadMini is meant to be a hybrid, all-around riding eBike, the tires have to work on all types of terrain. In that regard, the CST Big Boat 20" x 3" tires succeed, with excellent puncture resistance built to protect your tires from thorns, rocks, glass, and other obstacles on a trail or in the city.
The double-wall, aluminum alloy 36 hole rims are paired with 12-gauge stainless steel spokes, with reflective taping along the sidewalls to make it easier to see the bicycle from the side.
The recommended PSI inflation range is between 5 to 30 PSI, with lower PSI well suited for riding on tough trails, while higher PSI will help with better acceleration and traction in the city.
The tires aren't quite as nimble as some cyclists would like, given that they are 20'' by 3'', but if you care about a stable eBike that can ride almost anywhere without switching out tires, the RadMini folding eBike is the model for you.
Accessories/Upgrades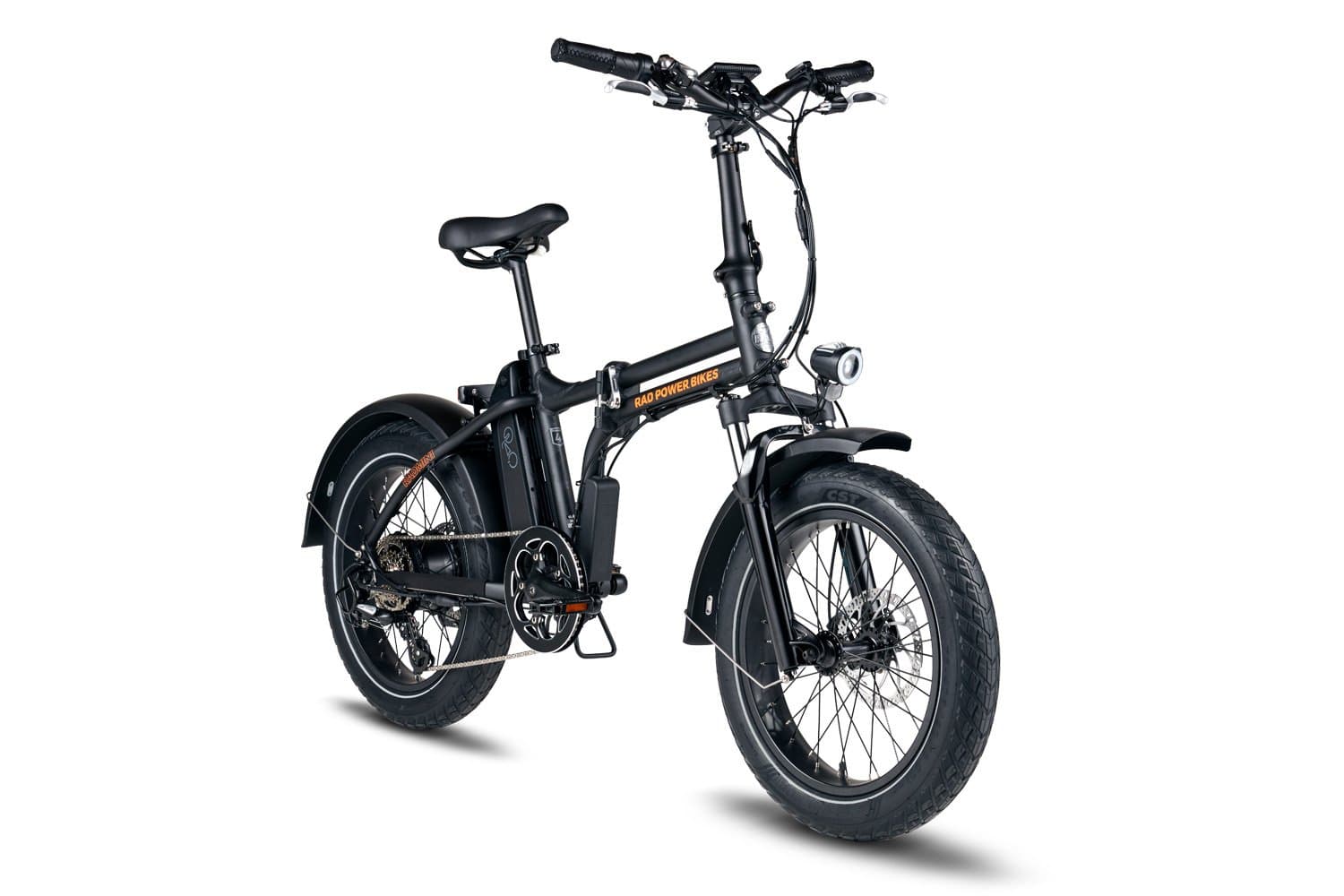 The RadMini is an entry-level priced eBike, so we are excited by just how many accessories come with this electric bicycle. A headlight, a tail light, a kickstand, an integrated bell, and the other mid-tier or premium accessories and upgrades mentioned earlier in our review.
They all add up to one of the best value eBikes on the market. The RadMini comes with so many accessories as part of the base model; we struggle to find other accessories to recommend adding to your eBike. If you do want an even better biking experience, though, then consider a few of these official Rad Power Bikes accessories for the RadMini:
Rad Power Bikes Rear and Front Cargo Rack
ABUS Bordo Granit X-Plus 6500 Folding Lock
Fremont Pannier Bag
SR Suntour SP12 NCX Suspension Seatpost
GUB Pro-3 Phone MOunt
Rad Power Bikes Cargo Platforms and Baskets
Rad Power Bikes Basket Bags
Rad Power Bikes Rad Mirror
Rad Power BIkes Handlebar Mitts
Recommendation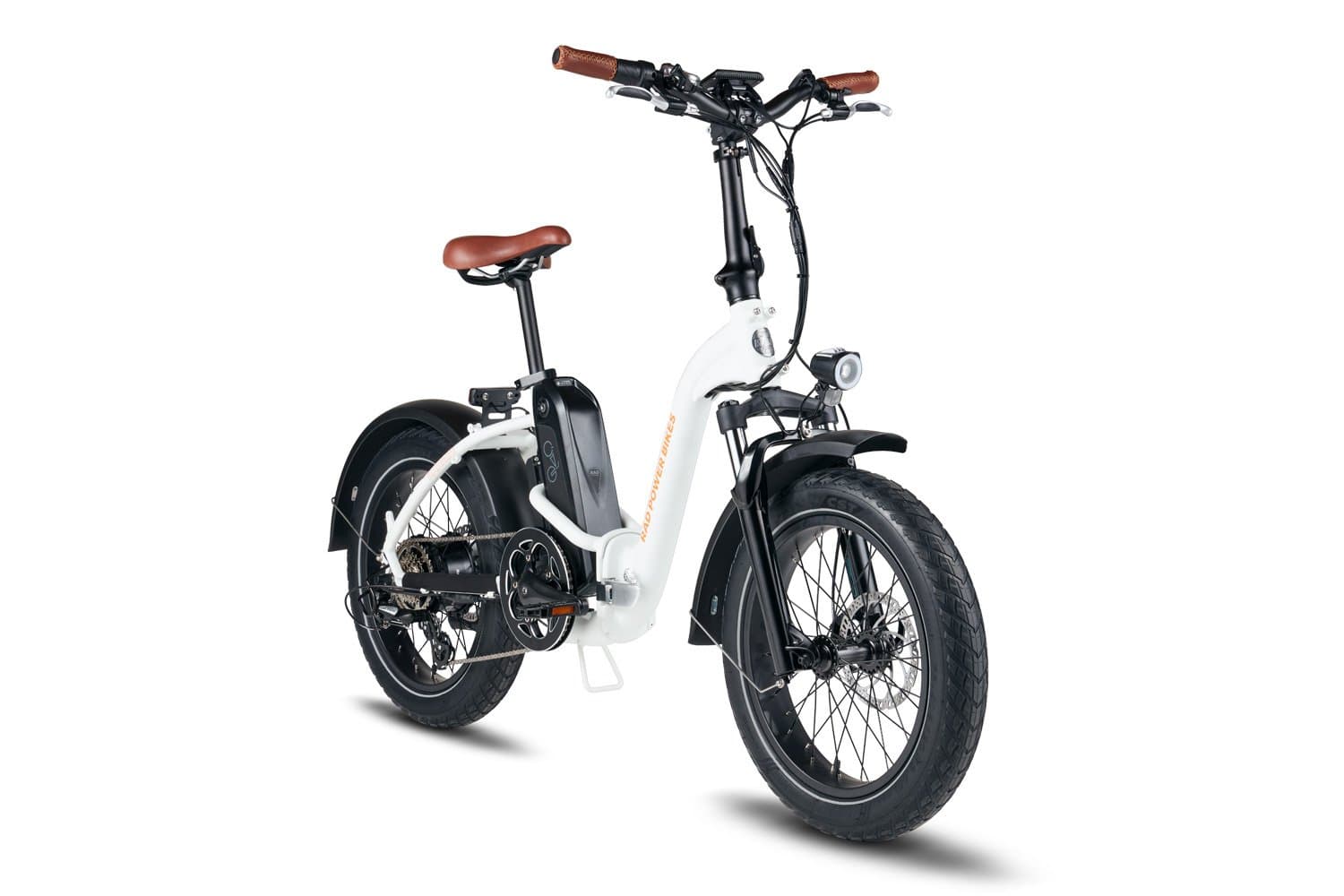 *For up-to-date pricing on the Rad Power Bikes RadMini click here
The Rad Power RadMini is a stellar ebike in several ways, be it an entry-level eBike, a folding eBike, or an eMountain bike. While the frame is heavy, the eBike folds down to a very compact size, so if you can carry it, you can easily store it in the trunk of your car or your home closet.
The rear gear hub Bafang 80 Nm motor will help you climb steep hills without breaking a sweat, and with the Samsung 672 Wh battery, you can travel over 45 miles on a single charge before running out of power.
The Shimano 7-Speed drivetrain is a very reliable gear system due to the Shimano components and the double-sided bash guard, and full fender coverage.
When you come to a stop, it will typically be a steady and smooth experience thanks to the Tektro Aries 180 mm rotor mechanical disc brake setup. The saddle, handlebar, and grips are all cushy to use and well sized with additional adjustment options to accommodate short and tall cyclists alike.
This eBike is one of the less expensive models we've found, but its great value is made even more impressive when you consider all of the other accessories and features, including the headlight, tail light, kickstand, and more. If you want a folding eBike at a great price that will help you ride to work or on your favorite trail, you'll definitely want to consider making the Rad Power RadMini your next eBike!
Thank you for reading our spec review of the Rad Power RadMini eBike! Please leave a comment below if you would like to see a full performance or video review of this folding electric bike.