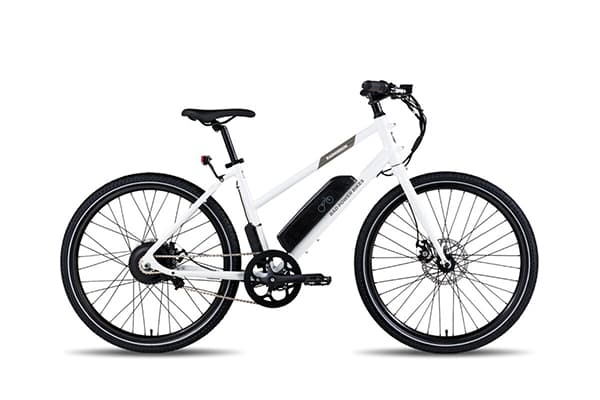 *To see current pricing on the Rad Power Bikes RadMission 1 click here
The RadPower RadMission eBike is an affordable, entry-level eBike designed for commuting, exploring, and just enjoying the paved roads of towns and cities. Available for $999, the RadMission is the most affordable eBike in RadPower's lineup, the pedal assist and throttle assist making this a great option for those just getting into eBikes. The power assist will aid bikers up to 20 MPH, the 500 watt (500Nm) motor rated for a continuous use range between 20 to 45 miles. Available in two sizes, consisting of a 31-inch high-step and 28-inch mid-step options, RadMission has made sure that this eBike is also on the lighter, friendly side at 47 lbs. Built with a durable aluminum frame, you can use this eBike in sun and rain alike as you ditch the car, get some fresh air, and navigate around your city like never before with the RadMission eBike!
Bike Category: Class 2: Pedal assist and twist throttle to 20 MPH
Who It's For: Riders looking for a less expensive, easy to use single-gear bike with a more traditional pedaling style and throttle options.
Bike Specs
FRAME 6061 aluminum
UI/REMOTE Rad Power Bikes custom LED display
BATTERY 48V, 10.5 Ah (504 Wh), Lithium NMC 18650 Samsung 35e
CHARGER 48V, 2 Amp Rad Power Bikes smart charger
MOTOR Geared Hub Motor with 5:1 Planetary Reduction
CHAIN KMC Z7
SHIFT LEVERS N/A
CASSETTE Single speed, 16-50
CHAINRINGS 50T chainring; 170 mm crank length; square-taper J.I.S.; dual-sided aluminium chainring guard
DERAILLEUR N/A
RIMS Double-wall aluminium, 36 Hole
TIRES Kenda Kontact, 27.5 x 1.95'' (650B) 4-ply with K-Shield puncture-resistant liner, reflective sidewall, standard tubed tire.
SADDLE 390 mm x 27.2 m, Quick release seat clamp
STEM 60 mm
HANDLEBARS Aluminum swept back handlebar
GRIPS Durable rubber, round
BRAKES Tektro Aries Caliper, Tektro 180 Rotors mm front and rear
PEDALS Wellgo composite platform pedals with reflectors
KICKSTAND Optional accessory sold separately
BELL Integrated bell
HEADLIGHT 40 Lux. Seeing distance: 230 ft (70m)
TAIL LIGHT Integrated taillight with brake light indicator functionality
FENDERS Optional accessory sold separately
Pros
Affordable, easy, friendly to use city eBike. Available for $999, a great option for beginners or those who haven't experienced using an eBike before.
Six total color options, and available in both mid-step and high-step options.
47 lbs total weight, 275 lbs max weight capacity. Able to support a rider and some extra gear, without having to rely on a very heavy eBike.
Class 2 eBike features both pedal assist for traditional rides. Throttle assist is great for cities, gets you moving quickly after you hit a stop sign or red light.
Lockable external battery that you can also remove and bring with you. Plugs into a wall, so charge your battery while you're at work!
Single speed means no having to worry about gear shifting, dropping your chain, etc.
Simple LED display to control and monitor your eBike motor. This LED setup keeps the eBike costs down and makes it real simple for new eBike riders.
Free shipping to the United States, and multiple finance options ranging from 6 to 36 months!
Cons
The RadMission is sold directly to the customer. While this saves on distribution costs, it makes demoing the unit before purchase very difficult.
The RadMission motor may lag when trying to climb hills and steep terrain.
The thin tires and overall build is great for riding in towns and cities. Does not handle dirt, unpaved, and off-roading that well.
Many optional accessories and other gear options for improving cargo space. Not included with eBike itself, must be purchased separately.
Features
6061 aluminum frame
The model moves the battery/assist display from the side to the top of the top downtube for better visibility, which is a huge improvement.
Lithium NMC 18650 Samsung 35e
Fully integrated into the downtube, the lithium-ion battery is both powerful and inconspicuous with 500Watt hours and 25-60 miles of range.
Lithium-ion external battery fits well onto the frame and can be locked for safety, but is fully removable as well for charging indoors. 500 Watt Hours with 20-45 mile range.
48V, 2 Amp Rad Power Bikes smart charger
Included charger will plug into a standard wall outlet, allowing you to easily charge your eBike battery while you work, eat, or take a break in the city!
Geared Hub Motor with 5:1 Planetary Reduction
A 12-magnet cadence sensor in the pedal crank measures your cadence to provide the proper pedal assist at each motor speed level. Water resistant, and will power the headlights/taillights as well!
Rad Power Bikes custom LED display
Easy to use, four button LED display that is very simple to use. Cuts down on weight and cost for the Ebike as well due to its simplicity!
Single Speed Drivetrain
50 T Chainring and 16 tooth freewheel. Allows you to pedal forwards or backwards in order to propel the eBike. Works great even when the eBike motor is not in use!
Kenda Kontact, 27.5 x 1.95″ (650B) 4-ply
K-Shield puncture-resistant liner improves the durability of the standard tubed tire. Also has a reflective sidewall to help others see you while you're on the road.
Aluminum swept back handlebar
Durable, round, rubber grips are comfortable to hold and grab onto. Familiar setup to many other traditional city bikes.
Tektro Aries caliper, Tektro brake rotors 180mm front and rear
Solid, responsive braking system with good stopping power. The breaks cutoff the motor automatically when pressed, extending the life of both the motor and braking system alike.
Wellgo composite platform pedals
CrMo axle, standard 9/16″ x 20 TPI threading. Comfortable to rest your feet on and big enough that any sized rider should be able to use these pedals.
In-Depth Review
Frame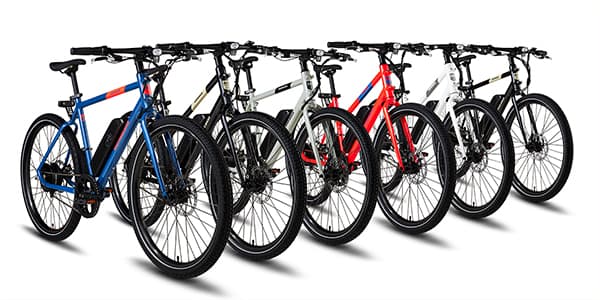 The RadMission is available in two sizes and in six different colors. For those who are 6' and shorter, they will likely prefer the 18'' mid=step frame, while riders taller than 6' are better suited with the 21.5'' high-step. Whichever variant you ride, the RadMission is a solid, lightweight frame that will make your rides feel comfortable and secure. The frame itself is built with 6061 aluminum alloy, which is a very popular general use aluminum base that withstands hot, cold, and wet weather alike. The frame is constructed to be lightweight, with both versions of the RadMission weighing about 47 lbs, and having a recommended maximum weight capacity of 275 lbs.
While not included with the RadMission itself, there are multiple slots on the eBike for attaching add-ons for additional cargo space, protection, or performance enhancements. Fenders and racks are both sold separately, the fenders great for protecting your wheels against mud while the racks will provide additional cargo space. The bosses on the steer tube also work for attaching a small basket if you have one, and you can also add a kickstand to the frame if you so desire. While we wish a few of these components were included with the base eBike, it is nice to have the option to upgrade and attach them separately in order to keep the RadMission price down.
Motor & Battery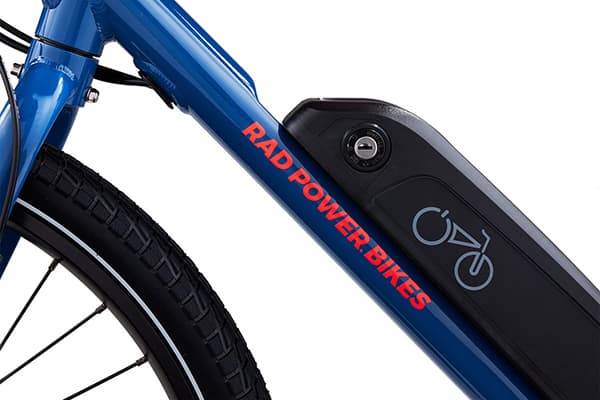 The Rad Power RadMission eBike is a class 2 eBike with a max power assist of 20 MPH.
The RadMission's motor is a rear hub motor, maximum 500 Watt and 50Nm torque engine. Relying on a 5:1 planetary reduction single speed chain system, this hub-motor won't have the same chain problems that other, multi-speed bikes have where the chain falls off when switching gears. Relying on both a pedal-assist and throttle system, you can use the motor to assist and match your cadence while you're pedaling, or to get your bike going after a short rest. We especially like the torque system for city pedalling, as it will get you up to 20 MPH quickly after you had to wait at a stop light or sign.
The battery is externally mounted on the downtube, with a lock that will ensure it can't be stolen when not in use while also being easy to remove for internal charging. The RadMission is specifically powered by a 48v, 10.5 AH Lithium battery for a total of 504Wh, or watt hours. The battery is a bit smaller, lighter, and less powerful than the battery used on other Rad Power eBikes, but we think it's great for the RadMission. This battery pairs well as it keeps the price down and still provides sufficient power to the 500W motor. The battery has an estimated usage of 20 to 45 miles of continuous use, but you will likely be able to go even farther if you space out your motor usage. As it is an easy to replace and light battery as well, you can also purchase and bring an extra battery along with you if you want to double the distance you can go with your motor.
As with other eBikes, you can still use the RadMission just like a traditional bike if the battery is dead or not in use, so no worries if you're pedaling more than 50 or so miles. As the battery itself can be recharged by plugging it into any standard wall outlet though, it shouldn't be too tough to find a place to recharge the RadMission and get it going once more!
Display/Assist Modes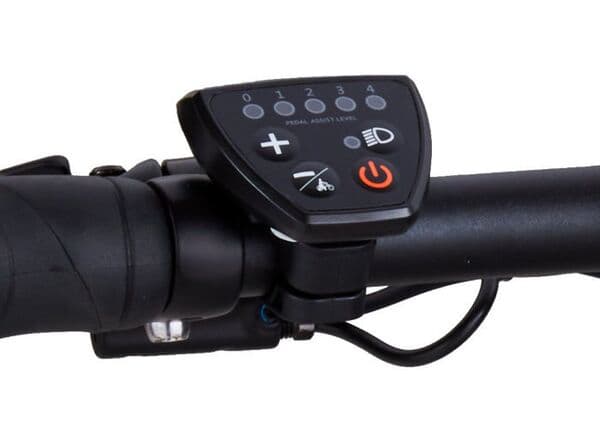 Rad Power has incorporated a custom LED display into the center space between the handlebars on the RadMission. While not as fancy as what you'll encounter on many other eBikes, this LED display is very simple to use and makes controlling your eBike motor a breeze. The four buttons on the RadMission LED motor control unit have the following functions:
+ Button: Increasing the assist level.
– Button: Decreasing the assist level.
Power button: Turning on/off the motor and LED display unit.
Light button: Turning on/off the integrated light system.
There are also ten lights on the LED display. There are five green lights that will indicate the overall battery power, and five yellow lights indicating which of the five assist levels you are currently in. The higher your assist level, the greater acceleration the pedal/throttle assist systems will be, getting you to 20 MPH more quickly. You can also decrease the pedal assist level down to zero, which will put the RadMission eBike into walk mode. In walk mode, you will find it much easier to push your eBike forward as the motor provides a small boost in power to get the wheels going, a helpful feature given the RadMission weighs nearly 50 lbs.
Handling
On Streets- The RadMission is built for use within the city. The 2'' wide tires make it so that you won't have any trouble taking it even on tight and narrow sidewalks. It feels very smooth to ride the RadMission on smooth and paved terrain, though it will start to feel a bit bumpy if you take it over cobblestone and older, hole field roads.
Turn Radius- You won't have any trouble dodging pedestrians, dogs, garbage cans, and any other sort of obstacle that pops up on your path as you ride down the road. Overall, the RadMission is 7 lbs lighter than the next lightest eBike from Rad Power, and so it has some of the best ease of turning for it. If you're in the city, the RadMission will have no trouble making the turns you need to get around, though it does struggle a lot more if you're on non-paved roads.
Low Speed Handling- The RadMission has a walk mode that will help you handle it when you're off the bike. If you're on it and just want to go slow, the lighter battery and motor help it maintain solid handling that won't feel as lurchy as many other hub-drive eBikes. If you need to maintain a lower speed than the 20 MPH cap, we would recommend the RadMission over many other cruisers and commuters that tend to push and struggle a bit more due to their more powerful motors.
Gears/DriveTrain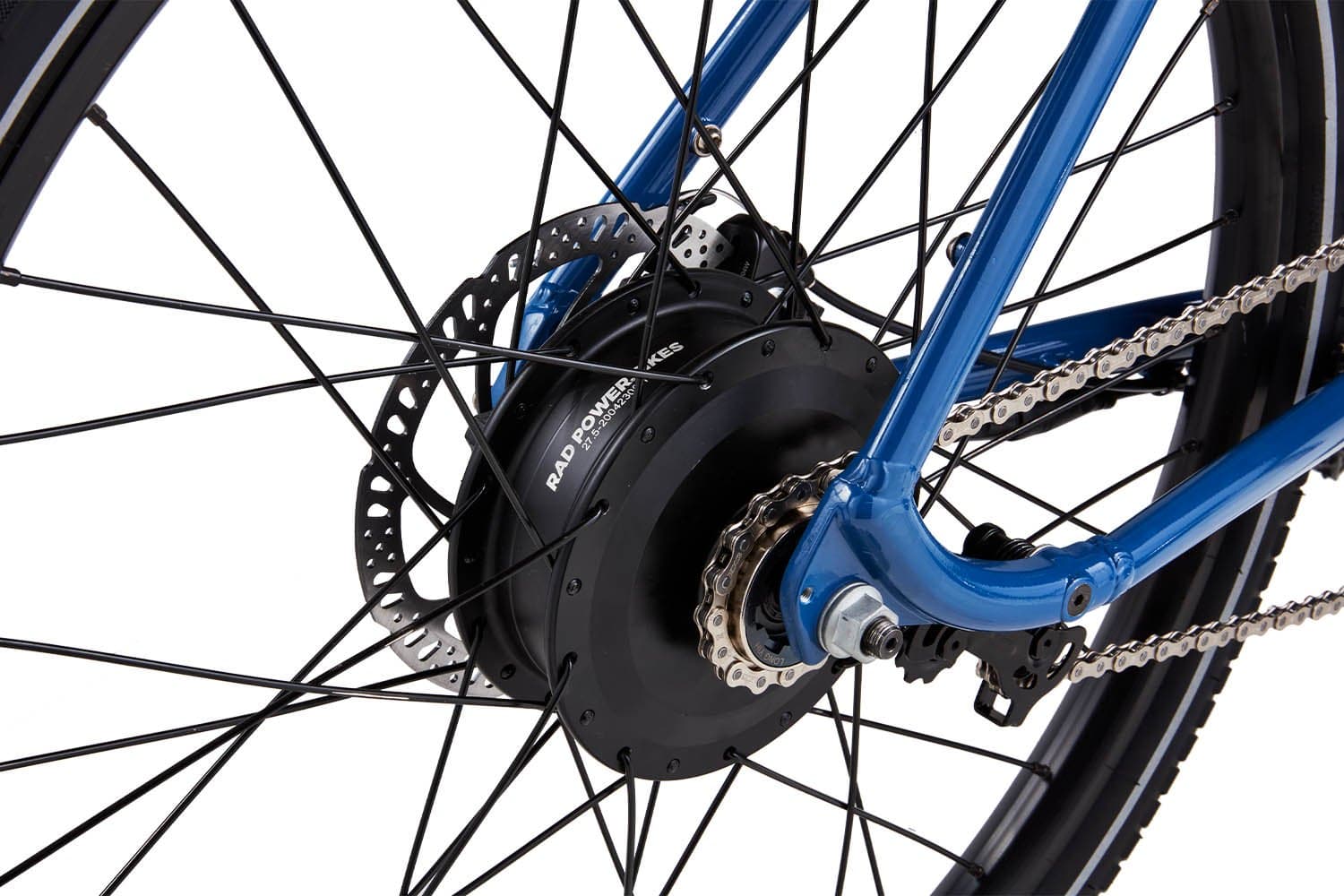 This is a single speed bike, consisting of a 50 teeth chainring in the front tire and a 16 teeth freewheel in the back. With the back freewheel, you will be able to pedal forwards or backwards in order to propel yourself, which can give you some variation in your riding and help loosen up your leg muscles. The chainring has a double guard, which protects it against mud, dirt, and water, further slowing down rust in the already rust resistant chain. While it is unlikely to fall off of the drivetrain due to a lack of gear shifting, the chainring is also tight enough to further prevent the chain from dropping.
Brakes
The braking system consists of Tektro Aries caliper brakes coupled with 180mm Tektro rotors on both the front and rear hubs. This braking system offers ample braking power to quickly come to a stop when needed, and also has a system in place to cut off the motor when brakes are applied. By doing so, you won't be having to compete against your motor or trying to fidget with the LCD monitor to turn it off when you need to make a stop. Additionally, the braking/motor cut-off system will not only make it smoother for you to brake, but will extend the life of both the braking system and motor system as well. While some riders may want something that isn't quite as jerky and sudden, we anticipate that many riders who use the RadMission will be more than satisfied with the Tektro braking system.
Suspension
There is no front or rear suspension in the base RadMission model, but you can buy an optional Suntour SP12 seatpost if you want to add it. Using the Suntour add-on still makes biking in the city feel great, and it is helpful for making your ride a bit more comfortable if you take the bike over cobblestone or off-roading. However, due to the thin size of the tires and overall design of this eBike, we wouldn't recommend taking it mountain biking or on some serious off-roading, even with the Suntour SP12 add-on. Consider it if you have roads on your bike path that are less than ideal, but otherwise you should be fine without it.
Pedals
The RadMission 2020 features Wellgo composite platform pedals, which are firm and large enough to support adult riders of any size, but are a bit lacking in overall durability. While one fall is unlikely to cause them to break, multiple falls and accidents are likely to damage the Wellgo pedals. Still, with a bit of proper care and, by buying the optional Rad Power kickstand, you can prevent your bike from ever falling over and ensure that they are useful for years to come. Furthermore, they do have reflectors on the edges, making it unlikely for anyone to crash or damage them.
Grips and Saddle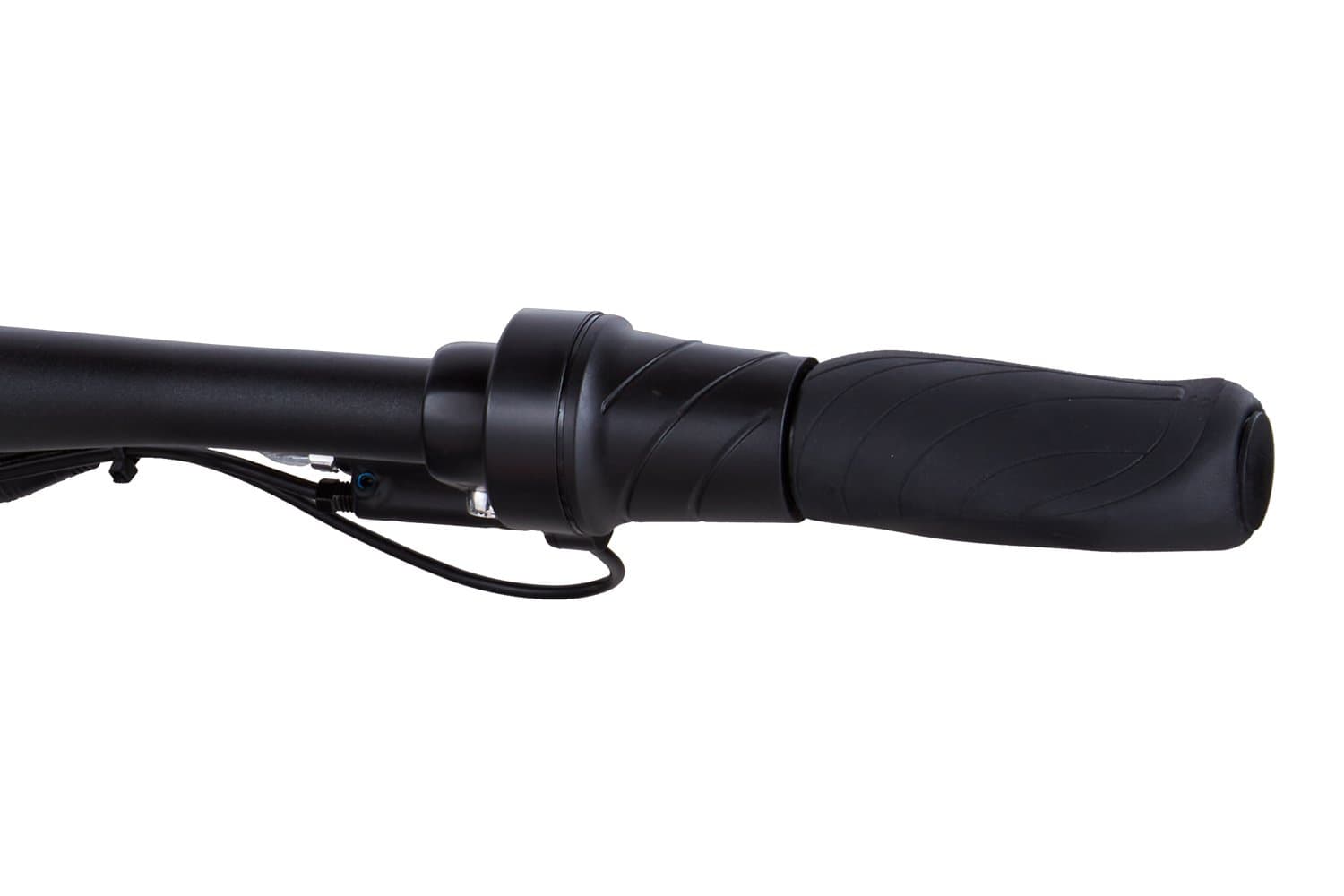 The RadMission rounded, rubberized handle grips are easy to hold, with texture support to help you maintain a steady grip even when you're pedaling fast or through the rain. As this is a single speed bike, these handles aren't weighed down or rendered cumbersome by a gear shifter either. Rubber is a bit basic in terms of a grip material, but it further keeps the RadMission price below $999.
The saddle is a tad narrow, so it might not be as comfortable as you would expect for a commuter, urban-based eBike. The simple design, easily adjusted by a quick release clamp, helps it feel steady and secure in the frame, especially with the reduced friction points. However, the seat isn't very cushioned, and some riders have reported that it can feel a bit uncomfortable the first few rides. If you wind up suffering this problem, we suggest a gel seat cover or switching out the seat for something larger and more cushiony instead.
Also be aware that the high-step will have a 21.5'' tube length, compared to the 18'' tube length. We once again recommend the mid-step RadMission for bikers 6' and shorter, and the high-step RadMission for bikers taller than 6'.
Wheels and Tires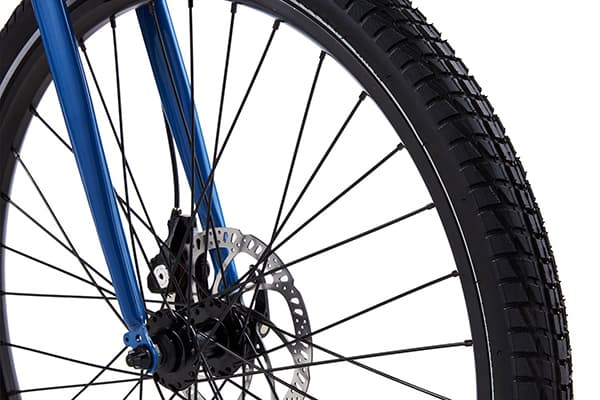 The RadMission features a 2'' wide and 27.'5'' high tire, which works great in the city on cement roads, sidewalks, and walkways. These tires are puncture resistant but also put on a standard tube for easy replacement and repairs, and also have a reflective sidewall so it's easier to spot these bikes when in use. As for the rims, they are built as a double-wall aluminum, featuring 36 hole and 12-gauge stainless steel spokes. As you can read more in depth in the handling section, these tires perform very well in urban environments, with tight navigation and handling that will keep you going and avoiding any obstacles in your path. The one thing to be aware of is that these sorts of tires won't handle off-road/dirt paths as well, and that you will want a heavier tread featured in other Rad Power eBikes if you aren't biking exclusively in cities and paved towns.
Accessories/Upgrades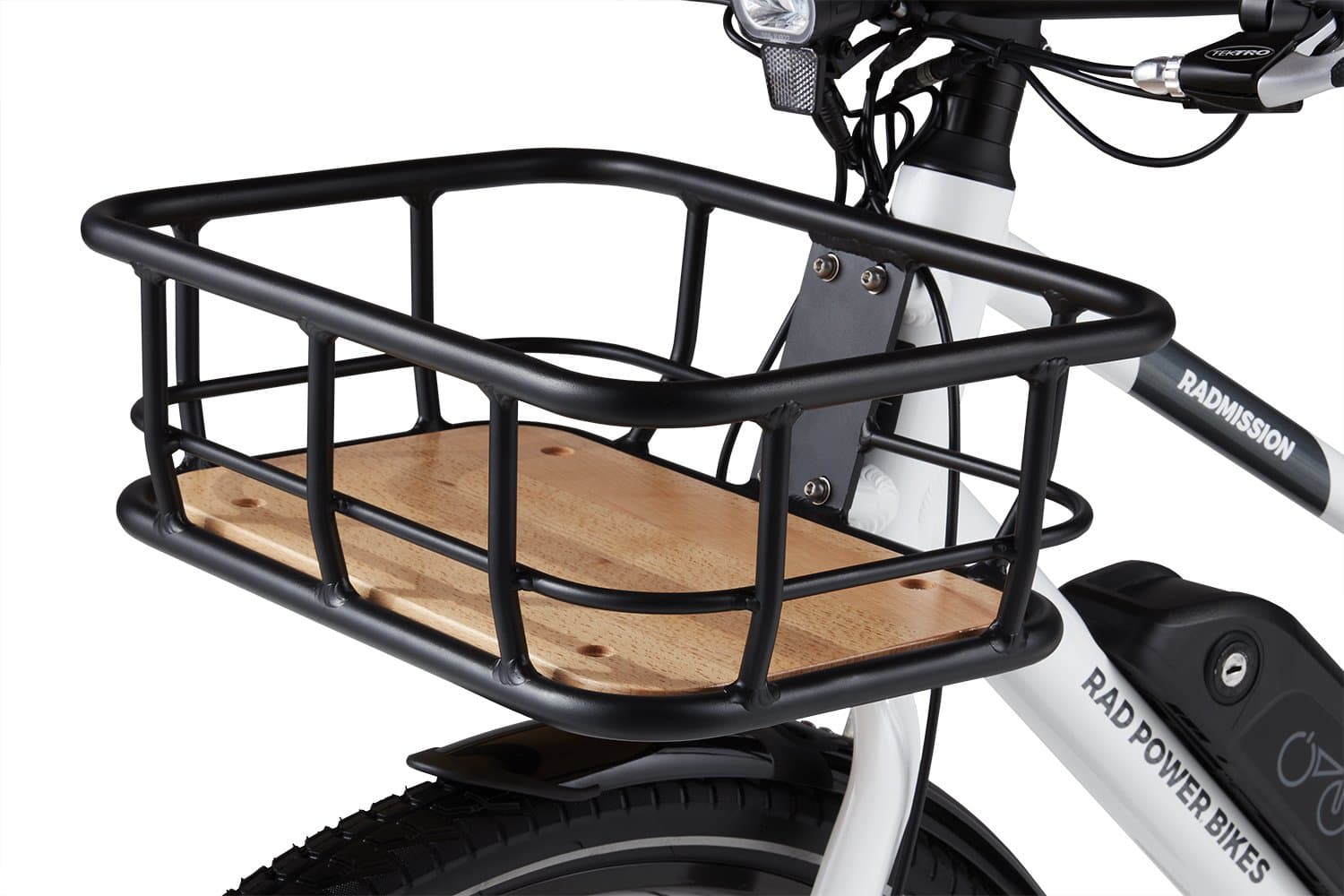 There are a number of cool accessories that Rad Power offers that will make the RadMission a cooler and more enjoyable eBike to use. Fenders will help protect your wheels against sludge, ensuring that they last longer, look cleaner, and don't lock up when used in muddy or slick terrain. Adding racks will make it easier to bring extra cargo along with you, allowing you to take advantage of the 275 lbs of recommended rider weight. A kickstand is a small but simple addition that will help you keep your bike upright when you can't find a bike rack to rest it against. The Suntour SP12 suspension post will make your eBike a bit more comfortable to use over uneven terrain. Finally, we also suggest adding a front mounted basket, if you are looking for a bit more cargo space that is closer and easier to access.
Recommendation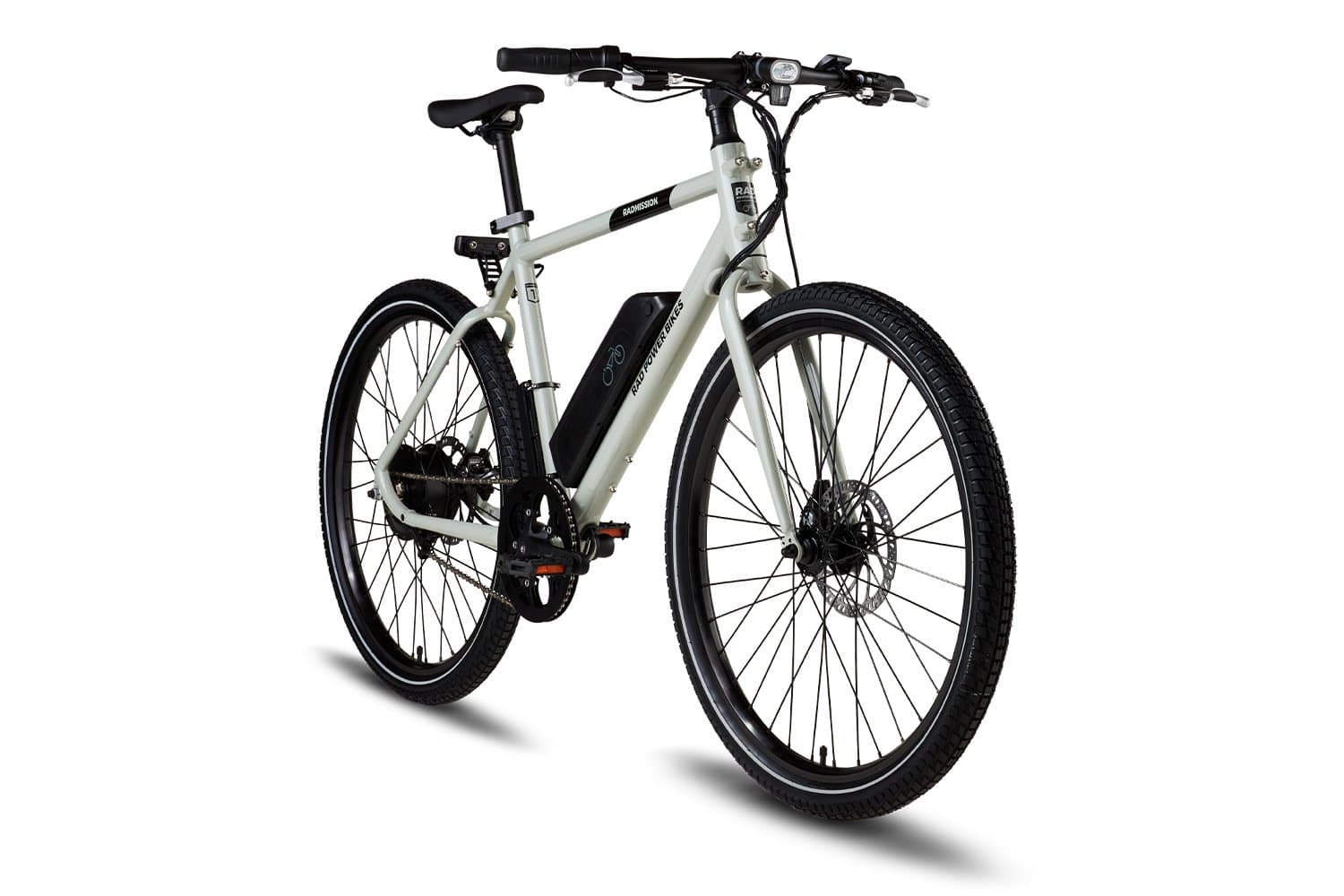 *For up-to-date pricing on the Rad Power Bikes RadMission 1 click here
The RadMission is a good beginner eBike and a very affordable option for those who are looking for something that will make their commutes through the city both quicker and easier. The two frame choices, and six color options, will help you find an eBike that is a great match to whatever your needs and preferences are. The simple to use LCD, along with the throttle and pedal assist system, ensure riders both old and new will be able to use the eBike motor system with ease. The tires and single-speed drivetrain will struggle a bit off road, but it will handle urban environments gracefully, and handles well enough to avoid crashing into the people and fixtures you encounter. The 20 MPH assist will help you get up to speed after stops rather quickly, and the 20 to 45 mile estimated range should be more than enough to get you to work on a single charge. So, if you are in the market for a eBike that will improve your daily commute, the RadMission by Rad Power is definitely an eBike worth considering!