Welcome to our spec review of the Rad Power Bikes RadRover 5 electric bike! Rad Power Bikes continues to manufacture some of the most popular eBikes in the world, which is why we haven't been able to try out the RadRover 5 electric bike for ourselves. However, by comparing the RadRover 5 to past versions of the RadRover series, along with analyzing the components it shares with other eBikes we have tested before, we managed to develop our spec review for this eBike. With our spec review, we hope to give you a general impression of what you can expect when you ride the Rad Power Bikes RadRover 5 hybrid eBike!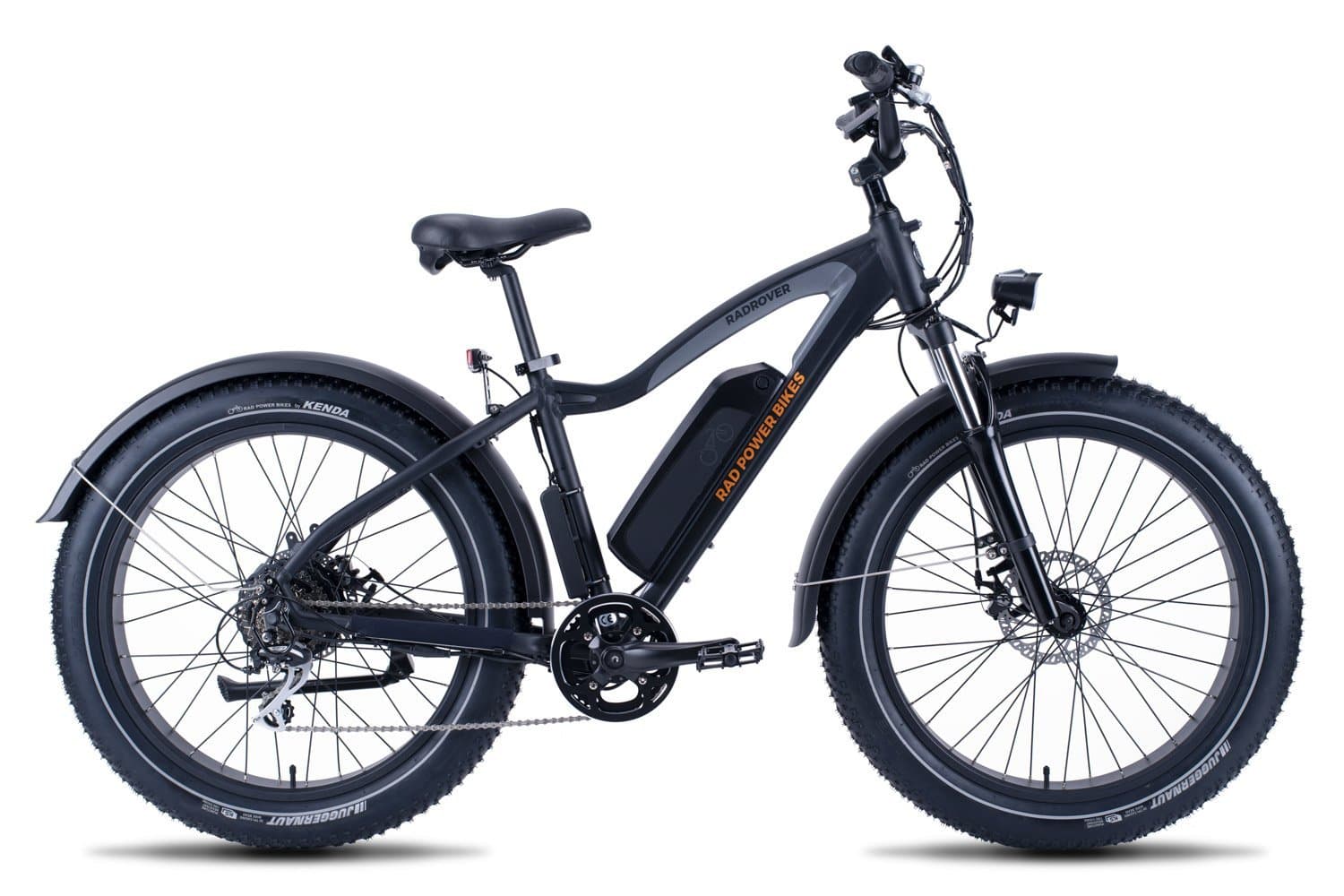 * To see current pricing on the RadRover 5 click here
Many eBikes tend to be developed with a specific rider in mind, but the RadRover 5 is a hybrid, all-around style eBike meant to be ridden wherever you want to go. The heavy 6061 aluminum frame is built tough, with fat Kenda Juggernaut tires and a forward suspension fork to help you have a smooth ride in the city or on mountain biking trails alike. A very powerful 80 Nm motor is attached to the rear-hub, pushing you along thanks to the long lasting Samsung lithium battery mounted on the center tube. The DNP 7-speed freewheel drivetrain has been specifically designed for climbing hills, which you'll be able to do so comfortably with the matching faux-leather grips and aluminum oversized platform pedals. This eBike is capable of supporting up to 275 lbs, and while it does come in only one size it is an eBike that will feel great for the typical adult rider. So, if you want a single eBike that can help you try out a little bit of everything or help you ride wherever you want, read on to get our full thoughts on the Rad Power Bikes RadRover 5 electric bike!
Bike Category: Class 2: Throttle assist to 20 mph
Who It's For: Affordable mid-tier eBike with a power motor that is great for riding in the city or on off-road trails alike.
Bike Specs
FRAME: 6061 aluminum
UI/REMOTE: Backlit LCD
BATTERY: Lithium NMC Samsung Battery, 48 V / 14 Ah
CHARGER: 48V, 2 Amp Rad Power Bikes smart charger
MOTOR: 750W / 80 Nm brushless Bafang geared hub motor
CHAIN: KMC Z7
SHIFT LEVERS: Shimano SL-TX50-7R thumb shifter
CASSETTE: DNP 7-speed freewheel, 11-34T
CHAINRINGS: 42 Tooth Chainring with Prowheel Ounce Alloy Guide
DERAILLEUR: 7-Speed Shimano Acera
RIMS: Double wall, 36H
TIRES: Rad Power Bikes by Kenda Juggernaut 26″ x 4″
SADDLE: Velo Plush with lifting handle
STEM: Aluminum Alloy, 50mm Length
HANDLEBARS: Custom formed aluminum, 700 mm wide, 4″ rise
GRIPS: Durable imitation leather ergo
BRAKES: Tektro Aries (MD-M300)
PEDALS: Wellgo B087 CrMo axle, forged aluminum platform with reflectors
KICKSTAND: Heavy-duty aluminum with wide plastic foot
BELL: Integrated Bell
HEADLIGHT: Standard Rad Power Bikes LED headlight
TAIL LIGHT: Integrated tail light with brake light
FENDERS: Full coverage front and rear
Pros
A fun yet affordable eBike designed to be ridden anywhere you want. Cruise through the city or start exploring off-road, a mid-tier bike with an entry-level price.
Comes 85% assembled, with complete assembly taking less than an hour once it arrives. Available in Black and a Limited Edition Forest Green.
Solid, well-built frame. The 6061 aluminum frame is built with the same alloy used in boats, cars, and even aircraft structures. Provides great protection for key electronic components when you crash.
Rad Power Bikes 2 Amp charger. Standard charger for an eBike at this price point, but it is very simple to use.
DNP 7-speed freewheel/11-34T Drivetrain. The freewheel gives you a greater range of pedaling options, besides making it smoother to climb hills. Full fender coverage too!
Custom Brushless Bafang 750W / 80 Nm motor. Powerful enough to climb steep hills and mountain bike trails alike. The rear-hub motor is easy to service too.
Display shows all the metrics you need. Rad Power Bikes Branded King Meter SWLCD Controller reports 9 different metrics while you ride. Easy to adjust, and simple enough to make changes while you ride.
Comfortable ride. The Kenda Juggernaut 26″ x 4″ Puncture-Resistant Tires, combined with the RST 80 mm travel suspension fork, provides great shock absorption for city and off-road riding.
Responsive brakes. Tektro Aries 180 mm Mechanical Disc Brakes are good enough to help you come to a quick stop, and helps the eBike stay affordable despite the mid-tier performance.
Powerful 80 Lumens Rad Power headlight with good integrated brake light. Significantly increase rider profile for superb rider safety, minimizing the risk of collisions.
Cons
69.6 lbs fully assembled weight. Not the heaviest eBike we've ever reviewed, but still a heavy bike that smaller riders might not be suited for since it is one frame size.
Low 45 mile max range, with typical ride range between 30 to 40 miles. 2 Amp charger makes recharging the battery very slow as well, taking up to 6 hours.
Thumb-indexing shifters can be hard to reach with smaller hands, but you tend to get used to them after a few rides.
Features
6061 Aluminum Frame
6061 is a common base for eBikes, since it provides a strong metal frame base that can withstand the occasional crash while protecting the internal electrical wiring. The RadRover 5 weighs 69.6 lbs fully assembled.
Lithium Samsung 675 Wh Battery
Removable center tube battery that you can charge while mounted on the bike or indoors. The center tube placement will minimize the overall performance impact caused by the 7.7 lbs battery. Maximum range on a full charge is about 45 miles.
2 Amp Rad Power Bikes Smart Charger
A standard charger typically included with eBikes at this price point. Very easy to use, but to recharge from 0% to 100% can take up to 6 hours due to the minimal 2 amp power.
750W / 80 Nm Brushless Bafang Geared Hub Motor
A powerful rear-mounted geared hub motor that will provide throttle motor assistance up to 20 MPH. The 80 Nm motor is more than capable of climbing steep hills and tackling challenging, difficult mountain trails with its long lasting custom Bafang RadRover motor.
Rad Power Bikes Branded King Meter SWLCD Controller
Center mounted, easy to use controller that will help you keep track of your riding metrics while you use the RadRover 5. Easy to adjust, and just the right size so you monitor your riding metrics without getting distracted or weighing down your handlebars.
DNP 7-speed freewheel, 11-34T Drivetrain with Full Coverage Fenders
Versatile drivetrain specifically designed to make climbing hills easier while riding with the RadRover 5. Nickel coated cogs are rust resistant and very smooth/consistent when they need to shift. Full coverage fenders further protect the drivetrain and reduce the need for overall maintenance.
Kenda Juggernaut 26″ x 4″ Puncture-Resistant Tires
Thick, knobby 4'' wide tires that make every ride on the RadRover 5 electric bike a comfortable one. 5 to 30 PSI inflation, ensuring you can have a smooth trip not just on gravel and concrete but in loose dirt, mud, and sand alike. Great reflective strips on the tires for improved visibility as well.
Custom formed aluminum, 700 mm wide, with RST spring fork and 80 mm travel
The mid-rise handlebars, combined with the short stem post, allows you to maintain a sturdy grip without leaning so far forward for comfortable riding that reduces strain on your lower back. The suspension fork provides some additional shock absorption as you hit the mountain trails, especially in conjunction with the wide, heavy-duty tires.
Tektro Aries (MD-M300) 180 mm Mechanical Disc Brakes
Solid mechanical 180 mm front and rear rotor disc brakes. They provide a quick and steady stop, whether you're riding on hard terrain or along the beach in sand. Disc brakes make the RadRover 5 very affordable, but the mechanical disc brakes aren't quite up to par with your traditional hydraulic disc braking system.
Wellgo B087 Forged Aluminum Platform Pedals
Very sturdy aluminum platform pedals that can withstand the occasional crash without snapping off. Provide great support for riding and athletic shoes. Total rider weight support for the RadRover 5 is up to 275 lbs.
In-Depth Review
Frame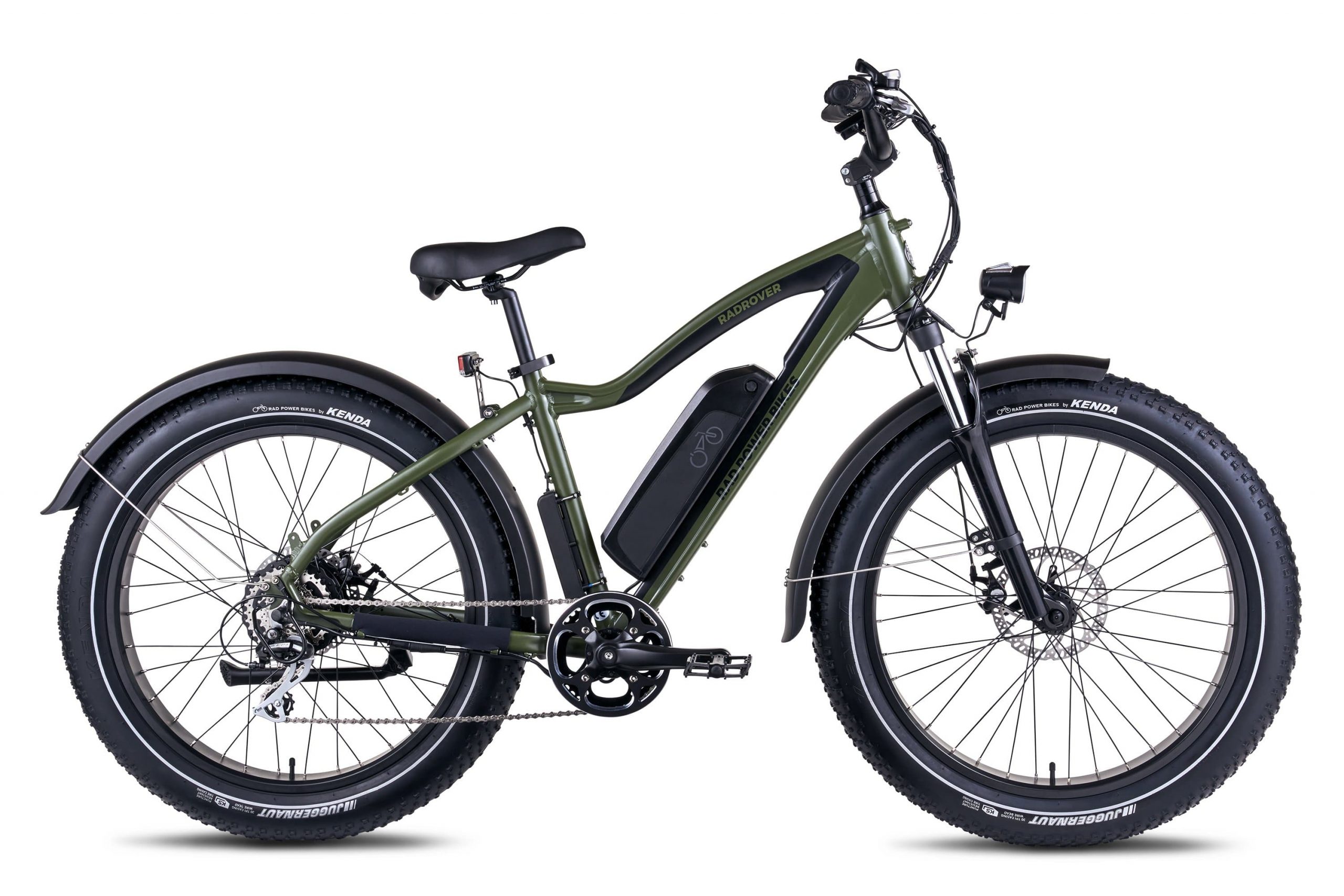 The RadRover 5 is built with a 6061 aluminum alloy based frame. This is the common alloy used to construct eBikes, along with many automobile chassis and even aircraft structures. Even with this sturdy but lightweight frame material, the RadRover 5 does weigh about 69.6 lbs, which does make it one of the heavier eBikes we've reviewed. The eBike does have great mid-tier performance far above what we typically expect at this price point, but the stability and shock absorption that it has does come in part from the overall frame weight.
Unfortunately, the RadRover 5 is not available in any other frame size either, so there's not much you can do to try to get a lighter version of the eBike. Rad Power Bikes are great though, so browse through a couple of their other eBikes, like the RadMini 4, if the 69.6 lbs weight is just too much for you. In regards to weight, the RadRover 5 is able to support up to 275 lbs, which should be enough to support most adult riders as long as you're not bringing along too much cargo.
Motor & Battery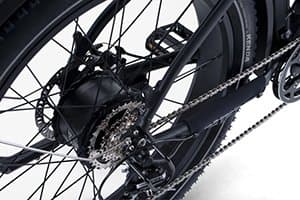 The Rad Power RadRover 5 is a class 2 eBike with throttle motor assist up to 20 MPH.
The 2021 Rad Power RadRover 5 eBike relies on a custom brushless Bafang 750 Wh / 80 Nm rear gear hub motor. There is more than enough torque in this motor to help you cruise along with traffic, along with climbing hills or tackle tough mountain trails. It's a fantastic motor, but the one downside is that it will drain your battery life very, very quickly. The optimized max range on a full charge with the included battery is just 45 miles, but you're likely only going to get between 30 to 40 miles with your battery, one of the shortest ranges we've reviewed. This is a mid-tier eBike with an entry-level price, but one of the compromises to keep the price down is a shorter riding range.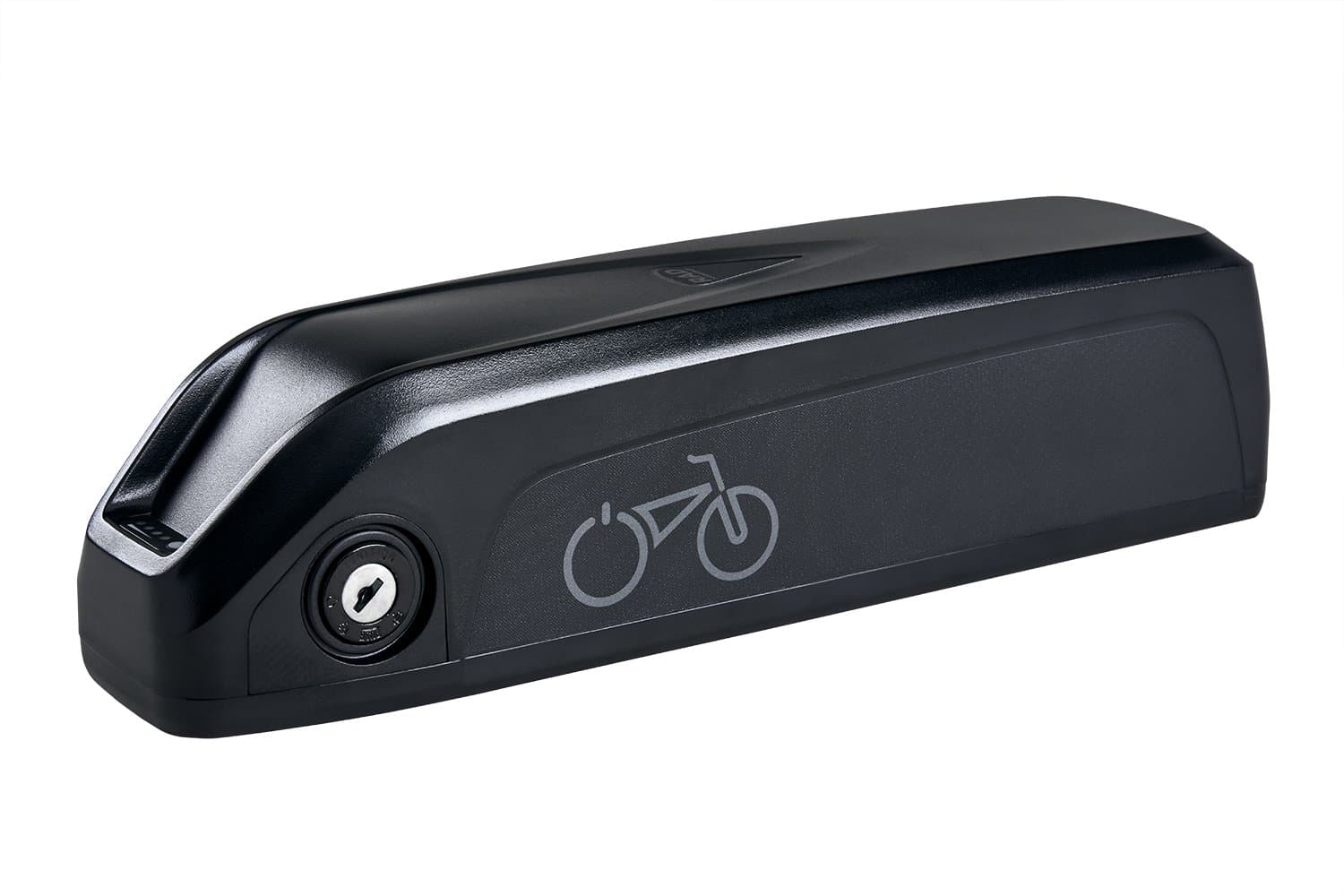 The battery is a fully removable center tube lithium Samsung 675 Wh battery. Mounting the battery is easy, and when you do want to charge it you can plug your charger in directly or take it inside with you while you work. Being able to take the battery inside is an especially good thing, because the included charger will take up to 6 hours to charge from 0% to 100%. While you'll very rarely let your eBike battery drop to empty, 6 hours definitely up there in terms of longest battery recharge time. A 2 amp charger is standard for eBikes at this price point, but if you want to get back on the road quicker we would definitely recommend looking for a higher amp charger compatible with the Samsung lithium 675 Wh battery.
Display/Assist Modes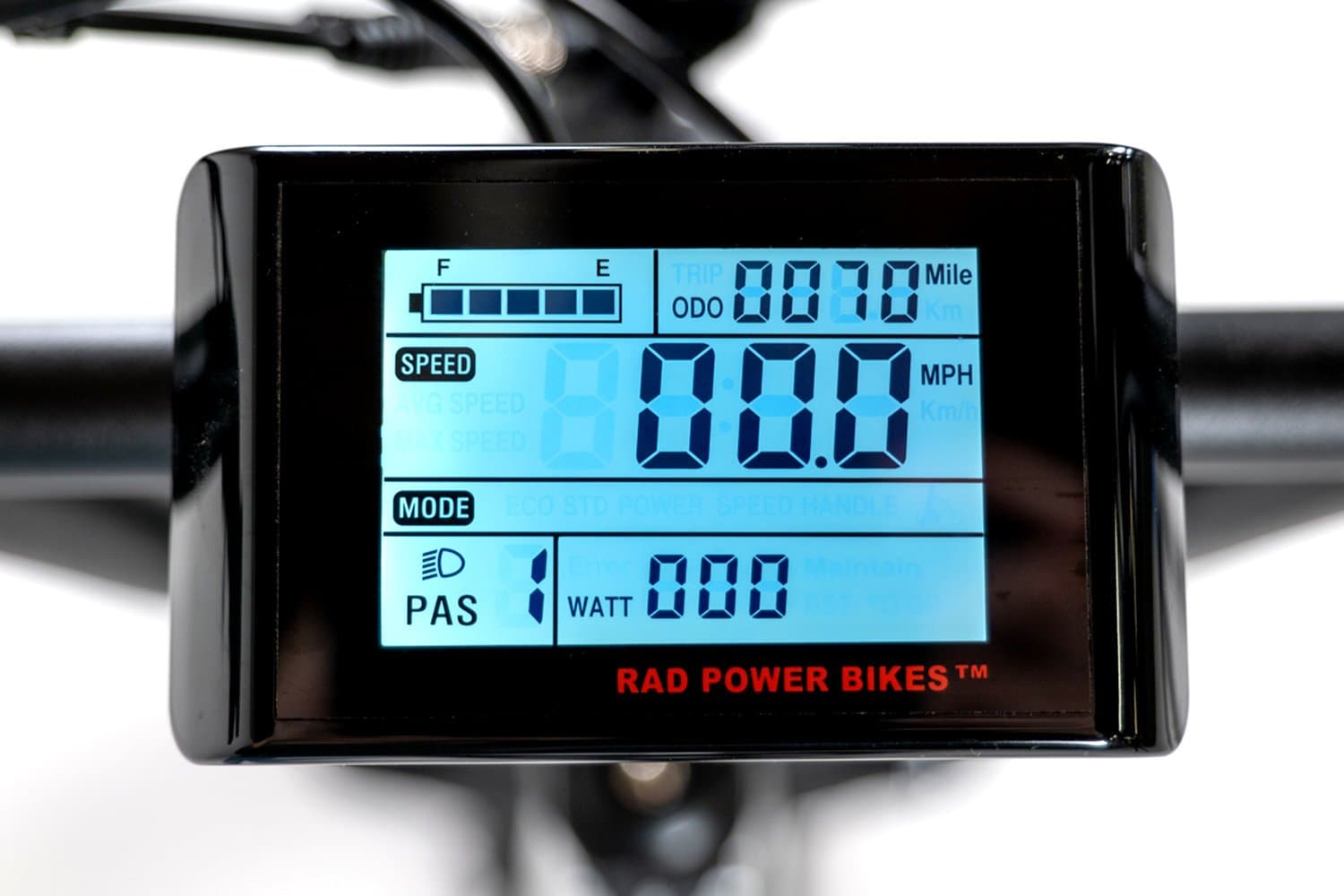 The center mounted controller is 2.75'' large, which is a great size to read your riding metrics without being so hefty as to get in the way of your riding. The Rad Power Bikes Branded King Meter display cannot be removed, but it is highly adjustable so you can find the proper angle to look at it without injuring your neck. It provides a hefty list of riding metrics while operating the RadRover 5 as well, including:
RadRover 5 King Meter LCD Riding Readout Metrics:
Battery Indicator
Current Speed
Average Speed
Max Speed
Trip Meter
Odometer
Pedal Assist Level
Wattmeter
Light Switch
As a Class 2 eBike, you will receive motor assistance up to 20 MPH when you twist the throttle. At the 20 MPH limit, the motor will shut itself off automatically, the limit put in place so that you can ride the RadRover 5 electric bike without needing a special license to operate the eBike. If you do want to go faster than 20 MPH, you'll still be able to do so by pedaling the bike normally. The great thing about eBikes, like the RadRover 5, is that you can use them just like any other bicycles even if your motor is dead or turned off.
The controller has a total of five motor assist levels along with a walk mode, which are as follows:
RadRover 5 Throttle Motor Assist Levels:
Off
Eco
Standard (Std. on controller)
Power
Speed
Setting your motor to a lower assist level will decrease the power assistance you receive, but increase the total range and battery life of your motor. Alternatively, the higher you set your motor assist level, the quicker you'll hit that 20 MPH speed cap but the shorter your overall riding range and battery life will be. Swapping your motor assistance level just takes a click of a button, so try out each of the levels and keep them in the back of your mind to optimize your overall riding experience.
Handling
On Streets- The RadRover 5 is designed to be ridden anywhere, and handles especially well on city streets. The large and wide 26'' by 4'' tires provide plenty of shock absorption, especially with the 80 mm travel RST suspension fork. Whether you travel over well maintained concrete roads, cobblestone streets, or the occasional rough gravel patch or pothole, the RadRover 5 is fantastic if you want an easy to handle eBike to ride in and out of the city.
Turn Radius- The RadRover 5 is easy to turn, but it doesn't have a very tight turn radius. You'll be able to easily dodge cars, bikers, and other obstacles in the road, and with the freewheel you have more pedaling options than your traditional drivetrain eBike. The tires are large though, so it just won't turn as sharply as a dedicated city bike. We don't think its a problem though, especially for those looking for an entry-level/mid-tier eBike.
Low Speed Handling- The RadRover 5 is a heavy bike, so it is a bit difficult to handle at low speeds without motor assistance. Fortunately, if you still have battery life, you can make use of the walk mode or Eco mode for improved low speed handling. Some cyclists will even use the Std motor assistance mode for low speed handling, but that might be a bit too much unless you're an experienced cyclist.
Gears/DriveTrain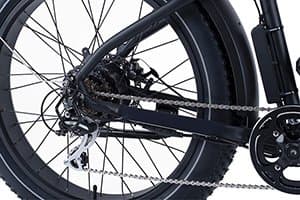 The drivetrain consists of a DNP 7-speed 11-34T freewheel with full coverage fenders, connected to a 42 tooth chainring via a KMC Z7 chain. The derailleur is a 7-speed Shimano Acera system with a Shimano SL-TX50-7R thumb shifter on the right. The drivetrain itself is great, and has been specifically optimized to make pedaling while climbing hills and tough trails easier. With a freewheel, you can also pedal forwards or backwards to propel your bike, giving you a way to relax your joints and switch up your riding style when you're bored or find your calves tightening. The full coverage fenders also help to keep the drivetrain clean and working steadily, and with the slick nickel plated chainrings you'll very rarely drop your chain or suffer a drivetrain issue. We're impressed with the quality of the drivetrain, but the one issue some cyclists might have is with the Shimano thumb shifter. It's a bit out of reach, so if you have small hands or shorter arms it will take a few riding sessions before you feel really comfortable making use of the thumb shifter.
Brakes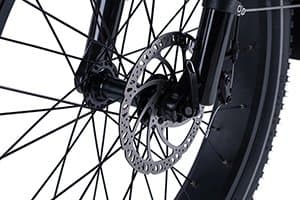 The Tektro Aries MD-M300 180 mm front and rear rotor mechanical disc brakes aren't quite as good as true hydraulic brakes, but they are still great given the price point of this electric bike. The included braking system will help you come to a quick and steady stop, but the stand out feature is how the motor has been linked up with the Tektro brakes. When you pull the brake lever, the motor will automatically shut itself off, ensuring that the brakes and motor aren't competing against each other. With this integrated combined setup, you not only come to a stop faster, but your brakes and rear-drive motor will both last longer as a result as well.
As a side note, both brake levers are also connected to the rear tailight. As long as you still have battery power, the tail light will be much brighter whenever you apply the brakes. Anything that increases a rider's profile decreases the chance of suffering a collison, so it's another nice feature to have on the RadRover 5 and helps it stand out from other entry-level and mid-level electric bikes.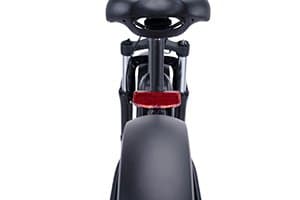 Suspension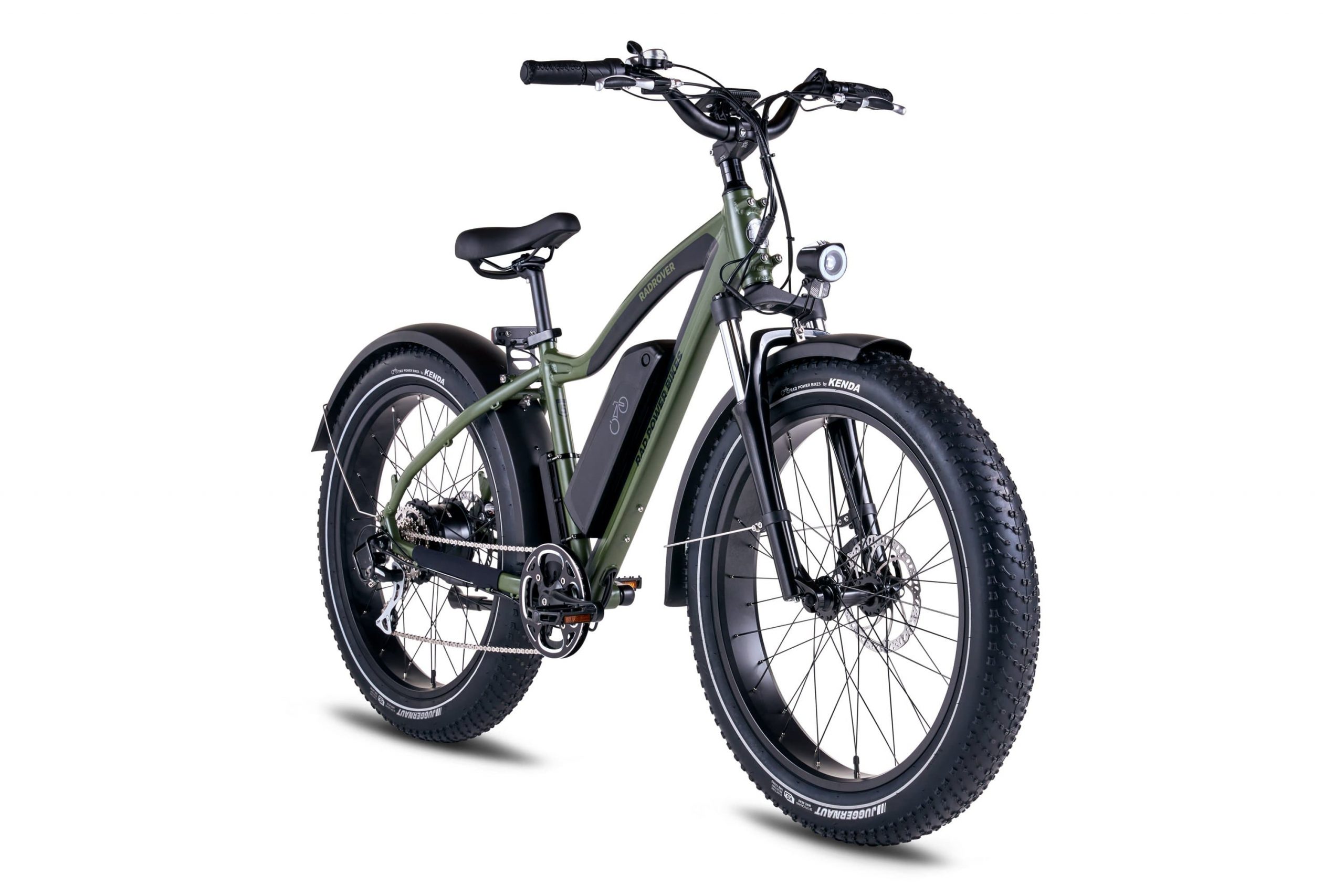 A RST spring suspension fork with both lockout and preload adjustment is also included with the RadRover 5, featuring a total of 80 mm of travel. It's not a major, performance focus suspension system, but it does make every bike ride a bit more comfortable when you hit the occasional rough patch. Furthermore, the spring suspension fork pairs well with the fat tires, helping you have an even better ride every time you go out riding on the RadRover 5. Rad Power Bikes also makes a great suspension seat, and is one of our recommended add-on upgrades that you'll find at the end of our review.
Pedals
The industry standard is to have plastic pedals for entry-level and many mid-level eBikes, so we appreciate that aluminum pedal platforms are included on the RadRover 5 electric bike. The pedals are quite large, helping them accommodate the heavier riders that might be using this eBike, and with the aluminum build are very sturdy as well. An aluminum pedal is going to withstand your typical crash much better than a plastic pedal platform, besides just feeling more comfortable to pedal on as well. These are Wellgo B087 CrMo pedals, but most Wellgo pedal platforms can be mounted onto the RadRover 5 as well. As a final note, these pedals do have reflectors, further improving your rider profile visibility.
Grips and Saddle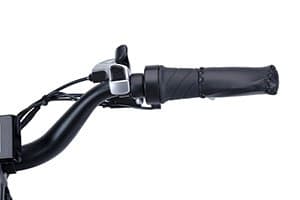 The ergonomic grips are made with an imitation leather, making them really nice to hold onto while you're riding the RadRover 5 electric bike. It's also just nice to look at them, since the faux-leather grips match the design of the Velo Plush saddle. While it is on a short stem, the stem and saddle are both adjustable, further helping you find the ideal riding position while using the RadRover 5 electric bike. You can also replace or upgrade the stem and saddle, especially if you want added suspension if you want a eBike better suited for trail riding and mountain climbing.
Wheels and Tires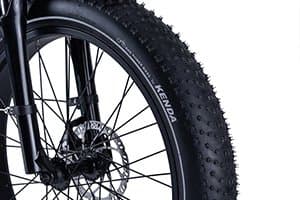 We've mentioned them a fair bit already, but the RadRover 5 comes withKenda Juggernaut 26″ x 4″ puncture-resistant tires, along with 12-gauge stainless steel spokes on double wall 36 hoole rims. The fat tires have a PSI rating that ranges from 5 to 30 PSI, with 5 PSI tires better suited for loose sand and dirt while 30 PSI is ideal for city riding. While the tires don't lend themselves for racing, they are well suited to tackling all types of terrain, allowing you to explore the city or tackle a challenging off-road trail with the same eBike. Additionally, the tires do have reflective sidewalls that provide improved visibility for safer riding throughout the day and at night
Accessories/Upgrades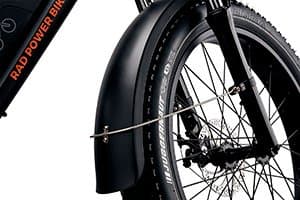 The RadRover 5 is one of the most affordable eBikes we've reviewed, and comes packed with a ton of features and add-ons that you don't see often even in premium eBikes. The eBike already has a full fender system, along with a powerful 80 lumens headlight and brake activated battery powered tail light for improved rider visibility. There are still a few upgrades and add-ons we would recommend considering from Rad Power Bikes if you want to make it even better, with a few of our favorite accessories including the following:
SR Suntour SP12 NCX Suspension Seatpost
Rad Power Bikes Front Rack
Rad Power Bikes RadRover Rear Rack
ABUS Bordo Granit X-Plus 6500 Bike Lock
Rad Power Bikes Rad Mirror
Fremont Pannier Bag
Rad Power Bikes Basket Bag
Rad Power Bikes Delivery Bag
Recommendation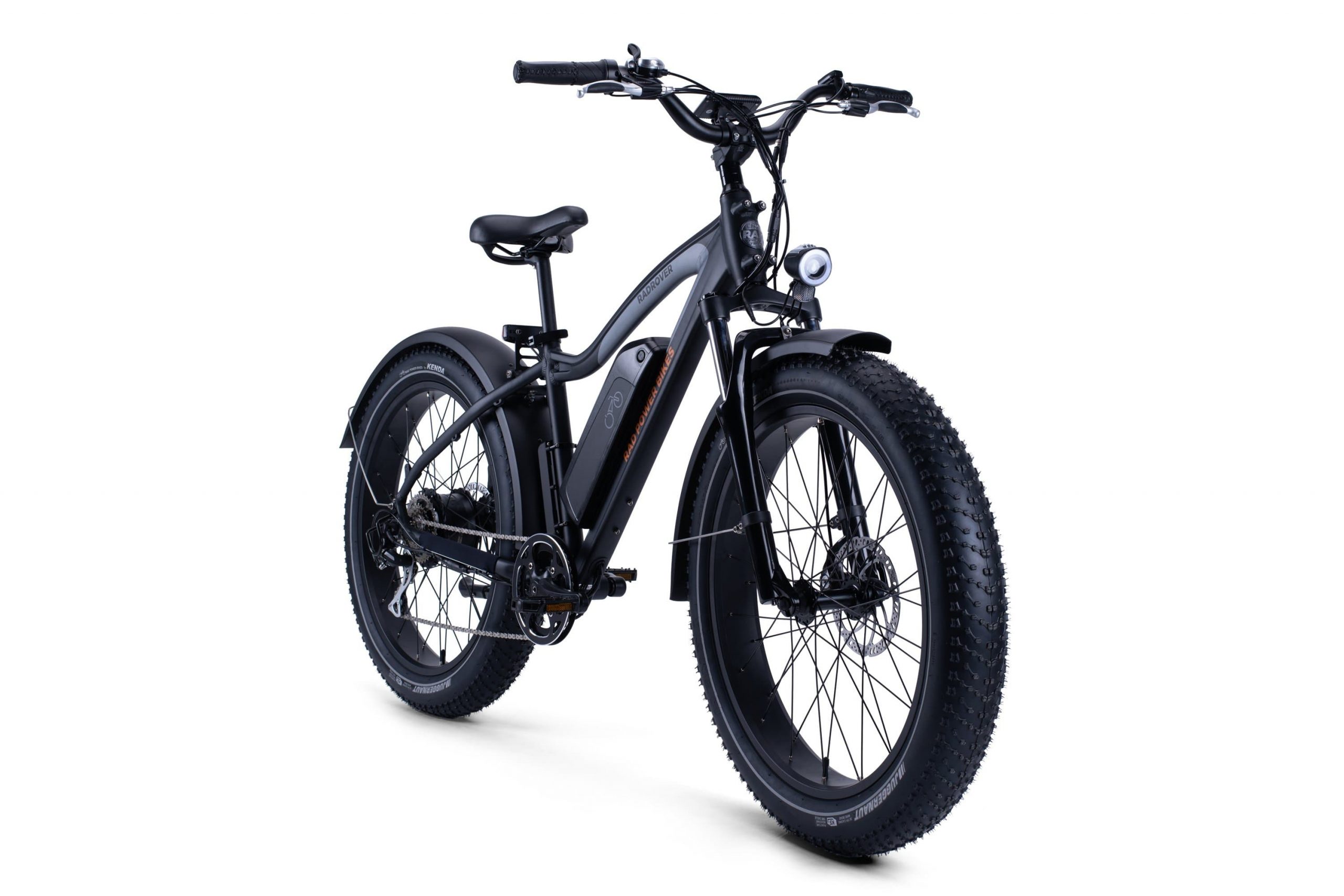 *For up-to-date pricing on the RadRover 5 click here
The Rad Power Bikes RadRover 5 electric bike is a nearly universal eBike that anyone can try out and have a blast riding. This is a heavier eBike at 69.6 lbs, but the heavier frame, wide Kenda Juggernaut tires and suspension fork all help it ride well on urban roads and windy mountain trails alike. The rear-hub drive motor is very powerful at 80 Nm torque, with an excellent Samsung 672 lithium battery included that will help you travel up to 45 miles with the throttle Class 2 motor system. The Tektro Aries mechanical disc brakes work well enough, as does the DNP 7-speed freewheel drivetrain due to the nickel-plating reinforcement and full fender coverage. There are a number of other great features as well included despite the entry-level price, from the powerful headlight and tail light system to the high quality ergonomic faux-leather saddle and grips. Even the pedals are above average, the aluminum platforms more than able to support the 275 lbs weight capacity recommended by Rad Power Bikes. If you want an eBike that does a little bit of everything, made by one of the most respected eBike manufacturers on the market, check out the Rad Power Bikes RadRover 5 electric bike!
Would you like to see us do a full review and test of the Rad Power Bikes RadRover 5? Let us know in the comments below!