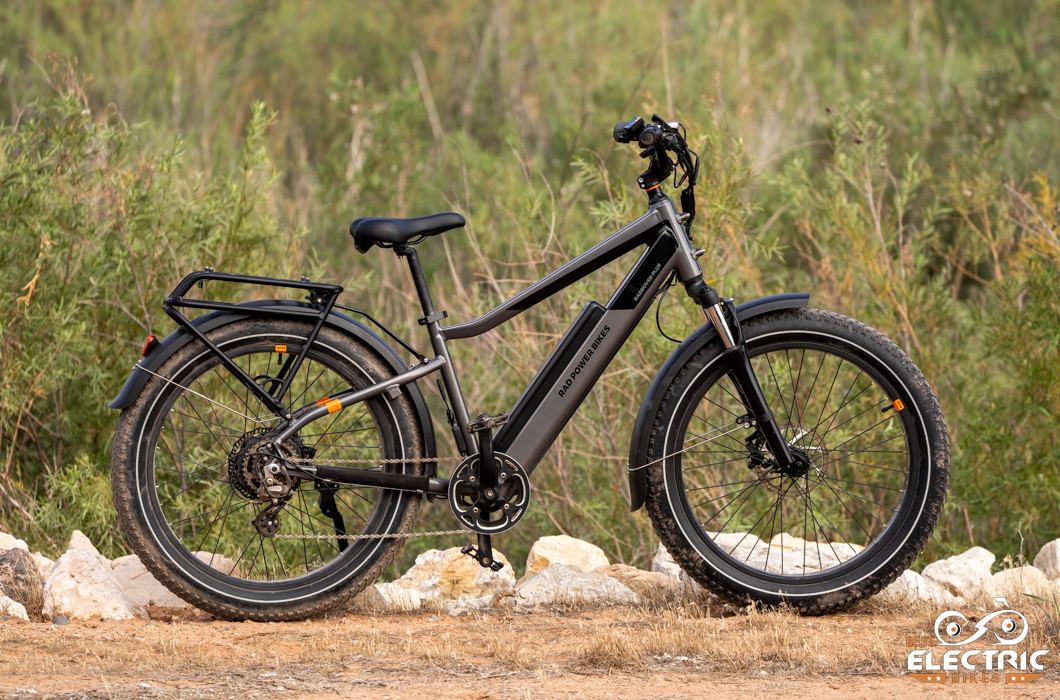 Rad Power Bikes RadRover 6 Plus Review – Overview
When it comes to buying a first e-bike, knowing just what to purchase can be difficult. Whether someone wants to commute, tool around their neighborhood or take in the local trails, every e-bike has some strengths and some weaknesses. In this Rad Power Bikes RadRover 6 Plus review we take a look at how Rad Power splits the difference between cruisers, commuters and e-MTBs.
In broad strokes, this e-bike is defined by its fat tires, 750W brushless hub motor, flat bar and rich array of accessories to make it suitable to a number of different needs. What we find so compelling about this bike is how often its strengths in one area give it added abilities in another area. Most products that are designed to do multiple things well end up doing none of them especially well. For its price, the RadRover 6 Plus is an especially adaptable bike.
Planning to commute to work? Just add a rack or basket. Want to check out the trails in the nearby forest? Let some air out of those tires. Waiting for the streets to dry after that big shower? Don't wait; it comes with fenders.
With its upright position and 4-in.-wide tires, the RadRover 6 Plus begins by answering the question so many of our friends and family ask when they wonder about buying an e-bike: Is it comfortable? What makes a bike great is more than a flat bar and fat tires. With the RadRover 6 Plus, there are a number of touches that make this bike an impressive package.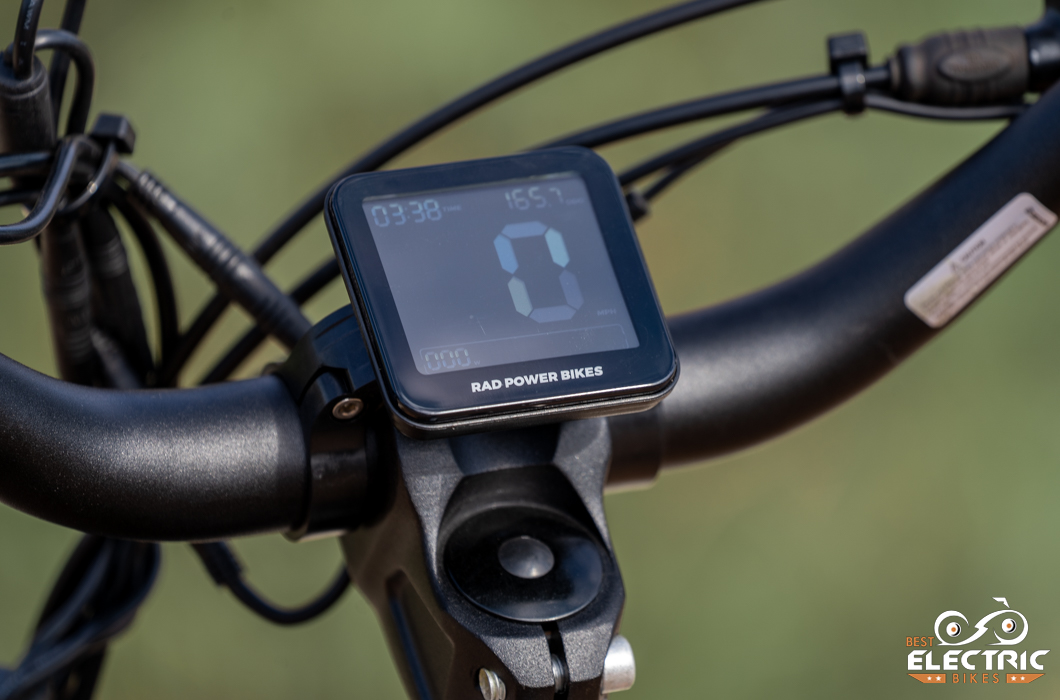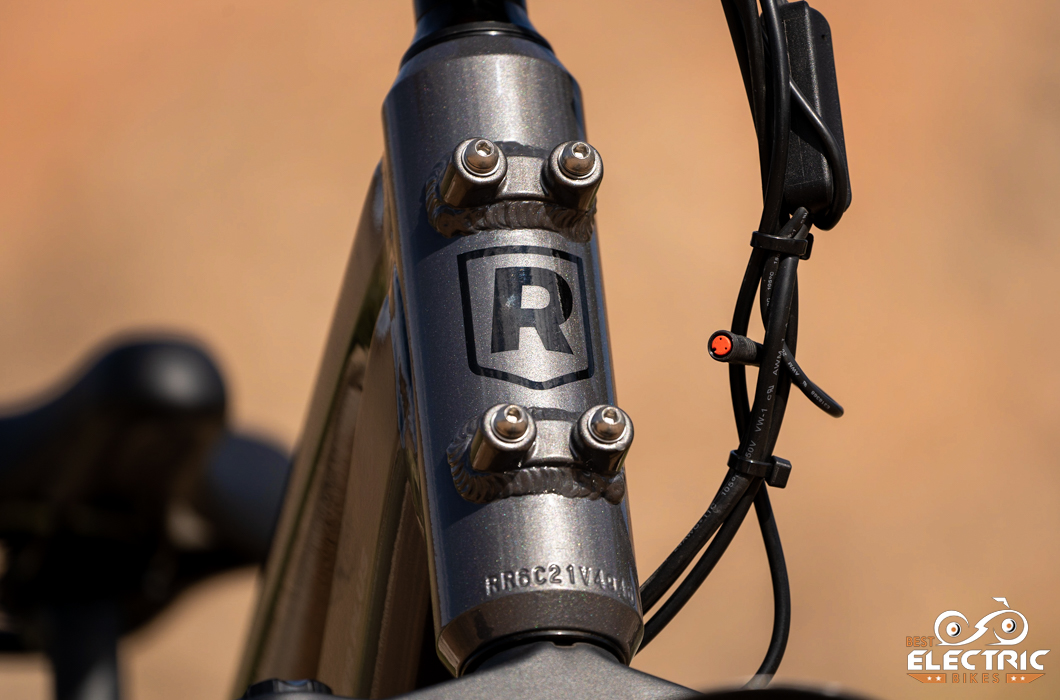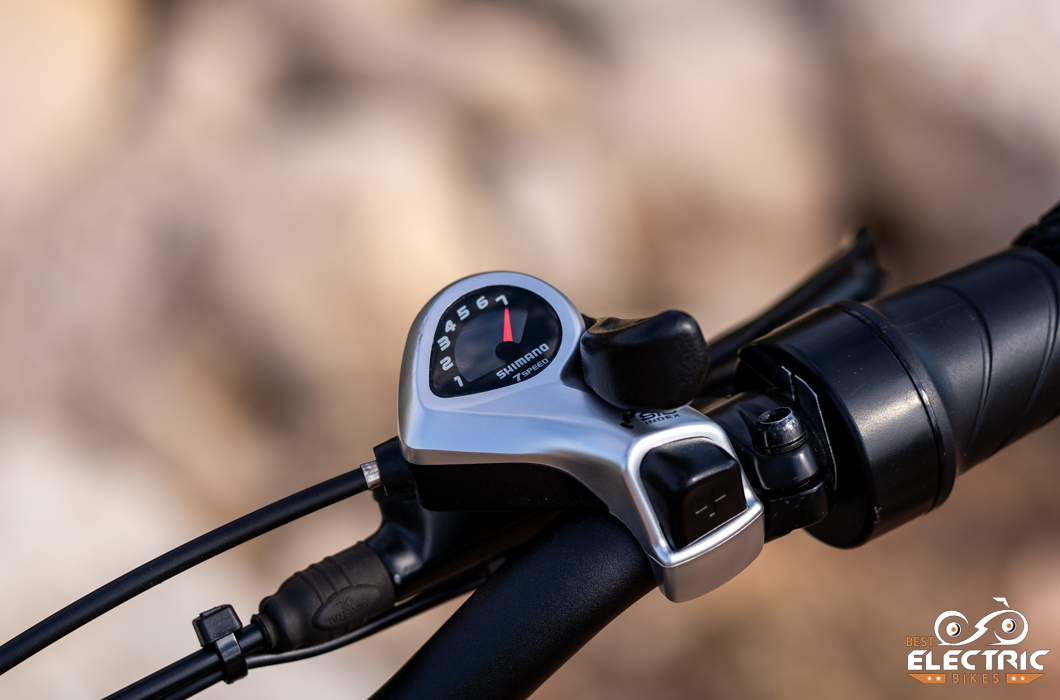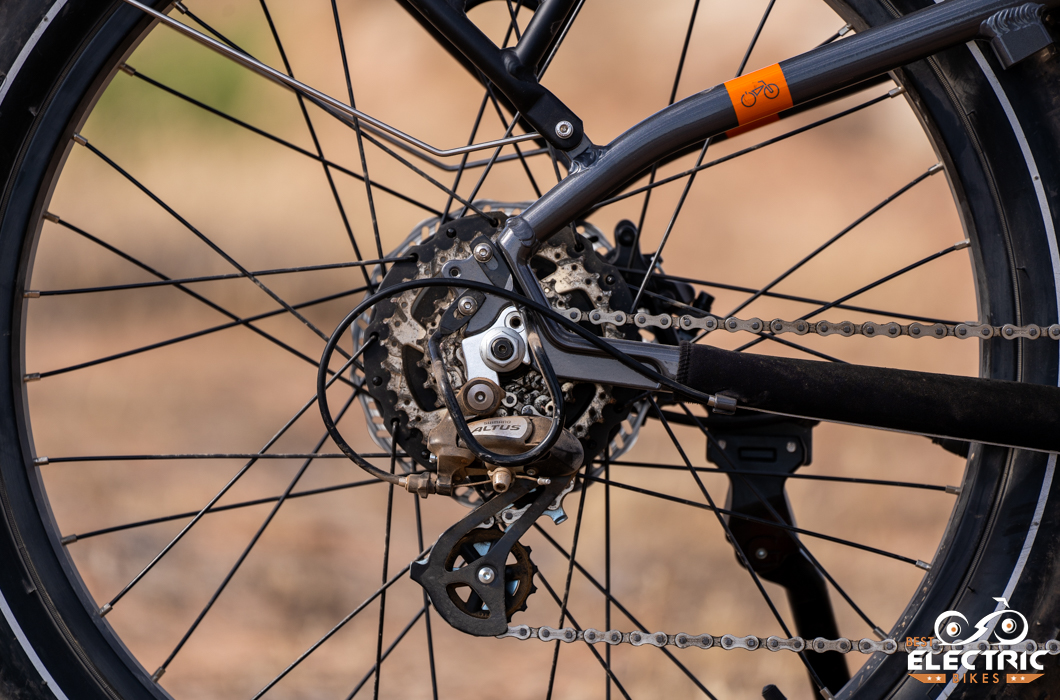 E-Bike Category: Fat Tire Electric Bike
Who the RadRover 6 Plus Electric Bike Is for:
Nearly anyone looking for their first e-bike. Given its all-purpose flavor, it's more than just a fat bike and could be a good option for most anybody.
Rad Power Bikes RadRover 6 Plus Review:
***All ratings are relative to e-bikes of a similar style and price point***
| | |
| --- | --- |
| Speed/Acceleration | |
| Hill Climbing | |
| Battery Range | |
| Braking | |
| Construction Quality | |
| Handling | |
| Included Accessories | |
| Warranty & Customer Service | |
| Value | |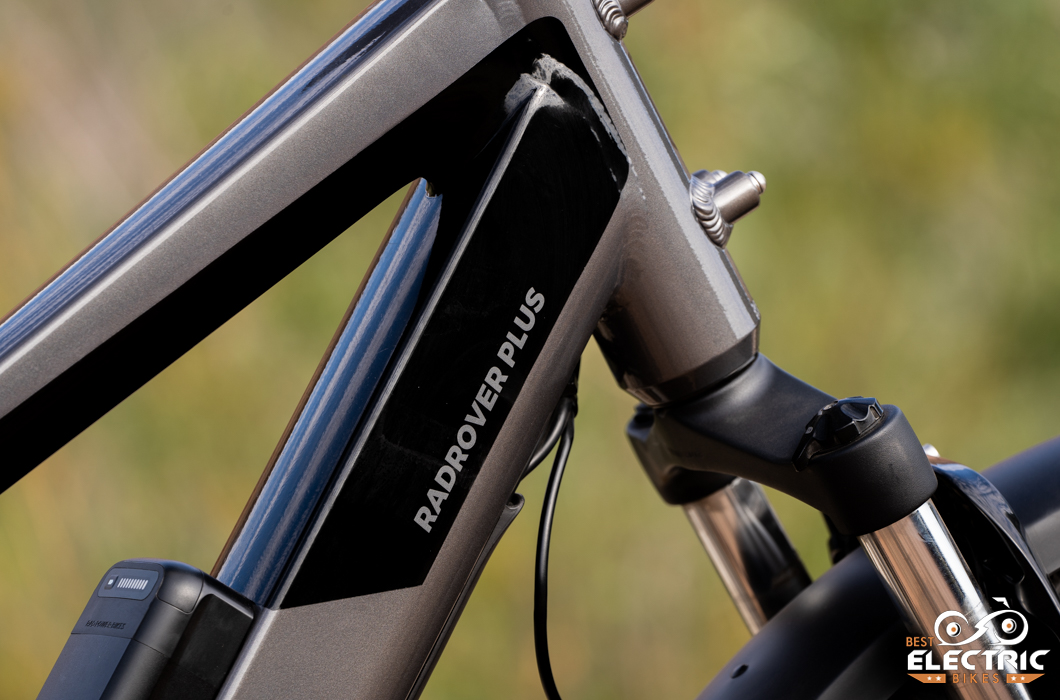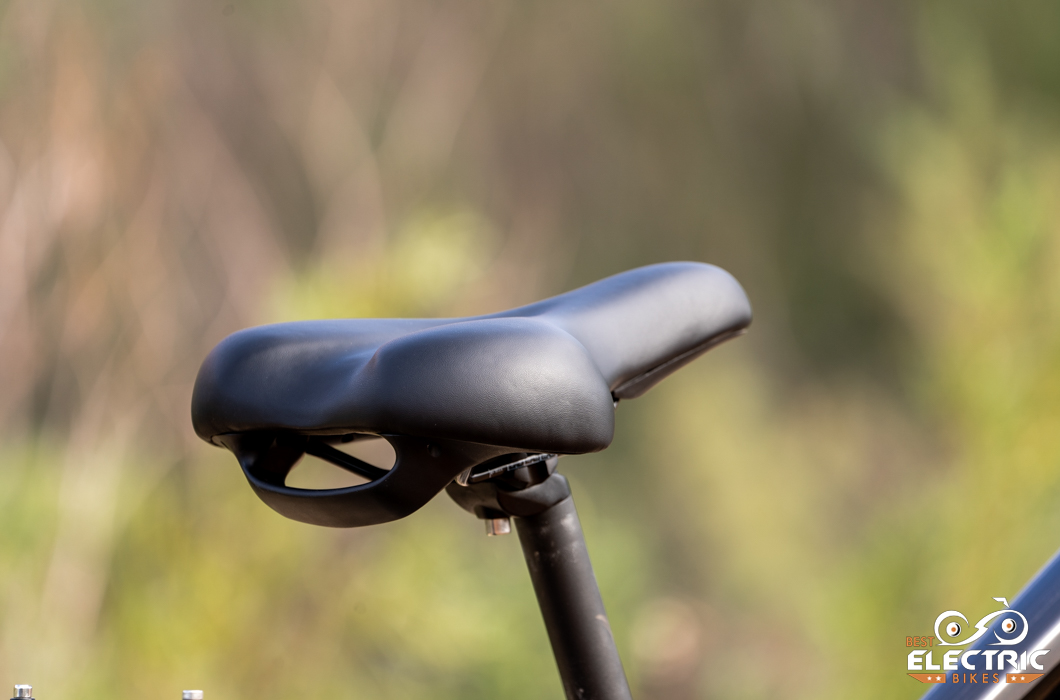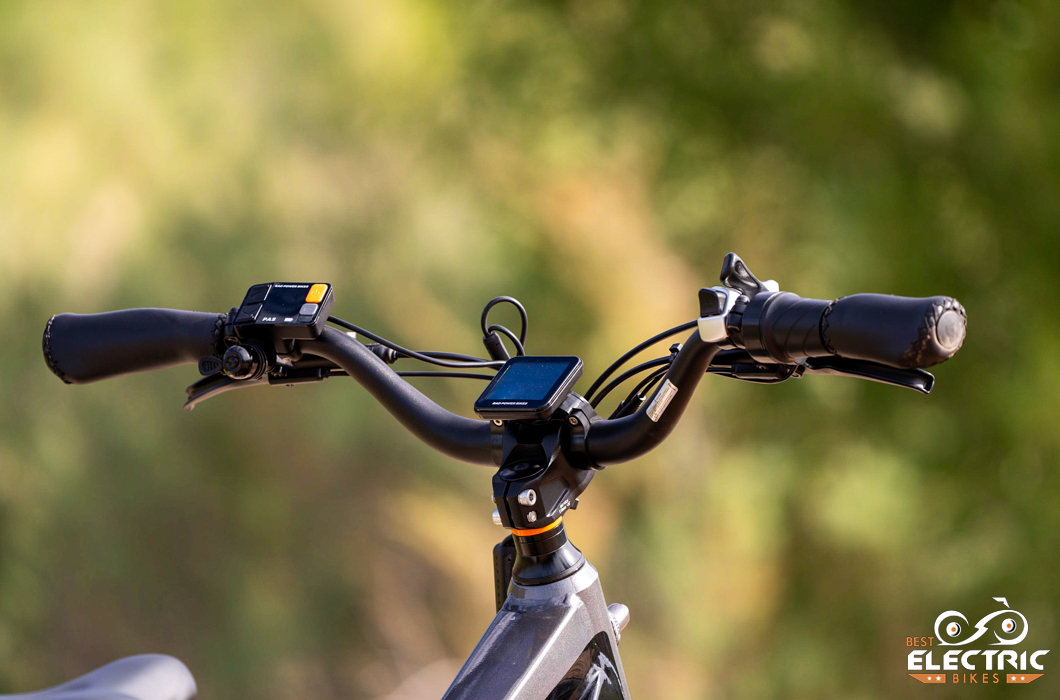 Rad Power Radrover 6 Plus E-Bike Specs
Battery: 589-672 Wh
Expected Range: 28.5-50.5 mi.
Charger: 48V, 2 Amp Rad Power Bikes smart charger, operates on 100V-240V AC power outlets
Motor: 750W brushless hub motor
Pedal Assist: 5 levels with cadence sensor
Throttle: half twist
Display: backlit LCD
Headlight: LED
Taillight: integrated, with brake light
Frame: 6061 Aluminum alloy
Fork: RST spring, 60mm travel, w/lockout and preload adjust.
Fenders: front and rear, plastic
Kickstand: heavy duty aluminum
Handlebars: aluminum, 4-in. rise
Grips: imitation leather ergonomic
Drivetrain: 7-speed Shimano Altus, 11-34
Brakes: Nutt hydraulic disc, 180mm rotors
Pedals: forged aluminum, chrome-moly axles
Saddle: ergonomic with lifting handle
Tires: Kenda Juggernaut 26 x 4-in. with puncture-resistant liner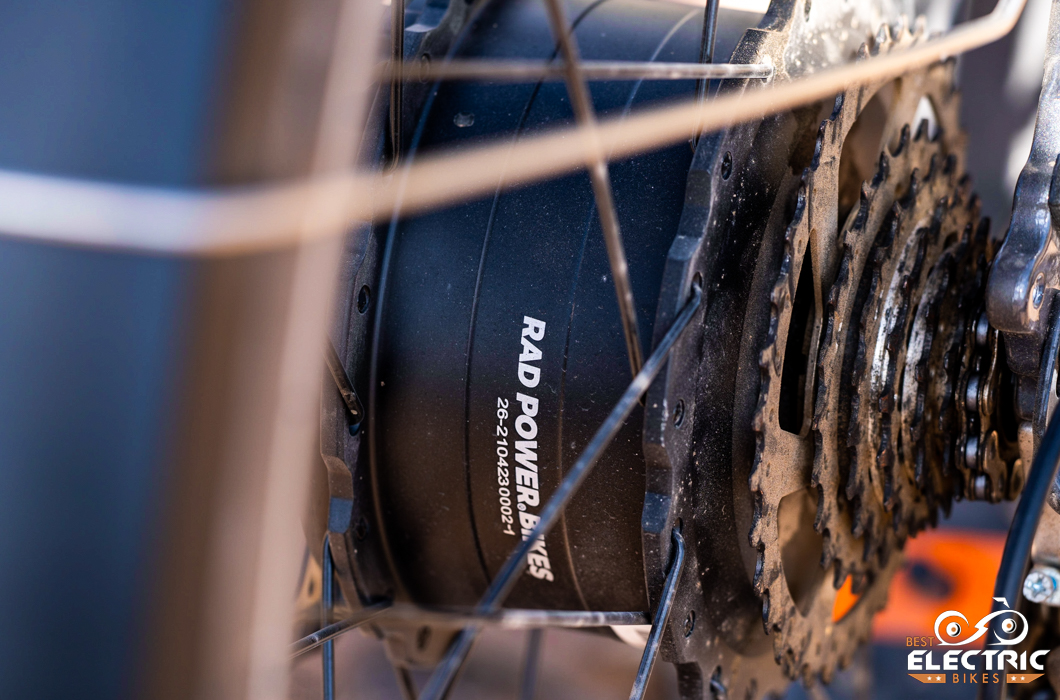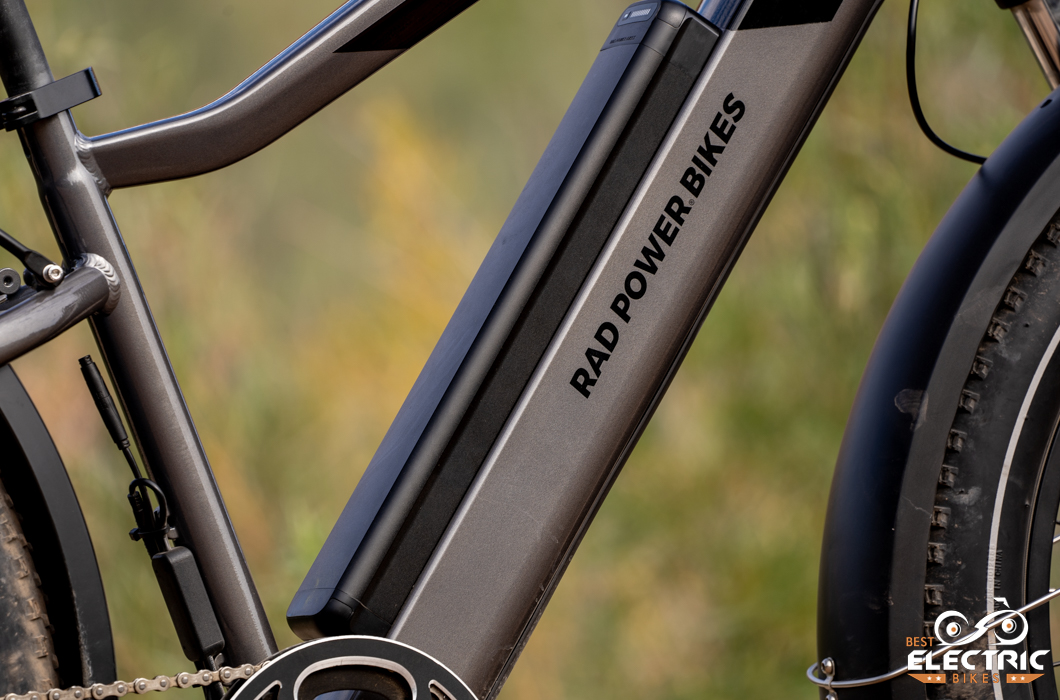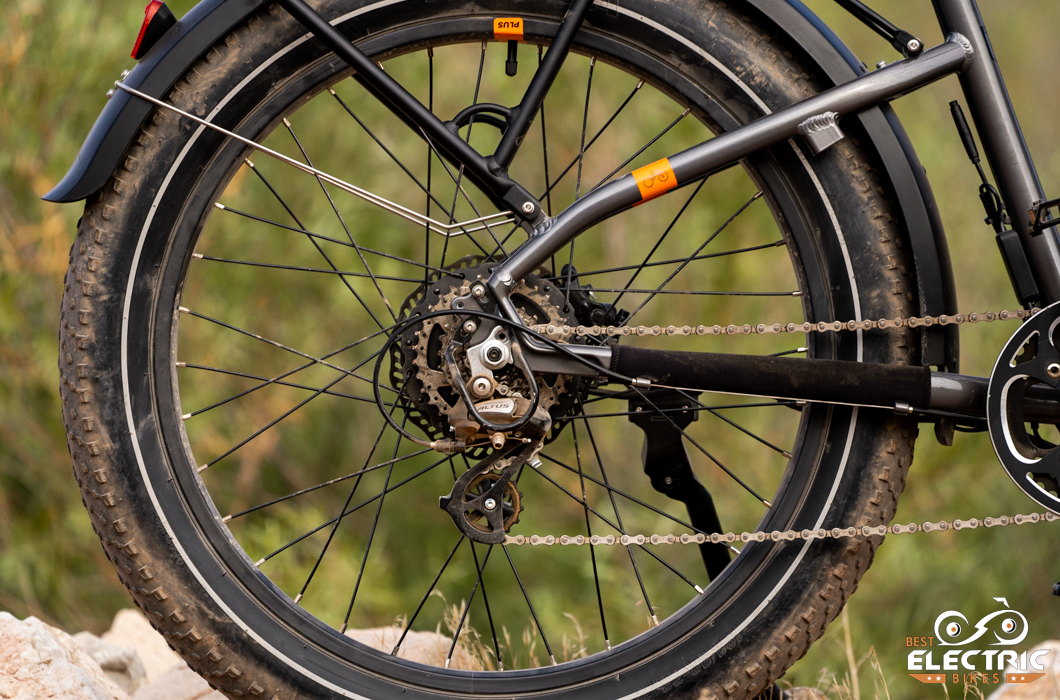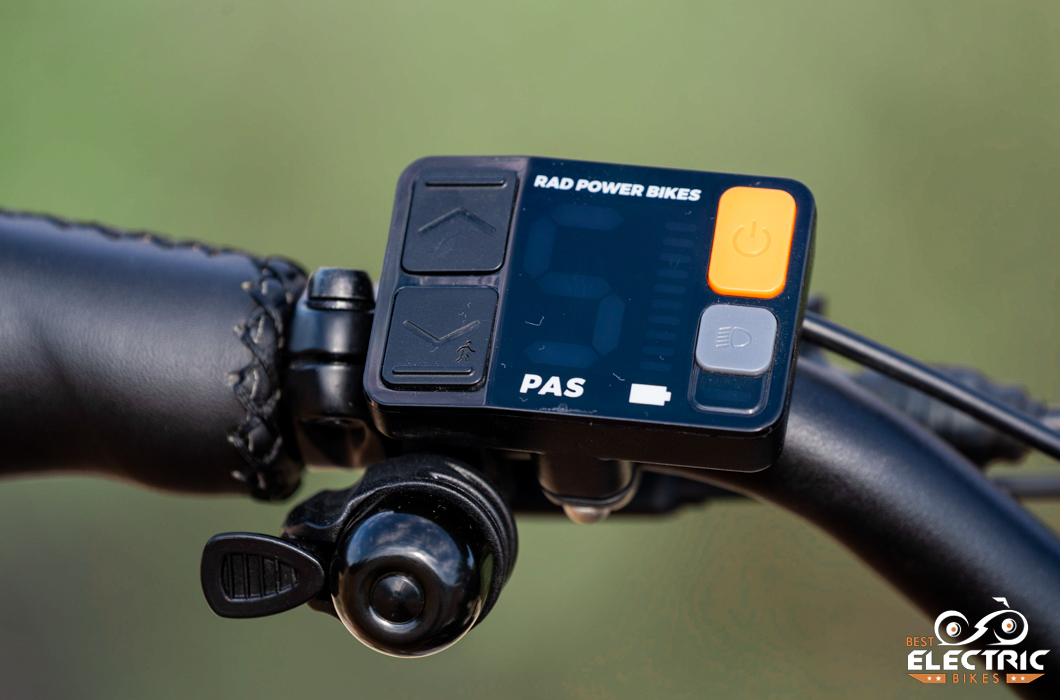 In-Depth Rad Power RadRover 6 Plus Review
Rad Power RadRover 6 Plus Review: Comfort, Handling, and Ride Qualities
As a category, most e-bikes feature an upright position that gives the rider an excellent view of what's around them and a comfortable seated position that doesn't leave the rider feeling like they are about to pick up a barbell. What sets the RadRover 6 Plus apart is that it takes that upright position and adds a little extra comfort with a bar with a 4-in. rise rather than strictly flat; that also makes the rider's hand position easier to fine tune. Add to that the 4-in-wide Kenda Juggernauts, a 60mm-travel suspension fork and soft saddle and there aren't many ways left to make a bike more comfortable. We wouldn't call this the easy chair, but this bike is a top pick for comfort alone.
Rad Power makes the RadRover 6 Plus in two frame designs, a traditional and a step-thru. Even though they only offer each design in one size, they can accommodate a wide range of rider heights.
For riders looking for a bike that turns easily but isn't so agile it feels like a sports car, the RadRover 6 Plus easily navigates winding bike paths. Thanks to its big tires, this e-bike will handle well on dirt roads and gentle trails. The 60mm-travel fork is a commuter's fork and isn't well-suited to off-road use, which is one of the bike's only weaknesses; the folks at Rad Power selected a fork appropriate to the use it is most likely to receive, so it's hard to criticize the bike for being what it was intended.
We like that the grips have an ergonomic design that is easy on hands. The half-twist throttle makes it easy to dial in power on the road or trail, which avoids the lurching start some push-button throttles can give.
Rad Power RadRover 6 Plus Review: Motor, Battery, and Drivetrain Performance
The heart of the RadRover 6 Plus is its 750W brushless motor. That's a lot of wattage, more wattage than some folks might think is necessary, but what that power gives the rider is smooth acceleration from a dead stop, either with the throttle or by pedaling, without the lurching that can come with some lowered-powered motors, plus it can handle hills like it's Alex Honnold.
Having two different displays allows the rider to keep an eye on a variety of information without a ton of button pushing to flip through different screens, which means less time spent looking down.
As a Class 2 bike with five PAS levels, the RadRover 6 Plus tops out at 20 mph either with or without the throttle. The fat tires do suck more juice from the battery, so we were pleased to find in Electricbikereport.com's testing that the RadRover 6 Plus exceeded the advertised range in both PAS 5 (28.5 mi.) and PAS 1 (50.5 mi.) Think of that extra range as insurance.
We often encounter e-bikes with plenty of power, but too few gears or gears that aren't low enough for hills or trails. Any time an e-bike is over-geared that asks more of the motor and it must draw more power from the battery than if the bike had lower gears, and in that, it reduces the bike's range on that charge. The RadRover 6 Plus features a crank with a 42-tooth chainring and a seven-speed 11-34 freewheel for solid range no matter what the terrain.
Rad Power RadRover 6 Plus Review: Braking, Safety, Customer Service & Warranty
Weighing in at 73.4 lbs. the RadRover 6 Plus is a fairly heavy e-bike. Much of that weight comes from the big tires and wheels. The plus is all that rolling mass makes the bike very stable feeling; the minus is that so much mass makes the bike is harder to stop. For that reason, we were pleased to see the bike spec'd with Nutt hydraulic disc brakes with 180mm rotors, which is in-line with what you'd find on a high-end mountain bike meant for extreme terrain. Stopping this bike won't be an issue.
A big piece of safety has less to do with how safe an e-bike actually is, but the rider's perception of safety. A rider who feels safe will be more confident and that confidence translates to a smoother, more enjoyable ride. Having a big tire with oodles of traction is great for making sure the bike stays upright, even in turns.
Their warranty is fairly standard at one year, though we respect brands that offer a lifetime warranty on frame and fork, but that's less common than it used to be. We hear that their customer service is responsive in the event of a warranty issue or shipping damage.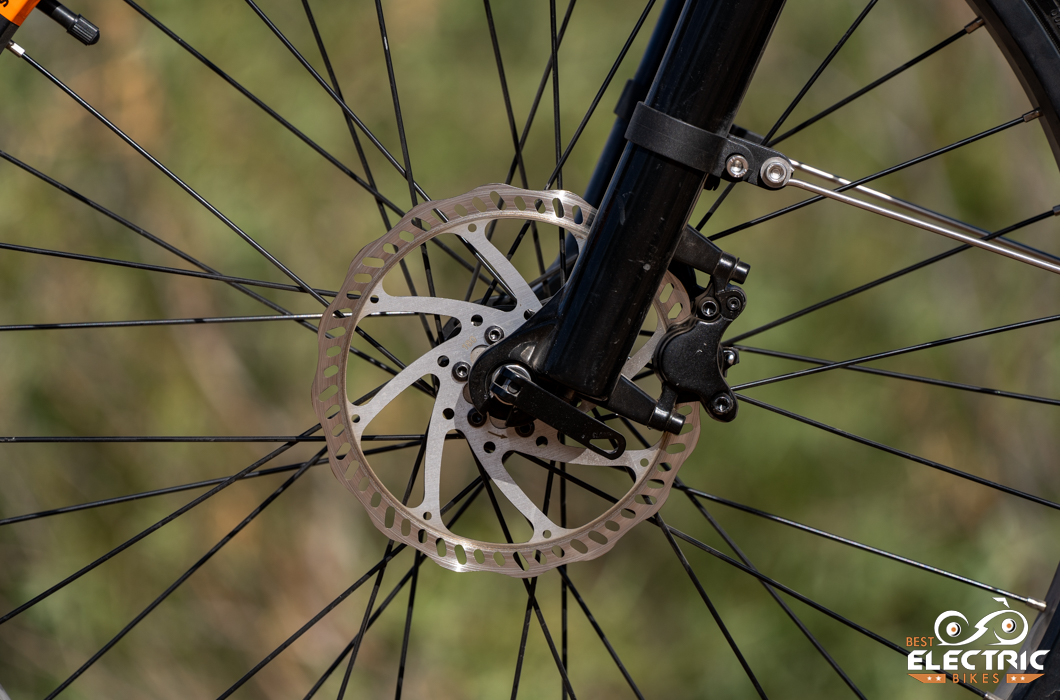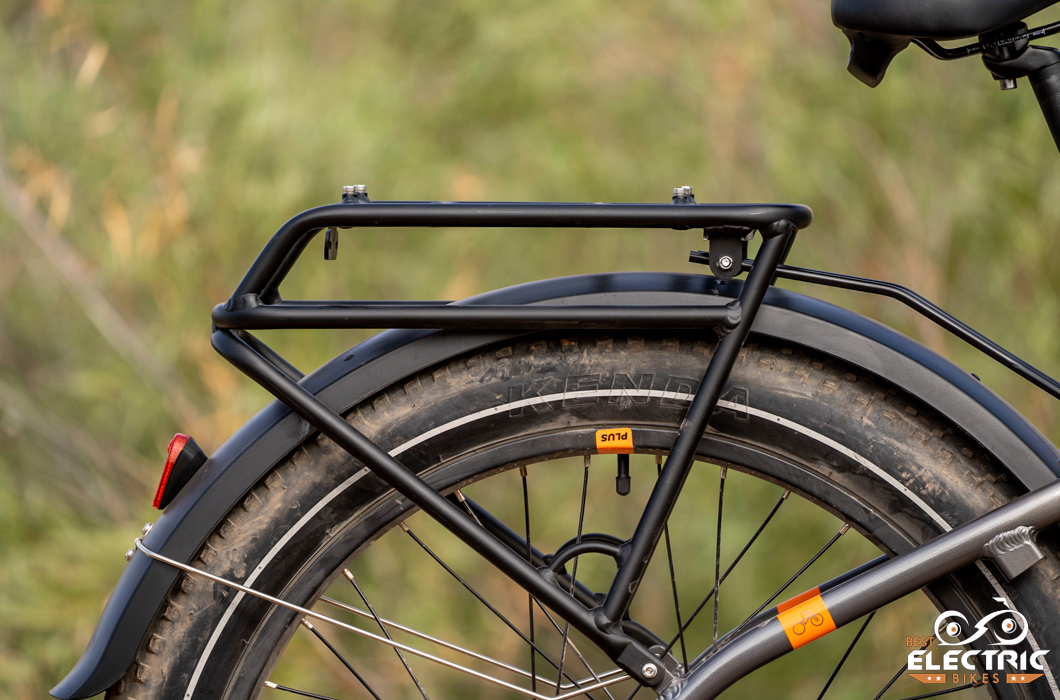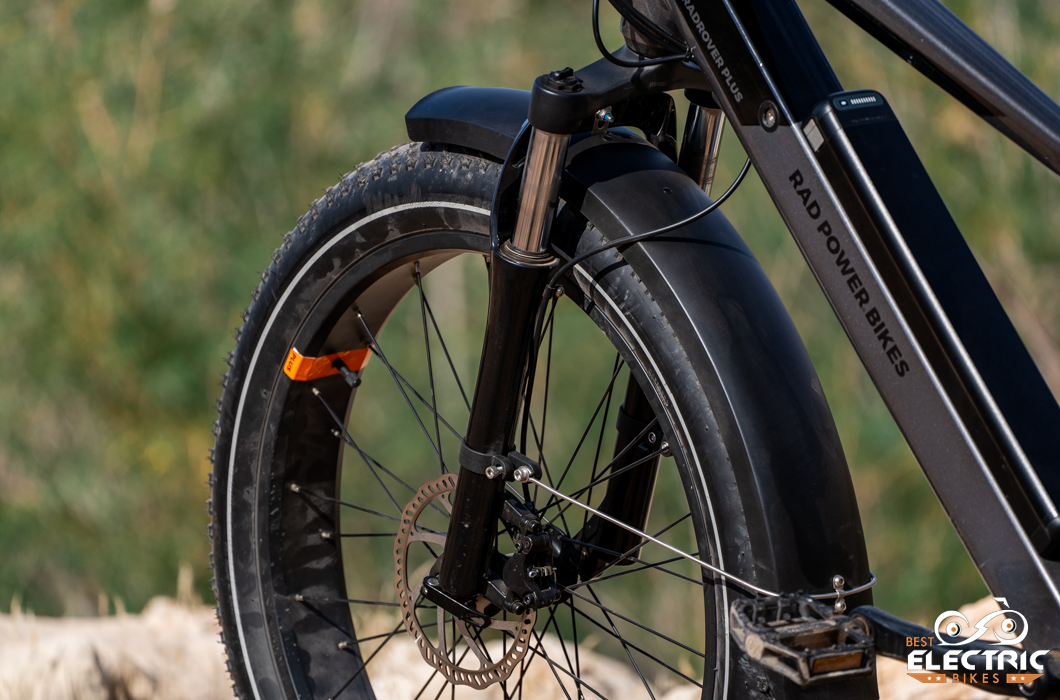 Rad Power RadRover 6 Plus Review: Recommendation/Final Verdict
The Rad Power RadRover 6 Plus is an e-bike that recalls a Swiss Army Knife. Just as no one wants to carve a chicken with a Swiss Army Knife, this isn't the bike for hard-core mountain biking. But let's be honest, with a Swiss Army Knife, it's possible to cut up some sausage, tighten a loose bolt and pull a wine cork without it ever leaving the user's hand. Similarly, the RadRover 6 Plus is a bike that will allow someone to run errands, commute to work and take some dirt roads or trails on the weekends.
For anyone coming back to cycling after years away, we advocate buying a bike that isn't too specific in its purpose, unless the rider is certain that they know how they'll be using their new bike, and sometimes not even then.
There's not much on this bike that can be improved without elevating the price. That's why we've already named it one of the best fat tire electric bikes of the year.
We wouldn't mind seeing an air/oil suspension fork with a bit more travel for off-road use, but that wouldn't serve it as well for commuting. Adding another gear to the drivetrain would make the steps between the gears smaller, but again, that would drive up the price. And that's the thing about the RadRover 6 Plus—at $2000 this is a terrific value. There exist higher quality e-bikes and there are less expensive e-bikes, but finding an e-bike where the dollar stretches like a drum head isn't easy.
Were a friend to ask us to suggest a bike with some range, flexibility in use, the RadRover 6 Plus would easily make the list.
Thank you for reading through our review of the Rad Power Bikes RadRover 6 Plus! Still have further questions? Wondering how it compares to a similar bike? Leave us a question in the comments below and the team at BestElectricBikes.com will answer!