Welcome to our spec review of the Rad Power Bikes RadRunner 1 electric bike! Rad Power Bikes are some of the most in demand eBikes in the world, but that is why we were unable to get a hold of the RadRunner 1 for ourselves just yet. However, we analyzed the new features of the RadRunner 1 and compared its design against older Rad Power Bikes models, besides also noting the key components it shares with other eBikes we've ridden. By doing so, we were able to develop our spec review, which should help you obtain a general idea and understanding of what to expect when riding the Rad Power Bikes RadRunner 1.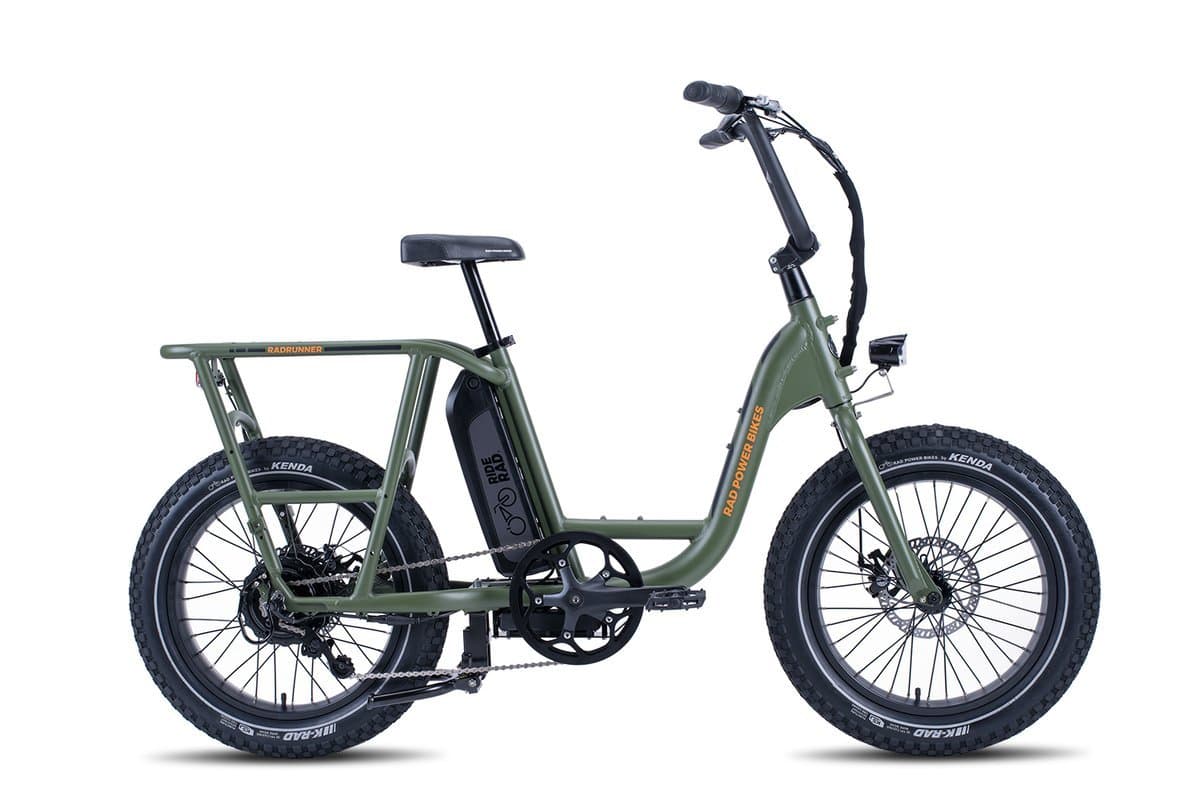 Electric bikes are growing more and more popular by the year, but it can be hard to find a good, affordable, beginner-friendly option for those just now getting into cycling. If that is your case, you will definitely want to consider the RadRunner 1, one of the best value eBikes on the market while offering performance that will help you ride almost anywhere. The 6061 aluminum frame is built to handle all types of riders, whether they be short or young or taller and heavier, with a 300 lbs recommended weight capacity for a rider and their cargo. The frame is just one aspect though, with the 80 Nm rear hub motor and 14 Ah battery providing you a strong push that will help you travel over flat roads and tough hills alike. This is a basic eBike meant for casual riders or cyclists who don't need precise control over their eBike, with a single speed DNP 16T flywheel optimized for good riding without needing to rely on gear shifting. The powerful Tektro Aries brakes, ergonomic saddle and handles, headlight, tail light, kickstand, and other accessories all add to the impressive value as well! So, if you want a very affordable eBike that's a blast to ride anywhere, you should start by reading our review of the Rad Power Bikes RadRunner 1 hybrid electric bike!
Bike Category: Class 2: Throttle and pedal motor assistance to 20 MPH.
Who It's For: Very affordable entry-level eBike with a strong motor and fat tires for those who want to ride everywhere on the same bike.
Bike Specs
FRAME: 6061 aluminum
UI/REMOTE: LED display
BATTERY: Lithium NMC Samsung Battery, 48 V / 14 Ah
CHARGER: 48V, 2 Amp Rad Power Bikes smart charger
MOTOR: 750W / 80 Nm brushless Bafang geared hub motor
CHAIN: KMC Z7
SHIFT LEVERS: N/A
CASSETTE: DNP 16T Single Speed Freewheel
CHAINRINGS: Single speed, 16-53 T Chainring
DERAILLEUR: Single speed chain tensioner
RIMS: Double wall, 36H
TIRES: Kenda K-Rad 20″ x 3.3″, K-Shield puncture-resistant liner
SADDLE: Moped-style, integrated steel seat post, fixed angle
STEM: 50 mm + 30º (15 mm rise)
HANDLEBARS: Aluminum high rise, 660 mm wide, 10″ rise
GRIPS: Durable ergonomic rubber
BRAKES: Tektro Aries (MD-M300), 180 mm front and rear rotors
PEDALS: Wellgo composite platform with reflectors
KICKSTAND: Dual leg steel, spring loaded
BELL: Integrated Bell
HEADLIGHT: Standard Rad Power Bikes LED headlight
TAIL LIGHT: Integrated tail light with brake light
FENDERS: Optional addon
Pros
A very affordable entry level eBike that can be ridden on diverse terrain. Great for those who live in the city with beaches, boardwalks, and mountain trails all nearby.
Arrives mostly assembled, with total assembly taking only about 30 to 45 minutes after arrival. Available in Black or a cool Forest Green variant.
Able to support around 300 lbs, with a rear cargo rack preinstalled.
DNP 16T single speed freewheel. You won't be able to shift gears, but for most casual or beginner riders that won't be an issue. Freewheel helps with climbing hills too.
Custom Brushless Bafang 750W / 80 Nm motor. With 80 Nm of torque, your eBike can climb almost any hill without so much as a struggle. Great pedal assist/throttle combo.
Simplified LED display. Most of the time, you just need to press one or two buttons, and you'll be set for your whole ride. Easy to reach with your thumb as well.
Wide but shorter 20″ x 3.3″ Kenda K-Rad tires. Designed so you can ride almost everywhere and have a fun and steady riding experience.
Tektro Aries 180 mm rotor mechanical disc brakes are great for city and trail riding alike. Comfort grips are also nice to pull, with an integrated bell as well.
Integrated LED headlight, tail light, reflector pedals, and reflective tires all increase rider profile. An eBike designed with safety in mind, making it much easier to spot riders.
Cons
It's a heavier bike. 65 lbs fully assembled weight. Especially heavy in the rear wheel, so be careful when trying to lift or carry the RadRunner 1.
Only one frame size available at this time. That frame is recommended for riders between 4'11'' and 6'2'', which should cover most adult heights.
Single speed bike. If you care about shifting, you will want to consider something else, while casual riders won't mind the lack of dynamic gear control with the RadRunner 1.
While we appreciate a simplified LED readout, the reality is many people will want more info displayed. We realize that the pro or con value here is heavily subjective.
Features
6061 Aluminum Frame
The same lightweight aluminum alloy used to manufacture cars and aircraft, the 6061 aluminum frame is a very popular choice for eBike frames as well. The RadRunner 1 weighs about 65 lbs fully assembled.
Lithium Samsung 675 Wh Battery
The center tube battery is mounted beneath the stem post, protecting it while also centering its weight so it doesn't have a huge impact on performance feel. Maximum range on a full charge with the RadRunner 1 is about 45 to 50 miles.
2 Amp Rad Power Bikes Smart Charger
A basic but easy to use charger that you can take with you on the go. Estimated recharging time from 0% to 100% is anticipated to take between 5 to 6 hours. This is the base standard for a charger usually included with electric bikes available for an entry-level price point.
750W / 80 Nm Brushless Bafang Geared Hub Motor
A very powerful rear-mounted gear hub motor with up to 80 Nm of torque, which is more than enough to climb extremely steep hills. Provides motor assistance up to 20 MPH via the twist throttle or cadence sensor pedal assist system.
Rad Power Bikes LED Control Panel
A very simple control panel to set your power assist level and monitor your overall battery level. Located on the left handlebar next to your grip, and is ideal for those who don't want to be distracted while riding their eBike.
DNP 16T Single Speed Freewheel with Optional Fenders
A single speed freewheel drivetrain, and what it lacks in terms of shifting it makes up with its multiple pedaling options and ability to tackle almost any terrain. The wheels and drivetrain are tightly enclosed in the frame, but we would recommend the fenders upgrade if you are planning on doing some serious trail riding.
Kenda K-Rad 20″ x 3.3″ with K-Shield puncture-resistant liner
Fat but shorter tires that should make riding the RadRunner 1 a fun, stable, and enjoyable experience no matter what terrain you're traveling on. 5 to 30 PSI inflation range, but leaving it at 30 PSI will make it well suited for riding almost everywhere except in very loose dirt or sand. Puncture-resistant liner greatly reduces the chance of suffering a flat.
Aluminum high rise, 660 mm wide handlebars with rigid steel fork
High rise handlebars with great height adjustment options to ensure that short and tall adults alike can feel comfortable on the RadRunner 1. Rigid steel fork provides moderate suspension support, but mostly serves to support the large, already shock absorbent tires.
Tektro Aries (MD-M300) 180 mm Mechanical Disc Brakes
Mechanical disc brakes that are fantastic for city riding, and still provide great stopping power even when traveling fast downhill. Integrated with the motor, so they won't compete against each other when you need to make a sudden stop.p.
Wellgo Composite Platform Pedals with Reflectors
Composite plastic pedals that are sufficient for your typical rider, but experienced riders will want to replace with aluminum alloy pedals with time. As a stock model, the RadRunner 1 is able to support 300 lbs.
In-Depth Review
Frame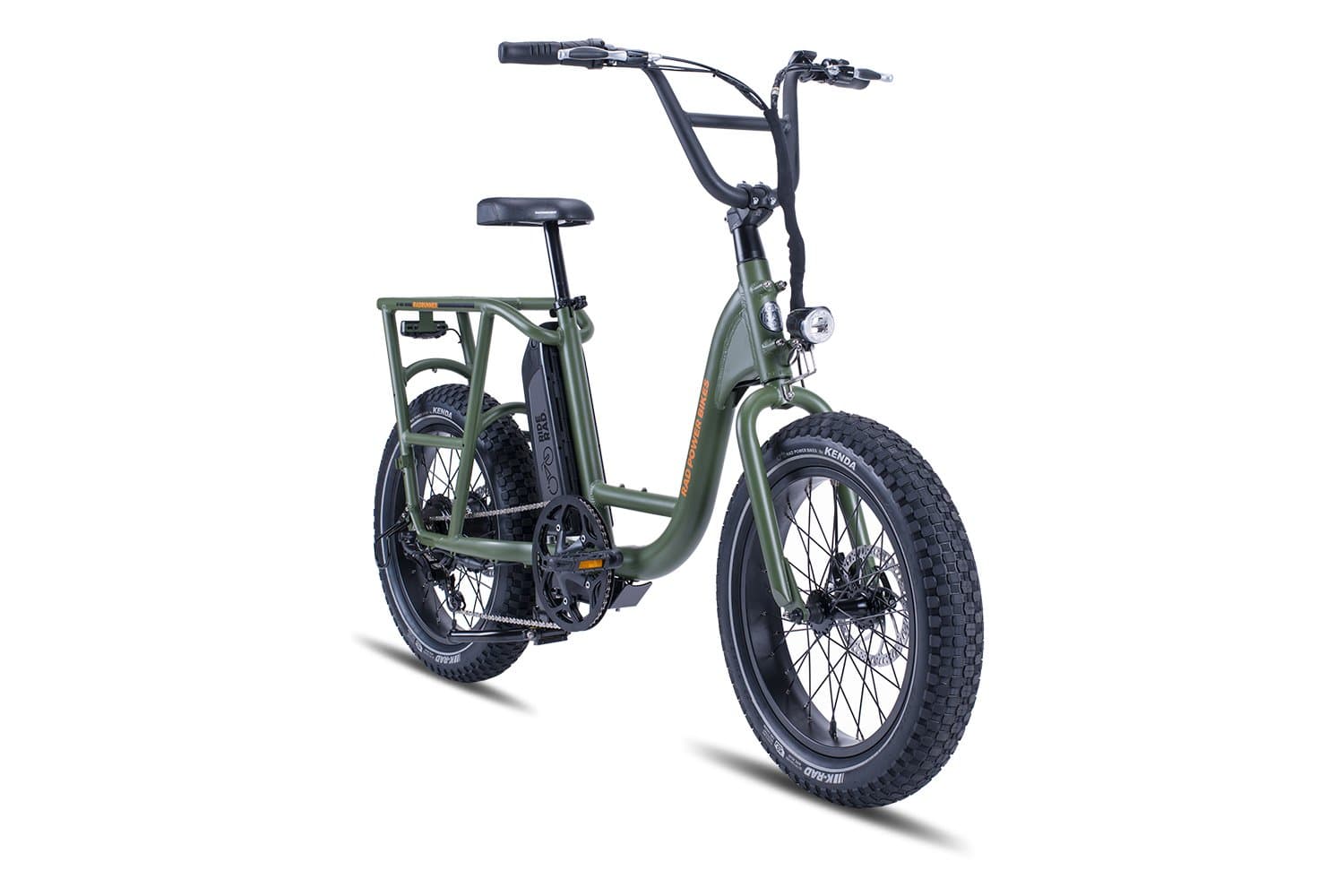 The RadRunner 1 is constructed with a 6061 aluminum frame, which is the same aluminum alloy used to construct structural components for boats, cars, and even aircraft. The 6061 aluminum alloy is rather sturdy, but it does make the eBike a bit heavy since its total assembled weight is about 65 lbs. While this isn't the heaviest eBike we've reviewed, it is definitely on the heavier side of things, especially if you try to lift it up with its rear wheel. The motor and many electrical components are concentrated in the rear wheel, so show extra caution when handling the back half of the eBike.
One other major concern we have with the RadRunner 1 electric bike is that it is currently only available in one frame size. Due to a highly adjustable seat and some customization in the handlebars, you do have a wide range when it comes to the recommended height, stretching from 4'11'' to 6'2''. However, while very short or tall riders might be able to use the RadRuner 1, they won't feel as great on it as they otherwise would be if they had multiple frame sizes to choose from. Be that as it may, it is a capable and sturdy design, with the RadRunner 1 able to support over 300 lbs with a little proper weight distribution along the eBike frame.
Motor & Battery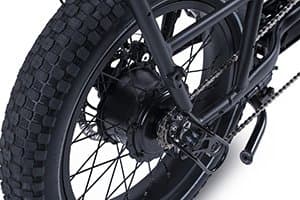 The Rad Power RadRunner 1 is a class 2 eBike with throttle and pedal motor assistance up to 20 MPH.
Like several other Rad Power Bikes, the RadRunner 1 is built with a custom brushless Bafang 750 Wh / 80 Nm rear gear hub motor. At 80 Nm torque, you have a ton of power that not many other eBike motors can match with a stock model, and will be able to pedal or throttle your way up the toughest hill climb challenges out there. However, the strong motor also has the downside that, on a full charge, you can only travel 40 to 50 miles. This is about the range as many other entry-level eBikes, but is a number we would like to see improved with a future RadRunner electric bike.
The lithium Samsung 675 Wh battery is mounted just beneath the saddle, or on the back side of the center tube. This battery is fully removable, so you can charge it either while it's still mounted or take it inside and leave it charging on your desk. A standard 2 amp charger is included with the RadRunner 1, and while it is rather basic it does help keep the RadRunner price down. The 2 amp charger can recharge the eBike battery from 0% to 100% in about 5 to 6 hours, although if you stay on top of your charging it usually won't take you more than 3 to 4 hours to fully top off your eBike battery. So, while it is on the slower side of things, it's still fast enough that you can top off your battery before heading home on a typical work day.
Display/Assist Modes
The RadRunner 1 has an extremely simple LED display mounted on its left handlebar, and is both good and bad in its simplicity. For some, the fact that it only takes one or two button presses to prepare your eBike trip is a good thing, including that it doesn't weigh down or take up much space on your eBike. For others, one of the exciting things about eBikes is that it tracks your distance, average speed, watt generation, and more, with almost none of these metrics included with the RadRunner 1 LED's display. If you prefer something simple, or just want to save money, the RadRunner 1 LED display should more than suffice for the average rider.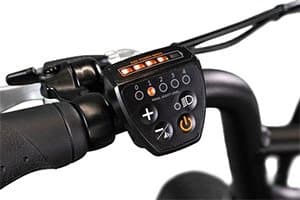 The primary function of the LED display, outside of monitoring your speed and battery life, is to help you set your power assistance level. The RadRunner 1 is a Class 2 eBike, so you can use the throttle to activate the electric motor. You can also make use of the cadence sensor pedal motor assistance system, which will provide you power to help you maintain your cadence and go faster even as the terrain changes. The eBike is capped at a 20 MPH speed limit, at which point the motor shuts itself off automatically and won't turn on again until you fall below 20 MPH. The reason for this speed cap is that if you went faster, this would no longer classify as just an eBike and would require additional licensing to operate.
There are four power assist levels on the Rad Power RadRunner 1 electric bike, along with a walk mode by holding the – button for several seconds. Lower power assist levels will take longer to get to 20 MPH, but will also use up less power so you have a greater travel range before your battery runs out of juice. Alternatively, high power assist levels have the opposite proposition, as they will help you get to 20 MPH faster and provide greater power over steep terrain, but require more energy and drain your battery quicker because of it. Make use of the proper power assistance levels, and you'll be able to balance having a fun time with the motor powered assistance while also extending the overall range of your eBike.
Bafang LCD Display Metrics
Battery percentage
Current Speed
Power Meter
Trip Distance
Odometer
Max Speed
Average Speed
Trip Time
Assist Level (0 to 5)
The five assist levels will help you prioritize and balance whether you want greater motor power and speed against battery life and range while you ride. Lower assist levels will help you travel farther, but won't provide as strong of a push as you make use of the pedal cadence sensors. Higher assist levels help you get to 20 MPH quicker, but drain the battery faster and often cause you to waste power because of it. As a class 2 eBike, the Sondors X does come with a throttle as well that will allow you to turn on the motor with your thumb, but it is unaffected by the assist level and will provide the same push every time you press it.
While a powerful motor is included with the Sondors X, it will shut off once it hits 20 MPH in order to make it legal to operate the eBike without any additional licensing or age requirements. If you are unfamiliar with eBikes, you will be pleased to know they ride just like normal eBikes even when you aren't using the motor or the battery runs out of power. Additionally, you can also pedal faster than the 20 MPH speed cap, relying on the motor to help you build your speed or cushion you if you find yourself tiring out or slowing down. Just make sure you use the proper pedal assist level, or you might wind up wasting power and running out of juice before you reach your destination.
Handling
On Streets- The RadRunner 20'' by 3.3'' tires make it a good option for those traveling through cities, even if it isn't the best. Your overall city riding experience is going to be greatly determined by the PSI you set your tires to, ranging from 5 PSI to 30 PSI. Pick the lower PSI if you have loose dirt, gravel, or multiple patchy sections to cross on your commute, or you can stick to the 30 PSI limit if it is just normal concrete and asphalt that you intend to ride on.
Turn Radius- One of the benefits of having shorter 20'' tires isn't just that it's more accommodating for shorter riders, but that it makes it easier to turn as well. Whereas the other Rad Power bikes tend to struggle making sharp turns, the RadRunner 1 is able to do so with ease, even if it's a sharp or sudden turn. This is a good eBike for those who have to navigate narrow passageways, though be aware that it isn't a great option since it still weighs 65 lbs.
Low Speed Handling- While it may be on the heavier side of things, there are actually a couple of ways to take advantage of the motor for superior low speed handling. First, there is a walk mode programmed into the RadRunner 1, which will provide minimal motor assistance to push the RadRunner 1 along the ground without mounting the bike. If you are still in the saddle, set the power assistance to 1, and you'll get a small amount of power assistance while you pedal that will make low speed handling much easier. The throttle provides a more jerky and powerful push even at low settings, so we would advise against using the throttle to help with low speed handling.
Gears/DriveTrain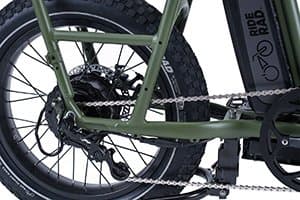 The RadRuner 1 features the most basic drivetrain of the Rad Power Bikes lineup, as it is just a single speed DNP 16T connected to a 16-53 T Chainring with a eBike KMC Z7 chain. Because it's a single speed eBike, there is no shifter, and the derailleur is just a single speed chain tensioner. With no gear shifting, casual or beginner cyclists who may otherwise feel overwhelmed or don't care about precise gear control will be able to enjoy the RadRunner 1 enve more! Alternatively, dedicated cyclists who do spend a lot of time riding their bicycle may feel let down by the lack of gear shifting, and will want to consider a more advanced Rad Power Bike, like the RadRover 4 instead. For what it is though, the simple drivetrain means it is an eBike that requires very little work and maintenance throughout the year, and you'll hardly ever have to worry about your chain falling off due to the great tensioning system.
Brakes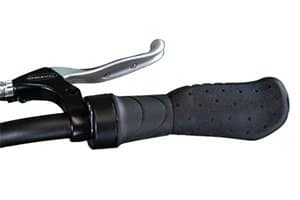 The RadRunner 1 features Tektro Aries MD-M300 mechanical disc brakes, with 180 mm front and rear rotors. This is a very capable braking system that is great for coming to a quick yet steady stop in the city, and is even able to help you come to a smooth stop while traveling downhill on a mountain bike trail as well. The brakes are connected to the motor system, shutting off the motor immediately so they don't compete against each other when you need to slow down. Integrated braking systems also caused both the motor and brakes to last longer, while also reducing the risk of causing one of the components to short out from improper use. Lastly, the RadRunner 1 has a tail light that, when the motor is active, will light up when the brakes are applied as well. There's a lot to be impressed by with the RadRunner 1 braking system, especially since it outdoes the brakes you'll find on some other mid-level and even premium-level eBikes.
Suspension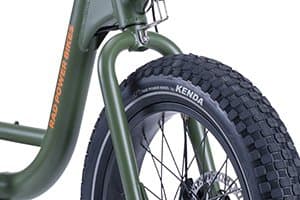 There isn't much when it comes to overall suspension support in the base model of the RadRunner 1. The front fork is rigid, so you get more shock absorption from the fat tires rather than the actual frame fork. The base stem and saddle don't have any suspension support either, but they can be easily upgraded to add suspension support to your eBike. One of the official accessories from Rad Power Bikes for the RadRunner 1 is even a suspension seat post! The RadRunner 1 will be great for city riding, but if you are hoping to challenge anything other than a light biking trail, you probably will want to swap out the saddle and seat post for something that provides suspension support.
Pedals
The RadRunner 1 has rather basic wellgo composite platform pedals, although they do benefit from reflectors for a safer riding experience. The plastic composite pedals help you save even more money when buying the RadRunner 1, and they do get the job done and provide solid traction support for your typical riding shoe. However, plastic pedals tend to break far more easily than your average aluminum platform pedal, and struggle with heavier weight loads as well. If you are a casual or beginner cyclist, you can get away with the plastic composite pedals for a while, though you will eventually want to swap them out for superior aluminum platform pedals. This is especially true if you intend to ride the RadRunner 1 on an almost daily basis, or plan on loading your RadRunner 1 up with a lot of cargo when you ride.
Grips and Saddle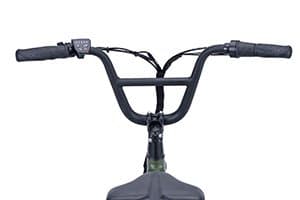 The RadRunner 1 features Velo made durable, ergonomic rubber grips that will allow you to ride for several hours straight without tiring out or developing blisters on your hands. Besides looking nice, they also match the large moped style Velo saddle, with an integrated seat post plate for easy mounting or swapping out if you make the upgrade to a suspension style stem and saddle instead. This is an eBike that is very comfortable to ride, and there's no single part that stands out as being particularly annoying and clashing with the overall accommodating feel of the RadRunner 1 electric bike.
Wheels and Tires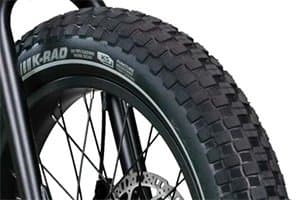 The RadRunner 1 has Kenda Custom K-Rad 20'' by 3.3'' (84-406) tires, which are mounted on double wall 36 hole aluminum alloy rims with 12 gauge stainless steel spokes. The tires have a recommended PSI inflation range from 5 PSI to 30 PSI, with lower inflation providing a better riding experience over loose terrain while the higher PSI is meant more for city exploration. The tires do have K-Shield puncture protection, so combined with the wide design it should be very rare that you suffer a flat while riding the RadRunner 1. Rad Power Bikes also made sure to include reflective taping on the RadRunner 1 tires as well, further improving the overall visibility and profile of the rider.
Accessories/Upgrades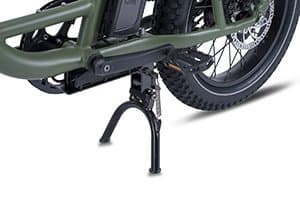 One of the key draws of the RadRunner 1 is that it is an eBike built from the ground up with accessories, add-ons, and upgrades in mind. If you visit the Rad Power Bikes product page, you'll see just a few of the over 330 official accessory combinations offered for the RadRunner 1 electric bike. There are a ton of great accessories, but it's also notable that it's still a great, feature heavy eBike even if you don't buy any additional accessories at all. With a headlight and taillight system, rear cargo rack, and a dual leg kickstand, the only obvious accessory you might want to buy right away are some fenders or a suspension stem post. Otherwise, here are just a couple of the other eBike accessories you'll want to consider for the RadRunner 1:
SR Suntour SP12 NCX Suspension Seatpost
Rad Power Bikes Front Rack
RadRunner Center Console
RadRunner Full Fenders
RadRunner Display Upgrade
ABUS Bordo Granit X-Plus 6500 Bike Lock
Rad Power Bikes Rad Mirror
Fremont Pannier Bag
Rad Power Bikes Basket Bag
Rad Power Bikes Delivery Bag
Recommendation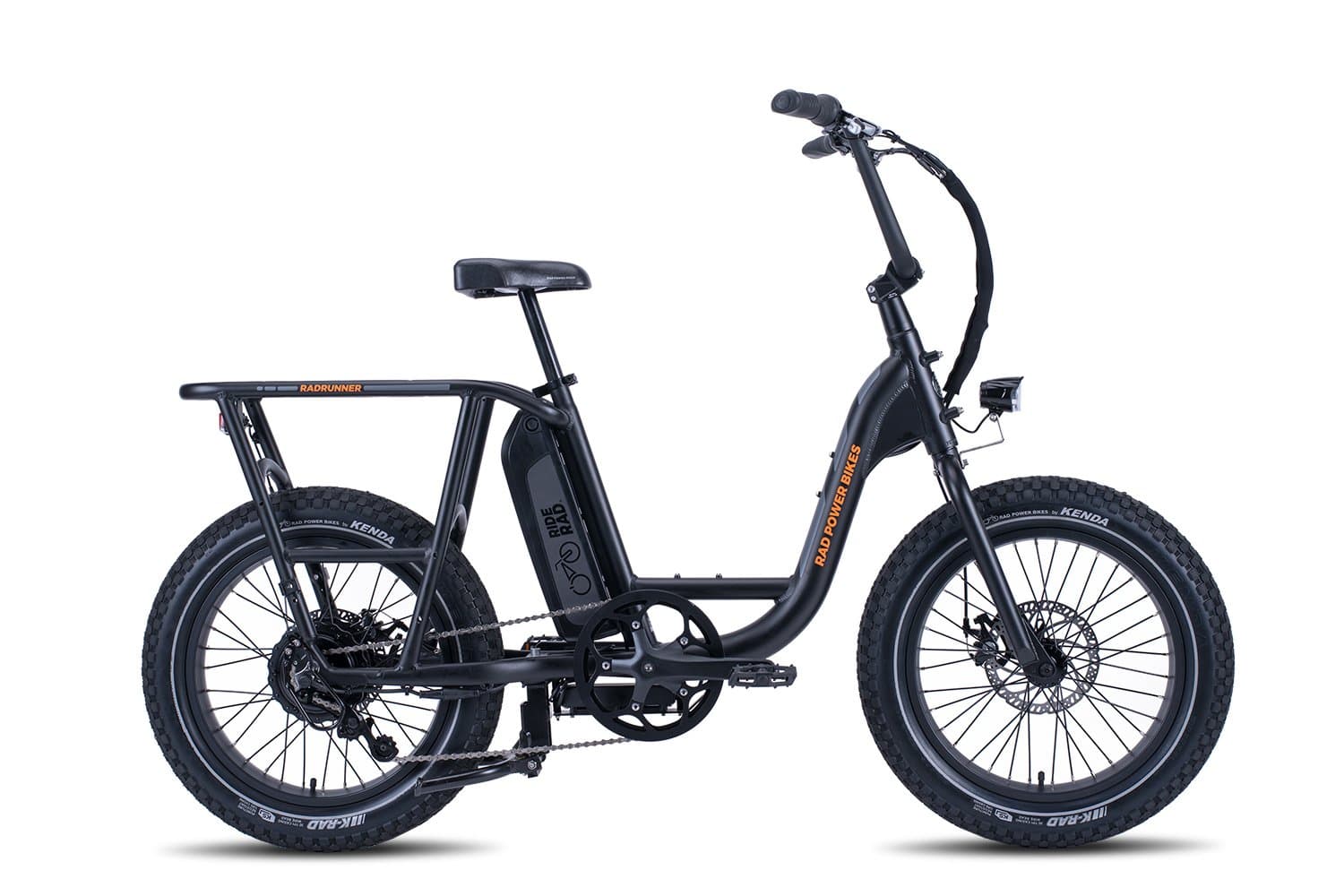 The Rad Power Bikes RadRunner 1 is an electric bike that all kinds of cyclists can enjoy. The 65 lbs weight is a lot, but is also a testament to the strength and durability of the 6061 aluminum frame construction able to support over 300 lbs. The rear gear hub motor provides a strong 80 Nm push, and combined with 14 Ah lithium battery you can expect to travel between 40 to 50 miles on a single charge with the right power assist mode. The DNP 16T single speed freewheel may be limited, but the lack of gear shifting means that its a very simple eBike to ride that also suffers minimal chain drops and lock ups, especially with the easy to use Rad Power Bikes LED display. While it may be an entry-level priced eBike, there are a number of other great features as well, from the fat 20'' by 3.3'' Kenda K-Shield puncture-resistant tires to the ergonomic handles and saddle. For those who are willing to spend a bit more, this is one of Rad Power Bikes most customizable eBikes, with over 330 accessory combinations to choose from that will also compliment the head light, taillight, kickstand, and cargo rack included in the base model. If you're brand new to eBiking or are hoping to get a new, entry-level priced eBike, you should definitely take a look at the Rad Power BIkes RadRunner 1 hybrid electric bike!
Would you like to see an in-depth look at the RadRunner1? Let us know in the comments below!