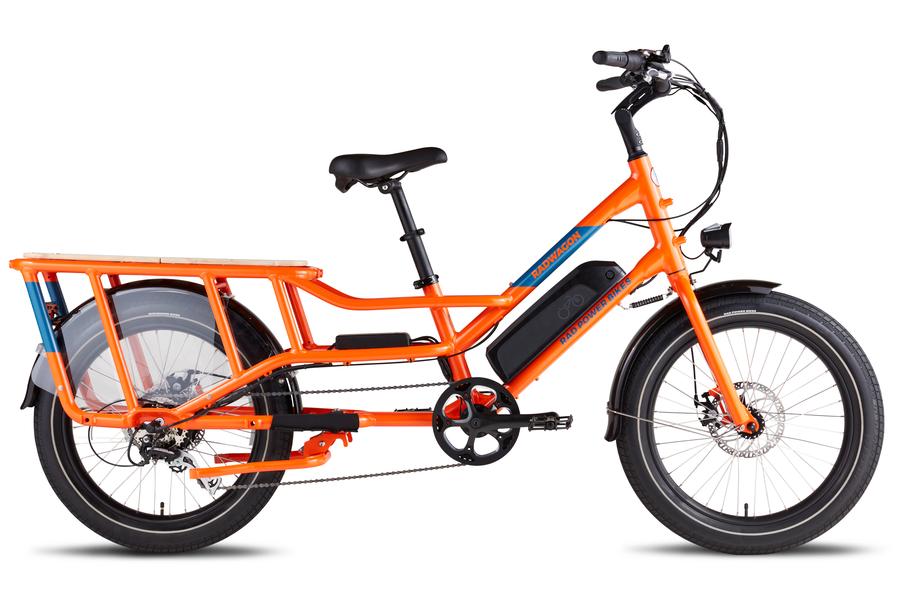 Intro
The Rad Power Bikes RadWagon 4 is a long-tail cargo e-bike, which is to say, it is an errand-runner of substantial ability. Anyone who has tried to load up the rear rack on a commuter knows just how quickly its carrying capacity can be occupied. So what's a person to do if they want to carry a kid or two, a laptop and some groceries?
Most folks just get back in their car. It's understandable, but boo. A cargo e-bike is a much better alternative. Our review of the Rad Power Bikes RadWagon 4 will look at this e-bike's modular design, its overall carrying capacity and of course its parts pick.
If all our stops were within a half dozen blocks from home, it wouldn't be a big deal to pick up a kid on the way home from work, drop them off with the other parent then head back out for another kid or to the grocery store or the massage therapist or hairdresser. However, most of us live lives measured in miles, not blocks, which means it is far more convenient to leave work, make all the stops and then arrive home. Also, single-parent households, amiright?
And anyone who has ever owned a cargo e-bike can attest, it's much easier to get kids out the door if they know they will go for a bike ride rather than be strapped in a car seat.
E-Bike Category: Cargo
Who the Rad Power Bikes RadWagon 4 Electric Bike Is for:
The Rad Power Bikes RadWagon 4 is for anyone who wants to park the car as much as possible and make as many of their trips by e-bike as possible.
Rad Power Bikes RadWagon 4 Review Ratings:
***All ratings are relative to e-bikes of a similar style and price point***
| | |
| --- | --- |
| Speed/Acceleration | |
| Hill Climbing | |
| Battery Range | |
| Braking | |
| Construction Quality | |
| Handling | |
| Included Accessories | |
| Warranty & Customer Service | |
| Value | |
Rad Power Bikes RadWagon 4 E-Bike Specs
Battery: 672Wh
Expected Range: up to 45 mi., estimated
Charger: 48V, 2A
Motor: 750W brushless hub motor
Pedal Assist: 0-5
Throttle: Half-twist grip
Display: Backlit LCD
Headlight: 200 Lumen LED
Taillight: Integrated with brake indicator
Frame: 6061 Aluminum
Fork: Steel
Fenders: Plastic, included
Kickstand: Motorcycle-stule dual leg
Handlebars: Aluminum, back-swept
Grips: Ergonomic rubber
Drivetrain: 7-speed Shimano Acera, 11-34 freewheel
Brakes: Tektro Aries hydraulic disc with 180mm rotors
Pedals: Aluminum with reflectors
Saddle: Plush with integrated lifting handle
Tires: RPB 22 x 3 in.
In-Depth Rad Power Bikes RadWagon 4 Review
Rad Power Bikes RadWagon 4 Review: Comfort, Handling, and Ride Qualities
A close look at the Rad Power Bikes RadWagon 4 reveals a detail we've rarely seen here at Best Electric Bikes with one-size-fits-all e-bikes: the seat tube features an intermediate telescoping tube into which the seatpost fits. Two quick-release clamps allow the RadWagon 4 an unusual degree of saddle height adjustability. That, combined with the adjustable stem, give the RadWagon 4 a greater ability to fit riders than most one-size bikes.
With its adaptable and comfortable position, well-padded saddle and wide handlebar, the Rad Power Bikes RadWagon 4 is designed to make daily riding a pleasure.
Any time a bicycle frame gets bigger, whether longer or taller (or both), stiffness can become an issue. Rad Power Bikes built the RadWagon 4 from large-diameter aluminum tubing and made the rear rack an integral part of the frame, increasing strength for both the frame and the rack. Also, the stiffer the frame, the more predictable the e-bike's handling.
One unusual aspect of the RadWagon 4 is that it is built with 22-in. wheels. Being somewhat larger than 20-in. wheels, this gives the e-bike a bit more stability, while maintaining some of the maneuverability that comes with smaller wheels. Also, smaller wheels allow the rear deck to be positioned lower, helping to keep the e-bike's center of gravity relatively low and making the long-ish bike easy to handle.
Compared to cargo e-bikes that put the bulk of the load in front of the rider, long-tail cargo e-bikes handle more like a traditional bike and are much easier to negotiate in tighter confines, like on a bike path.
Rad Power Bikes RadWagon 4 Review: Motor, Battery, and Drivetrain Performance
The Rad Power Bikes RadWagon 4 is rated to carry as much as 350 lbs. in rider, passengers and assorted other stuff. We're leading with that rather than the wattage of the motor because it's important to understand that if an e-bike is meant to carry as much as that, it needs a powerful motor, or it will struggle to fulfill its role.
The RadWagon 4 is built with a 48V, 750W brushless hub motor. We don't usually mention a motor's voltage because it's not indicative of how much power the motor will produce, but it does tell us how much current it can draw when under high demand, like on a hill. Were this a 36V motor and battery, it might struggle on bigger hills. More crucial to its ability to perform on hills is the fact that the motor produces 80Nm of torque; this is not an e-bike that will come to a stop on a hill while the kids are asking, "Mommy, why are we going so slow?" Kids on the back of a RadWagon 4 say, "Whee!"
The 672Wh battery is reported to offer riders from 24 to 45 mi. range on average. When our colleagues at Electric Bike Report tested it, they rode nearly 30 mi. in PAS 5, exceeding Rad Power Bikes' estimates by a solid 20 percent.
The Shimano Acera drivetrain is better than we see with most 7-speed drivetrains; the usual freewheel range we see is a 14-28; that is, the smallest cog (highest gear) is a 14-tooth cog and the largest is a 28t cog. The Hey, this is a total shot in the dark, but Rad Power's website doesn't say how much torque the RadWagon 4's motor produces. The EBR review of it that Michael wrote doesn't mention it either. I'm wondering if there's any chance you might have a figure on that. The Rad Power Bikes RadWagon 4 features an 11-34 freewheel, which means it's highest gear is higher than usual and its low gear is lower than usual; it's this sort of attention to detail that we like about the Rad Power Bikes RadWagon 4. Cargo e-bikes need lower gears than other e-bikes in order to make it up big hills without asking too much from the motor.
Rad Power Bikes RadWagon 4 Review: Braking, Safety, Customer Service & Warranty
The Rad Power Bikes RadWagon 4 is equipped with Tektro Aries hydraulic disc brakes, and they are paired with 180mm rotors. This is a setup that is good enough to be considered industry standard for e-bikes with 27.5-in. wheels. As wheels shrink in size, they require less braking power to stop. With its 22-in. wheels, the Rad Power Bikes RadWagon 4 gains an effective brake power upgrade, a very handy thing for an e-bike meant to carry as much as 350 lbs.
On the score of safety, we have a duty to report that the Rad Power Bikes RadWagon 4 is in the midst of a safety recall with the Consumer Product Safety Commission. The issue is that the rim strip (a band of rubber that encircles the rim of the wheel and covers the spoke nipples, which protects the innertube from the edges on the metal nipples) can become misaligned, exposing the spoke nipples to the innertube and causing a flat. There have been 137 reported flats caused by this and of those incidents, eight resulted in injuries.
With this writing, all Rad Power Bikes RadWagon 4 e-bikes for sale have had this problem corrected. Anyone reading this review doesn't need to worry that they could potentially encounter an e-bike with the faulty rim strips. And, to put this in perspective, this is a problem that is very easy to fix; the average bike mechanic can make the swap necessary in less than 20 minutes.
Anyone ordering a Rad Power Bikes RadWagon 4 online or purchasing one from one of Rad Power Bikes' retailers will receive a bike that has been corrected. If we had any concern about rider safety, we wouldn't be reviewing this e-bike.
Rad Power Bikes offers a one-year warranty on all parts and labor. By traditional bike-industry standards, this is short, but it is a common warranty among e-bike companies that sell primarily direct-to-consumer.
Based on reviews of the Rad Power Bikes RadWagon 4—all 1777 of them—Rad Power Bikes' customer service gets mixed marks. Some owners praise them for being very responsive while others have complained that customer service has been slow to respond or flat-out unresponsive. Of those 1777 reviews, 50 owners gave the bike one star; that suggests the great majority of all bikes arrive in good working order.
Rad Power Bikes RadWagon 4 Review: Recommendation/Final Verdict
Cargo e-bikes are a growing segment of the e-bike market, with good reason. And in this price range very few can do as much as the Rad Power Bikes RadWagon 4—we'll get to the cost in a moment.
Our one word of caution to potential buyers isn't the CPSC recall. By the time anyone reading this clicks through to their site, the rim strip issue will be history. No, our one concern is their decision to spec 22-in. wheels and tires. This is a most uncommon wheel/tire size. While it's not impossible to find tubes and tires, our suggestion would be not to wait until a flat happens. We suggest ordering a couple of tires and a half dozen tubes from Rad Power Bikes when ordering the RadWagon 4. If Rad Power Bikes didn't offer replacement tires and tubes on their website, we wouldn't be able to recommend the RadWagon 4 so highly.
So how much will a Rad Power Bikes RadWagon 4 cost? Well, the e-bike alone retails for right at the $2000 price point, which is a terrific value for a cargo e-bike. However, this is one e-bike that is incomplete until the buyer adds some accessories.
Rad Power Bikes offers more than 70 different accessories, from baskets to helmets to panniers. Such a large selection can seem a bit overwhelming to the shopper, but one of the terrific things about the Rad Power Bikes web site is that on the accessories page, shoppers can select for only the accessories that will work with the RadWagon 4, which still numbers 54 results, though that includes items like helmets and hitch racks, too.
Buyers can choose items like seats for little ones—it can capably carry two kids, not just one—as well as either foot pegs or running boards so they have someplace to put their feet. It can also be kitted out with various baskets that can be mounted to either the front or the rear. Heck, they even offer a pet carrier that fits in one of the baskets.
With such a diverse array of accessories, it's possible for a buyer to build a cargo e-bike that suits all of their daily needs. Think of a cargo e-bike less as a replacement for a car than a replacement for an SUV or minivan.
Anyone with the word "versatility" on their lips will find their best answer with a cargo e-bike. Short of needing to transport a wedding dress or a sheet of plywood, there isn't much that the Rad Power Bikes RadWagon 4 can't do.
Thank you for reading through our review of the Rad Power Bikes RadWagon 4. Still have further questions? Wondering how it compares to a similar e-bike we've reviewed? Let us know in the comments below!

Reader Interactions