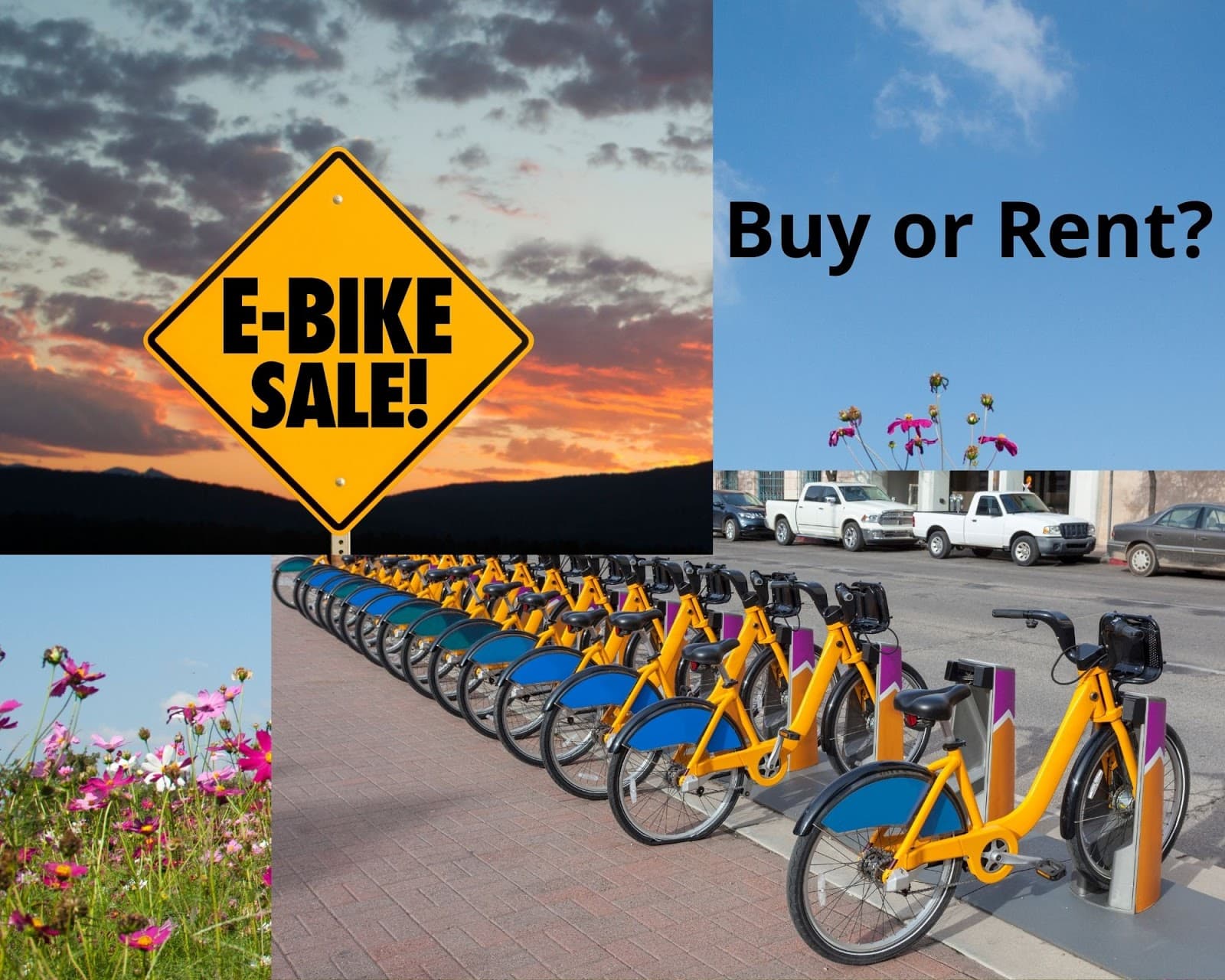 The classic dilemma: to own, or to borrow? Those wondering about buying vs. renting an e-bike have come to the right place. Let's examine it down below!
Nothing beats a profitable financial investment. Whether it's property, stocks, or precious metals, you rarely lose your shirt with careful research.
Now putting money into your transportation is another animal altogether. The average vehicle rarely holds its value, and don't even think about boats when deciding where to put your hard-earned money.
If you're looking for a green option when it comes to transportation, e-bikes are worth a second look. They check off so many boxes in the plus column it's a wonder everyone doesn't have one. They're an excellent investment since they hold their value in this hot market, but they're also a great investment in the future reduction of your carbon footprint.
As someone new to the e-bike niche, you might be wondering what options are out there and what's a reasonable price-point for getting in the game. You also might be asking if you should rent or buy an e-bike right out of the gate?
This will depend on a few factors. Let's take a look at them and see which option is best for you.
Buying Vs. Renting An E-Bike: When Renting Is Right
Whether it's a seldomly used specialty tool needed to get a job done or a tuxedo you need for just one day, renting can be the right call. Any short-term or occasional need can be satisfied by renting. We've all rented cars when it made sense to do so, and renting an e-bike is much the same…with a whole lot less paperwork.
When You Should Rent An E-Bike:
You're new to e-biking – You may not be sure about how it feels to ride an electric bike, so a trial run is a good idea. There are so many options in the e-bike world that taking out a rental for a spin can help you zero in on what style of bike and what features you want the most. No sense in getting a couple of thousand dollars deep into a new e-bike only to find that you wanted something else. Renting is an excellent way to help you shop around and rule some things out before committing to a pricey purchase.
Won't e-bike often – Unless you've got money to burn, admitting you won't use an e-bike often enough to warrant a purchase is not only very mature but fiscally sound. Even the niftiest of gadgets will find their way to the back of the garage, where they will collect dust–if you won't be using it, rent.
Traveling – If you travel by air frequently, renting an e-bike makes sense. It's impractical and expensive to fly with your e-bike. Renting can be as reasonable as $8 to $20 per hour. Many shops offer discounts if you're interested in renting longer. You can look into multi-hour, full-day, or multi-day rates.
What About Leasing an E-Bike
Leasing is ideal for mid-term use. Now, what mid-term means is purely subjective. With lease rates for most e-bikes ranging between $55 and $100+ a month, mid-term might not last that long depending on your budget.
Leasing comes down to your situation. If you're positive you don't want to own the e-bike eventually, a lease becomes a type of long-term rental. It's the same as with a car lease. Once you complete the lease terms, you turn in the vehicle and have nothing to show for it but memories of good times.
But if you have a business where you can write off the lease, this option might make sense for you.
Buying Vs. Renting An E-Bike: When You Should Buy
Pull out the plastic; it's time to invest in some ozone-saving wheels. When should you commit to buying?
You know what you want in an e-bike – So many styles are out there, so many features. Once you've surveyed what's available and zeroed in on your dream e-bike, it's time to lock it up. The specs and benefits vary, but you won't be disappointed if you are informed about your choice.
The terms for an e-bike purchase fit your finances – We're talking anywhere from $700 to $4000 to get into the electric bicycle game. Perhaps you don't have two nickels to rub together. Well, all is not lost. We aren't talking about buying a Maserati. Most manufacturers will offer payment plans, and you can find discounts online if that's where you decide to purchase. Many states offer incentive programs that can shave off hundreds of dollars with an e-bike purchase. However you pay, the great thing is that you'll be saving money down the line–unlike that guy with a boat.
When e-biking makes sense for your lifestyle – Maybe you want to make a "green" difference in the world, or perhaps you've had some injuries which make 100% pedal power impossible for you. Whatever the case, if it makes sense and feels good, do it. The thousands you'll save in fuel will have the bike paying for itself in a year or two.
When getting a license is an issue – If you're in a long-term situation where getting a driver's license is impossible, an electric bike is a fantastic purchase option for you.
As always, our experts here at Best Electric Bikes are happy to help you make a wise decision for your particular situation. So, don't hesitate to reach out.