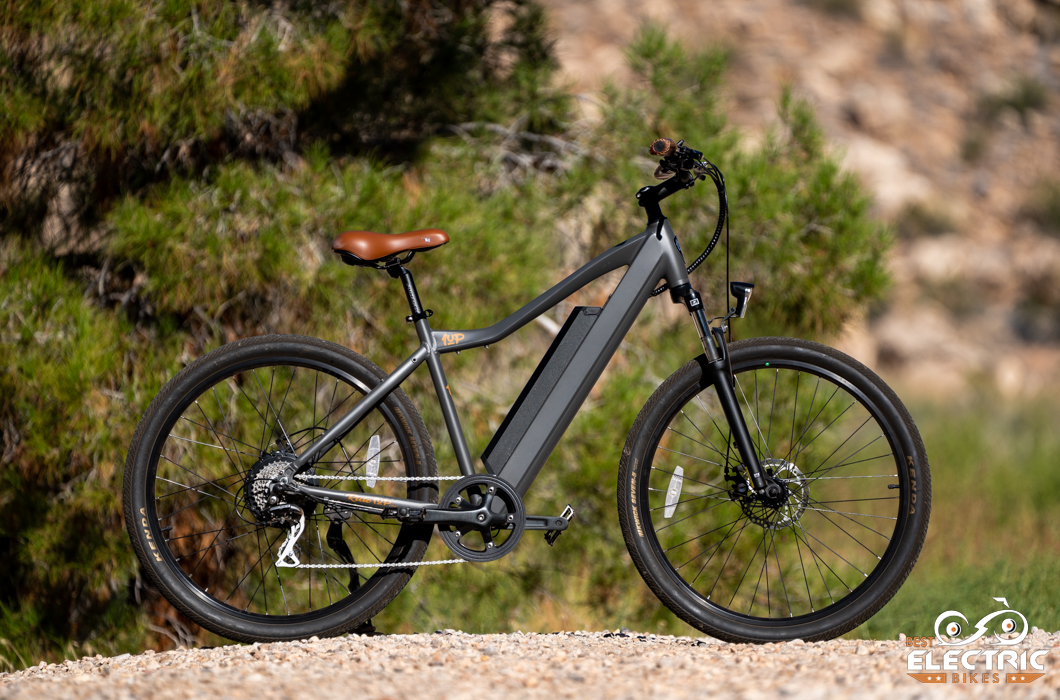 Ride1UP 500 Series Review: Intro
Welcome to our spec review of the Ride1UP 500 series electric bike. We haven't had the privilege to try out the latest version of the e-bike for ourselves just yet, which is why we can't release a full performance review.
However, we have ridden past versions of the 500 Series and have made careful notes of the upgrades and components the latest model shares with other e-bikes on the market. This enabled us to develop our spec review of the 500 Series, which should provide some general expectations of the performance, feel, and features of the Ride1UP 500 Series e-bike.
The Ride1UP 500 Series is one of the best deals on the market if you're looking for an ultra-affordable e-bike that's fun to ride in or out of the city. The e-bike weighs about 55.7 lbs, the average weight for an e-bike but standing out from other entry-level options due to two different frame styles.
The 750W Shengyi rear gear hub motor provides solid motor power with up to 50Nm of torque, and while it might not have as much power as we'd like, it does have great acceleration as a class 3 e-bike.
You can travel over 50 mi. on a single charge with the lithium-ion 500Wh battery. Charge your battery indoors while you work, or leave it on the bike and connect to the included 2A charger.
The drivetrain has a significant upgrade over past versions of the 500 Series and is now an 8-Speed e-bike with extensive drivetrain protection. With Tektro Aries mechanical disc brakes, Kenda Kwick tires, and an SR Suntour 100mm-travel coil-spring fork, you can comfortably ride the 500 Series e-bike in the city or on light to moderate mountain trails.
So, if you're looking for an all-in-one e-bike you can ride almost anywhere at a very affordable price, you'll want to read our spec review to find out why we recommend the Ride1UP 500 Series.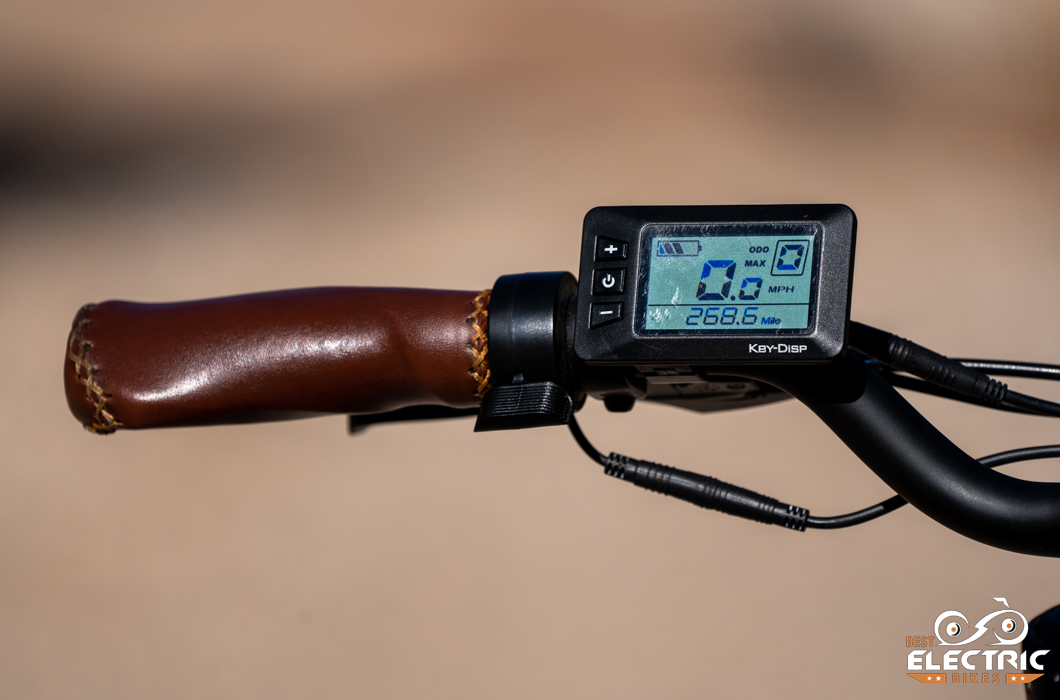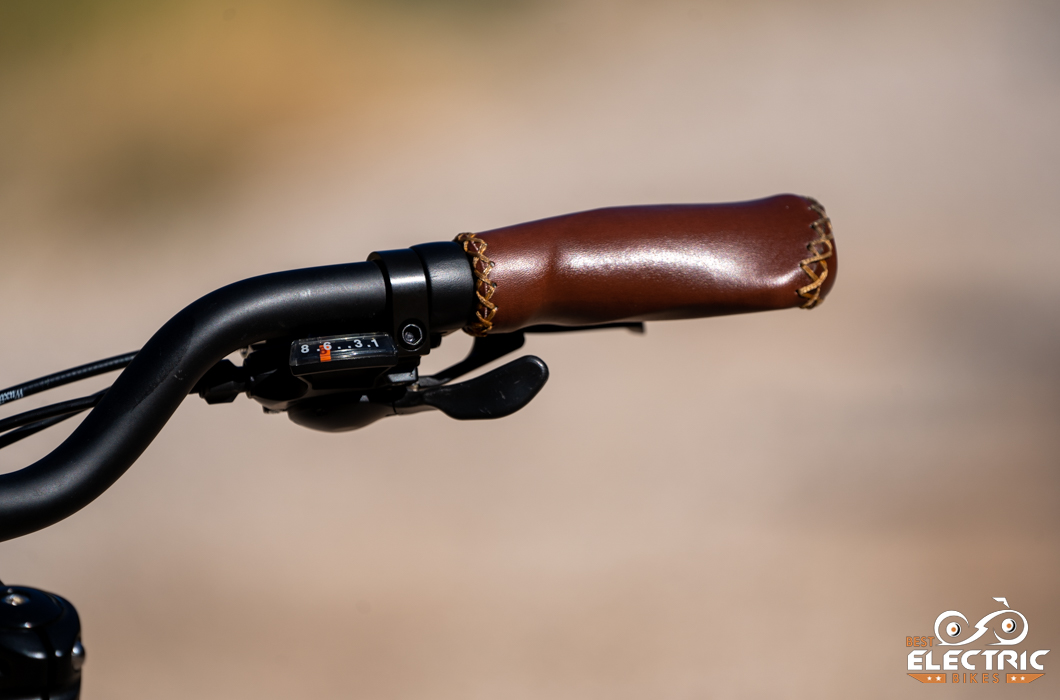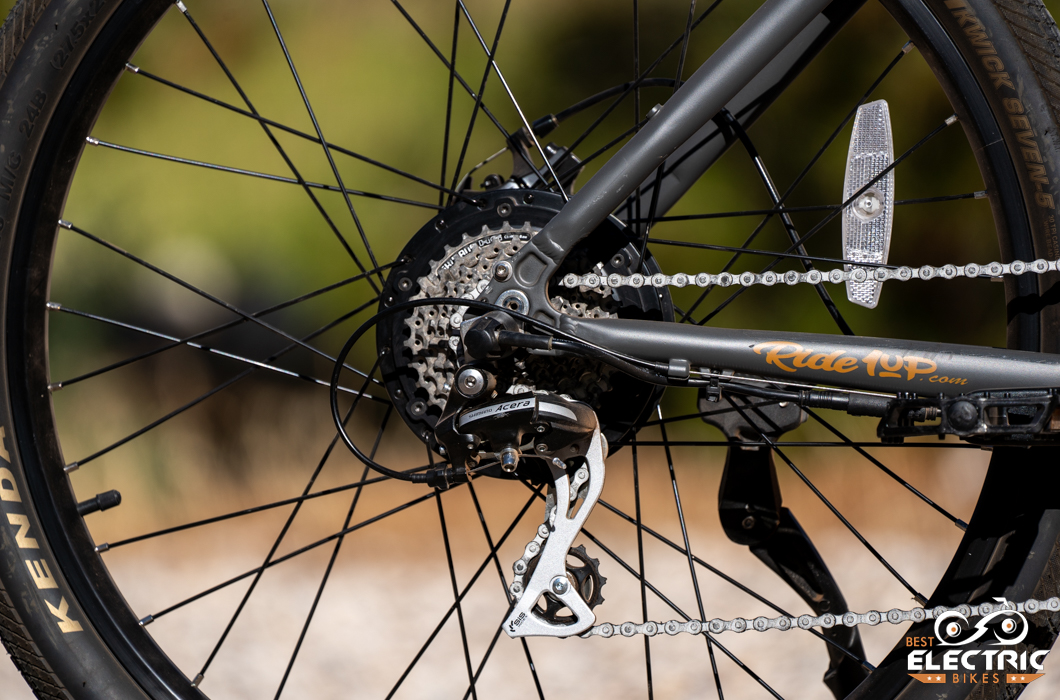 E-Bike Category: Class 3 electric bike. Pedal-assist up to 28 mph, plus throttle to 20 mph.
Who The Ride1UP 500 Series Electric Bike Is For: Cyclists who want a feature-heavy—but budget-friendly—all around/hybrid style electric bike. Especially great for those who want a low price Class 3 e-bike.
Ride1UP 500 Series Review Ratings:
***All ratings are relative to e-bikes of a similar style and price point***
| | |
| --- | --- |
| Speed/Acceleration | |
| Hill Climbing | |
| Battery Range | |
| Braking | |
| Construction Quality | |
| Handling | |
| Included Accessories | |
| Warranty & Customer Service | |
| Value | |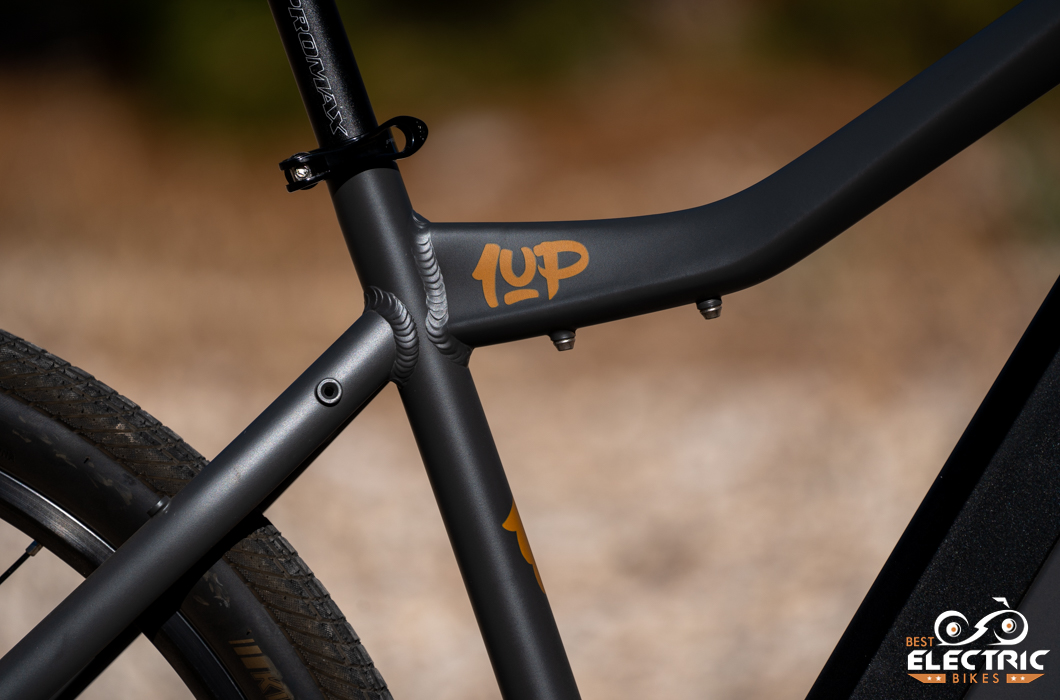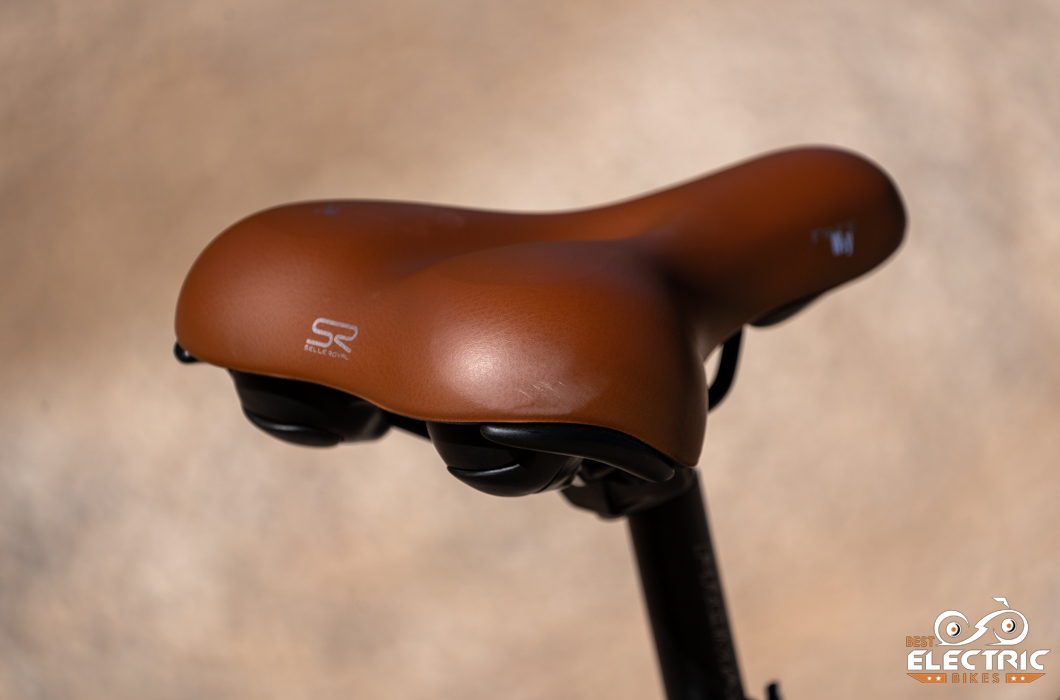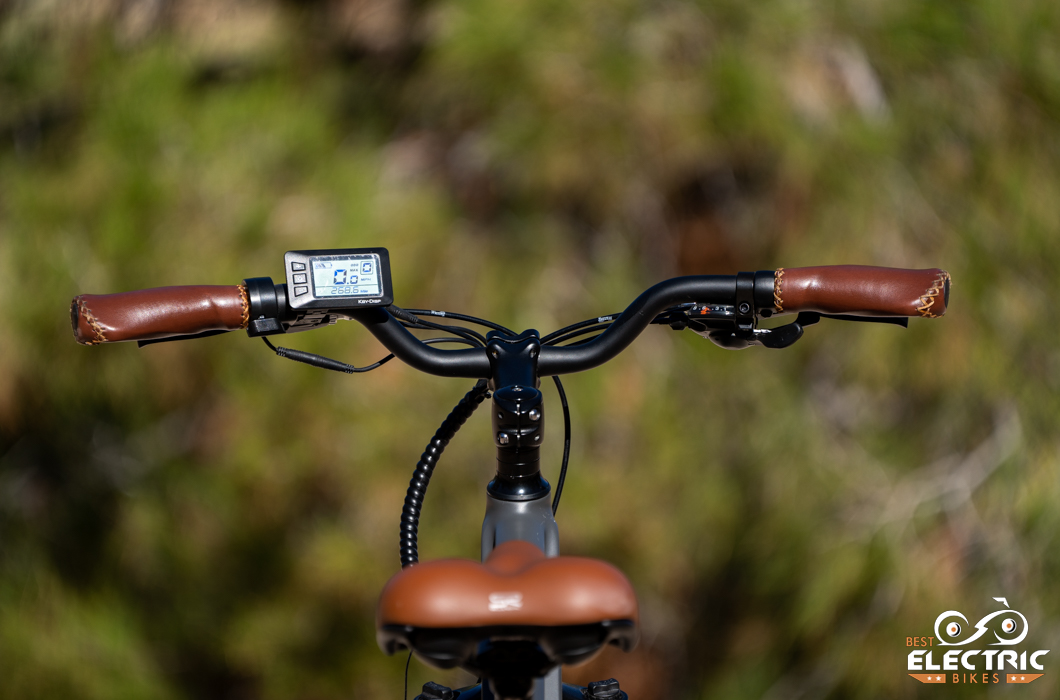 Ride1UP 500 Series E-Bike Specs
Battery: Lithium-ion Battery, 500Wh
Expected Range: Up to 67 mi. in PAS 1
Charger: 2A Charger
Motor: Shengyi Rear Geared Hub Motor, 750W, 50Nm of torque
Pedal Assist: 0-5
Throttle: Left Side Thumb Throttle
Display: KD21C Adjustable Speed LCD
Headlight: Buchel 50 Lux Front Light
Taillight: Included
Frame: 6061 Aluminum Alloy
Fork: Suntour XCT Coil Spring 100mm Travel
Fenders: N/A
Kickstand: Adjustable Arm Chainstay Mounted Kickstand
Handlebars: Aluminum Alloy, 45mm Rise, 660mm Length
Grips: Padded, Stitched, Faux Leather, Non-Locking
Drivetrain: Shimano Acera
Brakes: Tektro Aries Mechanical Disc Brakes, 160 mm Rotors
Pedals: Wellgo Full Alloy Platform
Saddle: Selle Royal Freeway Plush Comfort
Tires: 27.5' x 2.2 in.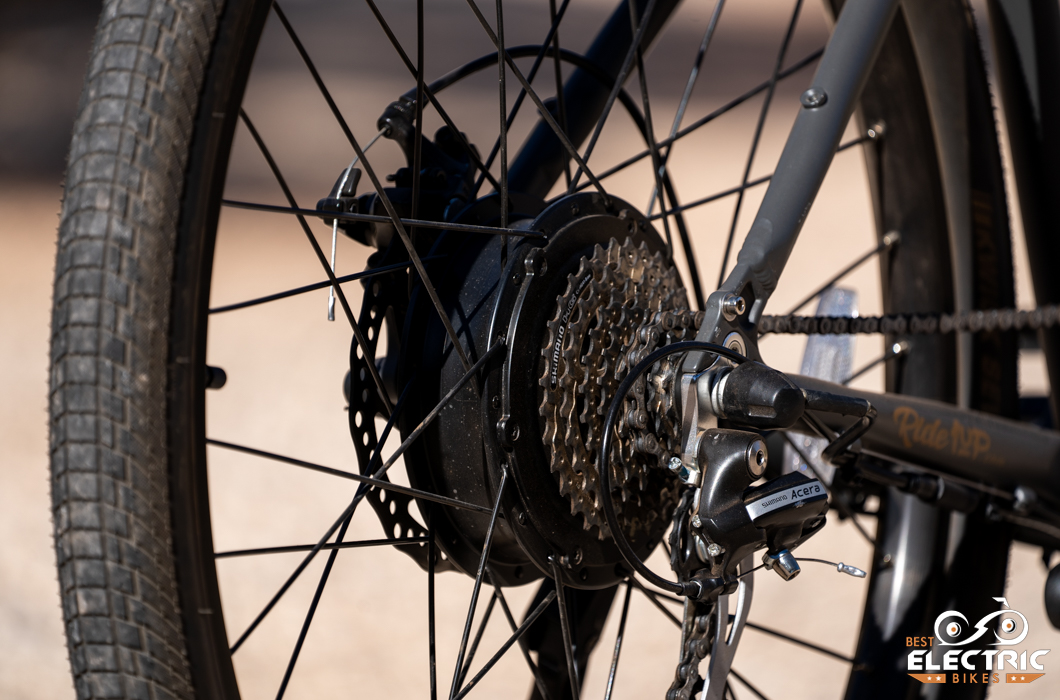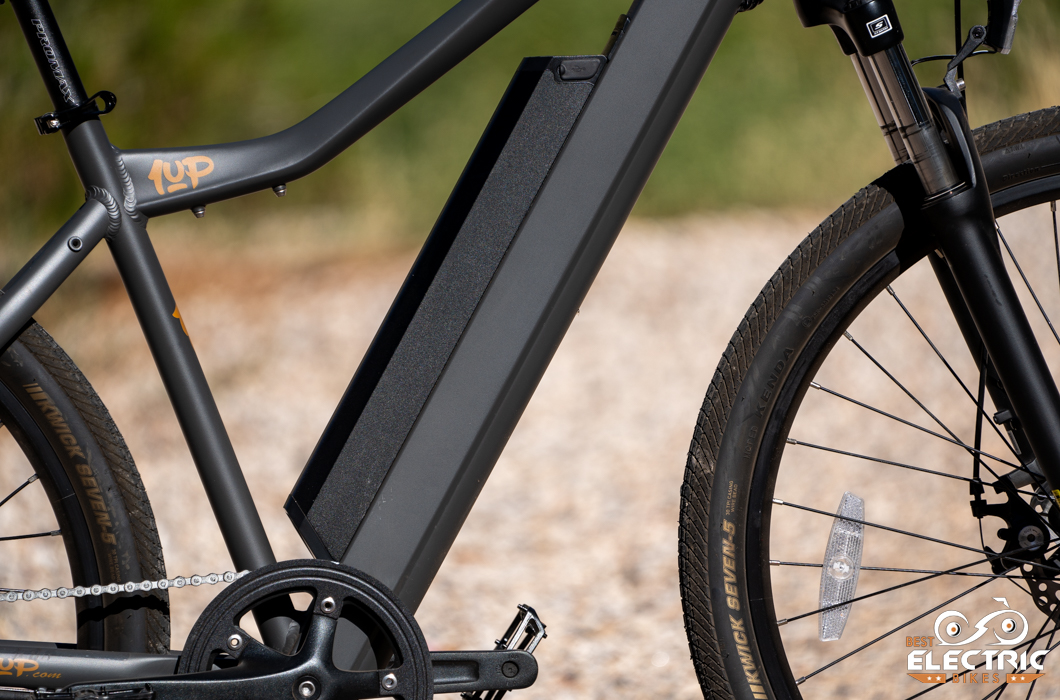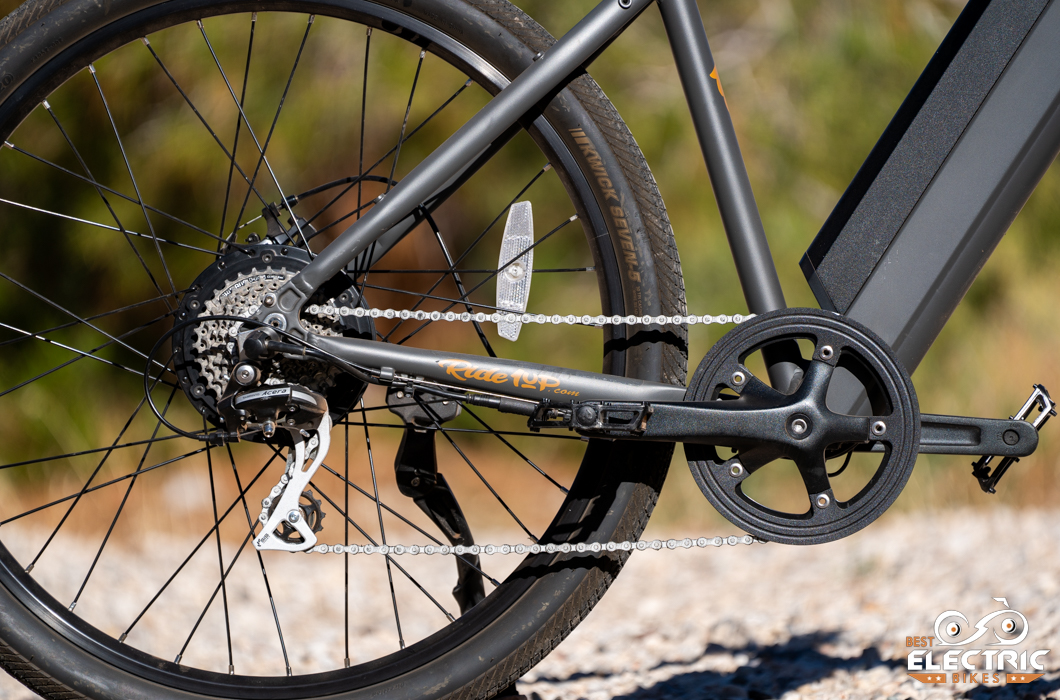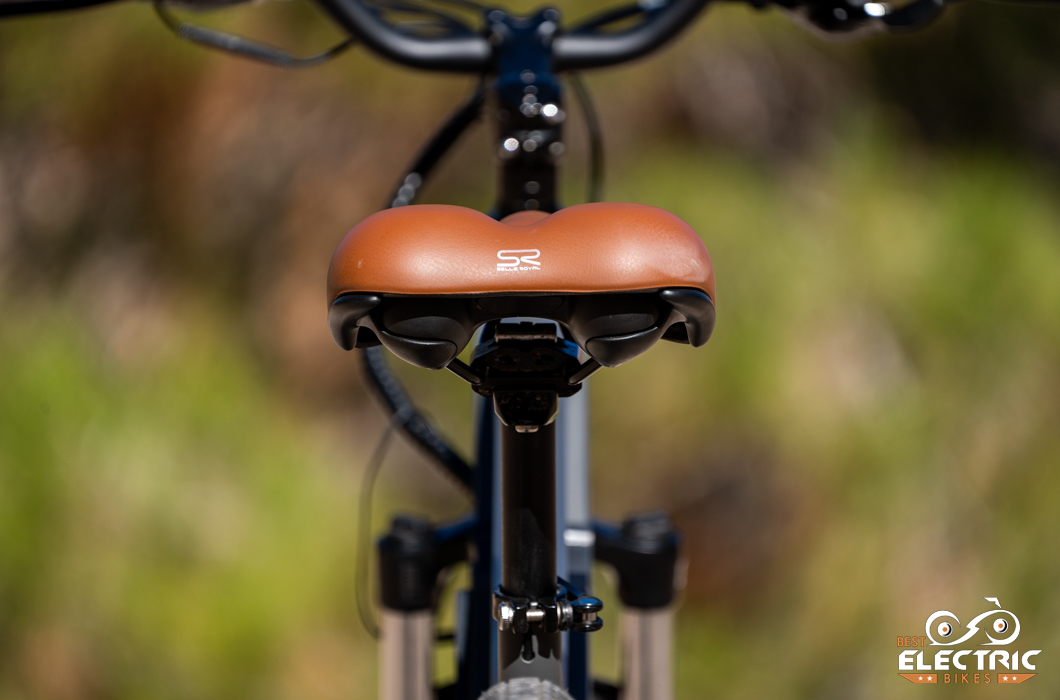 In-Depth Ride1UP 500 Series Review
Ride1UP 500 Series Review: Comfort, Handling, and Ride Qualities
The Ride1UP 500 Series is a hybrid style e-bike, meant for riding on light to moderate trails and commuting on city streets. If you're an urban rider, you will enjoy the suspension system, which helps when riding over bumpy and uneven terrain. While the wider tires mean you won't accelerate as fast as real city commuters, the motor power makes up for it and ensures you can keep up with your friends. The tall and wide tires also have excellent traction support, with puncture protection that'll help you stay on the road and in control–even at high speeds–while minimizing the risk of a flat. If you live in an urban environment but have some rough sections on your way to work, the Ride1UP 500 Series is an option you should consider purchasing.
At 55.7 lbs., the Ride1UP 500 Series isn't the easiest e-bike to handle when you're trying to ride at low speeds. Fortunately, there are a couple of ways you can make low-speed handling easier as long as the motor is on. The wide-ranging pedal-assist settings have several levels great for low-speed handling, providing a small boost so you can shift your focus from pedaling to controlling your bike. Alternatively, you can also dismount from the e-bike and turn on the walk mode instead, helping you push your bike along the road without having to pedal. While both of these recommendations will drain battery power, the drain is small and will have little impact on your overall riding range.
The Ride1UP 500 series indeed have wider tires than expected for a true urban e-bike, but it still has a reasonably tight turn radius. While you might have to take a bit more time navigating down tight alleyways or a narrow doorway, you'll be able to get through them without much trouble. Furthermore, the extra width helps cut corners, helping you make sharp turns without tipping your e-bike over. The added motor and electronic weight will make e-bike newcomers feel a bit unsettled on the 500 Series. Still, after a few rides, you'll find its overall turning ability to be sufficient.
The Ride1UP 500 Series is available as both a stand-over and step-thru e-bike, which will change the type of handlebars you get to accommodate different rider heights. The stand-over model has a mid-rise style better suited for taller cyclists, while the step-thru model has swept-back handlebars for those with a shorter reach.
Both handlebars come with high-quality puncture-resistant faux leather grips, with extra padding helping you ride longer without irritating your hands. Lastly, there's a Selle Royal Freeway Plush Comfort saddle, designed to provide comfort to light and heavy cyclists alike. Overall, the Ride1UP should be a very cozy eBike to ride, but go with the stand-over design if you're 5 feet 8 inches and taller or the step-thru design if you're 5 feet 7 inches and shorter.
Ride1UP 500 Series Review: Motor, Battery, and Drivetrain Performance
The Ride1UP 500 Series is a class 3 e-bike, with pedal activated motor assistance up to 28 mph.
The 750W Shengyi rear geared hub motor produces 50Nm or torque, a solid performance that's sufficient for most riding environments. The engine will help you quickly accelerate if you're sticking to smooth roads and light to moderate trails.
One area where it struggles is when traveling uphill. Furthermore, the motor is also noted to be very jerky when you first turn it on by multiple reviewers, even by the standard choppy nature of many rear-gear hub motors. While these are issues we hope are corrected in a future release, we think they're worth putting up with if you are shopping for an e-bike on an extreme budget.
We forgive the few issues the motor has because we're satisfied with the battery and charger arrangement. Mounted on the central downtube, the battery has a 500Wh capacity that propelled our colleagues at Electric Bike Report for a full 67 mi., a substantially greater distance than Ride1UP advertises.
Included is a 2A charger with the 500 Series, which will charge from 0 percent to 100 percent in about 4 to 5 hours. Because it's a removable battery, you can charge it while still mounted on the bike, or you can take it off and charge it indoors. If you keep your battery full and topped off by putting it on the charger as you begin your workday, you"ll have more than enough time to fill up the battery by the time you head home.
Next, let's discuss the 8-Speed drivetrain, one of the significant areas of improvement over previous versions of the Ride1UP 500 series e-bike. The drivetrain now consists of a Shimano 11-30t cassette with a 44t chainring, a KMC e-bike optimized chain helping hold the drivetrain together.
The larger cassette increased the gearing options from 7 to 8, providing more gradual shifting for you to find a more precise cadence to ride while navigating busy streets and challenging trails. We're happy to see more gear options and delighted by the aluminum alloy chain and derailleur guards included with the stock model. Besides keeping the drivetrain clean and clear of debris, the guards also help guide the chain while you ride, minimizing the risk of a chain drop even when shifting at high speeds.
Ride1UP 500 Series Review: Braking, Safety, Customer Service & Warranty
There are many excellent components on the Ride1UP 500 Series, but one of the few areas where the e-bike could use an upgrade is the braking system.
The 500 Series has Tektro Aries mechanical disc brakes, with 160mm rotors. These rotors are smaller than what we typically like to see on an e-bike. And while they provide good stopping power on flat surfaces, they tend to struggle when stopping while riding downhill, especially at higher speeds.
While the frame and suspension fork are well suited for trail riding, we recommend sticking to light to moderate trails partly due to the underwhelming brakes. However, we appreciate that the brakes cut off the motor automatically, ensuring that they aren't competing against each other and helping you come to a stop quicker.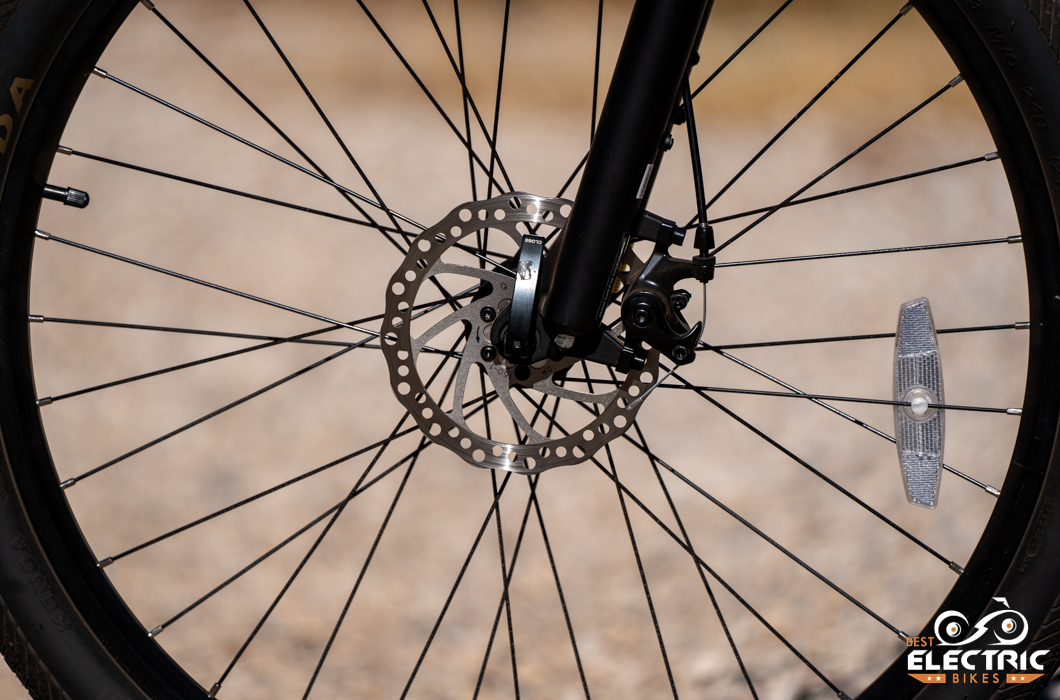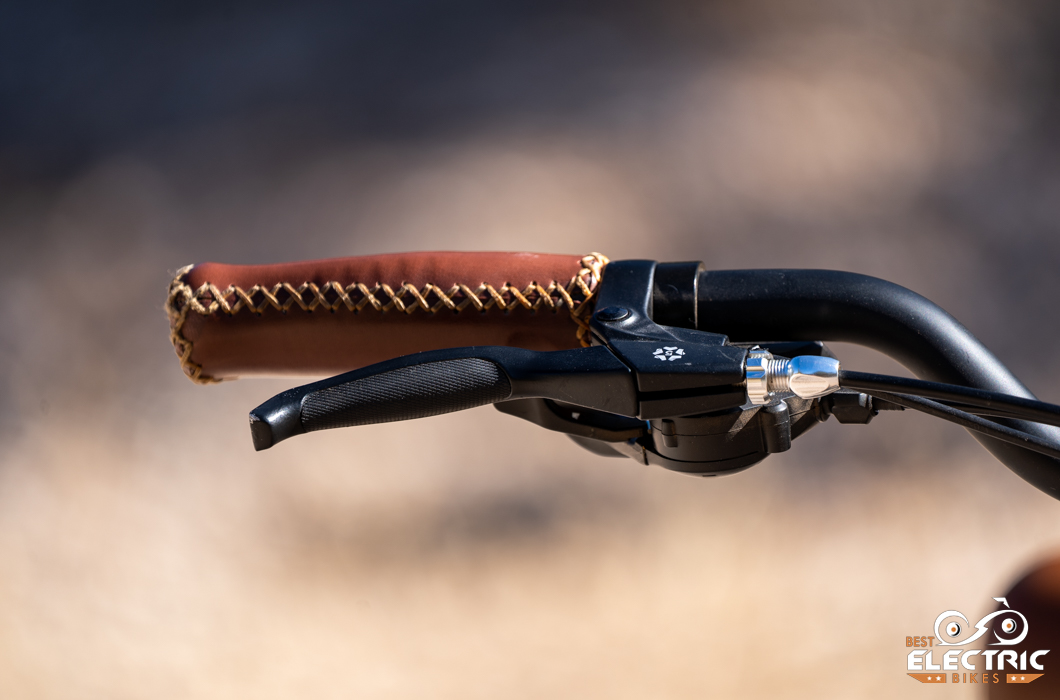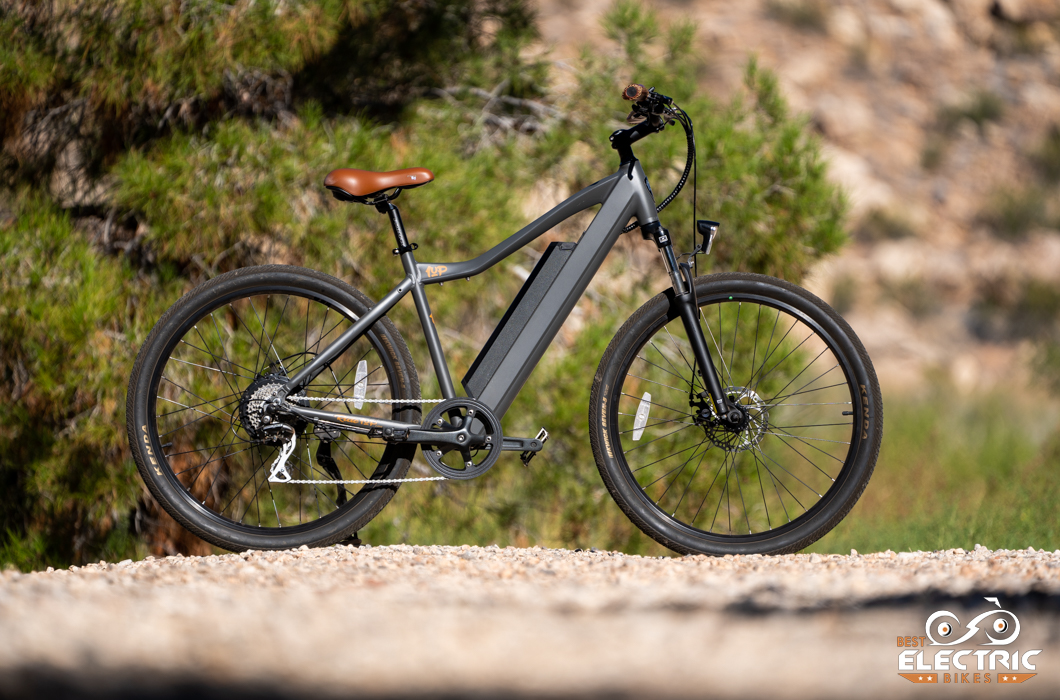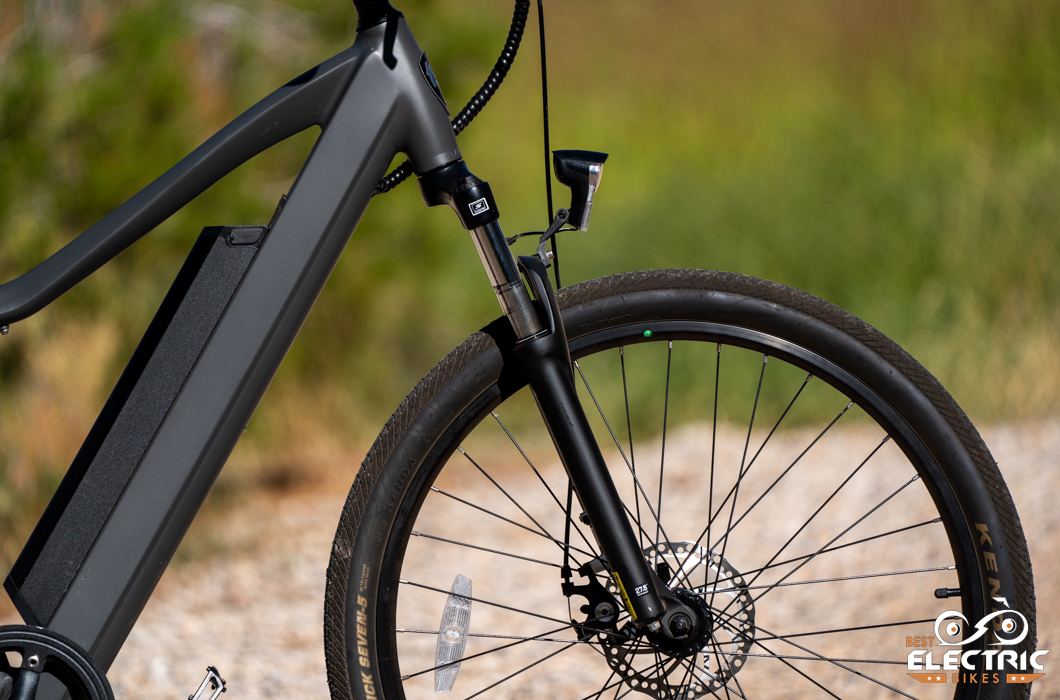 Ride1UP 500 Series Review: Recommendation/Final Verdict
The Ride1UP 500 Series is an especially affordable e-bike, and it stands out even more once you consider the great value provided by all its good features.
The strong 6061 aluminum frame is designed for short and tall cyclists alike, with adjustable components and a step-thru and stand-over design to accommodate different rider heights in comfort.
The motor and brakes struggle with hills, but they both have enough power to provide a smooth riding experience if you stick to urban roads or light to moderate trails. The removable 500Wh lithium-ion battery helps you travel over 50 miles on a single charge. And if you plug it in when you get to work, you'll conveniently have a fully recharged battery by the time you head home.
The drivetrain is a significant area upgraded with the latest 500 Series model. You'll now have an 8-Speed e-bike instead of the 7-Speed design utilized in the past. The other accessories and components are all above average, including padded faux-leather grips, a cushy saddle, aluminum platform pedals, a headlight, tail light, kickstand, and more.
If you're shopping for an e-bike on a budget, and are especially interested in one that will help you get to work quickly, consider buying the class 3 Ride1UP 500 series electric bike!
Thank you for reading through our review of the Ride1UP 500 Series. Still have further questions? Wondering how it compares to a similar bike? Leave us a question in the comments below and the team at BestElectricBikes.com will answer!