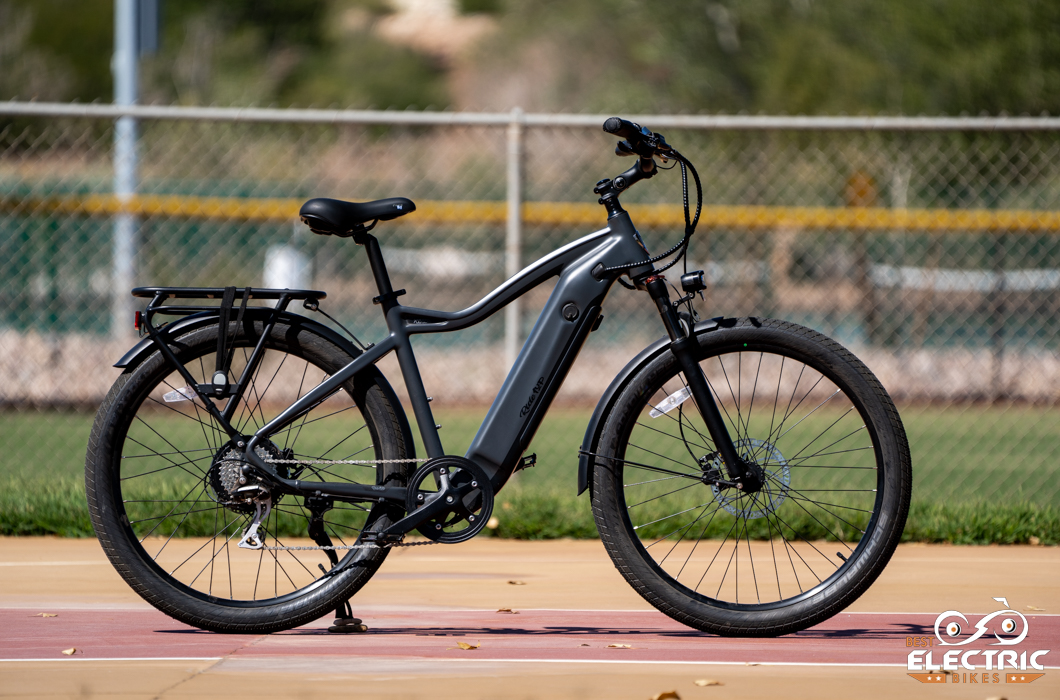 Ride1up 700 Review: Intro
When it comes to commuter e-bikes, arguably the biggest mistake a manufacturer can make is to try to build a bike that fills too many roles. This Ride1UP 700 review takes a look at an example of a pure commuter that succeeds in this role because it isn't being asked to be a mountain bike.
While it sets itself up for success by not trying to be something it's not, it does excel at many desirable commuter qualities such as maintaining good speed, with decent handling and coming equipped with the typical commuter e-bike accouterments.
So if this is your first go around with a Ride1UP bike, or you've experienced others and just want a review of the Ride1UP 700 to better gauge if it suits you, you can expect to find a value package with performance that exceeds the expectations of the pricetag.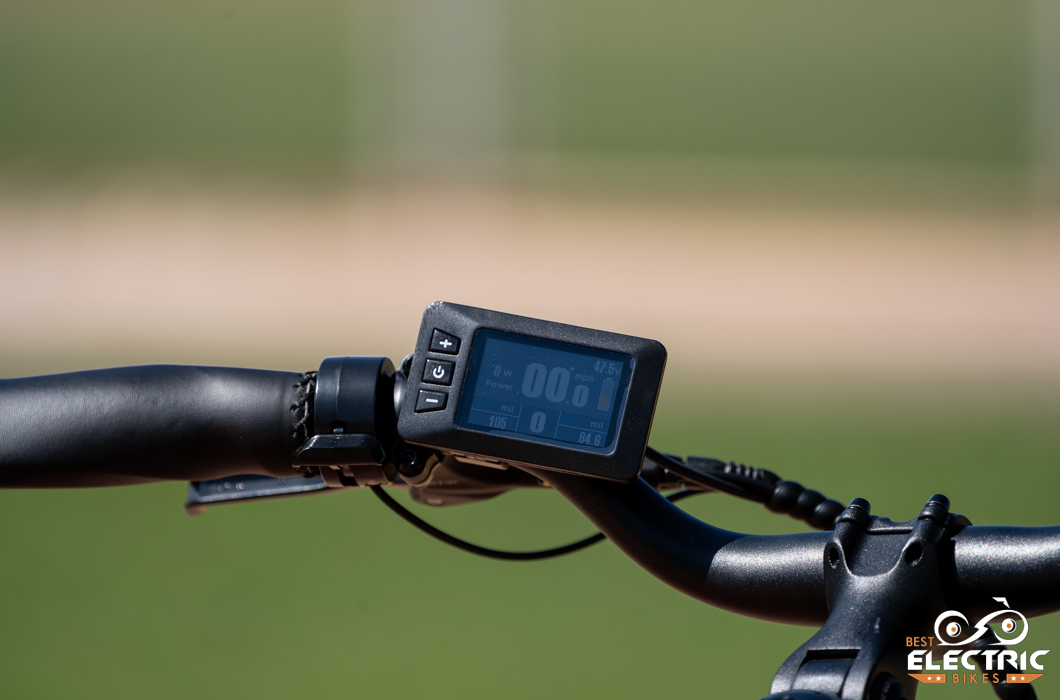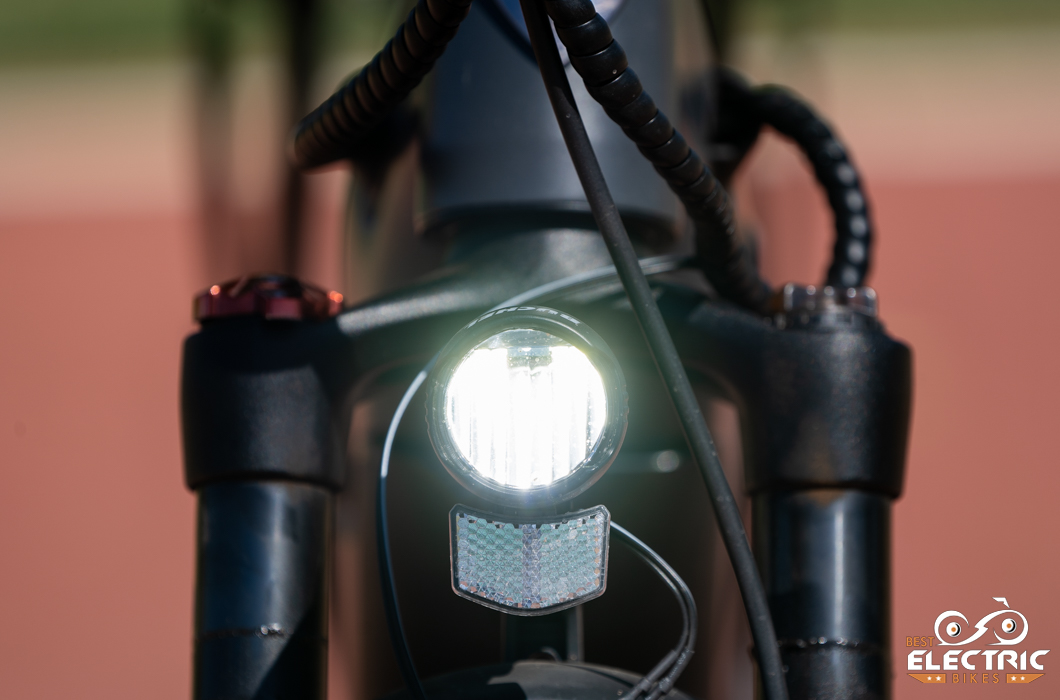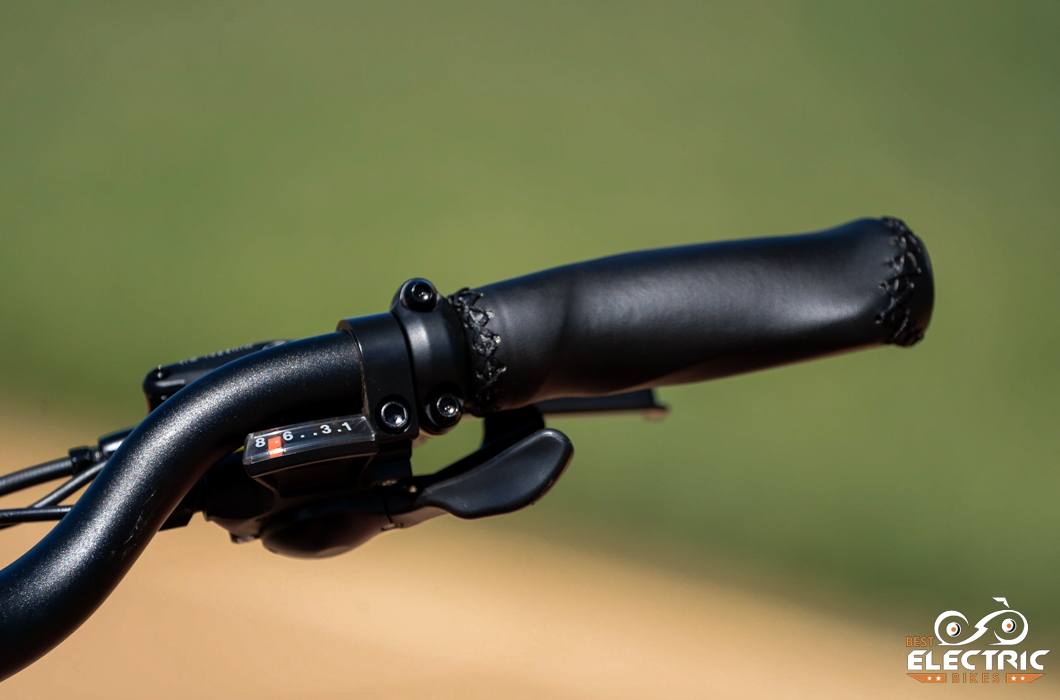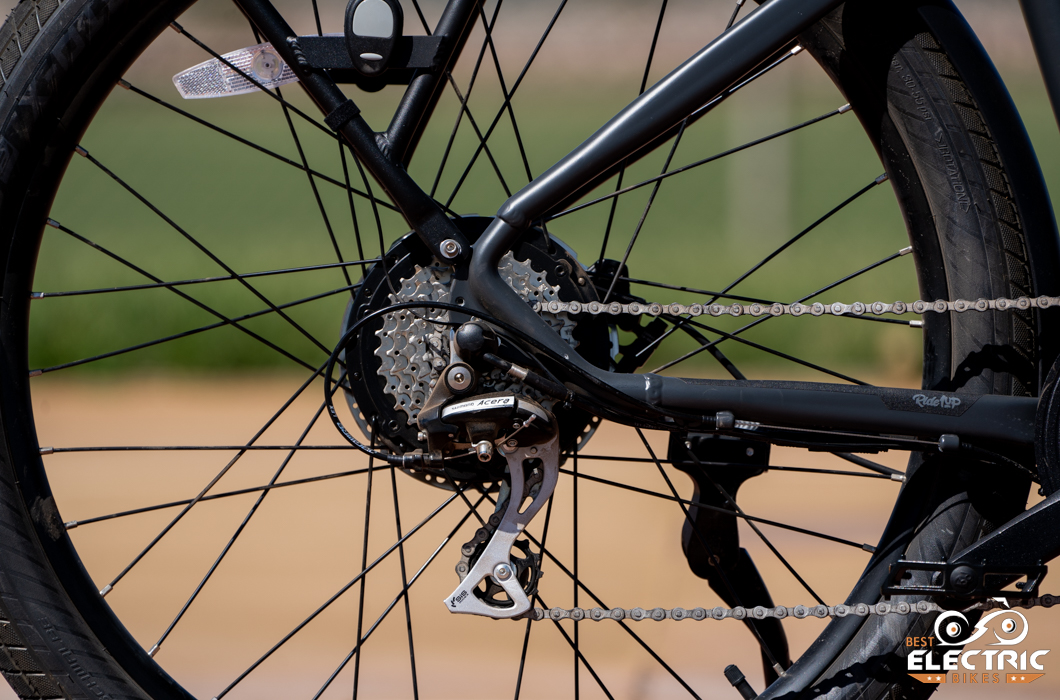 E-Bike Category: Commuter
Who the Ride1UP 700 Electric Bike Is For:
People riding more than a few miles to work
Ride1UP 700 Review Ratings:
***All ratings are relative to e-bikes of a similar style and price point***
| | |
| --- | --- |
| Speed/Acceleration | |
| Hill Climbing | |
| Battery Range | |
| Braking | |
| Construction Quality | |
| Handling | |
| Included Accessories | |
| Warranty & Customer Service | |
| Value | |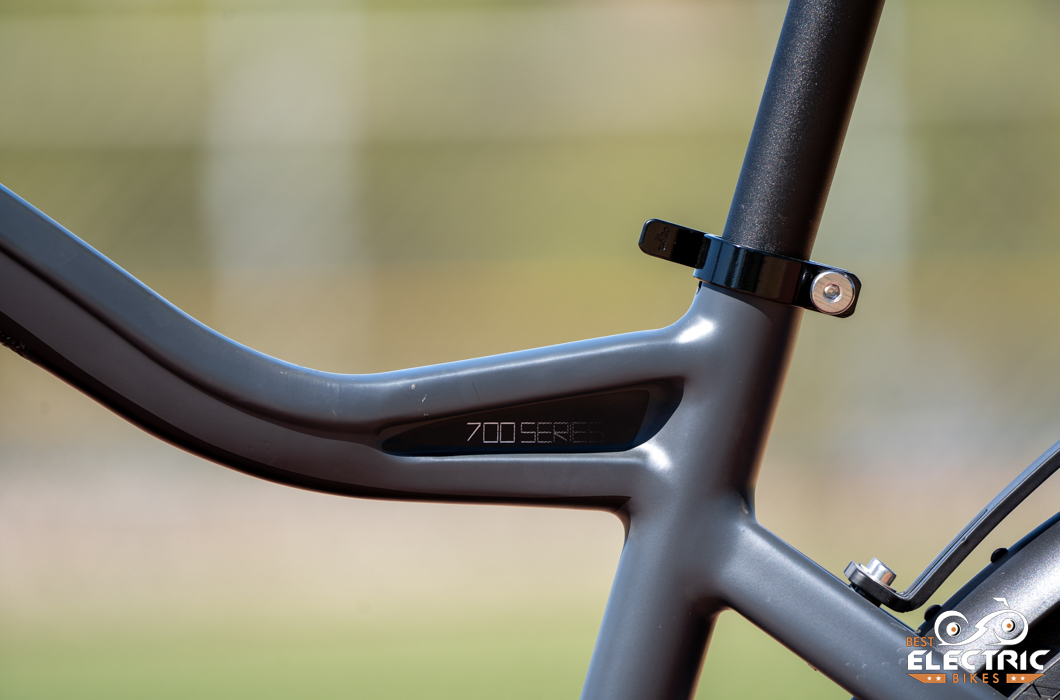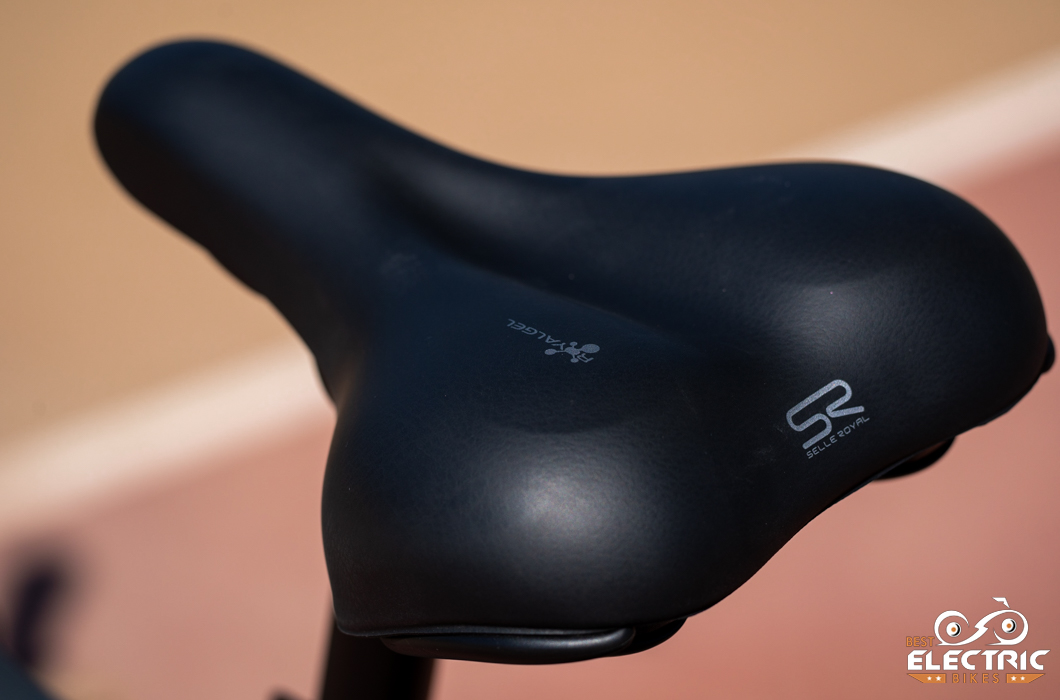 Ride1UP 700 E-Bike Specs
Battery: 48V, 9.6Ah
Expected Range: 20-45 mi.
Charger:
Motor: 500W brushless geared hub motor
Pedal Assist: Levels 1-5
Throttle: Half-twist throttle
Display: Backlit LCD
Headlight: Included
Taillight: Included
Frame: 6061 alloy
Fork: 80mm air/oil suspension
Fenders: Full coverage front and rear
Kickstand: Included
Handlebars: Hi-rise, 630mm
Grips: Ergonomic, hard plastic/rubber compound
Drivetrain: 7-speed Shimano Tourney
Brakes: Tektro mechanical disc, 160mm rotors
Pedals: Alloy, folding
Saddle: Lectric branded cushion saddle
Tires: 20 x 3.0-in. CST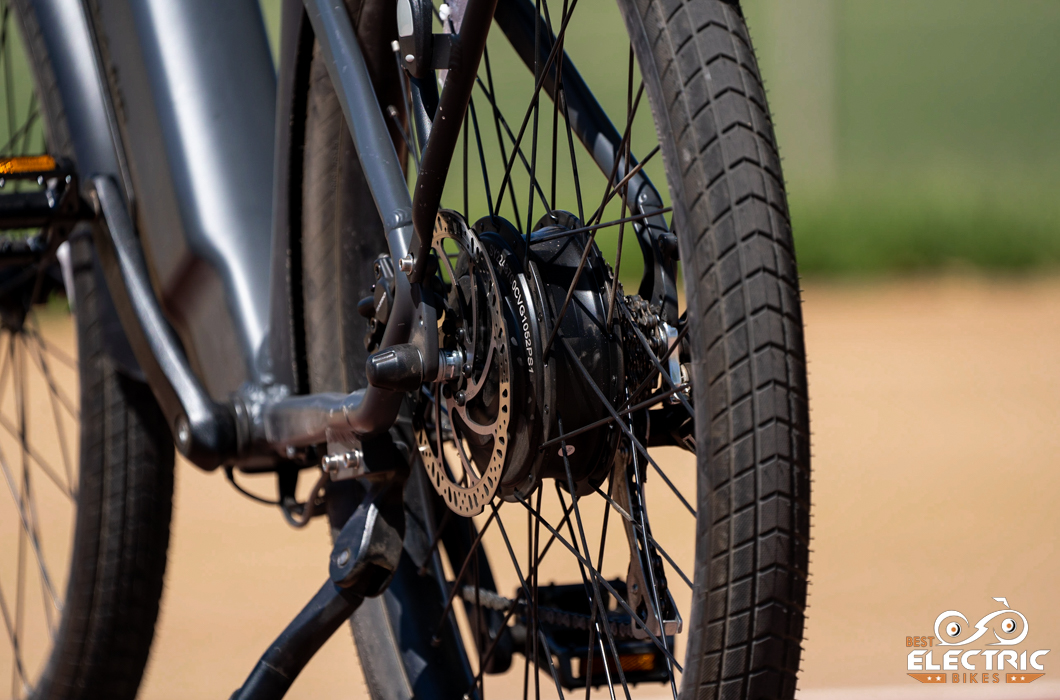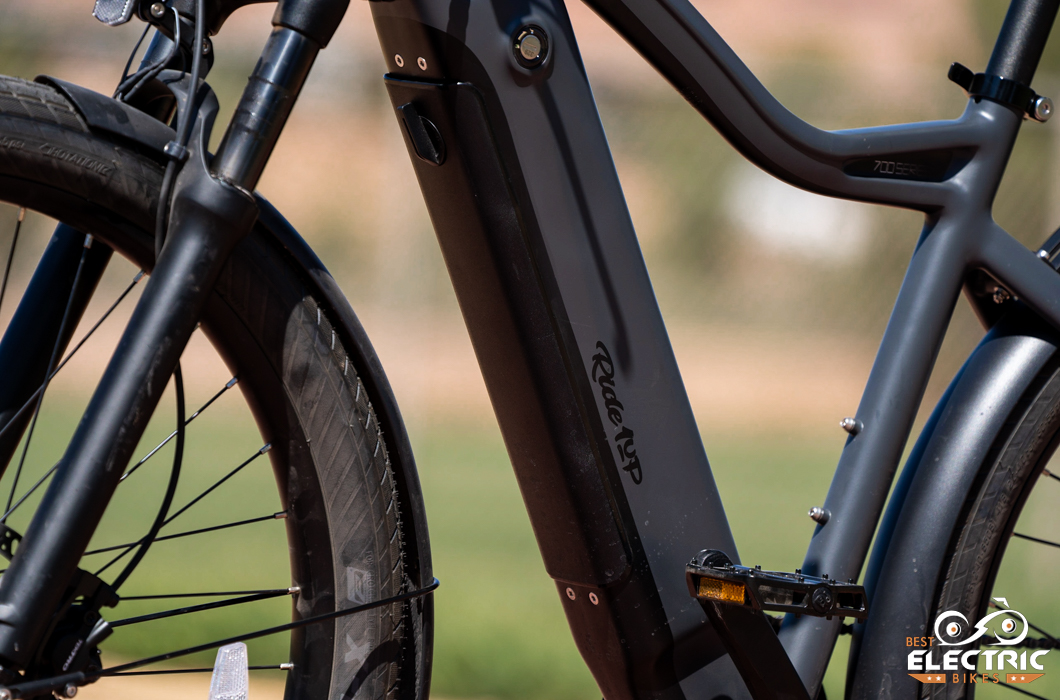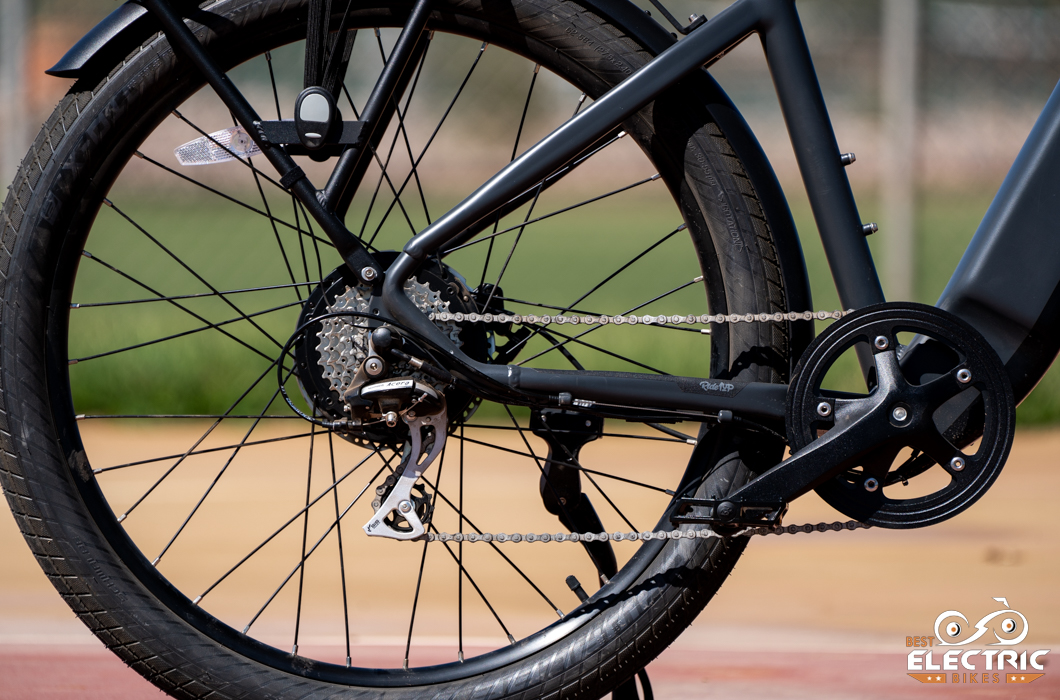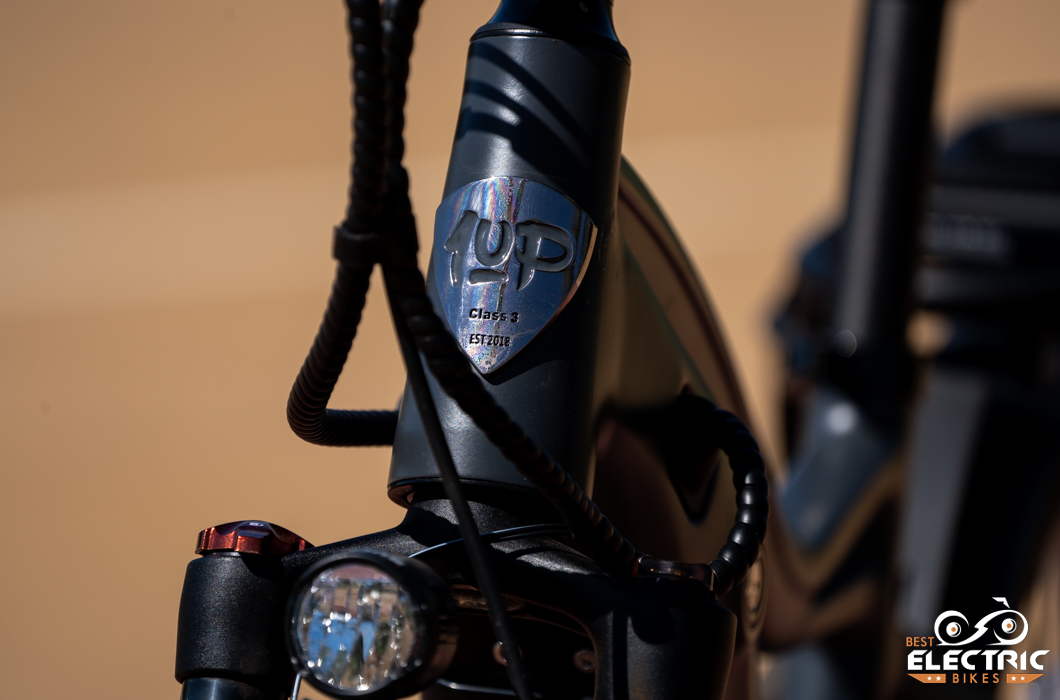 In-Depth Ride1UP 700 Review
Ride1UP 700: Comfort, Handling, and Ride Qualities
The Ride1UP 700 is an intelligent and price-conscious take on a commuter. One detail we see on a number of e-bikes meant for commuting is a knobby mountain bike tire. It's a silly choice. The tire doesn't roll as efficiently as one meant for the road and the knobs create a buzzing feel at the handlebar that is a pointless disruption to a rider's comfort. The 700 specs the Schwalbe Super Moto 27.5 x 2.4-inch tire. It's a nearly treadless tire wide enough to offer terrific traction and still smooth rough roads.
An important, but often overlooked, aspect of making an e-bike handle well is making sure there is some weight on the front wheel. A rider need not be bent over like a Tour de France rider to weight a bike well, but what it does mean is not sitting bolt upright. Shifting some of the rider's weight onto the front wheel calms the bike's handling and improves traction in turns.
The 700 comes in two frame styles, traditional and step-thru; the traditional frame has a standover height of 29.5-in. which means anyone shorter than about 5-feet-9 will struggle to fit on this frame, and at that height, the handlebar won't be at chin height, giving the e-bike better weight distribution. The step-thru frame has a standover of just 17-in., making it an option for far more people, with the lower limit being 5-feet-0.
A Class 3 commuter is an e-bike that needs to be calm at speed; a speed wobble at 28 mph is no one's idea of fun. The 700 possesses a relaxed demeanor, but when in a more urban setting, its handling isn't so lazy as to make it difficult to steer around pedestrians, strollers and cars.
Ride1UP 700 Review: Motor, Battery, and Drivetrain Performance
One of the realities of e-bikes is that more claim that they have a Class 3 top speed of 28 mph than can actually achieve said speed. So why wouldn't a Class 3 e-bike be able to hit its max speed? Simple: gearing. There are a number of electric bikes out there with decent motors but a relatively small top gear. Part of this comes from smaller wheels: a bike with 26-in. or 20-in. wheels needs a bigger gear than bikes with 27.5-in. or 700C wheels. The alternative to a taller gear is to simply pedal faster, but most of us pedal nothing like the churn of an electric motor.
The 700 sports a 750W brushless hub motor, giving it plenty of power to hit that max speed. However, because only produces 60Nm of torque, it struggles on hills. Were this a mid-drive motor, 60Nm would be plenty, but with the motor at the rear hub, more torque is necessary to perform well uphill.
The 672Wh battery has the necessary charge to power the 750W motor and achieve notable range. Electricbikereport.com found that the 700 covered 28 mi. in PAS 5 and 45 mi. in PAS 1. It's worth noting that plenty of electric bikes with five PAS levels don't offer any notable assistance in PAS 1, rendering them more like four levels, but the 700 has a PAS 1 that provides a noticeable boost.
While many competing e-bikes we've reviewed in this price range go with a 7-speed drivetrain, Ride1UP equipped the 700 with an 8-speed drivetrain. Not only does that give the bike a wider gear range with a higher top gear, the rear hub is different and uses a design that moves the bearings in the hub farther apart to better support the axle, creating a stronger rear wheel. The Shimano Acera components are arguably one of the smoothest shifting drivetrains available in this price range.
Ride1UP 700 Review: Braking, Safety, Customer Service & Warranty
Another place where the Ride1UP 700 proves its value is with its brakes. While many electric bikes in this price range have mechanical discs, the 700 is equipped with Tektro hydraulic discs with 180mm rotors. This is a terrific choice for an e-bike that really can go 28 mph.
The 700 is one of those rare e-bikes where, given its $1695 price tag, there are very few opportunities to criticize the bike, and certainly none as regards safety. The brakes are certainly up to the task, the tires are puncture resistant and the bike comes with front and rear lights. To expect more would mean wanting an airbag.
As for the company's customer service and warranty, a customer's review of the 700 paints a picture: In it, the customer noted that a brake lever was damaged in shipping. They'd decided to have the bike assembled at a bike shop (a move we recommend) and the shop installed the new lever, which was shipped for free. Both easy and peasy.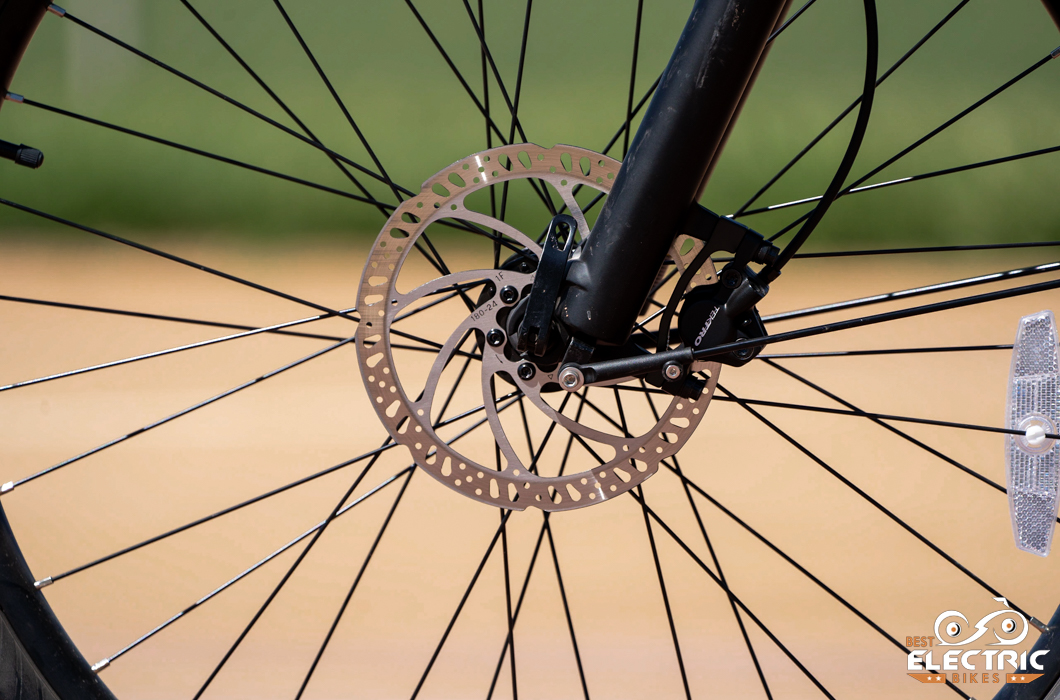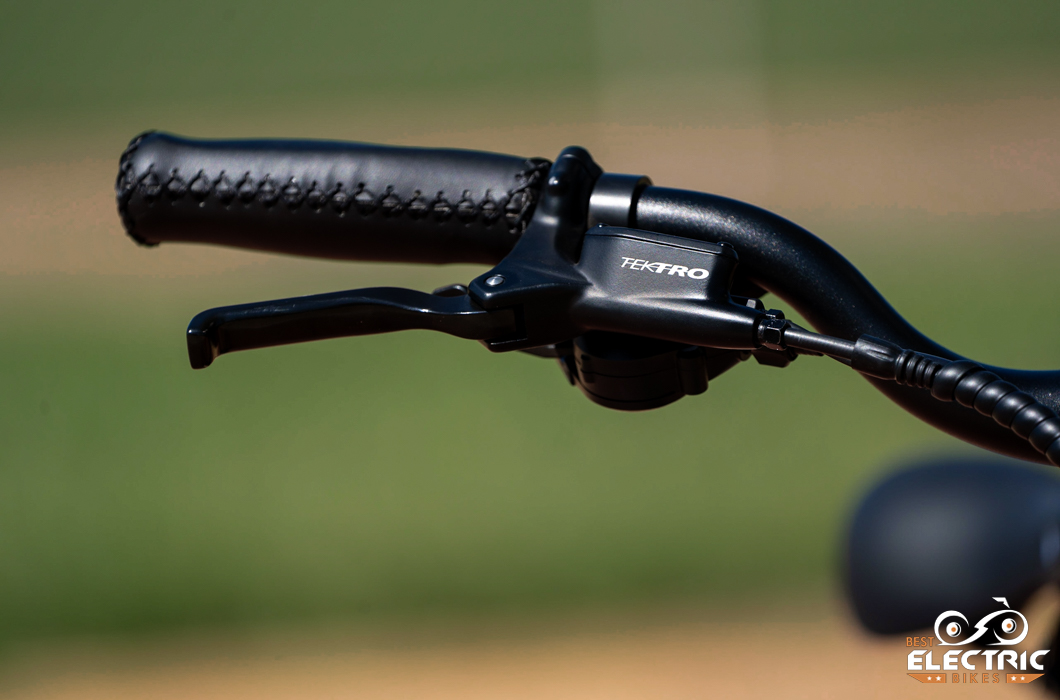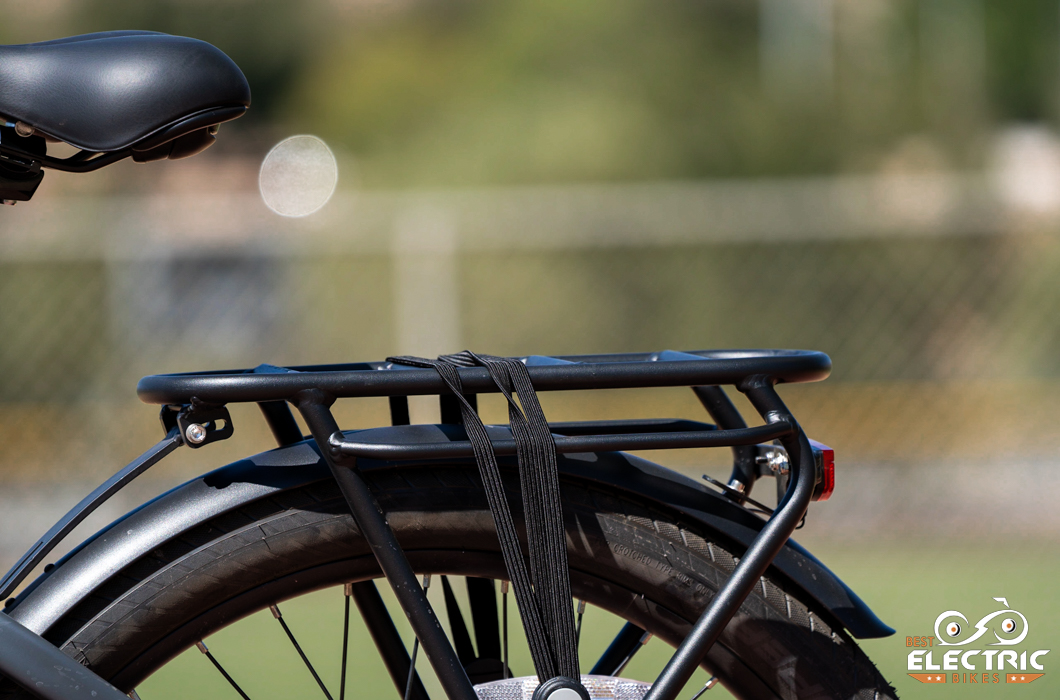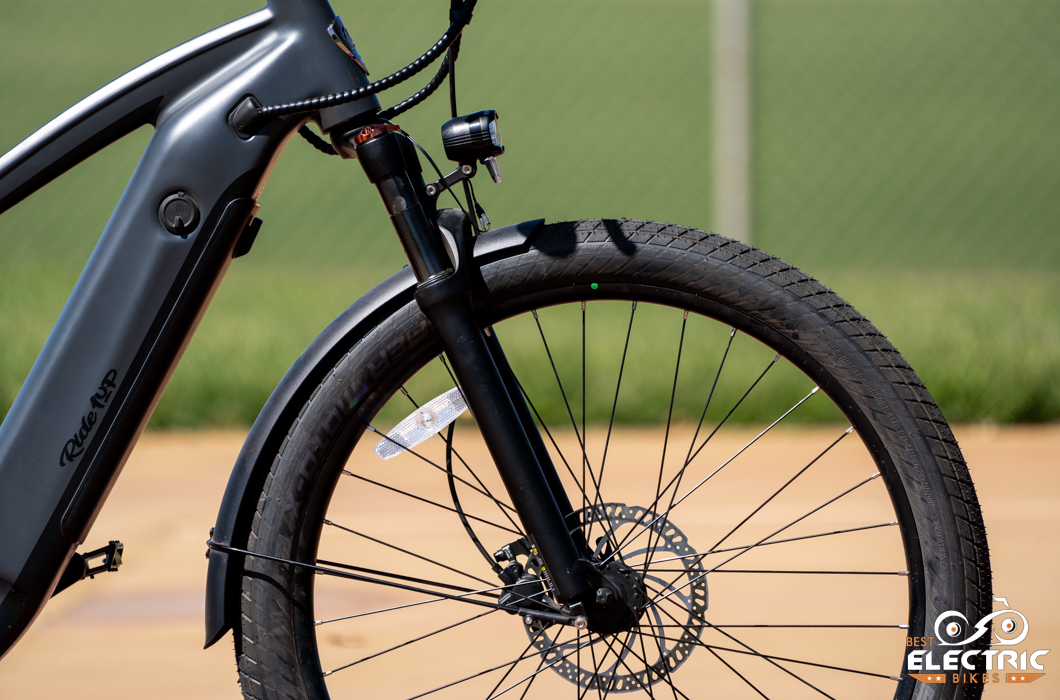 Ride1UP 700 Review: Recommendation/Final Verdict
There are things in this world that are easy to love: apple pie, Buggs Bunny cartoons, a sunny spring day. The Ride1UP 700 is almost too easy to love. Its balance of terrific features, powerful motor, substantial battery and surprising price make this e-bike as easy to recommend as bike riding itself.
A commuter e-bike is a fairly specific kind of bike. Sure, it can be ridden for recreation, but it's meant to be transportation. As a result, most commuter e-bikes aren't especially exciting. However, the Ride1UP 700 is a commuter that delivers so thoroughly in terms of value, this is a commuter worth getting excited about.
Given the price, the frame, suspension fork, drivetrain and brakes are beyond reproach. The power of the motor is also impressive given its price point. The only serious criticism we have of this bike is the amount of torque it puts out. A bike this good in every other respect should seemingly be able to take in hills without faltering. But again, this bike is $1695 and it already so over-delivers in value that to ask more of it is borderline unreasonable.
Add a couple of panniers and some rain gear and this e-bike could be a year-round solution. As long as gas is north of $5/gal. electric bikes like the Ride1UP 700 will present a hard-to-ignore alternative to putting a Ben Franklin in the gas tank.
Thank you for reading through our review of the Ride1UP 700 Series! Still have further questions? Wondering how it compares to a similar bike? Leave us a question in the comments below and the team at BestElectricBikes.com will answer!