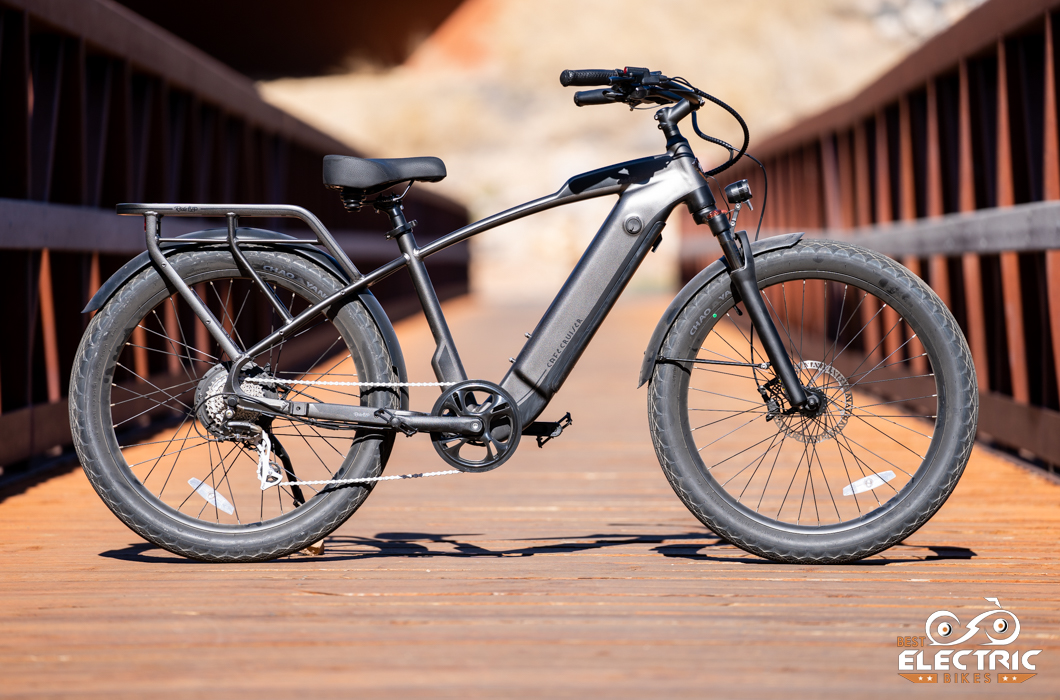 Ride1Up Cafe Cruiser Review: Intro
It's impossible to find one e-bike that can do everything. However, it's possible to find an e-bike that does a few things well. The Ride1UP Cafe Cruiser is an e-bike that defies the cruiser stereotype. Sure, this is an e-bike that is terrific for cruising the neighborhood, but it can do so much more. In our Ride1UP Cafe Cruiser review we will look at what sets this e-bike apart from other cruisers.
For starters, we love the look and frame design of the Ride1UP Cafe Cruiser. Rather than using a more traditional cruiser-style frame, Ride1UP created a stylish design that will draw eyeballs, and its proportions allow the battery to be concealed in the frame without it looking oversized.
The single greatest distinction between this cruiser and others like it is that the Ride1UP Cafe Cruiser was built to be a Class 3 e-bike with a maximum speed of 28 mph. The differences don't end there. Its rear rack is welded to the frame and thanks to a 350-lb. weight capacity, this is one cruiser that can handle carrying everything someone needs to commute to work as well as picking up a load of groceries on the way home.
What makes the Ride1UP Cafe Cruiser interesting doesn't end there. It features a parts selection that is upscale for an e-bike in this price range, including an 8-speed drivetrain, suspension fork and a rear rack that is welded to the frame rather than bolted to it.
Let's dig into the Ride1UP Cafe Cruiser and see how it stacks up.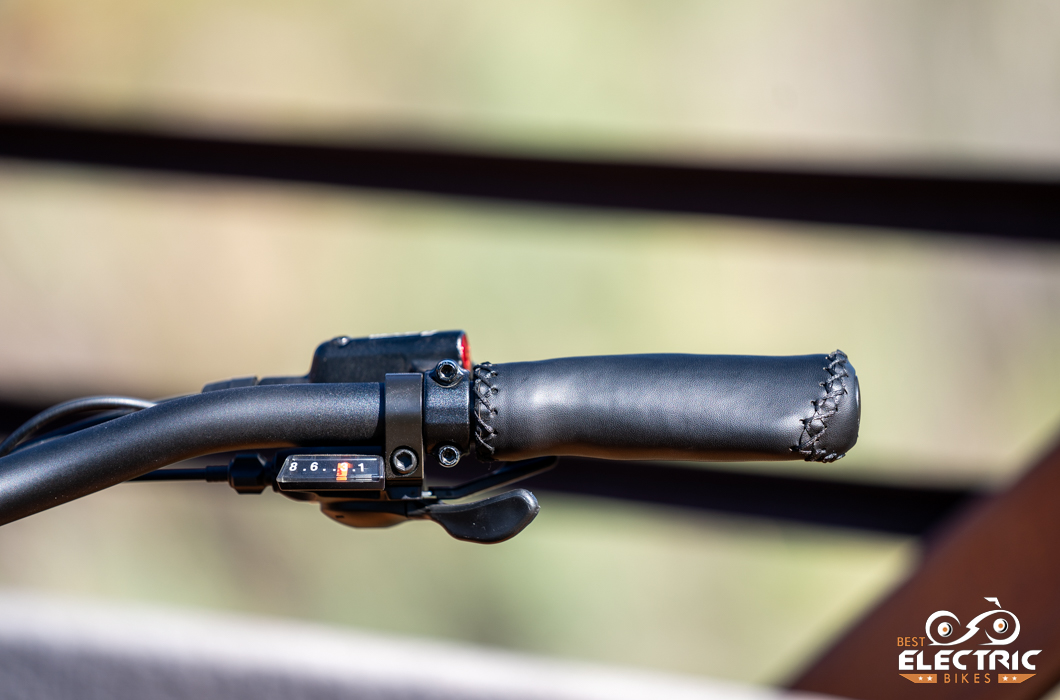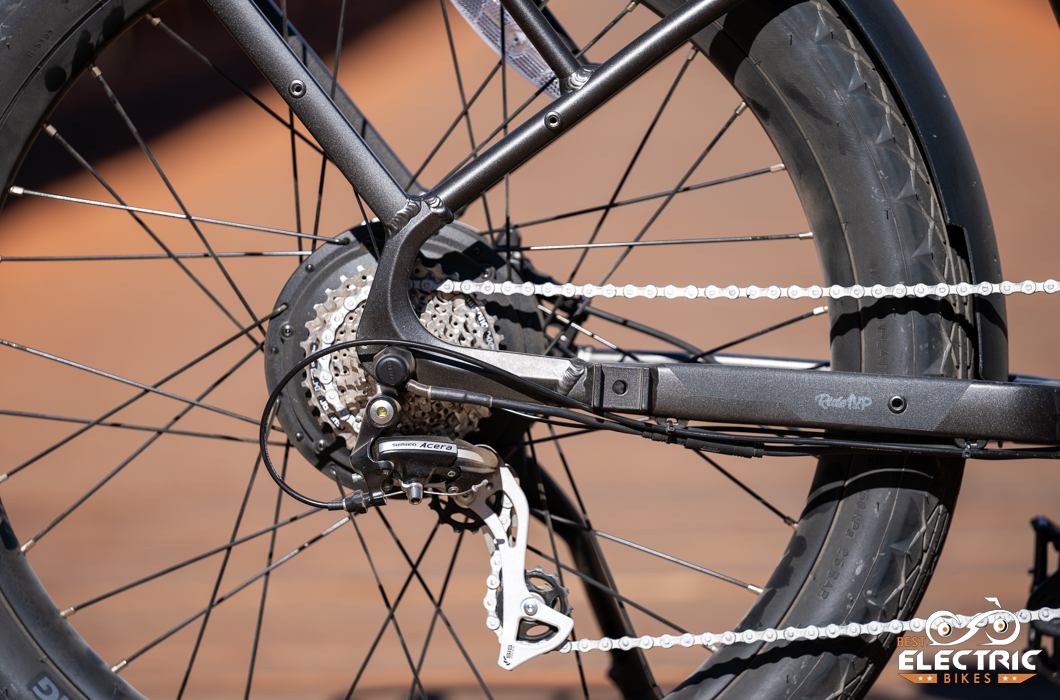 E-Bike Category: Cruiser
Who The Ride1UP Cafe Cruiser Electric Bike Is For:
The Ride1UP Cafe Cruiser gives riders the upright and comfortable position of a cruiser, the functionality of a commuter and the top speed of a Class 3 e-bike.
Ride1Up Cafe Cruiser Review Ratings:
***All ratings are relative to e-bikes of a similar style and price point***
| | |
| --- | --- |
| Speed/Acceleration | |
| Hill Climbing | |
| Battery Range | |
| Braking | |
| Construction Quality | |
| Handling | |
| Included Accessories | |
| Warranty & Customer Service | |
| Value | |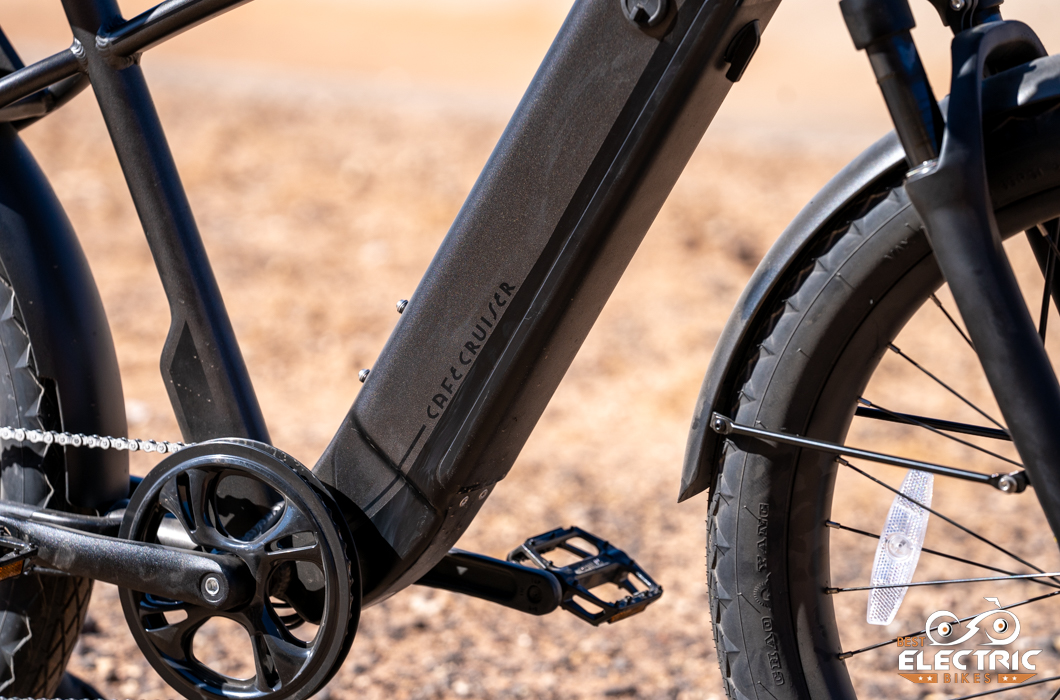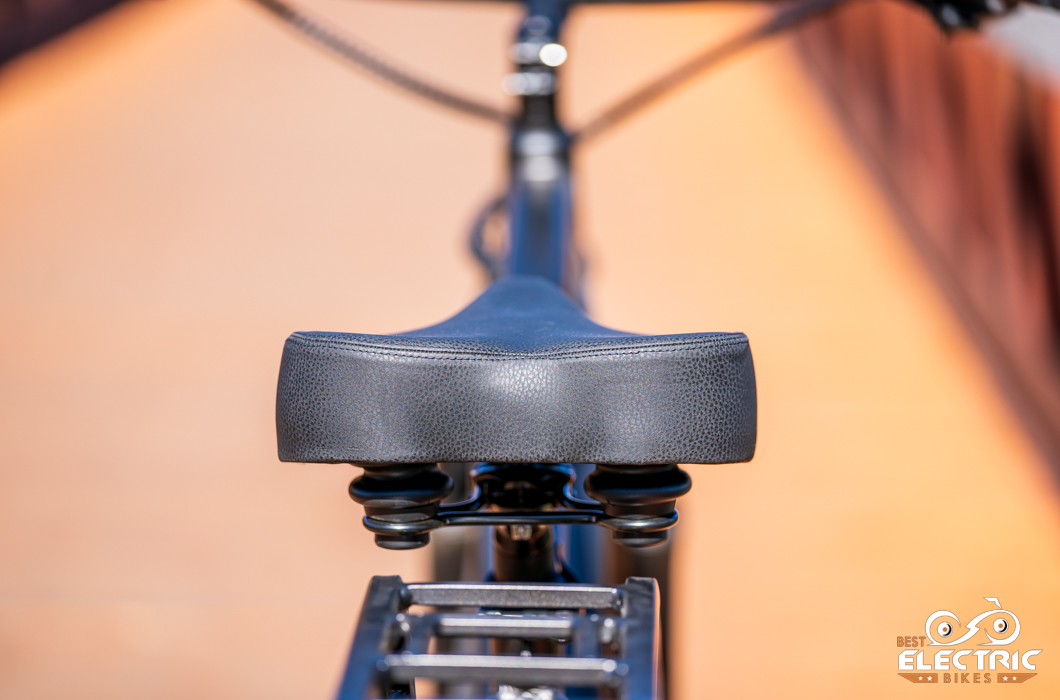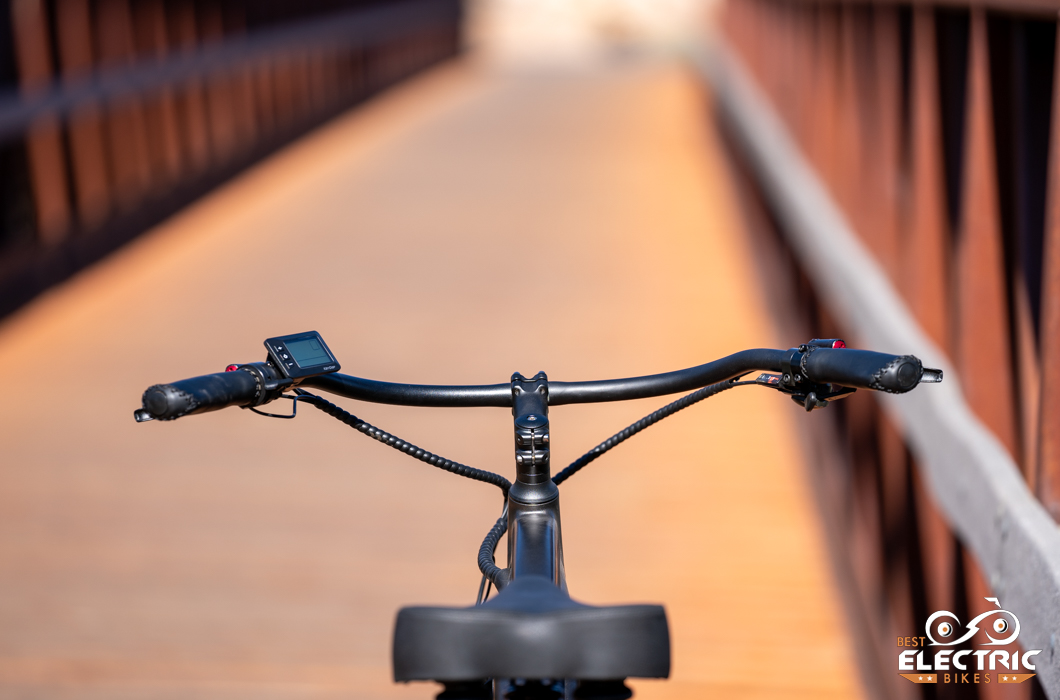 Ride1UP Cafe Cruiser E-Bike Specs
Battery: 48V, 720Wh Samsung
Expected Range: Up to 50 mi., estimated
Charger: 48V, 2A
Motor: 750W brushless Bafang hub motor
Pedal Assist: 0-5, cadence sensor
Throttle: left side thumb throttle
Display: LCD
Headlight: Buchel 50 Lux
Taillight: Velo Edge
Frame: 6061 aluminum
Fork: Amazon air/oil suspension fork w/80mm travel
Fenders: alloy, front and rear
Kickstand: included
Handlebars: Zoom 25.4mm 50mm rise, 40° sweep
Grips: Velo, faux leather, ergonomic
Drivetrain: Shimano Acera 8-speed
Brakes: Zoom hydraulic disc with 180mm rotors
Pedals: Wellgo, alloy
Saddle: Plush cruiser
Tires: Chaoyang Sandstorm, 26 x 3 in.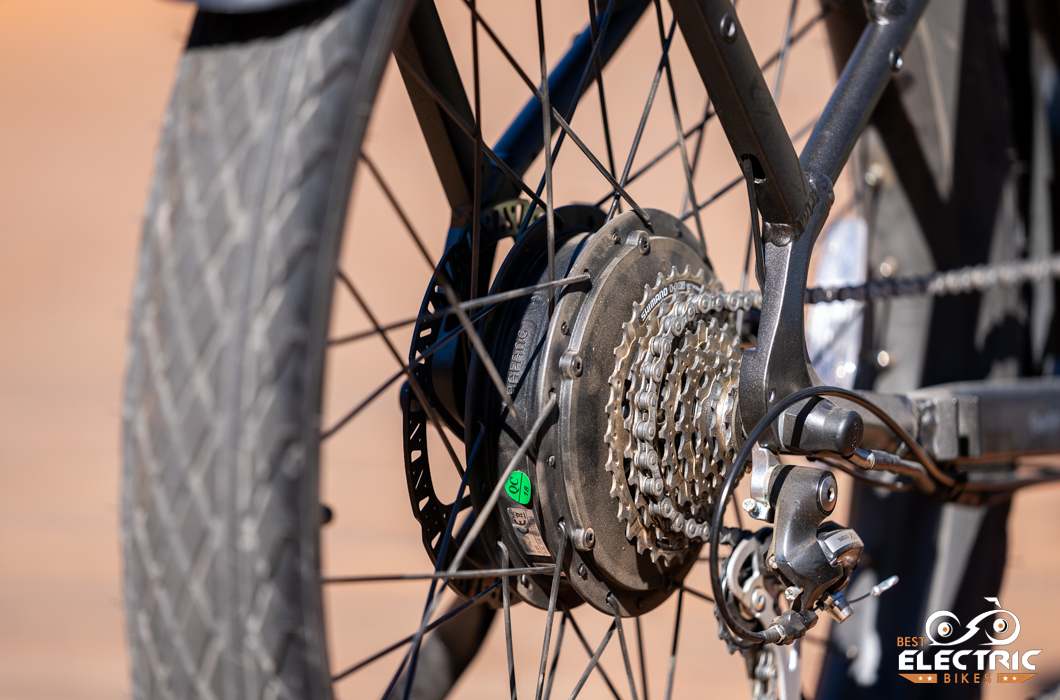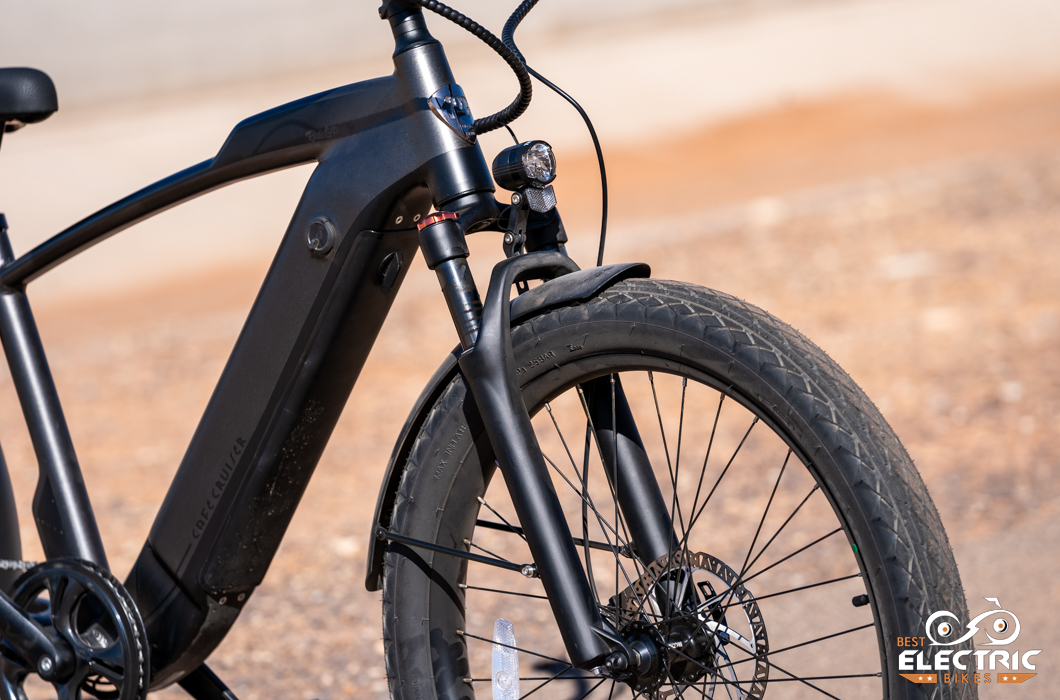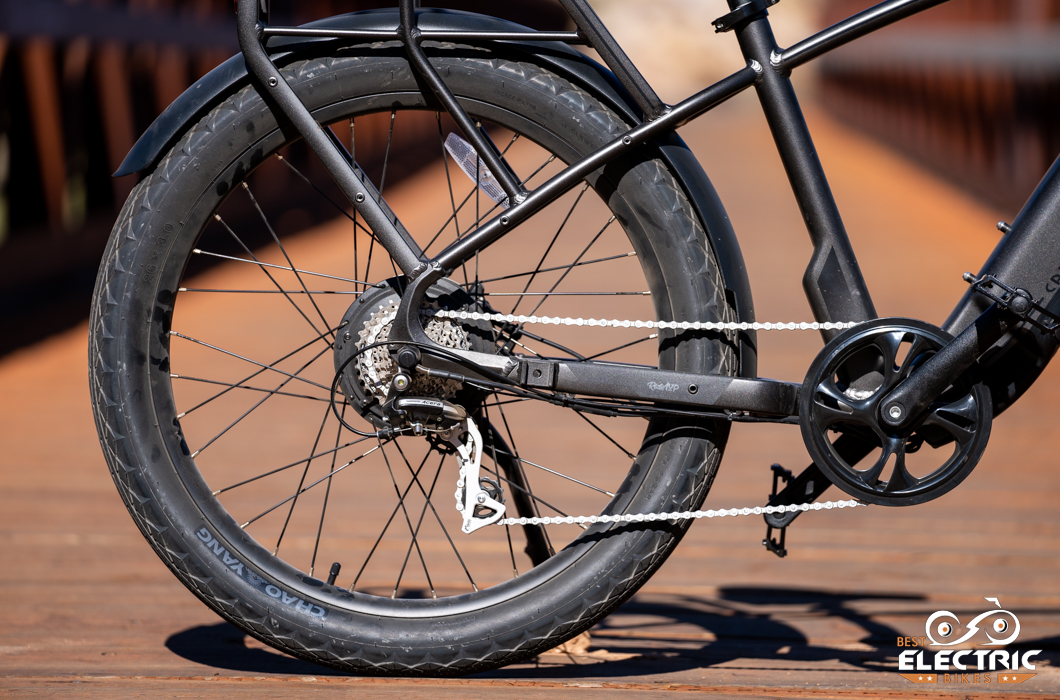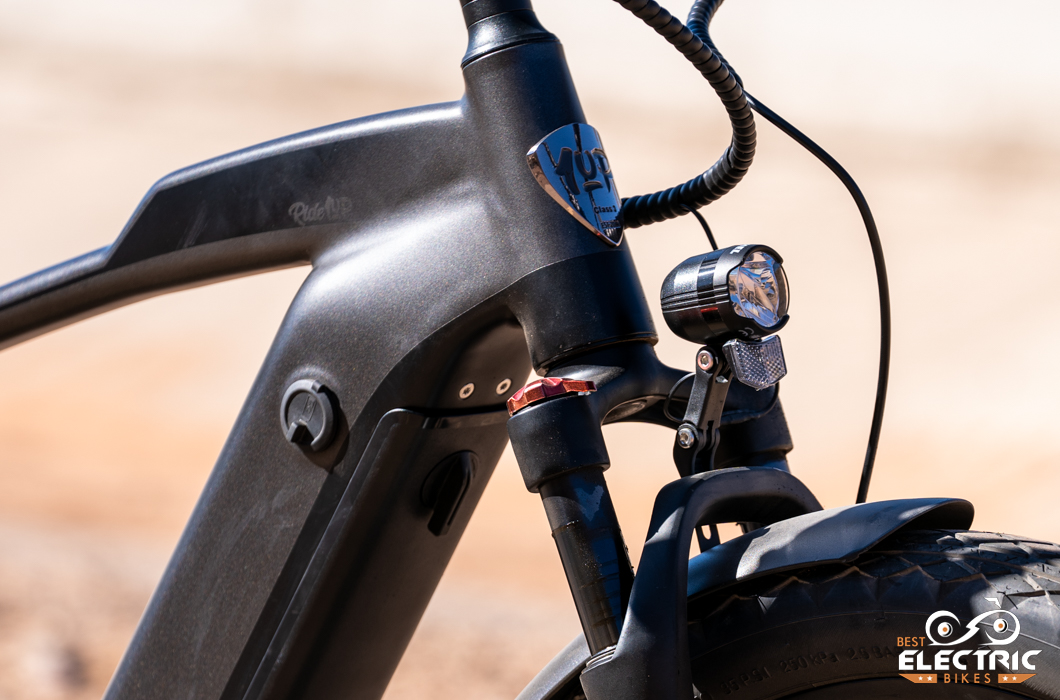 In-Depth Ride1UP Cafe Cruiser Review
Ride1UP Cafe Cruiser Review: Comfort, Handling, and Ride Qualities
With its back-swept bar, laid-back position, suspension fork and wide tires, the Ride1UP Cafe Cruiser has the feel and handling of a cruiser. The handling is gentle and relaxed and that relaxed feeling is reinforced by the cushy saddle, 3-in.-wide tires and 80mm-travel suspension fork. This is the sort of bike that could make a ride on a rough road feel like glass.
Riders who might want to soften the ride of the Cafe Cruiser further by adding wider tires than the Chaoyang Sandstorms will be limited by the width of the fork and chainstays, as well as clearance with the fenders. Tire pressure will be the best way to dial comfort.
The Ride1UP Cafe Cruiser comes in two different frame designs—a traditional frame and a step-thru design. The sizing guidelines they give (5 feet 5 inches to 6 feet 4 inches) are pretty realistic; riders with short inseams should consider the standover height of the step-thru frame (22.5 in.) before making a purchase, though.
Cruisers typically have very relaxed handling, which makes them ideal for riding where sightseeing is part of the draw. They are also terrific for people who want to avoid having to lean over much when riding. Whether the issue is a stiff back or neck or something else, cruisers encourage a very upright riding position, which also makes it easier to look around and see what traffic is doing, be it the cars on the street or other bikes, strollers, dogs and scooters on a bike path.
For anyone who might be tempted to go for the Lexus sedan rather than something sporty like a BMW coupe, the Ride1UP Cafe Cruiser is a terrific choice.
Ride1UP Cafe Cruiser Review: Motor, Battery, and Drivetrain Performance
The Ride1UP Cafe Cruiser is equipped with a 750W Bafang brushless, geared hub motor that produces 60Nm of torque. This is a reasonably powerful motor that will propel the bike (and rider) up to its Class 3 maximum speed of 28 mph. It has enough torque to climb most hills.
Our colleagues at Electric Bike Report tested its climbing ability and found it to be convincing on substantial hills in PAS 5, but not quite so motivated when ridden on just throttle alone. This e-bike needs at least some help on those biggest hills.
The Samsung battery provides a charge of 720Wh, which can translate to as much as 50 mi. range. Electric Bike Report found that the Ride1UP Cafe Cruiser came up a bit short on range as compared to Ride1UP's estimates. They covered 26 mi. (rather than 30) and 45 mi. (instead of 50), and while those numbers are less than what Ride1UP projects, they are still solid.
Any time we review a Class 3 e-bike, we like to see a more robust drivetrain. While on lower-end drivetrains our big concern is usually gearing to help a rider make it up a hill, with Class 3 e-bikes the issue is having a high gear that will allow a rider to reach 28 mph without turning the pedals like a hamster on a treadmill. The Shimano Acera 8-speed drivetrain has a high gear of 46 x 11, which is high enough to allow a rider to accelerate up to cruising speed and stay there. And because it's an 8-speed drivetrain, it has a range broader than we see on 7-speed drivetrains, so it will offer a bit more help on hills, too. We also like the trigger shifter found on the Shimano Acera better than any shifter on any of the 7-speed systems.
Ride1UP Cafe Cruiser Review: Braking, Safety, Customer Service & Warranty
The Zoom hydraulic disc brakes spec'd on the Ride1UP Cafe Cruiser come with an electronic motor cutoff switch and do a remarkable job of providing enough power to bring this e-bike to a stop, in part, thanks to 180mm rotors. Brakes do more in controlling an e-bike than bring it to a stop. Modulating speed, like when a rider slows for a turn, is an important function of the brakes, and hydraulic disc brakes give riders a finer sense of modulation and allow for a lighter touch at the brake levers. That fine control becomes more critical as speeds increase, which makes hydraulic discs just that much more necessary in a Class 3 e-bike that can propel a rider up to traffic speeds.
Safety concerns grow with Class 3 e-bikes. In addition to the superior control offered by hydraulic disc brakes, puncture-resistant tires provide an obvious measure of safety, as does the front suspension fork, by reducing the opportunity for bumps to send a rider off their line. Compared to the amount of travel we see on eMTBs and all-terrain e-bikes, 80mm isn't much, but the idea is that this is an e-bike meant for road riding, and bumps on the road are much smaller than the ones found on dirt roads and trails. Right-sizing the suspension to the terrain makes an e-bike's handling more predictable and consistent.
A one-year warranty covers all parts and labor, including the motor and battery, which is typical of e-bikes made by the direct-to-consumer brands not found in bike shops. On the customer service end, the reviews of the Cafe Cruiser on Ride1UP's site are very positive and comments about customer service are positive almost without exception.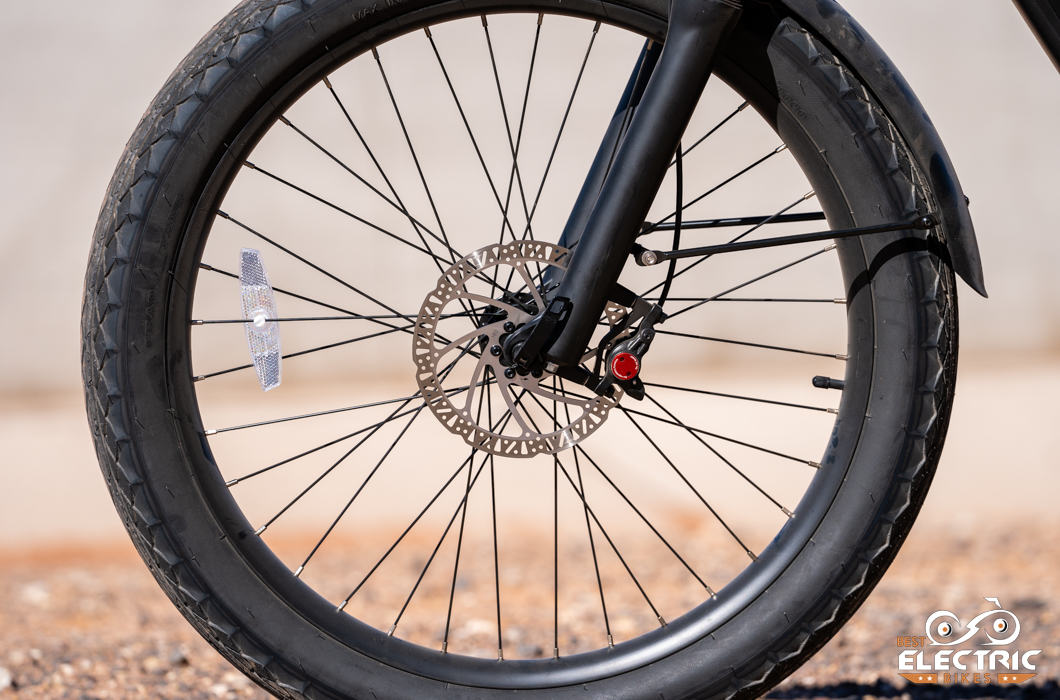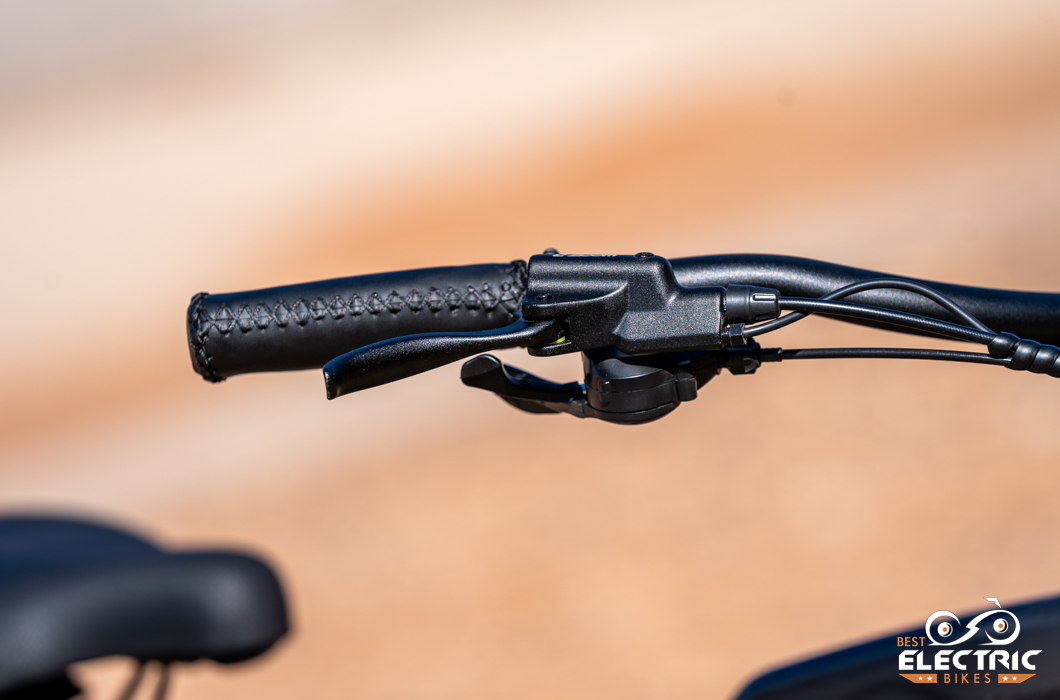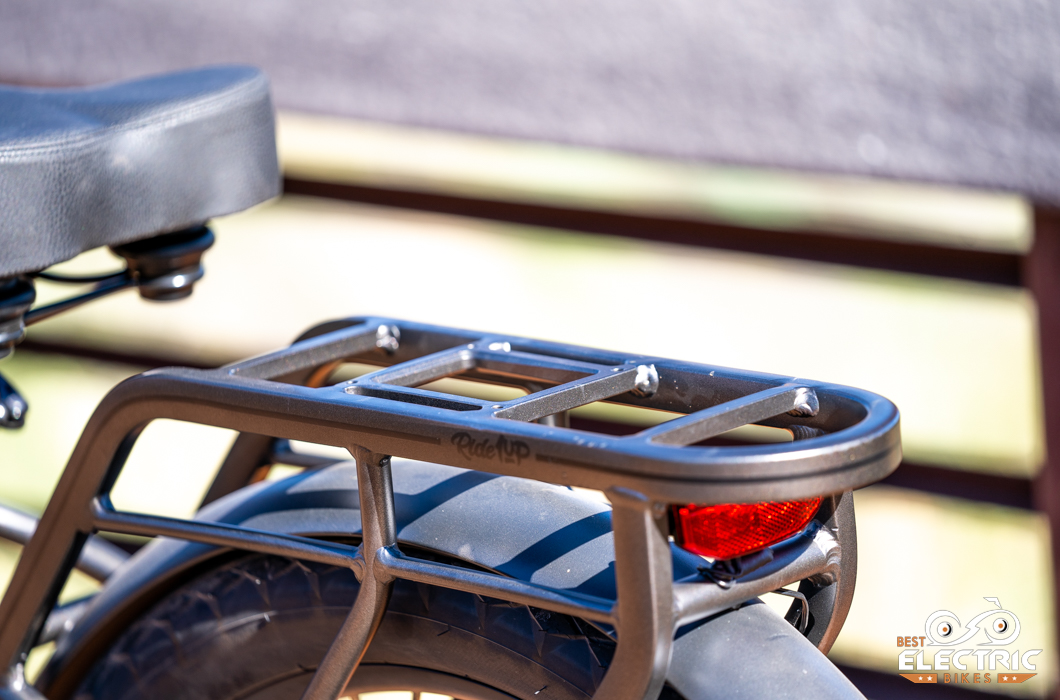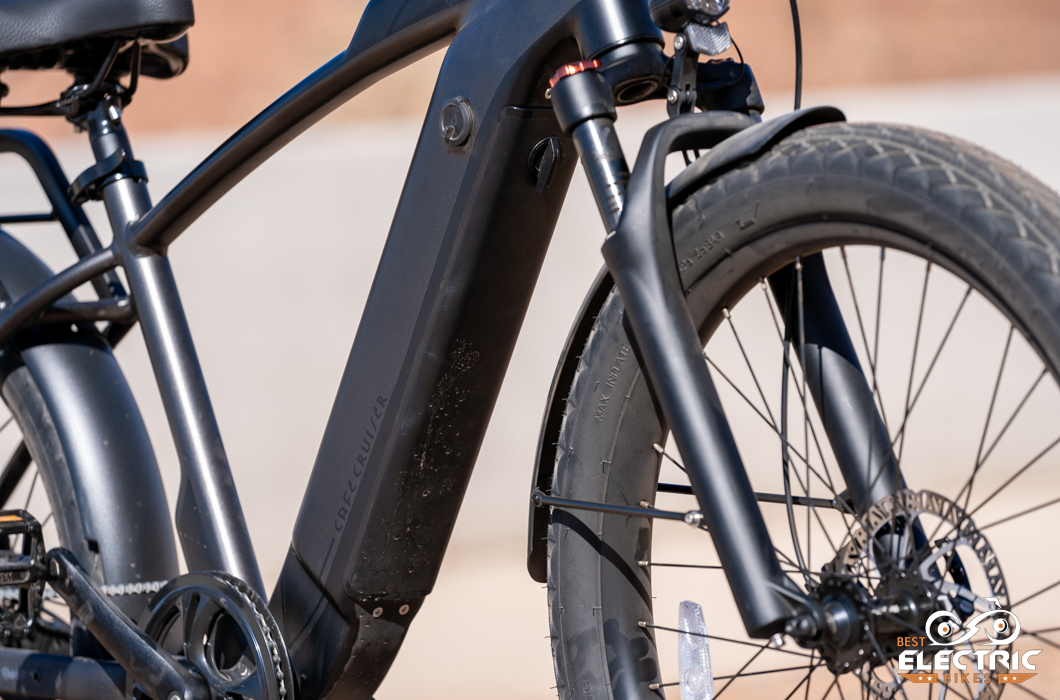 Ride1UP Cafe Cruiser Review: Recommendation/Final Verdict
Suburban life is different from city life in that the distances between everything not only makes walking impractical, it can even make riding a bike impractical. If the nearest store is a couple of miles away and work miles farther, parking the car and substituting an e-bike might be a challenge because covering that distance at less than 20 mph takes too long. This is where Class 3 e-bikes really make their value apparent. Often, the biggest gains aren't in speed, but in moving close enough to traffic speed that the rider stops for fewer lights; many cities time their lights to a speed of 23 mph. Class 3 e-bikes may be better suited to that pace than any other way of getting around.
The Ride1UP Cafe Cruiser gets our thumbs up because it's a bit like a greatest hits album. First, as a Class 3 e-bike, its 28 mph max speed makes commuting as fun as it is speedy. Second, this is a very stylish e-bike and walking up to this machine after a long day at work would make anyone smile. The cruiser position is undeniably comfortable; thanks to the back-swept bar, a rider can easily look around to check on traffic and take in the sights. Plus, it is well-equipped thanks to the 8-speed Shimano drivetrain and Zoom hydraulic disc brakes. We don't often see e-bikes retailing for less than $2000 with an 8-speed drivetrain.
Integrating the rear rack in the frame pays two dividends; not only does it make for a stronger rack, it makes for a stronger frame and with a 350-lb. weight capacity, it can easily carry a rider, their work essentials and a load of groceries from the market.
Standover height on their step-thru frame is high enough to make this e-bike a challenge for smaller riders; a design with a lower standover would be able to accommodate even more potential buyers.
On paper, this looks like a bike that would retail around the $2000 price point, but the Ride1UP Cafe Cruiser retails for substantially less. For anyone looking for an easy-riding commuter with something more, this is one e-bike well worth considering.
Thank you for reading through our review of the Ride1UP Cafe Cruiser. Still have further questions? Wondering how it compares to a similar bike? Leave us a question in the comments below and the team at BestElectricBikes.com will answer!