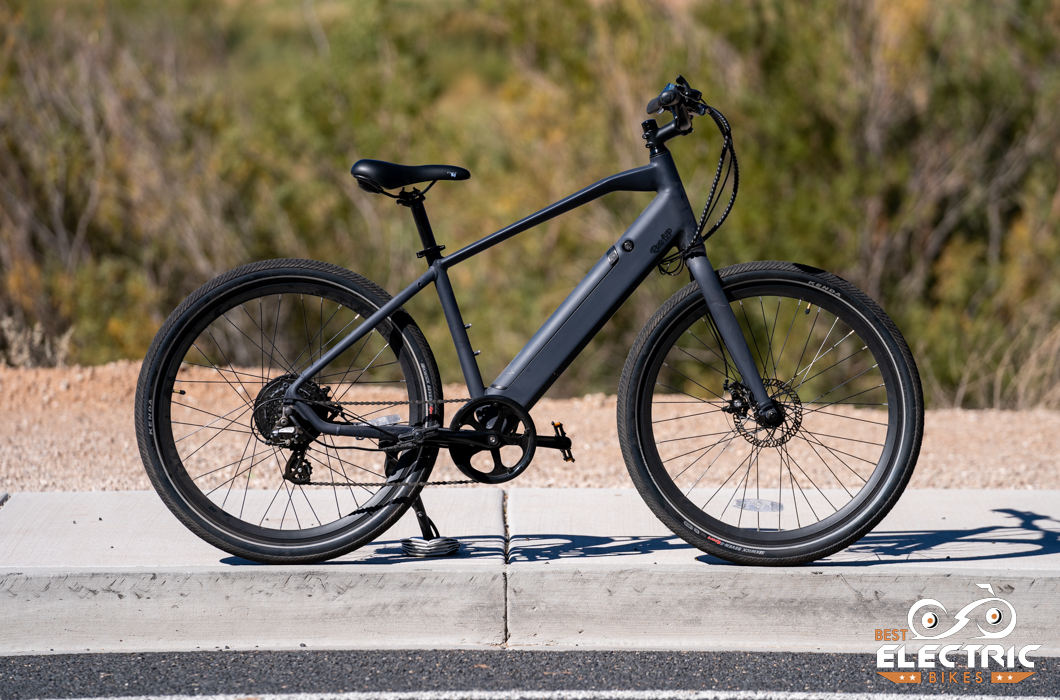 Ride1up Core-5 Review: Intro
Something we noted off the bat in our Ride1UP Core-5 review, and true for nearly every e-bike on the market is an expression of a particular set of priorities. Some give all the features and a super-sophisticated motor and run upwards of $4000. Some present the features that most people think are necessities but do so as affordably as possible in order to come in at less than $2000. The Ride1UP Core-5 defined yet another set of priorities that placed speed and handling ahead of extras like fenders, lights and a rack.
The result is an e-bike with an exceptionally zippy ride for its price tag of $1145. It's not often we review an e-bike that can go a Class 3 max speed of 28 mph for less than $1200, especially one that handles well.
Every time a company makes affordability a priority in an e-bike, the product manager is forced to either reduce (at minimum) or eliminate (at worst) a host of features. The Ride1UP Core-5 is a study in an alternate set of priorities. With so much emphasis being placed on speed, a 750W brushless hub motor became a necessity, but that meant eliminating items like fenders, lights and a rear rack. It also meant dialing back the battery capacity, which reduced the bike's range, but also decreased its weight; we'll discuss what an interesting trade that was later in our review of the Ride1UP Core-5.
For anyone inclined to buy an e-bike for speed and power and less concerned with bells, whistles and disc lights, the Ride1Up Core-5 is a very compelling bike.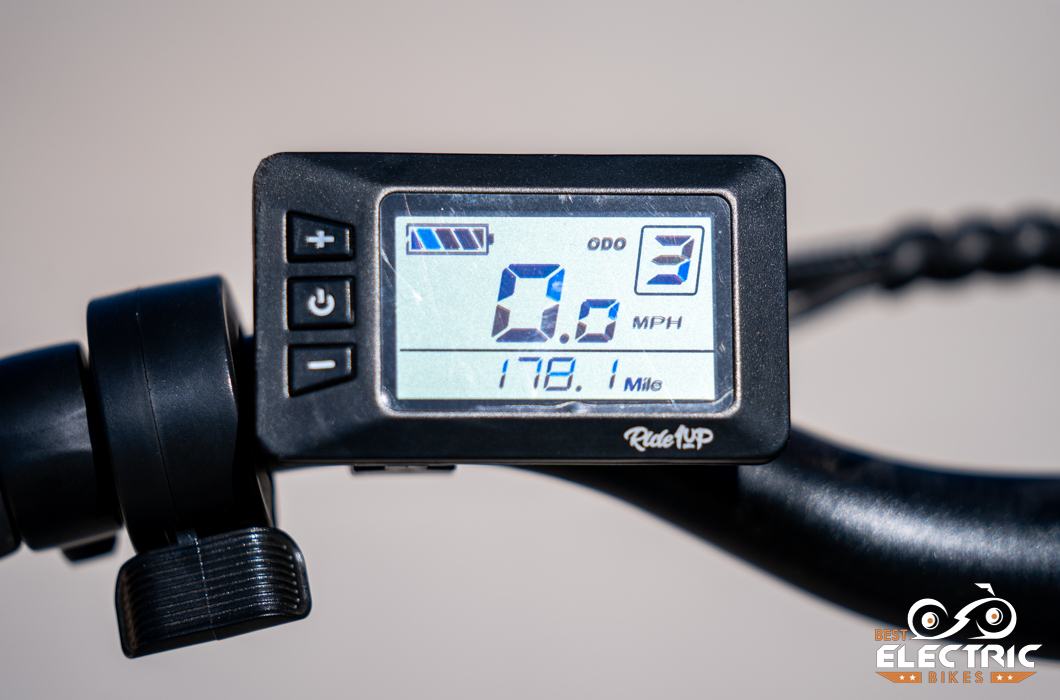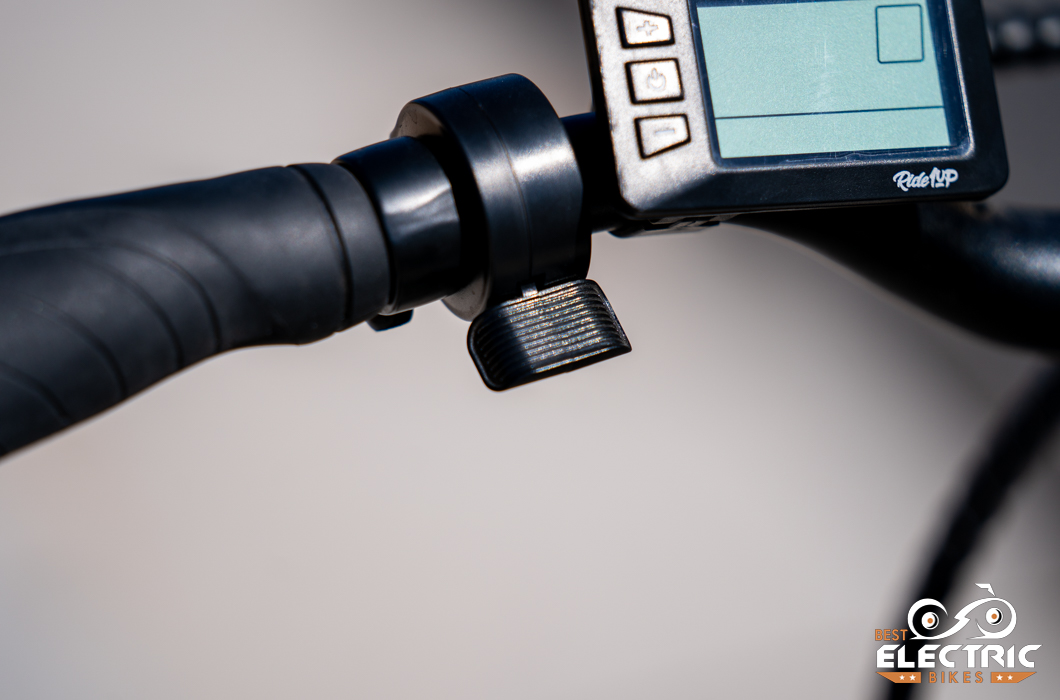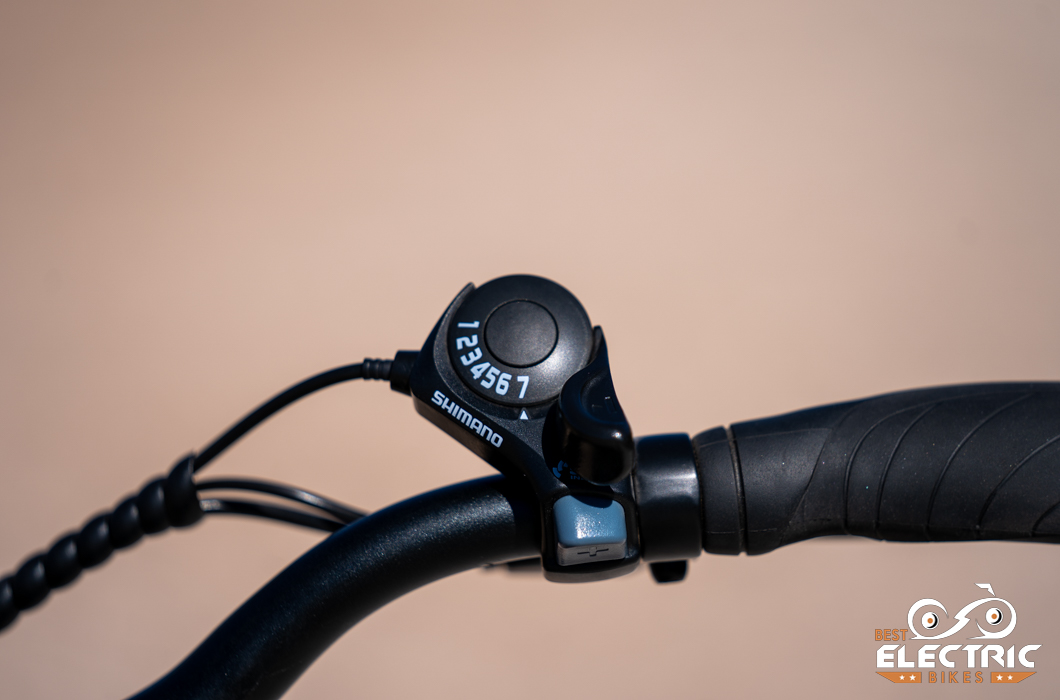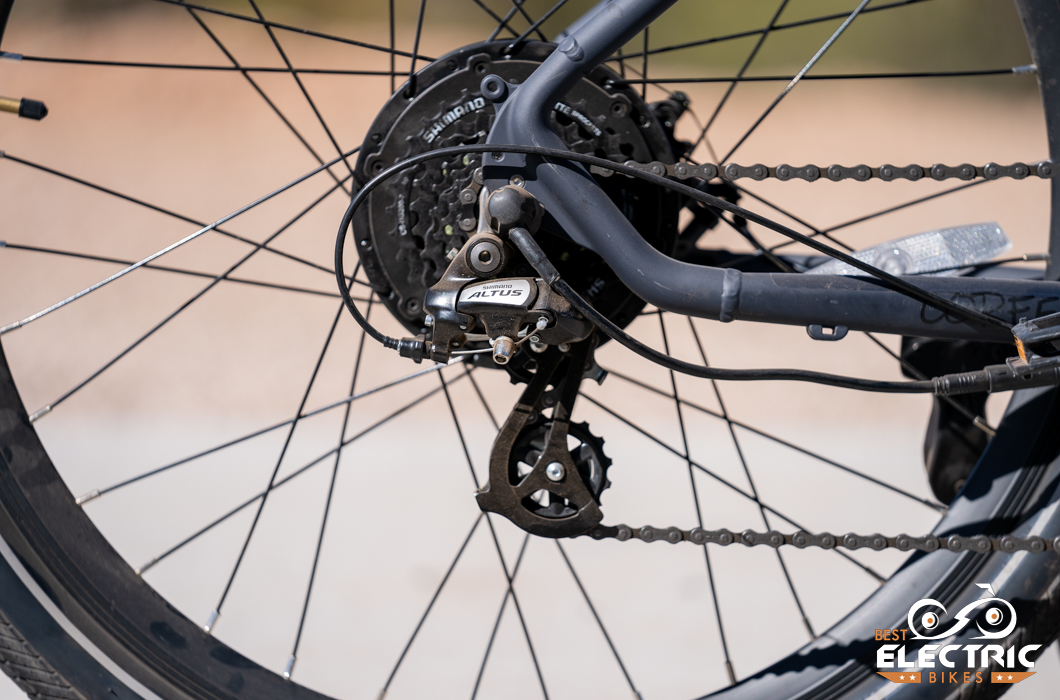 E-Bike Category: Commuter/Urban
Who the Ride1UP Core-5 Electric Bike Is For:
The Core-5 is an ideal bike for anyone who wants a bike that places speed and crisp handling ahead of utility and comfort. It's the bike for anyone who chooses low-profile tires and the sport suspension package for their car.
Ride1up Core-5 Review Ratings:
***All ratings are relative to e-bikes of a similar style and price point***
| | |
| --- | --- |
| Speed/Acceleration | |
| Hill Climbing | |
| Battery Range | |
| Braking | |
| Construction Quality | |
| Handling | |
| Included Accessories | |
| Warranty & Customer Service | |
| Value | |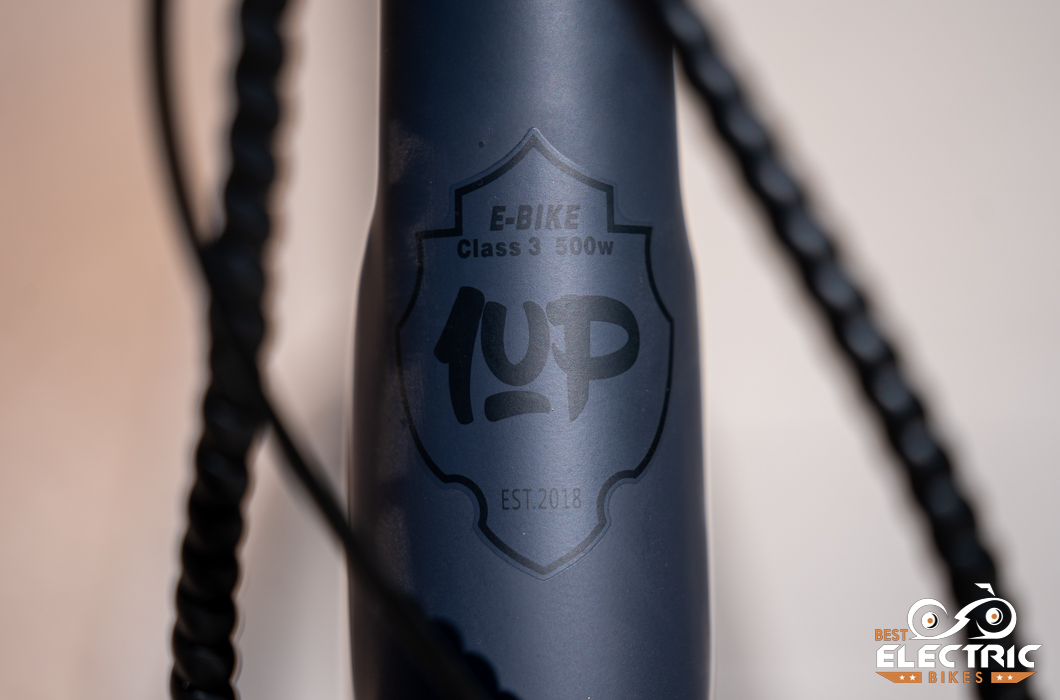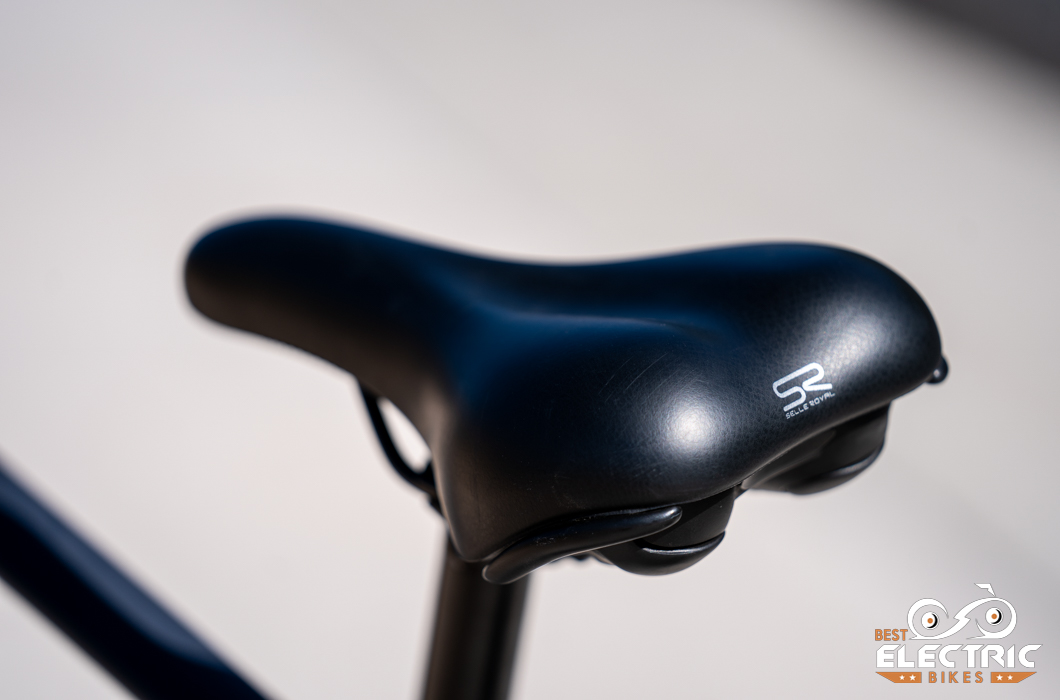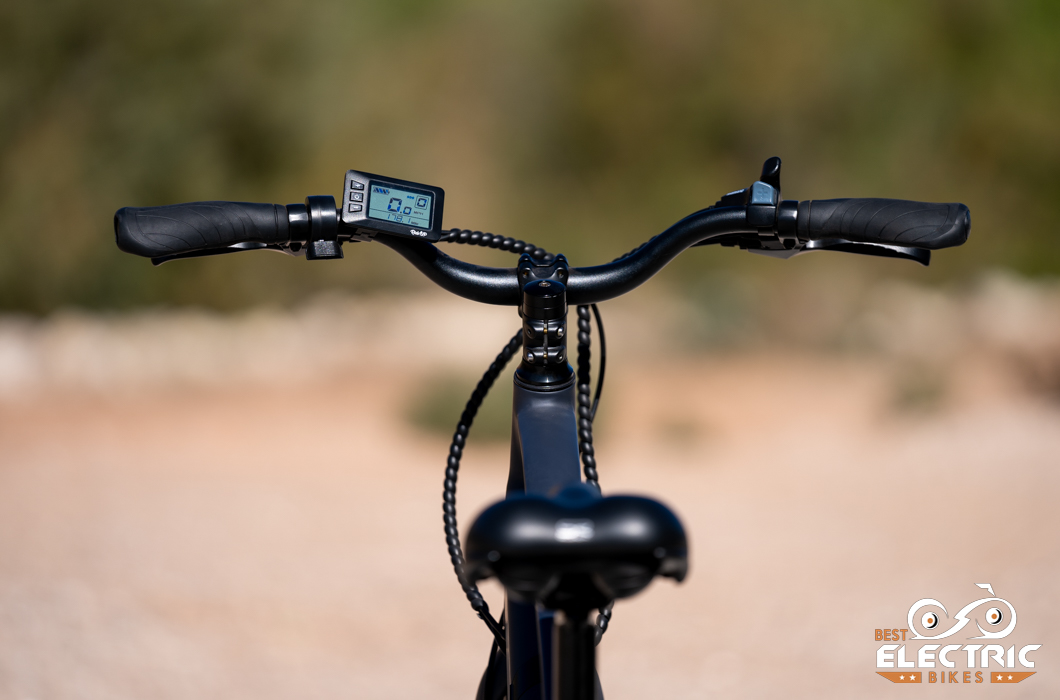 Ride1UP Core 5 E-Bike Specs
Battery: 48V10.4ah Reention Eel Pro LG Cells, Smart BMS
Expected Range: 20-40 miles
Charger: Custom charger, 42V4A w/ Rosenberger plug, 100-240V
Motor: 48V Geared Hub Shengyi Motor 750w Sustained
Pedal Assist: Levels 1-5, Integrated Sensitive Cadence Sensor PAS
Throttle: Left side Thumb Throttle
Display: KD21C Adjustable Speed LCD
Headlight: N/A
Taillight: N/A
Frame: Smooth Welded 6061 Alloy
Fork: Smooth Welded 6061 Alloy
Fenders: N/A
Kickstand: Adjustable Arm Chainstay Mounted
Handlebars: ST: Swept-back Ergonomic Cafe Bars. XR: 50mm Rise 640mm Width
Grips: Ergonomic Rubber Grips
Drivetrain: Shimano Altus
Brakes: Tektro 160mm Mechanical Disc, w/ Electric Cut Off Sensor
Pedals: Plastic Platform Pedals w/ Orange Reflectors
Saddle: Selle Royal Freeway Plush Gel
Tires: Kenda Kwick Seven.5 27.5"x2.2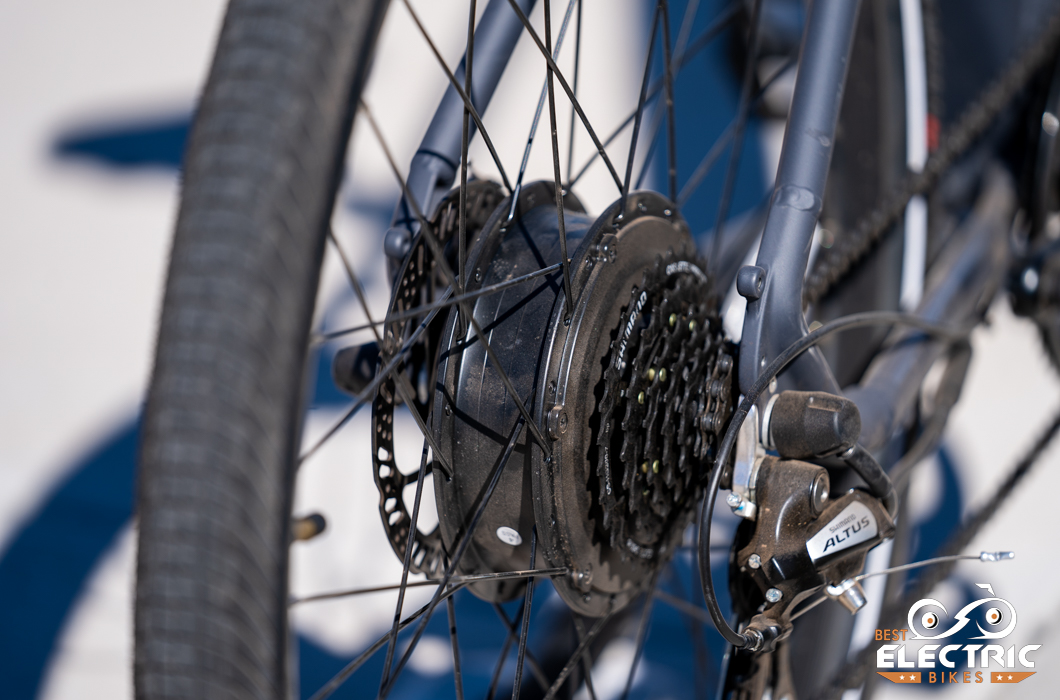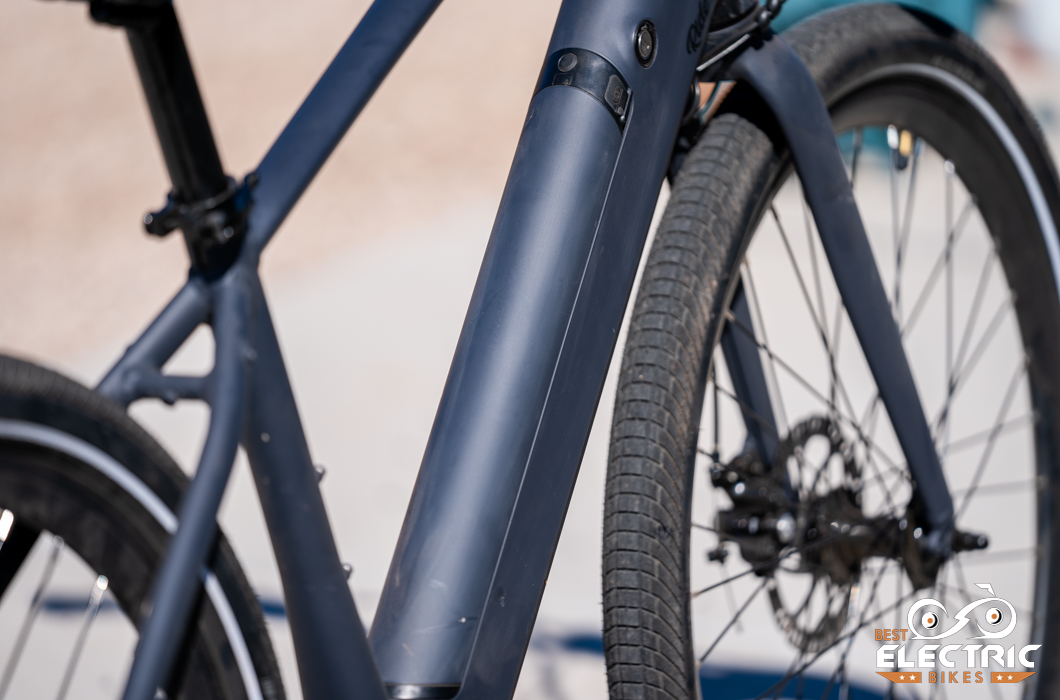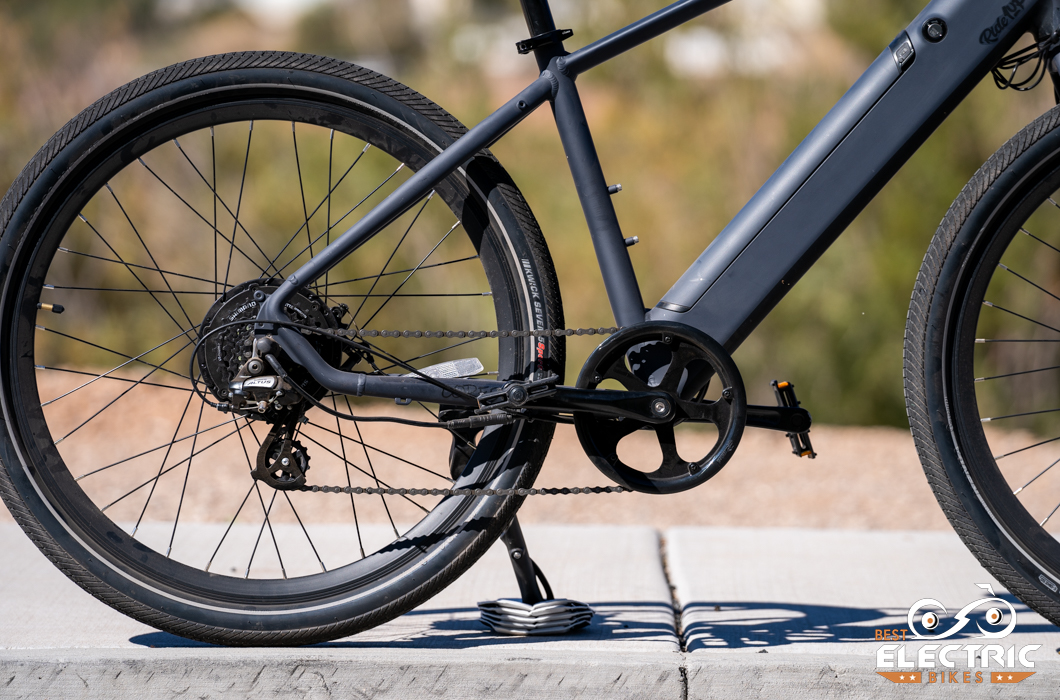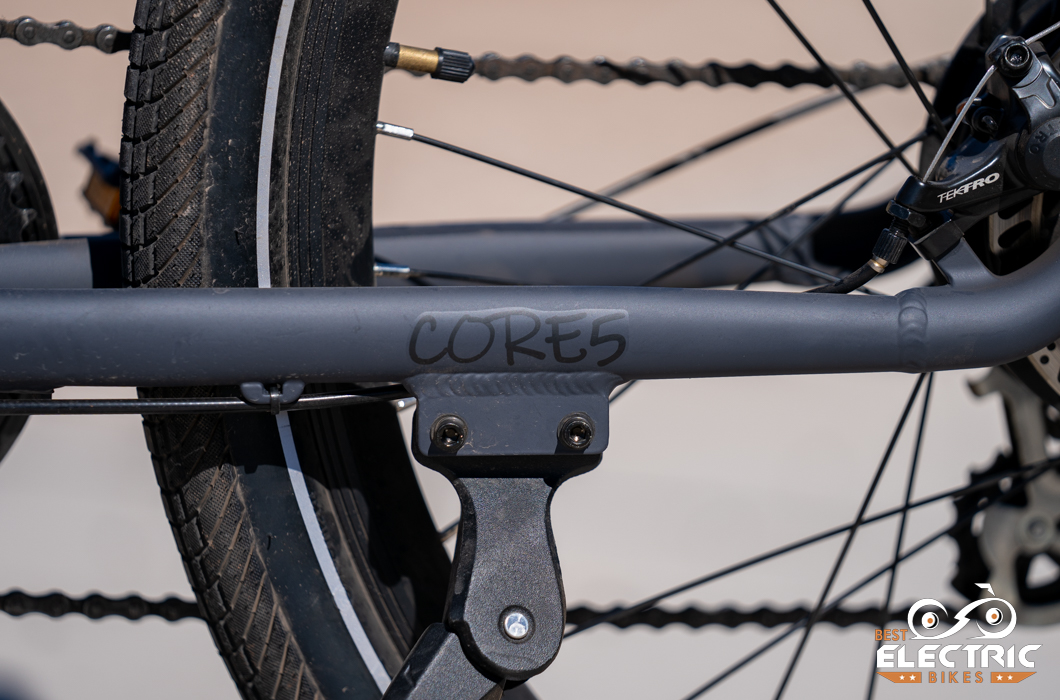 In-Depth Ride1UP Core-5 Review
Ride1UP Core 5 Review: Comfort, Handling, and Ride Qualities
We're going to level with you: Comfort begins at the saddle, and sometimes, when we aren't especially lucky, it can end there as well. The Selle Royal Freeway Plush Gel saddle has a name that sells itself. Selle Royal has been making saddles since before they were comfortable and this one is both cushy and wide. Seeing a name-brand product on a bike this inexpensive is pretty terrific. Similarly, the 27.5 x 2.2-in. Kenda Kwick Seven tires are a great choice as they offer solid flat protection, a quick rolling tread and impressive traction.
Ride1UP chose not to include a suspension fork, which did two things to the bike: First, it reduced the bike's weight and second, while it gave up a certain amount of additional rider comfort, it improved the bike's sense of zippy handling. Think of it as the stiff suspension in a muscle car. Suspension forks add weight, as do big batteries (which we will discuss more in a sec.), and in shaving weight in those two mass-intensive places, the bike's overall weight is cut, bringing it in below 50 lbs. (49, to be exact), making it a fairly rare achievement—a 49-lb. e-bike that can go 28 mph. Anyone looking for the affordable e-bike answer to a muscle car, we submit the Ride1UP Core 5.
Also, at 49 lbs. this is an e-bike that will accelerate with more verve than most e-bikes, adding to the sense that this is a speedy machine. The lightweight aluminum fork makes for crisp cornering.
The Kenda tires can handle a reasonably wide range of pressure. On the low end—say, 30 psi—the Core 5 will have a dreamy ride and feel smooth on roads due for a repaving. But pump the tires up to 50 or even 60 psi and acceleration will climb (so will battery life) and corners will feel a bit more thrilling, the handling sharper.
Ride1UP Core 5 Review: Motor, Battery, and Drivetrain Performance
The heart of the Ride1UP Core 5 is its 750W Shengyi brushless hub motor. For an e-bike with a hub motor to reach 28 mph and then hold that pace without having a loss in speed with each small rise, a 750W motor isn't just helpful, it's nearly mandatory. The best e-bikes have the power necessary to ignore slight changes in gradient so that the rider's experience in broad strokes—hill or not hill. If the e-bike's pace changes with every ripple in the pavement, the result is a less-than-satisfying ride.
The Core-5's 500Wh battery is projected to give riders a range of 20-40 mi., and while that is modest, even for someone who rides everywhere in PAS 5, many people will enjoy a couple of rides before needing to recharge the battery. We do appreciate the trade that a battery that carries less range also comes with the benefit of weighing less. As we mentioned, that aids acceleration, but it also makes the bike easier to maneuver at slower speeds and it's easier to manage when off the bike.
The display is a 2.2-in., backlit LCD that's easy to read even while moving. The battery life indicator could offer a bit more detail, though.
It's not easy to build a bike with enough gear range to have the low-end to climb hills and to pedal at 28 mph. The Core-5 lacks some low-end for steeper hills, but what it doesn't lack is a big enough gear to pedal comfortably at 28 mph. A rider won't need to pedal like their legs are an electric motor to make use of this e-bike's performance.
Ride1UP Core 5 Review: Braking, Safety, Customer Service & Warranty
Our general belief is that any Class 3 e-bike should be equipped with hydraulic disc brakes. We don't have a bias against mechanical disc brakes, but the deep experience of knowing that more powerful brakes generally give riders a greater level of comfort about going fast. Mechanical disc brakes with 160mm rotors don't offer the same level of performance as hydraulic discs with 180mm rotors, but what is important to remember is that even the mechanical disc with a 160mm rotor offers more stopping power than a rim brake.
Because the Core-5 weighs only 49 lbs., rather than more like 70 lbs., the bike's low weight means the brakes don't have to work so hard to bring it to a stop. Put another way, while the specs may look a little questionable at first glance, this is a well-designed bike that we believe can be ridden safely.
Based on the reviews on their web site, Ride1UP appears to be responsive to problems with their bikes. Every now and then a buyer has had an issue, but there haven't seemed to be any major issues. That said, all of their reviews are three, four or five stars. When a company has no one or two-star reviews, we tend to be a hair suspicious.
The warranty is pretty typical for the most part—one year on parts, and labor. The big legacy companies tend to offer a longer warranty on the frame (and sometimes the fork), but a year on the rest is standard.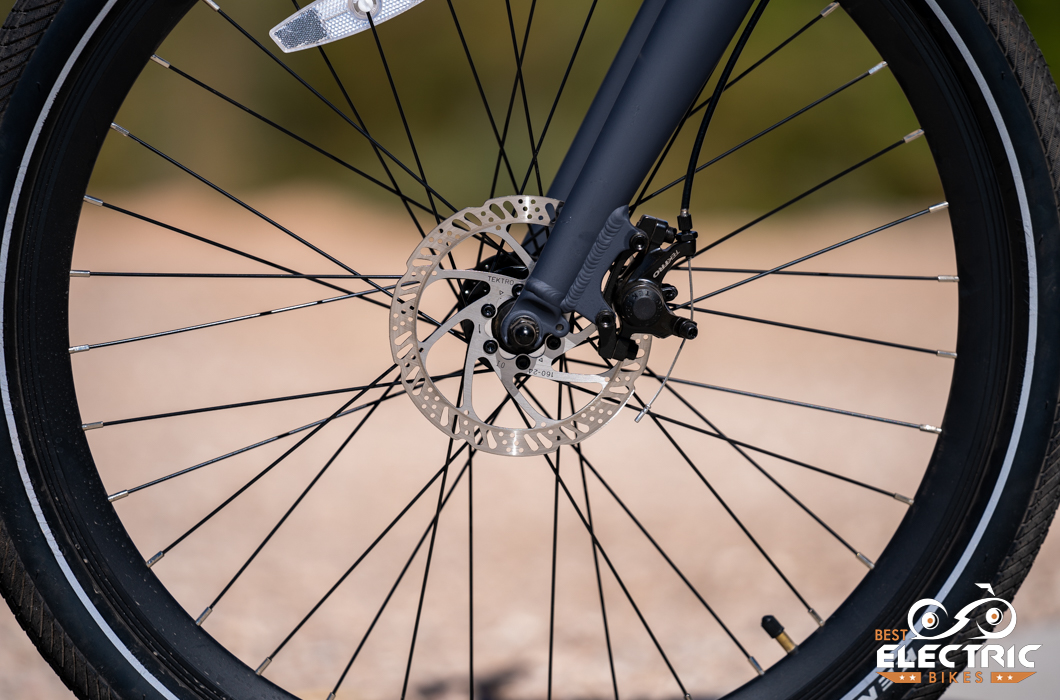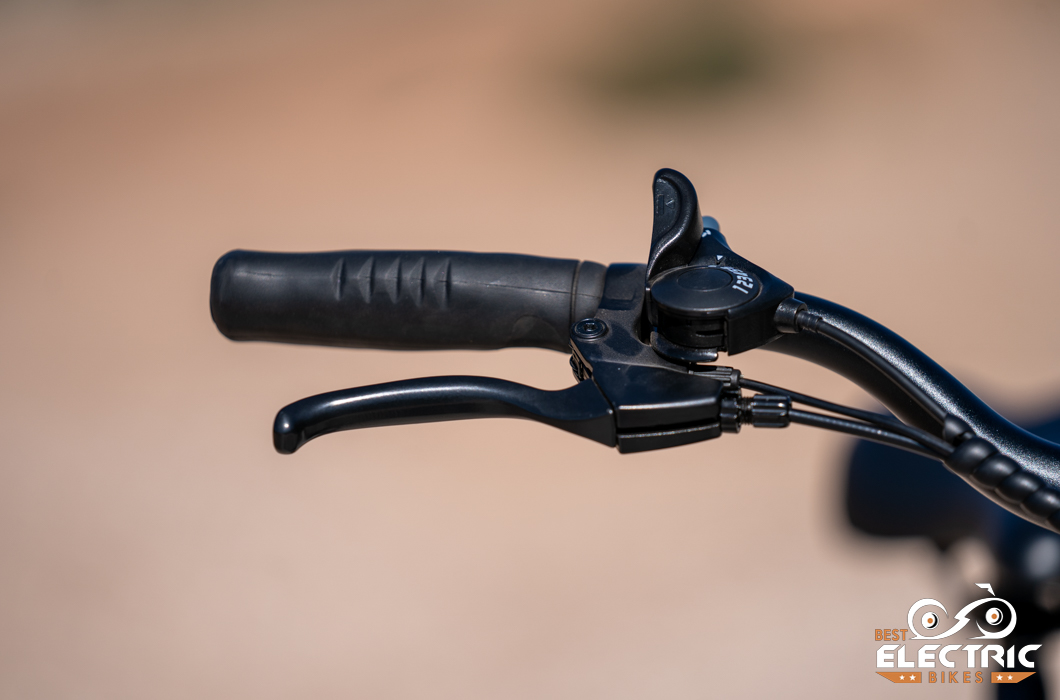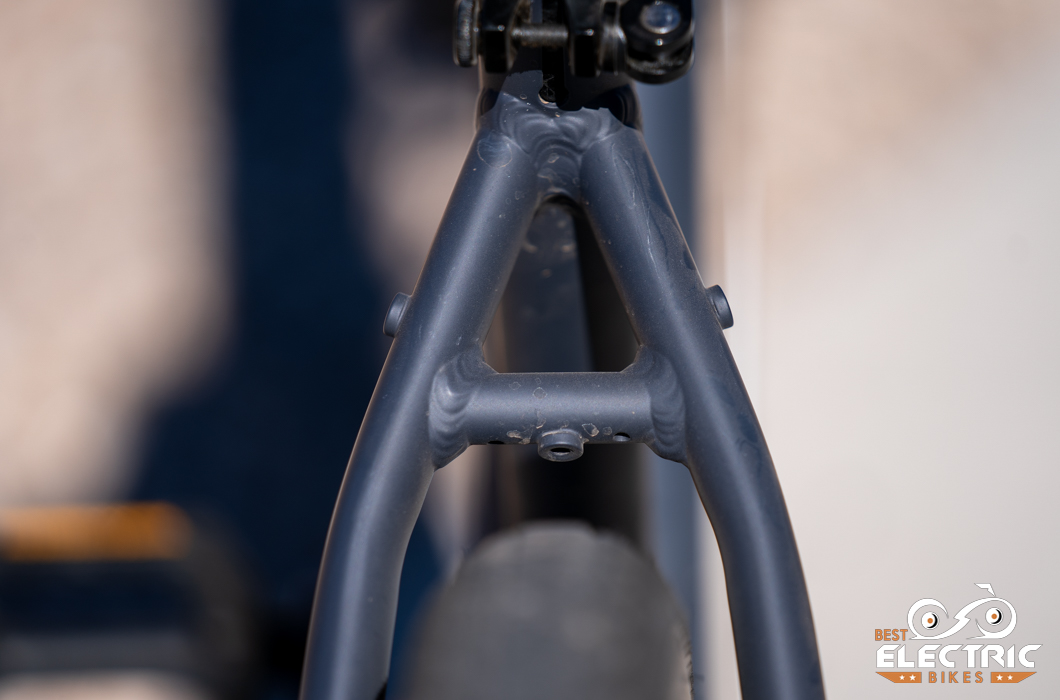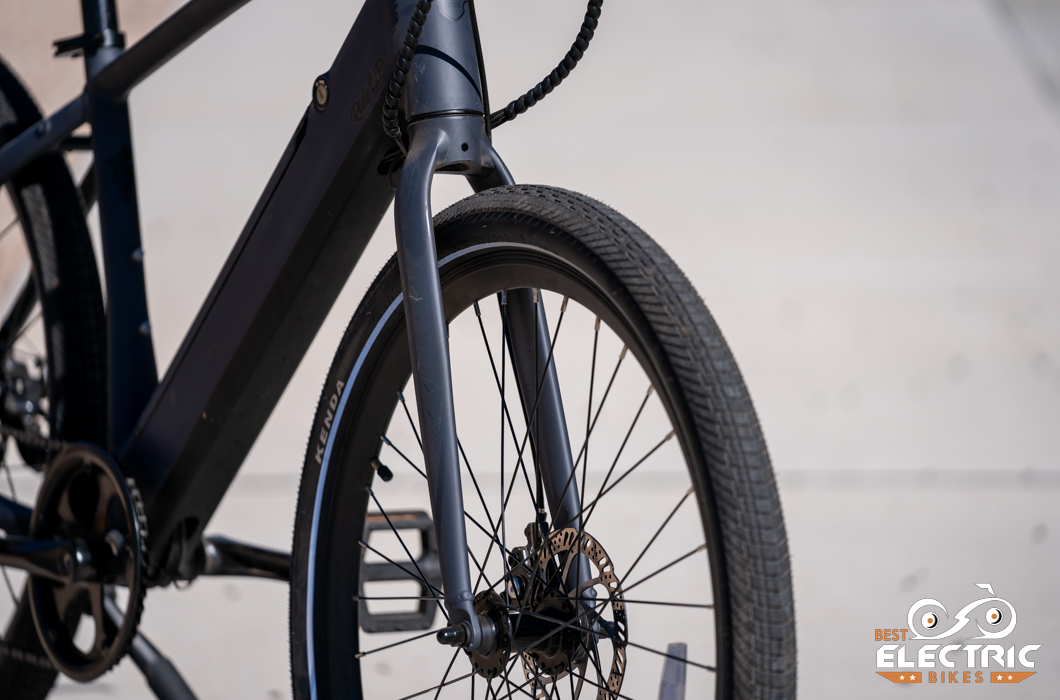 Ride1UP Core 5 Review: Recommendation/Final Verdict
There are a number of e-bikes on the market that include the same host of features, much like current four-door sedans. The Ride1UP Core-5 is refreshing because it's a different take on what an affordable e-bike can be. As much as we like e-bikes that are meant to one-stop shopping for the new commuter, this is a world where our sense of freedom is expressed in our ability to choose.
At root, the Ride1UP Core-5 is light and quick, and while it's not meant to be a racing bike by any means, it's an e-bike that does nothing so much as remind the rider just how awesome riding a bike can be.
Of course, just because the Ride1UP Core-5 is meant to focus on the fun, that's not to say that someone can't add a rack, fenders or lights. It has the fittings necessary to add those accessories as well as a water bottle cage.
No one buys a bike they think is ugly. That's not a thing and one feature of the Core-5 we want to call attention to is just how good looking this bike is, in both the traditional frame and the step-thru. The fully integrated battery gives the bike a high-quality, stylish look.
This e-bike is not perfect, but there's that saying about not letting the perfect be the enemy of the good, and this is one e-bike where the compromises are justified by its sub-$1200 price which helps transform it into a pretty good buy.
Thank you for reading through our review of the Ride1UP Core 5. Still have further questions? Wondering how it compares to a similar bike? Leave us a question in the comments below and the team at BestElectricBikes.com will answer!