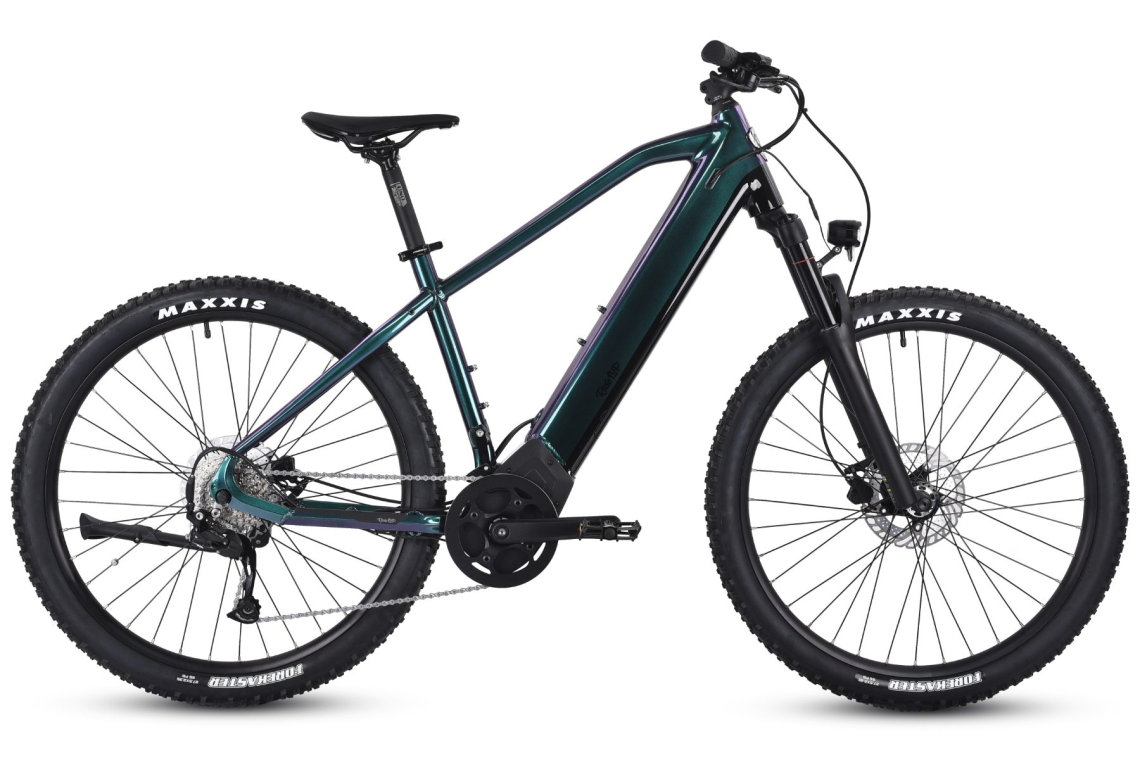 Overall Rating: 4.7/5
Pros:
Comes in two different versions as well as two different frame styles.
First mid-drive from Ride1UP is competitively priced and offers mid-tier spec at entry mid-level prices
9-speed Alivio drivetrain, 11-34 cassette
250W Brose mid-drive motor
With 90Nm of torque, the Prodigy is equipped for hitting hills
Cons:
Step-thru frame not available in mountain bike build
eMTB version has a 29-in. standover, may not fit riders shorter than 5-feet-9

Intro
Our Ride1UP Prodigy review of the spec sheet revealed to us that this bike is a big step for the direct-to-consumer brand. Up until now, they, like most D2C brands, have produced e-bikes with hub motors. There are a number of reasons for a company to do this. First, it's easier to get started as a brand if the tooling investment is low. Building bicycle frames to accept a mid-drive motor is more expensive than buying a standard one.
Ride1UP offers the Prodigy in two different frames and two different builds. They offer both a traditional frame and a step-thru design. And in the traditional frame they offer a commuter build as well as mountain bike build.
Each of the variants is built around a 250W Brose TF Sprinter motor that produces an impressive 90Nm of torque. This motor will provide the veritable Hand of God that many e-bikes promise, but few actually deliver. With its sharp but smooth acceleration and a Class 3 top speed of 28 mph, the Prodigy is the sort of bike to make someone think they are Superman.
E-Bike Category: Commuter/Urban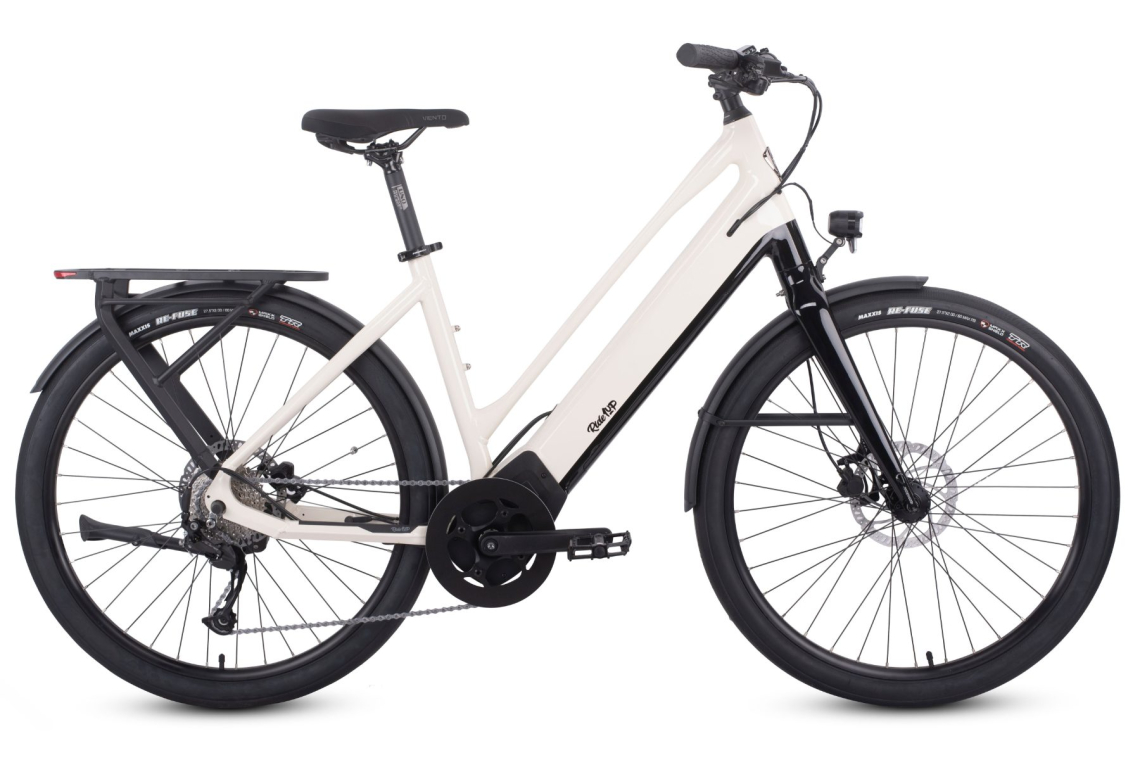 Who the Ride1UP Prodigy Electric Bike Is For:
The Prodigy is a different sort of bike because it comes in two completely different builds. It is for either commuters or mountain bikers, though it's not really for someone who both commutes and mountain bikes.
Ride1UP Prodigy E-Bike Specs
Battery: 36V14ah Phylion BN21, Samsung Cells, Smart BMS
Expected Range: 30-50 miles
Motor: Brose TF Sprinter German made mid-drive motor with 90nm torque
Pedal Assist: 4 levels, integrated torque sensor
Display: Brose Allround, 1.5-in. color
Headlight: Buchel Shiny 80, Ultra-bright 80 lux headlight
Taillight: Custom Rack Integrated
Frame: Smooth Welded 6061 Alloy
Fork: XR and ST: Hydroformed 6061 Aluminum, XC: 120mm Travel, 32mm Stanchion diameter, Air Suspension, Hydraulic Lockout
Fenders: included on XR and ST
Kickstand: heavy duty, adjustable
Handlebars: ST & XR Frame: No Rise, 23° Sweep 31.8mm Ergonomic Bars, XC: 20mm Rise, 0° Sweep 31.8mm Bars
Grips: Velo Locking Rubber Ergonomic Grips
Drivetrain: Shimano Alivio, 9-speed, 11-34
Brakes: Tektro HD-M275, 180mm rotors
Pedals: alloy
Saddle: XR and ST: Selle Royal Viento, XC: Selle Royal SRX
Tires: XR and ST: Maxxis Refuse 27.5"x2.0", XC: Maxxis Forekaster 27.5″x2.4″
Ratings:
***All ratings are relative to e-bikes of a similar style and price point***
| | |
| --- | --- |
| Speed/Acceleration | 4.7/5 |
| Hill Climbing | 4.8/5 |
| Battery Range | 4.2/5 |
| Braking | 4.5/5 |
| Construction Quality | 4/5 |
| Handling | 4/5 |
| Included Accessories | 4/5 |
| Warranty & Customer Service | 4/5 |
| Value | 4.9/5 |
In-Depth Ride1UP Prodigy Review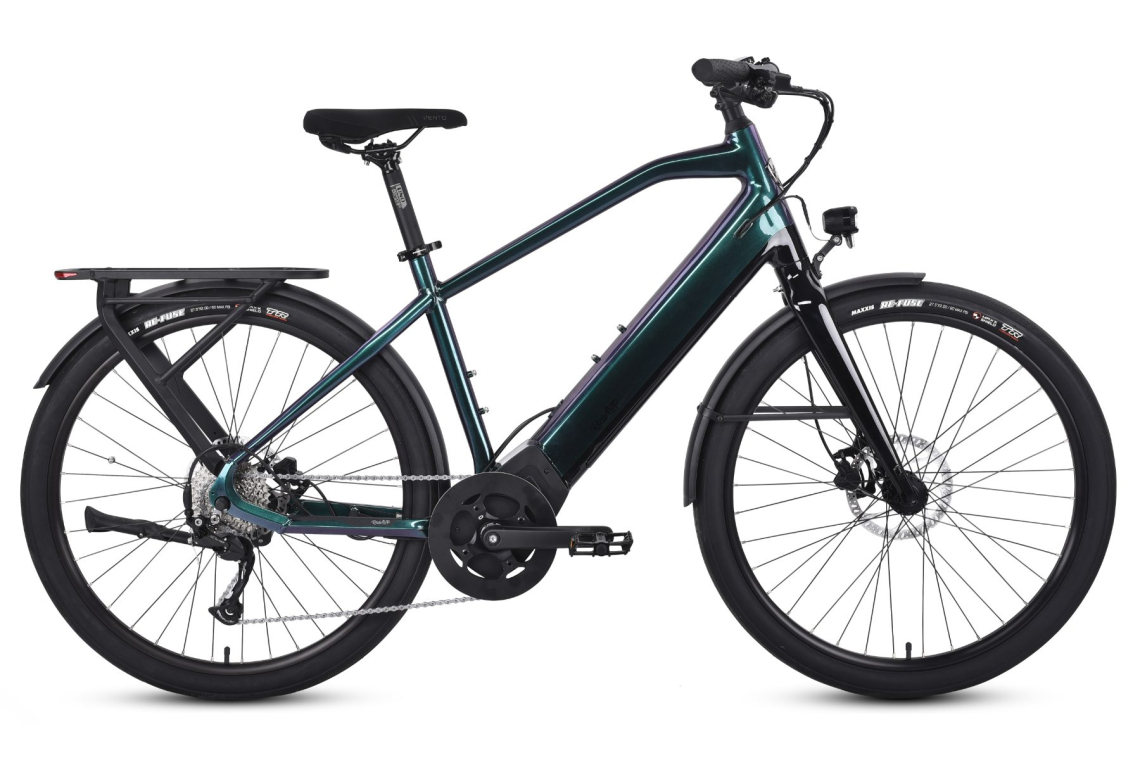 Ride1UP Prodigy Review: Comfort, Handling, and Ride Qualities
Where comfort is concerned, the Prodigy has two answers. The first answer is that as a commuter, it has a nice, zippy feel that will make for a great riding experience on the road, but won't sacrifice performance in order to yield a more comfortable ride. The mountain bike build, thanks to a suspension fork and bigger tires, is definitely a softer ride, but then, it's meant to be ridden in an environment that is inherently bumpier.
Both bikes are equipped with Selle Royal saddles; the Viento for the commuter, which is a premium saddle with a pressure-relief channel, and the SRX for the mountain bike, which is a shorter, wider saddle with a pressure relief channel, appropriate to off-road use.
Both versions of the Prodigy run 27.5-in. tires, but in the case of the commuter version, the slick tires are 2-in. wide, while the eMTB has knobby tires 2.4-in. wide. With the bigger tires the XC version of the Prodigy has slightly more relaxed handling and the 120mm suspension fork offers enough travel to leave the dirt roads and take off on trails where the real fun is. The commuter version comes with an aluminum fork that gives the Prodigy crisp handling on the road.

It's important to understand that there's no one description of the Prodigy's handling; the two different versions of the bike are different enough that they might as well be different bikes. Bigger tires and a suspension fork will make the Prodigy feel a bit more like a chopper, compared to the commuter version. A fair comparison might be SUV to four-door sedan.
Ride1UP Prodigy Review: Motor, Battery, and Drivetrain Performance
For anyone who has shopped for e-bikes and looked at bikes with both hub motors and mid-drive motors is likely to notice a disconnect. All of the bikes with hub motors will tout the wattage of the motor, and the bigger that number, the more the marketing materials will brag. If the e-bike has a 750W motor, the manufacturer won't mention it just once. On the other hand, marketing materials for e-bikes with mid-drive motors will leave out just what the nominal—that is, average—wattage the motor produces. Instead, they will talk about how much the motor multiplies their effort. Why? Well, the great majority of mid-drive motors produce 250W and that doesn't sound nearly as impressive as a 400 percent multiplication of effort. The Brose motor produces 250W and a very stout 90Nm of torque. It's an excellent motor that outclasses most everything in this price range.
Just as 250W doesn't sound like much, a 504Wh battery doesn't sound super impressive, but because the motor doesn't need as much juice to do its work, a 504Wh battery will give riders an estimated 30-50-mi. range.
A Class 3 e-bike is pretty quick; 28 mph on a bike can feel like highway speeds in a car, and for an e-bike to hold that pace consistently, it needs both a powerful motor and a drivetrain with enough bite to hold that pace. The 9-speed Shimano Alivio drivetrain not only offers a big enough gear to go 28, but also has the low-end to get over a steep hill.
Ride1UP Prodigy Review: Braking, Safety, Customer Service & Warranty
Our general feeling is that an e-bike that can go 28 mph, hydraulic disc brakes are the way to go. The Tektro hydraulic disc brakes paired 180mm rotors do the trick of bringing the bike to a quick stop.
A big piece of being safe on a bike is being seen; the Prodigy comes equipped with front and rear lights, with the rear integrated into the rack.
When it comes to customer support, Ride1UP offers a fairly immediate response via email during business hours, including the ability to get advice on assembly from knowledgeable bike mechanics. The warranty is a fairly typical one year.

Ride1UP Prodigy Review: Recommendation/Final Verdict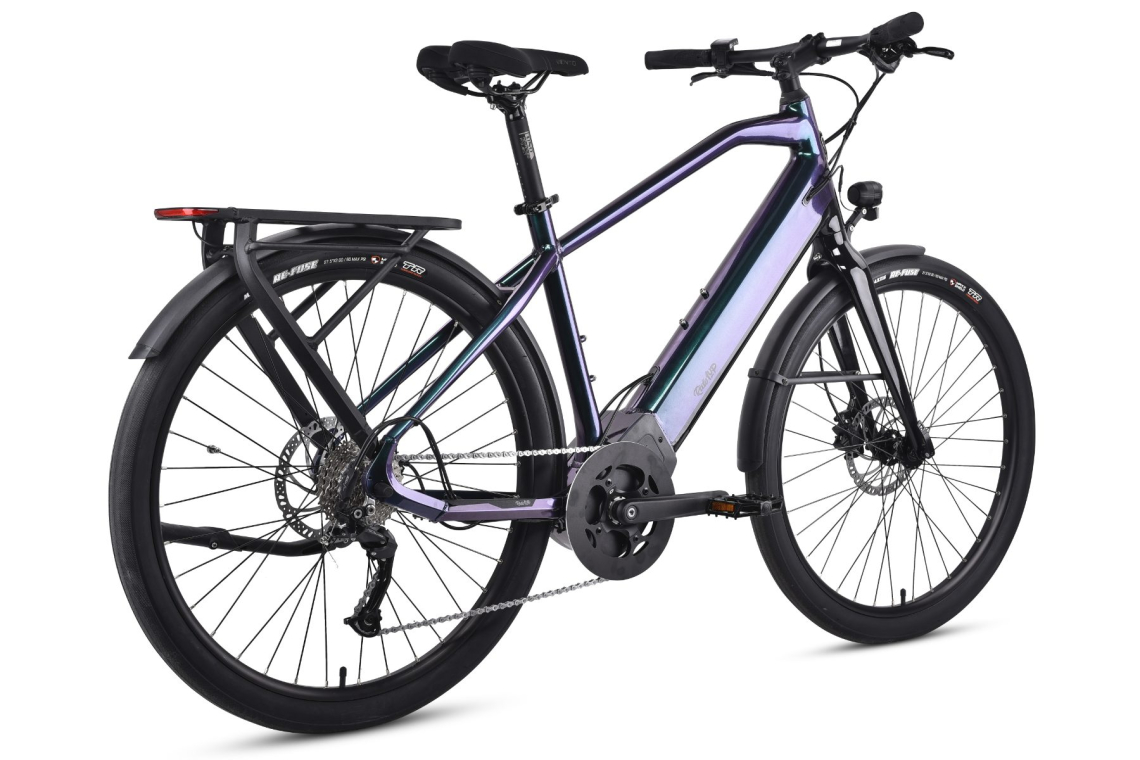 When we first reviewed the Ride1UP Prodigy, honestly, we were a bit confused. How can a bike company make an e-bike that is both a commuter and an MTB? Once we looked closer, we realized that Ride1UP had done something pretty original. Both bikes feature the same motor, drivetrain and brakes, but are built with a different bar, stem, tires, saddle and—most notably—fork. The eMTB leaves the fenders and rack off as well.
Once we had digested the component pick more closely, we realized that it takes a page from auto makers like Toyota and Honda that have based multiple vehicles on a single platform. This isn't an approach that would work at higher price points because anyone dropping $5k on a bike wants something fairly specialized, but squeezing maximum value out of a bike near $2300 makes a strategy like this one a very smart approach.

All three versions of this bike are attractive and the battery is integrated into the frame in a low-key way. Each variation is available in two colors, with three colors spread across the set.
Both the commuter and the all-terrain model are very well done for their price point. We anticipate many potential buyers will have questions about which version to order, but that's easily resolved: Riders should order according to the way they will use the bike most often.
Bottom line: Finding a mid-drive e-bike for a price barely exceeding some hub drives is next to impossible and that alone should see the Ride1UP Prodigy considered by anyone looking at bikes between $2000 and $3000.
Thank you for reading through our review of the Ride1UP Prodigy. Still have further questions? Wondering how it compares to a similar bike? Leave us a question in the comments below and the team at BestElectricBikes.com will answer!
Reader Interactions