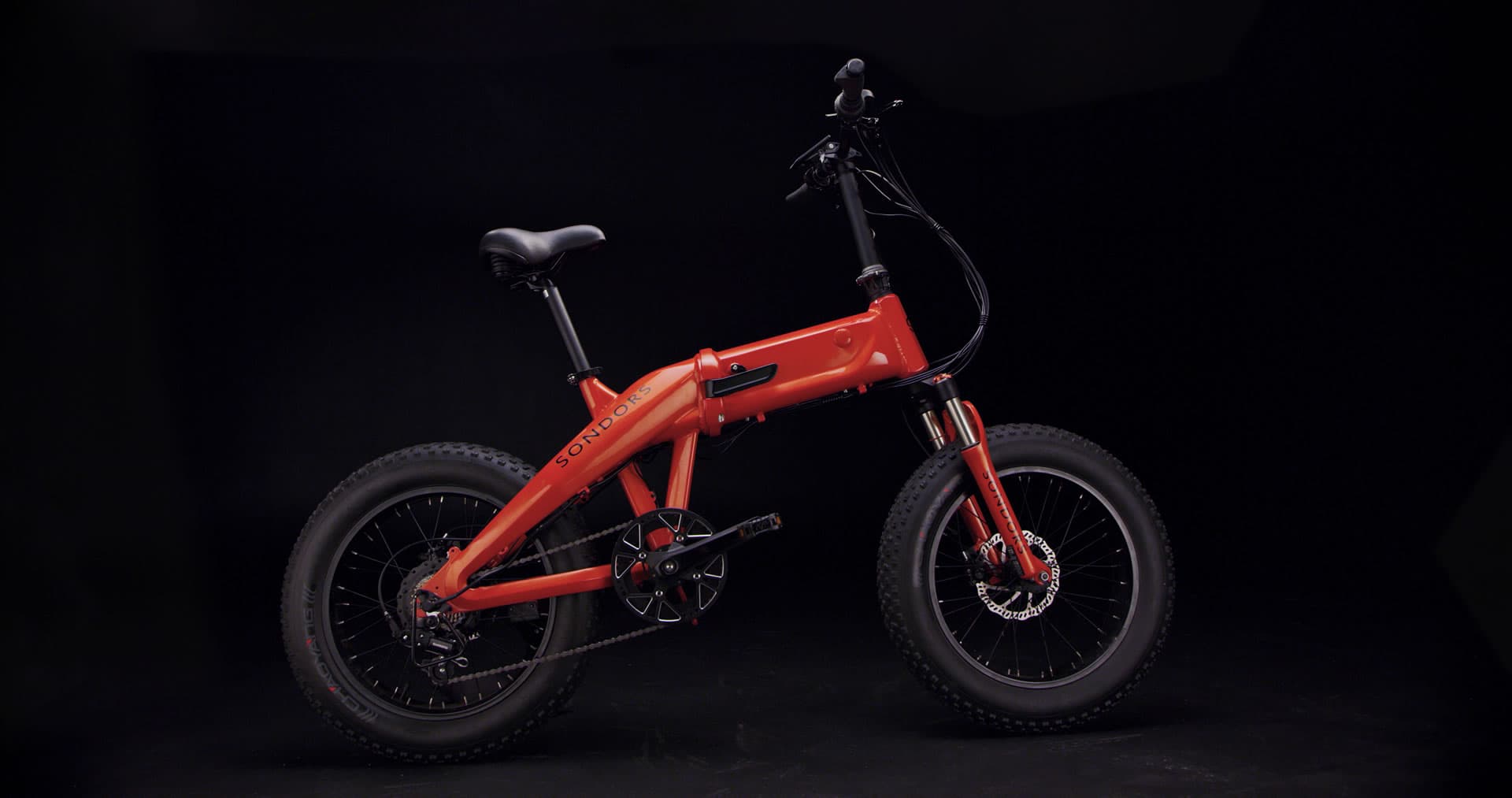 The 2020 Sondors Fold XS is a $1,700 dollar eBike that is fun for commuting in the cities, riding on mountain bike trails, and riding on loose paths near the ocean alike. This rear-hub eBike features both pedal assist and throttle assist, allowing you to have motor assistance up to 20 MPH. The large Lithium-ion battery, combined with an impressive Bafang 750 Watt motor, provides an impressive range of power assistance up to 60 miles or more depending on road conditions. While a bit on the heavy side, weighing nearly 70 lbs, this is a very sturdy eBike that can take a tumble or two, and offers great portability with its foldable nature. Collapse your eBike and toss it in a closet or trunk of your car instead of relying on a bike rack, but feel confident riding it thanks to the toolless magnetic frame locking mechanism that keeps everything together while you ride. With some other great accessories and features, like the Sondors LCD controller and the powerful Tektro Auriga braking system, there's a lot to love about the 2020 Sondors Fold XS electric bike!
Bike Category: Class 2: Pedal assist and throttle to 20 mph
Who It's For: Riders looking for a very solid, well built eBike that is fast and great for commuting and recreational activities alike.
Bike Specs
FRAME Aluminum
UI/REMOTE Color LCD Display
BATTERY 48V 14Ah Lithium-ion battery with Panasonic® cells
CHARGER Integrated/removable battery charging, 3A Smart Charger
MOTOR Bafang 750 Watt motor, 20 MPH
CHAIN 7 Speed 1×7 Shimano Tourney
SHIFT LEVERS Shimano RevoShift Half-Grip Twist on Right
CASSETTE MF-TZ500-7 14-28 Tooth Freewheel
CHAINRINGS Lasco, 170 mm Length, 48 Tooth Steel Chainring with Alloy Guide
DERAILLEUR Shimano Tourney Derailleur
RIMS Aluminum Alloy, Double Wall, 36 Hole, Black
TIRES Chaoyang, 20″ x 4.0″ (98-406)
SADDLE Selle Royale Gel
STEM Folding Telescoping Height Base 270mm to 400mm
HANDLEBARS Aluminum Alloy, Low Rise, 660mm Width
GRIPS Premium ergonomic rubber
BRAKES Tektro Auriga 180mm discs
PEDALS Wellgo
KICKSTAND Heavy-duty
BELL N/A
HEADLIGHT N/A
TAIL LIGHT N/A
FENDERS Optional add-on, pre-built attachment points
Pros
Folding eBike that is fun to ride but will also shrink down in size when not in use. Solid frame is locked together with magnetic clasps, so you don't have to waste time with tools reassembling it when taking it out. Recommended load capacity of 300 lbs.
Class 2 eBike with both pedal assist and a throttle. The 750 Watt motor and 48 V 14AH battery provide an estimated range of 40 to 60 miles. Provides power support up to 20 MPH, and you can still use the eBike with traditional pedaling when the battery is empty.
Integrated, internal wiring maintains the great look of the eBike while minimizing the potential damage to the wiring. Available in torch red or graphite black.
Premium 3 amp charger that will fully recharge the battery in about five hours or less. Charge port is positioned near the front of the frame to reduce the risk of damage. eBike battery is also fully removable, so you can top off your battery while you're at work, eating, or taking a rest in doors.
Adjustable air shocks and seat suspension will allow you to ride in comfort in the city, even as you hit less than smooth roads or cobblestone streets. Allows for some fun when doing some light off-roading or trail riding as well.
Great, very easy to use and read LCD display. Five power assist modes let you finetune your control over the motor, with other fun measurements that will help you evaluate your ride. Backlit so you can comfortably read the LCD during the day or at night.
Great features and overall equipment at $1600 dollars. A great value considering the performance of the folding eBike and overall package.
Cons
Very heavy at 70 lbs. It folds down well, but smaller riders may still need help trying to lift the eBike once its been collapsed down.
One frame size limits overall comfort of riders. Riders taller than 6'6'' or shorter than 5'0'' may not be well suited for this eBike.
Rubber Wellgo pedals will work fine for most city, urban riders. Not well built to handle trail riding, off-roading, or for bikers with larger feet. May want to consider upgrading pedals if you aren't using the Fold XS just for commuting to work.
Features
Aluminum folding frame
The Fold in the Sondors Fold XS is because you can collapse this bike down for easier portability and storage. When in use, it feels really solid, with a magnetic locking mechanism to help keep the frame together when in use.
48V 14Ah Lithium-ion battery with Panasonic® cells
Long lasting battery that will provide a motor assist up to 20 MPH. Has an estimated range of 40 to 60 miles, or farther depending on road conditions and power usage.
3A Smart Charger/Removable Battery
You can recharge your eBike battery from zero to one hundred in about five hours. The smart charger will allow you to recharge your eBike battery without removing it, or you can take it inside while you're at work or resting indoors.
Bafang 750 Watt Motor
The rear hub-drive motor will provide a powerful kick that will help you accelerate quickly, whether you're already pedaling or want to get going faster after a stop. The motor works well with both the pedal assist system and the throttle on the handles.
Color LCD Display
The easy to use LCD display has five levels of pedal assist, and also measures eBike performance and status. Keep track of your battery level, speed, distance traveled, and other useful data as you bike with the Sondors backlit display.
7 Speed 1×7 Shimano Tourney, MF-TZ500-7 14-28 Tooth Freewheel
The seven speed drivetrain features a 14-28 tooth freewheel, meaning you can propel your eBike by pedaling forwards or backwards when you want to loosen up. The 48 tooth steel chainring is built to last, with forged aluminum alloy reinforcement for added protection and to help prevent your chain from suffering dents or catching debris.
Chaoyang, 20″ x 4.0″ (98-406)
The 20'' tires are small, but are built with speed and handling in mind as you explore city streets with the Sondors Fold XS. You will still manage to have solid traction though, even as you hit rougher roads, with the 4'' wide wheels and adjustable air shock suspension.
Low Rise Aluminum alloy handlebars and ergonomic rubber grips
The 660mm, low rise handlebars give you plenty of clearance to see where you're going while being positioned that you can comfortably grab onto the handles. The grips themselves are made out of ergonomic rubber, ensuring that they provide good grip support while feeling snug and smooth to hold onto.
Tektro Auriga Hydraulic 180mm discs
Solid braking system that will help you come to a quick but steady stop. The brake system is tied into the motor system as well, cutting off the power immediately and ensuring that they aren't fighting against each other.
Wellgo Pedals
The basic Wellgo plastic pedals will work for most riders, especially as they are built with business and dress shoes in mind. They also fold in as well, helping you further shrink the side of the Fold XS when you need to pack it away.
In-Depth Review
Frame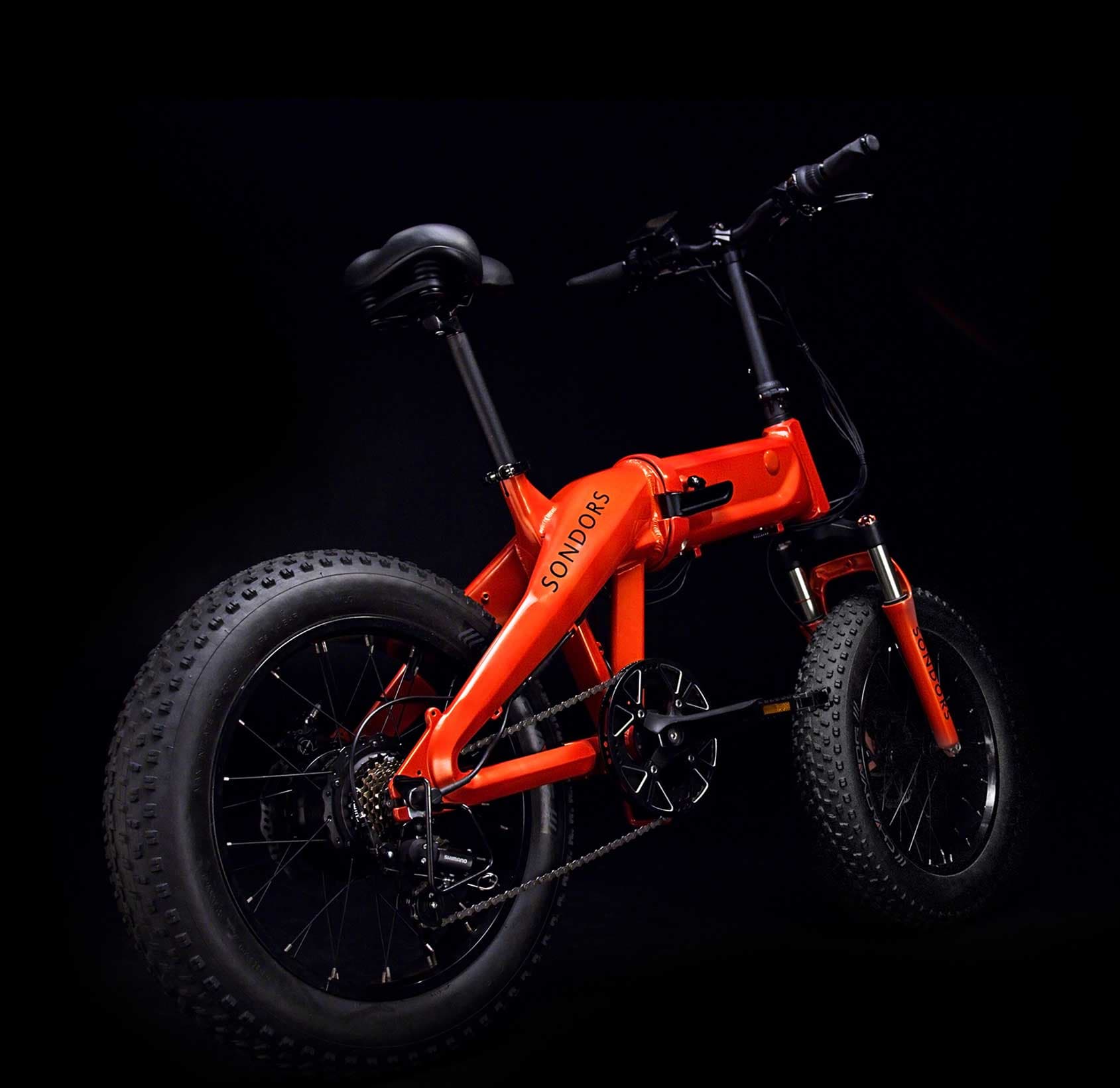 The aluminum alloy frame is built to be sturdy, but the best part about the Sondors Fold XS is the ability to, as the name suggests, fold. If you need an eBike that you want to be able to store in a closet or the trunk of your car, the Fold XS is built to do that, if you can lift the 68.9 lbs bike up by yourself. While incredibly heavy, the 2020 Sondors Fold XS does have a great recommended load capacity, allowing riders of nearly any weight to use it without issue.
Bikers of most heights should also appreciate the Sondors Fold XS, though extremely short or tall bikers may have some trouble with it. The high-step eBike is only available in one frame size currently, which means you are somewhat out of luck if you don't like the overall feel of the eBike. Be that as it may, the adjustable front air suspension fork and relaxed seating position make it a good near universal fit, with some riders as tall as 6'4'' reporting that they were comfortable using the Fold XS. We think that bikers shorter than 6'6'' and taller than 5' will all feel comfortable and able to enjoy the Sondors Fold XS as it is currently built, though we hope to see more frame sizes in the future.
Standover Height: 28''
Total Weight: 70 lbs
Folded Dimensions: 39'' x 18'' x 29''
Motor & Battery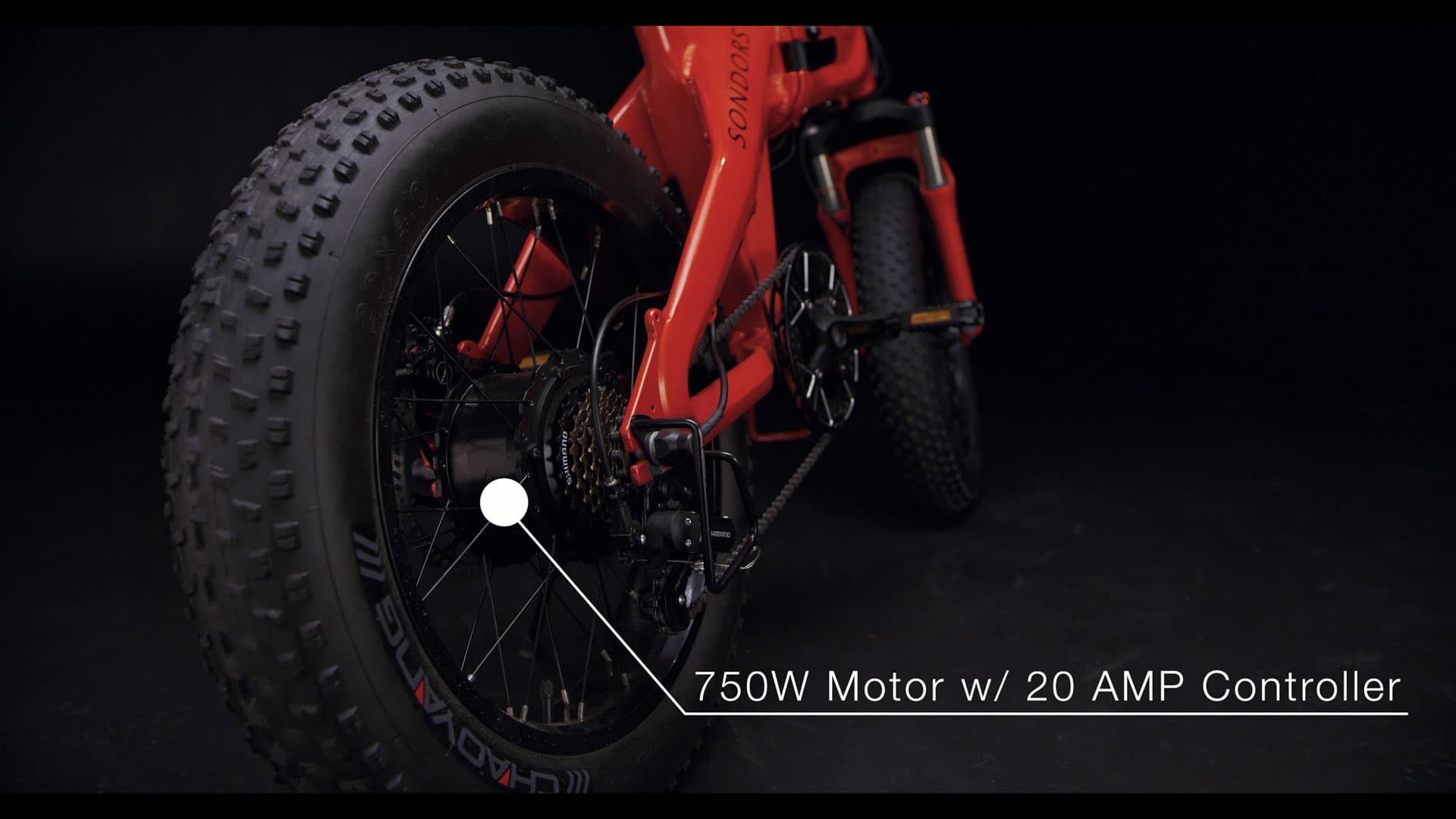 The Sondors Fold XS is a Class 2 eBike with up to 20 mph pedal and throttle assist.
The Fold XS has a 750 Watt motor, powered by a 48 V 14Ah Lithium-ion battery with Panasonic cells. The result is that you have a long lasting battery that will easily help you go between 40 to 60 miles on a single charge, and even farther depending on the power assist mode you are using. You will be able to activate the motor either with the pedal assist system, which turns on the motor and matches your cadence with the 12-magnet sensor, or with the throttle handle. You will have a blast zooming through city streets or climbing over hills with the powerful Bafang 80 Nm motor.
From empty to fully charged, you can expect the LG 3500 battery to take about five hours to charge. The eBike battery, with the 20 AMP controller, has five speed modes that will determine how much of a boost you will receive as you pedal or turn the throttle. Lower assist modes will build up your speed more slowly but extend the life of your battery, while higher assist modes will help you get to 20 MPH more quickly. The 20 MPH motor assist cap is in place to allow you to operate your eBIke without having to acquire additional licensing. Once you hit that 20 MPH cap, the motor will turn off, but with manual pedaling you will be able to further exceed the 20 MPH speed limit.
The eBike LG 3500 battery charging port is located near the stem of the eBike, allowing you to easily access and plug your battery into a recharging station when you use the kickstand or lay the eBike down on one side. Alternatively, you can also remove the battery and take it inside with you, allowing you to top off the charge while you're working, visiting a restaurant, shopping, or taking a break indoors. The eBike also comes with a 3 amp charger, which will charge much faster than the traditional 2 amp charger that comes with many other eBikes.
Display/Assist Modes

The Sondors Bafang DCP-18 display is a great, easy to use display that will help you monitor and control your eBike performance. The 3.25'' color LCD screen is a good size, helping you keep track of important information and settings without being too bulky, heavy, or distracting. The LCD display is adjustable, but it is integrated into the eBike and is not removable, so you can't upgrade the Fold XS with a more advanced controller and display down the line. Still, the Bafang DPC-18 display is very easy to use, and will provide the following metrics when in use.
Bafang DPC-18 Display Metrics
Battery percentage
Current Speed
Power Meter
Trip Distance
Odometer
Max Speed
Average Speed
Trip Time
Assist Level (0 to 5)
To operate the control unit, be aware of the following:
+ button: Increases assist level.
i button: Changes the measured metric.
– button: Decreases assist level.
Settings: Hold + and – at the same time.
System configuration/Deep Settings: Hold i and – at the same time.
There are four power assist modes on the Bosch Pursion controller, including two partial/non-assist modes. The greater the assist mode will not provide power past 28 MPH, but will help you get to that speed quicker. The included assist modes consist of the following:
Handling
On Streets- The fat 4'' tires, with adjustable PSI, make this a great eBike for cruising on asphalt and concrete, The shorter 20'' wheel size also provides for a faster eBike experience as well, making easy to pick up speed as you cruise through the streets. You'll be dodging lamp posts, mail boxes, and pedestrians with ease on the Sondors Fold XS eBike.
Turn Radius- This eBike is built for use in all sorts of environments, and while you won't be performing too many tricks with it you will be able to make quick, tight turns on it. Something that helps is the adjustable PSI, with higher PSI ratings great for harder surfaces and lower PSI well suited for looser, softer ground like dirt, snow, or sand. If you make sure to inflate or deflate your tires to the proper PSI before heading out on a longer ride, you will be making the quick, tight turns you need to navigate on trails and city streets alike.
Low Speed Handling- Weighing nearly 70 lbs, this is a harder eBike to walk with, and can be tricky to navigate with at lower speeds. However, you can set the pedal assist mode to a lower level to provide a small boost, or just put the eBike in walk mode. In walk mode, you can dismount the bike and have the motor provide a small level of power assist that will propel your eBike forward without you having to pedal. Make sure you are in a low level power assist or walk mode, and you won't have to work too hard to navigate with the Fold XS eBike.
Gears/DriveTrain
The Sondors Fold XS consists of a premium 170 mm 48 T crankset joined by a MF-TZ500-7 14-28 tooth freewheel, the gearing being a 7 Speed 1 x 7 Shimano Tourney. With the free wheel, you will be able to pedal your eBike by going forwards or backwards, which is useful if you find your legs locking up and need a change of pace or want to loosen up your muscles. Overall, this is a very solid but simple drive train, and while it can be used for some off-road, trail, or mountain biking it doesn't particularly handle steep hills well when in manual pedaling only. The Tourney derailleur by Shimano will get the job done, though it would be nice to see one of Shimano's more premium derailleurs incorporated for a smoother, more
The shift is a Shimano RevoShift Half-Grip Twist in the right handle bar. With three finger support, it's pretty easy to use the Shimano shifter, which is also spaced far enough away from the thumb throttle. You can read more about the overall feel of the handlebars and grips in the grip and saddle section below.
Brakes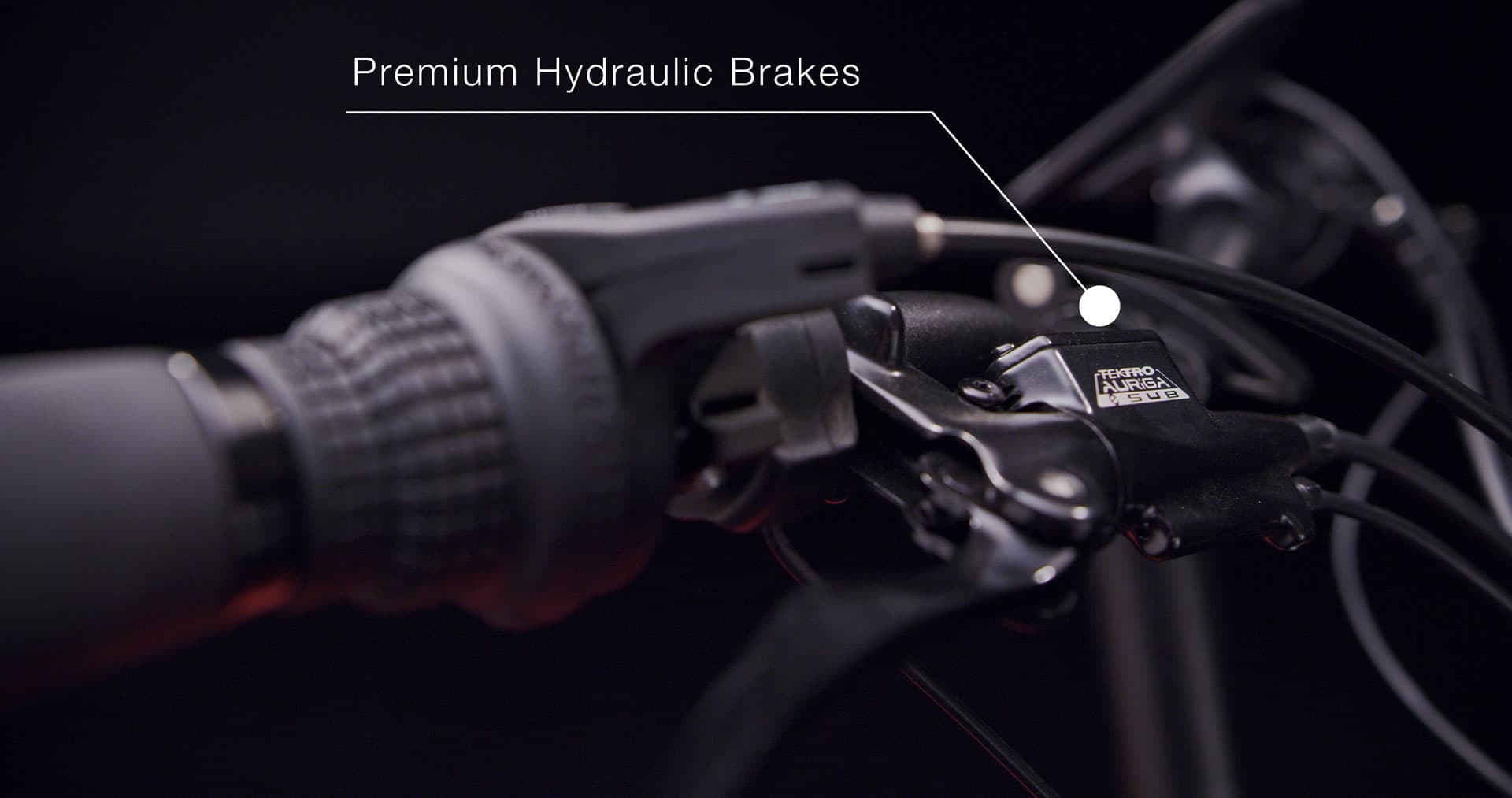 The Tektro Auriga 180 mm disc brakes offer great stopping power, ensuring you can come to a quick, steady, and smooth stop even when the motor is in use. The brakes and eBike motor are integrated in such a way that, even if you are using the pedal assist motor function, your brakes will cut off the power and allow you to come to a smoother stop automatically. Not only is this easier on the brakes themselves, but it reduces the strain on the motor, extending the life of both in the long run. The brakes are controlled by large four-finger levers, which not only give you an easy place to grip but also provide a greater, more accurate control over your brakes to allow you to precisely affect how much you want to slow down while pedaling.
Suspension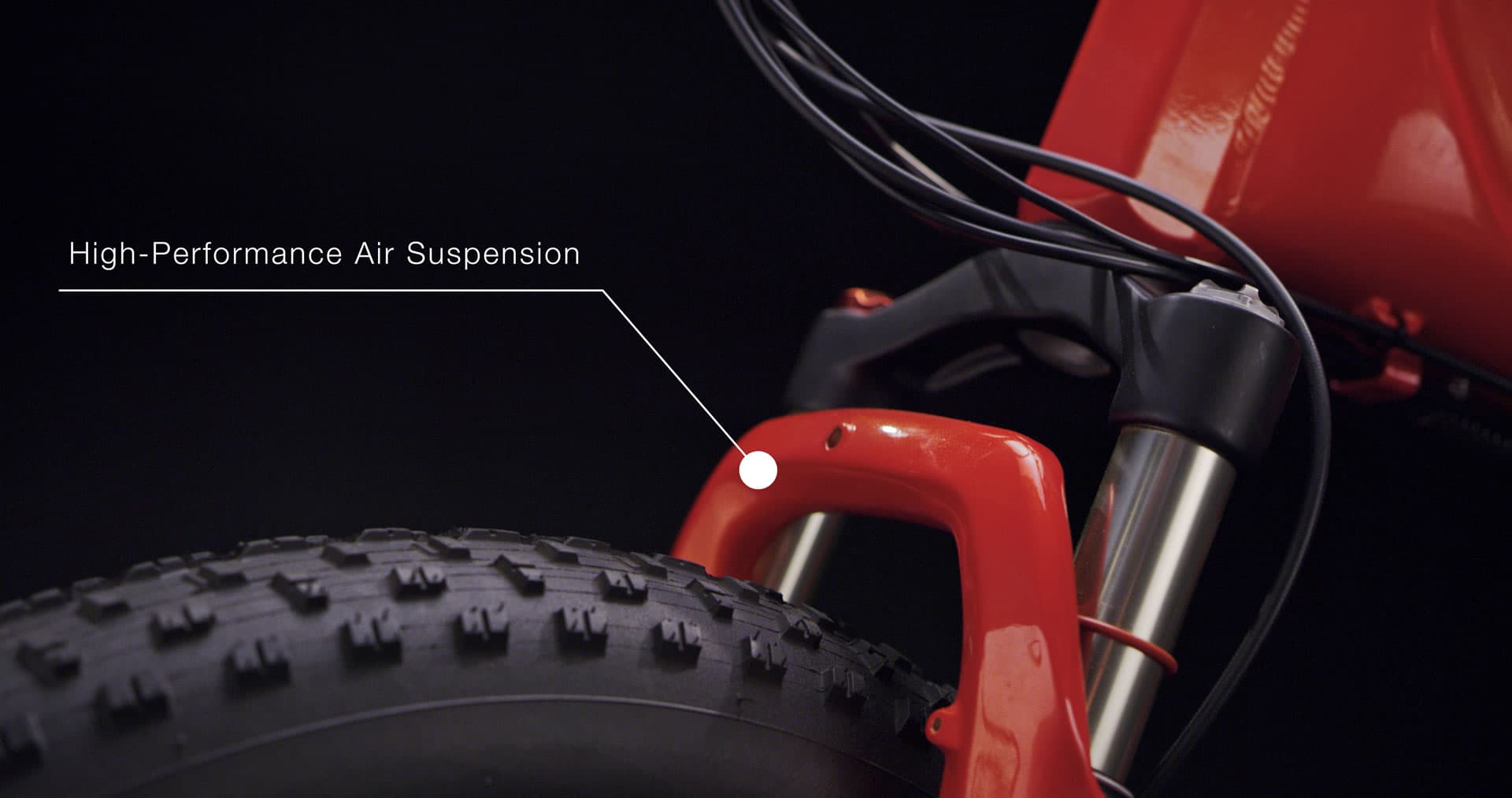 The Sondors FOLD XS offers a full suspension build, which further makes it a good, comfortable eBike to ride on concrete, dirt roads, cobblestone, and other terrain alike. The front of the frame features an adjustable 80mm air suspension fork, while the seatpost offers an additional 30mm travel thanks to the Exoform 625 suspension setup. Besides being very quick and easy to adjust, the suspension system really helps the frame absorb the shock of uneven terrain to provide a smoother riding experience. It's especially impressive to see a suspension system in a foldable eBike, though offering a mid-step option along with the current high-step Fold XS option would make it even better for shorter riders who want to use this eBike.
Pedals
One of the few issues we have with the Sondors Fold XS is that it relies on Wellgo plastic pedals. The Wellgo pedals function well for urban city riding, but don't do much in terms of support once you go on rougher, more uneven terrain. Not only are the Wellgo plastic pedals prone to damage and breaking if you take a bad fall, but they also don't support larger shoes and can be uncomfortable to stand on with boots, hiking shoes, or even riders with larger feet. The pedals are pretty easy to replace though, so if you are looking to do some backcountry riding we would recommend upgrading your pedals to something more durable.
Grips and Saddle
The 260 mm long seat has a diameter of 27.2 mm, and is large enough that most adult riders who go out on it should feel perfectly comfortable sitting on the Sondors Fold XS. The adjustable suspension seat post, with a quick-release skewer, further helps you adjust and find a position that makes it easy to grip onto the handlebars while being considerate of your back muscles. The saddle itself is rather basic, but the aluminum alloy stem that supports it will ensure that your saddle remains attached to the frame even if you take a nasty fall.
The handle grips are made out of ergonomic rubber, which are soft on the hands while providing good texture support to maintain your grip even when you're riding at higher speeds. The Shinamo half-grip twist on the right handle is a solid shifter, with the throttle trigger built to be easy to pull as well. Between the gear shifters, the brakes, the throttle, and the LCD display, there are quite a few things to keep track of, but it shouldn't feel overwhelming after a couple of spins on the Fold XS.
Wheels and Tires
The Chaoyang tires are quite large and fat at 20'' by 4'', with an adjustable PSI rating that scales from 5 (for sand and loose dirt) to 20 (for concrete and solid terrain) that you can change depending on your desired performance. The spokes are made out of stainless steel, with a 13 gauge front and 12 gauge rear. As for the rims, they are a 36 hole rim made out of a double wall aluminum alloy. These are solid tires that can be used effectively in the city, on trails, and in unexplored wilds alike, acting as a jack of all trades tire that feels great to ride on even if they don't particularly excel in speed or handling. The one major thing we want to note though is that the tires do not feature any sort of reflective tape or striping on the sidewalls out of the box, minimizing your overall visibility to drivers and other people on the road. We would recommend taking some time and adding a few strips of reflective or gloss tape to your tires before going out to ride, especially at night, in order to make it easier for you to be seen on the Fold XS!
Accessories/Upgrades
In order to help keep the price down and due to its foldable nature, there aren't a ton of accessories that come with or are offered for the Sondors Fold XS eBike. However, there are a few that we would definitely recommend considering that are pre-built for use with this eBike. Some of our favorites include the following:
Rear-Mount Adjustable Kickstand
Rack + Bag Kit
Steel Derailleur Guard
Recommendation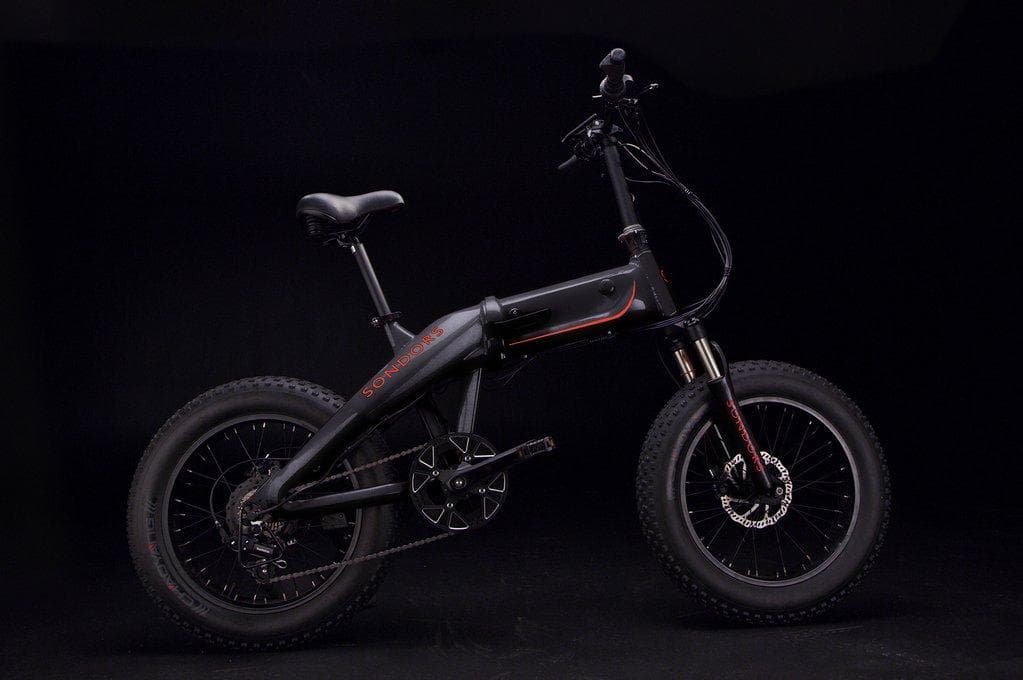 The 2020 Sondors Fold XS is a portable eBike that you can fold and toss into the trunk of your car or closet whenever you need to store it that provides great performance when it's time to ride. Between the powerful motor, class 2 throttle and pedal assist system, and the large, fat tires, this is an eBike you can use to commute to work or tackle mountain trails alike. The full suspension system with an adjustable seat stem helps every ride feel steady and comfortable. Alternatively, the five pedal assist options you can finetune how quickly you want to speed up as you rest on a hill or get going after a stop sign. Lastly, it's also worth highlighting the great Tektro Auriga 180 mm disc braking system, which helps you come to smooth, quick stops even when you're using the eBike motor. This is a very heavy eBike at 68.9 lbs, but at $1,700 dollars (with payment plans zero percent financing for up to three months) it's a fantastic value overall considering the performance of the eBike. So, if you are looking for a folding eBike that you can use in and out of the city alike, definitely consider going with the 2020 Sondors Fold XS electric bike!