Welcome to our spec review of the Sondors X electric bike! Due to how popular Sondors eBikes are, we haven't had the chance to get our hands on the Sondors X for ourselves. We have tried out other Sondors eBikes though, and have also closely compared the Sondors X to similar eBikes that utilize many of the same components. By doing so, we were able to develop our spec review of the Sondors X, which should provide you with a broad overview of the features, performance, and overall feel of this electric bike. While we will update our review with more specifics once we've had the chance to ride it for ourselves, we hope our spec review will give you a good base to help you decide whether to purchase the Sondors X electric bike.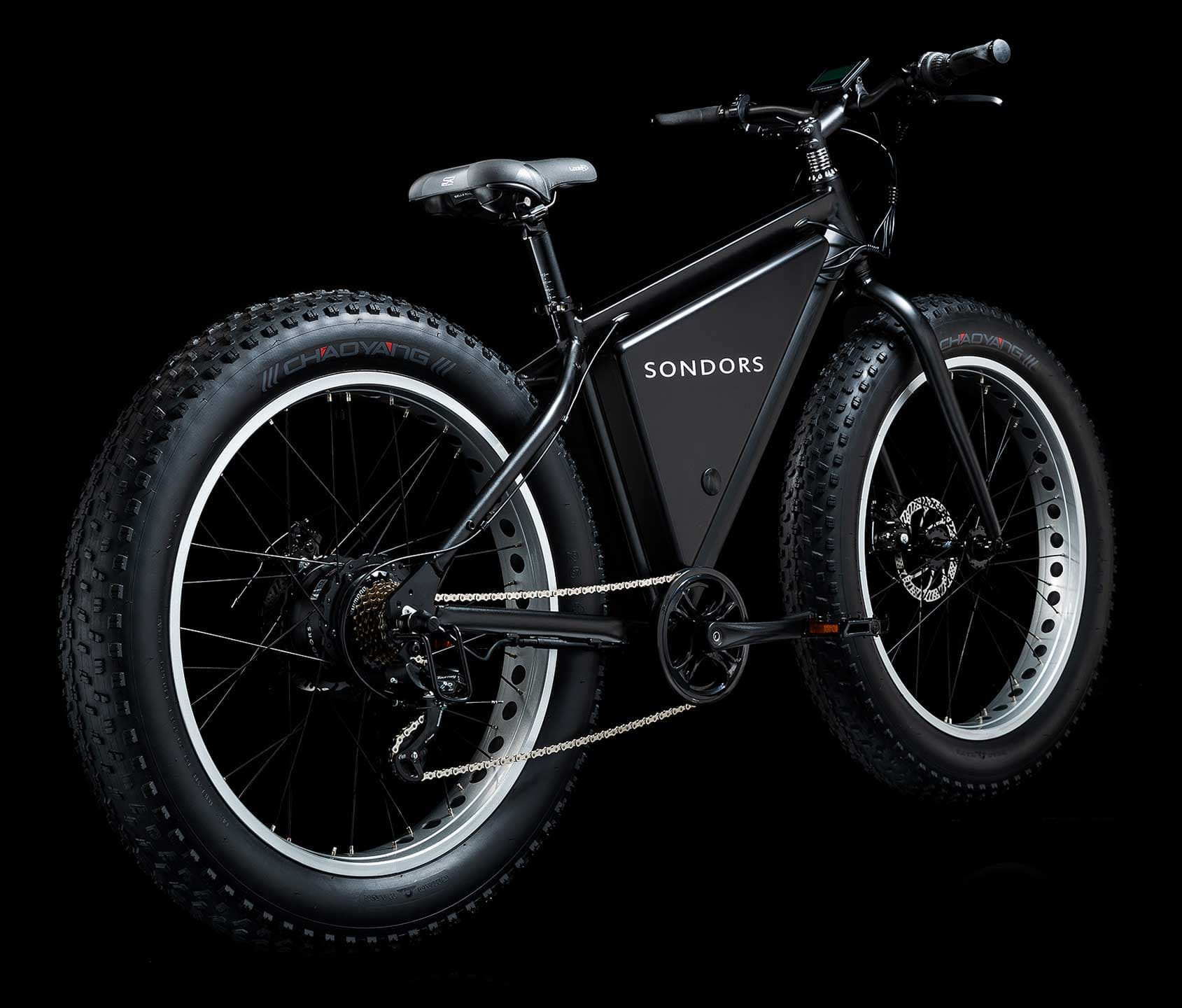 The Sondors X electric bike is a great, entry-level hybrid bike that you will have a blast riding in the cities and over challenging mountain trails alike. The heavy aluminum build boasts impressive durability and weight support, and while it's only available in one size it does come in three stellar color options that all look as cool as it is fun to ride.The Bafang 500 watt motor is well suited for flat roads and steep hills, and with a 17.5 Ah battery you can travel between 40 to 60 miles on a full charge with the Sondors X electric bike. The seven speed Shimano drivetrain might be limited in gear shifting, but the freewheel gives you additional pedaling options while also making it even easier to crest a hill as well. With ultra large tires and a rigid fork, you don't even need to add much in terms of suspension in order to comfortably challenge your traditional mountain biking trail. If you are interested in a brand new electric bike that is built to help you try a bit of everything, read on for Best Electric Bike's full review of why you'll want to consider the Sondors X electric bike!
Bike Category: Class 2: Pedal assist and throttle to 20 mph
Who It's For: Riders who want a very affordable eBike with wide tires and a strong motor for city and trail riding alike.
Bike Specs
FRAME: Forged Aluminum
UI/REMOTE: Greyscale LCD Display
BATTERY: 48V 17.5Ah Lithium-ion battery with Panasonic® cells
CHARGER: 3A Smart Charger
MOTOR: Bafang 500 Watt Motor
CHAIN: Rust Resistant Steel Chain
SHIFT LEVERS: Shimano RevoShift Half-Grip Twist on Right
CASSETTE: MF-TZ500-7 14-28 Tooth Freewheel
CHAINRINGS: Lasco, 170 mm Length, 48 Tooth Steel Chainring with Alloy Guide
DERAILLEUR: Shimano Tourney Derailleur
RIMS: Aluminum Alloy, Double Wall, 36 Hole, Black
TIRES: Chaoyang Big Daddy, 26″ x 4.9″
SADDLE: Selle Royale Gel
STEM: Aluminum Alloy, 90mm length
HANDLEBARS: Aluminum Alloy, 7 degree back sweep
GRIPS: Ergonomic rubber, locking
BRAKES: Tektro mechanical disc brakes, 180mm rotors
PEDALS: Wellgo, aluminum alloy platforms
KICKSTAND: Heavy-duty adjustable kickstand
BELL: N/A
HEADLIGHT: N/A
TAIL LIGHT: N/A
FENDERS: Optional add-on, pre-built attachment points
Pros
Very affordable eBike that offers mid-tier performance despite its entry-level price.
Available in three distinct colors to help you stand out while you ride.
Full aluminum electric bike. Extremely durable, and able to support over 300 lbs thanks to its great build, even if it does weigh more because of it.
Class 2 eBike with both pedal assist and a throttle. 500 Watt motor and 17.5 Ah battery will help you travel up to 40 to 60 miles on a full battery charge.
Great 3 Amp charger that is a bit stronger than the average 2 Amp charger included with a traditional entry-level eBike. Full charging from 0% to 100% will take around 5 hours.
The drivetrain is made up of Shimano components, one of the most reliable eBike drivetrain manufacturers in the industry. You'll hardly ever need to repair the drivetrain.
Grayscale LCD display that makes it simple to track your personal riding metrics while operating the Sondors X electric bike.
Chaoyang Big Daddy, 26″ x 4.9″ tires make every trip with the Sondors X a smooth and comfortable riding experience. Makes up for the minimal suspension support.
Tektro mechanical disc 180 mm rotor brakes. More than sufficient for coming to a quick stop in the city, and able to help you steadily slow down while going downhill on a trail.
Cons
At 70 lbs, this is a heavier eBike. Furthermore, many of the key components are attached to the rear wheel, so it can be difficult picking up this electric bike.
The Sondors X is currently only available in one size. The height adjustment options will suffice your typical adult rider, but very short or tall riders may have to look elsewhere.
The Greyscale LCD display is great for use during the day, but is known for being very hard to use at night if you don't have a light to help you read it.
The battery is removable, but it's a bit of a process that may take you a while the first few times you try to dismount it from the Sondors X.
Basic drivetrain with minimal shifting and performance options. Great for city riding and climbing steep hills thanks to the freewheel, but you can't finetune your riding much.
Features
Forged aluminum frame
Unlike many eBikes, the Sondors X is a very, very durable frame that is built with 100% forged aluminum. The frame has great weight support as well, able to support over 300 lbs, but the eBike is on the heavier side of things at 70 lbs.
48V 17.5Ah Lithium-ion battery with Panasonic® cells
A very long lasting battery, and is the best eBike battery available on a stock model from Sondors. Estimated max range on a full charge is between 40 to 60 miles depending on riding and road conditions.
3A Smart Charger
The 3 Amp smart charger is a bit more powerful than your traditional 2 Amp charger included with basic, entry-level eBikes. Estimated charging time from 0% to 100% is about five to six hours.
Bafang 500 Watt Motor
This throttle eBike has a speed capacity of 20MPH, and can be activated by use of the trigger throttle or with cadence sensor pedal assist. The motor is fantastic for riding over roads, hills, and on trails alike, but it does contribute to the bike's large 70 lbs weight since the motor itself weighs 10 lbs. Picking up and carrying the Sondors X is tricky as well due to how much the motor weighs down the rear wheel.
Greyscale LCD Display
Simple LCD display that provides a surprising number of useful metrics while you ride despite the eBikes lower, entry-level price. You'll be able to monitor your speed, distance traveled, battery level, pedal assist and more with the help of the LCD display.
7 Speed 1×7 Shimano Tourney, MF-TZ500-7 14-28 Tooth Freewheel
Freewheel drivetrains are great, because they provide more pedal options while riding and are specifically designed to make hill climbing easier. The 14-28 tooth freewheel does limit the overall performance customization options you have, resulting in just a 7 speed gear shifting eBike.
Chaoyang Big Daddy, 26″ x 4.9″ tires
Sondors eBikes stand out for their larger tires, and the Sondors X has some of the largest tires due to their 26'' by 4.9'' size. While the tires aren't great for racing, they are solid picks for those who want a hybrid style bike, designed for riding in the city and over mountain bike trails alike.
Swept Back Aluminum Alloy Handlebars with a Rigid Fork
Swept back handlebars, along with ergonomic grips/saddles and an adjustable seat provide for a very comfortable riding experience no matter what kind of road you're on. The rigid front fork doesn't offer great suspension, but enough to get some light trail riding in with the Sondors X.
Tektro mechanical disc brakes, 180mm rotors
Strong, 180 mm mechanical disc brake rotors that are more than enough for city riding, and suitable for light to moderate trail riding as well. Large four finger levers also make it real easy to apply the brakes as well, besides providing satisfying mechanical feedback when it's time to stop.
Wellgo Pedals
Aluminum platform pedals that are a step above the typical plastic platform pedals included with many traditional eBikes. The strong frame, combined with the premium pedals, combine for an eBike that is easily able to support around 300 lbs.
In-Depth Review
Frame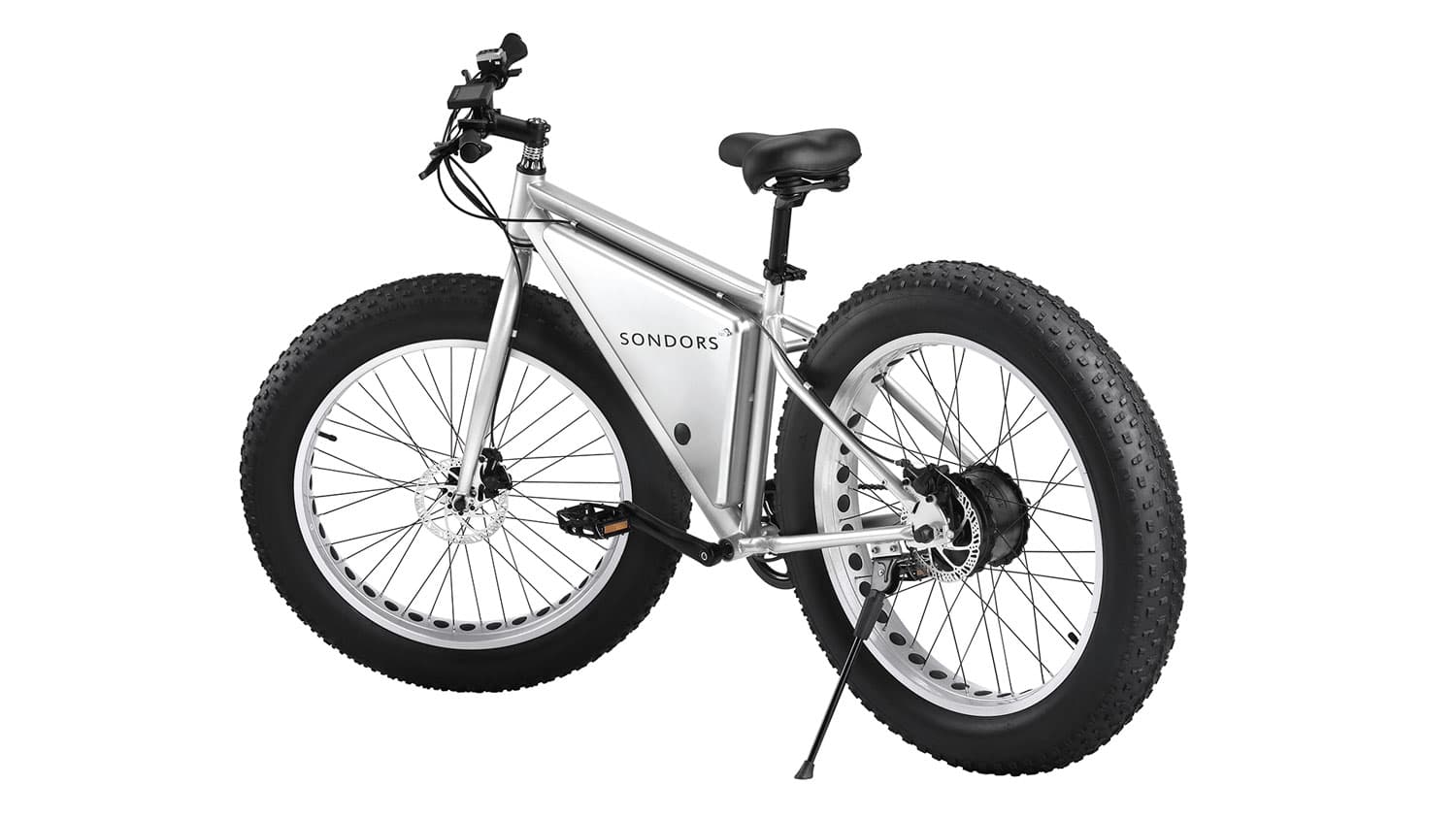 Many other eBike manufacturers use a custom aluminum alloy, but with Sondors you'll get a 100% aluminum based frame. As a result, the Sondors X is a very sturdy eBike frame, and one able to support over 300 lbs with the right rider and some weight distribution if you want to bring some extra cargo with you. However, while the durability and weight support are great, the major downside is that, combined with the other electrical components, the Sondors X does weigh about 70.9 lbs. If you lift the Sondors X, be especially careful when you lift it from the rear tire, since that is where the motor and many other electronic components are located that make the eBike back heavy.
The other concern with the Sondors X is that, while it comes in three great colors, it is currently only available in one model style and size. Sondors has included some adjustable components to help different adults find a more comfortable riding position, and between other reviews and Sondors recommendations we think it's a great eBike for those between 5' and 6'6''. This should be enough for your typical adult rider, though if you fall outside of this size range you will want to consider a smaller, shorter bike like the Sondors Fold X.
Motor & Battery
The Sondors Fold X is a Class 2 eBike that can provide motor assistance up to 20 MPH, activated by either the throttle or through the pedal assist system.
The 500 W Bafang motor included with the Sondors X is one of the weaker motors provided by Sondors, but it is still more than sufficient for city riding and for light to moderate trail riding. The weaker motor does have a benefit when combined with the improved 48 V / 17.5 Ah lithium, draining less power so you can travel farther on every charge. Typically, you can travel between 40 to 60 miles on a full charge, though a few riders and reviewers noted that they managed to go even farther with optimal riding conditions before their battery ran out of power.
Charging the battery is mostly easy, since you just need to plug the included 3 Amp charger into the stem port just below the saddle. The battery is removable, but it's a bit of a lengthy process, so we'd advise just leaving the battery on the frame unless you're storing it long term or can only charge it in doors. The 3 Amp charger itself is a great inclusion, since it's a bit stronger than the traditional 2 Amp chargers you often find with eBikes at this price point. To charge fully from 0% to 100%, expect to take around 5 to 6 hours. You'll rarely drain the battery completely empty though, so most of the time you can get an almost full charge by just leaving the charger in for 3 to 4 hours.
Display/Assist Modes
The Sondors display is located in the center of the handlebars, so a quick glance down is all you need to track and control your eBike motor. We think that the 3.25'' LCD screen is an ideal size, since it's large enough to make reading your metrics quick and easy without being so large that it weighs down your handlebars excessively. If we have one major complaint, it's that unlike the other Sondors bikes this LCD display is greyscale instead of a color monitor. That means that the LCD display can be very difficult to read at night or in dark environments, so make sure to bring a headlamp or some other lighting to help illuminate it if you do go out at night.
There are a number of key metrics you can monitor with the included Sondors Bafang LCD display. They are as follows:
Bafang LCD Display Metrics
Battery percentage
Current Speed
Power Meter
Trip Distance
Odometer
Max Speed
Average Speed
Trip Time
Assist Level (0 to 5)
The five assist levels will help you prioritize and balance whether you want greater motor power and speed against battery life and range while you ride. Lower assist levels will help you travel farther, but won't provide as strong of a push as you make use of the pedal cadence sensors. Higher assist levels help you get to 20 MPH quicker, but drain the battery faster and often cause you to waste power because of it. As a class 2 eBike, the Sondors X does come with a throttle as well that will allow you to turn on the motor with your thumb, but it is unaffected by the assist level and will provide the same push every time you press it.
While a powerful motor is included with the Sondors X, it will shut off once it hits 20 MPH in order to make it legal to operate the eBike without any additional licensing or age requirements. If you are unfamiliar with eBikes, you will be pleased to know they ride just like normal eBikes even when you aren't using the motor or the battery runs out of power. Additionally, you can also pedal faster than the 20 MPH speed cap, relying on the motor to help you build your speed or cushion you if you find yourself tiring out or slowing down. Just make sure you use the proper pedal assist level, or you might wind up wasting power and running out of juice before you reach your destination.
Handling
On Streets- Larger tires are generally designed for mountain biking rather than city riding, but the Sondors X still handles great on urban roads as well. The 26'' size makes them very stable and shock absorbent, and are well suited for cobblestone, gravel, and other uneven roads that typical city tires can sometimes struggle with. While large at 4.9'' wide, it is part of the reason why the Sondors X is able to support over 300 lbs.
Turn Radius- The downside to having thick, wide tires is that it does make it harder to perform a sharp turn. The Sondors X does well enough that you won't have a problem dodging other cyclists on the trail or cars on the road, but it will struggle if you have a tight alleyway or narrow door or passageway you need to go through. If you take your time, you can make a tight turn without too much trouble, but you'll want something like the Fold X or XS if you prefer an eBike that is more suited for sharp turns in the city.
Low Speed Handling- This is an over 70 lbs eBike, so it can be difficult to handle at lower speeds. Fortunately, there are two options that will greatly help you navigate at lower speeds, though both require you to make use of the battery and motor. A walk mode is included with the Sondors X electric bike, which will provide you with a small push while you're walking alongside the eBike on the ground. Alternatively, you can also make use of one of the lower power assist modes, which will also provide you with small motor power that will make pedaling easier if you're still on the bike. Just be careful not to use the throttle at low speeds, since it's set for a higher power assistance level and can cause the Sondors X to shoot out from you at higher speeds.
Gears/DriveTrain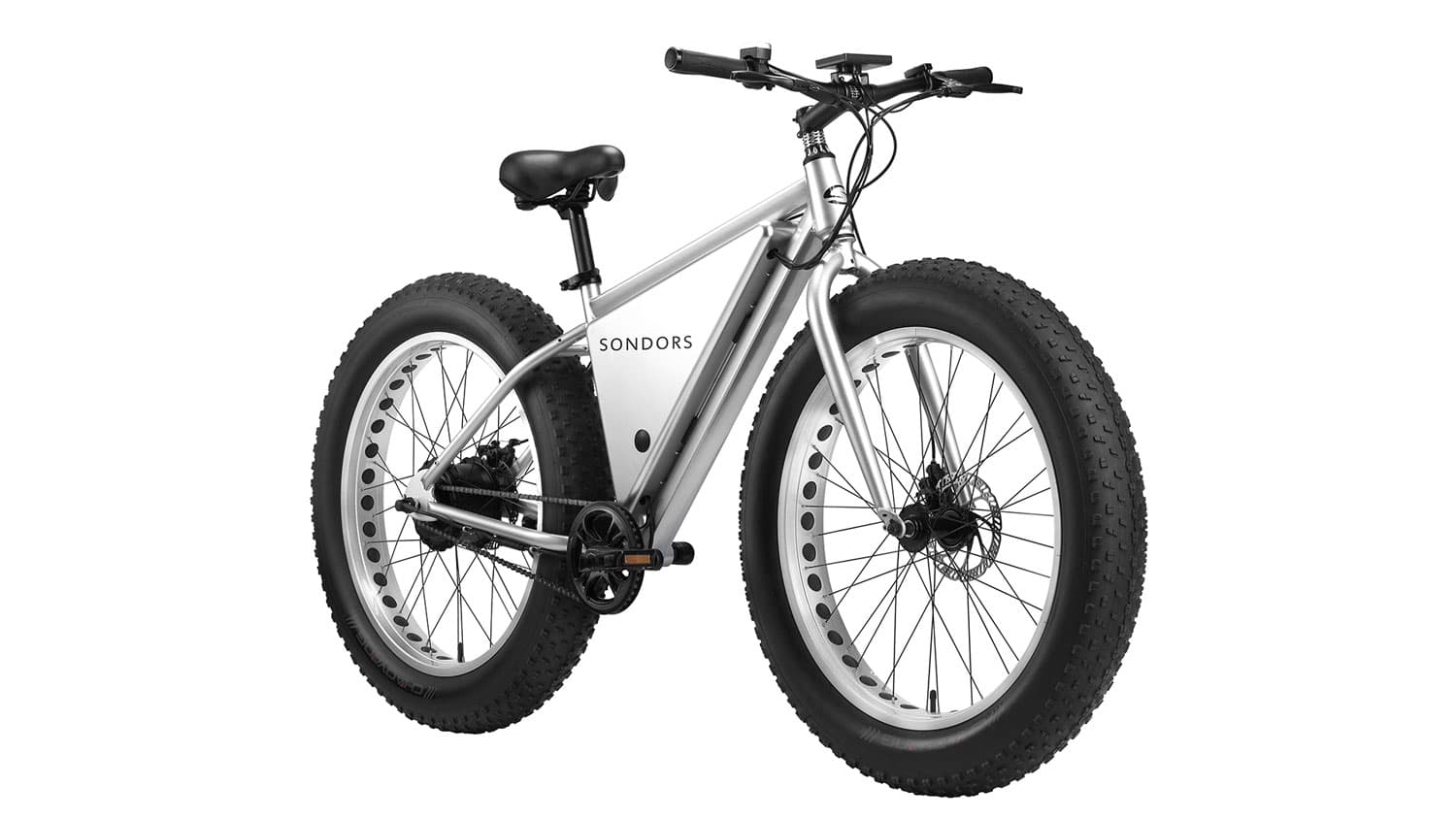 The Sondors X drivetrain is primarily made up of Shimano components, featuring a MF-TZ500-7 14-28 Tooth Freewheel connected with a rust resistant steel chain to the 48 T chainring. If you need to shift, the 7 speed drivetrain changes gears with the aid of a Shimano Tourney Derailleur and Shimano RevoShift Grip Twister. The main draw of this drivetrain is that it utilizes a freewheel setup, which gives you extra pedal options and is specifically designed to make climbing hills easier. With a freewheel, you can proper your eBike by pedaling forwards or backwards, with backwards pedaling great for loosening up your calf and thigh muscles if they tighten up during long rides. It is a simple drivetrain, and the 7 speed shifting along with the smaller 14-28 T freewheel might not be sufficient for your advanced, experienced cyclist. Shimano makes very reliable drivetrains though, so this is a drivetrain you won't have to do much to maintain or repair as you ride the Sondors X electric bike.
Brakes
While it might not feature the more advanced hydraulic disc brakes used by other Sondors eBikes, the Tektro mechanical disc brakes with 180 mm rotors is still a fantastic setup for this hybrid eBike.The brakes are more than enough for city riding, and are capable of helping riders riding fast downhill come to a quick, steady, and stable stop. This is especially true due to the integrated brake and motor design, with the brakes shutting off the motor automatically when you pull on the levers. By having an integrated design, you not only come to a stop quicker, but will extend the life of the brakes and motor system alike. As a final note, we appreciate the large four-finger levers, since they not only give you plenty of space to grip but have strong tension feedback that makes it even more fun to apply the brakes while you ride.
Suspension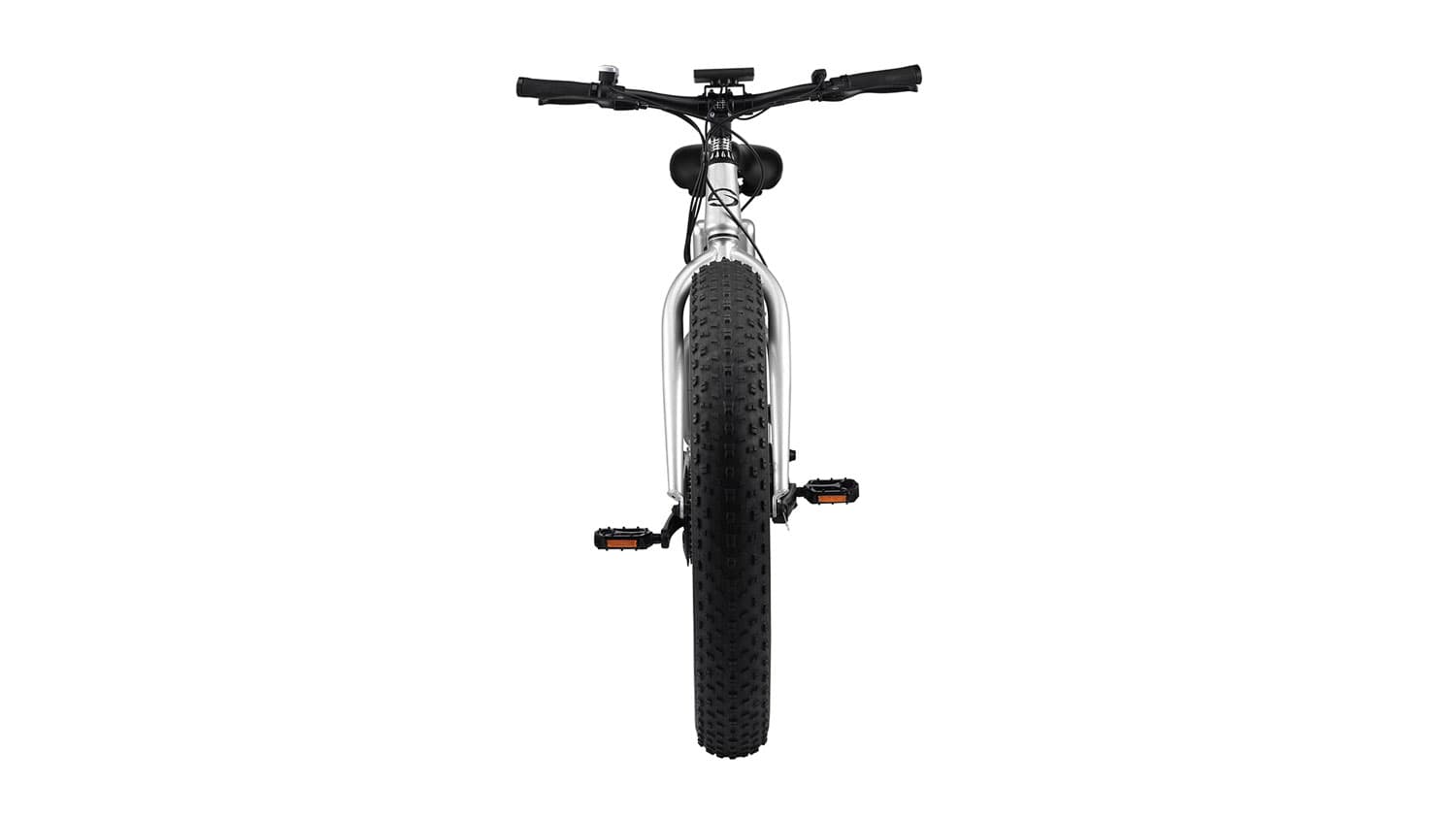 The Sondors X does not offer much in terms of suspension, though it does have a standard front fork that provides some shock absorption when you hit the occasional rough patch. Whether you'll want to add further suspension ultimately depends on the kind of riding that you want to prioritize with the Sondors X electric bike. If you prefer to stick to urban riding, the large tires will provide enough support that you don't really need much more in terms of suspension on city roads. Alternatively, if you want to get some trail riding in, especially on more moderate to hard mountain paths, you will benefit greatly from replacing the saddle, steam, and even fork with some degree of suspension. If you are looking for a pure mountain bike, going with the Sondors XS or MXS will be better options as well. Otherwise, the Sondors X is still a great hybrid option for everyone else who only wants to engage in some trail riding from time to time.
Pedals
The Sondor X continues to stand out as a great electric bike thanks to its Wellgo aluminum platform pedals. Plastic pedals are inexpensive, but they're easy to break and don't provide a ton of great weight support for cyclists. Aluminum pedals cost more, but are more durable and provide superior traction support, especially for riders who weigh more.These pedals also benefit from having side reflectors, which do increase the rider's profile and reduce the chance that they'll suffer a collison. Overall, these are great pedals, and a surprising inclusion given how inexpensive the Sondors X electric bike is.
Grips and Saddle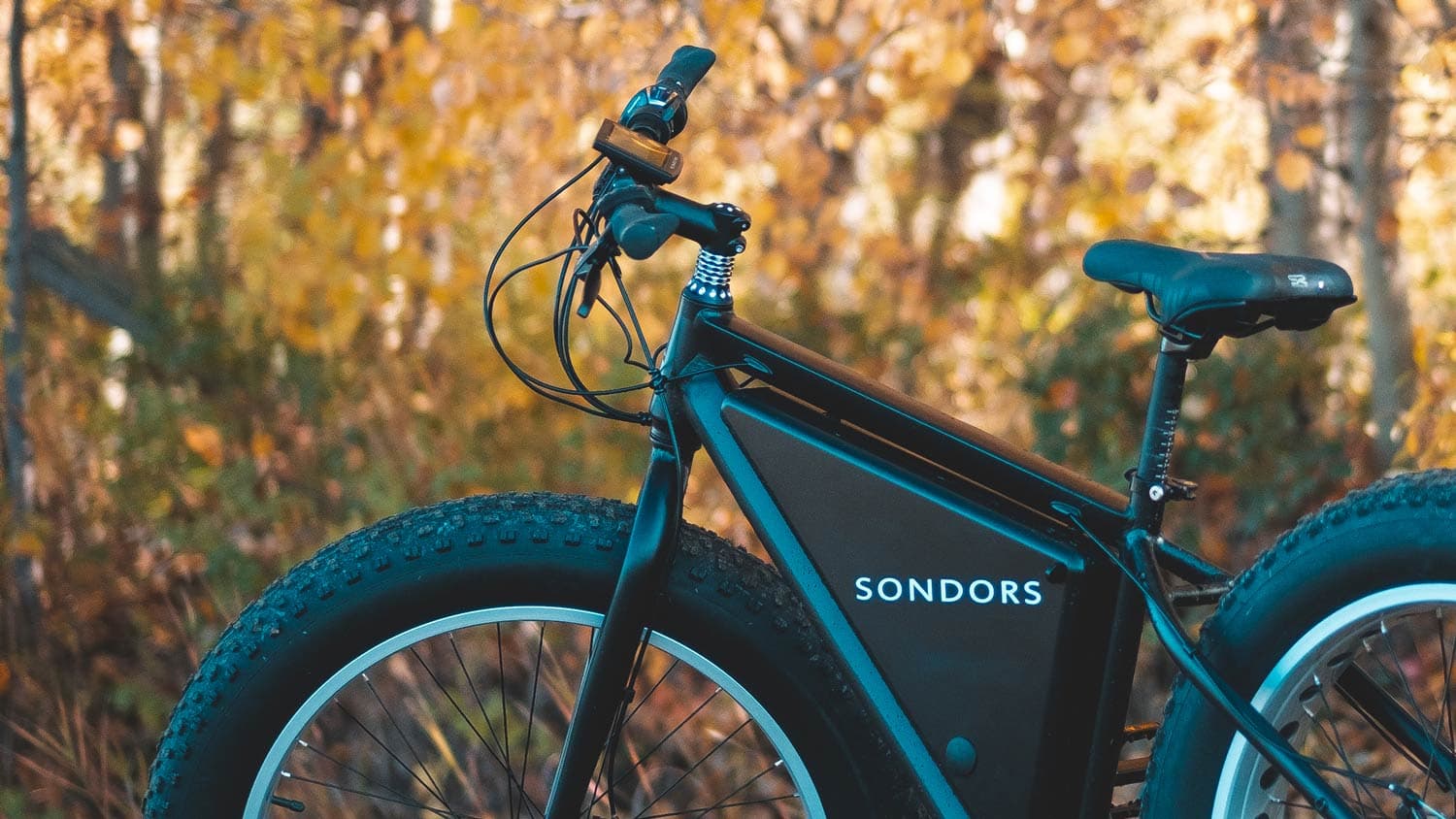 Snug ergonomic rubber grips are included with the Sondors X electric bike, which means you can ride for several hours and build up a sweat while still maintaining a tight hold and be protected against chafing. The grips are also locked onto the handlebars, so if you want to replace them once they get worn out it's very simple to do so. As to the saddle, it is a Selle Royale Gel saddle that sits on a 270 mm seat post, both of which can be upgraded and replaced if you have your own favorite or suspension option in mind. The stock saddle and stem post are enough for most riders who purchase this eBike, especially those who intend to use the Sondors XS primarily for city and urban riding.
Wheels and Tires
Of the Sondors electric bike lineup, the Sondors X has the largest tires in terms of volume, featuring Chaoyang Big Daddy tires that measure 26″ by 4.9″. These tires sit on aluminum alloy double wall 36 hole rims, with stainless steel spokes that are 13 gauge on the front tire and 12 guage on the rear tire. These tires have a recommended inflation rating set for 5 to 20 PSI, with 5 PSI great for sand and loose dirt while 20 PSI is better when you intend to ride on asphalt. The great tire stability means that while they might not be the quickest tires out there, they are designed so that you can have a great time riding almost anywhere without having to swap out your tires. One thing they are lacking though is any sort of reflective tape, so make sure to throw some to make it easier to spot you while riding, especially while riding at night!
Accessories/Upgrades
This is a very affordable eBike, and with an adjustable kickstand there's not much you really need in terms of critical accessories to make it a fun eBike to ride. However, the one thing it is lacking that is important for every cyclist is a proper lighting system. There isn't a headlight or tail light, which makes it significantly harder to spot the cyclist when they're riding at night. If you purchase the Sondors X electric bike, we highly recommend adding a LED system to your electric bike to greatly reduce the risk of suffering a collison.
Recommendation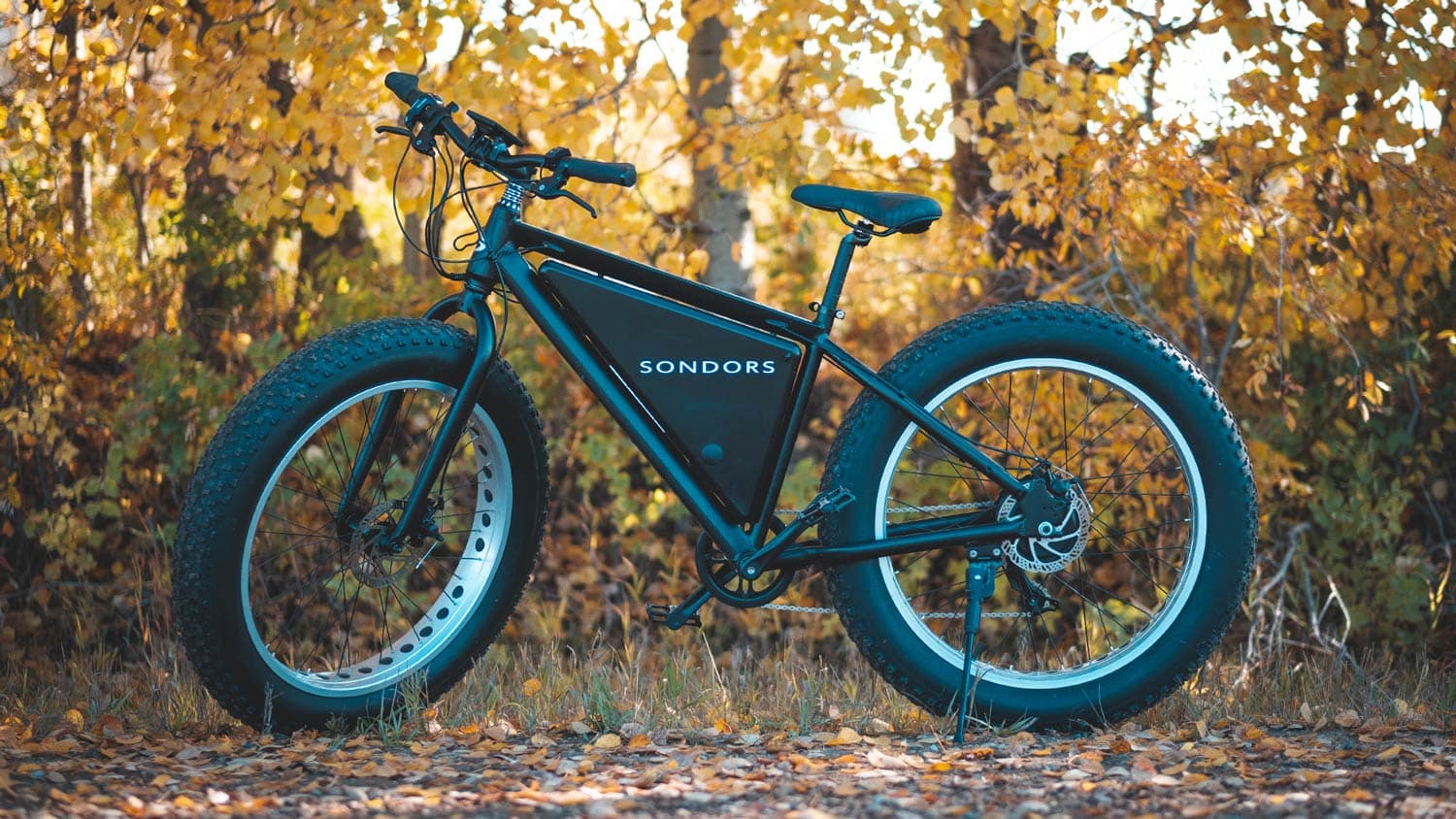 The Sondors X is bike built for all types of riders, whether it be for commuting to work or for exploring your favorite mountain trail. The pure aluminum frame is built tough, providing over 300 lbs of weight support that helps justify the heavy 70 lbs total assembly weight. The class 2 eBike has a highly accurate pedal cadence sensor and throttle, giving you two options to take advantage of the Bafang 500 watt motor and 17.5 Ah lithium battery in order to travel up to 60 miles on a single charge. The LCD display offers a wide range of metrics you can track while you're riding, sitting in the center of the swept back handlebars that, combined with the Royale Gel seat and ergonomic grips, will make every ride a smooth and comfortable experience. This is especially true due to the reliable Shimano drivetrain and Tektro 180 mm rotor mechanical disc brakes, allowing you to rapidly pedal or come to a quick stop on float roads and steep hills alike. Given the very affordable price of this electric bike, those who are new to eBikes or are looking to add a fun secondary bike to their collection will greatly enjoy trying out the Sondors X electric bike!
Would you like us to do a full written and video review of the Sondors X? Let us know in the comments below!