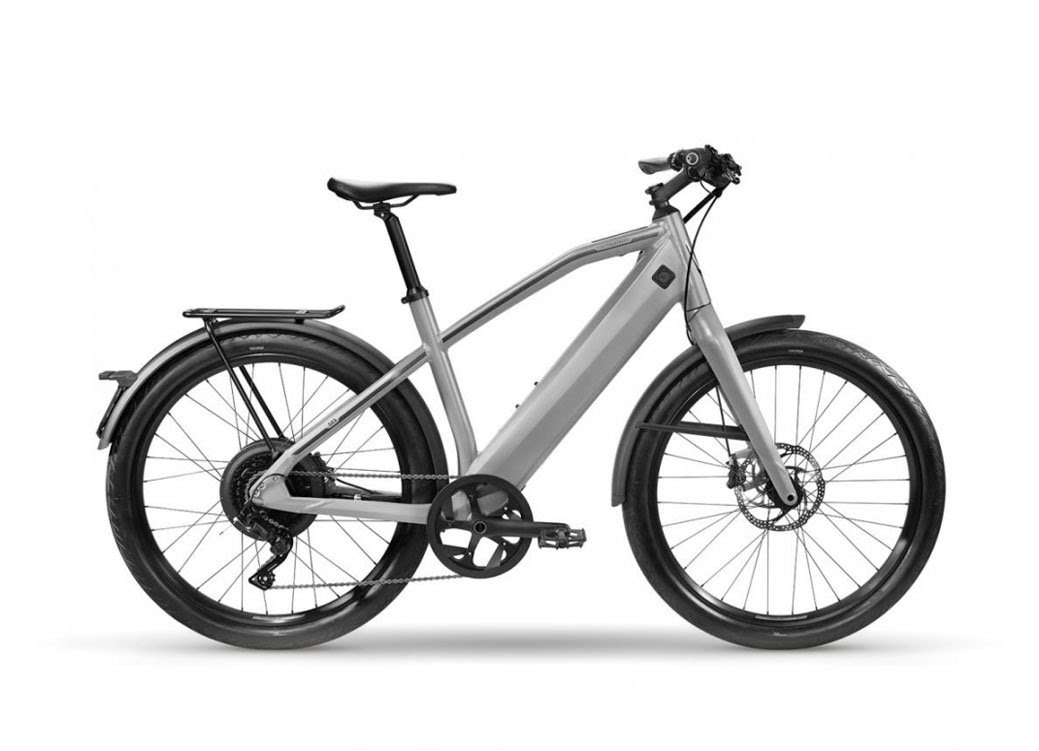 Thank you for reading our review of the Stromer ST1 electric bike. We have a lot to say in this e-bike review, even though our team hasn't had the pleasure of testing it out yet. Still, you'll find plenty of value in our team's expertise and thorough examination of the Stromer ST1. It holds a lot of similar qualities to other eBikes we have ridden and tested, so we hope our spec review affords you the information you need to get to know the Stromer ST1 electric bike a bit better.
The Stromer ST1, sometimes called the Porsche of electric bikes, is a luxury electric bike that is easily the commuter's best friend. The sleek design is just one of the many aspects of this bike that we love. The price matches the quality of the bike, putting the Stromer ST1 on the higher end of electric bike prices, depending on the model you choose.
Built with obviously high-quality components, the Stromer ST1 is also somewhat heavier than comparable bikes. It only has pedal assist but features a 500-watt gearless rear hub motor to provide plenty of power when needed.
The customizable riding positions make the Stromer ST1 an approachable bike for everyday use. It can easily travel about 55 miles (90km) with the standard version, but you can choose to double that distance with an upgrade to the battery that they offer. Since this is a Class 3 eBike, you will reach speeds up to 28 mph (45 km/h) with a 550 W motor.
A stand-out feature on the Stromer ST1 is the Bluetooth connectivity and electronic display. The integrated display makes it easy for commuters to ride keyless and know their range available.
Overall, this is the ideal commuter eBike for those looking for a comfortable and customizable bike that is easy to use and a pleasure to ride.
Bike Category: Speed Pedelec Class 3 Electric Bike. Pedal assist up to 28 mph.
Who It's For: Luxury commuters looking for customizable, sleek, and powerful eBike.
Bike Specs
FRAME: 6061 Aluminum Alloy
UI/REMOTE: OMNI LED Interface B (bluetooth)
BATTERY: Lithium Maganese 500 Wh
CHARGER: Stromer CR46 246 W
CHAIN: Shimano CN-HG53
SHIFT LEVERS: Shimano Sora
CASSETTE: 11-42T
DERAILLEUR: NIL (front), Shimano Sora (rear)
RIMS: Stromer 27.5 x 30 by Alexrims
TIRES: Stromer Custom TA754 by Vee Tire
SADDLE: Ergon ST10
STEM: Aluminum Alloy
HANDLEBARS: riser (Rise 20 mm | Black Sweep 20 mm)
GRIPS: Ergon GP10
BRAKES: Stromer HD922 by Tektro
PEDALS: Plastic (custom)
KICKSTAND: Yes
BELL: Yes
HEADLIGHT: Roxim Z4 Elite
TAIL LIGHT: Roxim R3E with brake light
FENDERS: Stromer Custom Alloy
Pros
Sleek design – this bike flat out looks great
The integrated LCD display is unique
Great brakes. Stromer uses custom Tektro hydraulic brakes with 203 mm rotors that provide mountain bike-level stopping power
Reliable drive power makes it a worthy introduction to S class ebikes
Adaptable comfort to fit your style and riding needs with customizable riding positions
Cons
While it has comfortable components, we hoped that a fork would come stock. They do provide the option to add a fork though.
Only supports a pedal assist, no throttle assist. The powerful rear-wheel motor makes up for that for the most part.
Gearless hub motor makes it a bit heavier than comparable ebike options, but it does provide an amazing amount of power and performance.
Bike Features
6061 Aluminum Alloy Frame
The Stromer ST1 has two specific frame styles, the comfort and sport that both come in three sizes.
Lithium Manganese 500 Wh Battery:
Something that is nice about any Stromer eBike, but the ST1 especially, is that they offer different battery options. The ST1 stock battery is a 500Wh battery which is enough to travel 55 miles (90km). You can also opt to upgrade to a 618Wh, 814 Wh, or 983Wh battery giving you a range of 120 miles.
Stromer CR46 246 W Charger
Stromer CYRO Drive II Motor:
The Stromer ST1 uses a customized rear hub drive, the CYRO Drive II Motor. This motor offers excellent acceleration and performance for a bike of this class of eBike.
Stromer HD922 by Tektro Brakes:
You have double braking benefits with the Stromer ST1 regenerative braking system. The Stromer HD922 brakes capture your braking energy to help recharge the battery and in an attempt to minimize wear on the brake pads. These types of brakes are unique to hub drive eBikes like the Stromer ST1.
OMNI Bluetooth:
The user interface on the Stromer ST1 uses bluetooth to provide a wireless connection to your smartphone to lock and unlock your bike as well as customize settings and track your mileage, battery, and more.
In-Depth Review
Although this is an in-depth review, it is all a speculative review since we haven't had the chance to test the Stromer ST1 ebike in person. In this review, we will give an overview of the speculative performance, how the electrical system works, the build of the bike, and other accessories and model options available.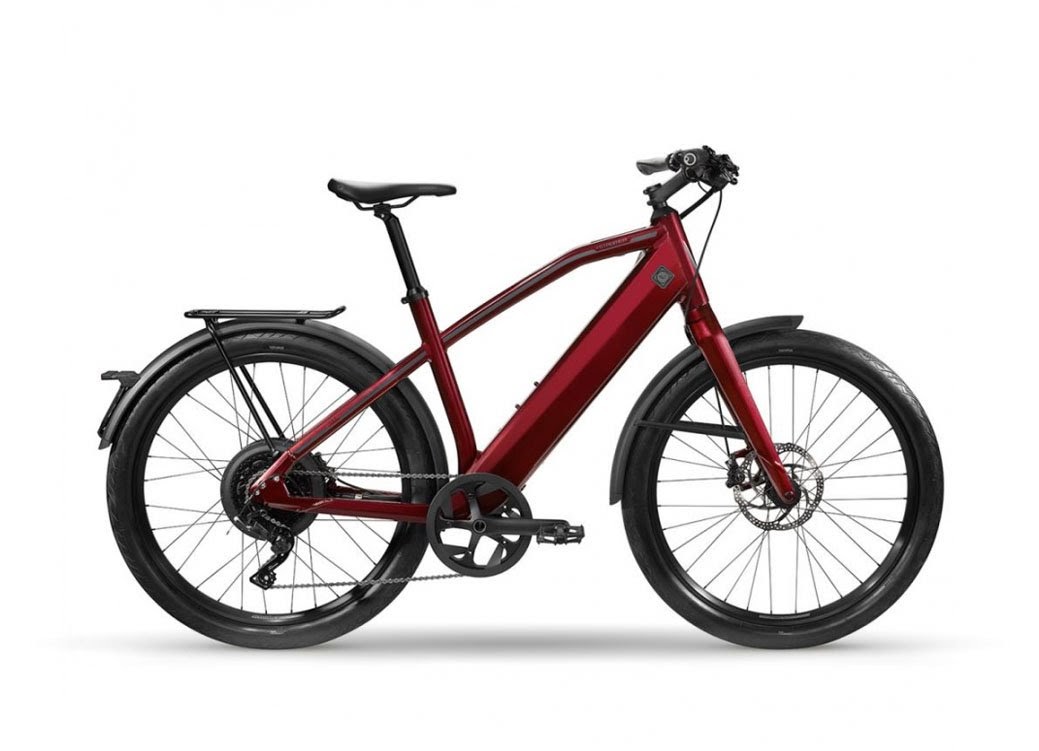 Stromer ST1 eBike Performance
How the Stromer ST1 eBike rides and performs will vary on the bike type. The Stromer ST1 is available in a few different configurations, and this review covers the standard Stromer ST1. However, there is an ST1 Elite, Platinum, X and the original ST1 model. This review covers the Stromer ST1, which is the original Stromer model.
Bike weight
With all of the components and the focus on comfort, the Stromer ST1 is on the heavier end of eBikes. It weighs 62 lbs (28 kg). When the motor is charged and you're cruising, the bike's weight isn't a big deal because weight alone doesn't necessarily impact the physics of bike mobility and performance.
If, for some reason, you were to experience a motor failure or run out of battery, that is when the bike weight may become troublesome. You can pedal eBikes independently from the motor assist. Still, with the Stromer ST1, this is relatively difficult to do, and it may feel like there is a lot of resistance as you pedal without assistance.
The weight being on the higher end of eBike weights also means that it may be difficult for an individual to carry if they need to bring their bike up and down stairs or load it into a vehicle of some kind. Not impossible, but it can become cumbersome if you're doing it alone and depending on your fitness level.
Handling
Both the Stromer ST1 comfort and sport models have quality handling. They both have large volume tires and optional suspension to add to your comfort while maneuvering. The handlebars and riding position are customizable to fit the rider to make it easier to maneuver and improve handling while riding.
Overall, when riding the Stromer ST1, it will feel quite fluid even though it does have a heavy frame and a lack of suspension. If you use this eBike daily and tend to travel at higher speeds, investing in one of the suspension frames may improve the riding experience and the handling of the bike as you cruise around town.
In general, since the Stromer ST1 is a heavy bike, going at slower speeds will make handling more difficult.
Climbing
With the variety of riding modes available on the Stromer ST1, climbing is an easy feat. When going up a steep hill, it is advised to use the "power" mode, but one of the middle modes will work decently for smaller or rolling hills.
For the amount of power the bike puts out, especially when using "power" mode and climbing hills, the range on the battery will be impacted.
Since this is an eBike designed to be a city commuter, riding this in extremely hilly terrain will not be the best experience. The ride will likely be smooth and fluid, but because of the motor power and output in "power" mode, the bike may overheat when being pushed to its limit for extended periods or during hot days. That said, it seems to perform well on the occasional hill, but maybe don't ride it through a mountain pass or on steep hills on a summer day.
Descending
Going downhill with the Stromer ST1 is not an issue as the handling on the bike is decent. The bike is equipped with disc brakes that can generate energy with the motor when going downhill. This is known as recuperation, and it can help extend the battery life during your ride, especially if you have a few hills to ride over.
How it works is that as soon as your brake, the bike's motor switches into the recuperation or braking mode to support the act of braking. The energy produced by this is then stored in the battery.
The Electrical System
Class 3 eBike
The motor assistance on the Stromer ST1 goes up 28 mph (45km/h). There is not a traditional throttle on the Stromer ST1. Most Stromer bikes use a boost button under the right handlebar instead of a throttle. For some, the button acceleration is easier to use than a throttle, but it can take some getting used to for others.
Controls and power modes
The Stromer ST1 has four different modes:
Eco (150%)
City (200%)
Tour (250%)
Power (300%)
The mode is displayed and can be changed manually on the display screen interface or with your smartphone control. The energy recovery will be activated when you brake and can also be activated by selecting the mode. Nothing will be shown on the display when idling because the bike will be in "zero mode."
When the Stromer ST1 is in Eco mode, it is essentially in low power mode. The Eco mode is ideal for long rides or if you need to conserve the bike's battery. It feels most comfortable when riding on flat sections of road because there is less torque as you pedal. Many city commuters will enjoy Eco mode because there will be no cutting in and out or jerking around between motor assists.
City and Tour mode will be relatively similar on the Stromer ST1 and are an excellent middle ground between the Eco and Power modes. City mode will have a bit more power than Eco mode, but not as much as the Tour, which will be better if you are going over low angle, rolling hills.
There are differences between the City and Tour modes, though. City mode is ideal for commuters that require frequent stops and quick starts. Whereas the Tour mode will be better for long distance rides with fewer stops in between.
Power mode is the Stromer ST1's highest mode. When you are commuting, the Power mode is only really comfortable for short distances like going up steep hills or accelerating quickly through a short stretch. It is meant for high intensity, meaning it will drain the battery faster than Eco or City modes.
For maximum range on the Stromer ST1, it is recommended that you ride within one of the middle power modes.
Drivetrain/powertrain
The Stromer ST1 is designed with a Shimano Sora 11-32 drivetrain to provide you with nine gears. This drivetrain helps you adjust to hilly terrain on any commute.
The powertrain type on the eBike is a hub motor. The hub motor is a Stromer CYRO Drive II providing you with a 550 W output and 35 Nm in Torque. The powertrain makes the Stromer ST1 a Class 3 eBike and allows it to travel up to 28 mph (45 km/h).
Battery
The battery on the Stromer ST1 has a max range of about 55 miles (90 km). To reach a full charge from an empty battery, the charging time is around 3 hours and 40 minutes. You can choose to improve your range up to 110 miles (180 km) by upgrading to an expansion battery. The battery is replaceable, and you can upgrade to a battery with a further range at any time.
Unless you upgrade to a different battery, the stock battery for the Stromer ST1 is a 500 Wh, 48 V, and 10.5 Ah battery. The highest Ah you can invest in for any Stromer eBike battery is 19.8 Ah.
As discussed earlier, the power mode can impact the range of the bike's battery. Overall, the lighter the sensor sensitivity, the greater the eBike's range will be. When you are riding with more cargo or a heavier weight in general, the motor on the eBike is performing harder when accelerating or when climbing a hill.
To maximize your range, minimize the payload, regularly check tire pressure, and use the proper power mode for the terrain. Your speed and battery range will decrease on steep climbs.
How much battery life you have left will be displayed in the bottom right corner of the interface screen. There is an image depicting the charge left on the battery as well as the percentage. You can also reference the energy consumption while you are riding by looking at the arrows on either side of the battery level display. If there are three arrows, you are using the maximum energy consumption. If there are two arrows, you are using a medium amount of energy, and one arrow is very little energy consumption.
The Build
Derailleurs and shifters
The Stromer ST1 is a nine-speed 11-42 by Microshift. This is enough shifting capability for a city commuter and is easy to switch between gears while riding.
Since you have a nine-gear range with the Stromer ST1, the derailleurs make it easy to find the perfect cadence. That, combined with the variety of pedal assists, allows the rider to pedal as much or as little as they want.
Frame and fork
Like most eBikes on the market today, the Stromer ST1 frame is made from 6061 Aluminum Alloy. Much of the bike's weight comes from other components like the battery and hub motor, so the frame itself is a relatively lightweight but durable material.
The frame sizes vary slightly from the sport and comfort styles, but only in length.
The fork is also made from 6061 Aluminum Alloy and does not include suspension unless you add it onto the bike model when ordering.
Wheels and tires
The Stromer ST1 has 27.5" x 30" rims that are an excellent size for city riding, and can cushion your ride on most city streets. If you frequently ride on bumpy roads, you can upgrade for more suspension.
The tires are Stromer Custom TZ754 by Vee Tire with dimensions of 54 x 584.
Miscellaneous
The Stromer ST1 is designed to be a comfortable commuting bike, meaning that it includes several comfort features. These features include a very comfortable seat, headlights, brakelights, and a horn. These features make it safer to ride in any city and can give you the safety you need when it is dark outside.
Accessories and custom options
All Stromer eBikes have several add-on options to help you customize your riding experience. There are four main add-on categories:
1. Batteries: Range in batteries is 18 – 110 miles (30 – 180 km) but they are all compatible no matter the bike model.
2. Chargers: The difference in Stromer chargers is whether they can charge the battery directly in the bike or outside the bike.
3. Tires: All Stomer tires are designed to ride well in an urban environment, but they also have optimal wet surface grip and puncture resistance.
4. Bags: To make commuting a breeze, Stromer has released carrier bags that work seamlessly with all bike models.
For the Stromer ST1, you can also customize your suspension and frame between a sport or comfort option.
You can also get different Stromer ST1 models like the Premium or Elite. These will have a few different capabilities beyond the standard Stromer ST1. For instance, they have a "boost" mode to help you accelerate faster.
Recommendation/Final Verdict
There is a lot to be excited about when it comes to riding the Stromer ST1. It is the ideal urban commuter bike. It has enough power, range, and comfort to replace a car entirely if you live in a city. It is a pretty heavy bike as a whole, but the weight doesn't seem to impact the handling or user experience much.
The unique user interface makes controlling, starting, and locking the bike a breeze since you can do it all from your Smartphone. All in all, this is an excellent Class 3 commuter eBike with several features to customize for your needs.
We haven't had a chance to do a hands-on riding test for the Stromer ST1 yet. Let us know in the comments if you'd like us to do a riding test to get an even more in-depth review of the Stromer ST1.