Welcome to our Tern GSD S00 review. We will break down the specs on this
electric bike
and share our thoughts on its overall value. We haven't had the chance to ride this cargo eBike ourselves, but we have ridden past versions of the bike and compared it against the latest model.
We've also studied it carefully by making a list of components it shares with other eBikes we've reviewed and are riding right now. By doing so, we're able to develop our spec review of the Tern GSD S00 eBike. We hope our spec review will give you a general impression of the performance and feel you should expect when riding the Tern GSD S00!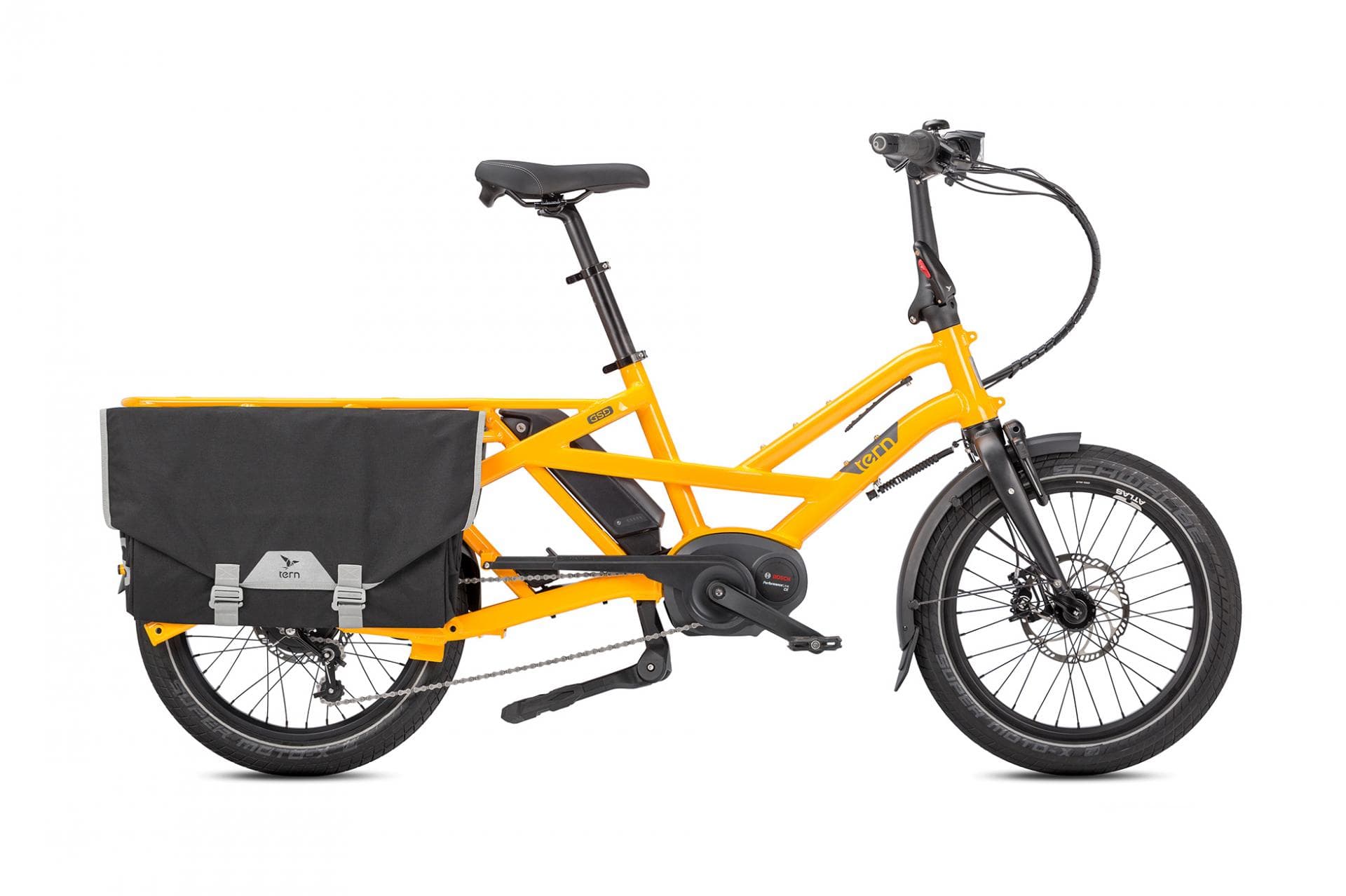 *To see current pricing on the Tern GSD S00 click here
The Tern GSD S00 is fantastic in several ways, whether you use it as a compact cargo bike or as a vehicle for commuting to work or cruising the city. The low-to-the-ground frame has excellent stability. Relying on a 7005 aluminum alloy has added durability and weight support not generally seen on a traditional 6061alloy frame.
The powerful 75 Nm Bosch mid-drive motor is great for accelerating quickly, even up hills. Whether you pick the basic or upgraded battery option, you can travel over 80 miles before recharging.
The GSD S00 features an Enviolo CVT drivetrain, featuring practically unlimited gear shifting options for precise pedal control. Acceleration is quick and easy, and so is braking with the Magura 180 mm rotor hydraulic disc brakes.
These components alone provide stellar, premium-level performance, even without the good number of accessories included with the GSD S00. If you are looking for one of the best and lightest full cargo bikes on the market right now, keep reading our spec review of the Tern GSD S00 electric bike!
Bike-Category: Class I electric bike. Pedal activated motor assistance up to 20 MPH.
Who It's For: Cyclists who want a full cargo bike that is lighter, easier to pedal with, and has a fantastic range—especially well suited for those who want a frame that rides lower to the ground.
Bike Specs
FRAME: 7005 Aluminum Alloy
UI/REMOTE: Bosch Purion Display
BATTERY: Bosch Powerpack 500 Wh or 1,000 Wh, Dual Battery System
CHARGER: 4 Amp Charger
MOTOR: Bosch Performance CX Motor, 600 W / 75 Nm
CHAIN: KMCe Chain
SHIFT LEVERS: Shimano Enviolo shifter
CASSETTE: Enviolo CVT Cassette
CHAINRINGS: Sprocket 20 T Chainring
DERAILLEUR: N/A (CVT Drivetrain)
RIMS: Double Wall Aluminum Alloy 32 Hole
TIRES: Tern X Schwalbe Super Moto-X Tires, 20'' x 2.4''
SADDLE: GSD Branded Comfort Saddle
STEM: Tern Andros Adjustable Stem
HANDLEBARS: Tern Sweep Swept Back Handlebars
GRIPS: Ergon GC10 Grips
BRAKES: Magura MT5 Hydraulic Disc Brakes, 180 mm Rotor
PEDALS: Urban Non-Slip Composite Pedals
KICKSTAND: Center Mounted Double Kickstand
BELL: Aluminum
HEADLIGHT: Tern Valo Direct Integrated Headlight
TAIL LIGHT: Herrmans H-Trace eBike Tail Light
FENDERS: Plastic Fenders with Mud Flaps
Pros
Sturdy, well-built cargo bike that provides great weight support despite the smaller overall size. Highly adjustable, so all types of cyclists can ride it comfortably.
7005 aluminum alloy frame. Heavier than an average 6061 aluminum frame, but it provides greater stability and weight support. Weighs about 71.5 lbs assembled.
Bosch Powerpack 500 Wh battery, with an optional 1,000 Wh battery setup. A single battery has an 80+ mile range, while two batteries together have a 160+ mile range.
Premium 4 amp charger. Excellent recharge time, and can charge one battery from 0% to 100% in just 3 to 4 hours. 1.7 lbs charger–lightweight and easy to travel with.
Bosch Performance CX Motor, 600 W / 75 Nm torque output. More than enough motor power to help you travel to work, keep up with traffic, or even climb the occasional hill.
Enviolo CVT drivetrain. Unlimited gear shifting and less overall maintenance or glitches compared to a traditional drivetrain. Upgrade to a belt for even better performance.
Bosch Purion display. Small and simple, with four pedal-assist levels and the essential readouts you need to track typical riding performance. Mounted on the left handle.
Tern X Schwalbe 20'' x 2.4'' Super Moto-X tires. Premium puncture protection, with excellent traction support and stability while riding in the city. Great reflective taping as well.
Magura MT5 hydraulic disc brakes with 180 mm rotors. Great stopping power will help you come to a quick and steady stop no matter where you ride.
The full accessory lineup you need to ride with the stock model. Dual-leg kickstand, headlight, tail light, an aluminum bell, and more. Genuine premium eBike model.
Cons
Bosch Purion display is hit or miss for some experts. The right choice for those who want a simple display but underwhelming for cyclists who want a premium display.
Compact design is great for those who need a lighter cargo bike, but it results in a low frame clearance. Drivetrain and other components can scrape against the curb.
Bike Features
7005 Aluminum Alloy Frame
Stronger, more durable (but heavier) alternative frame to the more common 6061 aluminum alloy commonly used for eBike construction. The GSD S00 weighs about 71.5 lbs fully assembled, which is actually light for a cargo eBike.
Bosch Powerpack 500 Wh or 1,000 Wh
The stock model comes with a single battery, but you can upgrade to mount an additional Powerpack 500 Wh battery on the GSD S00 as well. About an 80-mile range with the stock battery, and over 160 miles with them both.
4 Amp Charger
A quick charger that will rapidly charge the included Bosch Powerpack 500 Wh battery. The estimated full recharge time from 0% to 100% is just 3 to 4 hours, despite its battery capacity.
Bosch Performance CX Motor, 600 W / 75 Nm
Mid-drive motor with a 20 MPH motor assistance speed limit. With 75 Nm torque, you have plenty of motor strength to help you commute to work and keep up with traffic, even when your bike is heavily loaded with cargo.
Bosch Purion Display
Basic but a very easy-to-use display system provides the most crucial functionality you would want from your motor display controller. Four pedal-assist levels, with several other excellent readouts to help you track your riding stats.
Enviolo Continuous Variable Transmission Drivetrain
CVT drivetrain is smoother than your traditional gear-based bike drivetrain and has practically infinite gear options. It comes with a specialized CVT chain but can be upgraded and replaced with a belt for even better performance.
Tern X Schwalbe Super Moto-X Tires, 20'' x 2.4''
Custom-made tires that are short and wide provide maximum stability and good grip support while you ride on the road. Premium puncture protection will significantly reduce the risk of a blowout or flat while you ride.
Tern Swept Back Handlebars with Rigid Aluminum Alloy Fork
Wide, swept-back handlebars help you maintain a comfortable riding position as you bike with the GSD S00. Rigid aluminum fork combined with natural bike weight provides solid natural suspension.
Magura MT5 Hydraulic Disc Brakes, 180 mm Rotor
Robust, long-lasting hydraulic disc brakes with large 180 mm sized rotors. Come to a quick and steady stop, even when riding downhill. Easy to maintain, with more adjustment options than your typical mechanical disc brake setup.
Urban Non-Slip Composite Pedals
Very sturdy composite pedals. Great non-slip design, helping you maintain your foot grip even when riding at high speeds—cool urban design, with large embedded reflector panels for added rider safety.
In-Depth Review
Frame
The Tern GSD S00 is built with a 7005 aluminum alloy, a denser and heavier aluminum variant than the more common 6061 aluminum used in eBike construction. While it does drive up the price and weight, the added stability and weight support make the GSD S00 an excellent cargo bike. It's more than able to support adult cyclists and the cargo loaded onto the extended rear cargo rack.
Further, thanks to the excellent design by Tern, the fully assembled bike weight is just 71.5 lbs, which is relatively lightweight for a cargo bike.
With a highly adjustable seat and handlebar components mounted on a low-to-the-ground design, the Tern GSD S00 is an eBike short and tall cyclists can enjoy despite only one frame size. However, as a warning word, the compact frame design means that multiple key components are pretty close to the ground. If you aren't careful, the kickstand, the pedals, and the drivetrain can scrape across the curb if you ride too close. Just be cautious, though, and you'll have a blast riding the Tern GSD S00 eBike!
Motor & Battery
The Tern GSD S00 is a class I electric bike and will provide electric motor assistance up to 20 MPH.
The Bosch Performance CX mid-drive motor has a 600 W peak output and a 75 Nm torque output. Mid-drive motors have many significant advantages over hub-drive motors, such as greater motor power, a more natural riding feel, a longer functional lifespan, and other great benefits.
With a 75 Nm torque output, you'll not only be able to accelerate to keep up with stop-and-go traffic quickly, but you'll find it easy to climb almost any hill you come across in the city.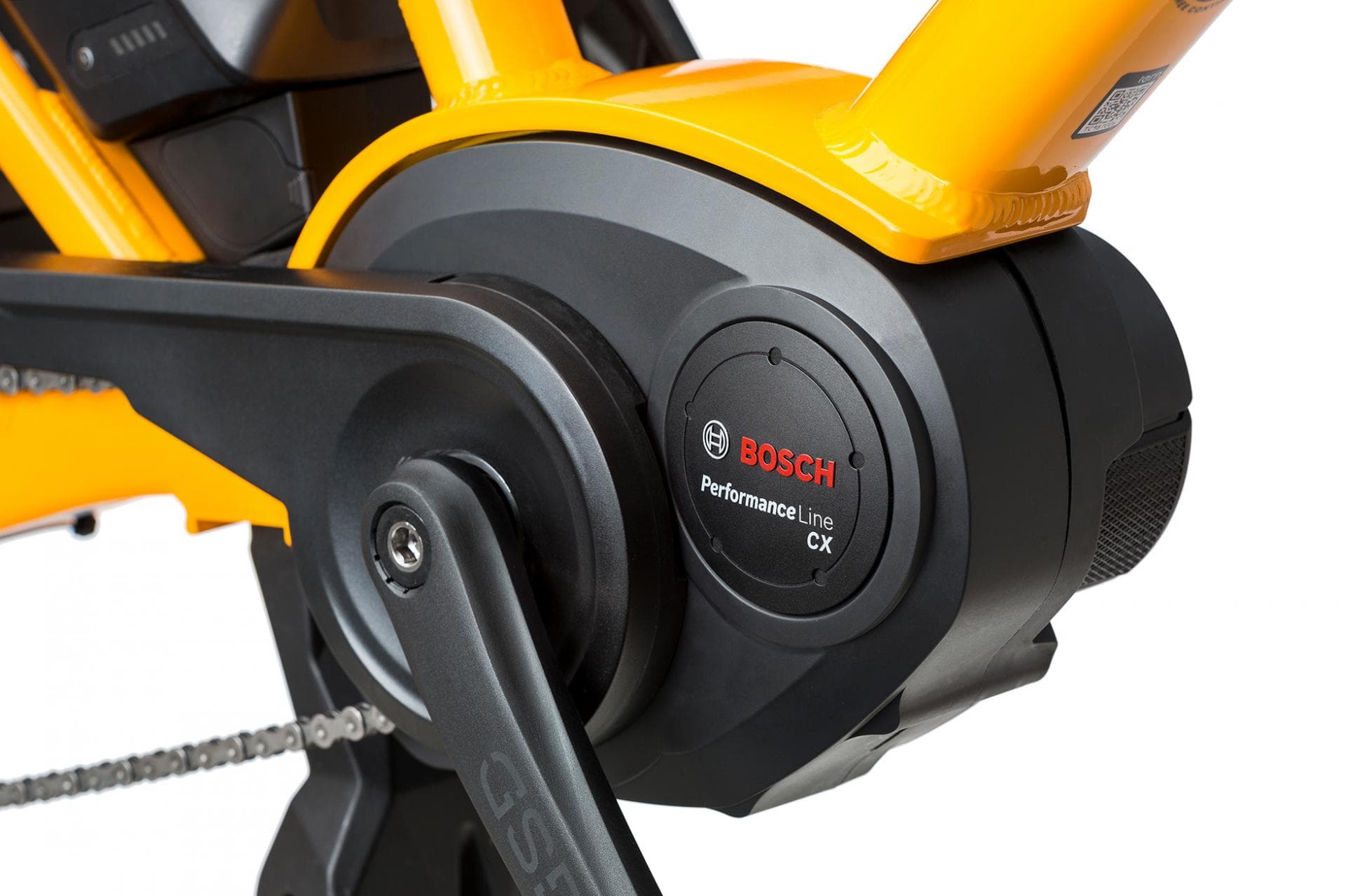 The battery and charger offer similar, premium performance as well. The stock GSD S00 comes with a Bosch Powerpack 500 battery, with a second battery slot if you want to upgrade for a 1,000 Wh battery configuration. Even with just one battery, you'll be able to travel over 80 miles on a single charge, with a total range of over 160 miles if you choose the upgraded battery configuration.
In addition to the battery, there's a 4 amp charger able to fully recharge the battery from 0% to 100% in 3 to 4 hours. Premium 4 amp chargers are typically bulkier than standard 2 amp chargers, but this smart charger is not. You can charge the battery on or off the bike, so be sure to bring your charger with you as you commute to work or ride around the city.
Display/Assist Modes
To pair with the Bosch-made motor, you also have a Bosch Purion display. Our thoughts on the Bosch Purion display and whether it's a good inclusion depend on what you expect from a display on a premium eBike.
The Purion display unit is simple and easy to use, and it provides a solid list of readouts and four pedal-assist levels you can use to control your motor settings. However, not only might it be too small for some cyclists, but you aren't getting the same number of readouts as other premium displays, including Bosch's own advanced models. If you don't need advanced motor control, the Bosch Purion display is great, but consider switching out the included unit if you find it too underwhelming. If you stick with the Bosch Purion unit, you can expect the following readouts and settings:
Tern GSD S00 Bosch Purion LCD Display Readouts, Metrics, and Settings:
Current Speed
Battery Level (Five Levels)
Estimated Range
Pedal Assist Level (Four Levels + Walk Mode)
Trip Distance
Total Distance
Light Settings
Let's dig into what pedal-assist levels are. Your motor can be configured with different pedal-assist levels to prioritize various performance factors while you ride the GSD S00. Set the motor to a higher pedal-assist level for rapid motor acceleration and greater motor power, or set the pedal-assist level to a low level for maximum motor range.
You can change your pedal-assist level at a standstill or while you ride, so try out each pedal-assist level to get a good feel for them and understand the performance they offer. Once you're familiar with each level, you'll know how to optimize your performance for the best riding experience every time you go out on the Tern GSD S00!
Handling
On Streets- As a compact cargo bike, the Tern GSD S00 is designed to help you commute around the city, providing good overall handling as you do so. The responsive bike accelerates quickly with the powerful motor, and thanks to the sizable hydraulic disc brakes, you'll slow down just as fast. Due to the added bike weight, it feels very stable as well, so you won't have to worry about you or your cargo tipping while zipping around on this electric bike. Just be aware that due to the low-to-the-ground design, the drivetrain and pedals can scrape across the curb if you ride too close. Try to avoid riding too close to the sidewalk, though, and you'll find that the GSD S00 is a fantastic electric cargo bike experience!
Turn Radius- The nice thing about the compact design is that the Tern GSD S00 has a tighter turn radius than what you usually find on electric bikes. The extended cargo rack and the 2.4'' wide tires increase the overall turning radius, but with 20'' tires and a low-to-the-ground frame, it compensates for some of the turning drawbacks. While it will be tricky to pivot and make a circle on the spot, you won't have to cross into two lanes of traffic to complete a turn like some cargo eBikes we've reviewed.
Low-Speed Handling- With an average assembly weight of about 71.5 lbs, the Tern GSD S00 is tricky to handle at low speeds–like many other cargo bikes. However, it does have two motor options to assist you with low-speed handling, whether you're on or off the bike. You can set the motor to Eco mode, which will provide a small push while you pedal so you can focus more on handling and less on pedaling. If you dismount from the Tern GSD S00, you can turn on walk mode to have motor assistance without pedaling. Both of these suggestions help with low-speed handling, so make sure you have enough battery life to use them.
Gears/DriveTrain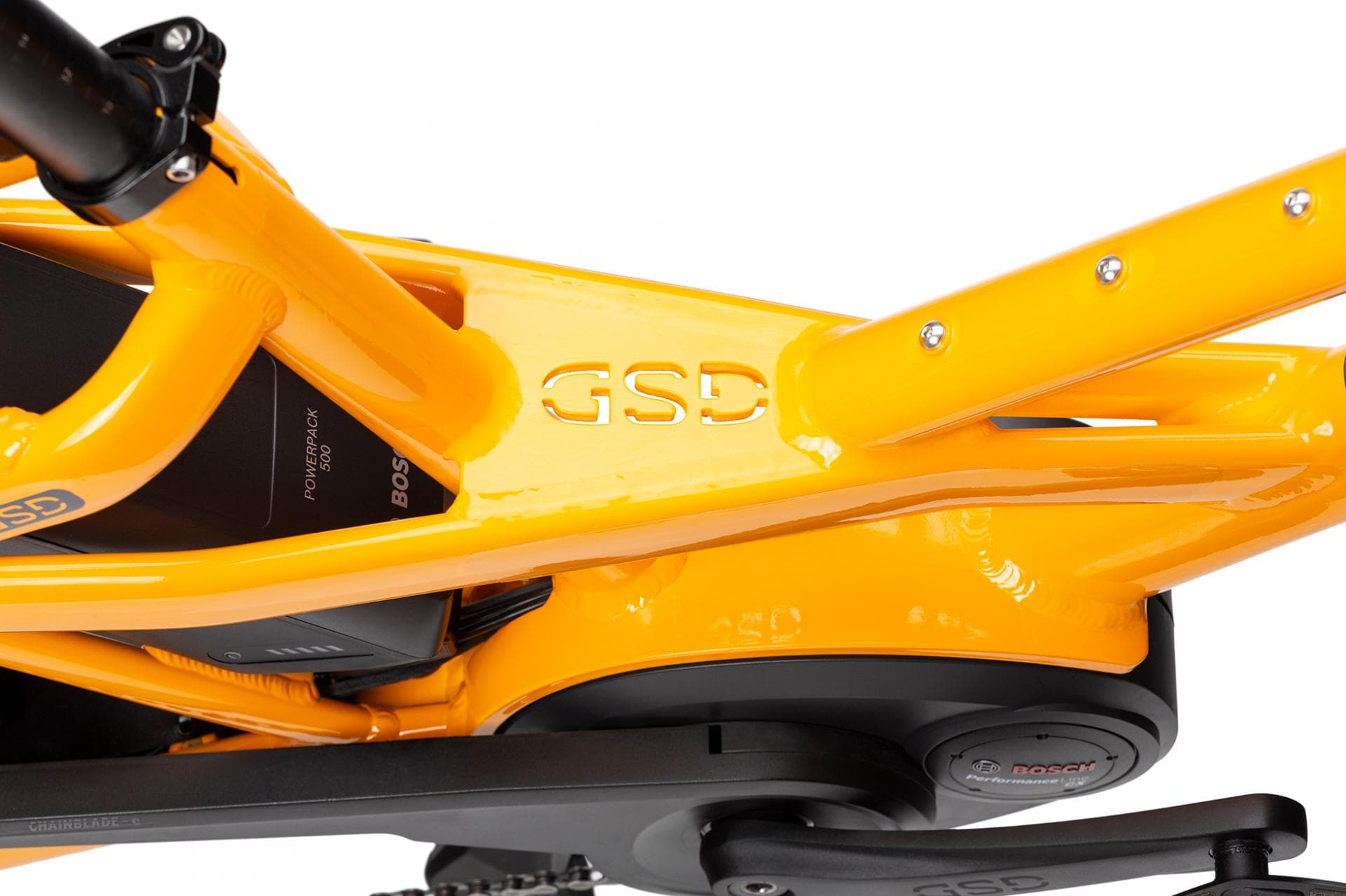 Unlike traditional eBike drivetrains, the Tern GSD S00 is mounted with an Enviolo continuous variable transmission drivetrain–often shortened to CVT for short. CVT drivetrains offer practically unlimited gear shifting, providing even more precise gear control than most advanced traditional cassette and chainring drivetrain.
Furthermore, CVT systems also require less maintenance and rarely suffer a chain drop when shifting gears. A specialized eBike chain designed for the CVT drivetrain is included, but if you want even better performance, upgrade your chain by replacing it with a belt instead.
With a belt, shifting is even smoother, and the belt, drivetrain, and motor's overall lifespan will be extended. Whether you have a chain or belt, though, CVT systems on eBikes are an exciting development to the world of electric bikes, so we're excited to see more eBikes include them in the future.
Brakes
The Tern GSD S00 has Magura MT5 hydraulic disc brakes with 180 mm-sized rotors for the front and back wheel. Cargo bikes need extra stopping power due to the added frame weight, so having 180 mm-sized rotors is an excellent inclusion since that's usually used for premium eMountain bikes. Along with the rotors, hydraulic disc brakes also offer extra stopping power over mechanical disc brakes. Besides, they're easier to maintain, easier to configure, and boast several other performance advantages. The Tern GSD S00 is a premium electric bike as a whole, and the hydraulic disc brakes are a significant reason.
Suspension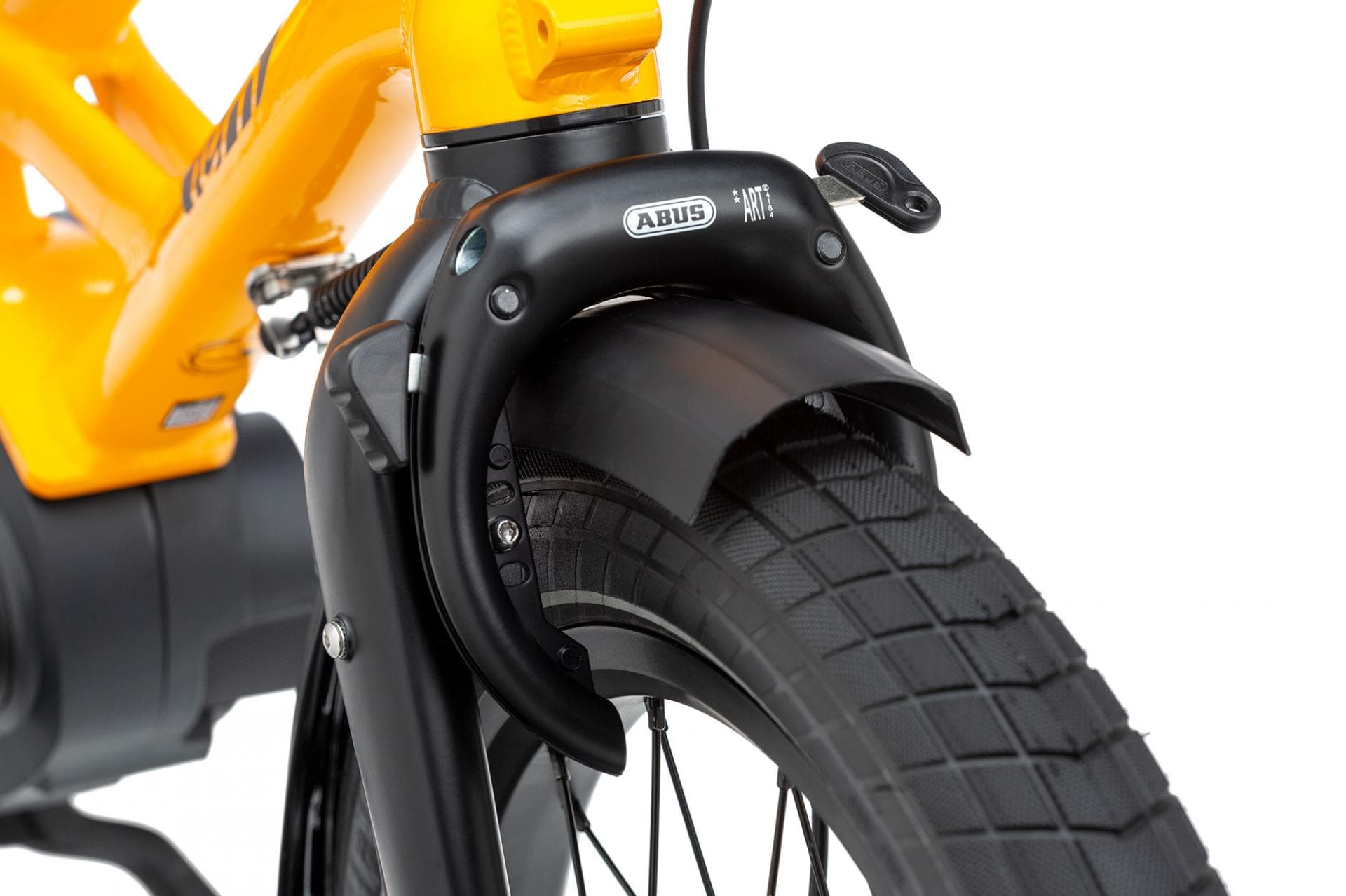 There isn't a true suspension system on the GSD S00, but depending on where you ride, you probably won't need it. The hefty 71.5 lbs frame weight will act as a natural shock absorber, especially with the rigid aluminum alloy fork's assistance.
If you ride over gravel, cobblestone, or other uneven pathways, you shouldn't feel too shaky on the GSD S00. If you want a smoother riding experience, we suggest swapping out the seat for a suspension seat post, making city riding an even more comfortable experience. Just avoid the trails, though, because while the tires can handle a rougher road, the rest of the frame isn't built to handle it.
Pedals
The GSD S00 has sturdy, composite pedals designed to support short, small cyclists and larger, heavy cyclists with big feet alike. They are secured firmly to the frame, and with a premium composite build, they will withstand the occasional crash better than your average plastic or even aluminum pedal will.
With large embedded reflector panels, the Tern GSD S00 is very easy to spot by others who share the road, especially those approaching from behind or towards you. While some premium eBikes have pedals you will quickly want to swap out; the GSD S00 stock pedals should last just as long as the frame–if you're careful about not pedaling too close to the curb.
Grips and Saddle
While there might be only one size available for the Tern GSD S00, several components make it a comfortable ride for a wide range of cyclist heights. The adjustable Tern GSD comfort saddle has a 17'' range and is oversized so that heavy or light cyclists alike can sit comfortably in the saddle.
The ergonomic grips are mounted on swept-back handlebars, positioned in such a way that neither your hands nor arms should feel tired or irritated after you've been riding for an hour or two. With a 670 mm length, the handlebars are on the larger side, further helping the eBike accommodate bigger cyclists despite being a more compact frame. With just a little bit of adjustment, all cyclists can enjoy the Tern GSD S00!
Wheels and Tires
The Tern GSD S00 has Tern X Schwalbe Super Moto-X tires, measuring about 20'' by 2.4'' and mounted on aluminum alloy, double wall 32 hole rims. The wheels have 13 gauge stainless steel spokes and support the 30 to 65 PSI tires. 30 PSI is recommended if you anticipate riding over cobblestone paths or patchy roads. 65 PSI is better if you want maximum grip and acceleration on paved, smooth, well-maintained surfaces.
Performance GreenGuard is the high-quality puncture protection built into the tires, serving to not only prevent a tire from popping if you hit a rock but to maintain air pressure at high speeds. The wheel setup is suitable to do well on trails, especially with the 20'' by 2.4'' size. Still, due to the awkward frame design and lack of suspension, we wouldn't recommend going on anything but the occasional friendly, light trail ride.
Accessories/Upgrades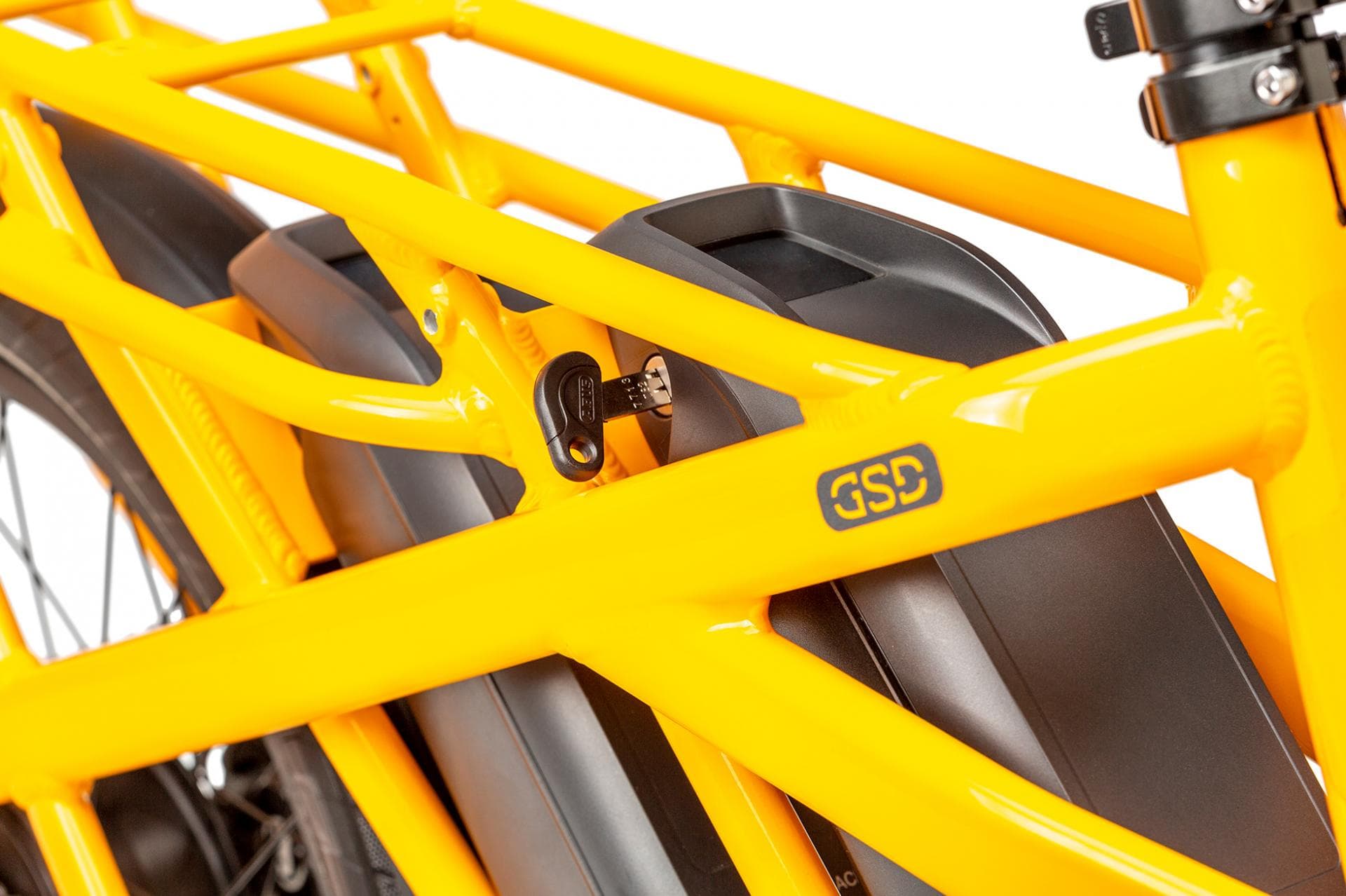 Tern eBikes are considered some of the most accessory-friendly frames globally, but you honestly don't need to consider many accessories or upgrades to the stock model. It is a premium eBike, but it is well worth the price once you see all of the great accessories the bike comes with.
A dual-leg kickstand, an integrated aluminum bell, a headlight and taillight, an extended cargo rack, and several other accessories are all included. You are going to have a blast on the stock model of the GSD S00, but consider adding some of these accessories to your eBike if you want an even better riding experience:
Tern Storm Shield
Tern Lockstand Extensions
Tern Clubhouse+ Passenger Seating
Tern Cargo Lid Lock
Tern Sidekick Wide Deck
Tern Storm Box
Terb Cargo Hold Pannier Bags
Tern Porter+ Saddle
Recommendation
*For up-to-date pricing on the Tern GSD S00 click here
The Tern GSD S00 stands out as one of our favorite cargo bikes on the market that we've reviewed so far. While it may only have one size option currently, the highly customizable saddle and handlebars, along with the high-quality 7005 aluminum alloy frame, make it a good fit for nearly everyone.
You can travel 80 miles with the stock model battery configuration or go over 160 miles on a single charge with the advanced model and high-powered Bosch mid-drive 75 Nm motor.
More and more drivetrains are adopting the Enviolo CVT system, which offers unlimited gear shifting, more reliable performance, and a longer-lasting drivetrain and motor system.
Hydraulic disc brakes are known for lasting a long time as well, and with 180 mm-sized rotors, you can come to a comfortable stop wherever you ride. Add in the headlight, tail light, dual leg kickstand, extended rear cargo rack, and several other great accessories, and you'll start to realize the premium value offered by this eBike.
If you've been looking for a brand new cargo bike, especially one that is easier to handle than your most cargo bikes, you'll have a tough time finding a better cargo bike than the Tern GSD S00 electric bike!
Thank you for reading our spec review of the Tern GSD S00 electric cargo bike! If you enjoyed our review and want to see our review team do a full performance or spec review, be sure to leave a comment below!