Welcome to our spec review of the Tern Vektron S10 folding electric bike! We haven't had the chance to try out the Vektron S10 just yet, but we've been carefully studying the features and components it shares with other eBikes we have ridden.
By comparing the Vektron S10 against other eBikes, including past Tern eBikes we've reviewed, we developed our full spec review of the folding eBike. With our spec review, we hope to provide you with some general impressions of the feel, performance, and unique features of the Tern Vektron S10 folding eBike!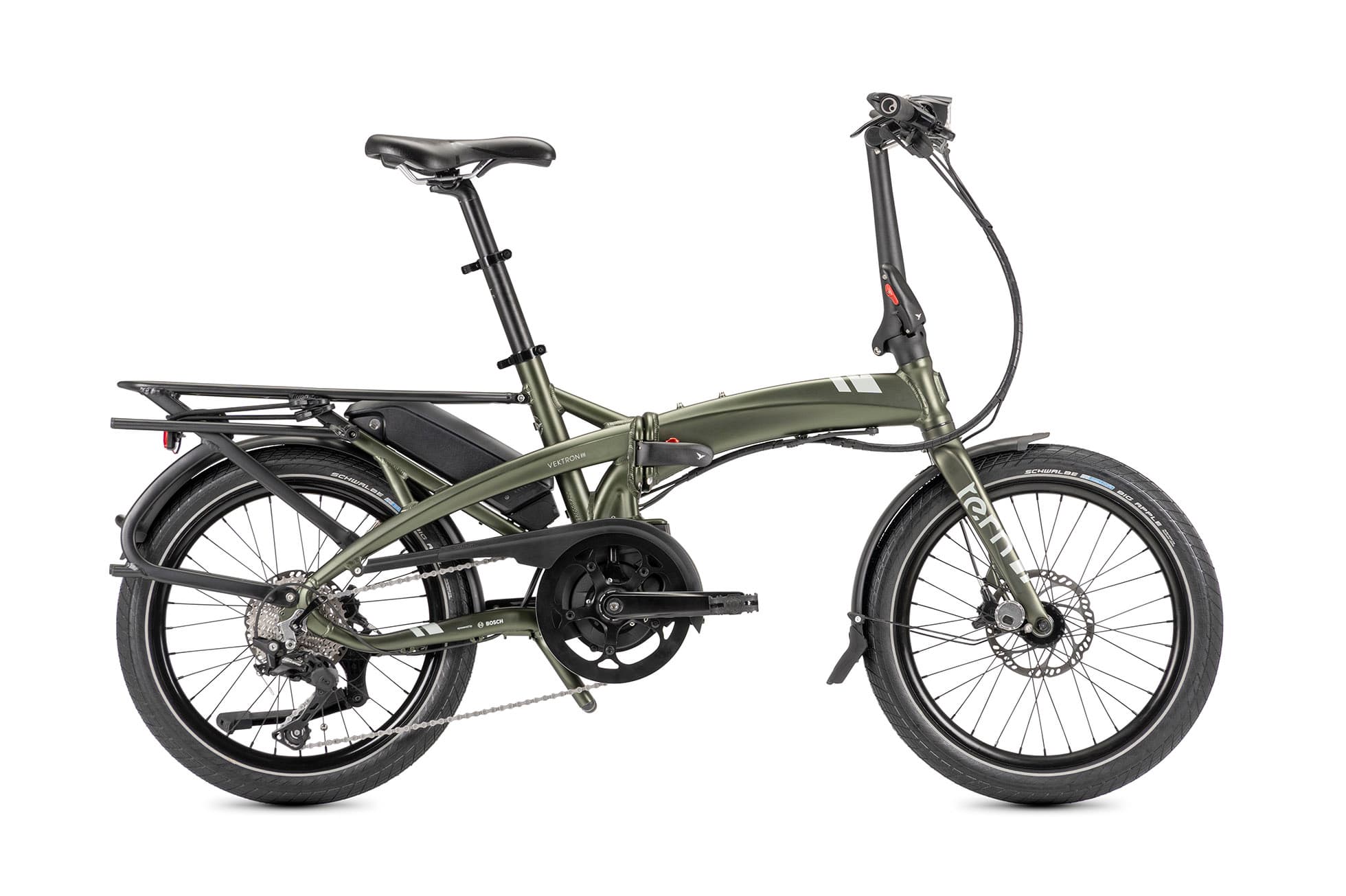 In almost every way, the Tern Vektron S10 is a premium folding eBike, and when compared to the other e-bikes we've reviewed, it's one of the best options on the market. The 7005 construction is sturdier than most 6061 aluminum-based eBikes, but with a careful design, it still stays relatively lightweight at just 48.6 pounds.
Folding eBikes tend to be compromised in terms of weight support, but not only does the Vektron S10 support up to 6'5'' tall riders, but it can carry over 450 lbs in rider and cargo weight.
The Bosch Powerpack 400 battery will help you travel over 70 miles on a single charge. Simultaneously, the Bosch Performance motor has an impressive 65 Nm of torque that will help you overcome most city challenges you might encounter.
The 10-Speed Shimano based drivetrain is highly reliable and provides smooth shifting at low and high speeds. The great drivetrain also features extensive fender and chain guard protection that will keep it clear of debris wherever you ride, and also reduce the risk of suffering a chain drop.
Just as important is the brake setup. Mostly you'll find stopping with the Magura hydraulic disc brake system to be a quick–yet smooth–experience.
Highly adjustable handlebars, a powerful headlight and taillight combination, comfortable ergonomic grips, and several other great features contribute to the fantastic value and premium feel of this eBike.
If you want a lighter weight folding eBike that offers excellent performance, especially one with superb cargo support, keep reading our review of the Tern Vektron S10 electric bike!
Bike-Category: Class 1: Pedal activated motor assist up to 20 MPH.
Who It's For: Cyclists who want a premium cargo/folding eBike hybrid with a great range and a good motor. Especially worth considering by those wanting a sub-50 pounds folding eBike.
Bike Specs
FRAME: Hydroformed 7005 Aluminum Alloy
UI/REMOTE: Bosch Purion
BATTERY: Bosch PowerPack 400 Wh
CHARGER: 4 Amp Charger
MOTOR: Bosch Performance 500 W / 65 Nm
CHAIN: DHT for eBike
SHIFT LEVERS: Shimano Deore
CASSETTE: Shimano 11-36T, 10 spd
CHAINRINGS: 20T Chainring
DERAILLEUR: Shimano Deore Shadow+
RIMS: Kinetix Comp Double Wall 32 Hole Rims
TIRES: Schwalbe Big Apple Performance Line 20'' x 2.15''
SADDLE: Tern Porter+, Patented GripPad design, PrimeGel Padding
STEM: Tern Andros, Adjustable
HANDLEBARS: Kinetix Comp, Double-Butted 6061 Aluminum Alloy
GRIPS: Ergon
BRAKES: Magura MT4, Hydraulic Disc Brakes with 160 mm Rotors
PEDALS: MKS EZY
KICKSTAND: URSUS, Rear Mount
BELL: Aluminum
HEADLIGHT: Tern Valo Direct, 190 lumens
TAIL LIGHT: Herrmans H-Trace, for eBike
FENDERS: SKS, stainless hardware
Pros
Fun folding/cargo eBike combination that isn't matched by that many eBikes on the market. Available in three distinct color combinations.
7005 Aluminum Alloy. Full assembly weight is about 48.6 lbs, which is light for a folding bike. A great option if you want an eBike you can toss into the trunk of your car.
Bosch PowerPack 400 Wh battery. Able to travel over 70 miles on a single charge. Mounted beneath the rear cargo rack, keeping it well protected if you get in a crash.
4 amp smart charger. Very rapid charging, helping you get back on the road faster. Recharging time is just 2.5 to 3.5 hours to go from 0% to 100%.
Bosch Performance 500 W / 65 Nm motor. Sufficient power to help you climb hills, even when your bike is loaded with cargo. The mid-drive engine provides a more natural feel.
Shimano 11-36T 10-Speed cassette with 20 T chainring drivetrain. Great fender and chain guard coverage, minimizing the maintenance needed. Consistent shifting too.
Bosch purion display. Compact, but provides a good list of readouts and riding metrics despite the small size. Five riding modes and a walk mode to control your motor with.
Schwalbe Big Apple Performance Line 20'' x 2.15'' Tires. Extensive puncture protection, significantly reducing the risk of suffering a flat. It folds with the frame well for easy storage.
Magura MT4, hydraulic disc brakes with 160 mm Rotors. Long-lasting brakes that will help you come to a quick and steady stop no matter the weather. Easy bleed technology.
A large number of accessories are included with the stock model. Headlight, tail light, bell, kickstand, rear cargo rack, and more. A genuine premium eBike experience.
Cons
The Vektron S10 is only available in one frame size. It does come with adjustment options that will fit riders within the 4'10'' to 6'5'' range, covering most adult riders.
The wiring is not integrated into the frame. Repairing the Vektron S10 is much easier, but it also means that your wires will get damaged and wear down quicker as well.
The pedals are the one component that stands out as being a less than premium component. We'd recommend swapping them out quickly for a better cycling feel.
Features
Hydroformed 7005 Aluminum Alloy
A bulkier aluminum alloy than traditional 6061 variants provides more significant weight support and excellent frame resistance as a trade off. It weighs 48.6 lbs fully assembled, which is still on the lighter side for a folding eBike.
Bosch PowerPack 400 Wh
A large battery that's positioned beneath the rear cargo rack and behind the crankset. While it is a bit harder to remove, it's well protected and also set so you can fold the eBike without having to take the battery out.
4 Amp Charger
Very fast, premium charger that will refill the battery significantly faster than your typical 2 amp eBike charger. Full recharging time is just 2.5 to 3.5 hours if you charge from 0% to 100%.
Bosch Performance 500 W / 65 Nm
Mid-drive motor closely emulates the riding feel of a traditional bicycle, but with great electric motor power to help you navigate the city—65 Nm of torque, with a range of up to 70 miles with the included power pack.
Bosch Purion Display
Small but easy to use display that will help you track your cycling metrics along with your overall range while you ride. Five riding modes and a walk mode, allowing you to prioritize power, range, or a mixture of the two.
Shimano 11-36T 10-Speed Cassette with 20 T Chainring Drivetrain
As a 10-speed bike, you have a great number of gear options to shift to maintain your cadence on the Vektron S10. Excellent drivetrain protection as well, with an SKS Chainblade guard and SKS stainless oversized fenders.
Schwalbe Big Apple Performance Line 20'' x 2.15'' Tires
Puncture protection tires built with extra stability in mind, helping you commute confidently without worrying about getting a flat. Shorter size allows the eBike to fold up and fit into trunks better while also making it easier to mount cargo.
Kinetix Comp, 6061 Aluminum Alloy Handlebars with Tern Tarsus Fork
A tall, adjustable saddle and handlebar set-up so all riders between 4'10'' and 6'5'' can all enjoy using the Vektron S10 electric bike. The fork provides some shock absorption in conjunction with the tires, helping you ride over the occasional uneven roadway.
Magura MT4, Hydraulic Disc Brakes with 160 mm Rotors
Long-lasting hydraulic disc brakes are designed to help you come to a quick stop no matter the road conditions. 160 mm rotors are great for adult riders, but be careful if you are transporting a lot of cargo with you as well.
MKS EZY Plastic Pedals
Plastic pedals with rubber platforms that are soft on your shoes but not as high quality as aluminum pedals. Easy to replace, with a quick-release lock so your folded eBike can be even more compact.
In-Depth Review
Frame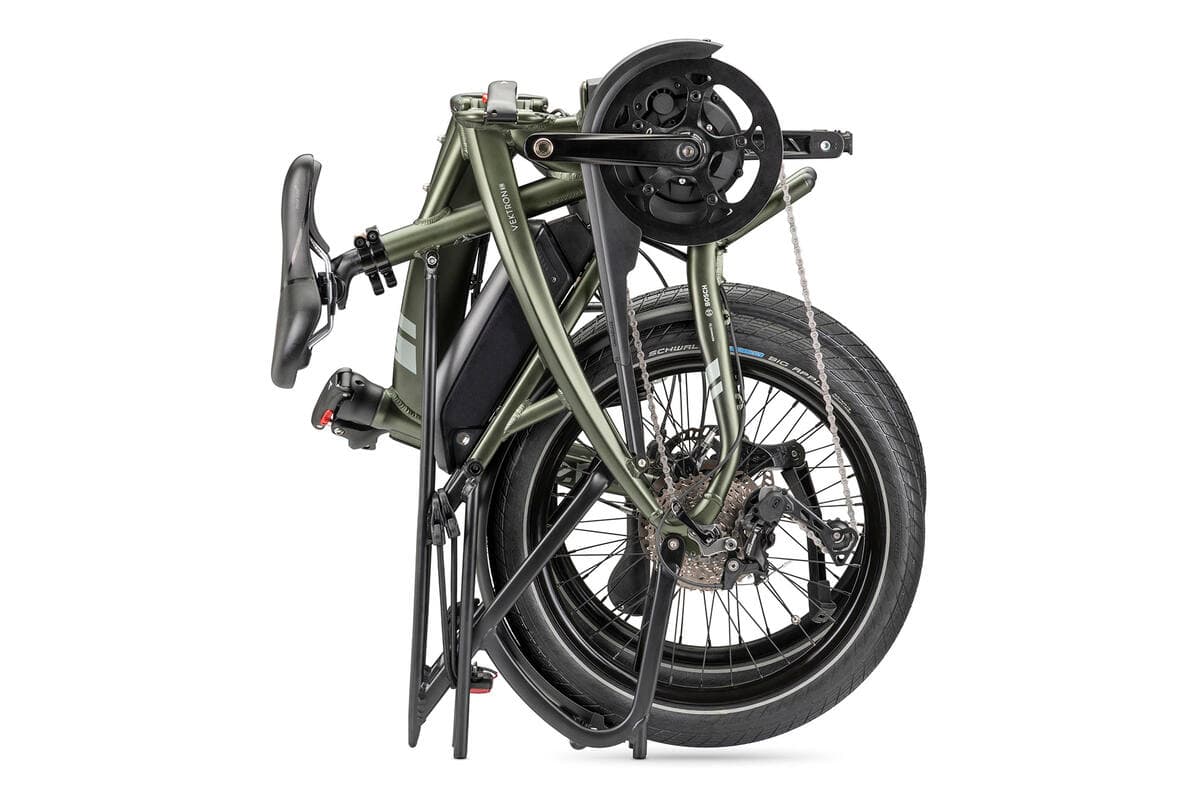 Unlike many traditional eBike frames, which are made out of a 6061 aluminum alloy variant, the Vektron has opted to go with the more uncommon 7005 aluminum alloy. 7005 is heavier than 6061 aluminum, but the tradeoff is a more robust metal frame that can support more weight and is more durable, making it less likely you'll damage the bike in a crash.
As a result, the Vektron S10 is a unique eBike in that while it has a folding frame, it also supports up to 250 lbs of cargo along with a 230 pounds recommended rider weight limit. The eBike weighs 48.6 pounds as a result. That's more than your typical eBike but it's less weight than what you see on a traditional folding bike.
While the Vektron S10 stands out as a high-quality folding eBike, the one area we'd like to see improved to set it apart are more frame sizes. The S10 has several customizable components that fit a wide range of riders between 4'10'' and 6'5''.
While this is an impressive height range, bicycles with multiple frame sizes still feel more comfortable to ride than a single frame size with extensive adjustability. The Vektron S10 will feel great for the average adult, but more frame sizes would make it even better for those near the recommended height limits.
Motor & Battery
The Tern Vektron S10 is a class one eBike, with pedal activated motor assistance up to 20 MPH.
A balanced motor that provides a strong push without rapidly draining the battery is a fine line to walk, but that's exactly what the Bosch performance 500 W / 65 Nm motor does. With 65 Nm of torque, you have the motor power to help climb any hill, even when the back of your bike is filled with cargo.
The battery drain is relatively low as well, letting you travel an impressive 70 miles on a single charge. While the eBike comes with a Bosch PowerPack 400 Wh battery, it's been designed so you can swap the battery out with a second (or larger) PowerPack, helping you travel even farther on a single charge!
With a 4 amp charger, you'll be able to charge the included battery in just 2.5 to 3.5 hours from 0% to 100%, which is significantly faster than a 2 amp charger.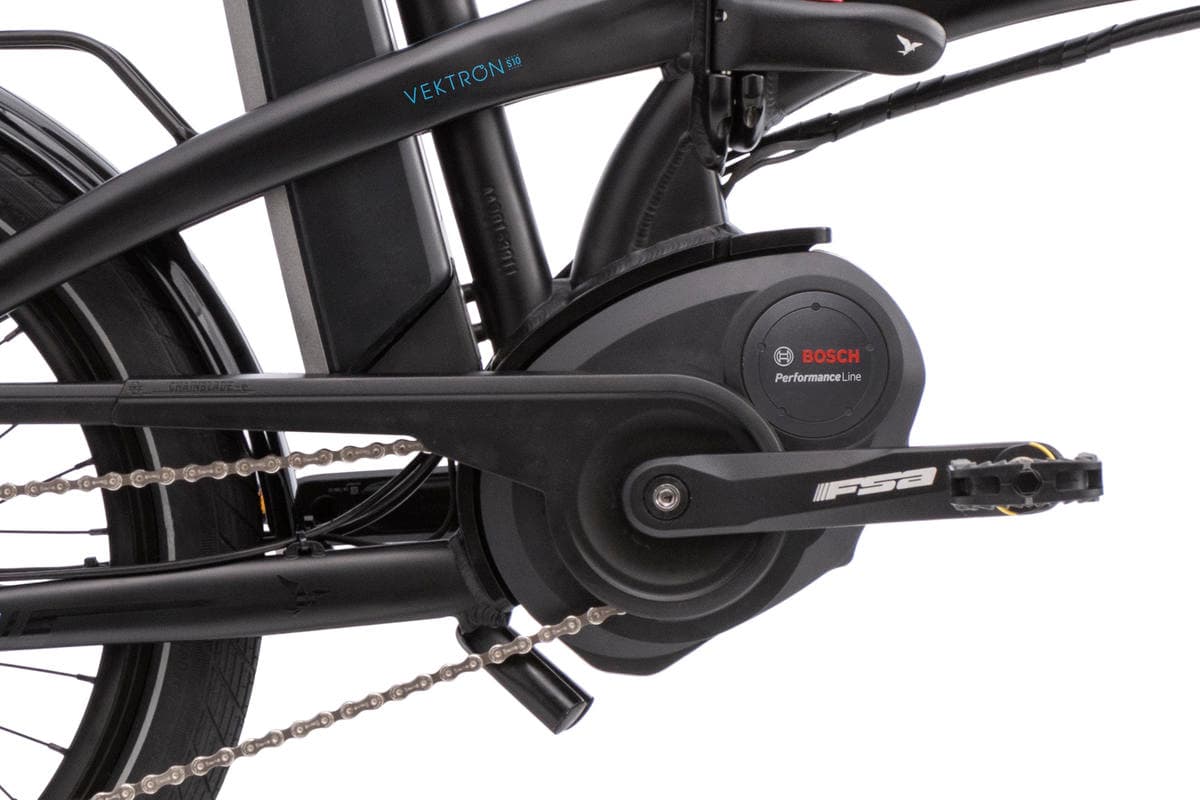 The one thing we're a bit mixed about is the battery position. The PowerPack 400 sits beneath the rear cargo rack, where it's well protected by the outer frame and other eBike components. Many cyclists like to charge their batteries indoors since it's easier than trying to find a place outside to plug your eBike in while you work or dine. So while the battery is protected by its positioning on the bike, it isn't easy to dismount it.
For those who like to charge their battery on their eBike, it's difficult to plug your charging cord in without it getting tangled up with the frame as well. The motor and battery offer fantastic performance, but we wish the battery was positioned in a better place on the Vektron S10 electric bike.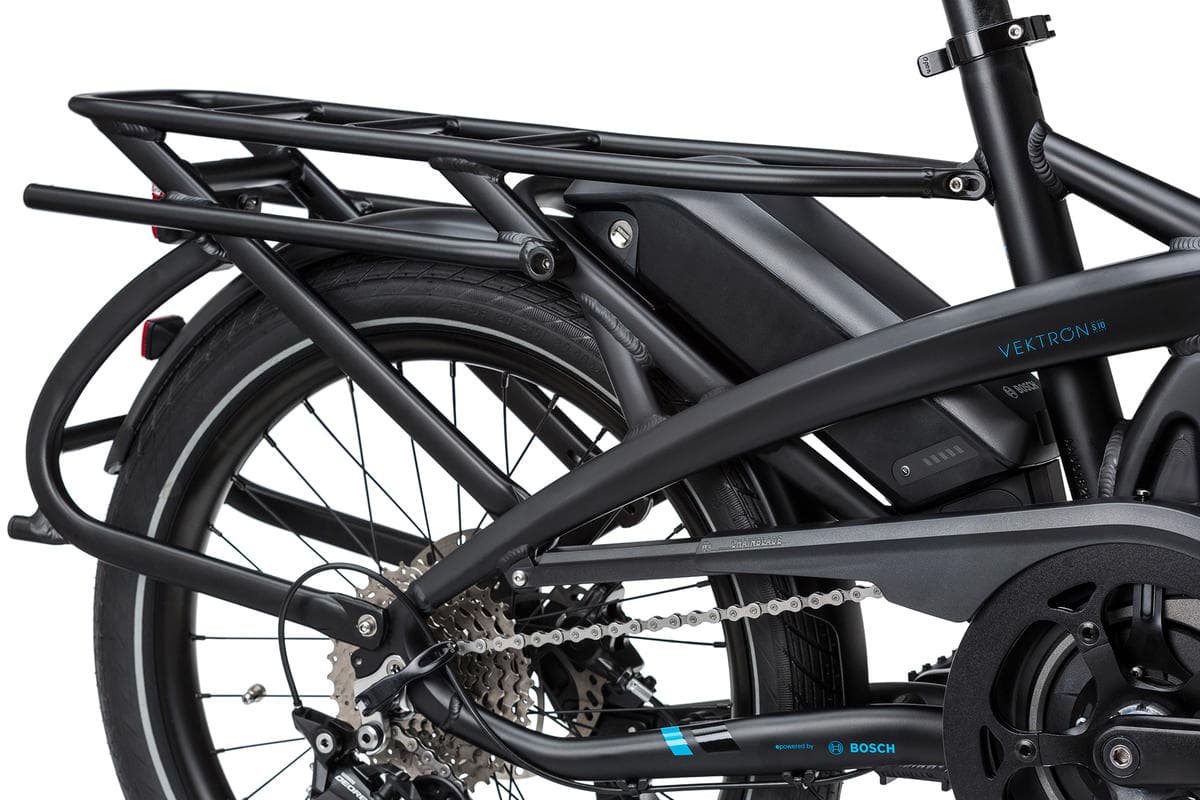 Display/Assist Modes
In terms of changing your pedal assist mode, it's really easy to do it on the Vektron S10, thanks to the Bosch Purion control panel. The compact display sits on the left handlebar, with many readouts to help you track your cycling performance despite how small the display unit is.
The Bosch Purion fixed display means you can't replace it or take it off the bike. But given how little it is, it won't make it more difficult to store the unit. Bosch is very active in updating their motor display control units as well, so future updates will add even more features. The full list of readouts for the Bosch Purion display are as follows:
Tern Vektron S10 Bosch Purion Display Readouts, Metrics, and Settings:
Current Speed
Average Speed
Max Speed
Pedal Assist Level (Five Levels + Walk Mode)
Battery Level (Five Levels)
Trip Distance
Trip Time
Estimated Range
Odometer
Light Settings
Clock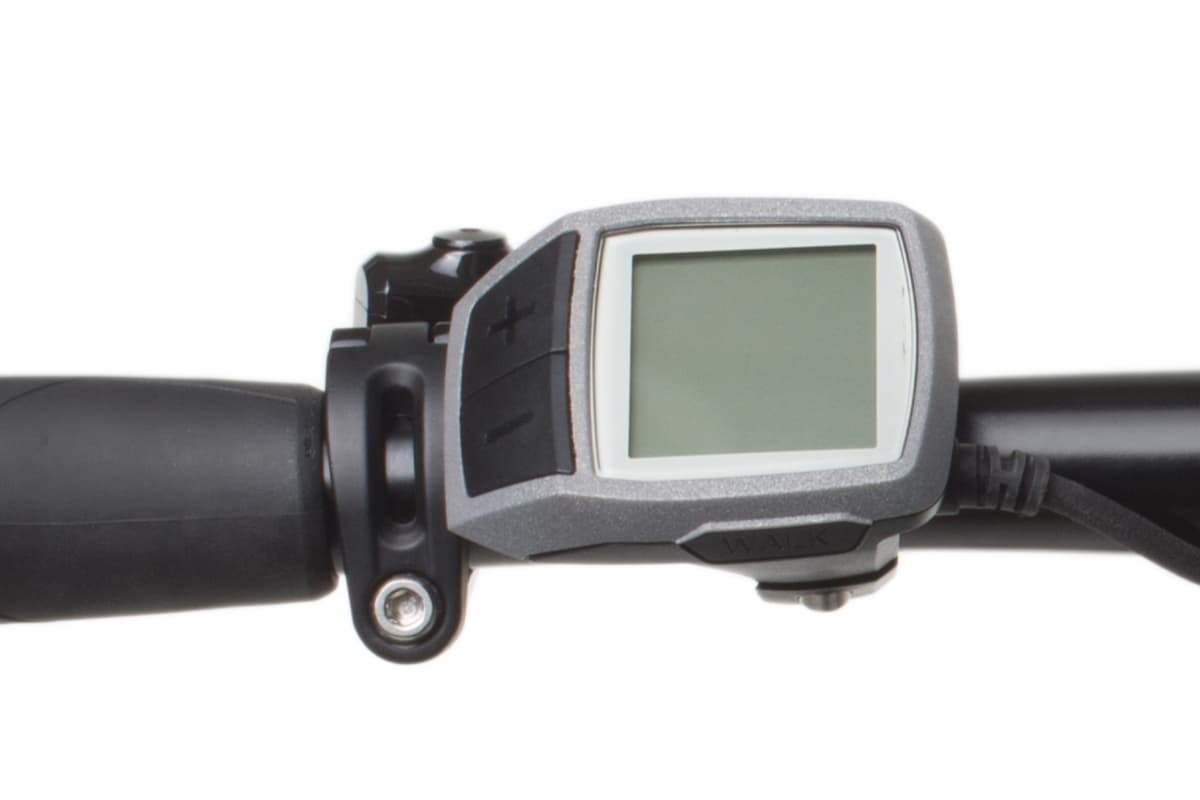 If you've ridden an eBike the Tern Vektron S10 has a very familiar motor setup. You have several pedal-assist levels to choose from, which will prioritize different performance from your motor. Higher pedal-assist levels will help you accelerate faster and climb hills easier, but you won't travel as far due to the greater battery drain.
Alternatively, the lower pedal assist levels will help you travel farther due to the lower battery drain, but you might struggle going up hills due to weaker motor power. You can swap your pedal-assist mode on the fly, so familiarize yourself with all of the pedal-assist modes for the best riding experience.
Handling
On Streets- The Tern Vektron S10 is built for riding in the city, and it handles pretty well overall if you stick to urban riding. The Vektron S10 is very stable, and while it's a bit slower due to its shorter tires, it still is easy to maneuver. The motor provides excellent power assistance that helps with the handling, but even with the engine turned off, the Vektron S10 should be a fun electric bike to ride. Due to the 7005 aluminum frame, you're also going to have a steady experience riding over cobblestone, gravel, and other loose terrain.
Turn Radius- The Vektron S10 is balanced when it comes to its turn radius (or as balanced as a hybrid cargo-style eBike can be). The heavy cargo weight in the back does reduce the turn radius you can make, but there is the added benefit of the 2.15'' thin tires. You'll find it easy enough to edge a corner without too much hassle, and even without folding it you'll be able to take it through tight doorways and narrow alleyways.
Low-Speed Handling- At 48.6 lbs, the Vektron S10 is manageable when it comes to handling at low speeds, though there are ways to make it easier if you have the motor on. Set the pedal assist level to Eco mode, and you'll get a small boost to your pedaling that'll keep you moving slowly without having to pedal or work as hard. Alternatively, get off the bike and put the motor into walk mode, and the Vektron S10 will get boosted without you having to pedal at all. While both of these suggestions require battery power, they are low battery drain options that will have minimal impact on yourset upng range.
Gears/DriveTrain
The next component discussed is the very reliable Shimano 11-36T 10-Speed cassette with 20 T chainring drivetrain, with an eBike optimized, corrosion-resistant DHT chain. One of the first things you'll notice about the drivetrain is the extensive drivetrain protection, featuring extended SKS stainless fenders with mud flaps, along with a tight SKS Chainblade guard.
Taken all together, your drivetrain will rarely suffer a chain drop, and it will also stay clean and clear of rocks, sticks, mud, and other debris you might pick up while riding. The drivetrain protection also helps shifting feel smoother and more consistent, and as a 10-speed eBike you have plenty of gearing options to choose from while you ride. Stick to riding in the city, and you'll hardly need to perform any maintenance on the Tern Vektron S10 electric bike.
Brakes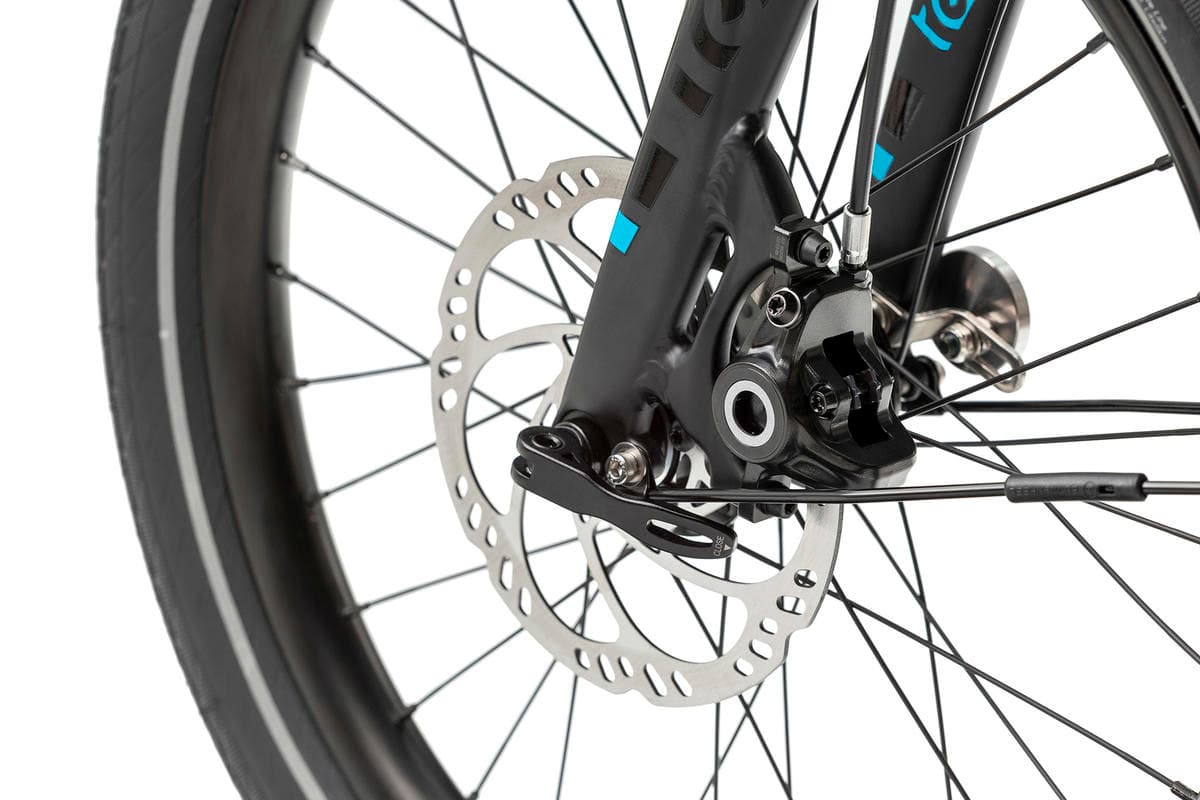 Brake wise, you can expect a Magura MT4 hydraulic disc brakes setup, with 160 mm sized rotors on the Vektron S10 eBike. Hydraulic disc brakes are considered the premium option for eBikes compared to mechanical disc brakes due to additional stopping power, longer-lasting life, easier brake pulling, and several other reasons.
We appreciate the included hydraulic disc brakes for all of these reasons, but we wish the rotors were a bit larger. The Magura MT4 has been specifically designed for quick and steady stopping on all types of terrain– be it a smooth road or one covered by rain or snow.
However, while the brakes are dependable for solo cyclists, they aren't going to be as effective with a loaded up eBike with a ton of gear or cargo. Larger rotors would help offset the added weight issue, but for now, we just remind you to apply your brakes even earlier to come to a smooth stop if you load up the Vektron S10 with extra equipment.
Suspension
There isn't a proper dedicated suspension system incorporated into the Vektron S10 electric bike. But due to its overall design, you don't need additional suspension support either. The Schwalbe Big Apple tires, in conjunction with the 6061 aluminum fork and 7005 aluminum alloy frame, will all provide natural shock absorption when you hit the rough road patch.
If you're riding over cobblestone, gravel, or other uneven but paved surfaces, you'll feel pretty steady on the Vektron S10, mainly due to its cargo-style build that distributes shock across the whole frame. Just avoid trail riding as much as possible. The Vektron S10 wasn't built with mountain biking or off-roading in mind.
Pedals
The pedals on the Vektron S10 are the one component that isn't quite up to the same premium level as the rest of the Vektron S10 electric bike. Consisting of plastic platforms with rubber edges, you do have some traction support for your cycling shoes to help maintain your grip, with the rubber also reducing the wear and tear that comes with riding the eBike.
However, plastic platform pedals aren't as sturdy as aluminum platform pedals, nor do they provide the same level of traction support despite the custom rubber grips. Casual cyclists who are just getting into biking will find them enjoyable enough to pedal with, but the pedals are the first component we would recommend upgrading on the Vektron S10 when you have the chance to do so.
Grips and Saddle
The grips, saddle, and handlebars are all highly adjustable, but no matter where you set their height, you'll find them very comfortable to use as well. The flat handlebars are built with 6061 aluminum instead of 7005, making them a bit easier to turn with than the heavier main frame.
You'll find Ergon GP1 grips attached to the handlebars, and as the name hints, they are ergonomic in design, allowing you to ride for several hours without irritating the palms of your hands. The grips also lock onto the handlebars, which provides a tighter hold and makes it easier to replace them after the grips have been entirely worn out.
Finally, we want to mention the Tern Porter+ saddle, with PrimeGel padding for an extra snug seat. The harness is also oversized, so even large and hefty adult riders should find it big enough to support them.
Wheels and Tires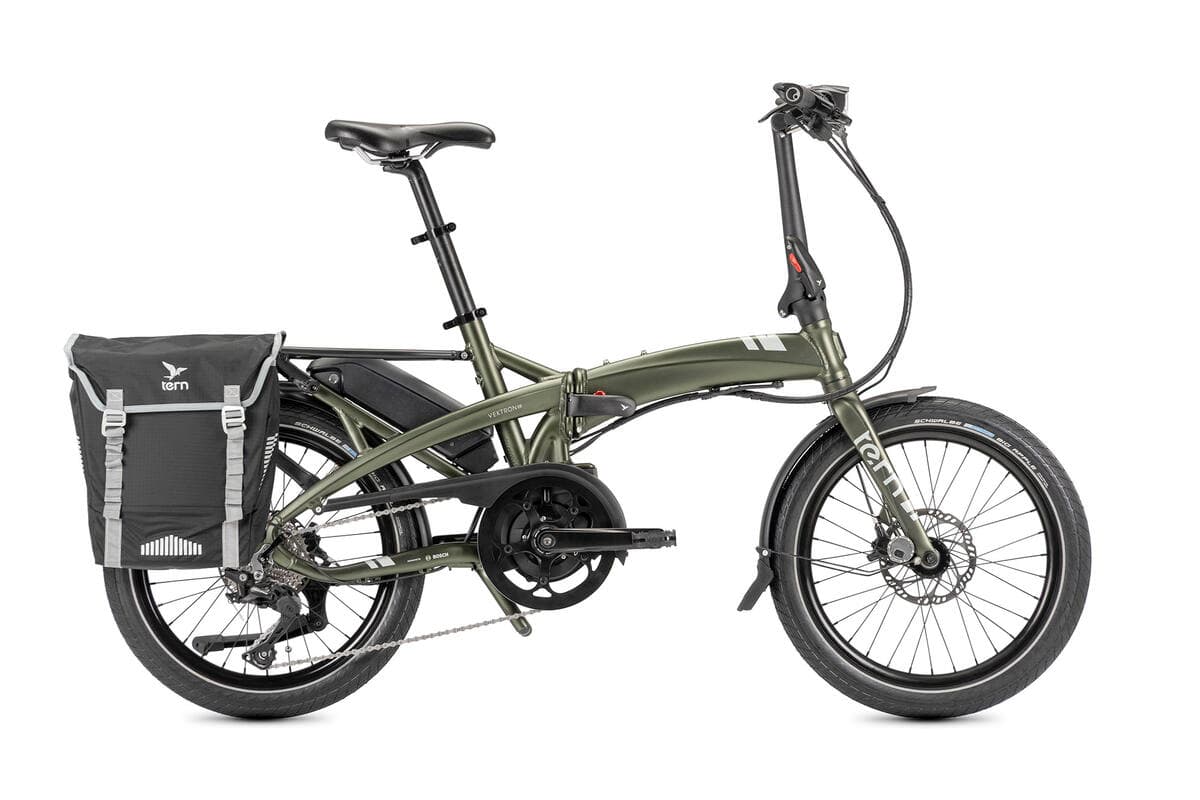 The wheel setup on the Tern Vektron S10 electric bike are Schwalbe Big Apple puncture protection 20'' x 2.15'' tires, with Kinetix Comp double wall 32 hole rims. The stainless steel spokes are 13 gauge on both the front and rear wheels.
The tires have a recommended inflation range of 30 to 55 PSI. Lower PSI ratings, such as the 30 to 40 range, are better suited for rides over loose surfaces like gravel and cobblestone. The 45 to 55 PSI range is best for greater traction and acceleration when riding on smooth, paved surfaces like your typical city road.
Whatever PSI you set your tire to, the risk of suffering a flat is relatively low, thanks in large part due to the extensive puncture protection and Performance Line RaceGuard technology used to line the tires. With reflective sidewall striping, the tires are easy to spot during the day or at night, further adding to a fantastic tire setup that you'll want to ride for hundreds of miles before even considering swapping them out.
Accessories/Upgrades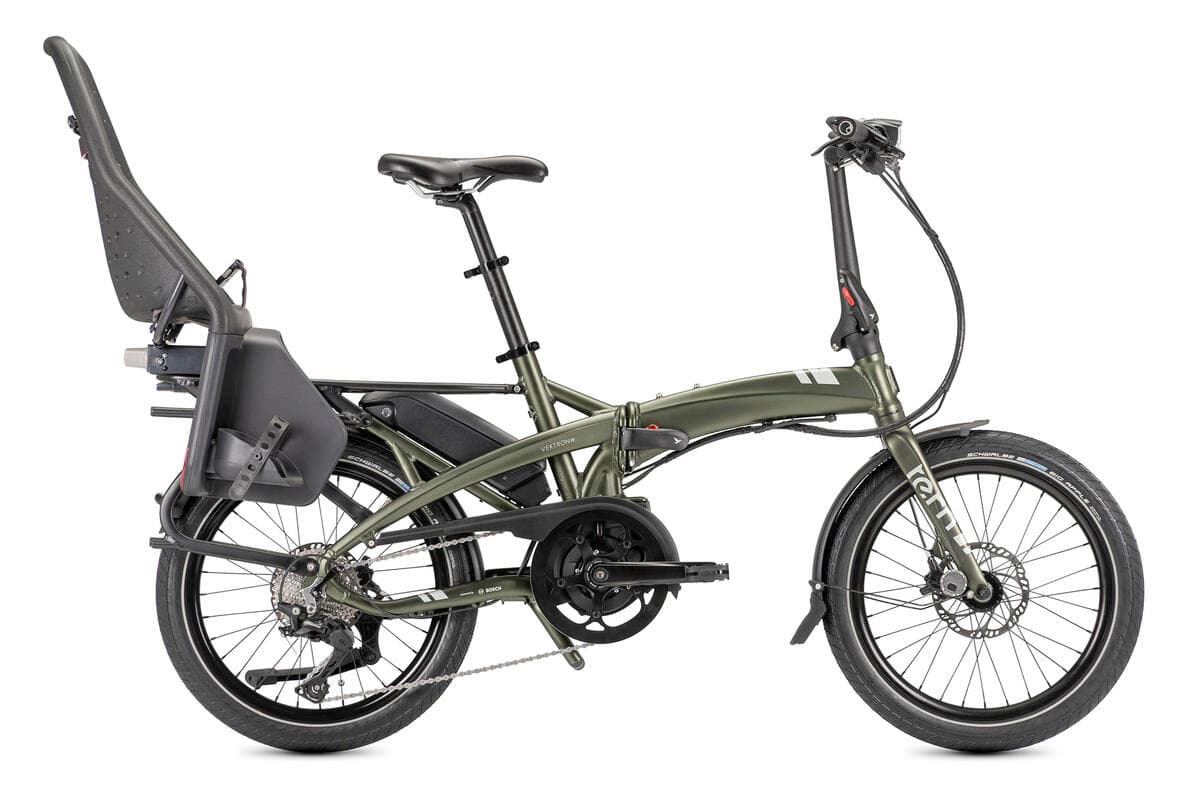 Premium eBikes range in the number of features they come with, but the Vektron S10 is especially impressive. It would be easier to list what it doesn't have. The pedals are the only thing we think you should upgrade right away since all of the other great accessories and upgrades we recommend are already included.
A powerful headlight, tail light, fenders, rear cargo rack, kickstand, and even an aluminum bell are all built into the stock model of the Vektron S10. While this is an expensive eBike to purchase, you have almost everything you could want on an eBike included with the Vektron S10.
If you'd like to take advantage of the rear cargo rack, though, here are a few other accessories that we think are worth adding:
Tern Bucketload Pannier Bag
Tern Kontti Basket
Tern Market Basket
Tern RidePocket
Tern Full Service Tool
Recommendation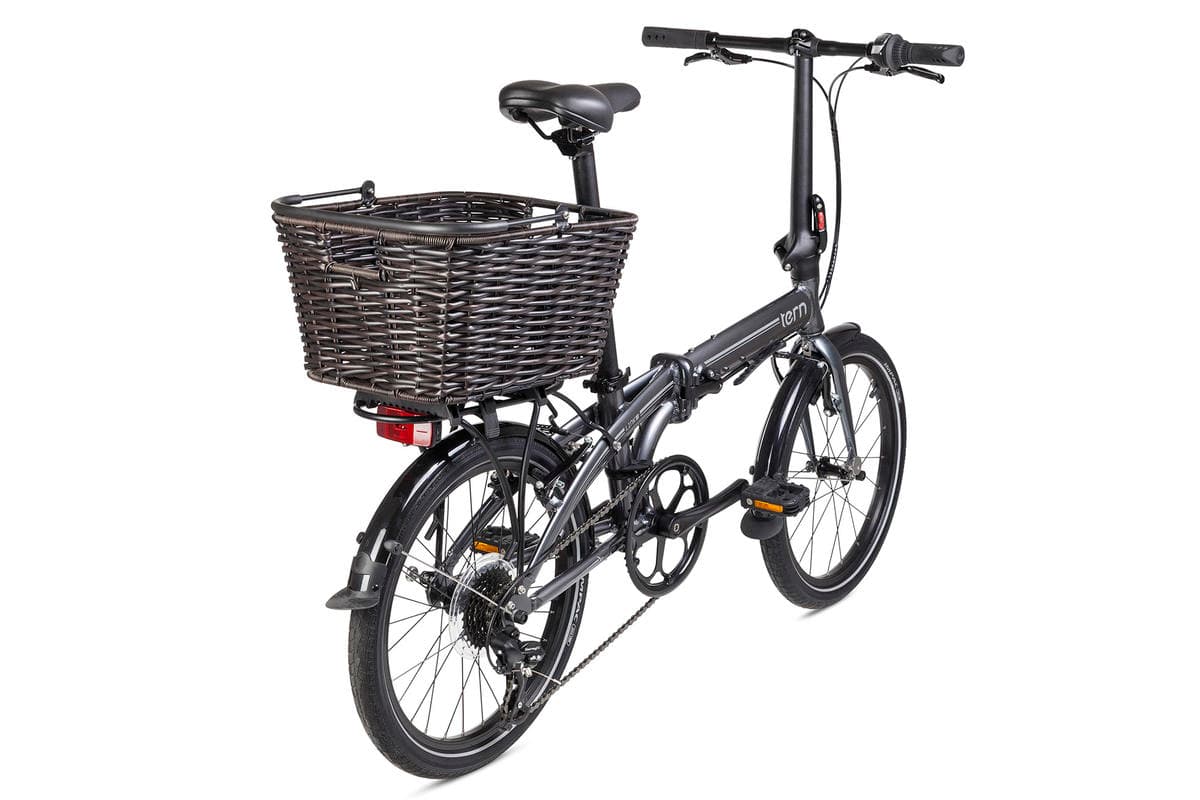 Folding bikes are a fantastic way for cyclists to get into biking without purchasing large and bulky racks. But they often sacrifice performance due to their folding nature. With the Tern Vektron S10, you have a great eBike that folds down into an easy to transport size but still has a premium riding experience on the road.
The 7005 aluminum construction is very resilient, which means better bike durability and weight support, making this one of the few cargo/folding hybrid style bikes we've had the chance to review.
The Bosch Performance motor can provide up to 65 Nm of torque power, helping you climb any hill you might encounter in the city and the 70+ mile range that will help you ride all day long.
Shimano makes some of the most reliable drivetrains in the biking industry, and you'll find it performing even better than you might expect due to the chain guard and fender coverage.
The 10-Speed eBike gives you precise control over your pedaling, while the Magura hydraulic 160 mm rotors brakes will help you come to a quick and steady stop when you need them to.
If you've read our ebike review, then you already know about a large number of other features, accessories, and upgrades all thrown in with the stock model of the S10 eBike. We think the Tern Vektron S10 is one of the best folding eBikes on the market and a fantastic option–even for those who just want a traditional ebike. We suggest you seriously consider this bike!
Thank you for reading our spec review of the Tern Vektron S10 folding electric bike! If you want to know more about the eBike, or if you want to see a full performance or video review, we invite you to leave a comment below with your thoughts.