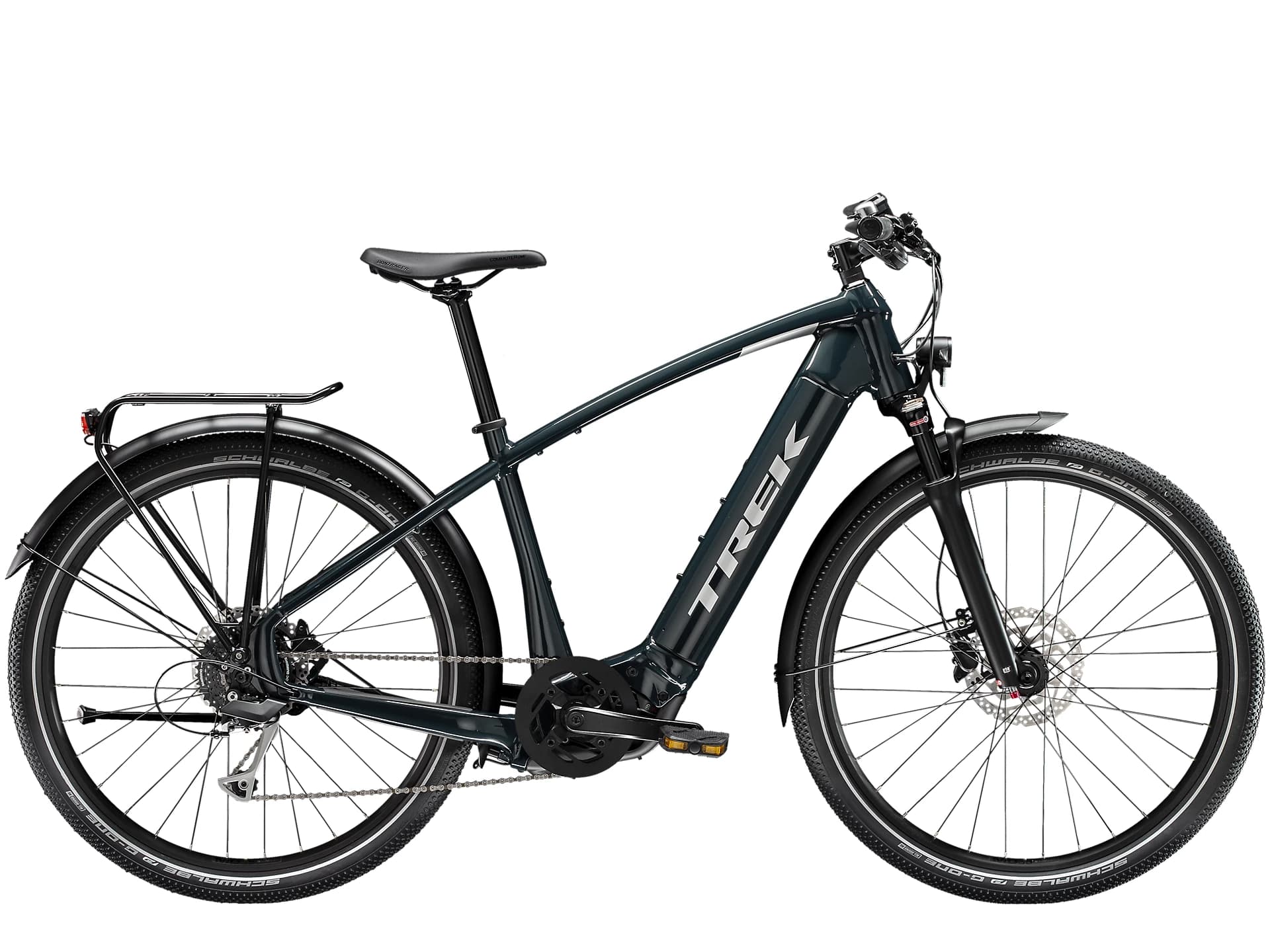 Welcome to our spec review of the 2021 Trek Allant+ 7! Due to high demand and recent world events, we haven't had the chance to try out the Trek Allant+ 7 for ourselves. However, after researching the eBike and comparing it to similar bike models we have ridden, we were able to develop this spec review of the Trek Allant+ 7. While we cannot speak to the exact performance, we do hope this spec review will provide a general outlook of what to expect, along with our thoughts on the parts and components we've experienced that are shared with other eBikes.
You will also want to be aware that while listed as a separate model, the Allant+ 7 low step is almost the same as the Allant+ 7, except for a few components being located in different positions. We will note in our review if there is any significant difference between the Allant+ 7 and Allant+ 7 low step models while discussing a specific component or performance aspect.
The Trek Allant+7 is a class 1, mid-level/premium eBike that is designed for city commuting, but will perform well if you do want to get a little bit of trail and off terrain riding in as well. The Allant+ 7 has an optimal range of an outstanding 120 miles, made possible thanks to the Bosch Powertube 500 and Bosch Performance Cx 250 W / 85 Nm motor. A simple to use controller makes it real easy to operate the motor, and the drivetrain requires minimal maintenance thanks to the high quality guards, fenders, and overall design. With the SR Suntour suspension fork, the Trek Allant+ 7 eBike is more than capable of handling your typical city street, while riding well when you hit less than stellar roads thanks to the all-terrain Schwalbe G-One tires. Weighing around 54 lbs, the Trek Allant+ 7 comes in three different frame sizes in order to accommodate larger and smaller riders alike. If you are interested in bike built for riding over smooth roads and rougher dirt trails alike, read on for our full review of why you will want to consider the Trek Allant+ 7 eBike!
Bike Category: Class 1: Pedal assist to 20 mph
Who It's For: Bikers looking for a durable commuter bike with suspension support for some added comfort.
Bike Specs
FRAME: High-performance hydroformed aluminum alloy frame
UI/REMOTE: Bosch Purion
BATTERY: Bosch PowerTube 500
CHARGER: Bosch Standard 4A (100-240V) charger
MOTOR: Bosch Performance Cx, 250 W / 85 Nm
CHAIN: KMC E9S, 9 speed
SHIFT LEVERS: Right handle, Shimano Alivio M4000 Triggers
CASSETTE: Shimano HG200, 11-36, 9 speed
CHAINRINGS: ProWheel 40T narrow/wide steel, w/alloy guard
DERAILLEUR: Shimano Alivio T4000, long cage
RIMS: Alexrims MD35, Double Wall, 6061 Aluminum Alloy
TIRES: Schwalbe G-One, 27.5″ x 2.25″
SADDLE: Bontrager Commuter Comp
STEM: Bontrager alloy, 70/90/100mm length sizes
HANDLEBARS: Bontrager Aluminum Alloy, 600/660mm Width
GRIPS: Rubber Bontrager Satellite Elite
BRAKES: Shimano MT200 hydraulic disc
PEDALS: Bontrager Satellite City pedals
KICKSTAND: Alloy, rear mounted kickstand
BELL: Flick bell
HEADLIGHT: Herrmans MR8
TAIL LIGHT: AXA Blueline taillight
FENDERS: Integrated Plastic Fenders
Pros
Very durable eBike. It stands out for how well it hides most of its wiring. The Trek Allant+ 7 also comes in three different sizes to accommodate typical adult rider heights.
Allant+ 7 can also be purchased in a low step style for shorter riders. Same great build and features, but a better fit for those 5'6'' and shorter.
Impressive range that, in optimal conditions, will provide motor assistance up to 120 miles.
Includes many comfort features. Highly adjustable coil spring suspension system provides great shock absorption and general rider support. City commuter bike that's comfortable for light trail riding.
Quick charging. 0% to 100% takes about 5.5 hours. Removable battery means you can charge indoors or on the bike. Swap out the battery with a spare for extra range.
Wide 9 speed, 11-36 cassette is designed to minimize maintenance and chain accidents. High quality plastic fenders further protect the eBike's drivetrain.
Accurate power assistance. Smart mid-drive motor system that checks your speed and cadence over 1,000 times a second.
Easy to use Bosch Purion controller for controlling power assistance and monitoring your riding performance. Small enough that it doesn't overwhelm your handlebars.
All terrain Schwalbe G-One 27.5'' x 2.25'' tires, built for riding in the city and on light rails alike. 26 to 54 PSI range lets you ride over soft and hard terrain alike.
Includes several safety features. Reflective pedals and tire tubes, along with powerful headlight and taillight all increase rider profile. The Trek Allant+ 7 is built with rider safety in mind.
Cons
Many people remark about the motor noise. While quieter than previous Trek eBikes, the Trek Allant+ 7 is still noticeably loud when the motor is in use compared to many other eBikes on the market.
Lack of quick release wheels. You will need a hex key wrench, and maybe even a few other tools, just to swap out your tires. Not easy to repair if you do suffer an accident.
Bosch Purion controller is good, if overly simple. May be a bit underwhelming for some customers given the price of the eBike.
Somewhat awkward to recharge if you decide to charge the battery while mounted on the eBike. Cord can get tangled in the pedal if you move your eBike while plugged in.
You can't backpedal with this eBike. This means that if you need to work on the drivetrain, you either need a ton of space or need to lift the bike off the ground.
Comes in one color. Great that there are multiple frame options, but somewhat underwhelming that there is just one color option despite being a more premium oriented eBike option.
Features
Hydroformed Aluminum Alloy Frame
Hydroformed aluminum alloy frame is built from the ground up with durability and aesthetic appeal in mind. This eBike hides the majority of its wires, and is one of the few eBikes to come in multiple frame sizes to accommodate short and tall riders alike. The eBike also doesn't weigh too much with the size L eBike weighing about 54 lbs.
Bosch PowerTube 500
Easy to replace central tube battery designed for long biking adventures, but can also be swapped out in seconds with a spare. The impressive power tube has an estimated max range of 120 miles on a single charge in ideal conditions and with proper power settings
Bosch Standard 4A (100-240V) charger
Rapid charger that can be used to recharge your battery on or off the bike. Can fully recharge the large Bosch PowerTube 500 from 0% to 100% in about 5.5 hours. Compact, so you can put it in your backpack or briefcase and recharge the Trek Allant+ 7 while you work.
250 W, 85Nm Bosch Performance Cx Motor
Mid gear motor provides powerful performance while closely emulating the feeling of riding a traditional bicycle. Smart motor measures cadence and wheel speed over 1,000 times a second for precise motor assistance and control.
Bosch Purion Controller
Simple, easy to use controller that lets you change your assistance level and monitor your speed without ever letting go of your handlebars. Good size that allows you to easily read your bike metrics without cluttering your handlebars.
9 Speed Shimano Drivetrain
Solid 9-speed drivetrain, with sturdy KMC E9S chain and wide Shimano HG200 11-36 cassette. Shifting is made easy with the responsive three up/two down Shimano Alivio M4000 Triggers. Plastic fenders further protect the drive train and minimize debris and mud from disrupting or knocking off the chain.
Schwalbe G-One, 27.5″ x 2.25″ Tires
27.5'' x 2.25'' tires are designed for all-terrain use, whether it be riding through the city or getting in some light trail riding or mountain biking. 26 to 54 PSI further let you customize your tire performance. Highly reflective sidewalls also do a lot to increase rider profile in order to minimize the risk of accidents on the road.
Bontrager Aluminum Alloy handlebars with SR Suntour Suspension Fork
Comfortable handlebars and grips that are available in two sizes to accommodate smaller and larger riders alike. SR Suntour Suspension fork will be appreciated by everyone, providing smooth city riding and shock absorption for some off-road riding as well.
Shimano MT200 hydraulic disc brakes
Powerful hydraulic disc brakes provide a rapid but smooth stop. Three finger brake levers are highly responsive, with solid feedback so you can tell how hard you're pulling on the brakes. Rear wheel speed sensor is mounted on the disc brake rotor for greater brake accuracy and longer brake life
Bontrager Satellite City Pedals
Molded plastic pedals with steel core provide an extra large stable platform that will accommodate even large riding shoes. Reflectors mark the whole perimeter of the pedals for increased rider profile visibility.
In-Depth Review
Frame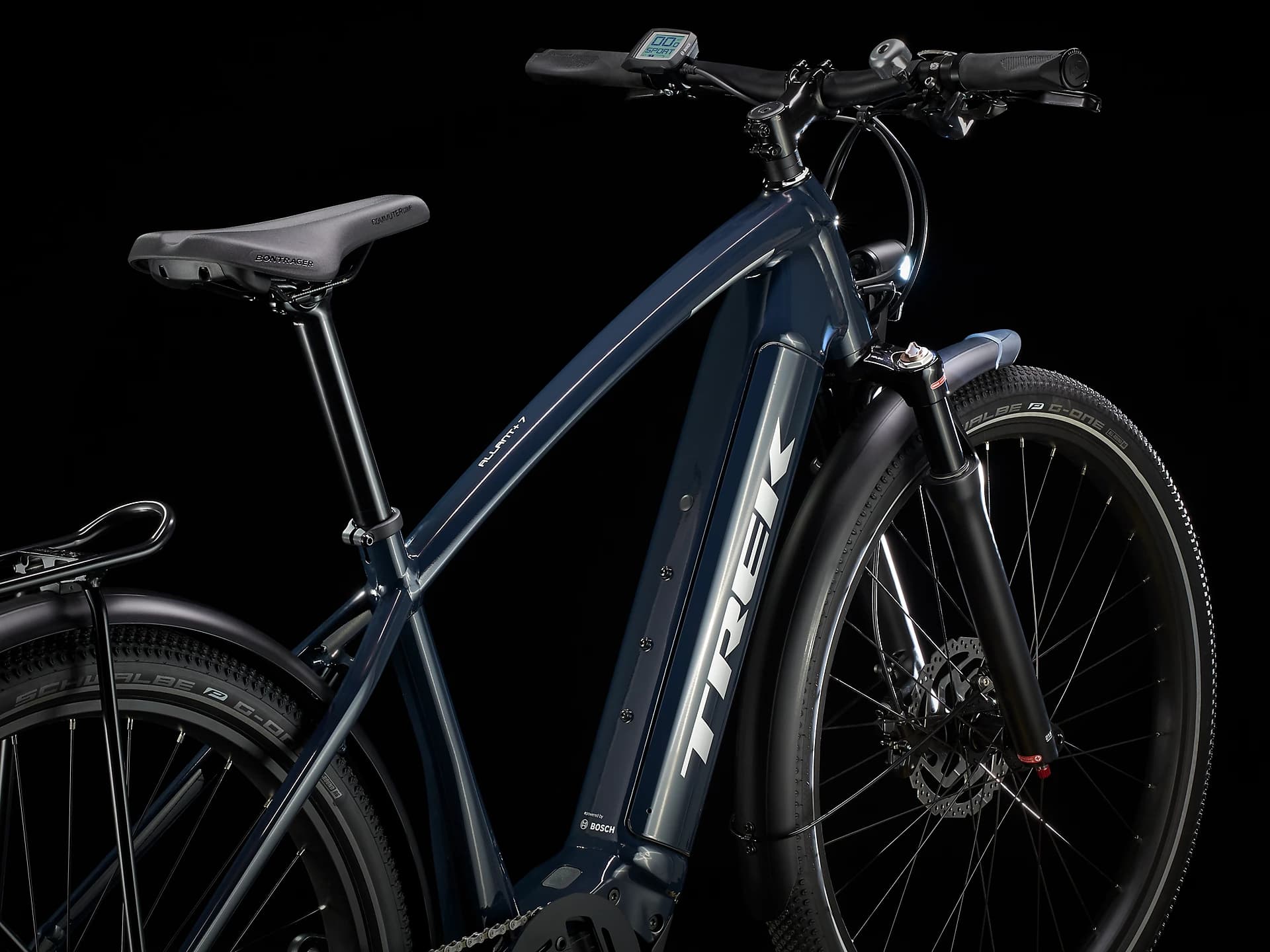 The Trek Allant+ 7 is built with a high-performance, hydroformed aluminum alloy frame. It's quite the mouthful, but the end result is that this is a very sturdy bike frame designed with eBike motors and wires in mind. The Trek Allant+ 7 does a great job of integrating as much of the wiring into the frame itself as it could, ensuring that the occasional crash or fall won't cause critical eBike components to be damaged. While not the lightest eBike model on the market, the Trek Allant+ 7 does weigh just 54 lbs for its L/medium sized frame option, which is quite a few lbs less than many of the other eBikes we've had the privilege to review.
Something else we appreciate is that, unlike quite a few eBikes we've reviewed, the Trek Allant+ 7 actually comes in multiple frame sizes! While it won't accommodate every adult rider out there, those who fall within the 5'0'' to 6'6'' height range should find a frame that's comfortable for them, especially with the customizable handlebars and seat options. It is a bit disappointing that such a premium eBike is only available in one color option. Given how great the Nautical Navy looks, we don't think it's more than a minor issue, especially because of the great frame size customization.
As a side note, if you are someone who is 5'4'' or shorter, the Trek Allant+ 7 is also available in a lowstep option. While it has a different product page, the traditional Trek Allant+ 7 is the exact same model outside of a few components being moved around in order to make the low step frame better fitting for shorter riders. Those who are 4'8'' to about 6'2'' will be able to enjoy riding on the S, M, and L Trek Allant+ 7 low step style frame. If you are interested in the Trek Allant+ 7 low step, everything that you read about the Trek Allant+ 7 traditional frame will apply equally to the Allant+ 7 low step model.
Motor & Battery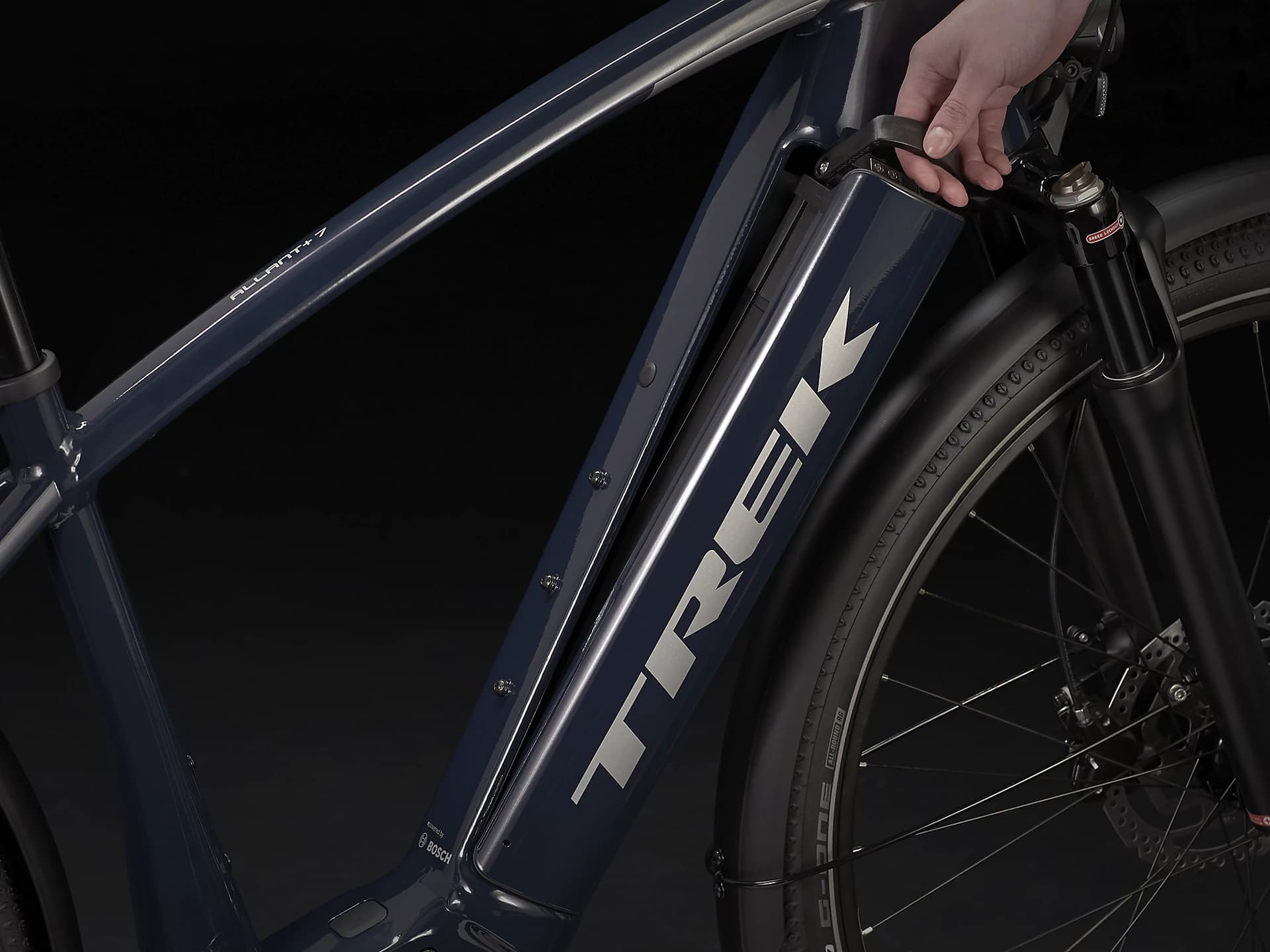 The Trek Allant+ 7 is a class 1 eBike with both pedal assist up to 20 MPH.
The Allant+ 7 relies on a mid-gear drive motor, consisting of the Bosch Performance CX 250 W/85 Nm motor. In optimal conditions, you can travel up to 120 miles with motor assistance, though in most environments we expect you'll get about 60 to 80 miles with your eBike motor. This is a class 1 eBike, so motor assistance will automatically kick in up to 20 MPH, at which point the motor will turn itself off. Some people make the mistake of thinking the 20 MPH is the speed limit, but by pedaling manually you can go even faster with the Trek Allant+ 7.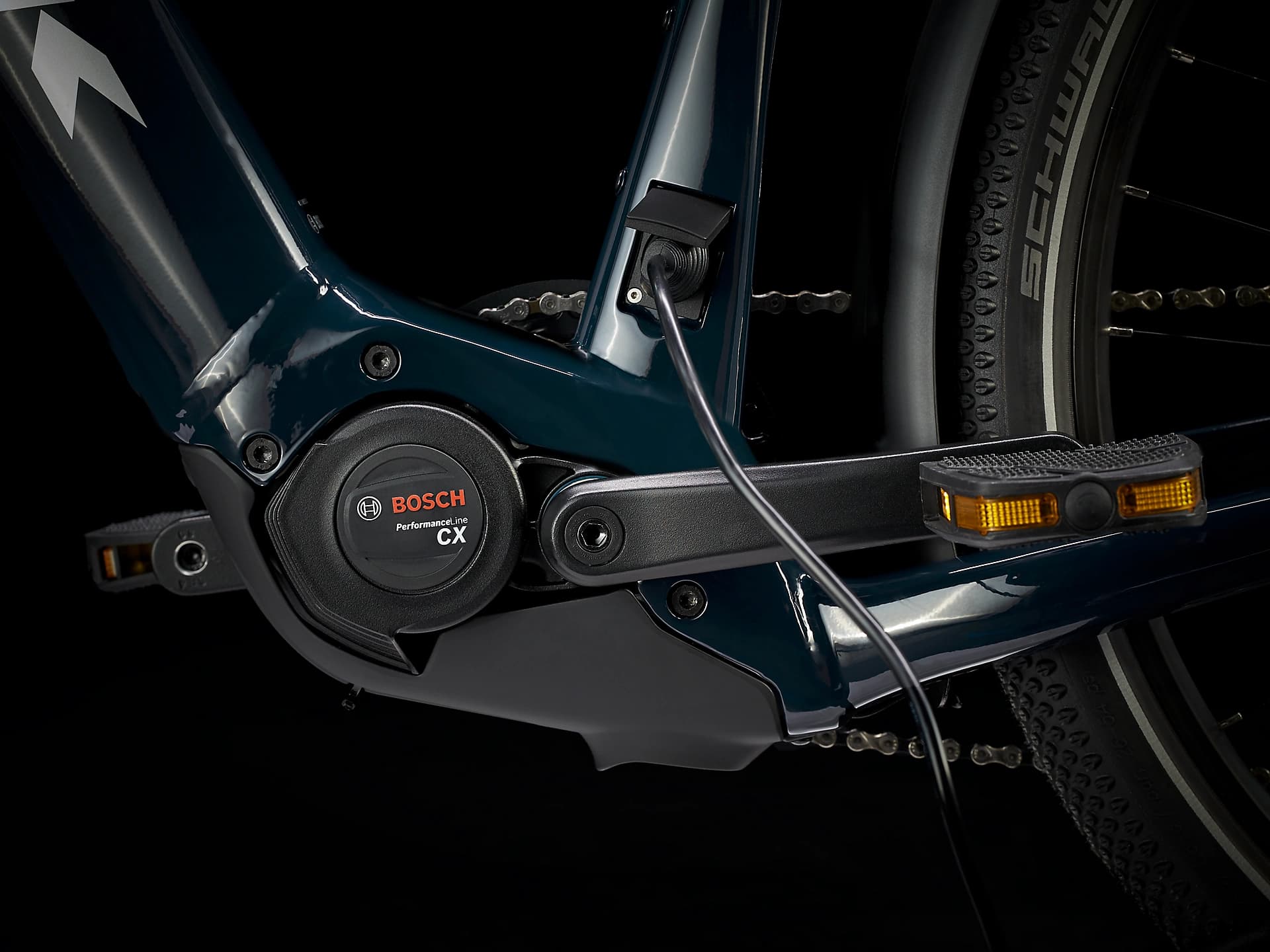 A powerful 4Amp charger is used to recharge the Bosch PowerTube 500, and will take 5.5 hours to recharge fully from 0% to 100%. The PowerTube battery is easy to swap out, so if you do have a second battery you can travel even further with the Trek Allant+ 7 without losing motor assistance. The swappable battery also means that you can take your battery into the office with you, recharging it at your desk if you don't want to recharge the battery while mounted on your eBike. In fact, plugging it in and recharging it on your eBike is somewhat awkward, as outside of having to struggle to just plug it in the cords easily get tangled up with the pedals if you have to move your eBike. It's a minor problem, but moving the charging port to the top of the battery instead of the bottom would be preferred for easier mounted battery bike charging in the future.
The last component we want to highlight is the mid-drive motor. Mid-drive motors provide a riding feel more similar to natural, unpowered bicycle riding when compared to jerky hub-drive motors. Mid-drive motors are also less likely to break down, and as long as it isn't mangled you can still ride your eBike like a traditional bicycle even if your mid-drive motor is dead. Mid-drive motors are the more expensive eBike motor option (which is partially why the Trek Allant+ 7 costs as much as it does), but the performance benefits provided along with the overall feel make it a great motor system.
Display/Assist Modes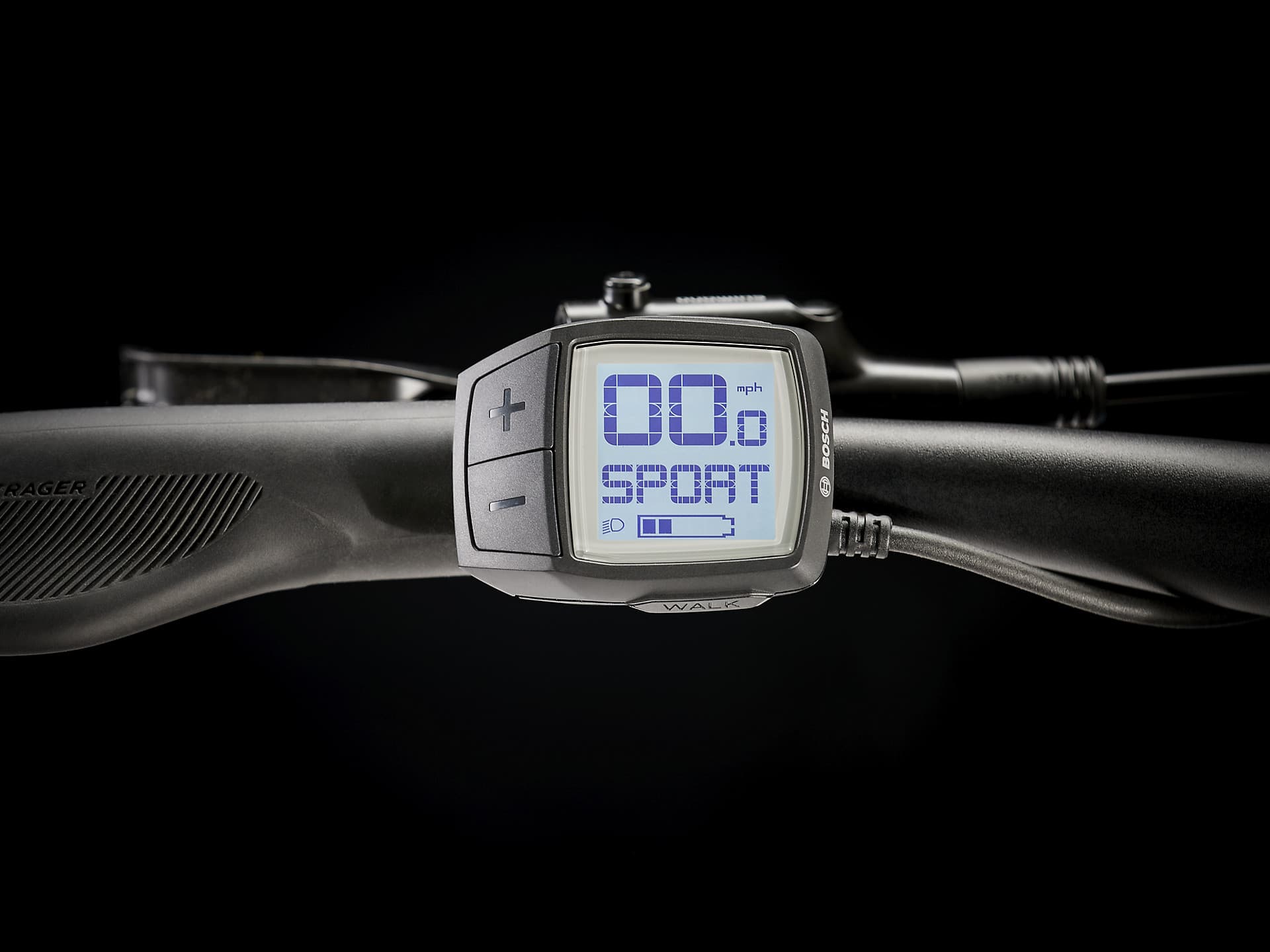 Mounted on the handlebars is the small, easy to read backlist Bosch Purion controller. This controller is rather simple, to the point it may be a bit underwhelming for those interested in an advanced display, especially with USB phone charging or Bluetooth speakers. However, the Bosch Purion display still provides you with the most important control features and display metrics, and its compact size and basic functions ensure you won't get nearly as distracted while riding.
The 1.75'' Bosch Purion display will help you monitor and control the following riding the Trek Allant+ 7:
Bosch Purion Display Metrics and Control Settings:
Current Speed
Assist Level (Four Levels and Walk Mode)
Battery Level (Five Levels)
Trip Distance
Total Distance Traveled
Estimated Battery Range
Headlight Control
The four assist levels are Eco, Tour, eMTB, and Turbo. The power output increases with each mode, and while it will drain your battery faster and limit your overall range, it will help you get up to speed quicker at a higher setting. We recommend Eco mode for city cruising, tour mode if you are rushing to work, eMTB if you are doing some light trail riding or mountain biking, and Turbo mode if you want to push your motor to its limit.
Overall, the Bosch Purion display is a simple system, but it should provide more than enough control for the vast majority of riders who are interested in the Trek Allant+ 7 eBike.
Handling
On Streets- The Trek Allant+ 7 is primarily designed with city riding in mind. The Schwalbe G-One 27.5'' x 2.25'' tires might not be as quick and nimble as dedicated city or racing tires, but their larger size do provide extra support when riding over less than stellar streets. Coupled with the suspension system, the Allant+ 7 is a great eBike for riding not just over your typical road pavement, but over cobblestone and patchy road sections as well.
Turn Radius- Overall, we expect that the Allant+ 7 is a largely easy enough eBike to turn, even with its larger tire size. While it might not be able to pivot around a narrow alleyway, the Allant+ 7 will be more than able to dodge light posts and other bikers you may encounter while you're riding through the city or on back mountain trails.
Low Speed Handling- The Trek Allant+ 7 comes with a Eco mode, for minor motor power assistance, and a walk mode, for motor power assistance even when you're off the bike. The Allant+ 7 is good for handling at low speeds, especially given the frame is lighter than many other popular eBike models. However, be aware you can't backpedal with the Allant+ 7, so walking it backwards can lead to some trouble if you don't lift the eBike.
Gears/DriveTrain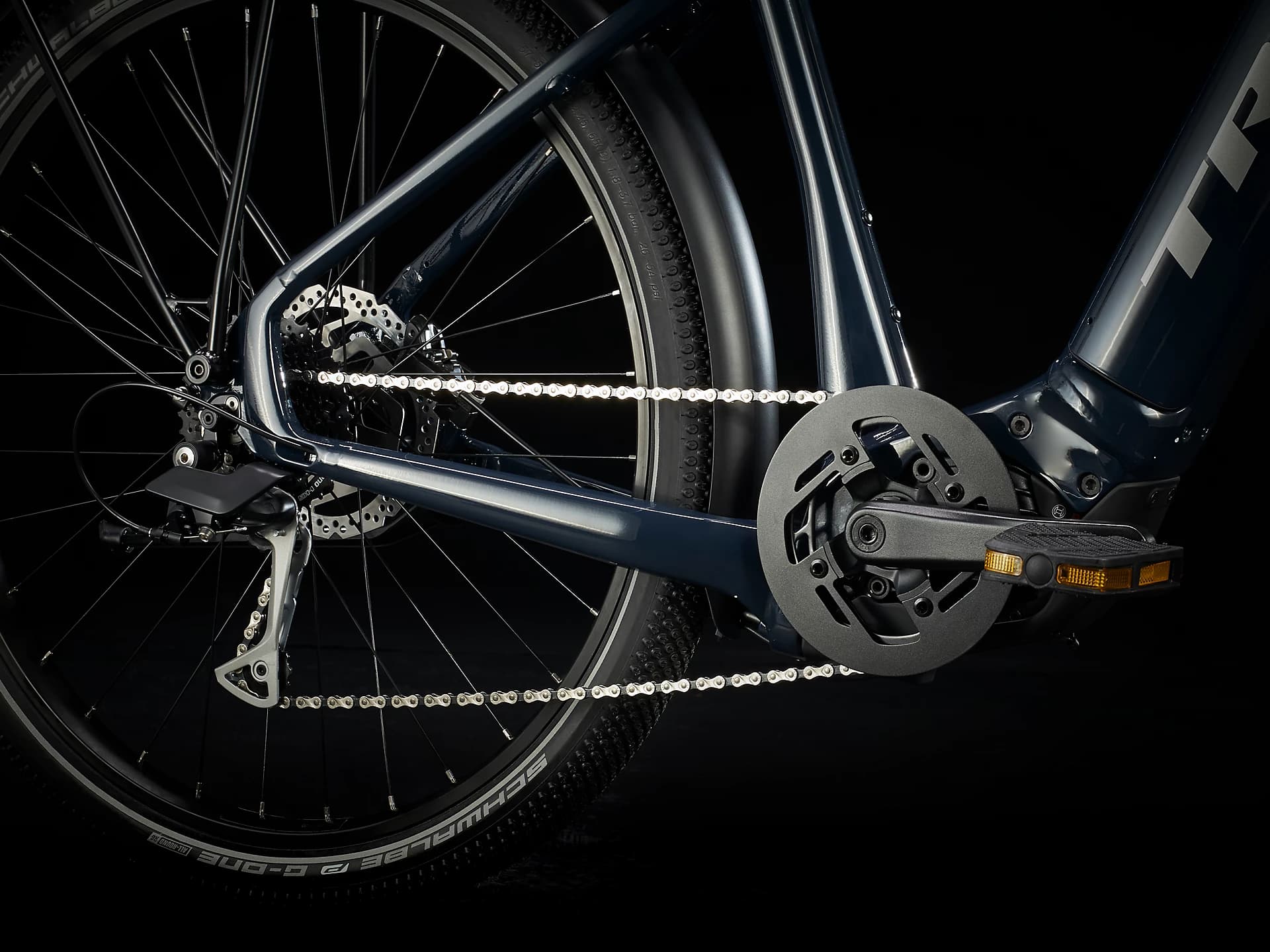 The Trek Allant+ 7 drivetrain is made up of a 9 speed Shimano HG200 11-36 tooth cassette, with a ProWheel 40 teeth chainring and KMC E9S chain. The cassette teeth are spread out extra wide to minimize chain accidents when you shift with the Shimano Alivio T4000 derailleur and M4000 shifter. An alloy guard protects the chainring, and high quality integrated plastic fenders protects the rest of the drivetrain in order to minimize mud, rocks, and other debris from banging up the components. With Bosch motor shift detection, the need to finetune your drivetrain is further reduced, with mashing gears or your chain slipping off becoming a truely rare occurrence.
The Trek Allant+ 7 drivetrain is designed to require minimal maintenance, but when something does go wrong it can be a bit tricky and difficult to actually service the eBike. There's no quick release system, the integrated wiring does limit what electric components you can work on, and the chainring doesn't cycle backwards if you reverse the pedals. If you want to service the drive train, you basically need a maintenance stand or some other way to lift the eBike off the ground, even if you want to just lubricate the chain. As a result, this is an eBike that you may just want to rely on professional support if you need to get it serviced, or take your time and carefully work on if you want to try to finetune or make a repair to the Trek Allant+ 7 yourself.
Brakes
Powerful Shimano MT200/RT26 180 mm hydraulic disc brakes are incorporated into the Trek Allant+ 7. While we haven't tried them specifically on the Allant+ 7, our experience with these brakes on other eBikes have been great. The 180 mm disc brakes provide a quick but steady stop, reducing the jerkiness that you often feel with less fine tuned braking systems. The speed sensor has also been mounted directly to the disc brake rotor, allowing for even more precise braking, especially when used in conjunction with the Bosch eBike motor system. With comfortable three finger brake levers, the incorporated Shimano braking system is stellar from top to bottom.
Suspension
While it may be an eBike designed for city commuting, you can have quite a lot of fun riding on light mountain trails and off roading thanks to the spring coil SR Suntour suspension fork incorporated into the Trek Allant+ 7. The suspension fork is more than enough to soak up bumpy cobblestone roads and the occasional bad patch of road alike, with 50mm of travel and progressive lockout, preload, and rebound adjustment to further finetune your riding experience. While we wouldn't try to challenge the suspension system to a steep mountain biking trail, the included system is definitely going to provide better shock absorption and support than your city bike with no suspension at all.
Pedals
The oversized plastic pedals have a steel core, which should provide a feel and level of stability that will closely approximate your oversized pedal platform. The Trek Allant+ 7 has a recommended weight capacity of 300 lbs, with heavier riders encouraged to go with the Trek Allant+ 7 XL model if they are close to that weight capacity. Outside of just stability and support, the pedals feature orange reflective lights all around the perimeter of the pedal. The more reflective lighting on a bike, the more visible your rider profile will be, reducing the chance of suffering a collision with someone else while riding the Trek Allant+ 7.
Grips and Saddle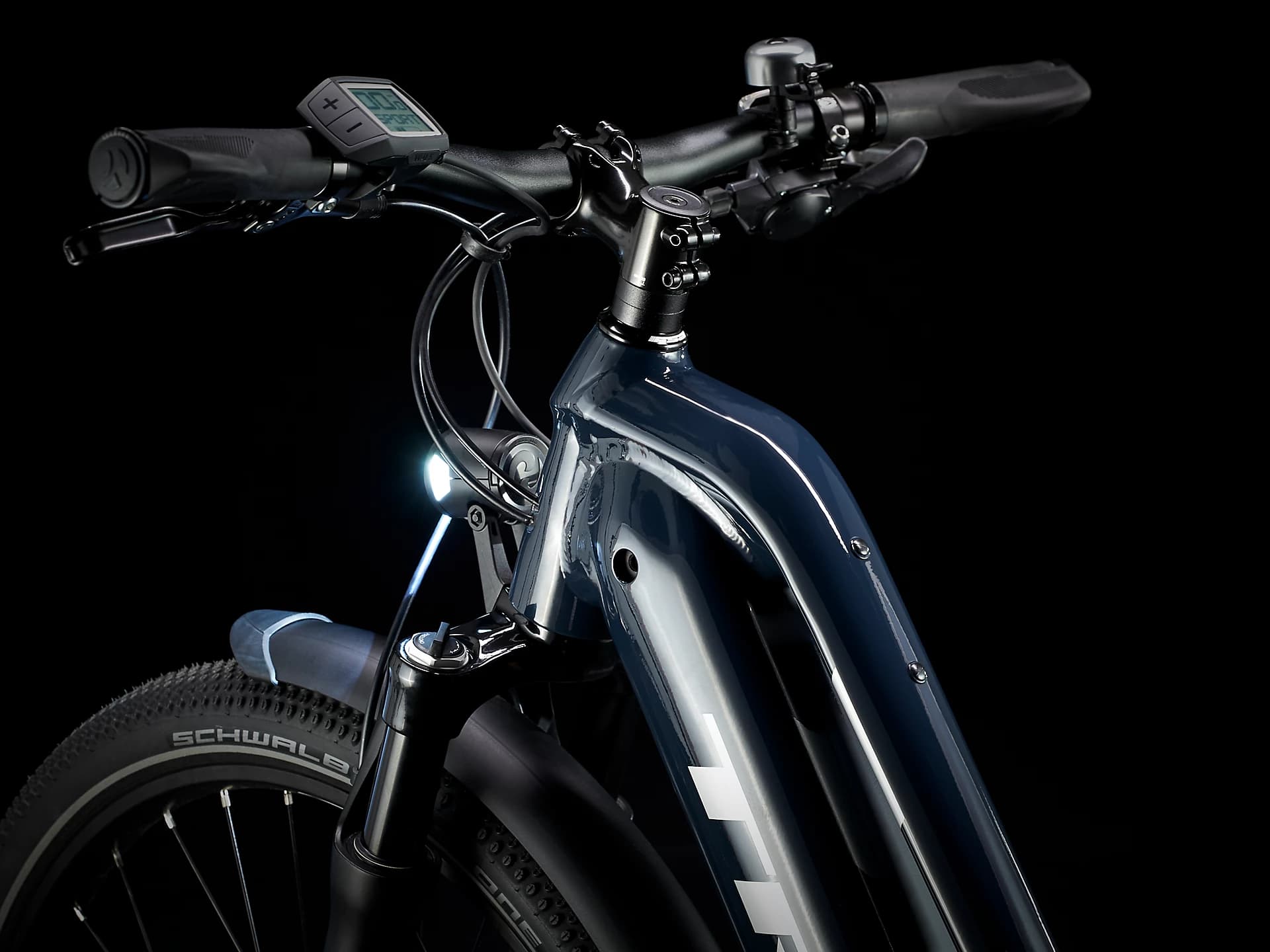 Starting off with the grips, rubber Bontrager Satellite Elite grips are included with the Trek Allant+ 7. These ergonomic grips are comfortable enough to grab onto, preventing your palms from feeling irritated even as they get sweaty from a long, high intensity bike ride. The grips also incorporate a lock-on clamp design that provides a secured and fastened grip to the handlebar, preventing sliding and slipping, while making them much easier to replace than glued on grips. With high quality Bontrager aluminum alloy handlebars, coming in two size options depending on whether you go with a smaller or larger frame, the Trek Allant+ 7 is designed with comfortable riding in mind.
This is also true thanks to the Bontrager Commuter Comp bike saddle. The air foam, dual-density shell is durable and weather resistant while feeling quite soft to sit on. The saddle is designed to provide the comfort of a full cut-out saddle, but with the support and adjustability important for city riders and commuters. Sitting on a 70/90/100 mm stem depending on your frame size, you can further configure a riding stem position best suited for you. Consider the suspension fork that is also incorporated into the Trek Allant+ 7, and you will have a commuting, fitness, and nearly all-terrain eBike that will be a joy to ride wherever you are.
Wheels and Tires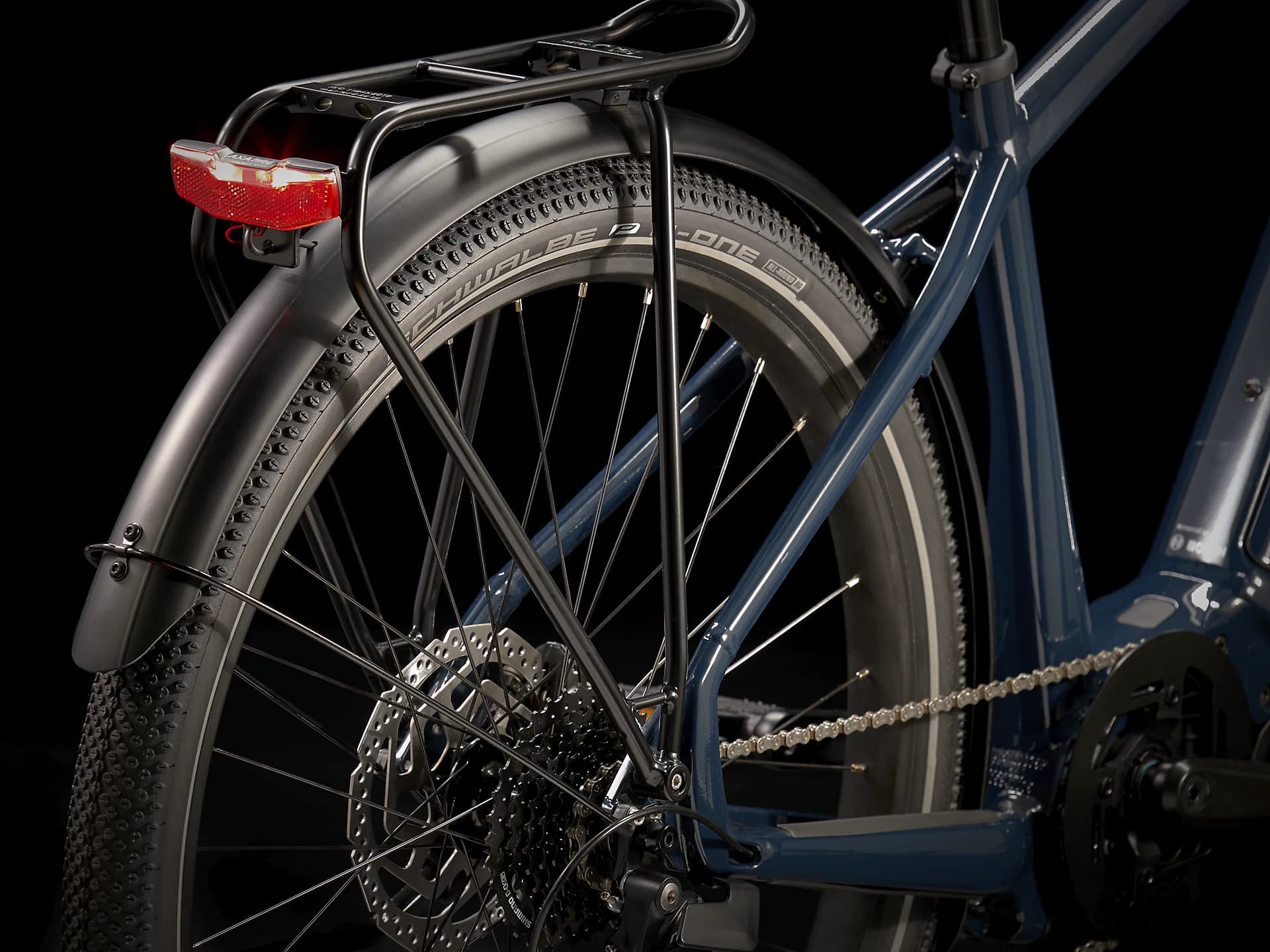 The Schwalbe G-One tires are definitely built with all-terrain use in mind, with a 27.5'' x 2.25'' size that makes them suitable for pavement, dirt roads, and everything in between. Holding the tire together are Alexrims MD35 32 hole aluminum alloy double wall rims, with stainless steel 14 gauge spokes. Able to be inflated from 26 to 54 PSI, these tires offer great versatility that will allow you to really change how your riding experience feels when travelling on soft or hard terrain. Overall, it's a good tire system, but it isn't great due to the lack of a quick-release system, so if you need to service your tires you need a 5mm and 6mm hex key wrench. While the incorporated system makes the eBike lighter and harder to strip parts from, it does mean that servicing the tires is a bit harder and more time consuming if you need to stop on the trail.
Accessories/Upgrades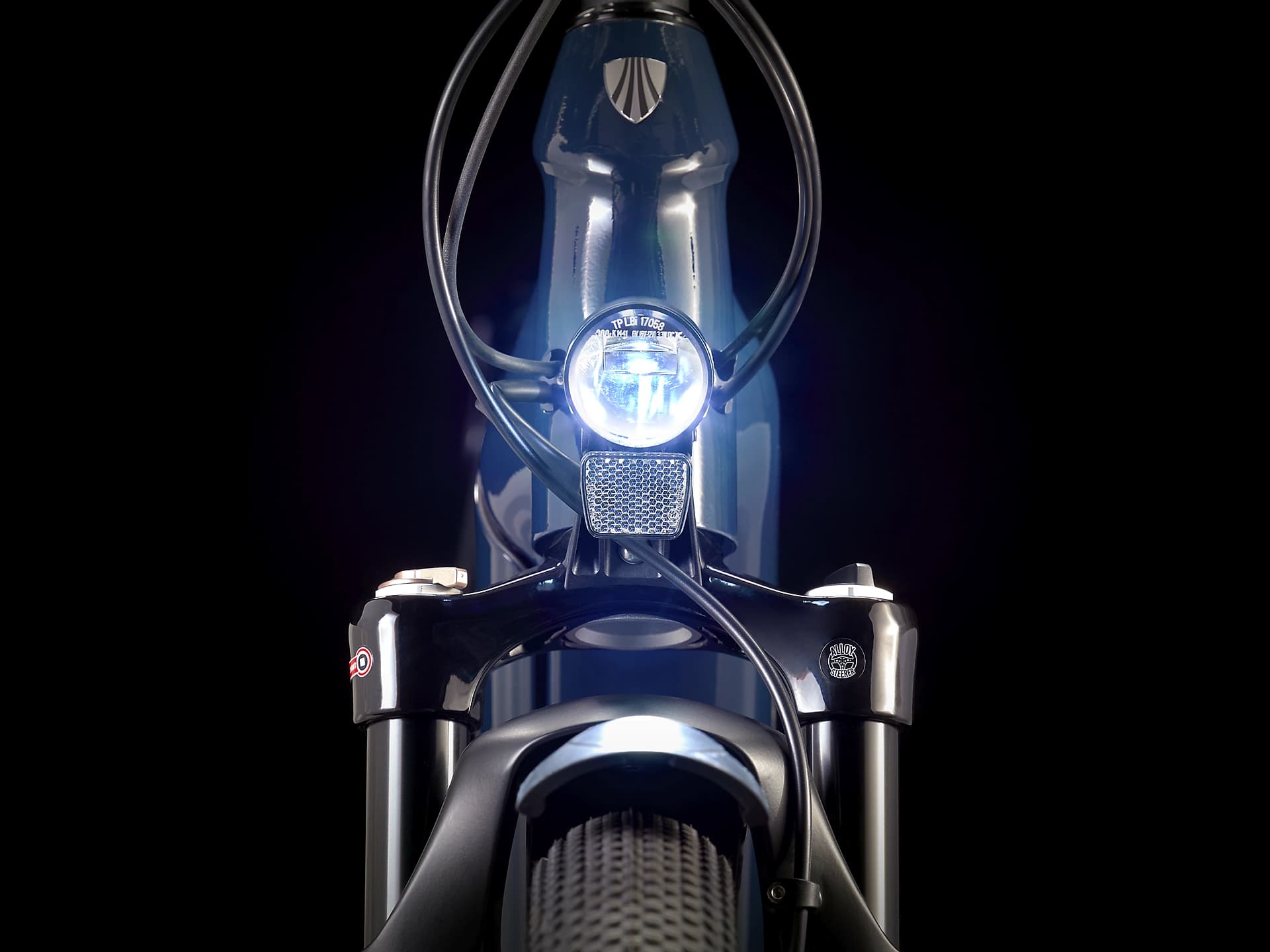 There are quite a few accessories already incorporated into the Trek Allant+ 7 eBike out of the gate. With an aluminum rear cargo rack, plastic fenders, a rear-mounted kickstand, and powerful 180 lumens headlight and 2 LED integrated rear light, you certainly don't lack for accessories with the Trek Allant+ 7. However, if you are hoping to add a bit more functionality or protection to your Allant+ 7, you should consider the following accessories:
Bontrager Water Bottle Bat Cage
Bontrager Flare RT Rear Bike Light
Bontrager City Shopper Pannier
Bontrager Comp Multi-Tool
Bontrager Pro Flat Pack
Recommendation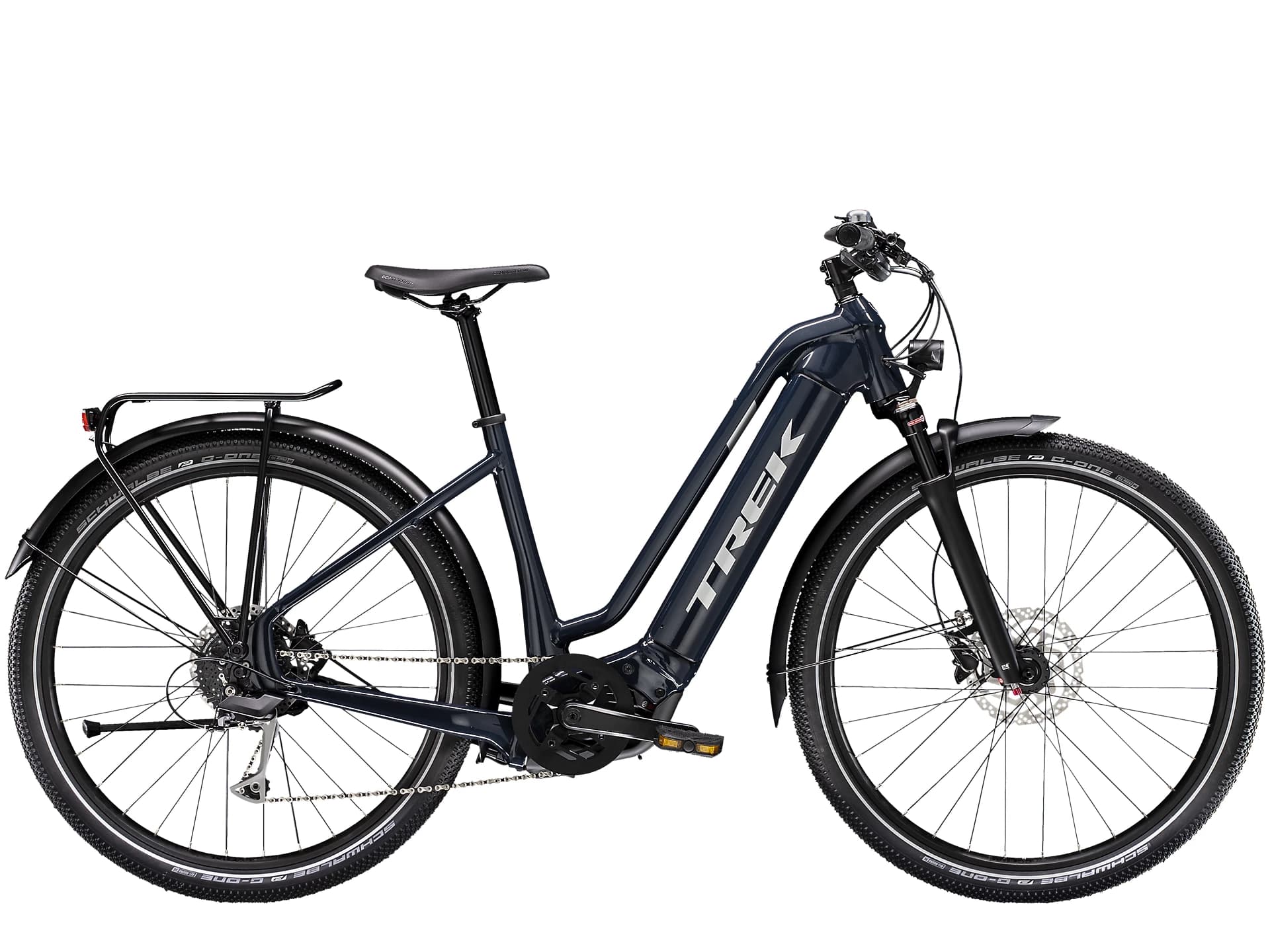 The Trek Allant+ 7 is a great eBike option for those who need a city bike that will still support them if they want to take it off of pavement and onto mountain trails and off road patches. The high quality aluminum frame is well designed and sturdy, coming in three different size options to accommodate most adult sized riders. The powerful motor and easy to replace battery can travel up to 120 miles in optimal conditions, controlled by the simple but intuitive Bosch Purion display. The drive train, suspension, brakes, and even handle bar grips and saddle all feature a great design while providing solid, consistent performance that minimizes the maintenance required to take care of the Trek Allant+ 7. The lack of quick release wheels, along with the inability to backpedal and less than easy access to the electronic wiring means this isn't the easiest eBike to service when something does go wrong. If you're the type that takes good care of your bike, and intend mostly to stick to the city with a more challenging trail ride here and there, you will definitely want to consider going out on the 2021 Trek Allant+ 7 and 7 Lowstep eBike.